This summer is about enjoying what's at home, and enjoying your surroundings. So whether you're entertaining yourselves, your bubble family, or just enjoying the season, I've got a few ideas for colourful summer entertaining decor that revolve around keeping cool in style.
If you're joining me from Southern State of Mind, Homemade by Carmona, Kaleidoscope Living or Haneen's Haven – Welcome! I've linked to the other participants in the Snapshots of Summer home tour. Go check 'em out for some easy summer decor ideas.
*Fanimation sponsored this post, but all thoughts are my own. Thank you for supporting the brands that make PMQ for two possible.
Originally published July 21st 2020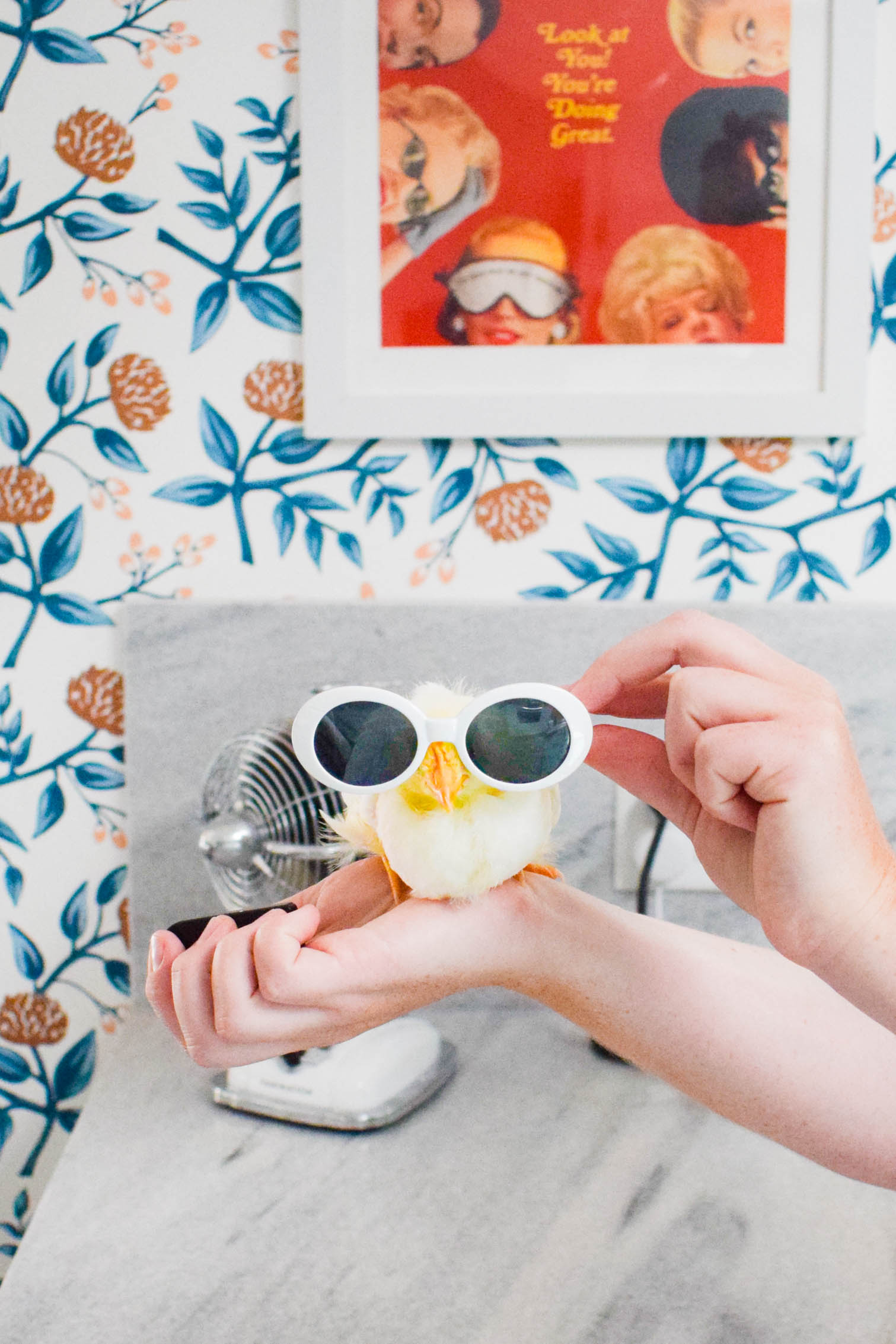 And yes, that is a chicken with sunglasses on. Don't forget to check out our urban chicken coop if you missed it.
Colorful Summer Entertaining Decor
Because all good decor is colourful, I've got a few small seasonal additions to our various entertaining spaces, and some tasty recipes to consider as well.
Summer Kitchen Decor Ideas
Because I happen to love the way our retro glam kitchen is decorated on a regular day, I don't add much to the space. This summer heat has got me rethinking the air circulation though.
Iced coffee and coffee popsicles are the perfect way to cool down on a hot summer afternoon, and are easy to make. You can easily kick them up a notch with some fancy syrups special brews.
We don't have air conditioning, and even with the skylight it gets a bit hot. So we added the Urban Jet (in white) to our kitchen countertop facing the seating area.
The design is right at home in our retro kitchen, and not too big that it dwarfs the countertops.
With 3 speed settings, you can have a breeze, a gust, or a nice wind keeping you cool while enjoy a watermelon slushy margarita. Or any other summer cocktail for that summer.
Don't mind I do! Hawaian Holiday is actually a pretty groovy mix, and it's been on heavy rotation this summer. You'll see what I mean in the living room.
Colourful Driveway Entertaining
Have you guys perfected the art of the driveway date? we did!
And now that summer's in full swing, we've got the space off the kitchen pulling double duty as a pool area for June and I, and a drive-in movie theatre at night.
Don't mind me! This summer is all about being comfy and cool, and showing JB some body positivity.
Check out my post on how to throw an outdoor movie night in colourful style.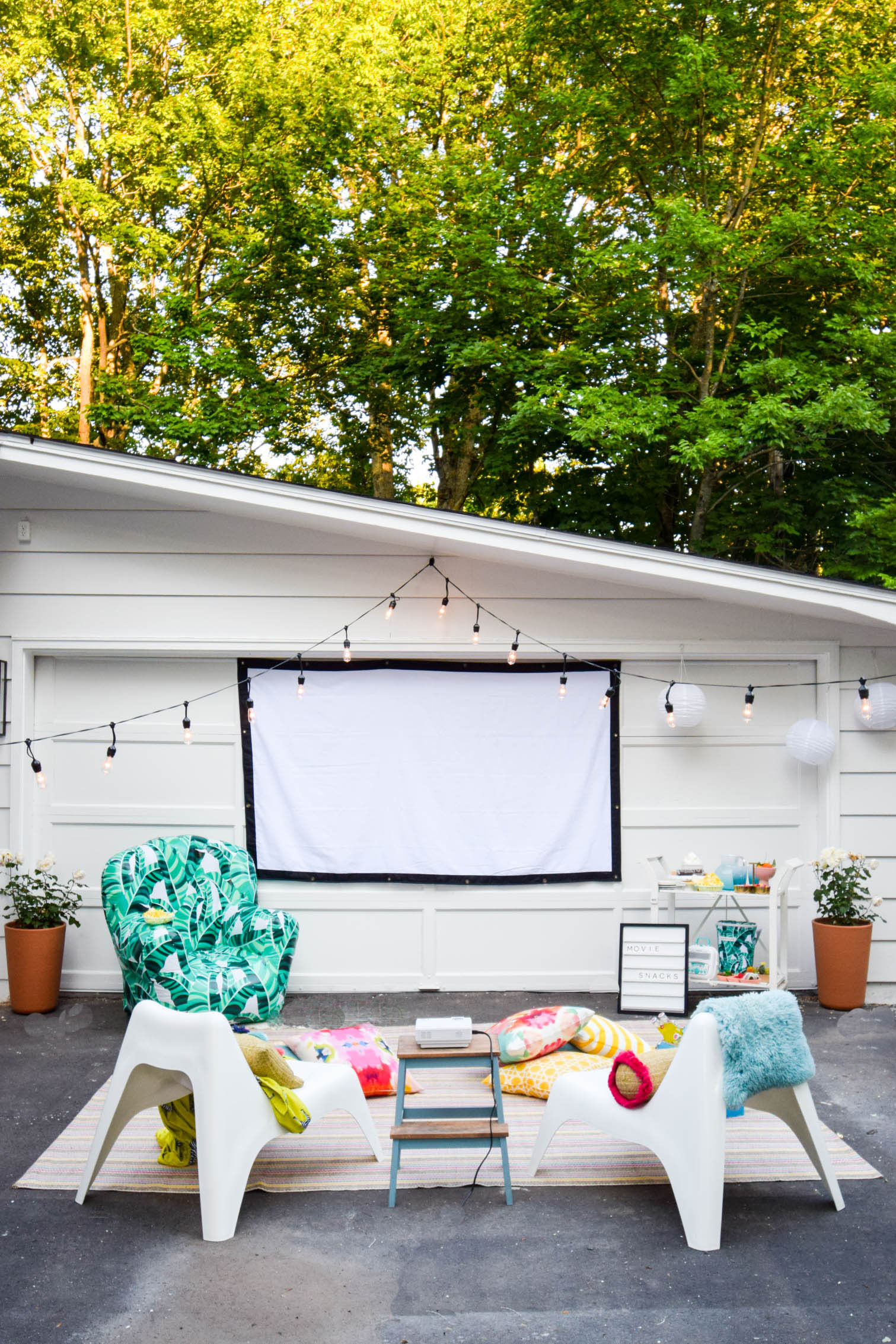 Living Room Fan
The Arden from Fanimation, is a lovely addition to any bigger space that can't accommodate a ceiling fan. Our living room ceilings are too low to allow a ceiling fan, but we still need air circulation with the big patio doors.
The Arden is strategically located to pull air from the balcony, and help circulate it around the living room.
Whether we're kicking back and enjoying a cocktail and record, or just watching TV, the Arden is keeping us cool, and looking good.
Breezy Balcony Lounging
When I unveiled our balcony deck makeover, it included a cozy napping spot. I moved one remaining DIY patio lounger up to the deck, and position the Arden right by it for optimal air flow during a snooze.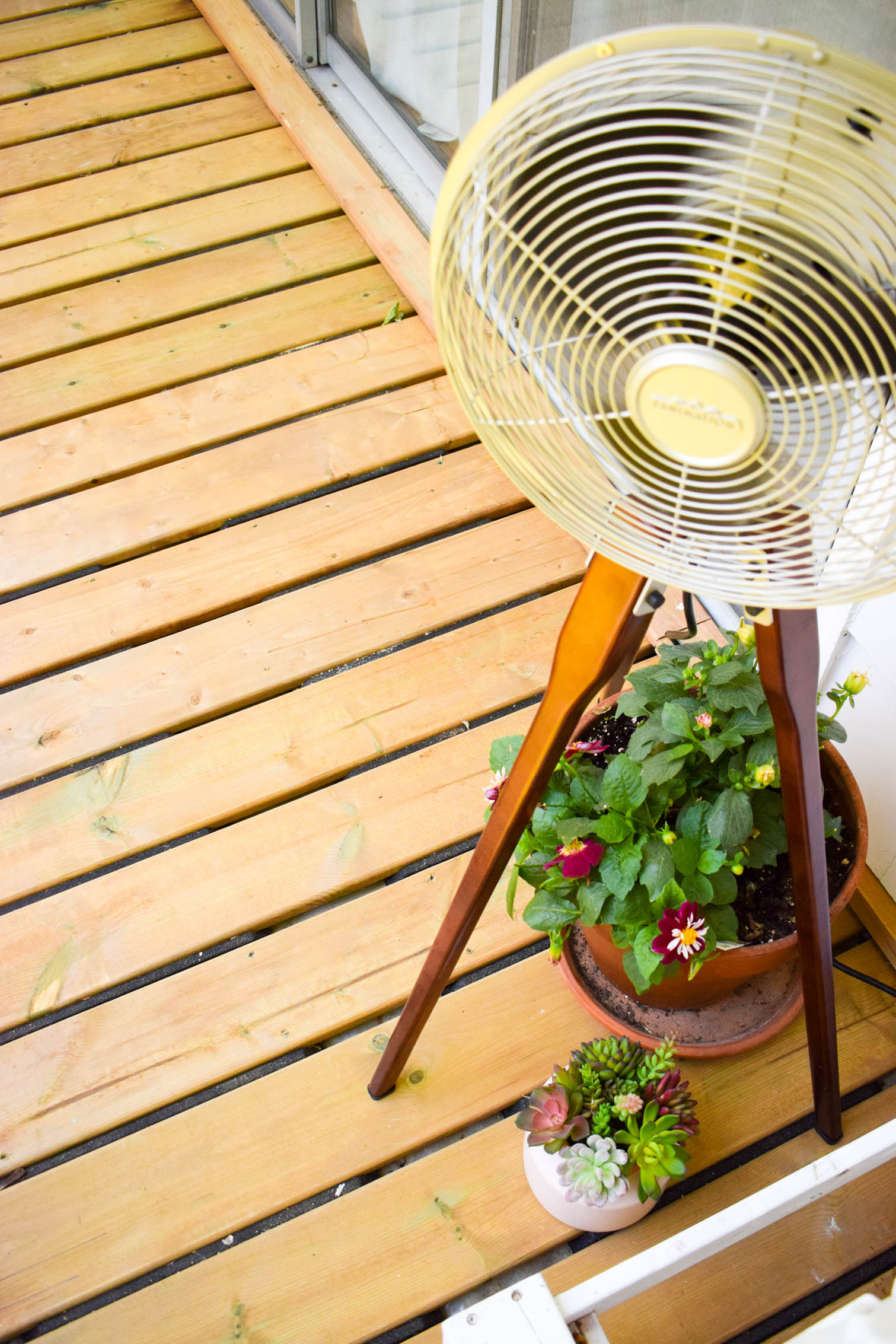 And we have an Urban Jet positioned at one of the seating areas, to keep the mosquitos away at dusk while we read JB her bedtime stories.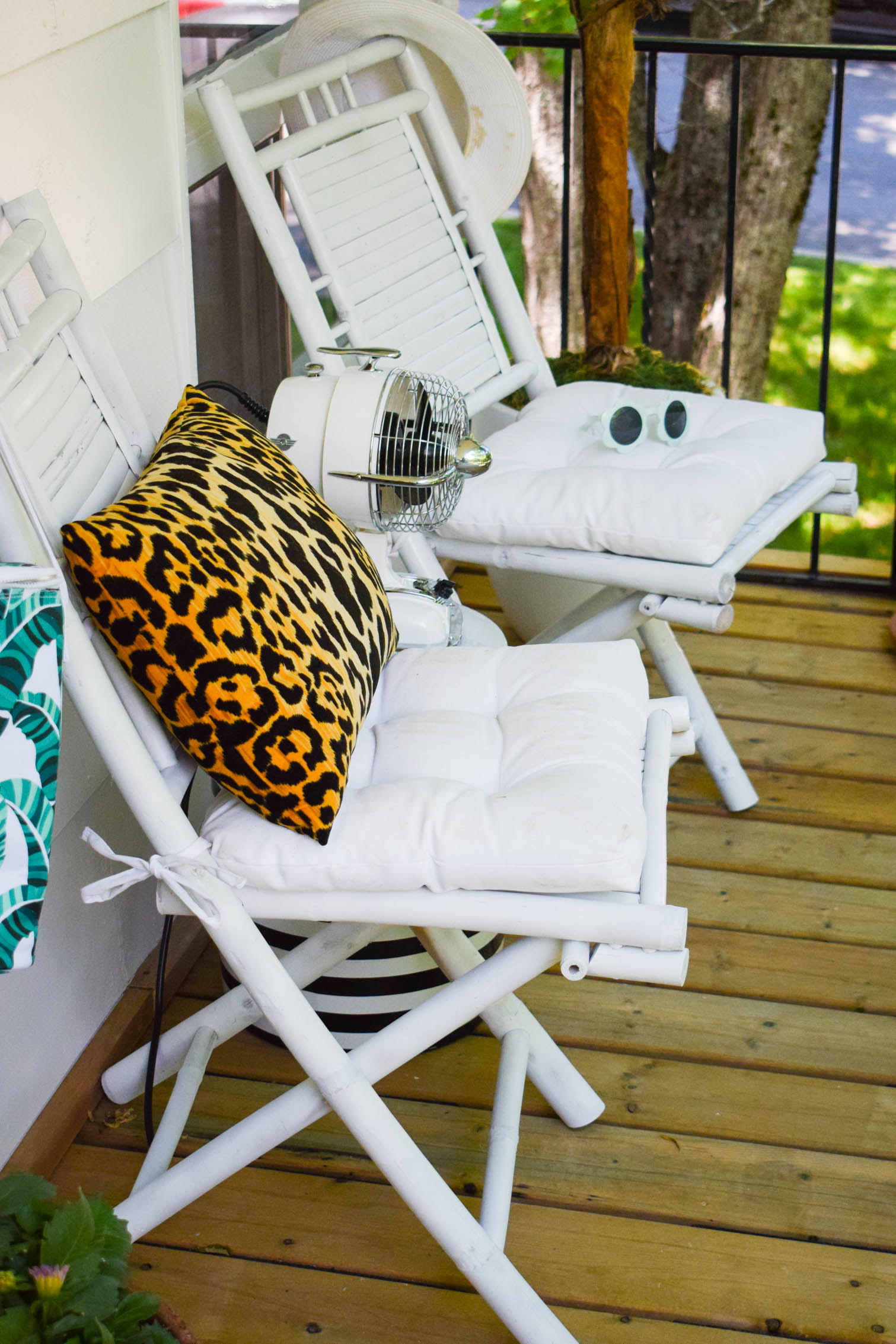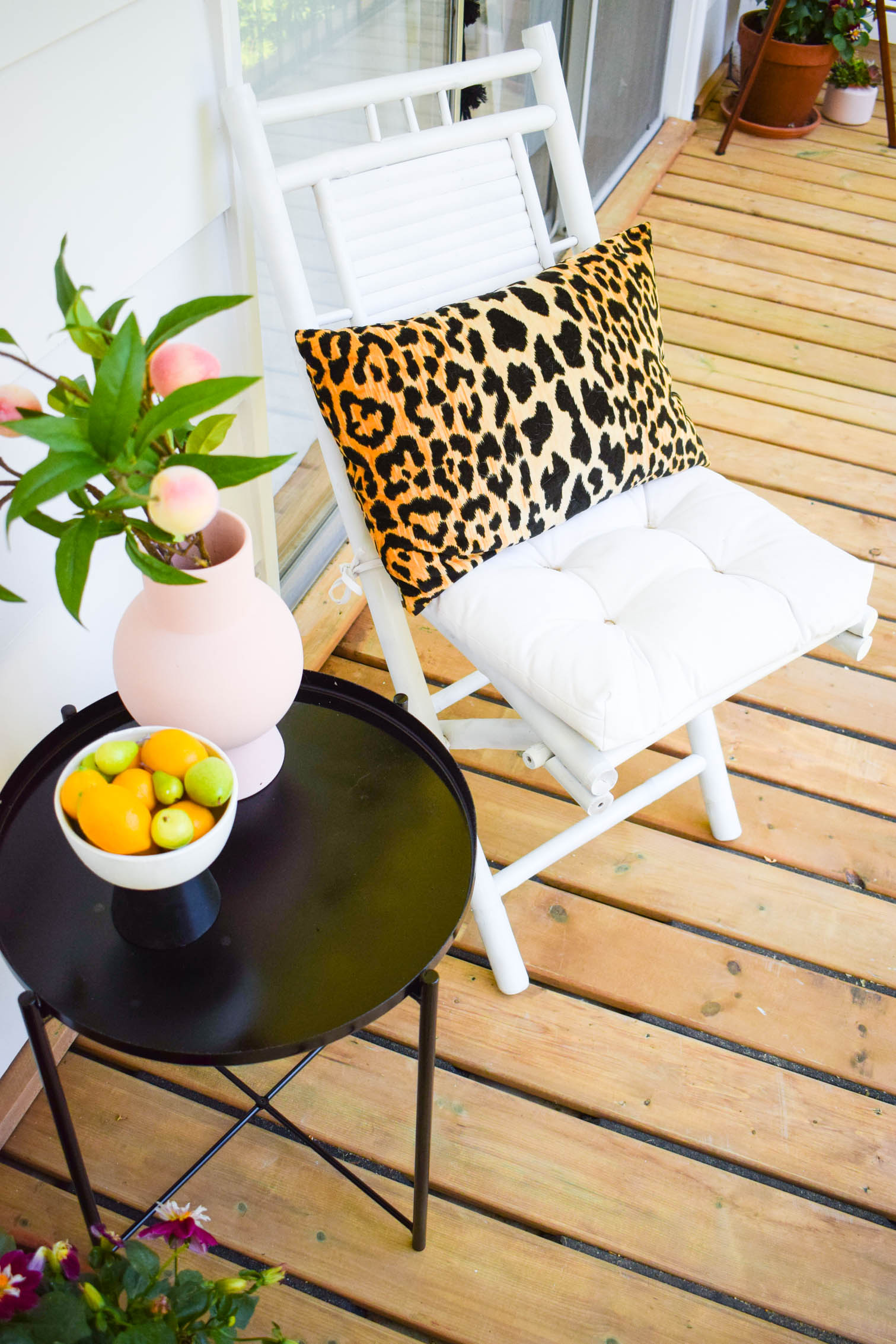 Colourful Patio Ideas
Last but not least, our colourful back patio deserves a shout-out. Adorned with bright colours, and an appropriate amount of white, the whole area screams summer relaxation and style.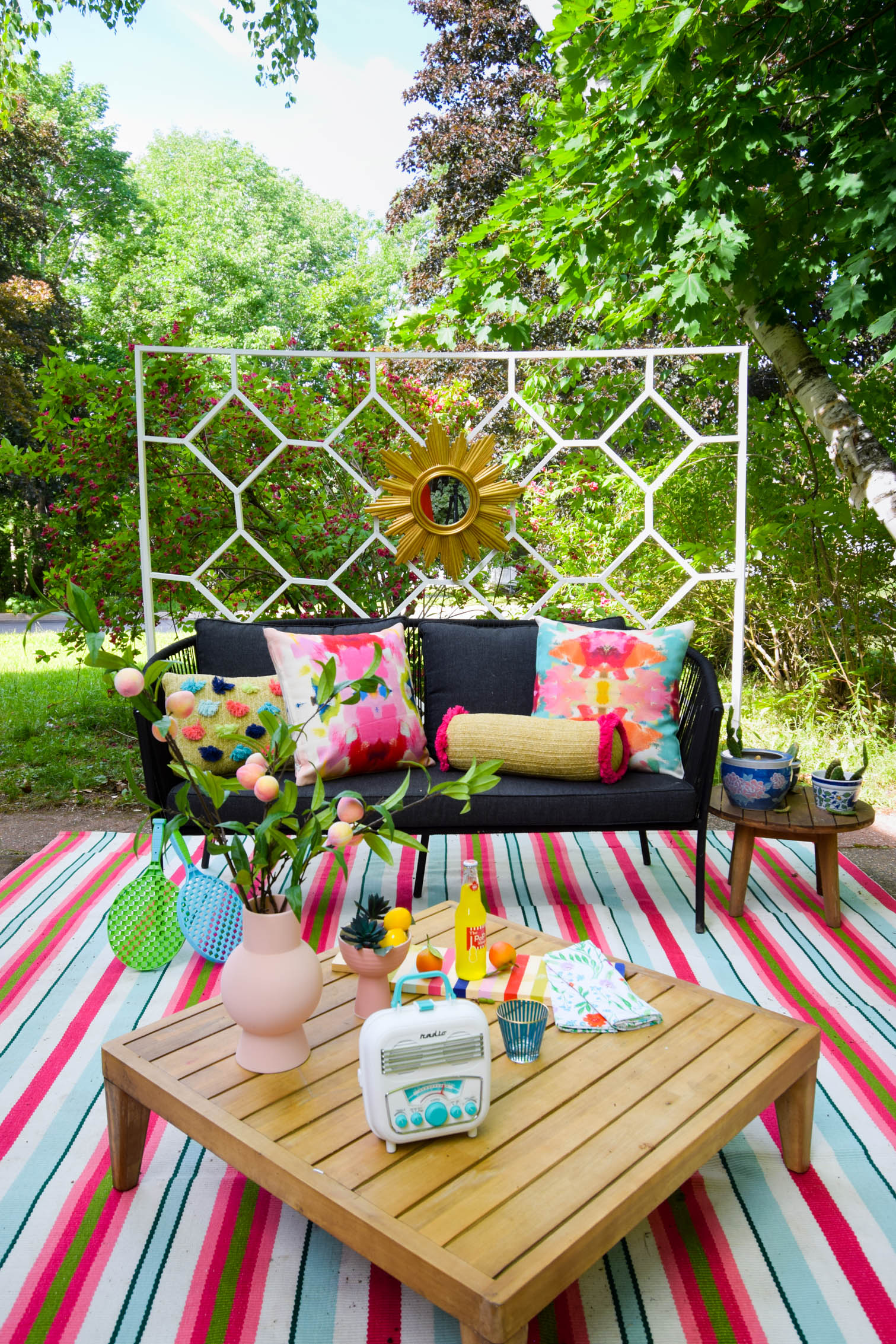 IT'S A COLORFUL LIFE- "Snapshots of Summer" Tour 2020
MONDAY
TUESDAY
WEDNESDAY
THURSDAY