This is definitely a summer for the books! What does that mean for your movie watching needs? (especially the ones involving popcorn). Well, it means an outdoor movie night in the driveway! Under the stars, snuggled-up on a comfy indoor/outdoor rug, just you, some pillows, and the mosquitos.
*Annie Selke sponsored this post, but all thoughts are my own. Thank you for supporting the brands that make PMQ for two possible.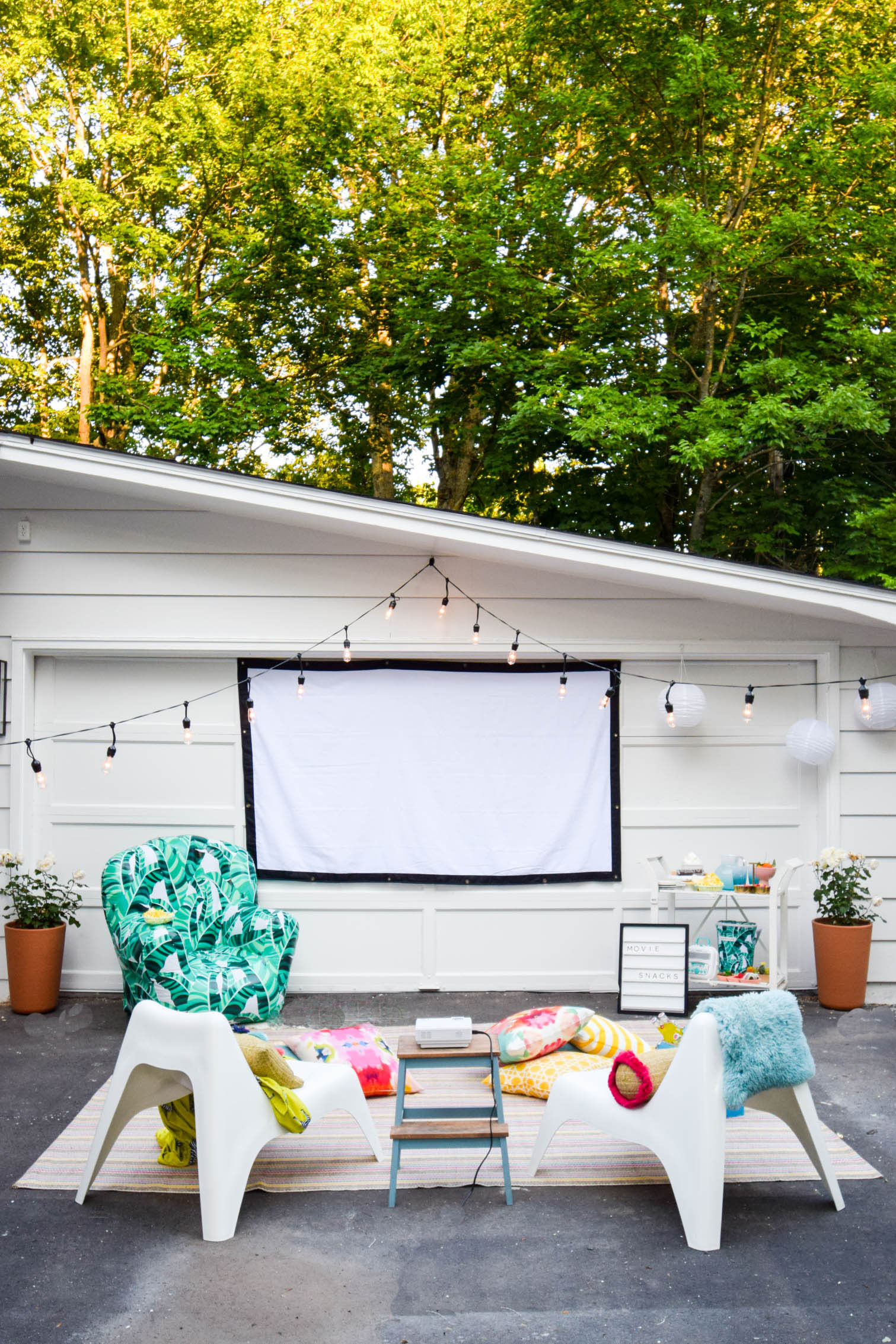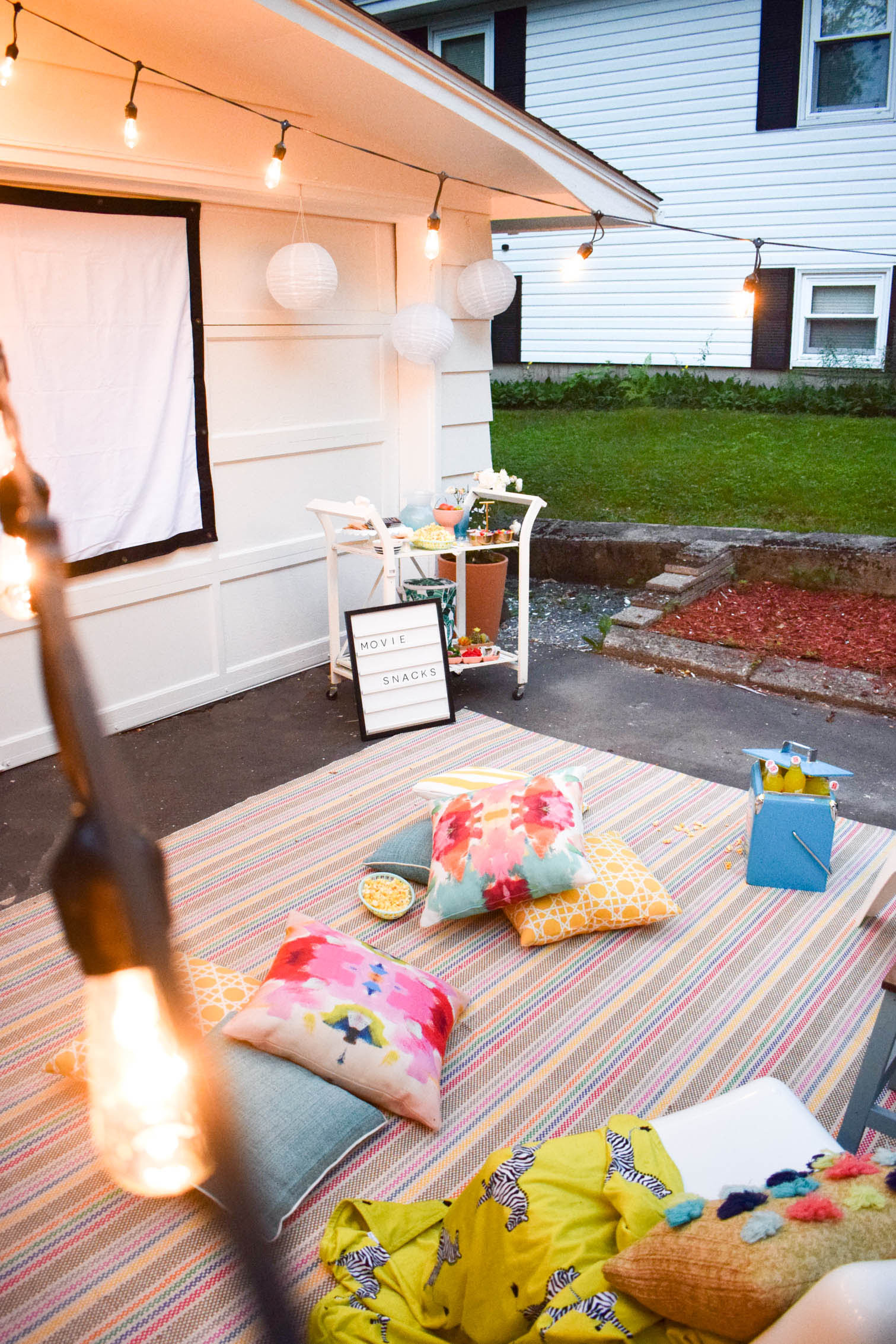 Lounging under the stars with a movie on, can happen in the bed of a truck, on a screened porch, or in the driveway! And sure, you can watch on your laptop snuggled in a sleeping bag, but there's something to be said for doing it up right. You know, pillows, throws, a projector, snack bar – the whole 9 yards.
Outdoor Movie Night in the Driveway
Start with the basics: the movie. But once you've got that on lockdown, you need your outdoor theatre. If you're hosting in the driveway, you'll want to put down a rug. You'll also need pillows, string lights (for mood lighting), a snack bar, some comfy lounge chairs, a projector, and some throw blankets.
Outdoor Movie Seating
Like I said above, you want to start with a rug. Driveways attract and hold all kinds of things, so laying the groundwork with a comfy and colourful outdoor rug is key.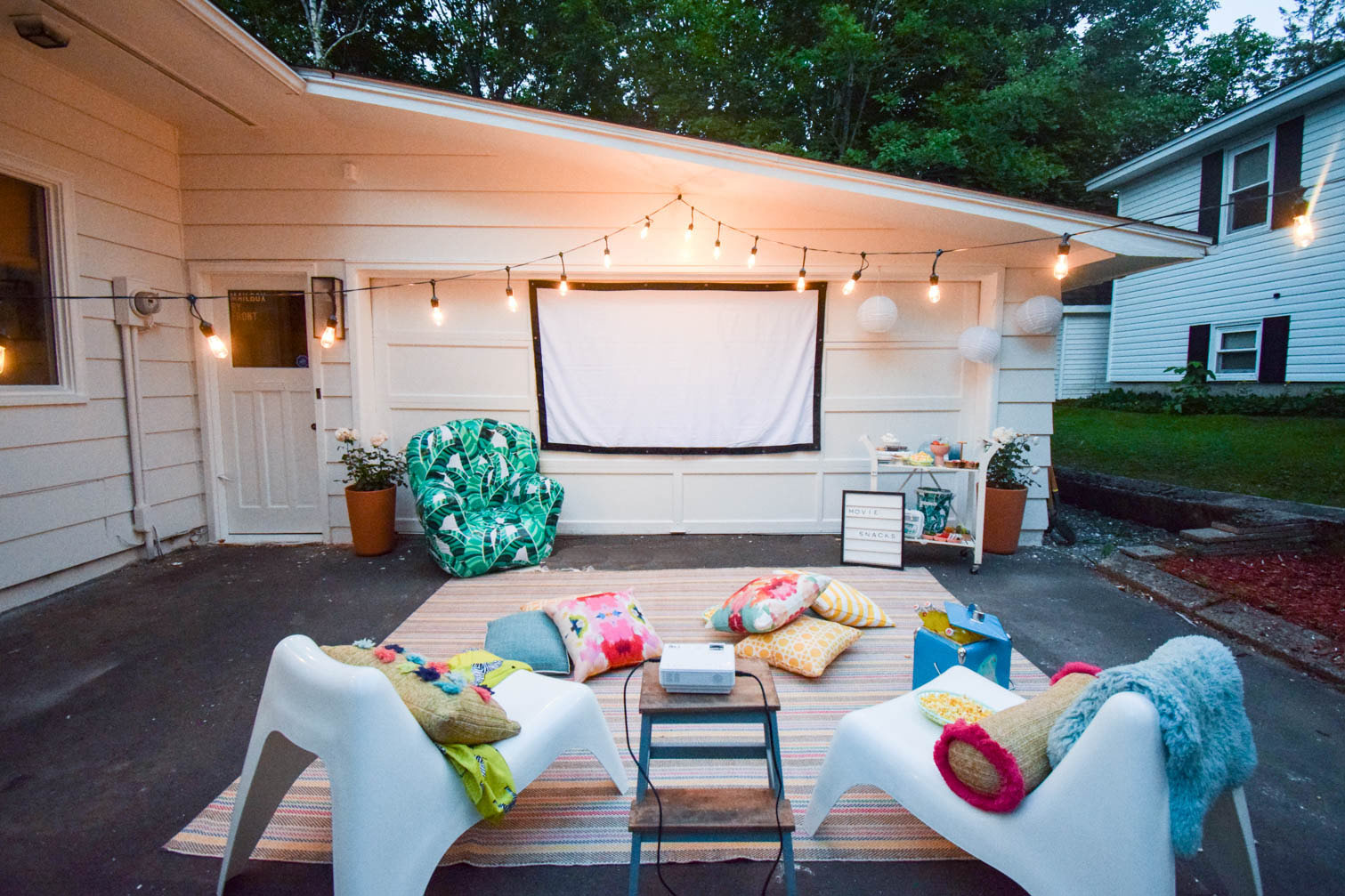 Grab the tutorial for my DIY Cooler Decal
We used the Tempe Stripe Rug from Annie Selke for ours. It's decently thick for an indoor/outdoor rug, and the colourful stripes create quite the palette to draw in colour with soft accents like pillows and throws.
We went with an 8×10′ rug for our driveway, but you could go even bigger if you have a socially responsible crowd coming.
Outdoor Lounge Pillows
Ya, having big comfy poufs are a great idea for outdoor living, but the last thing you want to do is sit on one during a movie and block the view of everyone behind you! For that reason, I'm a fan of just using regular throw pillows.
In this set-up, I've got the Sea Breeze, the Hot Tamale, and the Trimaran Stripe in yellow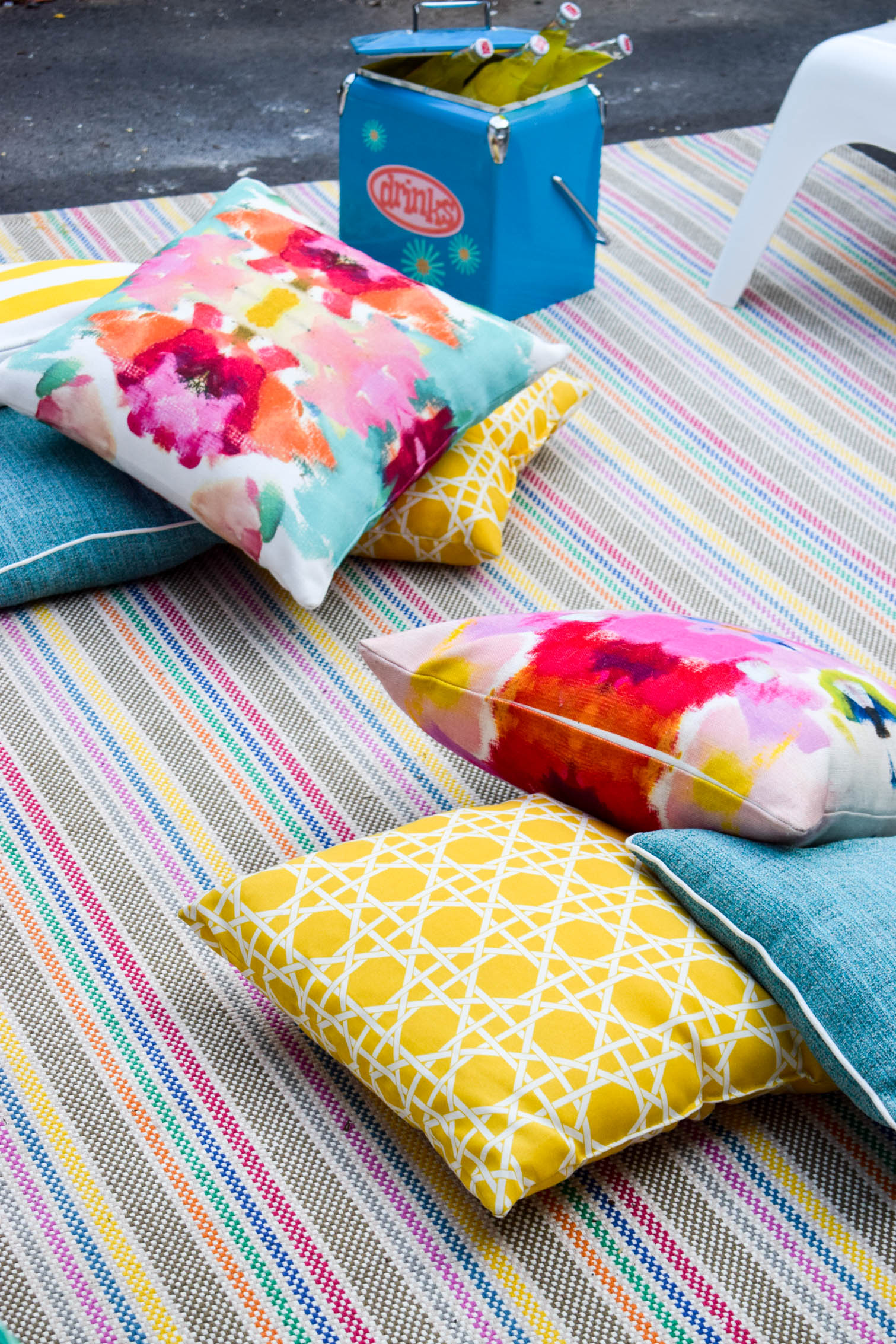 Suggestively arranged on the floor with inviting popcorn, the Sea Breeze, the Hot Tamale, and the Trimaran Stripe in yellow, allow your movie viewing participants to create their own little nest beneath the stars.
Movie Night Snack Bar
My fave part of going to the movies is getting snacks. Popcorn, candy, cold soda – come to mama!I hit up our local bulk food store to scoop my faves, and displayed them in cute little serving bowls and trays.
I've had this white rolling bar cart for 5 years now, and it never fails to come in handy for my hostessing needs.
Mood Lighting
I strung some of our patio lights over the screen, and they create a canopy of soft light in the evening. If you're having a casual cocktail beforehand, you can still be perfectly lit as the sun sets.
I recommend Bailey's over layered ice cubes, or any of my tasty Jackson Morgan recipes.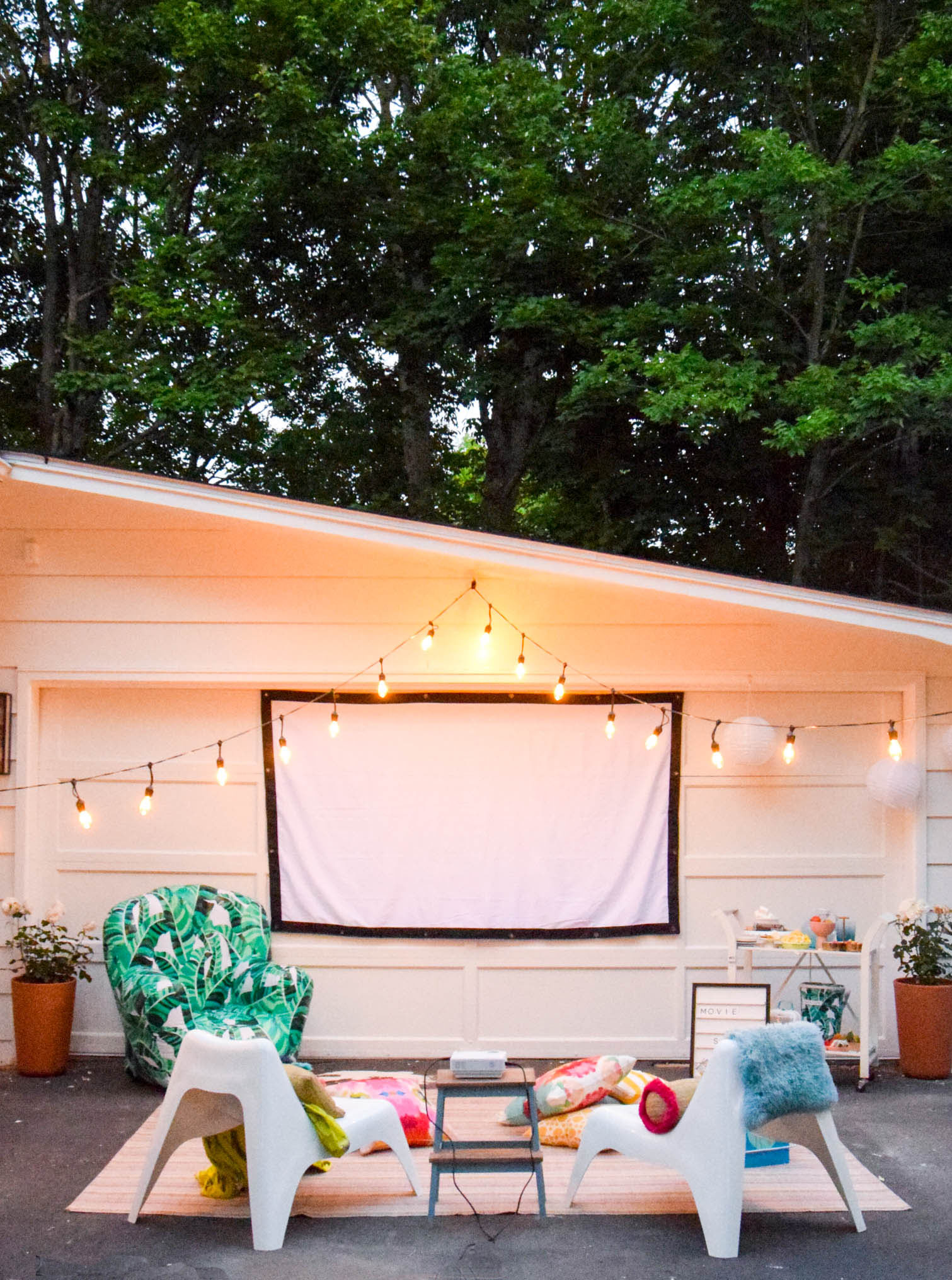 Outdoor Movie Projector
You can find a variety of projectors, including some nifty ones for cell phones. I snagged this one on Amazon at Christmas for about 130$, and it came with the screen. Perfect for our casual entertaining needs.
We mainly keep it in the basement, but it's been getting a lot of use in the summer. We don't have A/C so lounging outside in the evening is a nice respite from the heat.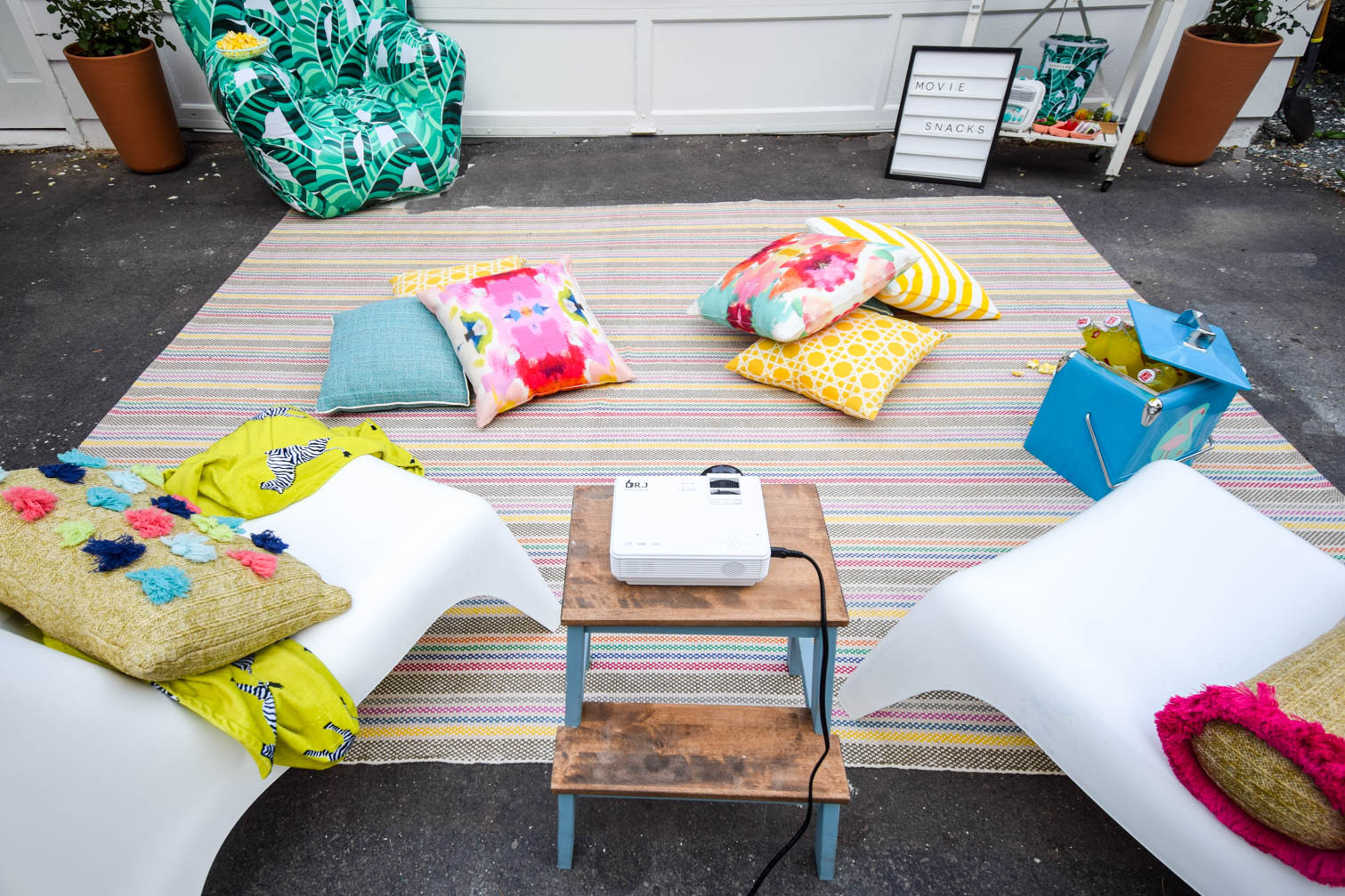 In the end, we've got a perfectly cool and comfortable spot to enjoy a movie or TV during the summer months (and maybe into fall!)