You didn't think my summer decor was just gonna be clean and white did you? I've saved a few colorful pops of outdoor decor for my color loving heart! I partnered with Annie Selke to showcase my colorful patio ideas for a summer of fun.
*Annie Selke sponsored this post, but all thoughts are my own. Thank you for supporting the brands that make PMQ for two possible.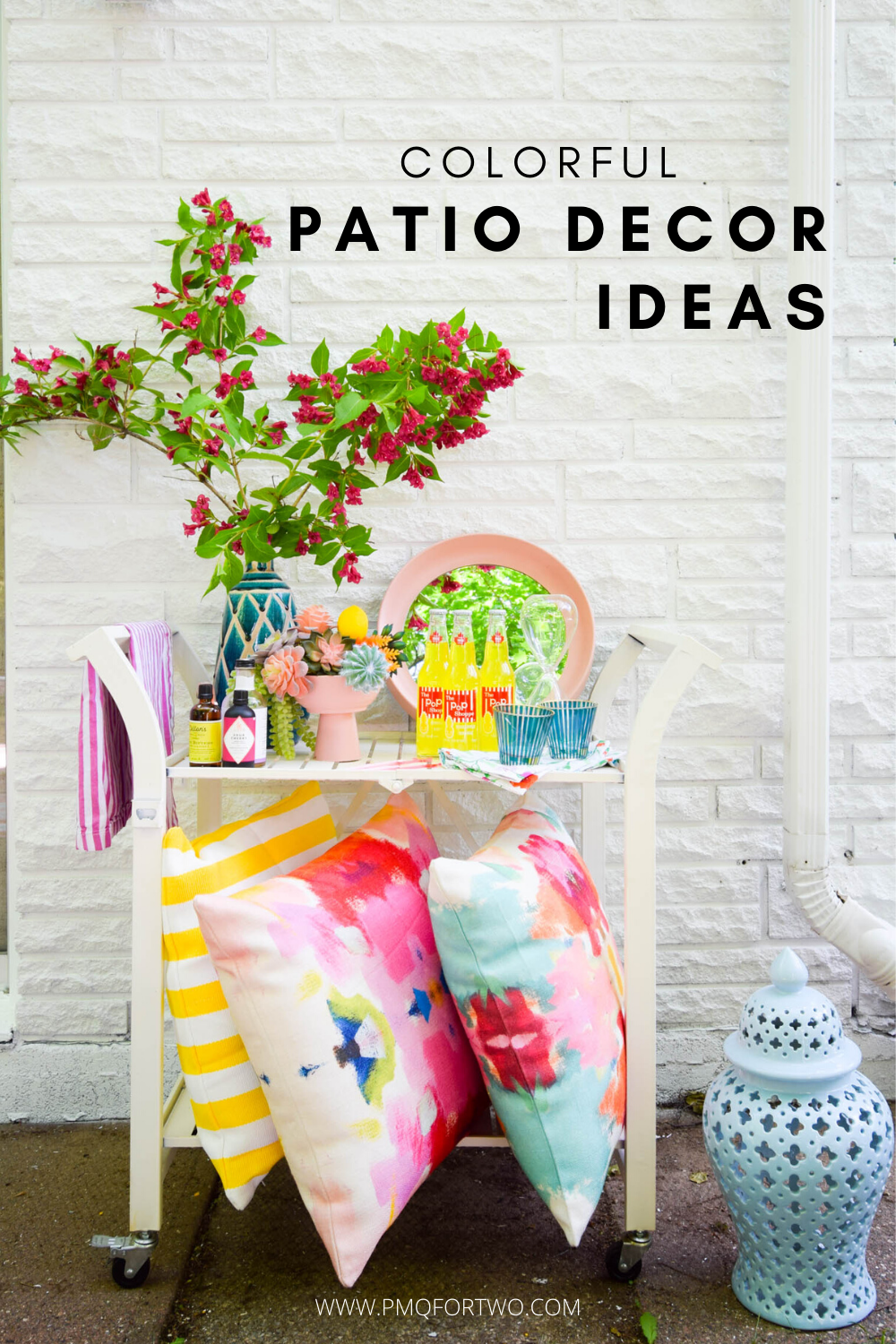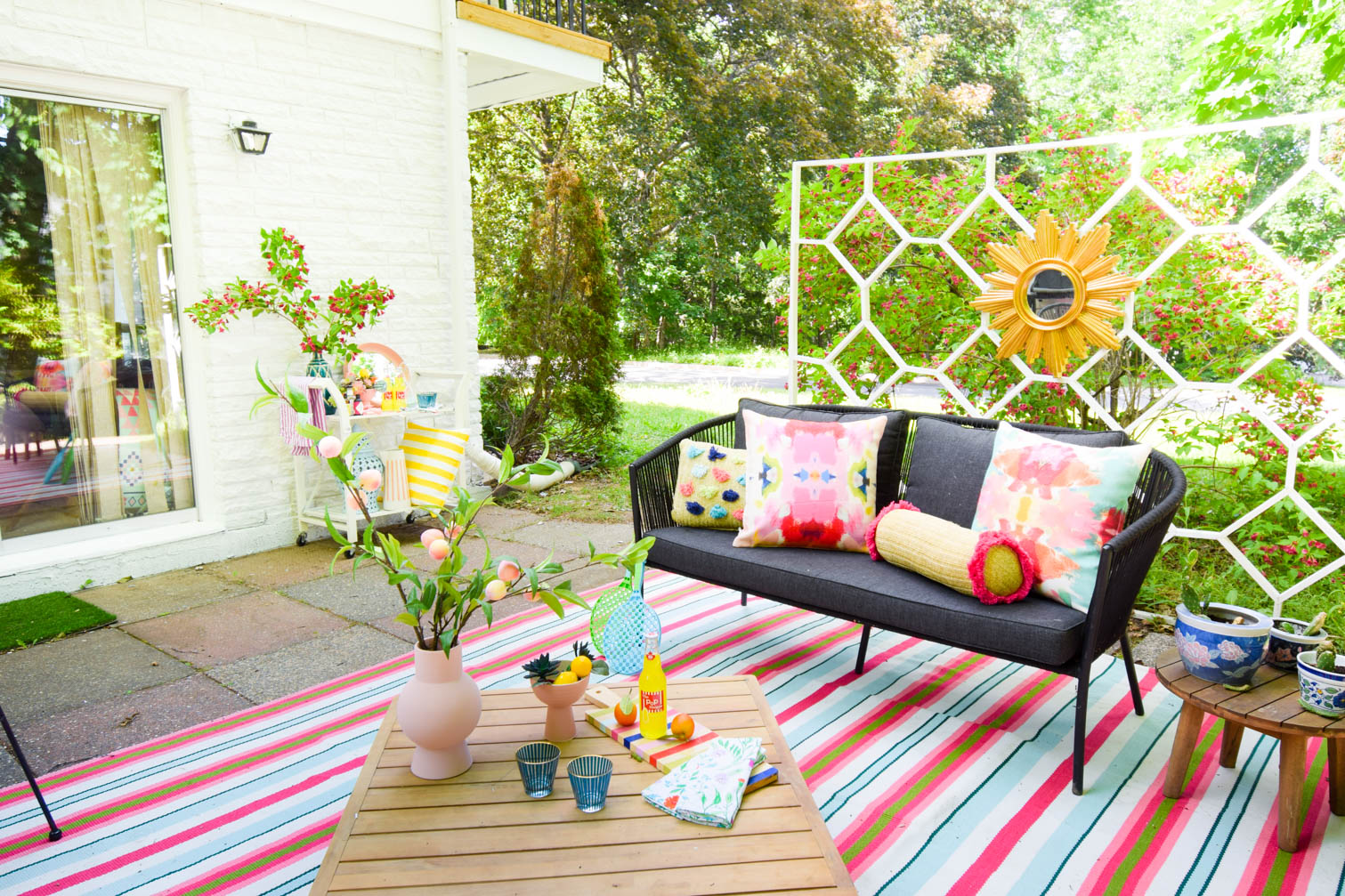 Colorful Patio Ideas
You guys know I bring the color, but lately I've been aiming for a more streamlined outdoor approach. Our balcony deck overhaul is pretty toned-down, and very calm.
However our backyard patio is more private, more secluded, and could benefit from a major dose of color in the form of fun colorful accessories, and a bold outdoor rug. I've collected my must-haves for a colorful patio below!
Add Colorful Throw Pillows
Duh! The easiest and most affordable way to add color to any space, is with throw pillows. These abstract patterns from Annie Selke's 2020 collection are not only stunning, but durable and perfect for an outdoor patio with lots of use. TI've got the Sea Breeze, the Hot Tamale, and the Trimaran Stripe in yellow.
I mean, they look fabulous sitting on a bar cart, but they look even better on our patio furniture. I've got the Sea Breeze, the Hot Tamale, and the Trimaran Stripe in yellow, but the Sea Breeze is my fave!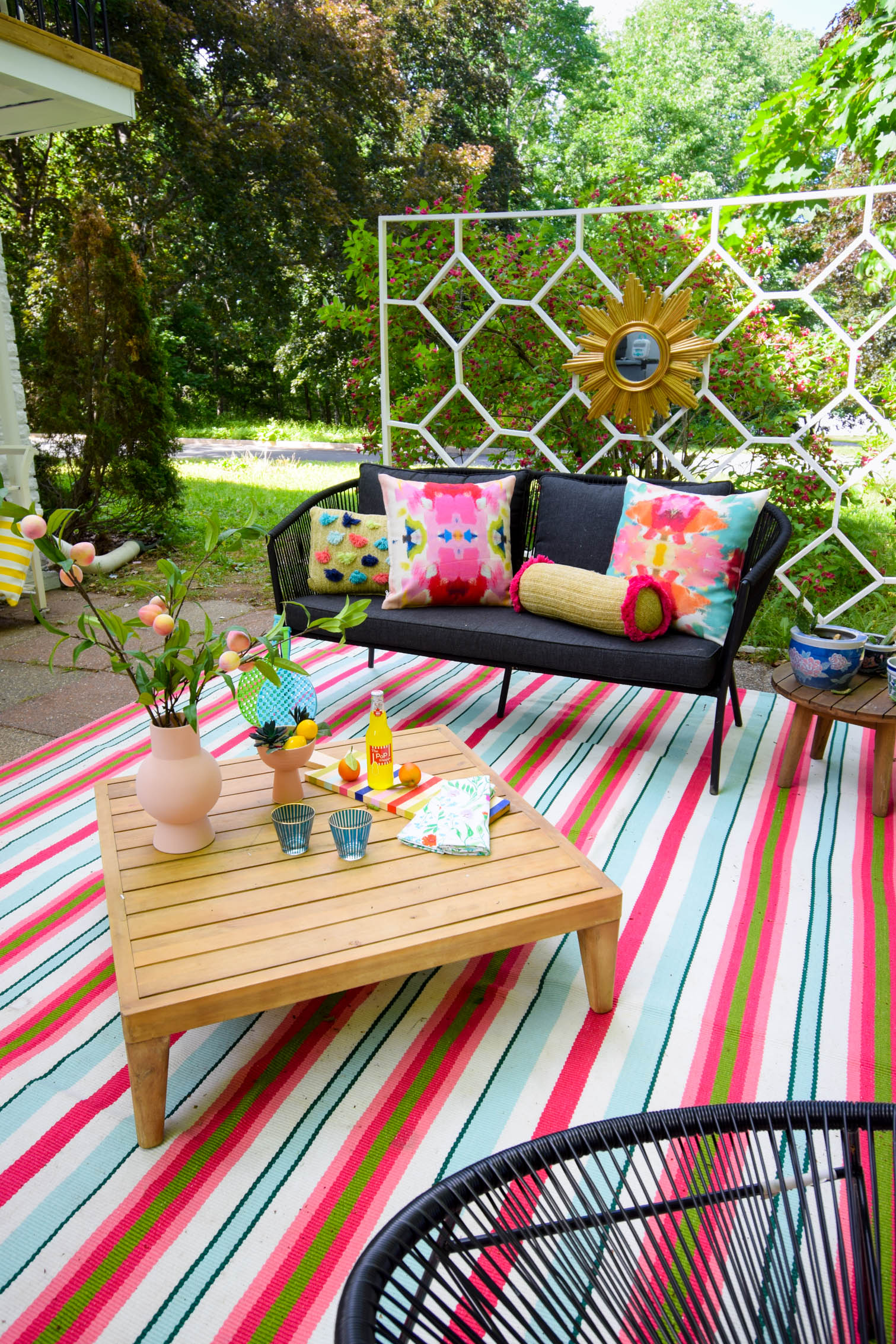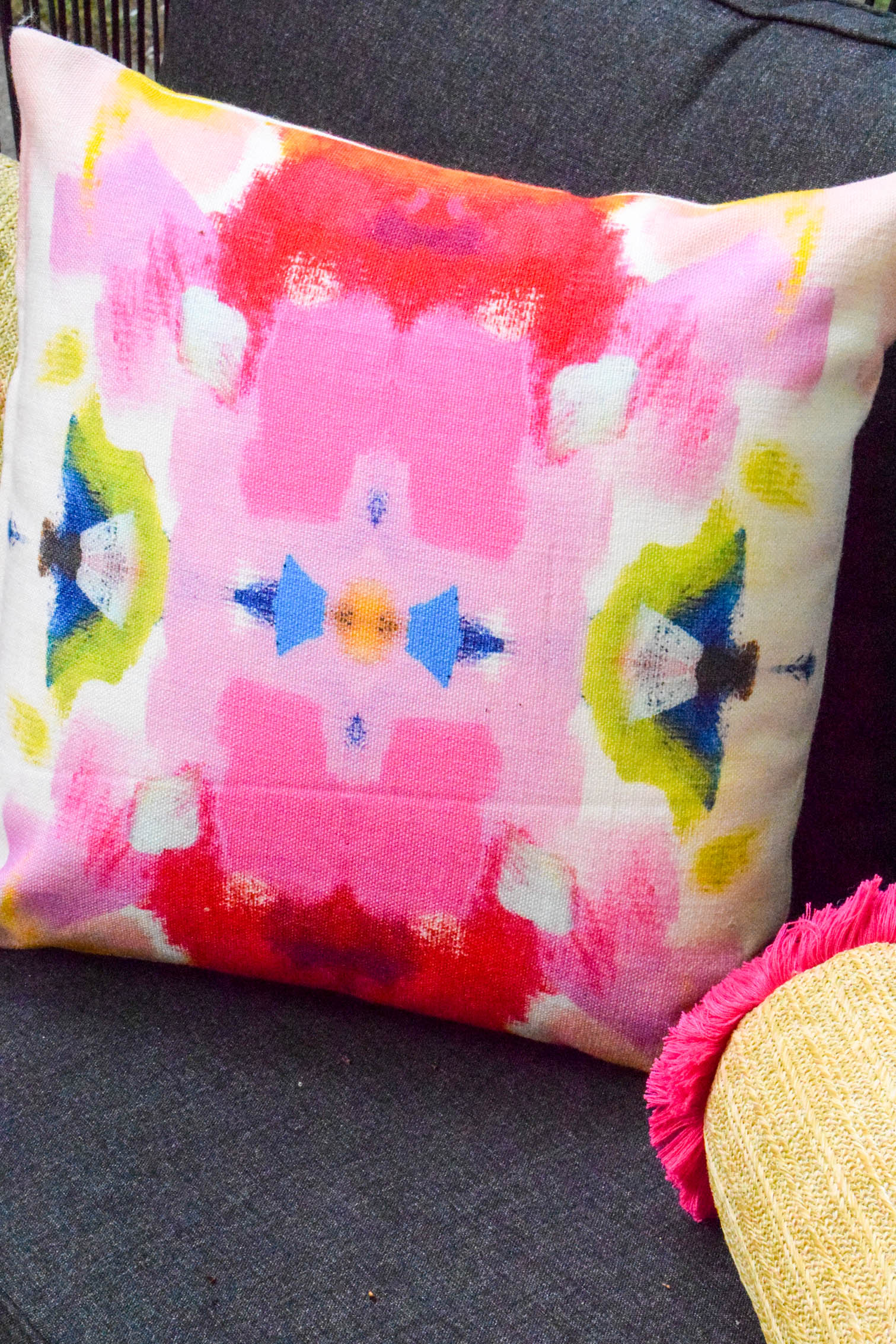 Pick a Colourful Rug
I've got quite a few of them inside, so why not bring one outside? Last year we used astro turf, and it just wasn't the same. So this summer I was keen on trying an outdoor rug in bright colours that make my heart sing.
The Watermelon Stripe rug from Annie Selke is perfect. I love a good stripe, but once you start adding color and depth with varying sizes, you've suddenly got a majestically robust pattern.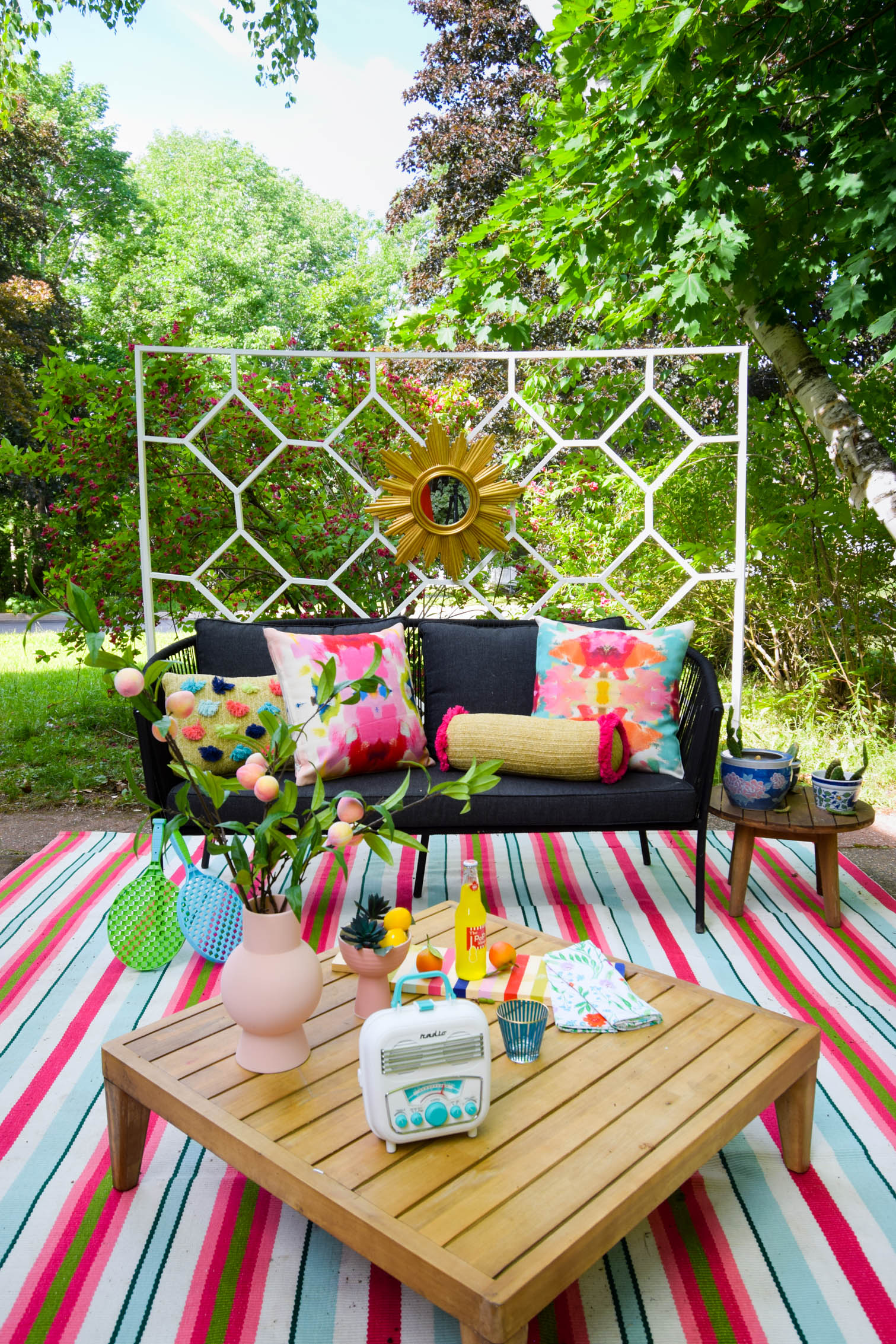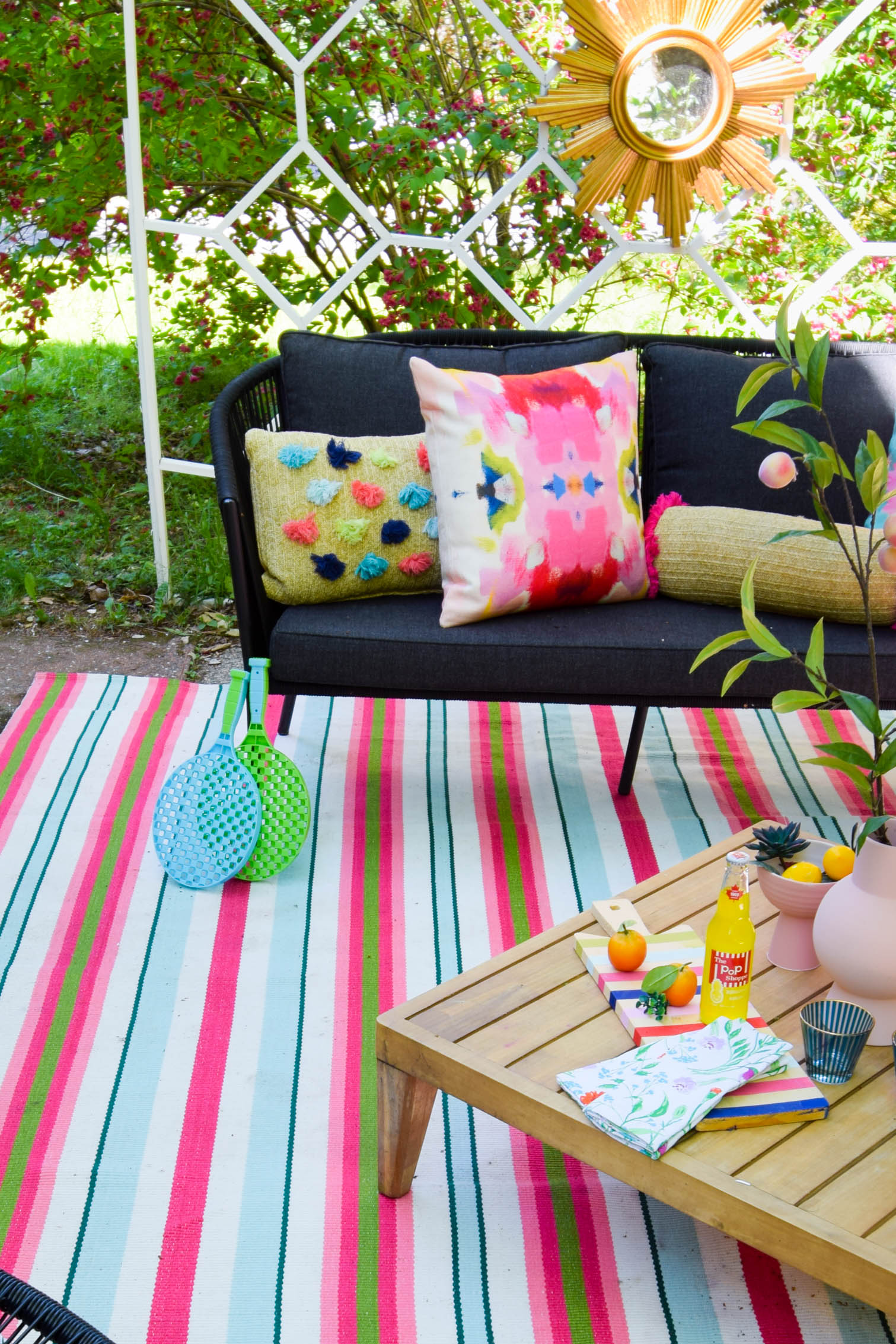 The pink and green are a lovely combo, and the blues are a lovely balancing colour in the scheme. What I love about the indoor/outdoor rugs from Annie Selke, is that they'll look bright and vivid (or crisp) all summer long. With proper care and maintenance, they're good for next summer!
Use Colourful Plants and Flowers
Not always easy, especially if your patio doesn't get the right kind of sun to keep flowers blooming. BUT with the occasional infusion of real fresh-cut flowers, you can use faux flowers astonishingly well to create a colourful environment that reflects the textiles and patterns you bring into the patio.
In the above photo, can you tell what's real and what's faux? What about these peach buds? real or faux. I'll never tell!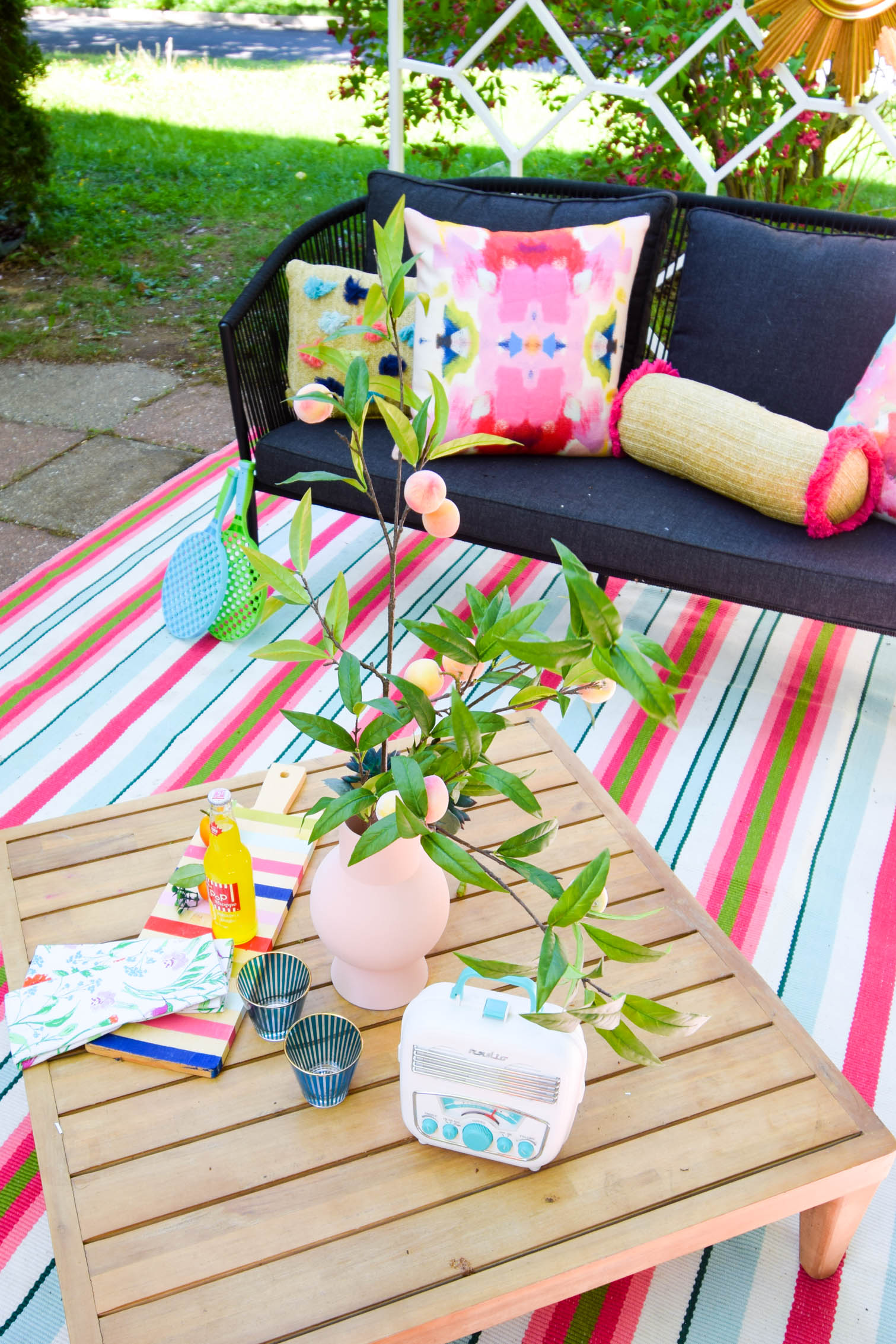 What about these beautiful fuchsia branches? real or fake? who knows.
Stick to a Color Palette
I've written a few posts about creating colour palettes – like how to use a ColorReader and how to create a tactile inspiration board – and as much as I love using every colour of the sun, sticking to a limited palette seems more intentional. It also Maes adding things later (or making substitutions) easier.
In this case, I stuck to the Annie Selke Pillows (the Sea Breeze, the Hot Tamale, and the Trimaran Stripe in yellow.) and the Watermelon Stripe rug. I pulled colours for other decor elements present in the bar cart styling and the coffee table styling.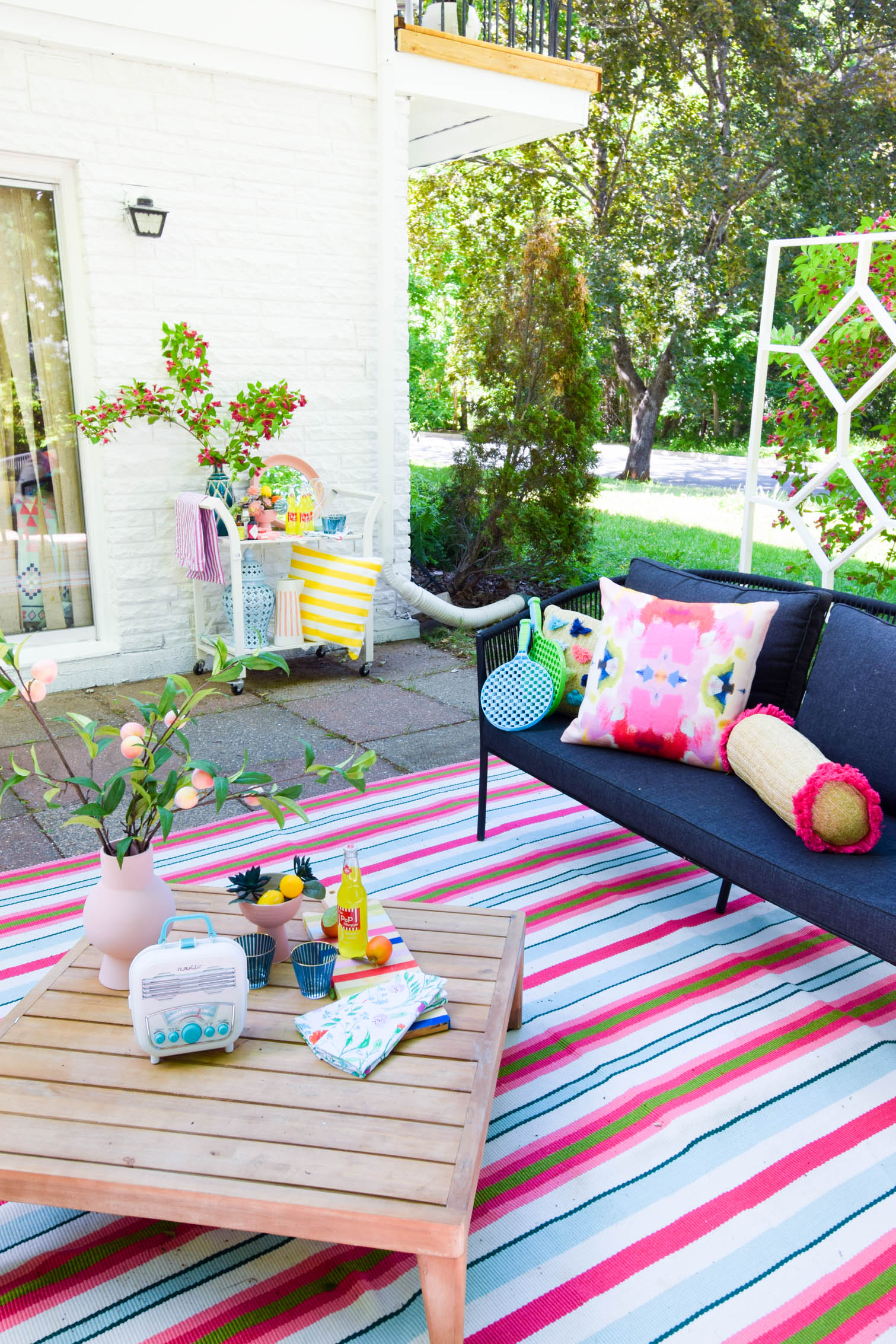 Everything brought into the space, from glassware, to florals, pop and more! The patio is a colourful ode to life and summer.
Use Neutral Accents
I know, this seems completely nuts. BUT, when the furniture itself is a neutral like black, white, or a wood tone, you create a backdrop that will really allow your colorful additions to shine.
Our outside bar set-up this year is a white rolling cart that I've had for years. Dressed-up with selected colorful touched like succulents, and cocktail gear, each piece gets to shine.
Speaking of which, do you love my white MCM trellis fence? We designed and built it last summer.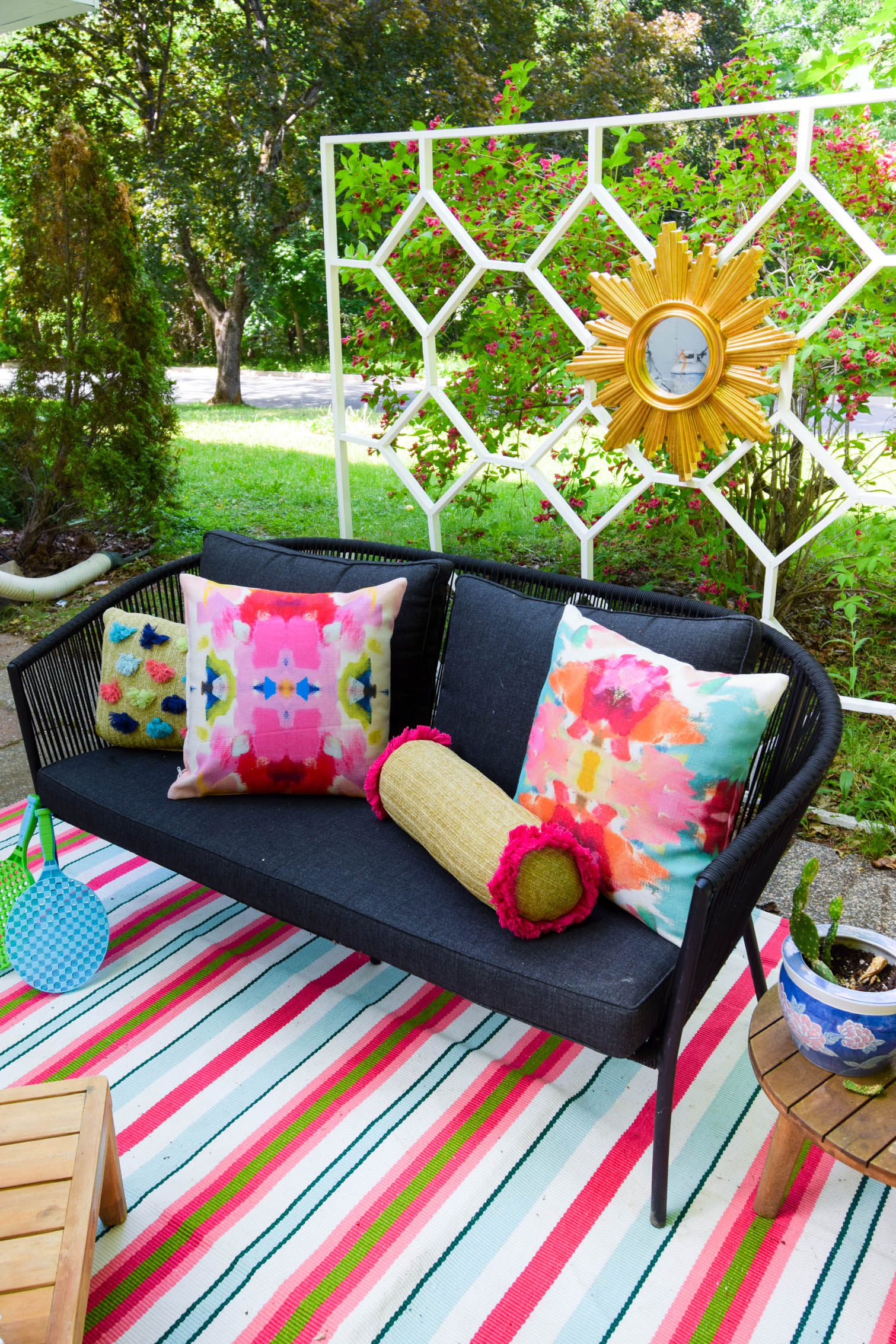 Our outdoor couch and accent chairs are all sourced in last year's retro glam backyard patio reveal, and they made a major comeback this year.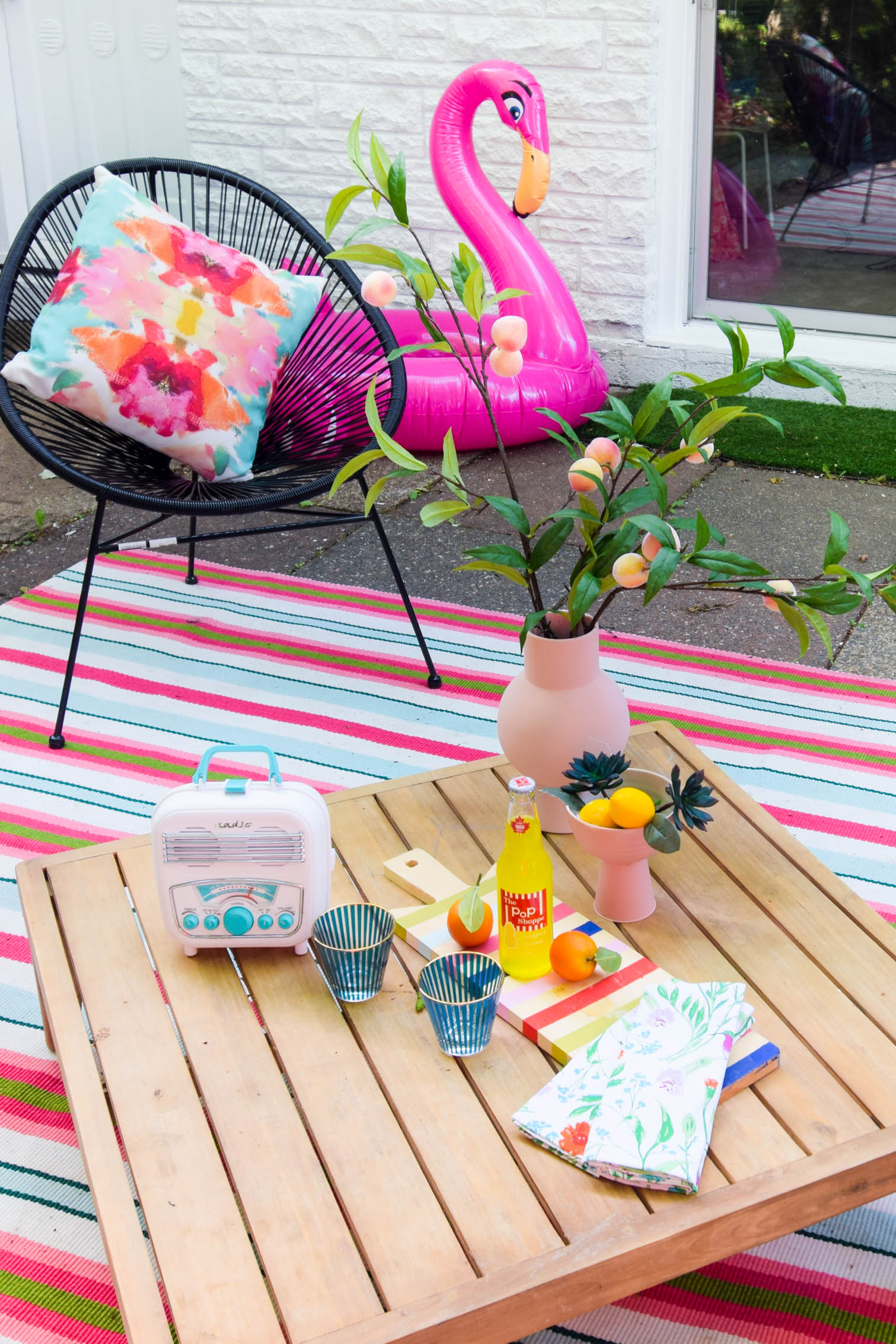 The natural coffee table also looks right at home on the Watermelon Stripe rug. Because it's not a bright piece, it doesn't distract from the vibrant colors and pattern under foot.