Alright, week 2, let's do this! This week I'm sharing my plans for the space and what's on my to-do list so that you can follow along more easily. I'm also going to be sharing how I build a tactile inspiration board, since everyone always comments on how well done they are. For those of you just joining in, I'm participating in the One Room Challenge for the 3rd time! The ORC is a bi-annual challenge hosted by Linda of Calling It home // here //. Each season 20 featured designers are chosen, and the rest of us get to join-in as linking participants. Make sure you flip through all the updates from the official designers // here // and the un-official designers // here //.
Catch-up on // week 1 // week 3 // week 4 // week 5 // week 6 // The Reveal
*Behr Paint, Rugs USA, Wayfair, Tonic Living & Parima Studios  sponsored this post, but all thoughts are my own. Thank you for supporting the brands that make PMQ for two possible.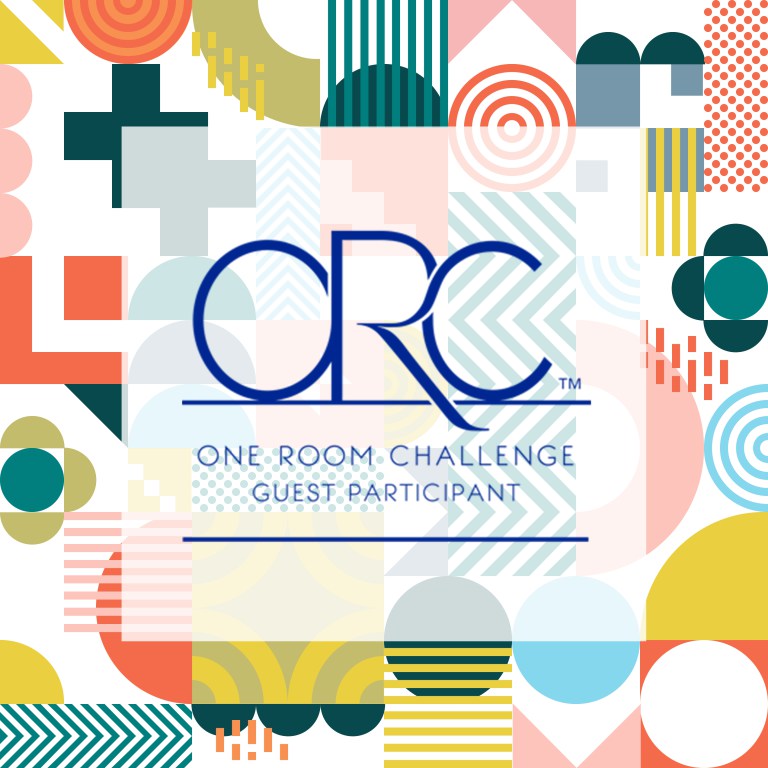 *Wayfair, Behr Paint, Parima, Rugs USA, Brite Lite Tribe, and Tonic Living sponsored this post, but all thoughts are my own. Thank you for supporting the brands that make PMQ for two possible.
If you think I took the bedroom in a fresh direction earlier this summer, then you'll like what I'm doing here. I plan on using the same wall colour by Behr (Rainy Season MQ5-27m) and the rest of the decor choices will be plush, velvety, vintage and 100% mid century modern. I think my tactile inspiration board reflects that too.
Before I go any further I want to take a minute to thank my sponsors who have contributed to this round. I can't do what I do without them, and their fabulous products are 100% items I use, re-use and still recommend.
Down to business – my inspiration board! You may have caught on in my week 1 post, but I've been planning for this update since last Spring. I've been making purchases like a sideboard and new dining room table set through the online classifieds, and have criss-crossed most of the Atlantic provinces in the process.
I chose an amazing light fixture from Wayfair, the Stilnovo Zen Flushmount. I had originally purchased it for the bedroom refresh, but then it got here and we realized that it had a much sharper drop than it looked like in the photos, so I saved it for this space because the ceilings were higher so the drop would be less of an issue.
The Rug had to match (loosely) the one in the living room, since the two spaces are only separated by a doorway, so this wasn't going to be the moment for drastic change. I chose the Bosphorus Antoinette Floral Framed Kashan BD46 from Rugs USA because the pattern is similar, the colours are coherent, the pile is similar, I think we have a go!
The art is something I'm going to spend more time talking about in another series of posts, but you can grab them here // here // here if you're itching for a head-start.


To Do List
Paint the walls
Instal new light fixture
Paint (or maybe reupholster) the dining room chairs
Acquire and instal art
Lay new rug
Make roman blind for the window
Swap light switch-plates
Decor, decor, and more decor!
And now back to the tactile inspiration board! I always find them to be the most fun. You can create a Pinterest friendly image until your face turns blue, but if you can't touch, rub, admire, and handle the materials going into your space how will know if they really hit all the senses?
I really like being able to experience my surroundings in full effect (which is probably why I like so much colour), so touching the materials before they go into the space is key.
I start building mine looking for the main colours and patterns, and then add in the details that I think will complete the look.
Take this one for example: I've have 3 main fabrics throughout the space, and I've layered them accordingly, one on top of the other.
I've got the paint swatch card for the paint I'll be using, as well as a gun-metal black light switchplate which matches the overhead light.
Since this is the dining room, glassware and dining collections will need to look good with the layout since they'll be on display within the space.
Knick knacks, doodads, art and more can't always be placed in full on the board, so I find other pieces that share colours, patterns, or materials with them, to serve as visual placeholders – think fabric swatches, figurines, key tags etc.
Layer them in proportion to how much they'll be visually present in the space, and voila! You've got yourself a tactile inspiration board.