Retro Glam is the name of the game around here these days, and that extends to our outdoor spaces. With the help of Article, I created our dream retro glam backyard patio, and layered-in  some of our existing pieces.
Looking for more outdoor summer inspo? Check out these other bloggers projects/spaces: Jeweled Interiors, Up To Date Interiors, Casa Watkins Living & Heathered Nest
* Article sponsored this post, but all thoughts are my own. Thank you for supporting the brands that make PMQ for two possible.
Creating a backyard patio
It's not enough to just have a yard, to create a true backyard patio you need a few essentials on lockdown: a flat area for your furniture, a sense of space and intimacy, as well as a sense of the great outdoors (be it skyline, cityscape, or trees).
Our backyard patio is off the side of the house, which is also technically the back, and it's the perfect size for us.
It feels intimate, private, but also like an extension of the house. Once we added our DIY MCM Trellis Panel, we closed-in the space with a "wall" but it really helped provide a backdrop for our seating, and create a feeling of closeness.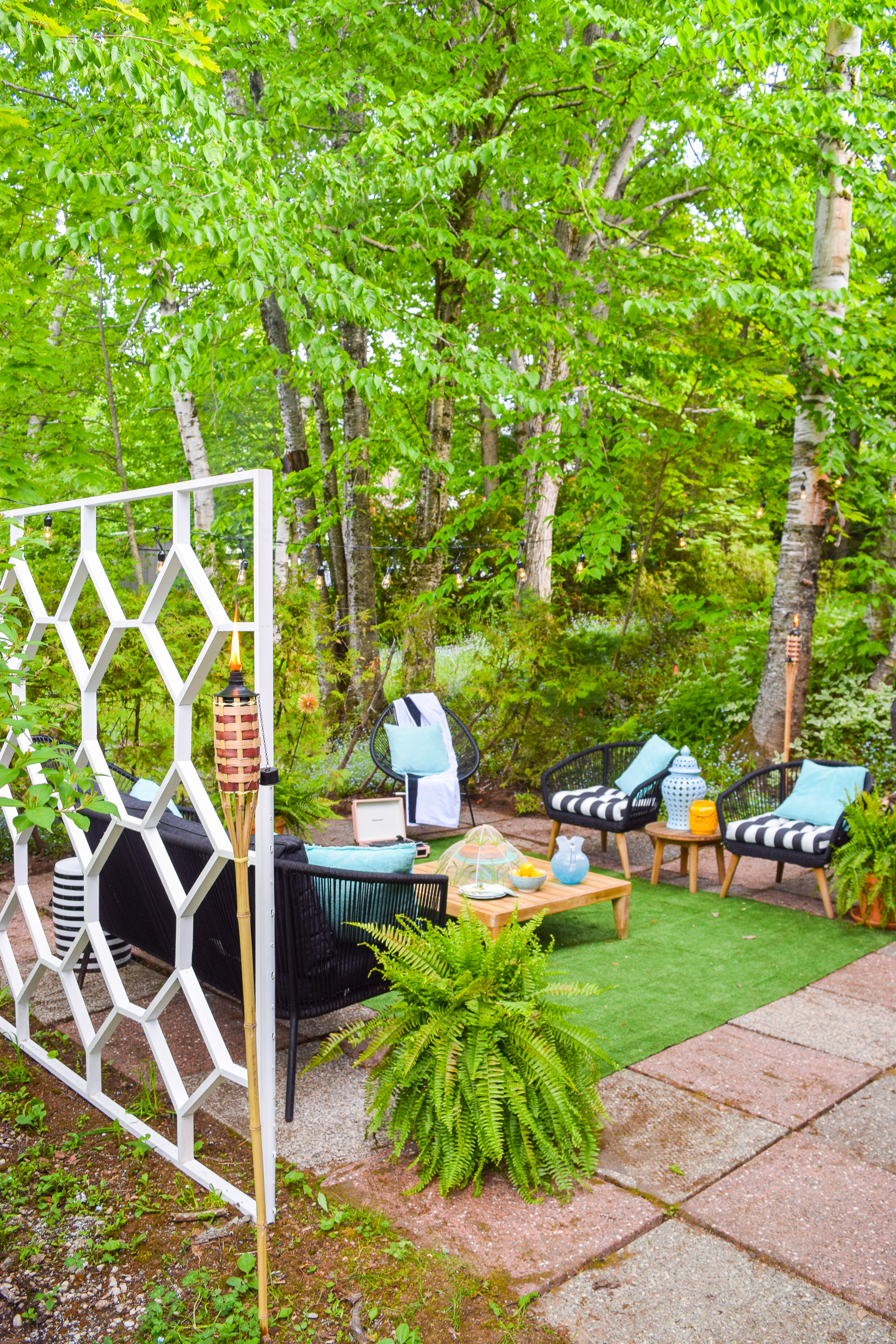 Because our backyard situations have been rental based, we've avoided investing in pieces that we wouldn't be ok parting with if we had to sell them. With our mid century fixer upper, we're trying to keep as much of the house's character present in our renovations and decor.
Check out our Renter Friendly Painted Patio Tiles or our DIY Patio Sun Loungers
For the backyard, this means picking retro patio furniture that feels like it could have been found in situ back in the day, but also keeping in mind all the neat options available to us now. Enter, Article.
We had been eyeing several of their indoor pieces for what feels like years, but the timing was never right. When we got to planning our retro glam backyard patio though, we knew we would finally be able to take advantage of their outdoor modern & mid century design.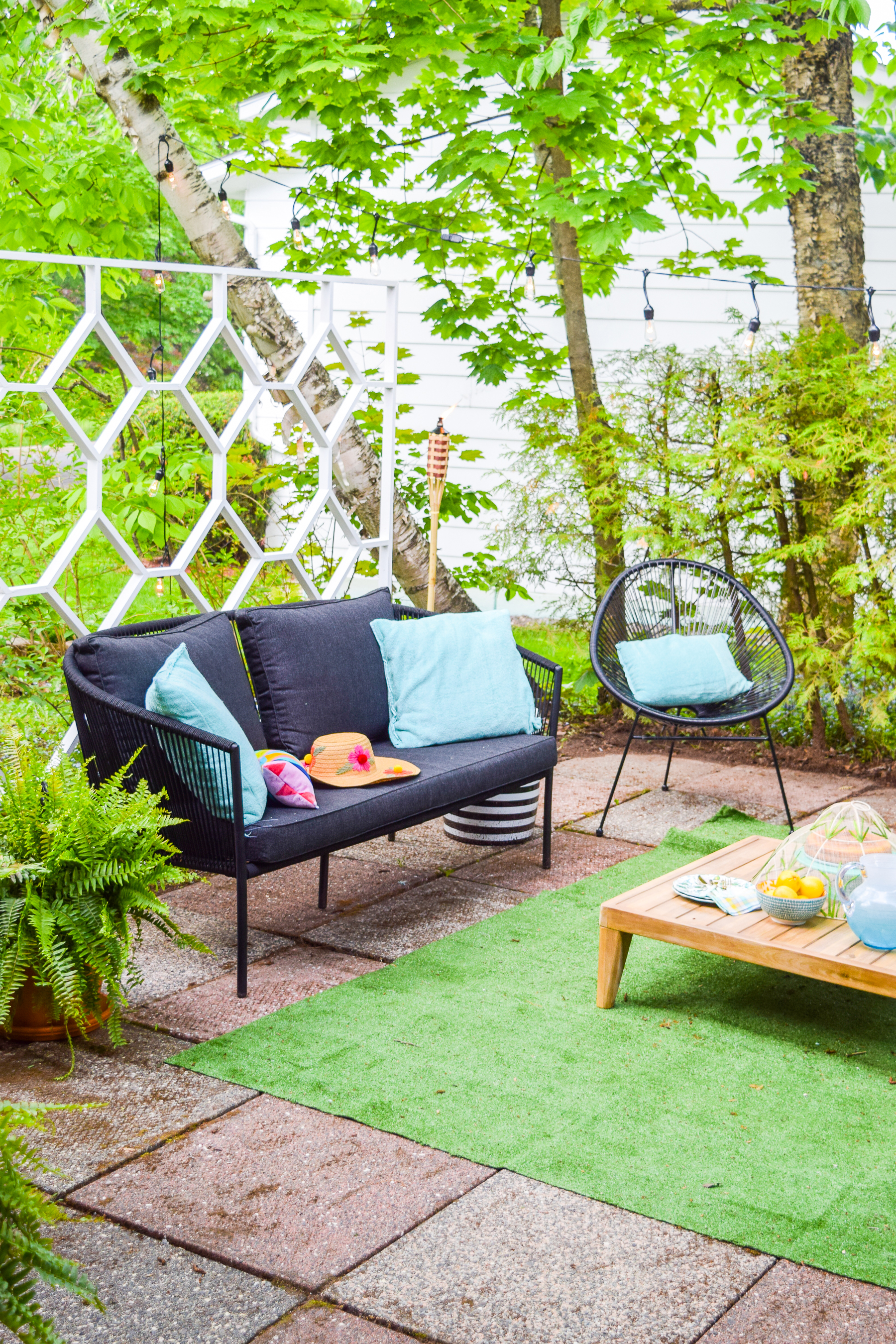 We already had a few wrapped chair sets, and we wanted a loveseat/sofa that could accommodate some more bums. In an ideal world they would all match somehow, or at least not feel like strangers in the same space.
Furniture, although it doesn't have to match, should at least look related.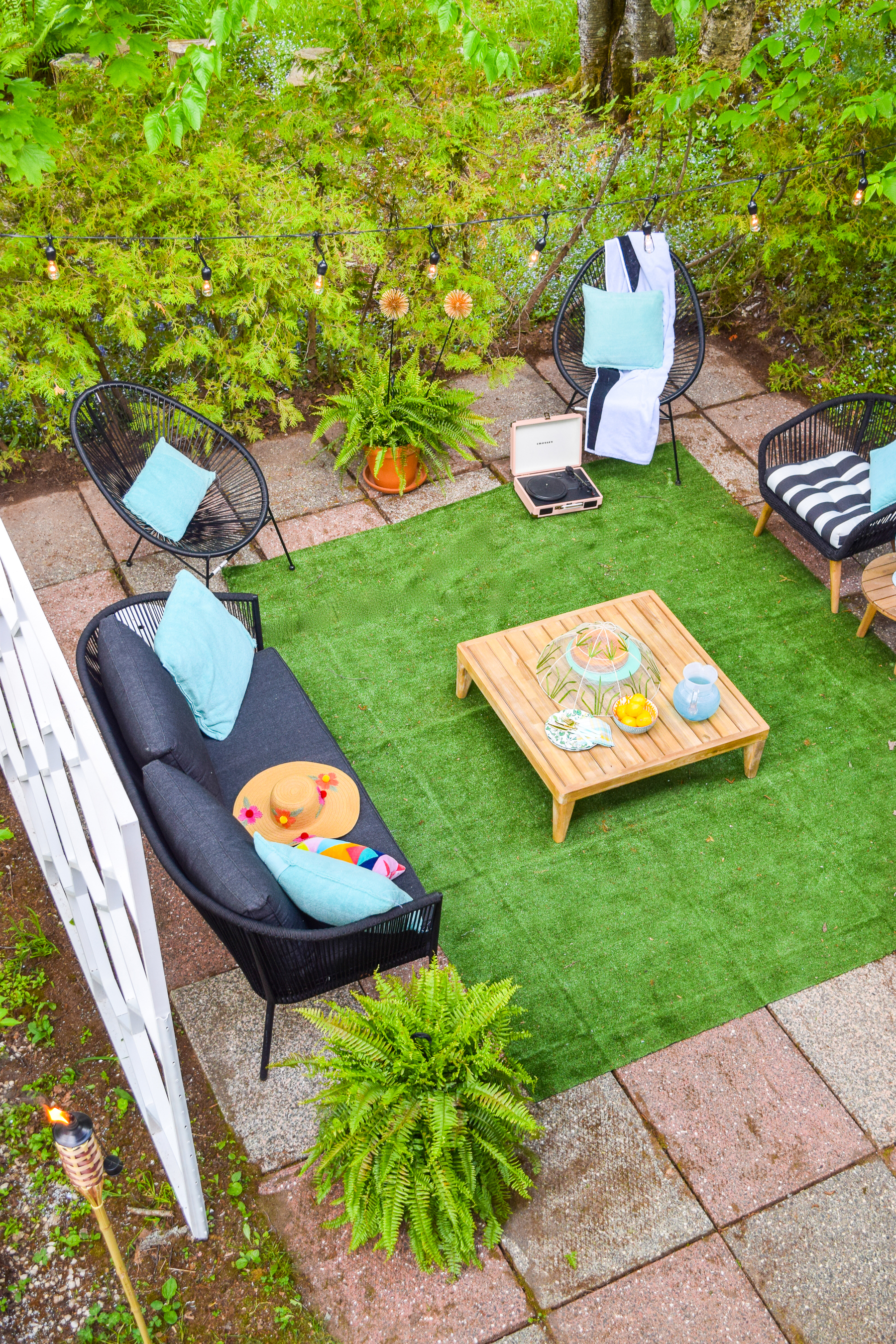 For someone who likes colour as much as I do, it may be surprising to you that I've chosen black furniture for our outdoor spaces, but really, this was a strategic choice on a few points:
Black won't show stains or smudges that come with outdoor living

Black looks so sleek with a white, green, or blue accent, and even better with black & white stripes (my fave pattern)

Black will wear nicely over the years, and won't yellow in the sun
We chose the Corda Slate Gray Sofa, because it could hold 3 people if needed, but would still feel cozy with just the two of us on there.
While we all want to consider large BBQs and party nights under the stars, your outdoor patio also has to work for when it's just you and your partner. Or in this case, just Bruce and I. I've found him snuggled on the Corda sofa a few times, and neither of us are bothered – he scooched over for me, and we both enjoyed some sun at the end of the day.
BONUS: The cushions are easy to wipe, and don't show all the mud he tends to trek around with him. I'm all about low maintenance outdoor furniture.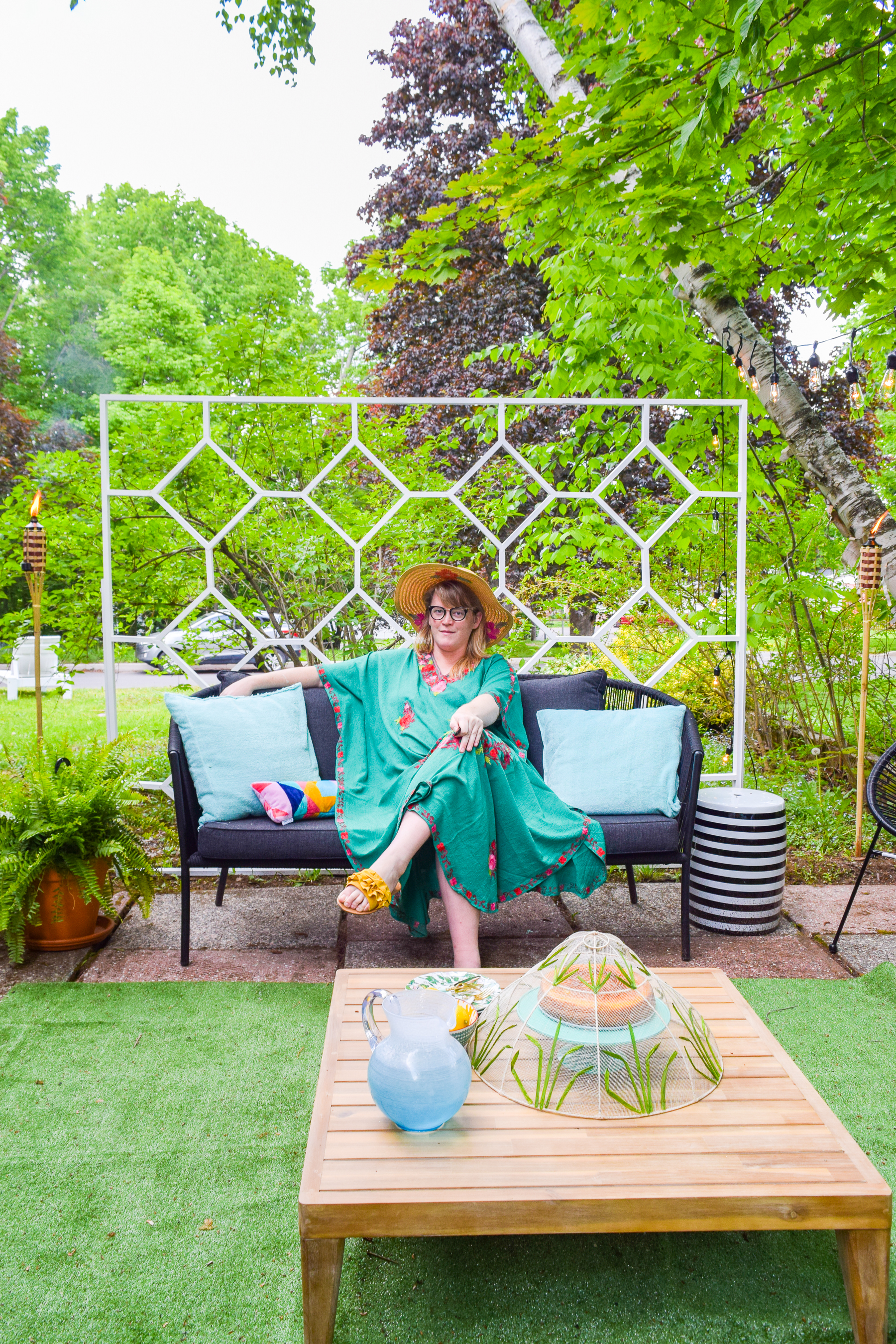 Glam Patio Entertaining Essentials
Besides picking the right seating, if you plan to entertain in your backyard at all this summer, you've got to have some glam patio entertaining essentials.
In a bold move – for us- we sold our large harvest table with the move last summer, and weren't sure if we would be replacing it this summer with something smaller. We opted to get a nice big outdoor coffee table instead! The Urba coffee table checks many boxes on our list, and looks damn good doing it.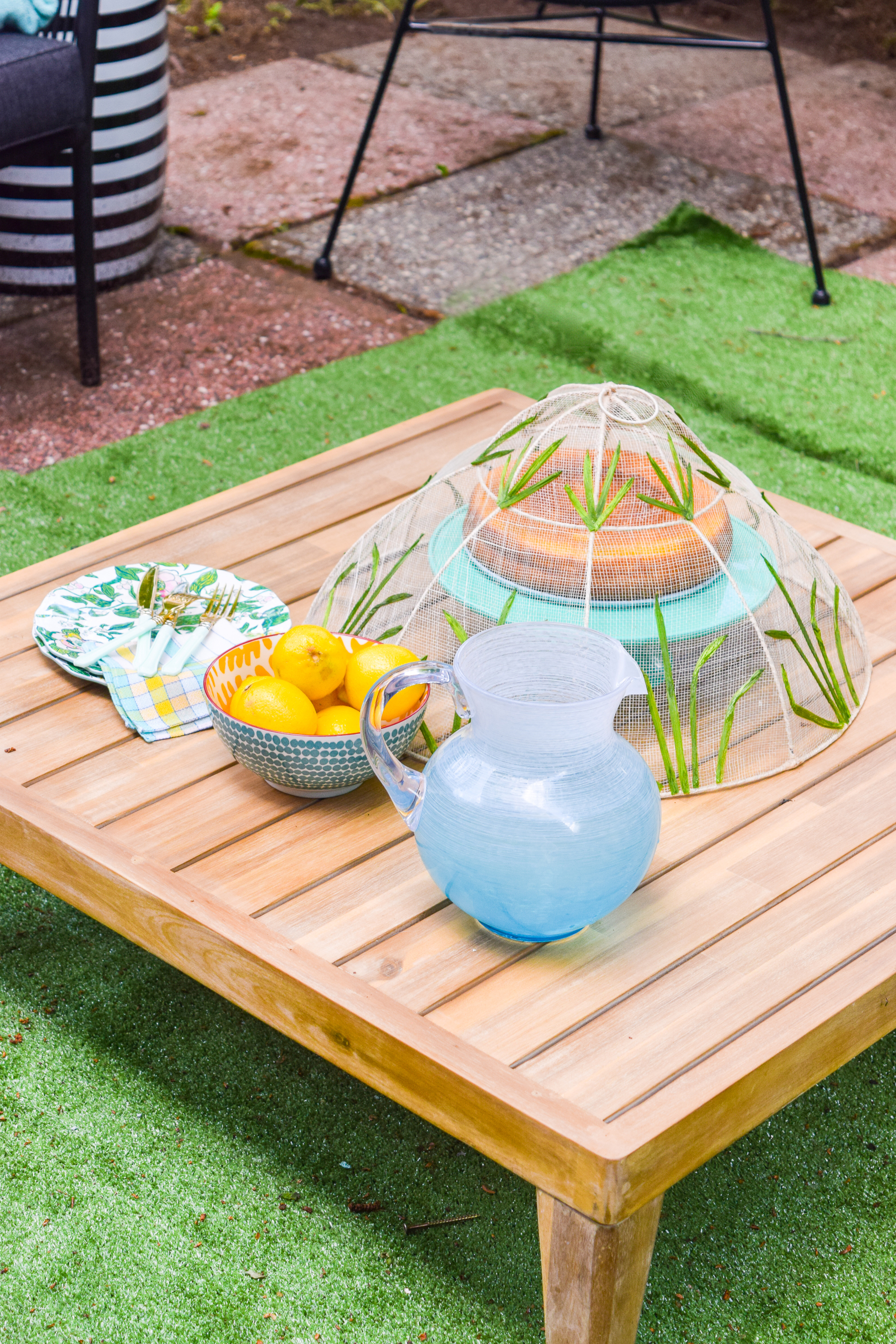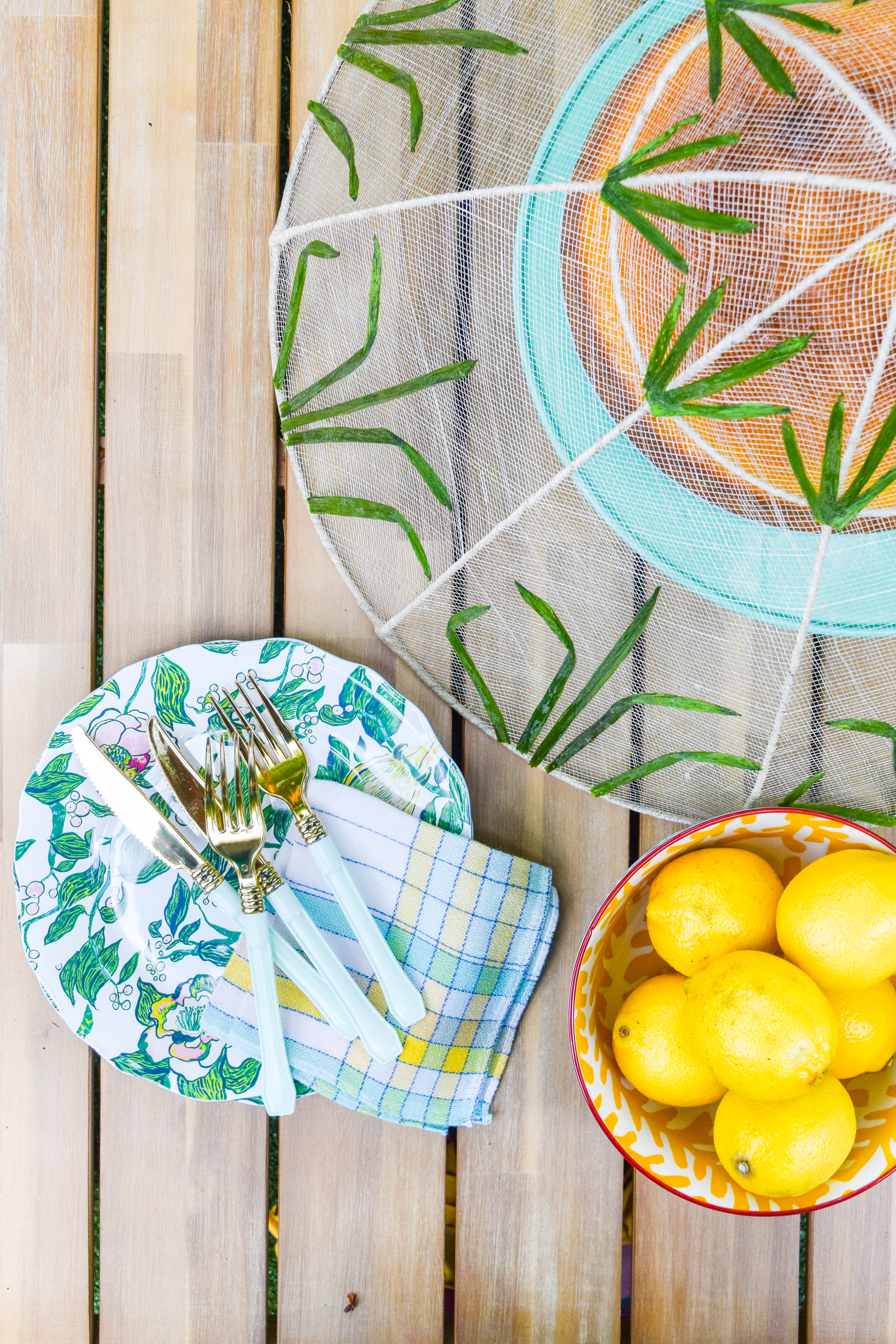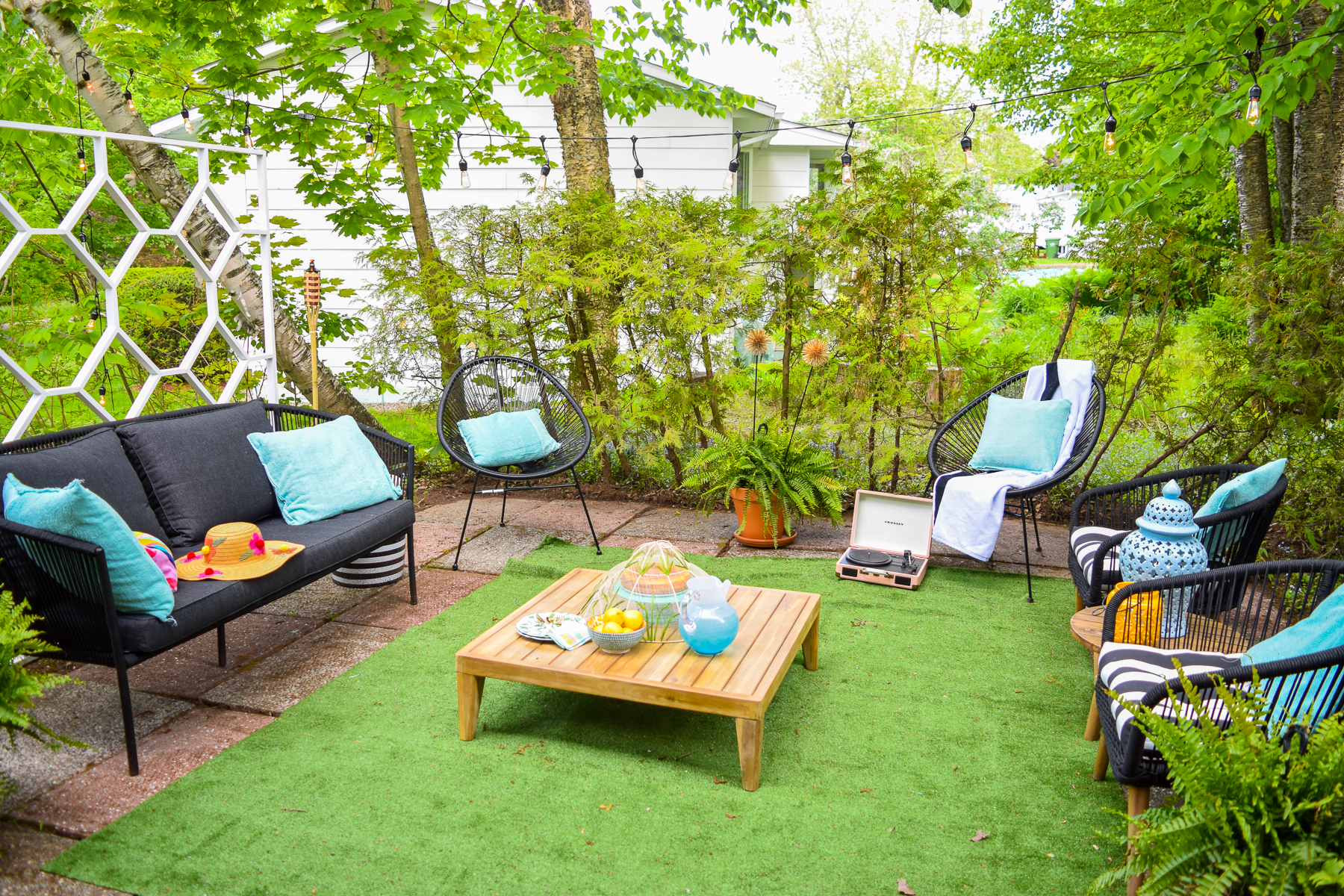 As you can see, it is precisely the right scale for this space. It can hold drinks, appies, hats, and more — all while being out of the way.
When we host get-togethers in the summer, we wanted more flexibility in how we use the patio space, and this gives it to us. Now we can host a seated dinner on big floor cushions, or just it as a place to put the lanterns and snacks.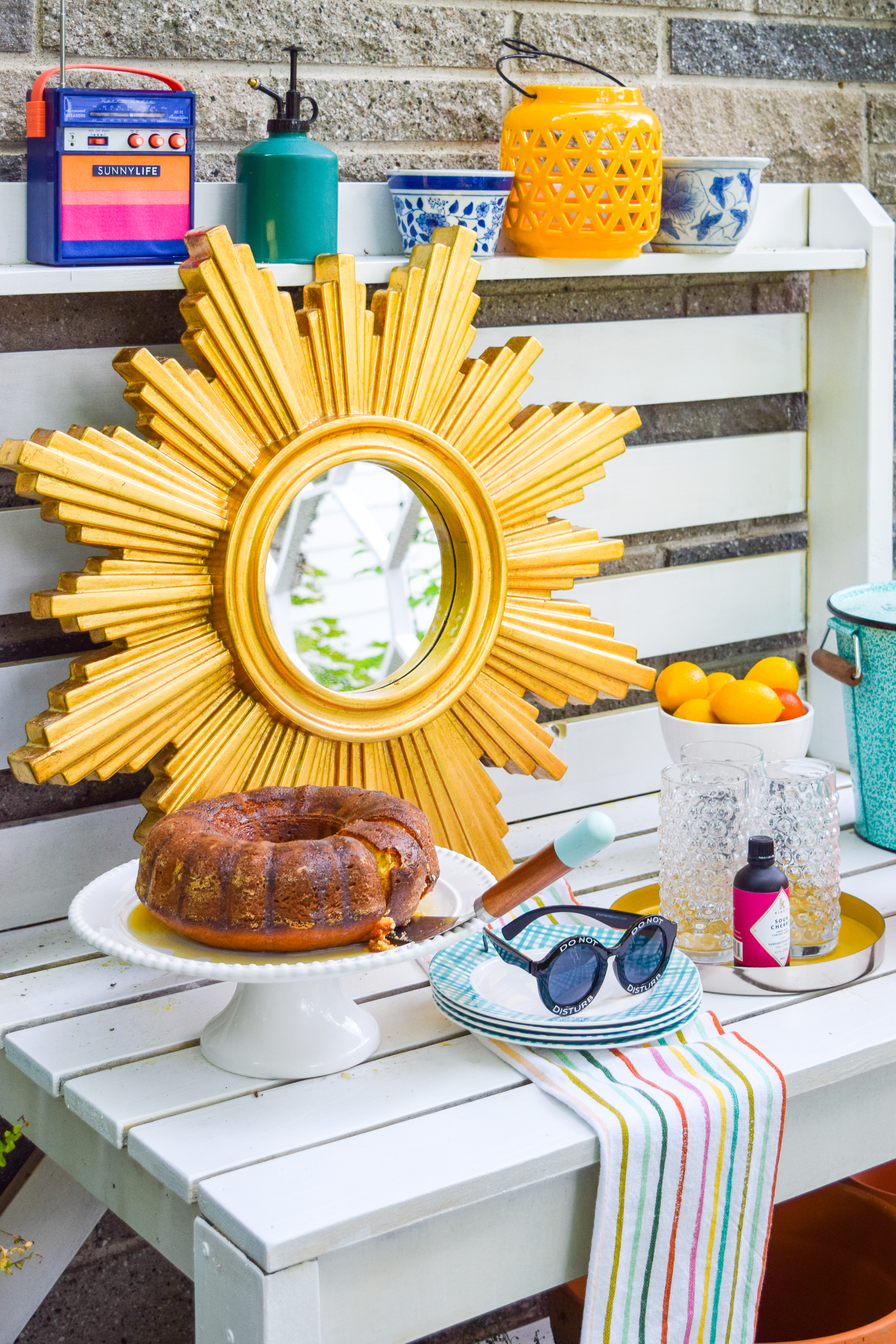 The next facet of our entertaining set-up, is the potting bench (that we built last year). Day to day it holds my plants and pots, but can easily be turned into a sideboard, if we need to keep anything particular out of reach from Bruce.
It holds my Banana Pudding Bundt nicely, as well as some pink lemonade and other barware essentials. Make sure you check out my summer cocktail series for some inspiration during your next get together.
Retro Glam Backyard Patio Details
With the right furniture, the right entertaining pieces, and a touch of glam you're in business.
I added string lights and lanterns (and tiki torches to keep the bugs away) for lighting and ambiance. I sewed blue towel cushion covers for our existing collection to create some unity in the soft accents, and then we added gold mid century pieces where the occasion presented itself.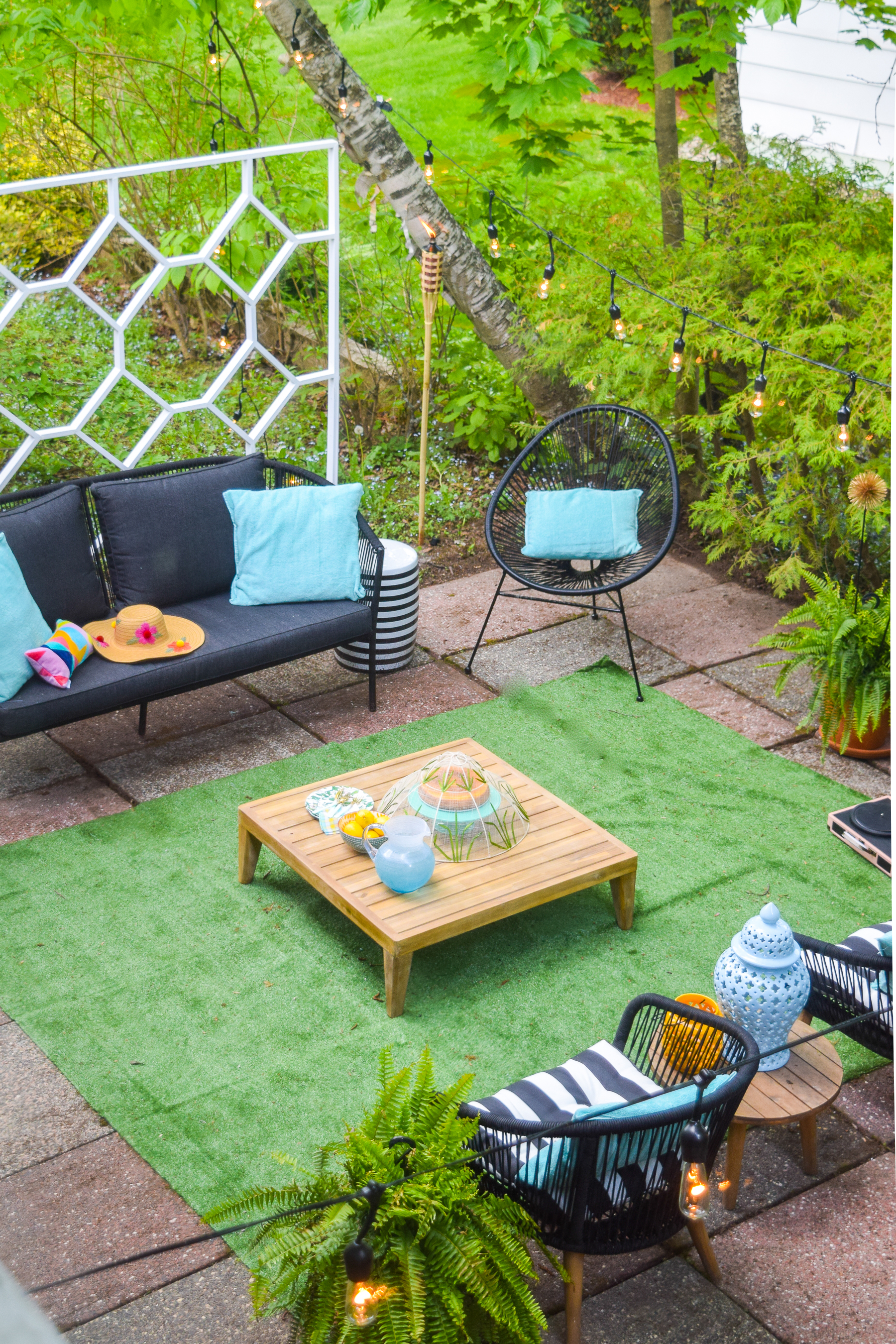 I went back and forth a lot on what type of greenery I should add to the patio, and in the end we went with ferns. This patio is shaded most of the day, so we needed plants that would thrive with less sunlight, and still look pretty. I wanted to add colour with accessories, and blooming flowers are expensive.
Plus, there were already ferns in the space, so it made sense.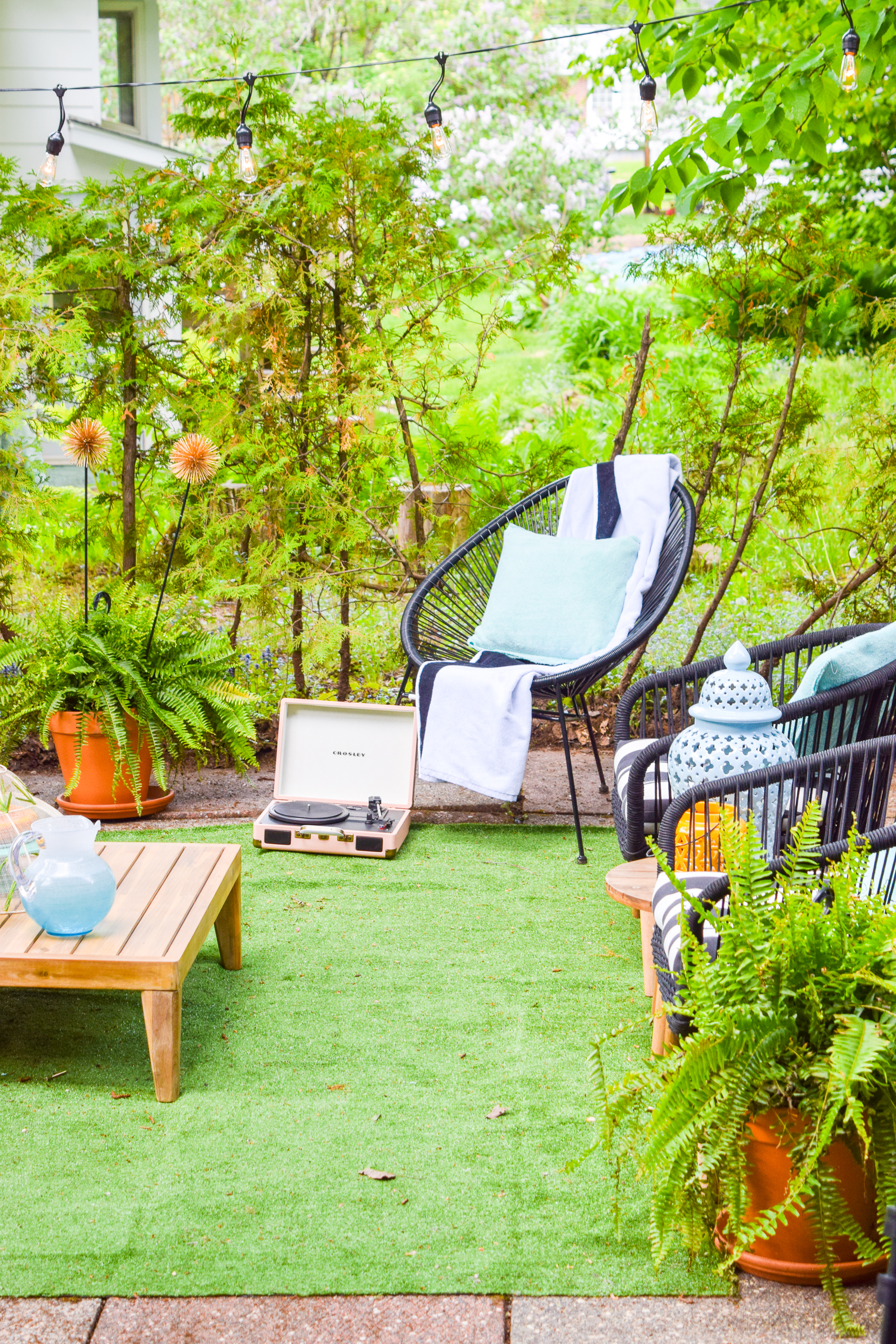 This is what 30 weeks pregnant looks like, and I don't hate it. Now that our retro glam backyard patio is complete, I can start, pause and end my days out here if I want a break.