OK PEOPLE. Listen up, I'm going to explain how I find all my color inspo, since this (along with questions about pattern mixing) are some of the questions I get the most often. Long story short, I look to the world around me for inspiration, and now that I have a Data Color ColorReader, I can pull all the color info I need to make even better color matches with paint and decor items. Curious? I'm going to show you how to use the colorreader.
*ColorReader sponsored this post, but all thoughts are my own. Thank you for supporting the brands that make PMQ for two possible.
To start, I pulled all the colors and patterns currently at play in the house, as well as the paint chips for the actual colors we used when we painted. I wanted to see how close a match I could get with the ColorReader. I was pleasantly surprised by how close a match it was!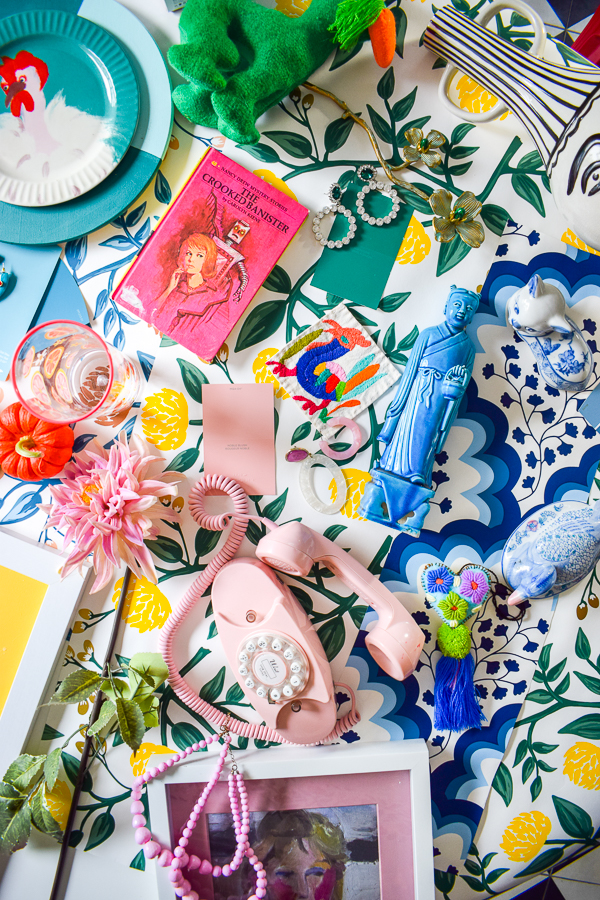 Creating a Whole House Color Palette
I've written about creating color palettes and mood boards for a space before. Last summer I predicted what out fixer upper color palette would be, I talked you guys through creating tactile mood boards, but creating a whole house color palette is actually quite easy when you're not just confined to paint chips.
Check out my guide to painting interiors 
Start by pulling items that inspire you, create a mood, or that you know you want to incorporate into the space. In this case, I'm kind of cheating because I've already got all these spaces finished – as I detailed in our year one progress report for the our house – but the same principles and process apply.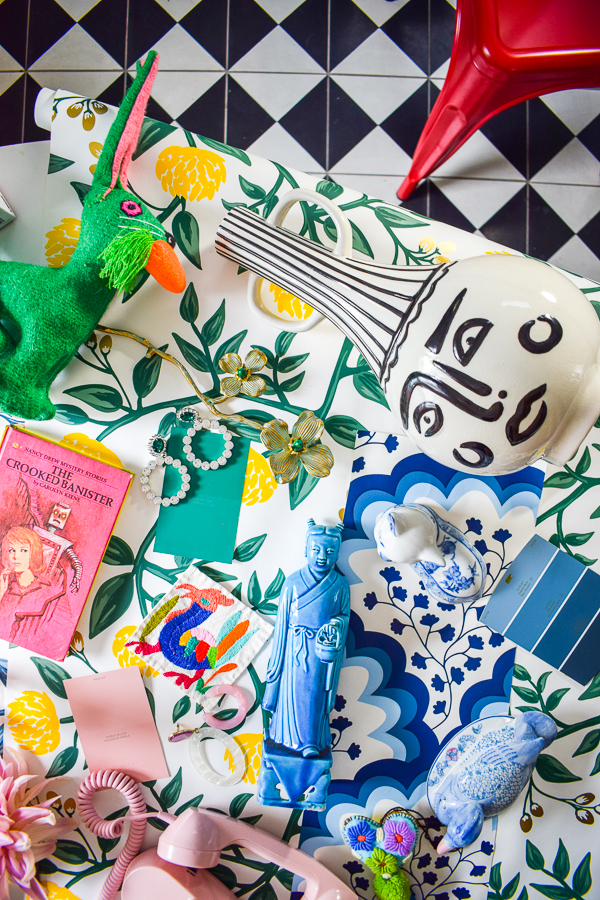 The more samples, colors and items you can find – the better! It will give you a range of colors that you can use when looking for paint colors.
You'll see here that I've got wallpapers, jewelry, flowers, art, textiles, ceramics and more. Even a book and a magnet!
What is the ColorReader?
The DataColor ColorReader is a device which reads the color on a given surface/material, and using a phone app, will give you a paint color match across a variety of brands. It even displays complimentary colors! how neat is that.
From the website "ColorReader provides you with the most accurate paint color match in seconds (plus alternate paint brand equivalents!) and so much more – like complementary color ideas for even more inspiration, help organizing, managing and sharing color palettes for you and your clients, and with ColorReader Pro, you can get real time insights on which colors are currently trending with other professionals."
If you're in the process of making over your home, or are always caught wondering "what's that color called? I'd love to paint X,Y,Z with it one day" then this is the tool for you.
When you buy the ColorReader (you can buy it on Amazon too), you get the device, and then you can download the app for free. You'll have the choice of downloading or access any number of paint brand color decks, so pick the ones you want to work with.
How to Use the ColorReader
Assuming you've taken the 2 mins to set it up aka charge it and sync it with your phone app, it's super easy to use.
Real simple, ready for it? turn it on, open the app, touch the ColorReader to the surface you want to read, and then press the red "read" button on the app. They've got a super simple how-to video on their site as well.
Once you press the "read" button, the app will pull-up the color match from the paint decks you've selected. The Color Reader is 90% accurate, so don't be afraid to move the device around and take different readings until you get close to the color you wanted.
As with all digital devices, keep in mind that screen configurations may alter the appearance of the color, so keep that in mind. Going to get the paint chips in your desired color is the surefire way to ensure it's the exact color you want.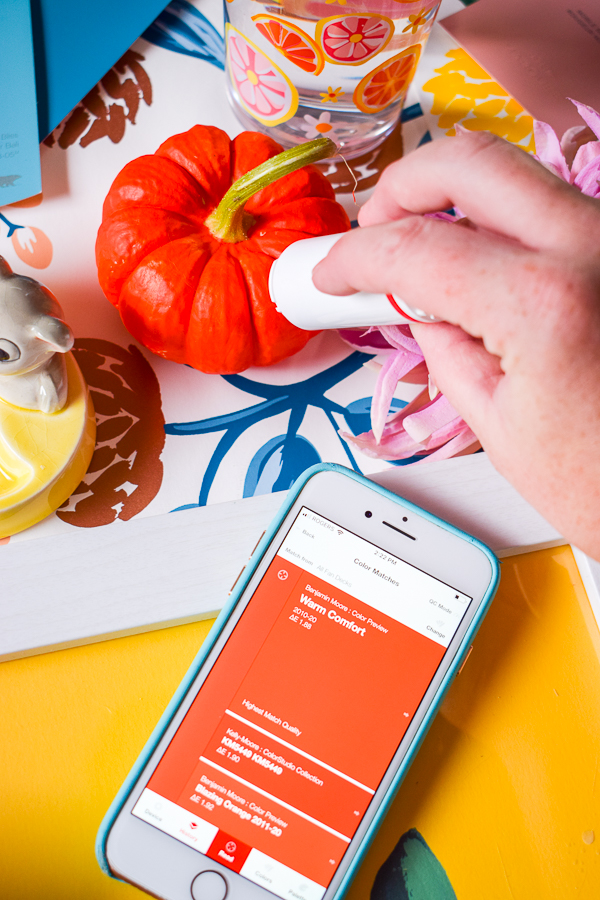 For the price, the ColorReader is a totally nifty gift idea or a worthy splurge for your next design project. They've got an ROI calculator near the bottom of the page, where they break down the number of design jobs in a year, and hours spent searching for paint colors (just in case your partner needs convincing).
When you're creating a space, you want to get the paint colors right from the jump, especially if you're looking for a specific shade. The ColorReader is how you do that! When creating June's colorful nursery, I took inspiration from her mexican bunny for the green backing of the bookshelves.