We are just under 25 days away from Baby Girl's due date! I still can't believe how fast it's all gone, let alone that any day now our lives will be changed forever. While I can only imagine what life with a newborn will be like, at least our Colorful Baby Girl Nursery is complete! It started as me puttering around in there, and has finished as a colorful and curated space which I hope she'll enjoy as she grows.
Catch up with The First Trimester Update & the Second Trimester Update
*Stokke, West Coast Kids, Hudson Valley Lighting, Behr & Bertini sponsored this post, but all thoughts are my own. Thank you for supporting the brands that make PMQ for two possible.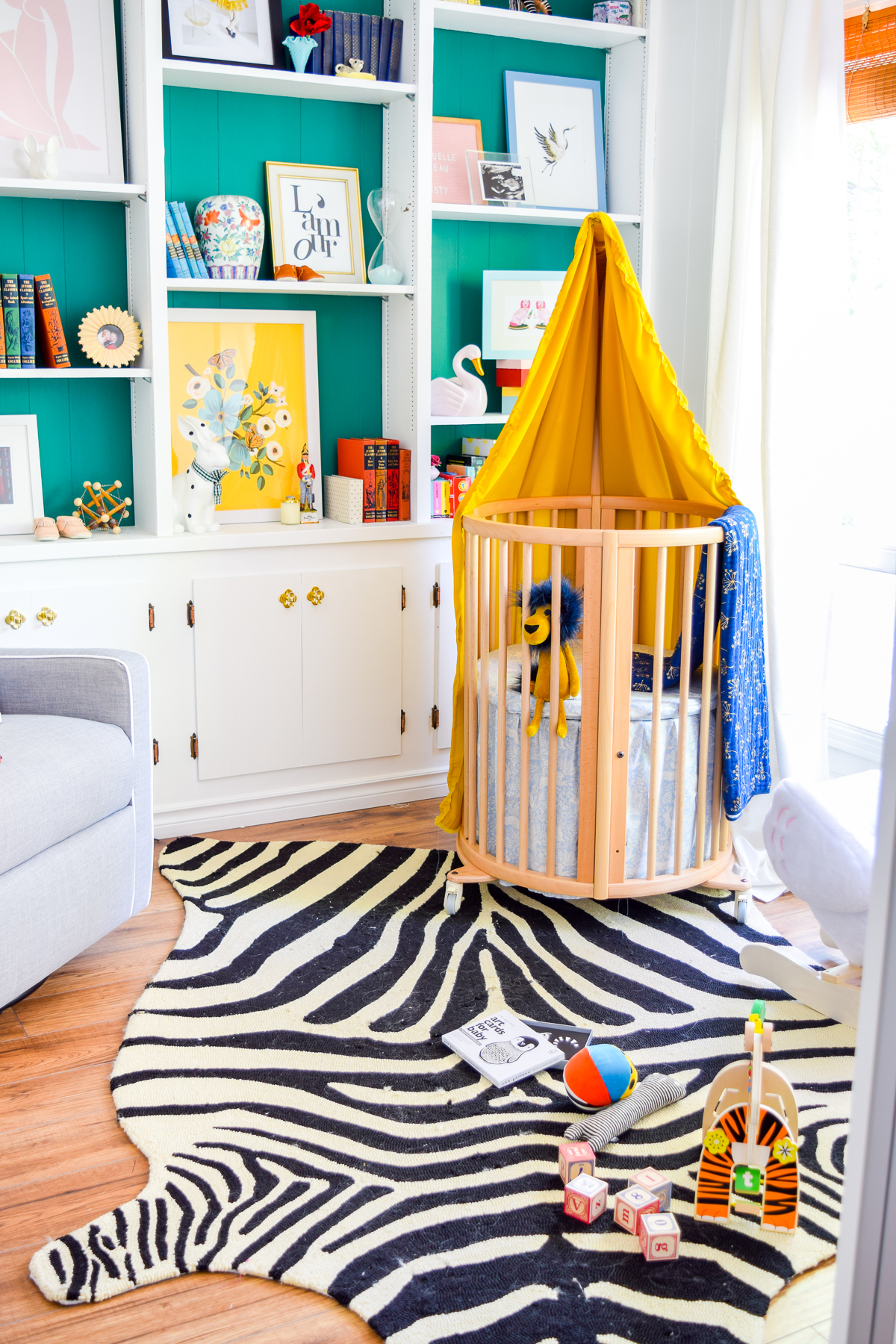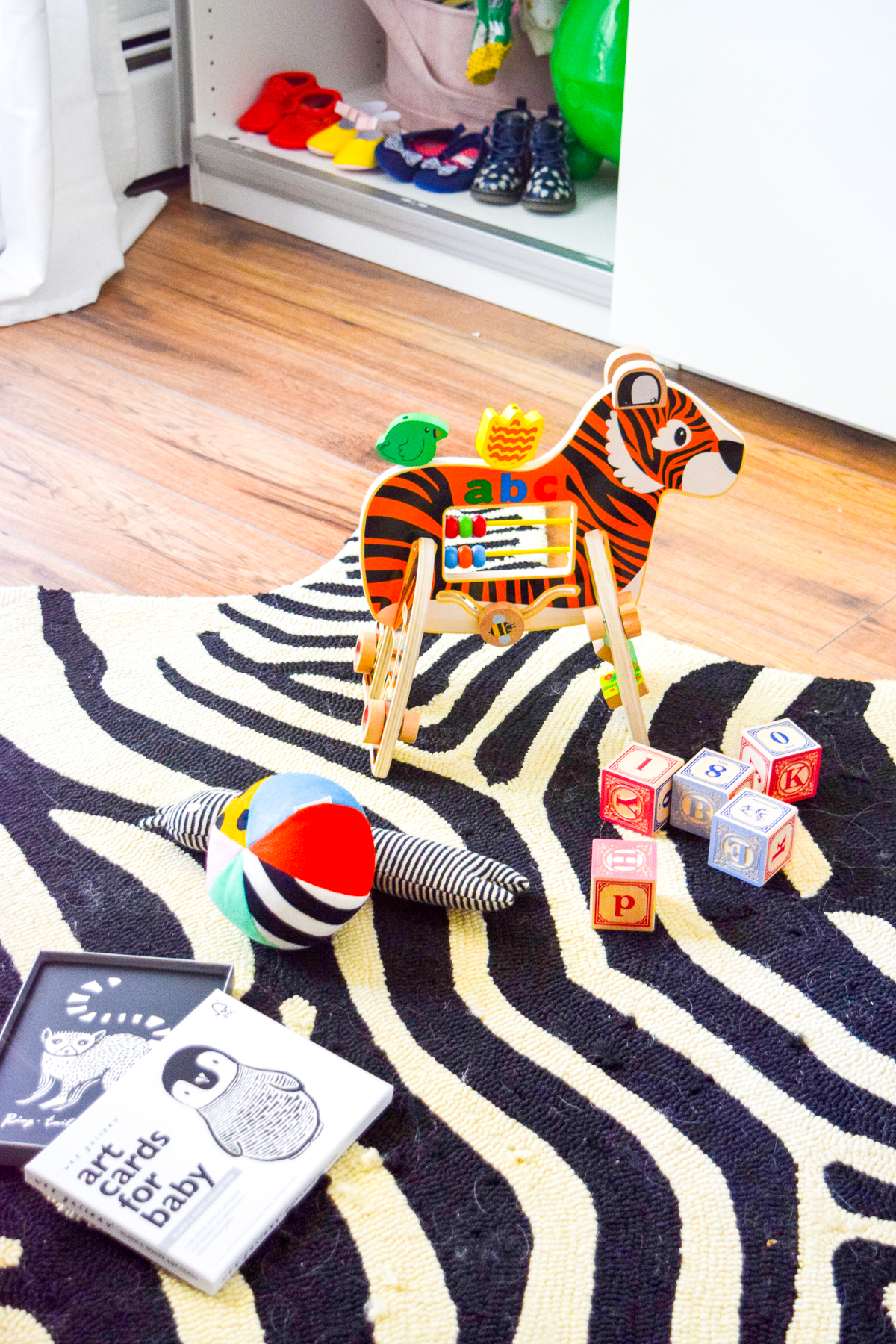 Colorful Nursery Decor
Not only are bold contrast colours important for newborns, but they also fit right in with our home. I don't think we have a single completed space that isn't bursting with color and pattern. While I toyed with various themes for the nursery (zoo, circus, floral etc.) in the end I decided on color as the guiding principle.
Grab the tutorial for my DIY MCM Mobile
Every time I found something I liked for the space that I thought could define a theme, I'd find something else that blew that theme out of the water, so I decided colors was just simpler and would allow for my eclectic taste to create the space.
Ultimately as baby girl's taste and preferences become apparent, I would hate to have designed an entire space around a theme like bunnies, only for her to be like "zebras & tigers 4 life." Using colors just makes it easy to tie all these elements and toys together nicely.
Our Stokke Sleepi Mini Crib
A big part of the nursery design hinged on the right crib. While her nursery is complete as of now, she'll actually be hanging out with us in the master bedroom until after Christmas. OR until she's on a steady enough sleep schedule, which I'm told could be anywhere from 3-4 months.
The Stokke Sleepi Mini Crib is something I've had my eye on for ages. I absolutely love the idea of an oval crib shape for a few reasons, and the beauty of the Stokke design means that the crib is in and of itself, a piece of beauty.
Because our nursery space is small, and she'll have a corner in the master bedroom, we didn't want a great big hulking crib that needed to be backed-up against a wall. The Sleepi Mini is the perfect size for a newborn (and then some), and with its oval shape, it can go almost anywhere and still look good.
Not only that, but the oval shape allows for lots of air flow between the dowels, and it means that the pets can catch an easy glimpse of her without trying to hop in the crib.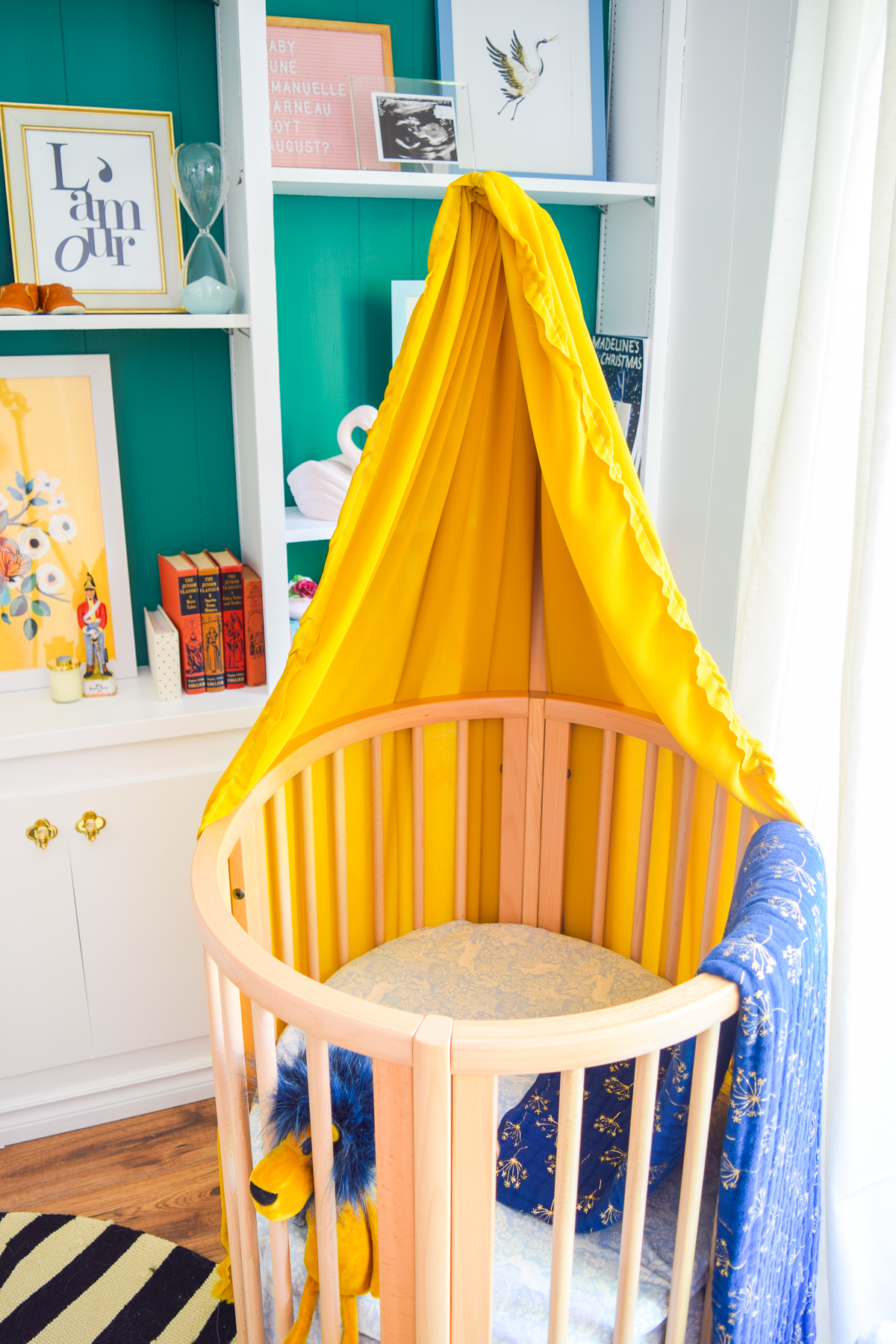 The best part is that it has wheels! That's right, the silent wheels are amazing, and I can roll the crib around from one corner of the nursery to another, or from the master into the bedroom, without making much noise. This will come in all kinds of handy when she's napping and I want to have her crib near my desk, or close by if we're watching TV in the evening.
Although you can buy crib sheets, crib skirts, and canopies for the Sleepi Mini from West Coast Kids & Stokke, I opted to make my own since I wanted to use a particular pattern and colour combo.
I chose Wildwood in blue by Rifle Paper Co. for the crib skirt and sheet, and an ochre fabric for the canopy. The crib skirt was easy enough to sew, and for the crib sheet I made a simple envelope style pocket.
Color Blocked Nursery Decor Palette
Once I had the crib and the fabric ordered, I got to work on creating a colorful palette for the space. A lot of her toys from our West Coast Kids registry  came in bold, bright, primary colours. This gave me a great palette to work with: green, blue, yellow/ochre and red with a touch of pink.
Check out my Colorful Baby Registry Must Haves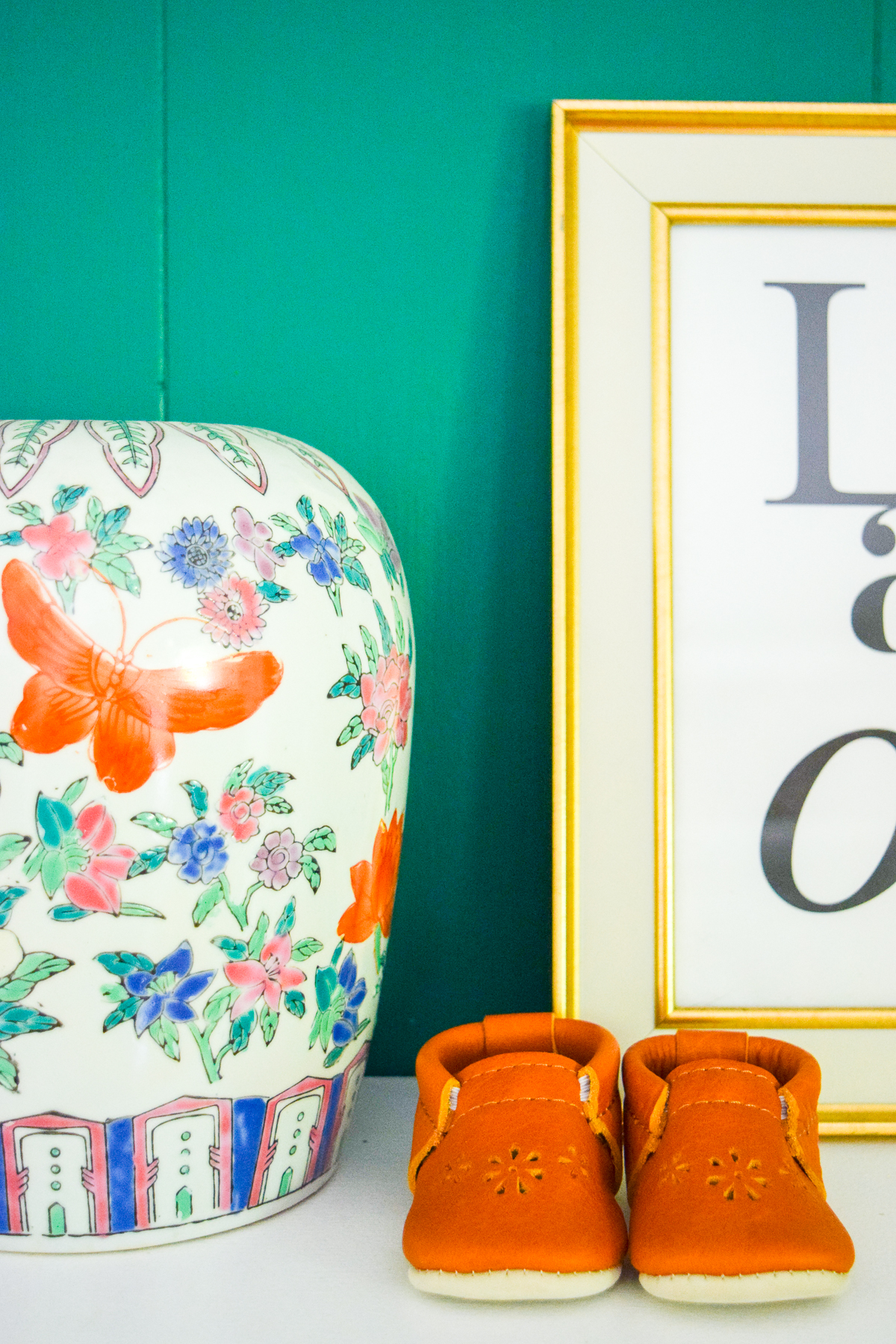 We painted the back of the shelving unit with Soapstone MQ4-14 by Behr. It's now in 3 different rooms in the house, so it feels like it adds to the overall continuity of the space.
Although she'll be wearing her MiniMocs, they look adorable as decor on the shelves in the meantime. Can you spot all 3 on display?
Lancelot the lion from the JellyCat collection, and her pink poodle (also JellyCat ) are such handsome additions to the menagerie in her nursery.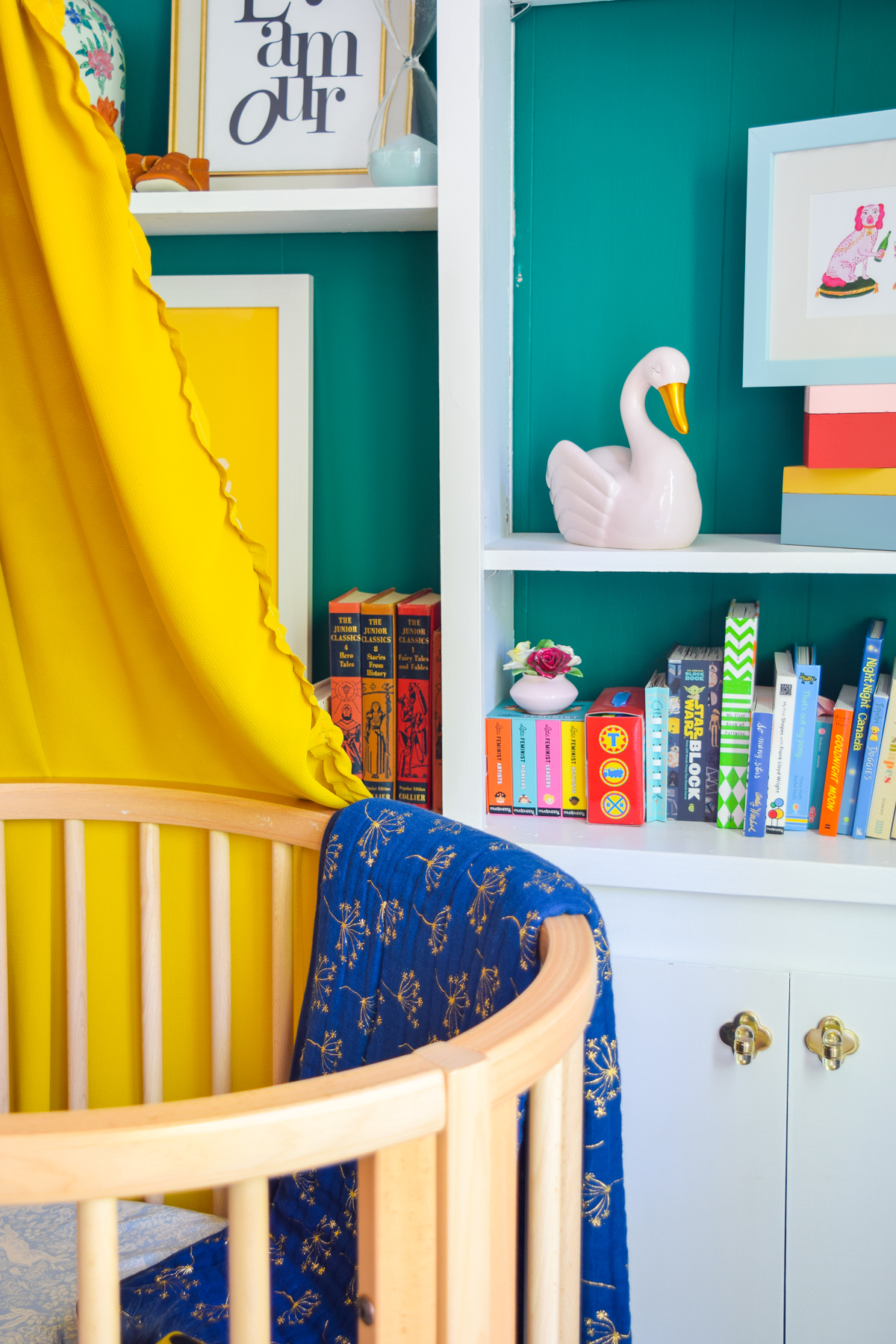 We've also got tons of books for her. We both love reading, stories, and everything having to do with our childhood favourites, so being able to give her the gift of good books is priceless and one we were very humbled to have fulfilled for us by family and friends.
Buy Baby's First Eames by Julie Merberg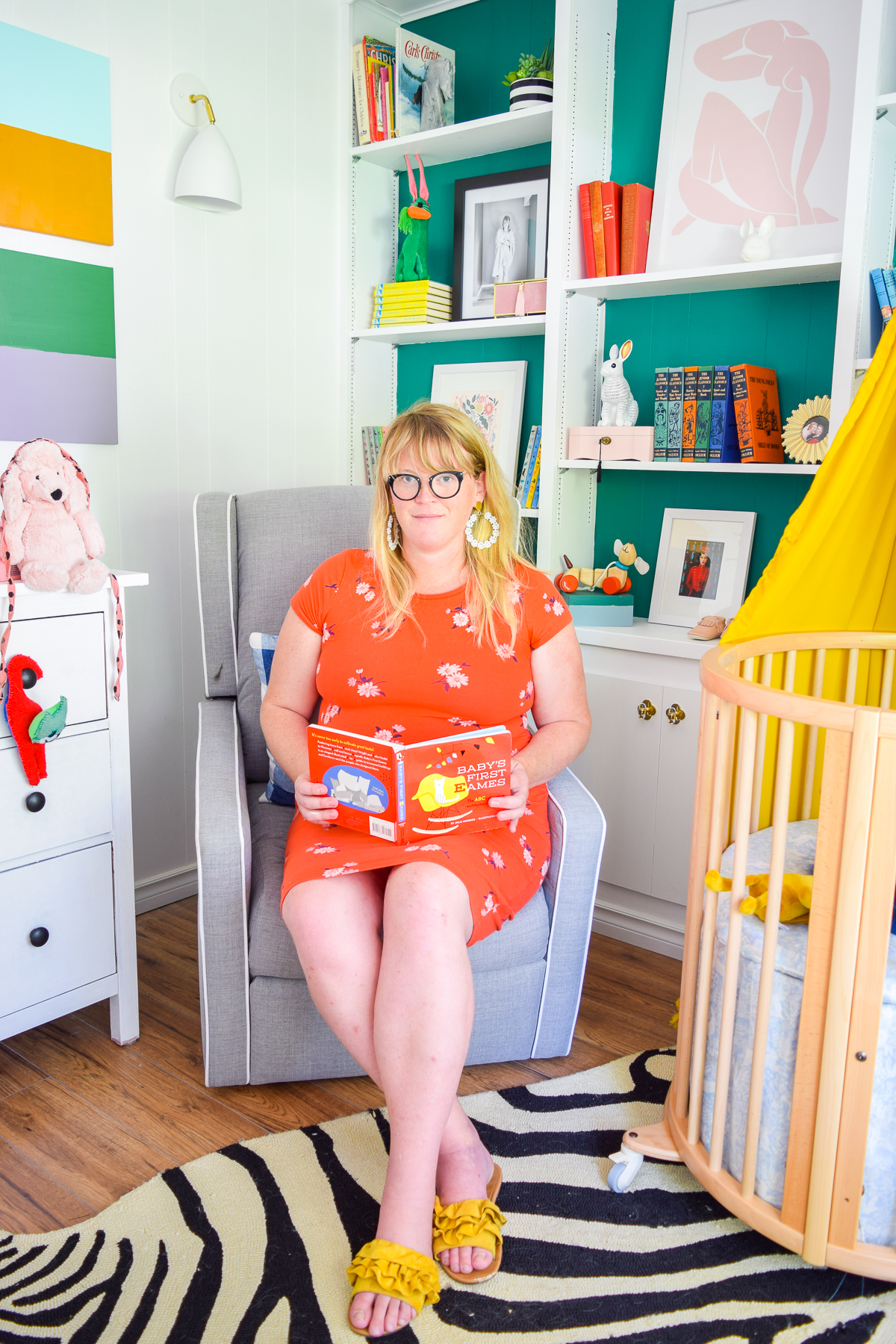 The Reclining Glider
No nursery would be complete without a rocker or glider. In our case, the Everston Swivel Glider Recliner was just what we needed.
I had a lovely pink chair in the nursery for some of our previous shoots, but it lives in the master bedroom, so I put it back there. The glider provides silent motion, and I absolutely wanted one that reclined so that Dan or I could fall asleep with her on us if need be.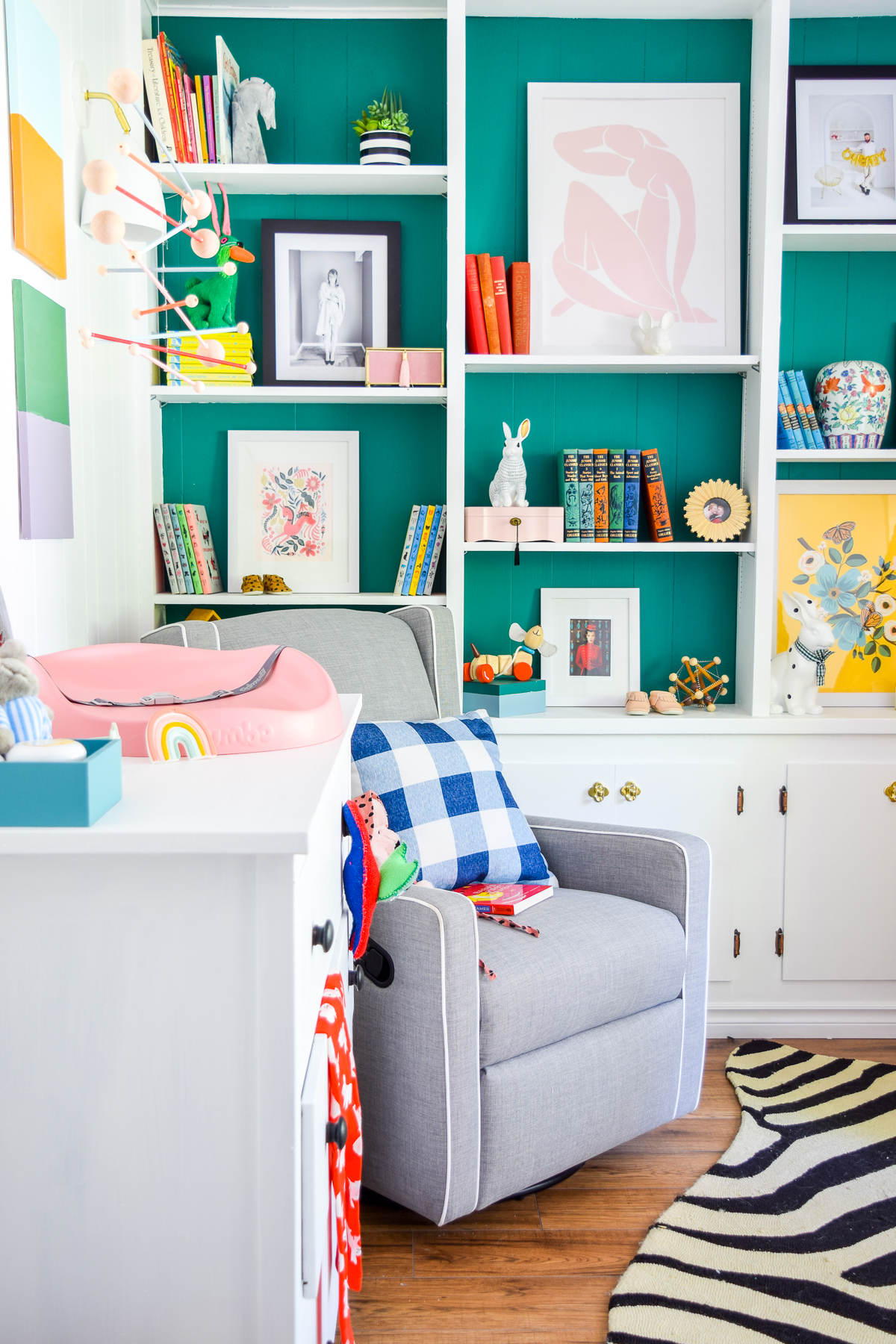 By placing it directly under one of our new Gia sconces from Mitzi, we get optimal light bedtime stories and diaper changes too. The glider will also work in any other room in the house as time goes on, and can be dressed up or down with throw blankets, pillows, and of course – baby toys.
The art prints above the change table were a totally last minute decision, and one that I'm glad happened. I had been struggling to place the right pieces there. I couldn't get the scale, or the patterns right, and it was bugging the heck outta me!
Check out my DIY Floral Wall Art Prints & Photo Nursery Decor Ideas
The Nursery Closet
Because this was my office, we originally did not have a closet in here. It's something that the room needs in order to be considered a bedroom for eventual re-sale, so we splurged and acquired an IKEA closet system that would give us a range of options for hanging, drawers, shelves, and more. I'll have more on that set-up later, but in the meantime here are a few shots of what we've got going on in terms of clothing.
Boots has been trying to make himself a little home in there for weeks now, and he occasionally gets into the pink hat boxes when the doors are left open long enough.
So even though we have a swan rocker, we've also got this silly green Roddy jumper for later. I love the pop of color it provides. And though she won't be using it for a while, it fits neatly in her closet for now.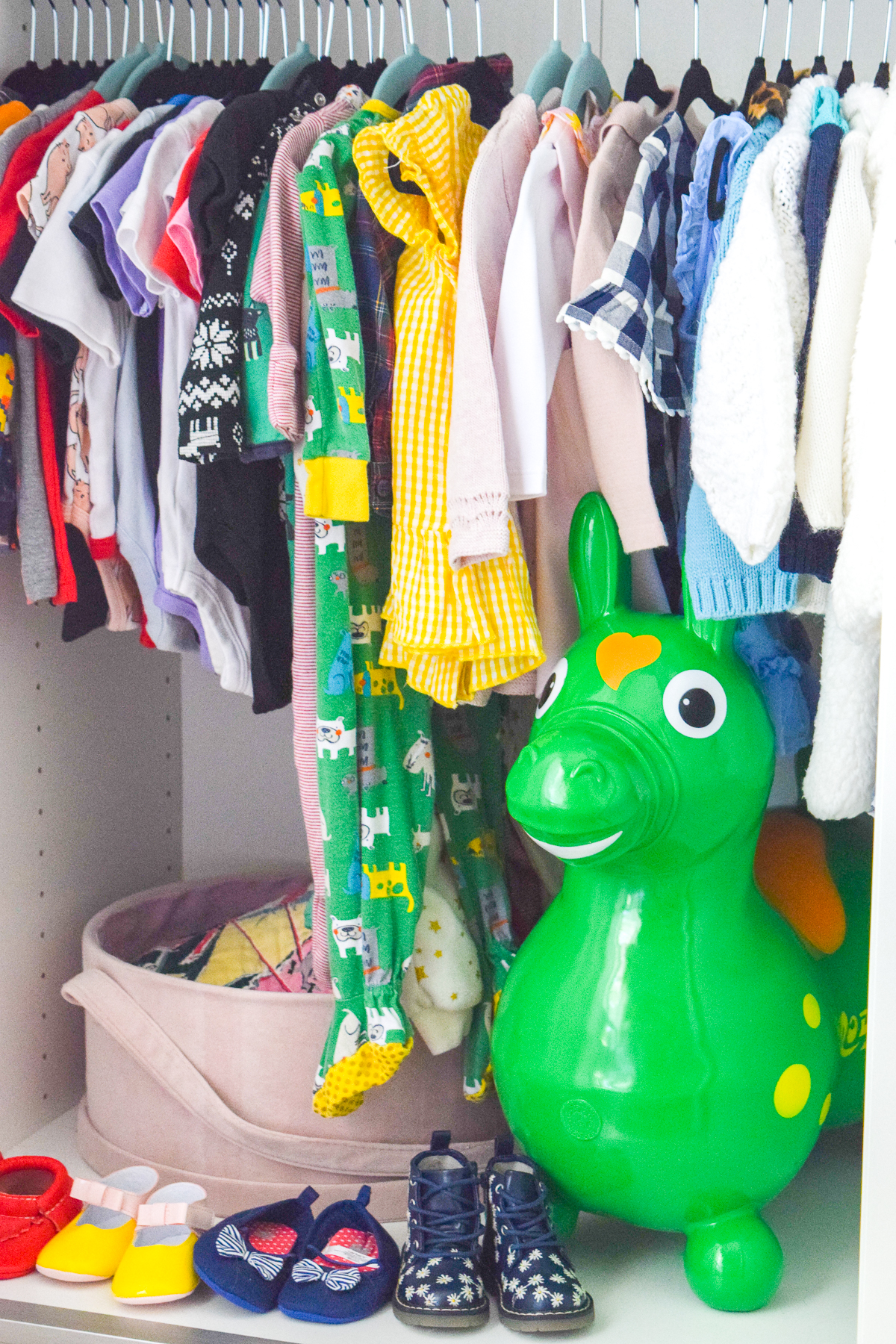 And pretty much as soon as she can, she'll be on this swan rocker for pictures and general cute factor. It's too cute not to!