I can't be kept from a good design challenge, especially when it gives me a chance to correct a space where I just missed the mark. My Colorful Nursery, although adorable, just didn't sit right with me. Instead, I'm adding a few elements to create rainbow nursery decor that better reflects June.
The New Year New Room Challenge, hosted by Steph from Casa Watkins, is the perfect excuse to do just that! Along with 16 other bloggers, we're using January as an excuse to refresh a space in our home. Make sure you check out their spaces, listed below.
*Spoonflower, Mohawk, & Sazerac Stitches sponsored this post, but all thoughts are my own. Thank you for supporting the brands that make PMQ for two possible.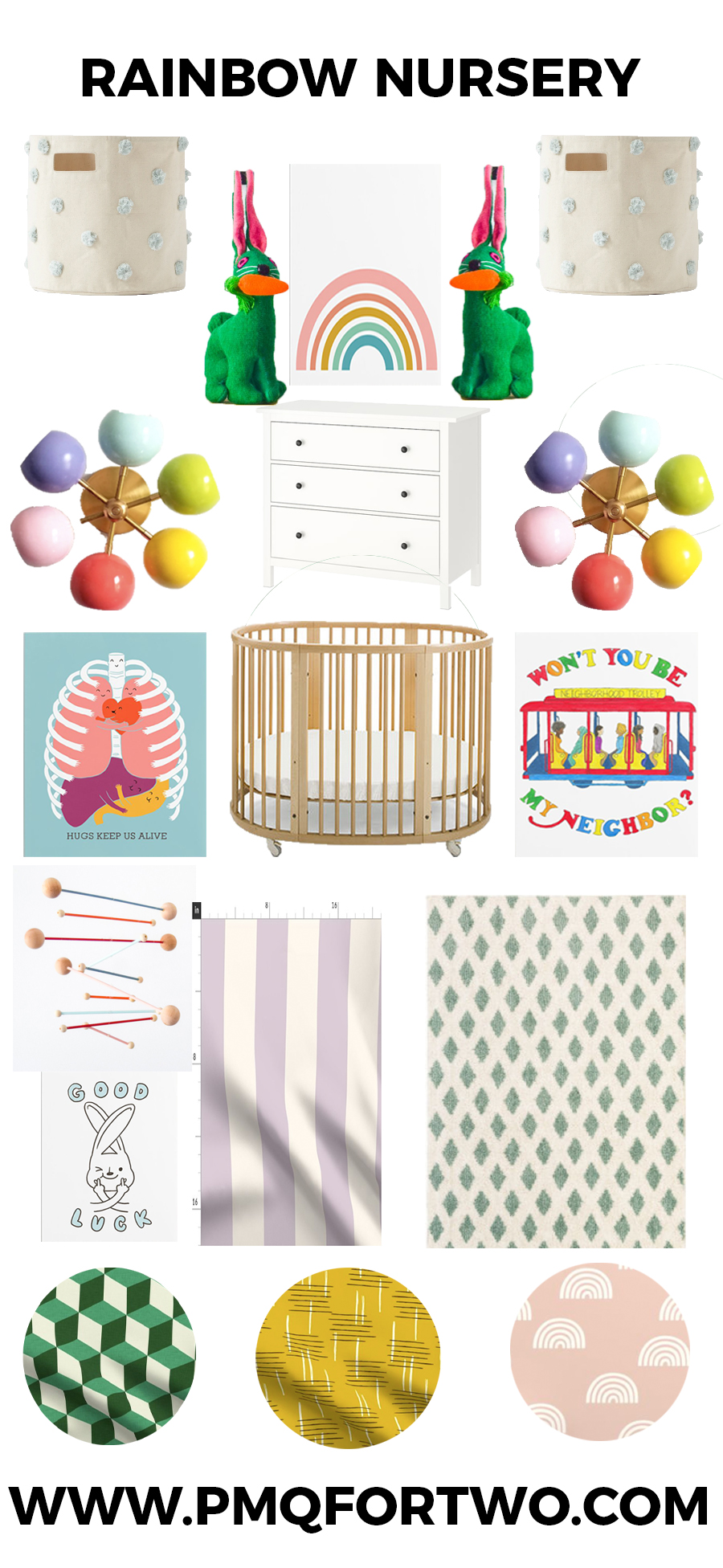 As with all design and decor challenges, they wouldn't be possible without the fabulous sponsors we work with. This round I'm keeping things light, with surface patterns and an additional light fixture to complete the space.
Of the official sponsors, I'm working with Spoonflower & Roostery, Mohawk Home, and Sazerac Stitches. Because I already had a kick at the can for the nursery, all my other sponsors from the Colorful Baby Girl Nursery are still here. I'm not subtracting, just adding to complete.
Transitioning out of Room Sharing
June has been room sharing with us since she was born, and we're ready to start transitioning her out of our room, and into the nursery. I'm using the rainbow refresh to do just that. I'll start transitioning her naps into the nursery, and by the end of January she should be sleeping and napping in her new rainbow nursery.
Stokke Sleepi Mini to Stokke Sleepi
June has been sleeping in the Stokke Sleepi Mini, and now that she's outgrown it (this kid is growing FAST), we're got the extensions coming. Now she'll have the standard Stokke Sleepi. This means I need to sew a new crib skirt and a new crib sheet.
Rainbow Nursery Fabrics
Crib Linens
I'll be using colourful fabrics from Spoonflower to add selected pops of color to the space. I'll be doing her new crib linens in a purple and cream stripe. I need to ground the natural wood of the crib, and also provide a strong anchor pattern.
Rug
I'll be adding a comfier, lusher, rug to the space. I've worked with Mohawk before on my home office and the dining room in the studio. I chose the Adona for a simple lattice design in blue and white.
Floor Poufs
Because June is growing like a weed, we're spending more and more time on the ground. So in addition to a new rug, I'll be making some big floor poufs that we can use as pillows while hanging out and reading. I've chosen 3 beautiful prints from Spoonflower: Laurel Leaf Stripe in Multi Fall, Abstract Emerald Forest cord Cube, and Retro mid-century Scandinavian abstract strokes.
Rainbow Lighting
I've got some lovely white lighting in the space right now, but to complete the rainbow nursery theme I'll be adding the Pastel Arco Ceiling Fixture by Sazerac Stitches. It doesn't get much cuter than that!
Rainbow Nursery Wall Art
For me, the biggest reason to keep the walls white, is so that I can add as much colorful wall art as I want. I tend to paint the walls a bright colour, and then it limits the type of wall art I can use. Because the space needs to grow with June, I want to make sure I can swap things in an out. I've chosen a series of prints from Society 6 in poster form: Doll by Vivii, Finger Crossed, Good Luck by ilovedoodle, Alphabet Poster by WanderingBert / David Creighton-Pester , Simple Happy Rainbow Art by apricot+birch, Hugs keep us alive by ilovedoodle, Mister Rogers Neighborhood Trolley by Kaleigh Day.
Rainbow Nursery Decor
I'll be adding a delightful array of other rainbow elements to the space, but I've also got some great stuff to start with. My DIY MCM mobile is sticking around, as are my mexican animal stuffies, her amazing book collection, all our personal photos and more. You'll have to tune in to see what I do.
Rainbow Nursery Inspiration
I should have done something like this the first time around, but I was in a hurry to get things in the space before June arrived. I'm glad I did, but now it's time to properly drink in all my inspiration.
Make sure you go check out who else is participating, and see what they're up to!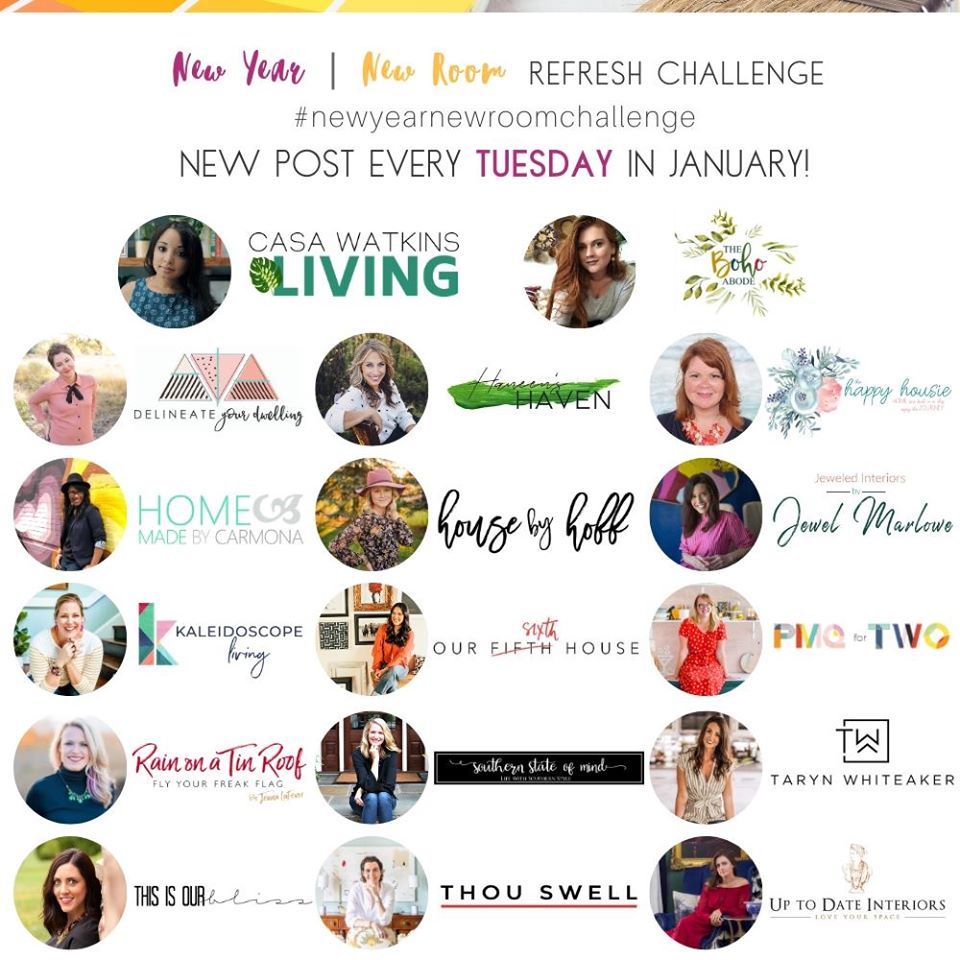 Casa Watkins Living // The Boho Abode // Delineate Your Dwelling // Haneen's Haven // The Happy Housie // Homemade by Carmona // House by Hoff // Jeweled Interiors // Kaleidoscope Living // Our Fifth House // PMQ for 2 // Rain on a Tin Roof // Southern State of Mind // Taryn Whiteaker // This is Our Bliss // Thou Swell // Up To Date Interiors