Peel and stick floor tiles are here, and they are the future! I got mine from WallPops and can't believe I didn't try something like this sooner. I used them in our basement wet bar, and promised you guys and installation tutorial, so here it is! How to install peel and stick floor tile using WallPops' floor tiles.
*WallPops sponsored this post, but all thoughts are my own. Thank you for supporting the brands that make PMQ for two possible.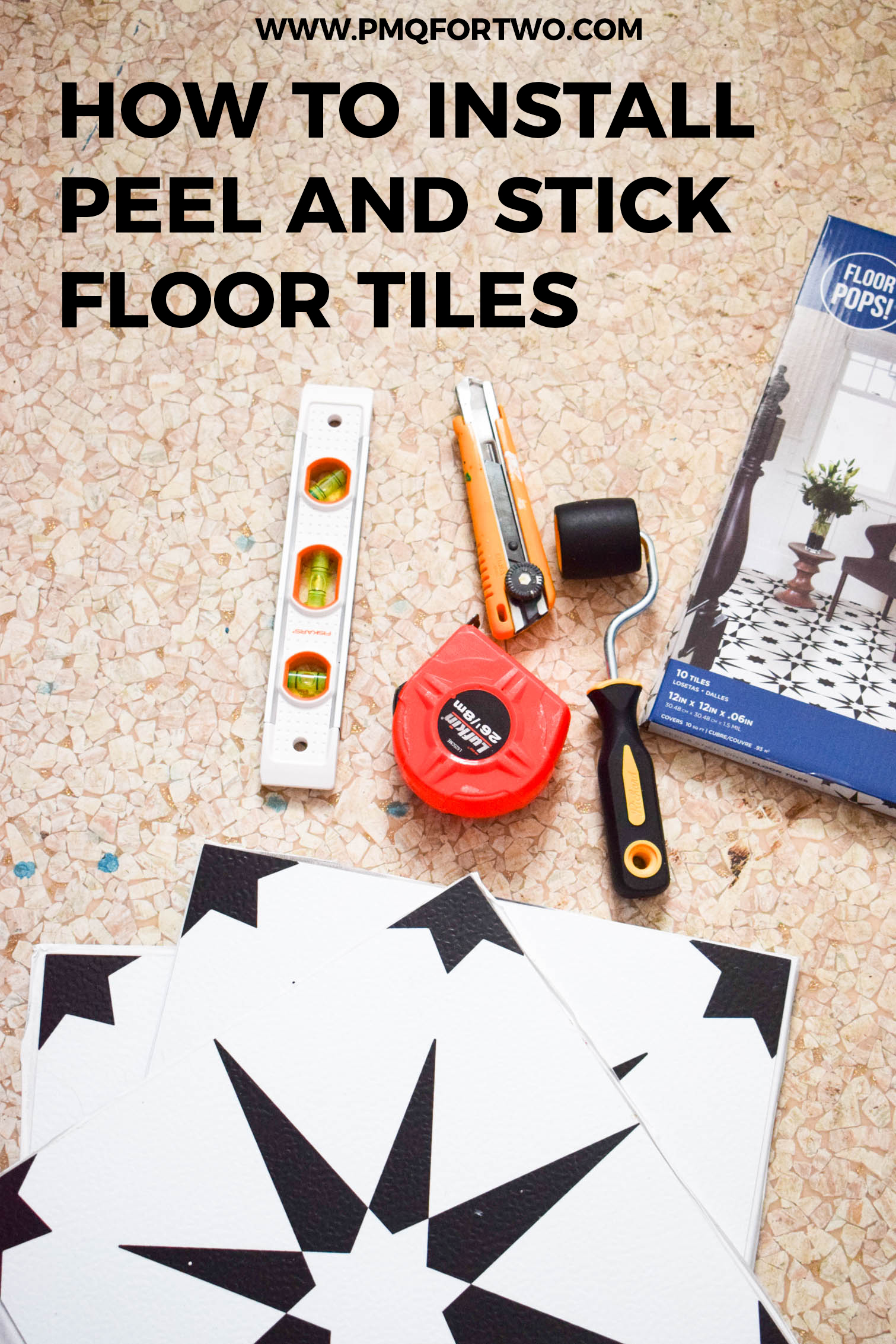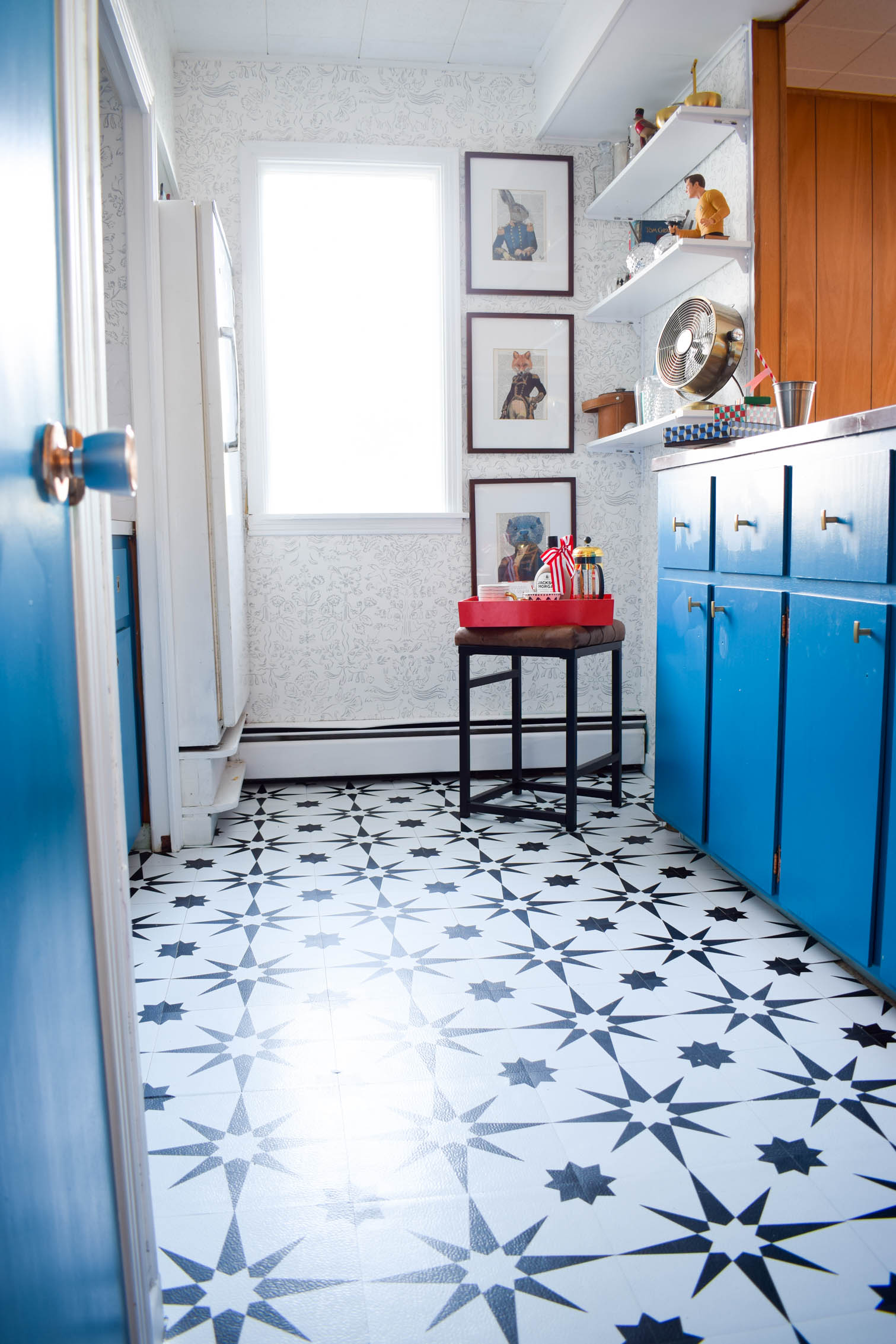 Peel and stick floor tiles are the stuff a homeowner's dreams are made of. I wanted to try them the entire time we lived in a PMQ. Much like removable wallpaper, the ease of peel and stick is great for a short-to-medium-term solution for homeowners.
I was tempted to try them in the basement. We have plans to eventually remodel the entire space, but in the meantime I wanted a prettier solution than the dingy faux terrazzo. This is where WallPops' floor tiles come in.
How to install peel and stick floor tile
It's pretty simple, you peel and stick! Kidding, you need to start by calculating the right amount of tiles to order. On their site with their calculator, and on the back of the packages, they have a handy grid that shows you how many you need based on your square footage. We chose the Altair pattern.
What do you need to install peel and stick floor tiles?
I can't speak for all brands, but WallPops suggests an exacto blade, a ruler, a tile roller (I used a wallpaper roller), and a tape measurer + pencil. I'd also add a work surface surface to cut on.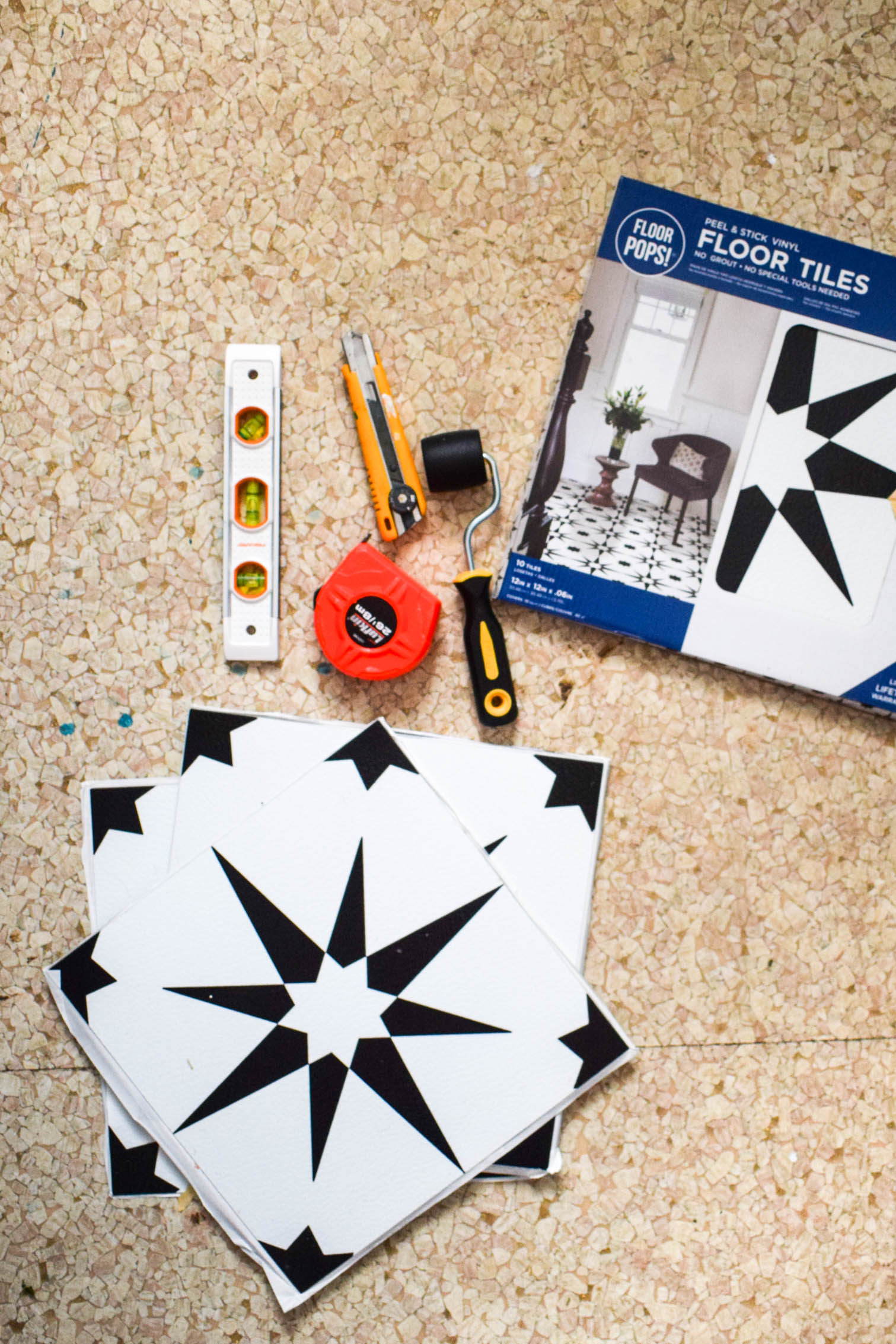 Prepping your floors for peel and stick tiles
Read the box for specific instructions, but make sure the floors are dry, clean, and free from residue or debris. Anything caught under the tiles will prevent them for adhering correctly.
Installing the first row of peel and stick floor tiles
Much like with any tiling, you want to start from a straight line. If your walls aren't straight, using a ruler and level, create a straight line off which to start.
As with wallpaper, I also suggest starting in the corner furthest from the line of sight.
Peel the back off, press down into place, and use the tile roller to make sure all the edges are firmly glued down. Repeat!
Dealing with walls that aren't straight
This worked out well for me on a few points. The walls aren't straight in the basement bar, so I drew my straight line, and placed the first row coming towards me. It meant the the pieces I would then cut to accommodate the irregularities of the wall, would fall under the radiator and the slant wouldn't be seen.
If you have a similar situation, I suggest starting things that way to best accommodate your situation.
Cutting Peel and Stick tiles
Unless you're working with a perfectly square or rectangle space that requires no cuts (unlikely), you'll have to customize some tiles to work with the floor plan. Good news! it's easy.
I used a combination of exacto knife and my Fiskars Power Cut snips to cut the tiles.
After measuring the cuts you need to make ( a notch, just a trim etc.) I suggest measuring the exact dimensions and then drawing the pattern with a pencil on the tile. A pencil can be rubbed off after.
Use your ruler and an exacto blade to cut straight lines, but if you're doing more fancy work with notching to go around doorways etc. I suggest using something like the power cut snips.
Score the top side (with the design), and then slowly break the tile in two – much like breaking a popsicle or a chocolate bar. It's easy!
I recommend leaving the backing on the tiles for this part, otherwise they'll stick to the surface you're cutting on. That's self-evident, but still.
How long does it take to install peel and stick floor tiles?
Honestly? not that long. If you don't have to make many cuts, it goes very quickly. You'd likely spend more time cleaning the floors.
It takes longer with custom cuts, so take that into account.
Are the peel and stick tiles durable?
I'd say so! We've had them for a month, during which time they've seen standard foot traffic for the area of the house, and they're holding up beautifully.
There are no nicks, scuff marks, or claw marks.
How do you clean peel and stick floor tiles?
Clean them like you'd clean any other vinyl floor product. You could use a wet mop, a vacuum, a broom or other.
If you spill a sticky liquid on them, I would recommend cleaning it up quickly, in case it runs between the seams of the tiles. If your tiles are installed correctly there's no issue, but if you've got the slightest gap, it could make things sticky.
Pattern Matching the Peel and Stick Floor Tiles
Much like with any surface pattern, the tiles are made in batches. Make sure you're ordering from the same batch to ensure overall consistency.
Although not all tiles are exactly the same, you can orient the tiles in a variety of ways to create the best match. On the whole they will appear to perfectly align, even if they do not down to the milimeter.
Up close and personal, some of the tips on these stars don't actually meet, but while standing you don't notice it.
Why we chose WallPops Peel and Stick floor tiles
We chose to work with WallPops on the floor tiles for a few reasons: cost, pattern, ease of installation and reviews.
I've heard great things from other bloggers and home owners who have used them as a medium range solution to flooring, and loved them.
At a 1.80$ per square foot, these are competitively priced with regular plain tiles in a hardware store, and come ready to stick (no need to fuss with grout and what not).
We chose the Altair pattern, because it's in keeping with the black and white flooring in the house. I also love the big star. Make sure you check out the rest of their floor tile patterns.
Overall, the ease of installation is what sold me though.