Although I am currently living a very full carb life (breastfeeding + anxiety = carbs), I can't wait to get back to our low carb lifestyle. I always feel so much better, sleep better, and less anxious. In the meantime, I'm finessing some recipes, like my low carb hot chocolate!
This is actually a recipe in two parts: for the low carb hot chocolate mix, and then for the hot chocolate itself. So if you want to prep the mix now, and enjoy later, you totally can.
*Kitchen Aid sponsored this post, but all thoughts are my own. Thank you for supporting the brands that make PMQ for two possible.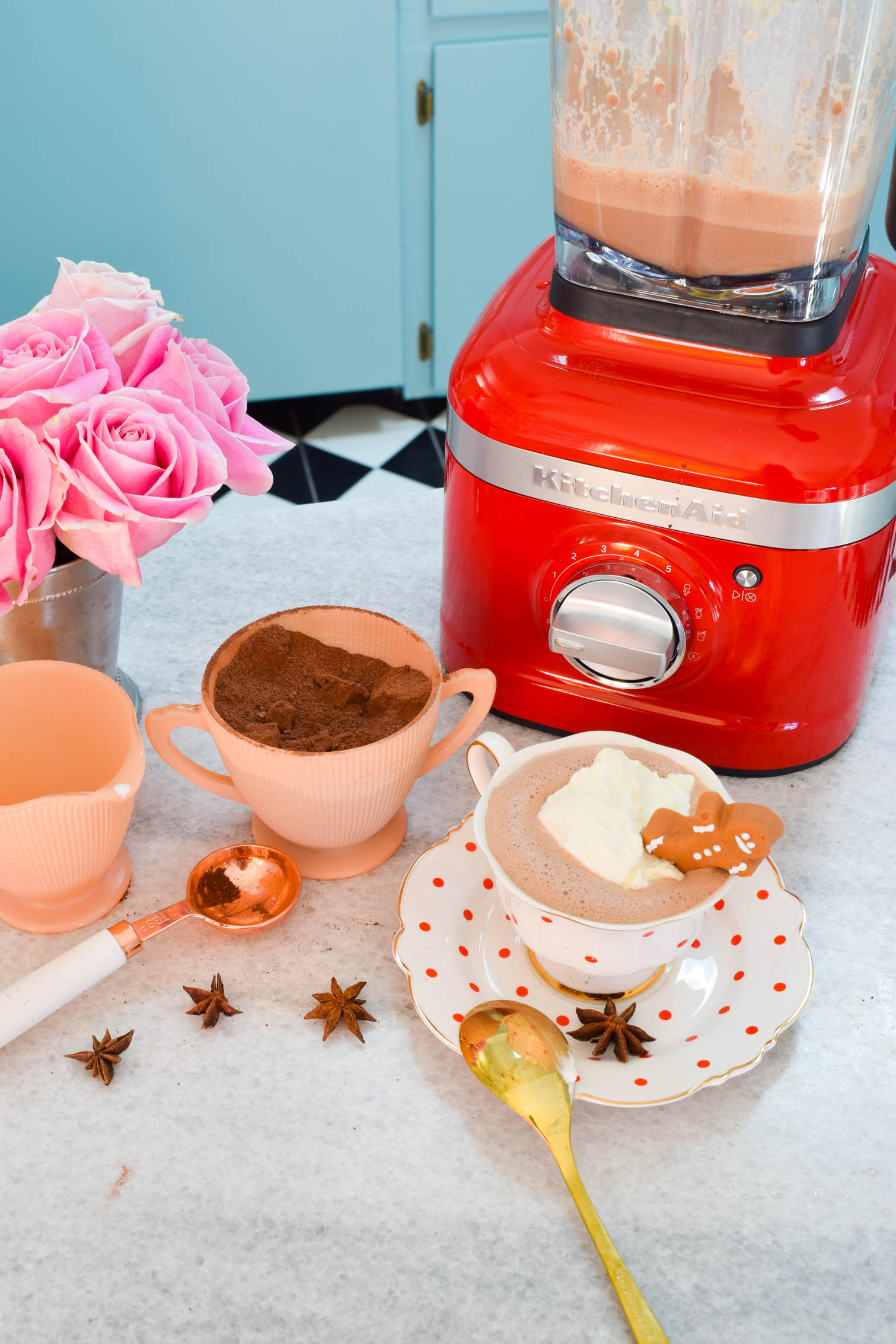 Low Carb Eating aka the lazy keto
We started our Keto journey over a year ago. Dan's been holding the line with low carb, but throughout my entire pregnancy all I craved was carbs. It didn't help that I couldn't stand the sight or smell of red meat and cheese, so it made keeping a low carb lifestyle rather hard.
If you want to catch-up on our low carb eating aka lazy keto, you should check out my guide to lazy keto.
We have enjoyed many lovely outings and meals with the lifestyle, including a beach-side keto picnic.
Low Carb Hot Chocolate Mix
You'll need blocks of dark chocolate (with as little sugar as possible), stevia or any other sugar replacement, cocoa powder (the kind used for baking), and if you're into it- star anise. I like to add a pinch of it for extra depth.
I used our Kitchen Aid K400 blender to turn the blocks of chocolate into powder on pulse.
For this mix, I used: 6 blocks of dark chocolate, 3 tablespoons of cocoa powder, and 2 tablespoons of stevia. A pinch of spice for your own liking. Throw it all into the blender.
I recommend keeping your mix in an airtight container in your fridge. A simple Tupperware does the job.
Low Carb Hot Chocolate
Now that you've got your low carb hot chocolate mix, it's time to make the next part! In whatever quantity you're making, mix 1/2 coffee cream with 1/2 milk in a pot on the stove. Warm it up as hot as you'd like, taking special care not to let it boil over. Stir often to avoid that skin that seems to form.
While the milk/cream is warming, whip up some whipped cream. I used my Kitchen Aid mixer to do it using the balloon whisk attachment. I don't add sweetener or flavouring to it, but you have the option of doing so. Maybe a dash of vanilla?
Preparing your hot chocolate
Once the milk is warm, add it, along with the low carb hot chocolate mix to the Kitchen Aid blender. It should all mix together nicely, forming a thick frothy chocolaty goodness.
Once your low carb hot chocolate is poured, add a giant dollop of whipped cream, and top with whatever you'd like! In this case, little gingerbread men.
Make sure you share some with your dog! Bruce won't let me make a thing without taste testing it.
Yield: 1 Serving
Low Carb Hot Chocolate
This rich and delicious low carb hot chocolate will become a favorite in the cold winter months. You can make the mix ahead of time so you can whip up a mug quickly and easily.
Ingredients
6 blocks of dark chocolate
3 tablespoons of cocoa powder
2 tablespoons of stevia
1/2 cup coffee cream   
1/2 cup milk 
Instructions
Mix coffee cream with milk in a pot on the stove.
Warm it up as hot as you'd like. Do not let it boil over.
Stir often.
Whip up the whipped cream.
Once milk is warm, add it to the mixer with the hot chocolate mix.
Mix it together until it forms a thick frothy chocolaty goodness.
Pour the low carb hot chocolate until a mug.
Add a giant dollop of whipped cream,