Dan and I have decided to try and get out for a fun date night locally at least once a week this summer. This week we went out to St.Martins (NB) to visit the sea caves and have a KETO beach picnic. We can't steal away big moments, but it's the little ones that count the most.
Lazy Girl's Guide to Keto // Public Pool Party // Beach Tailgate // Lobster Rolls
If this summer is flying by for you as well, you're not alone! I blinked and it's August. Not only was July not as slow as I thought it would be (from a work stand point), but August is looking fuller and fuller by the minute! Can't it slow down for a minute?! It can, but just long enough for us to go for a beach picnic.
*Homesense sponsored this post, but all thoughts are my own.  Thank you for supporting the brands that make PMQ for two possible.
The nice thing about living in the maritimes, is that once you're here, everything to do is relatively close. It's not like living in Toronto where you drive an hour and you're still in Toronto. Out here, you drive an hour and you're in a different city. An hour and a half, and you're at the sea caves!
Since we had never been to the beach out this way, we figured we'd give it a spin! Not only that, but we packed a KETO picnic to bring with us. See, we've got this amazing series of "entertaining on the go" pieces that we've acquired from Homesense. Part of the collection started last summer, but we gleefully added to it this summer.
You'll even recognize pieces from the Public Pool Party I had earlier in June!
What do you need for a KETO beach picnic?
We kept it simple, and didn't bother with anything that couldn't be put into our "Beach Please!" cooler bag, or wicker picnic basket.
On the menu: cold cuts, caprese + cucumber salad + olive oil! All of these are keto friendly, easy to transport, and easy to eat with your fingers.
We brought sparkling water along, as well as some dark chocolate (that we found in the checkout aisle at Homesense) for when we were ready for a little nibble, while sitting in the bed of the truck.
The wicker picnic set (49.99$) came with a series of plates (cups, cutlery, S&P shakers) but we grabbed a few fun fish shaped dishes in melamine! I'm not one to turn down a novelty plate, especially when they're for a beach picnic.
The olive oil was a food aisle purchase from Homesense (for 7.99$!) and as always, we were pleasantly surprise. When you're eating KETO, you want to be eatings all kinds of fats, so this tasty olive oil was a no brainer.
We would have grabbed the macarons or cookies (because they're delicious) but they didn't fit with our lifestyle. Instead, we also got some seasonings, which I totally spazzed and forgot to photograph.
If you spy the Kate Spade lobster tablecloth that I used in my Pastel Seafood Tablescape, you are not wrong! That was an obvious acquisition for 29.99$ It can be used for so many of our summer entertaining plans, and it's a timeless print. The pink linen napkins (on clearance for 7$) are another timeless acquisition, and the kind of thing that Homesense always has tons of.
And yes, that's the amazing 15.99$ beach radio! It comes with an aux cord so you can also plug-in your phone to use as a speaker.
Because I know a lot of you guys follow along on Instagram as well, you'll know that I recently acquired a pair of the Rifle Paper co. x Keds shoes, and wore them on our date night! I found them online through a discount code site, and you can grab your own there too!
Once our beach picnic was over, we set off to explore the beach! Did you know that the fundy tide is the biggest in the world? We timed our visit to coincide with low tide, so we had no issues walking onto the beach and around the caves.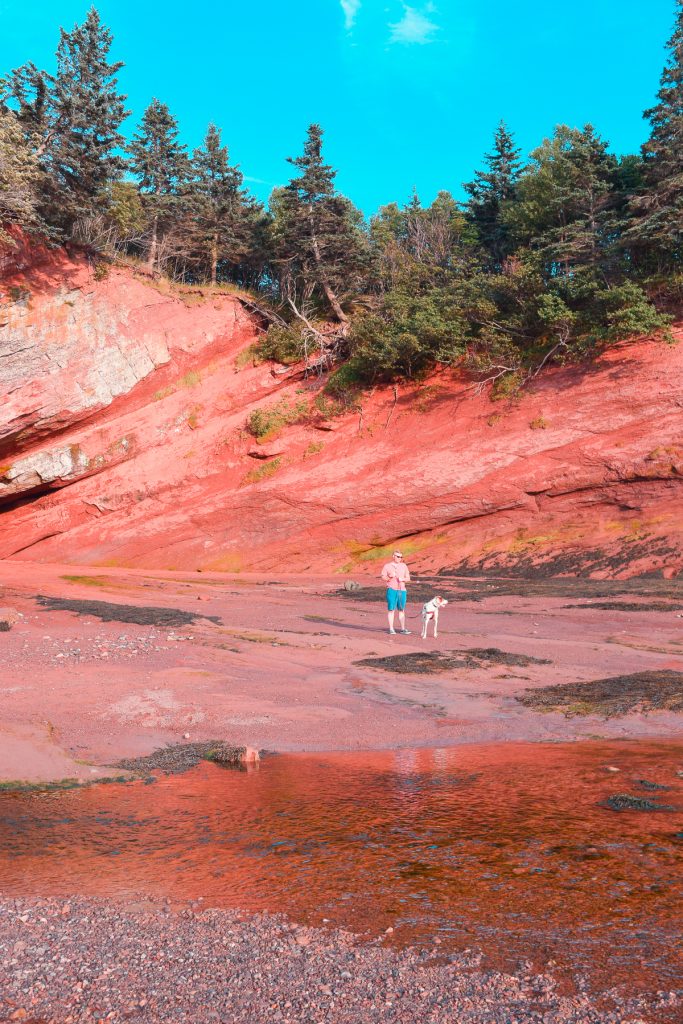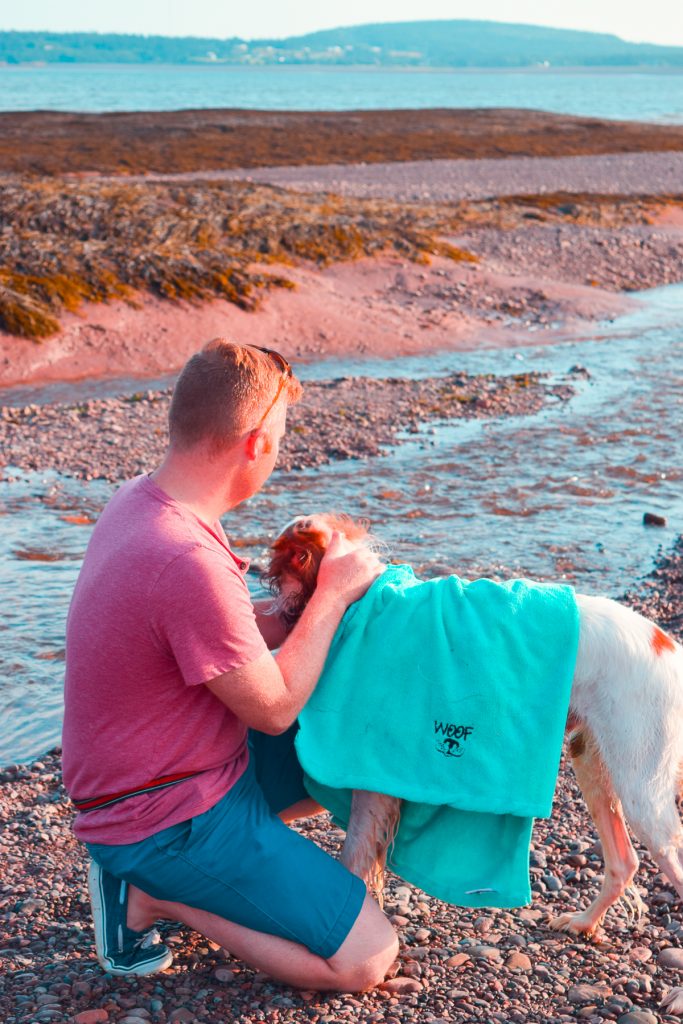 Because Bruce loves to swim, we have a dedicated dog towel. This microfiber towel was another Homesense find (9.99$) and one that is meant for pets. This towel has saved our bacon a few times, and allowed us to get him towelled off and into the truck, in no time. In fact, it lives in the truck! Since that's how we get him to the river most of the time.
Once we got back to the truck, it was time to relax in the bed and watch the sun set for a bit. We used our seat cushions (39.99$ at Homesense) from the DIY Patio Loungers, added some Kate Spade throw blankets that we purchased at Homesense earlier last year, and of course a Bruce.
When we were ready to go, we hit the road and drove off into the sunset — literally.