I love that I think I can still start and finish projects quickly with JB hanging around. Truth is, some things still require time, and I don't have much of that. Despite that, I refinished our basement bar in time for the holidays! Pardon the trope, but I took it from drab to fab with some budget friendly updates like paint, wallpaper and floor tiles.
*Hygge & West, BEHR, HomePop Furniture and WallPops sponsored this post, but all thoughts are my own. Thank you for supporting the brands that make PMQ for two possible.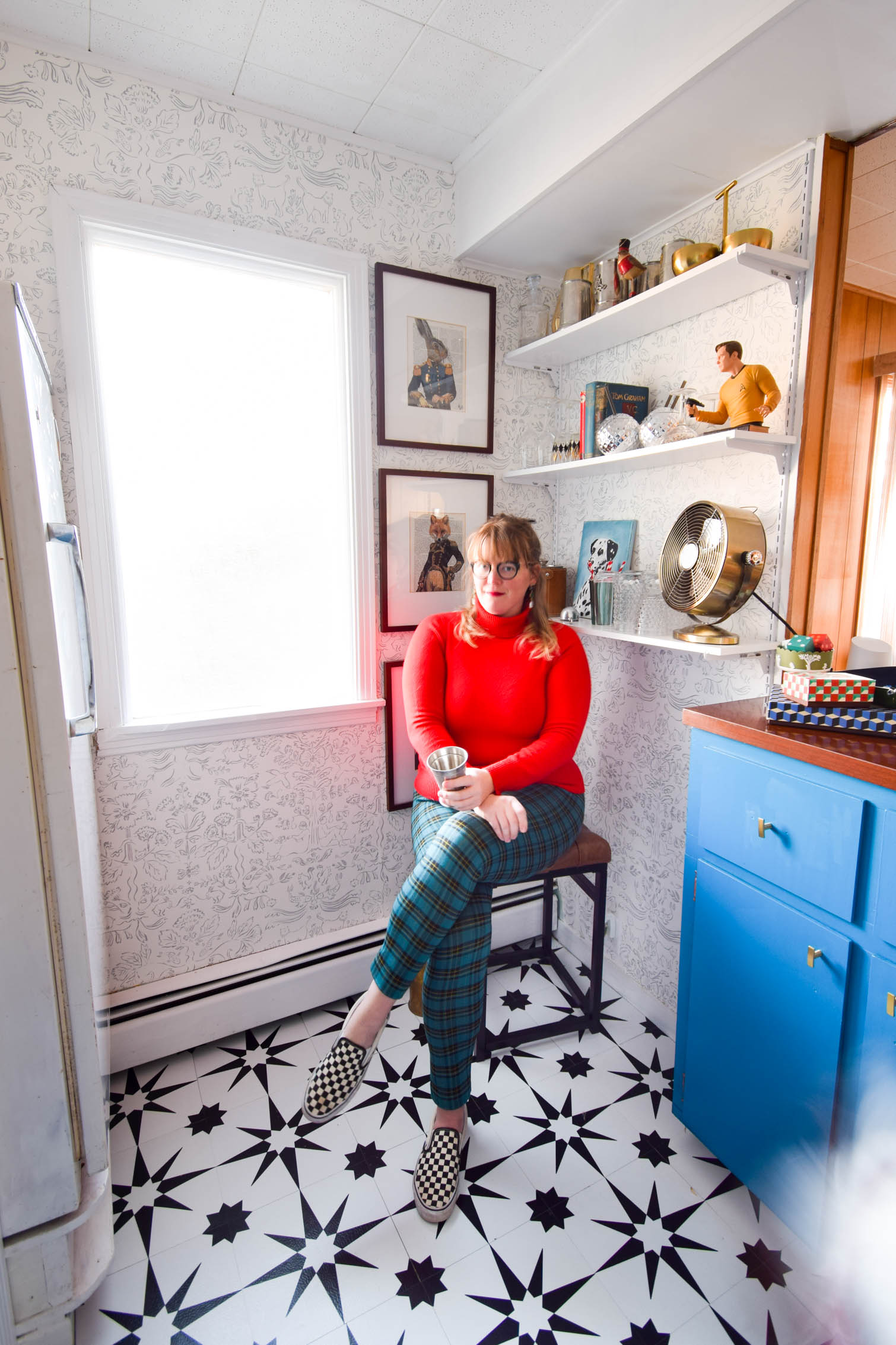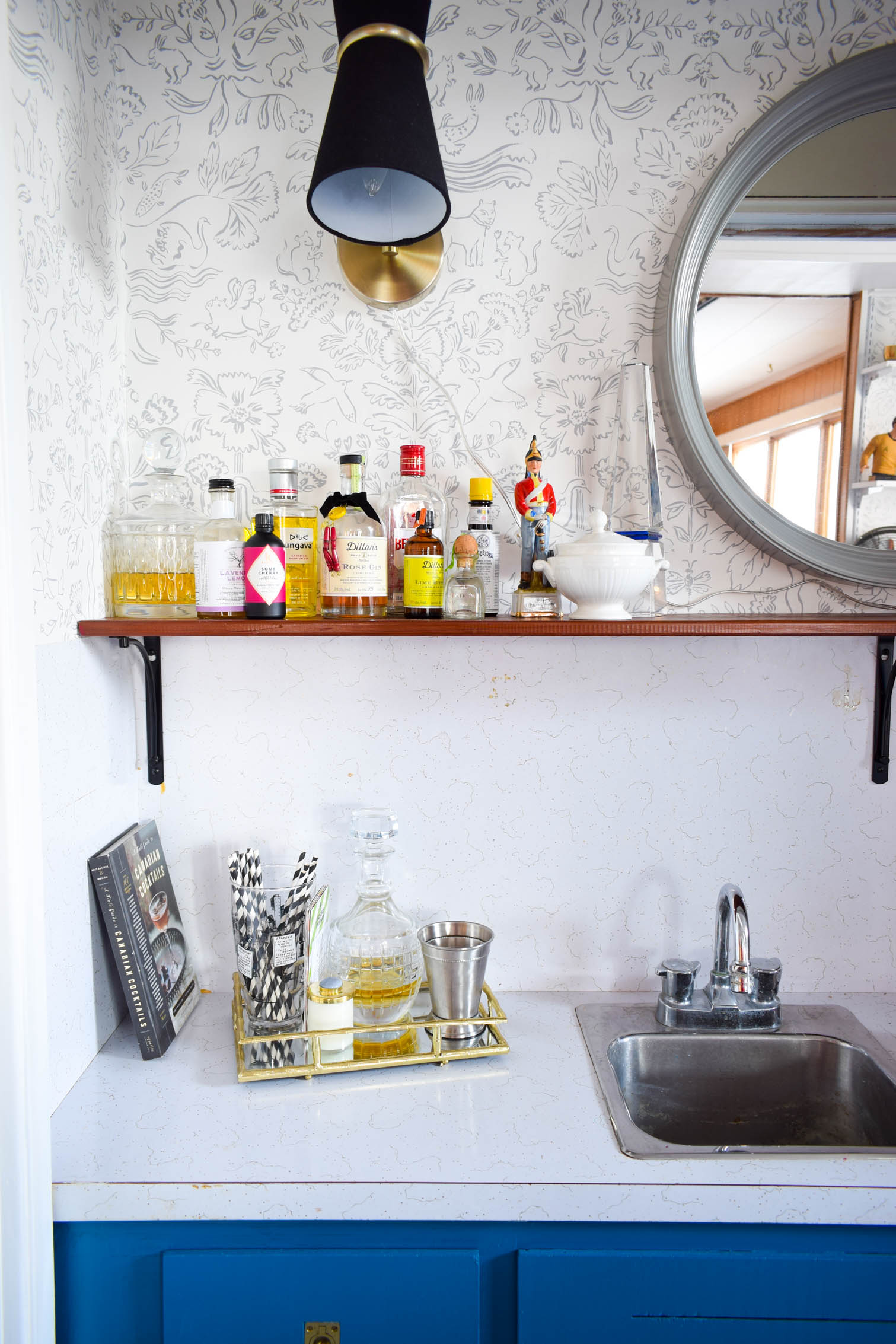 This basement bar was one of the things that drew us to this house. We're 60s playboys at heart, so being able to host all our friends outside of our main living spaces is kinda nice, no?
imagine not having to undo your pillow nest, or put away your basket of foot creams because people are coming, and they're gonna want to sit on your couch. It's so nice to just usher people into a different space entirely.
Our basement bar BEFORE
We had stiff competition for this house for a few reasons – the basement potential was one of them! It had a functional kitchen down there. We used it during our retro glam kitchen renovations, when nothing worked in the upstairs kitchen.
We were told that many buyers wanted the space so that they could turn the basement into a nanny suite. We were childless at the time, so all we had was visions of parties dancing in our head.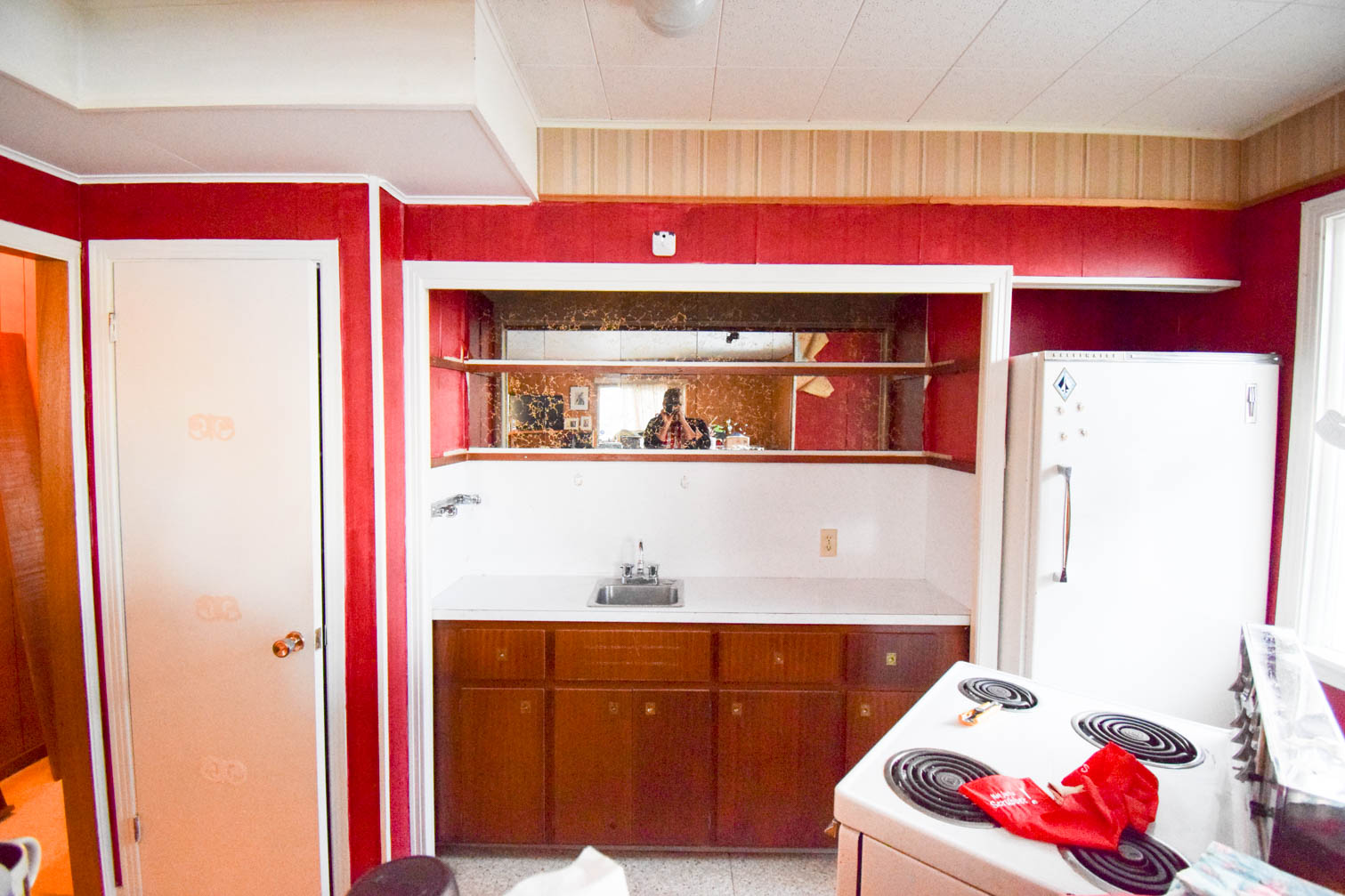 As you can see, the walls received QUITE the treatment over time: wallpaper, which was then painted, and a trim was installed so that lattice work could sit on it and make the ceiling even lower. I don't get it.
Basement Bar Ideas
Because this is a wet bar – and those are highly sought after – we decided to pull the oven and give the space a superficial makeover.
We painted the cabinets, put up new wallpaper (after tearing down the old stuff), reworked the wet bar, added new shelving, new flooring, and fun accessories.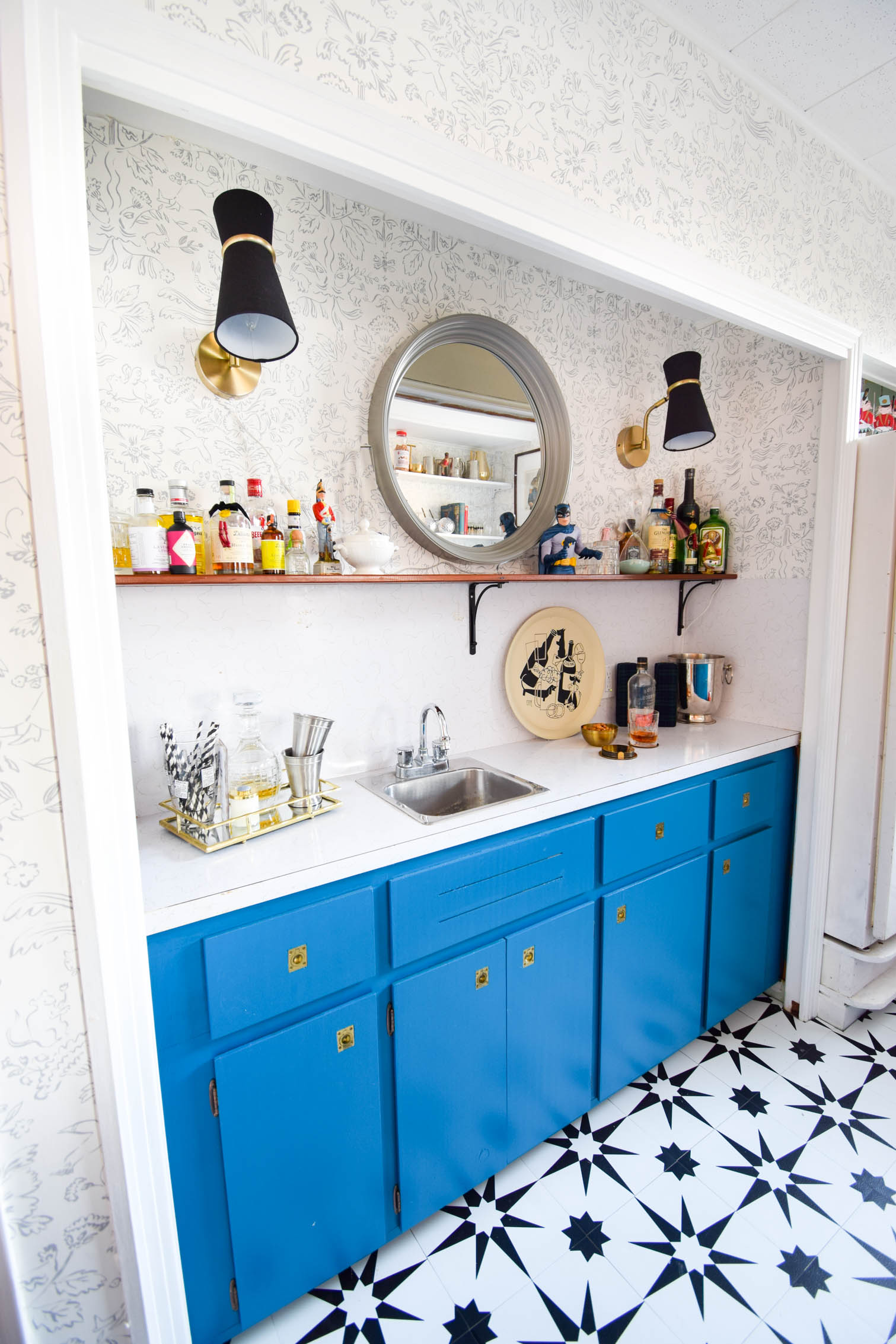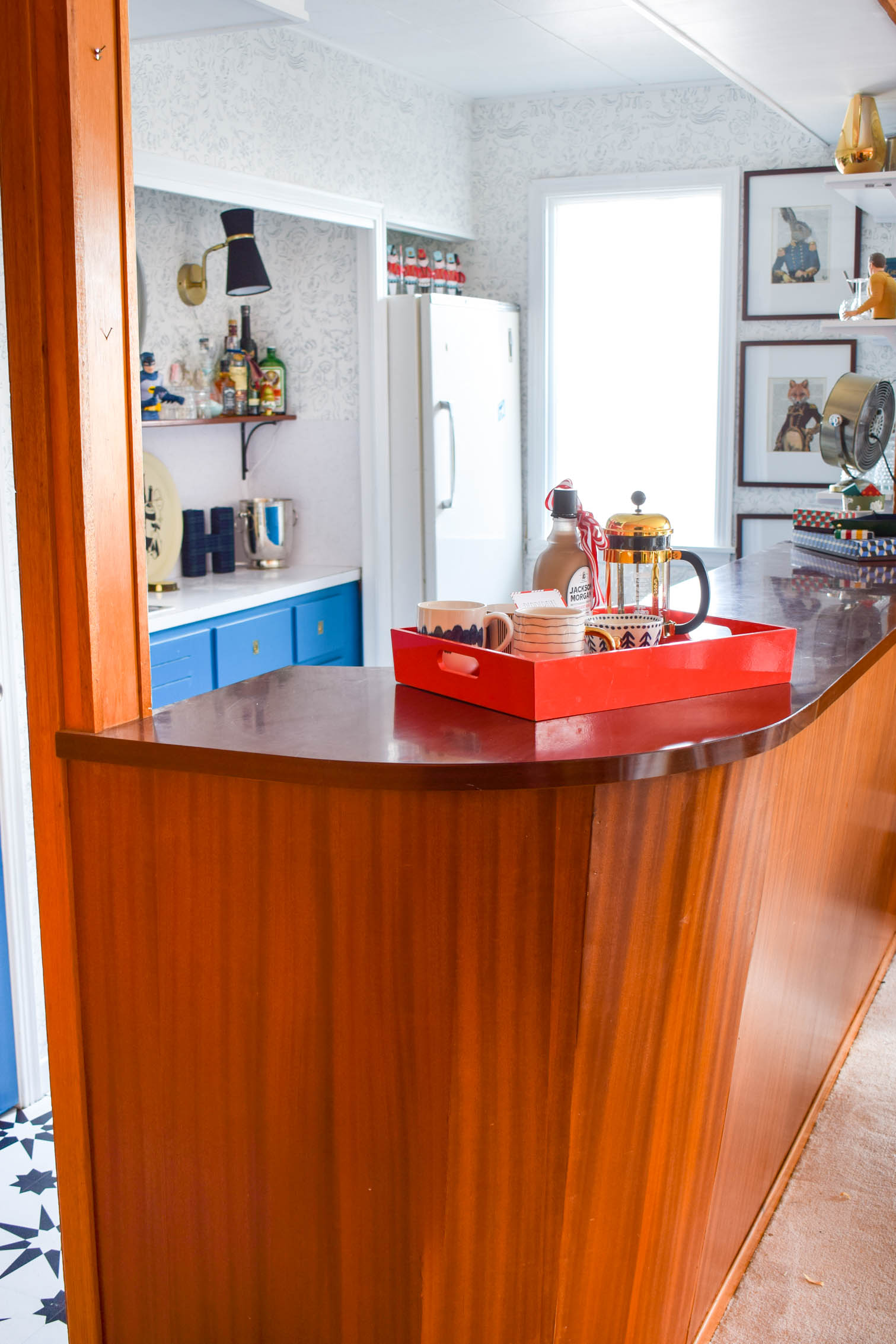 The curved bar is amazing, and it's in great space so we didn't touch it. I love the wood with the blue cabinets, but there was too much wood down there, especially with the wood panelling in the rest of the space.
The basement wet bar
There used to be two shelves and a mirrored backsplash. It was cool, but not totally functional. By adding the bright white Storyline print wallpaper from Hygge and West, we brightened up the space, added visual interest, and provided a clean background for all the bottles.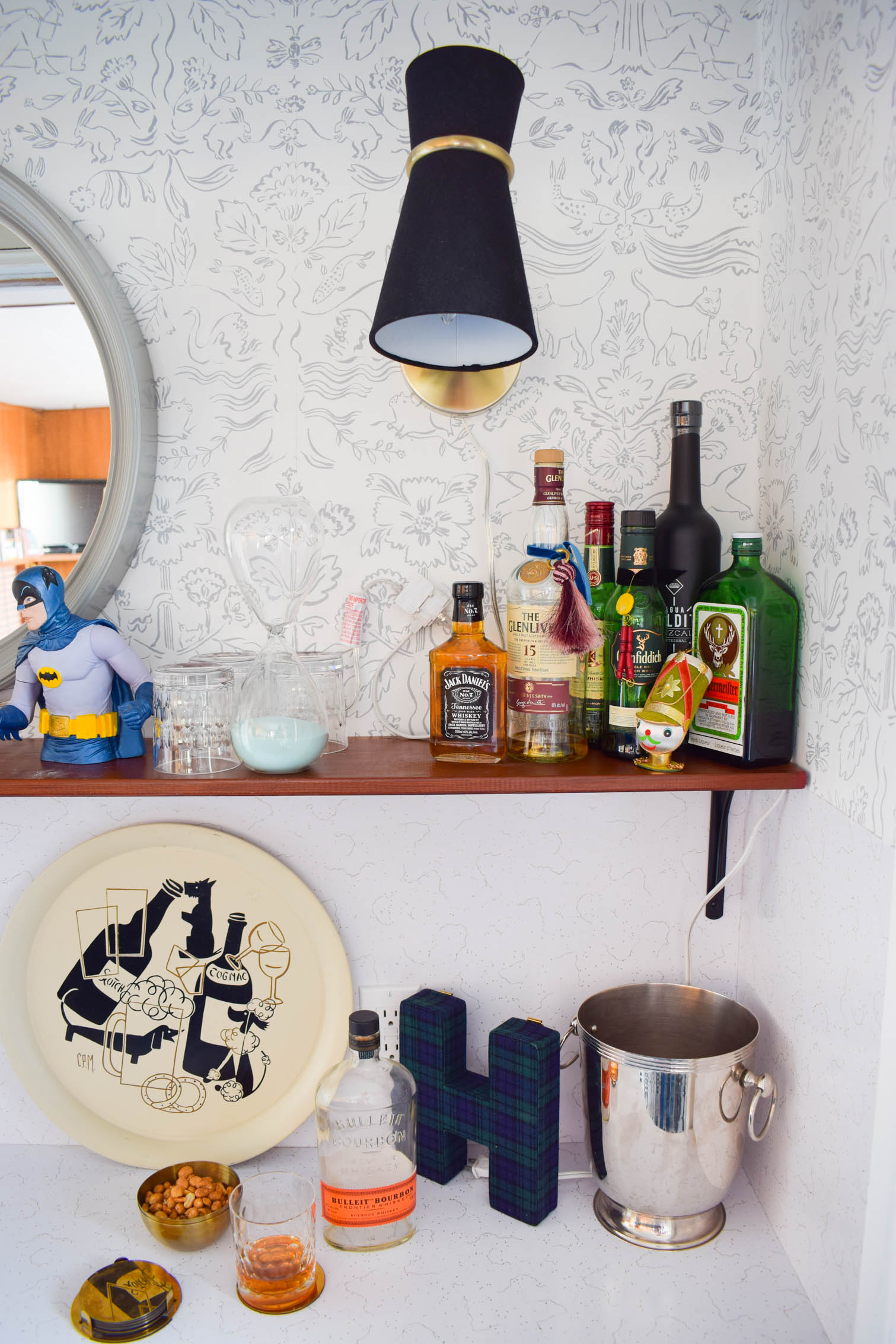 We didn't change the backsplash or countertops because it just wasn't in the budget, so I chose materials and colours that compliment the look of the "vintage" backsplash.
Painting the cabinets
If you check out my tutorial on painting plywood kitchen cabinets, you can see how we did these ones as well. Same process, down to the type of paint we used – BEHR'S Alkyd solution in Coastal Jetty MQ4-54.
This is a blue I considered for our mid century modern dining room this spring, but it wasn't quite the right fit there. It's PERFECT here.
The Alkyd solution is super durable, and recommended for cabinetry, doorways and other high traffic pieces. Grab the rest of my paint tips in my guide to house painting.
The cabinets under the sink had brass pulls, but the ones on the bar side did not. So in the process of painting them, I swapped the handles for these simple brass knobs that we had left over from our renter friendly kitchen makeover a few years (and houses) ago.
I'll have a detailed post next week about the flooring, application, how-to etc. but let me tell you – DAMN they're easy to use. I don't know if they would be a long-term solution (like 10 years +), but they're perfect for the next few years while we figure out the rest of the basement.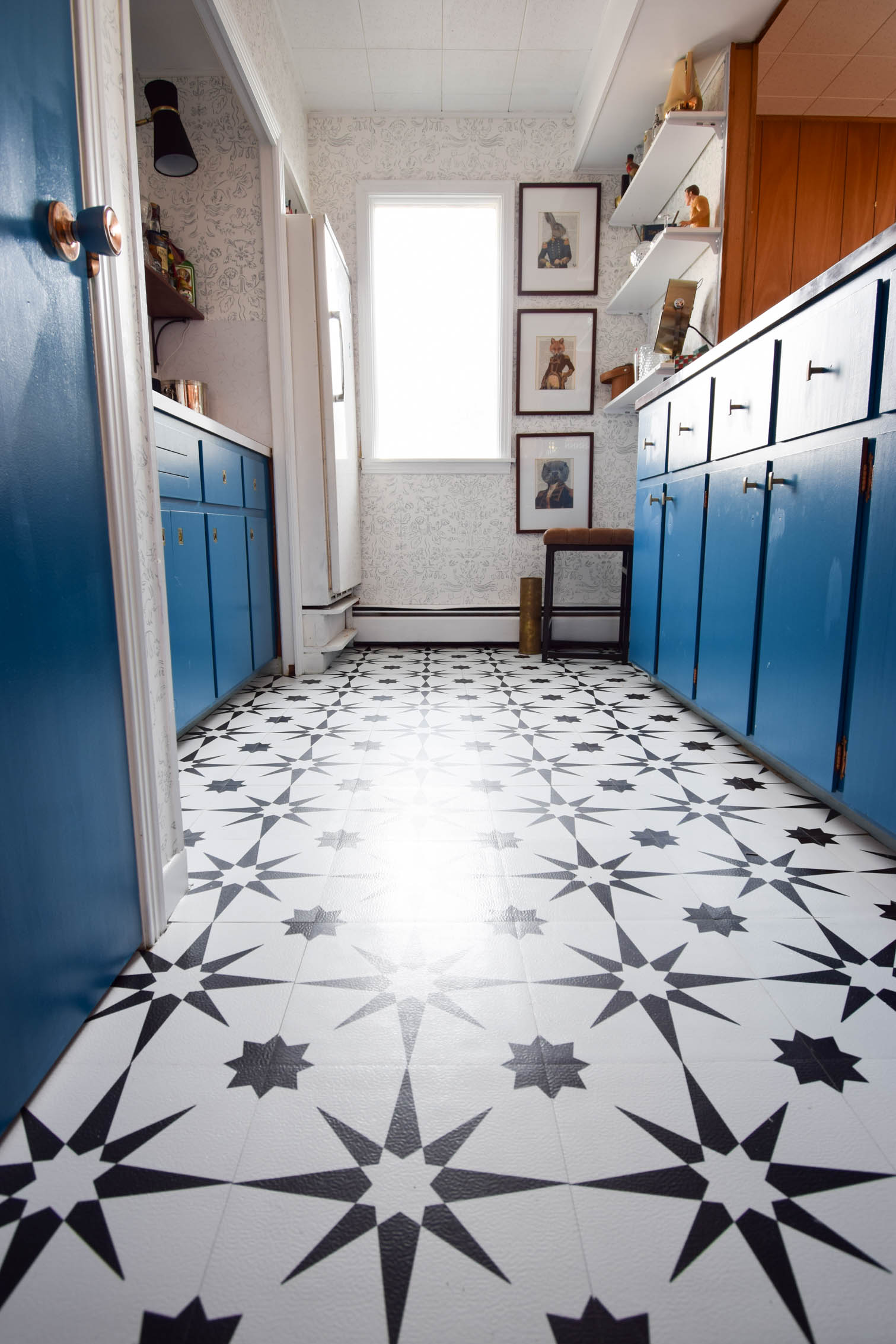 They really were easy to peel, stick, cut and shape for what we needed. The Powercut snips from Fiskars did the trick, but an exacto knife does the job just as well.
You see how the cabinets, wallpaper and floor tiles come together nicely here.
Glassware Storage Ideas
While we opted just to display bottles and decanters on the shelf above the sink, we moved a selection of our glassware to some new shelves above where the oven was.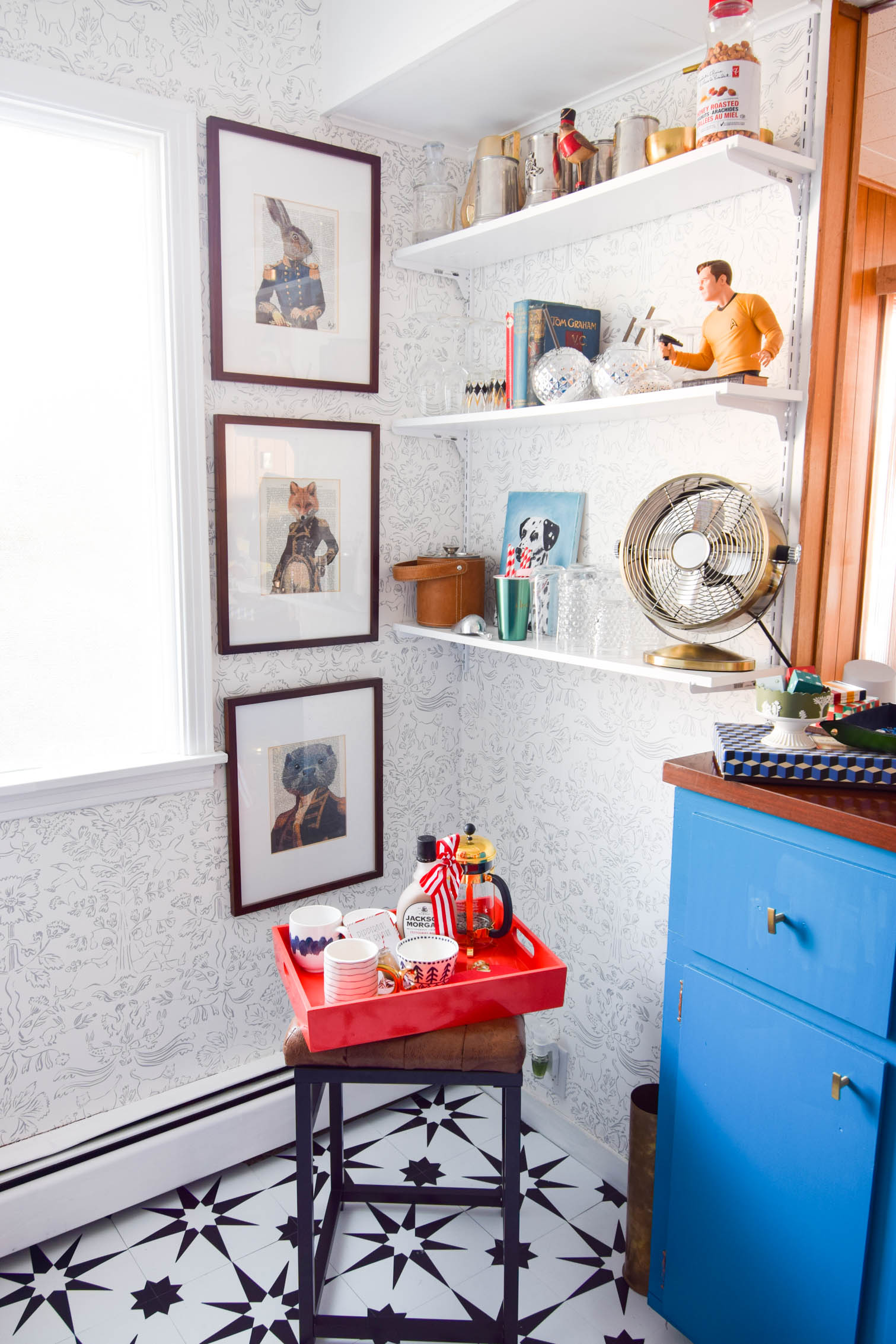 It's no secret that we're trekies, so I displayed our Captain Kirk piggy bank alongside some beautiful books, and original art like the Dalmatian. The little black book that Kirk is on, was Dan's great grandfather's bible that he had with him during the First World War, notably it made it through The Somme.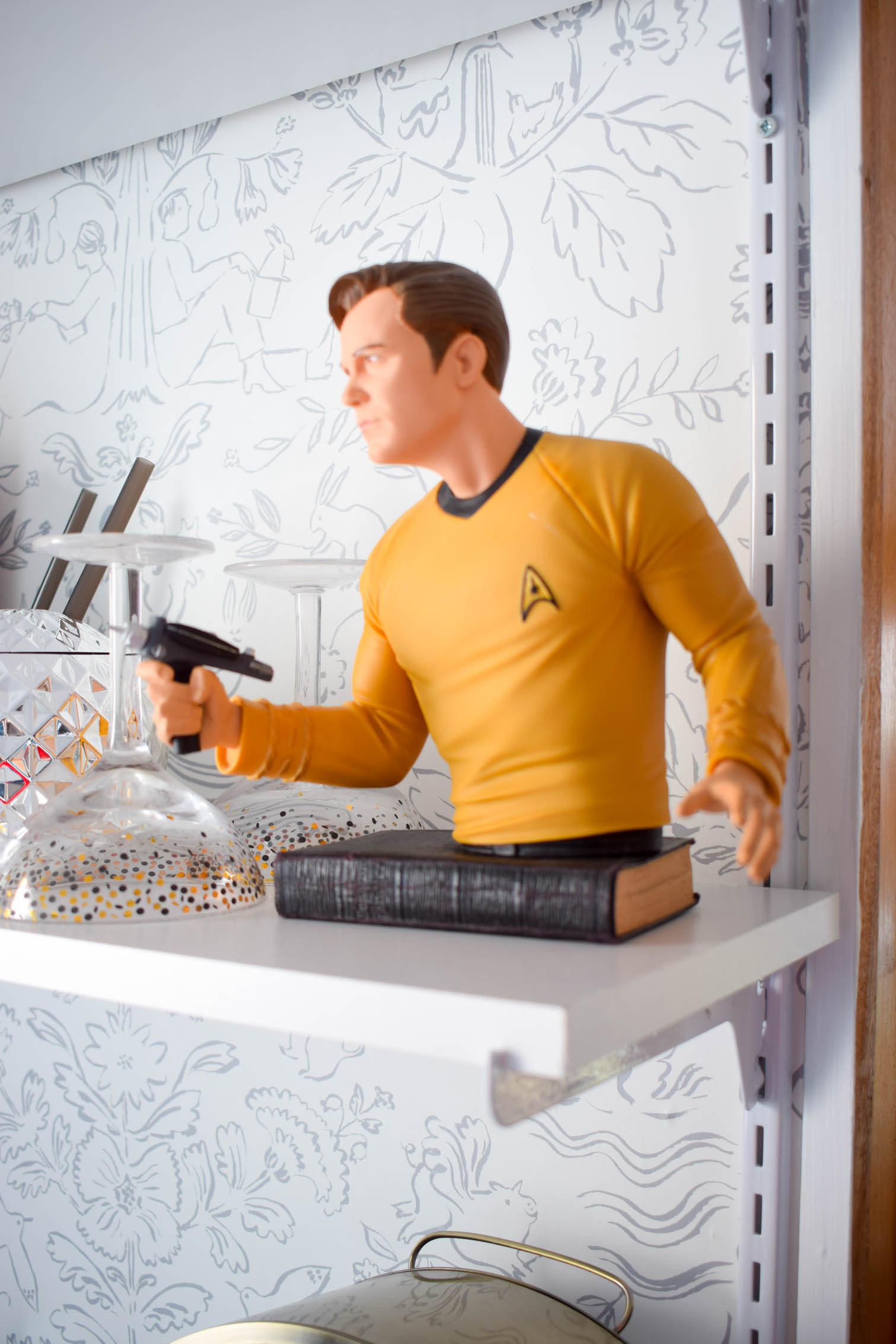 We moved the other glasses to the big cupboard next to the sink (behind the big blue door), along with things like the coffee machine, pitchers, drink dispensers, party decor and more.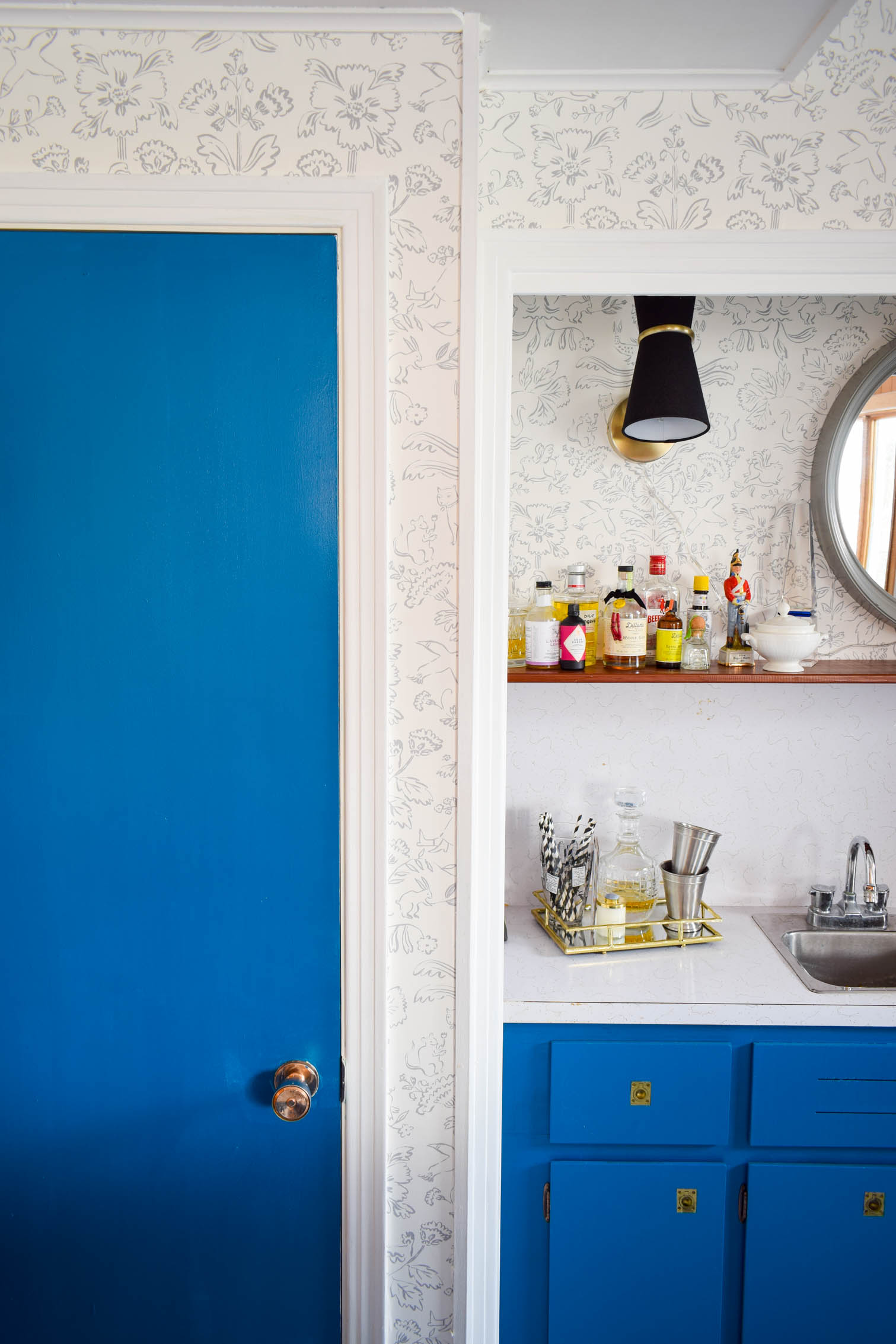 Basement Bar Styling Ideas
This makeover is sort of a gift to Dan. He's worked so hard this year – at work, on the house, as a Dad, and I wanted to bring a fresh new vibe to the tired old space. The basement bar styling reflects that it's more of manly space.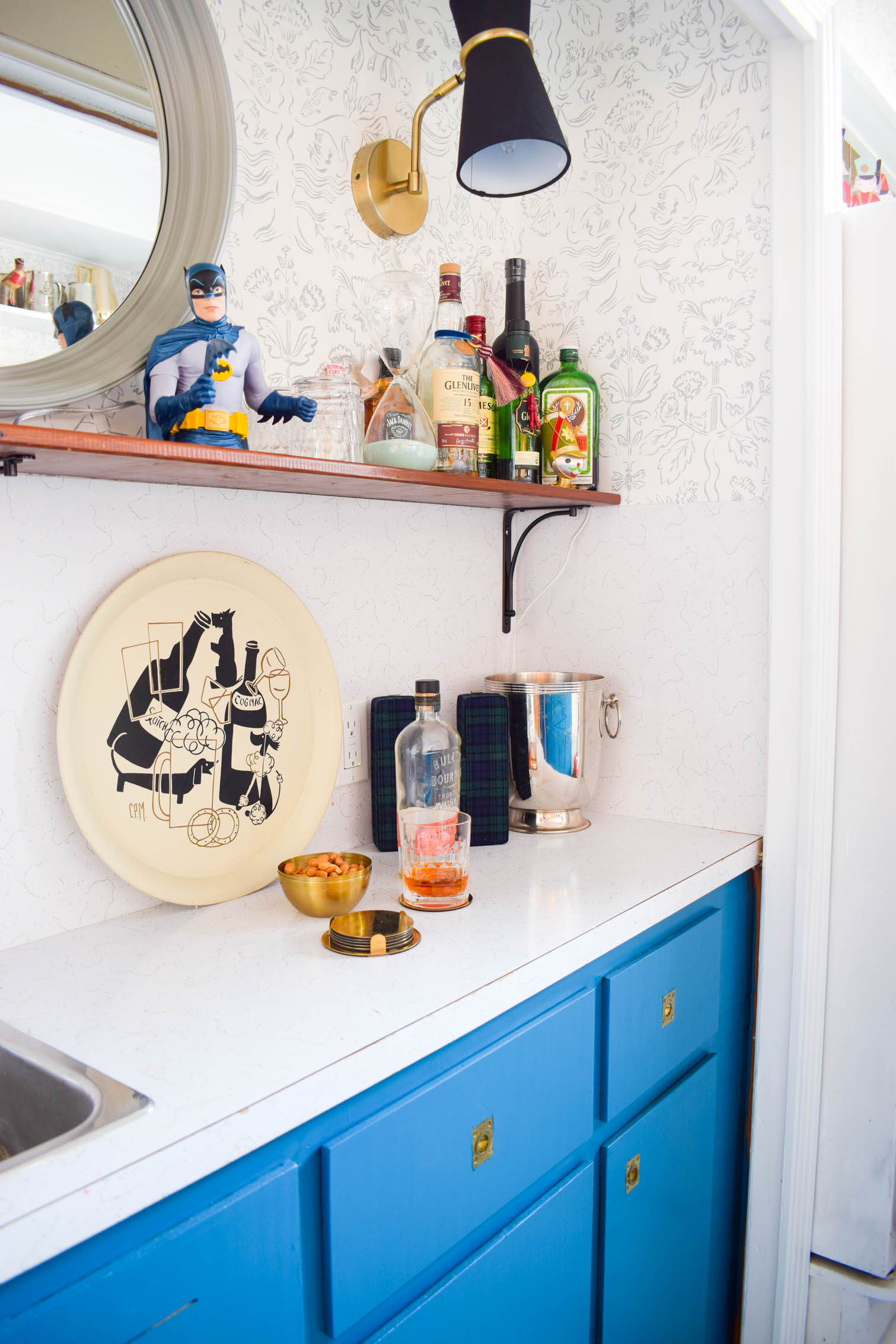 Instead of my usual bright and colourful hues, I kept the palette pretty simple, and opted for metallics and statement making colours.
I infused his playful nature with the Batman and Captain Kirk pieces. They're fun and not too serious.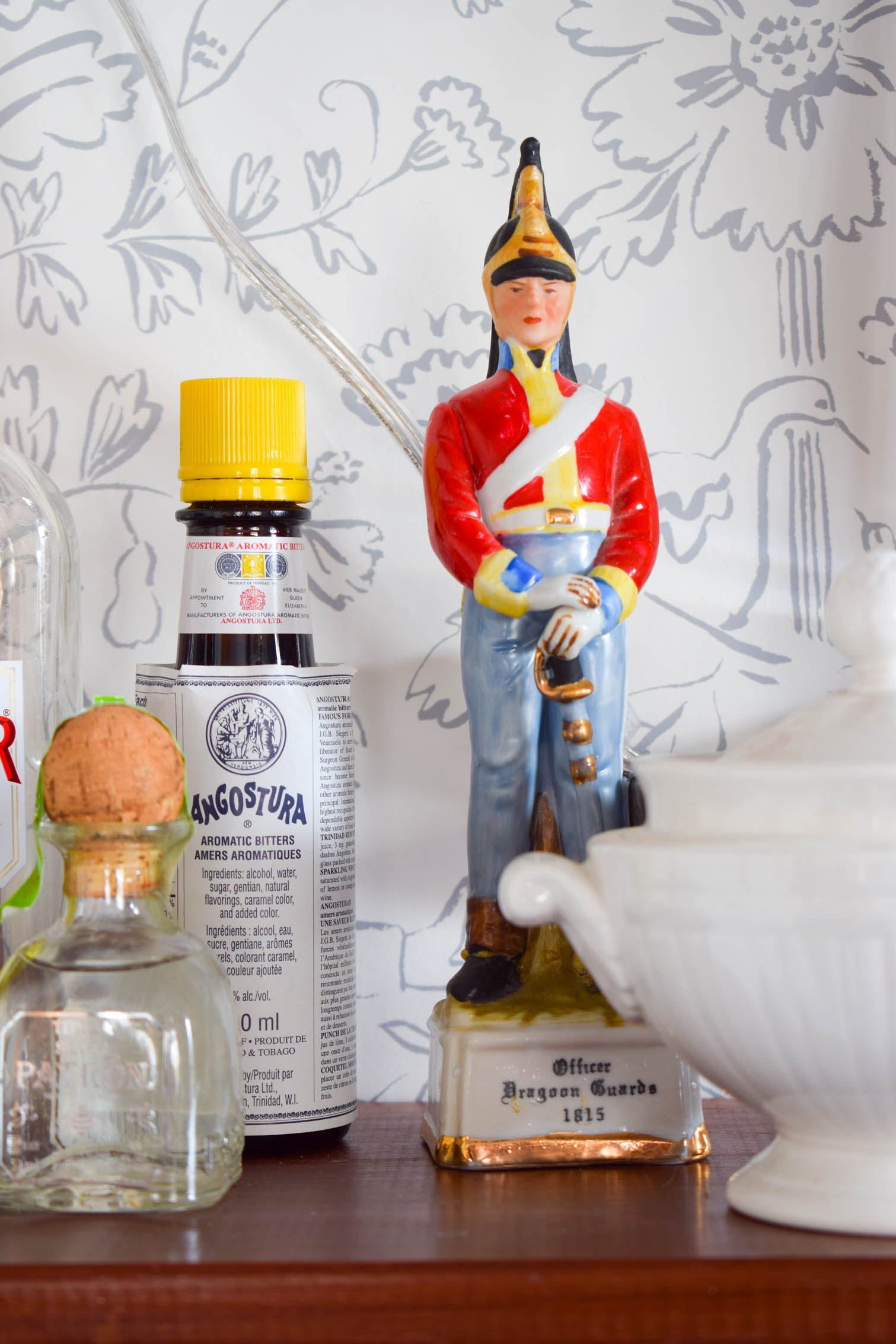 The black and leather bar stools are the best way to add seating. There's one inside the bar (pictured above), and the others are on the other side of the counter for our friends who may saddle up for a drink.
We also play a lot of board games, so it was only natural to pull out our coolest looking boxes to sit on the bar top.
Sources for the basement bar update
Wallpaper: Storyline by Hygge and West
Paint for cabinets: Coastal Jetty MQ4-54 by BEHR paint in Alkyd solution
Bar stools: the Hayden by Homepop Furniture
Floor Tiles: Altair Peel & Stick Floor Tiles by Wallpops
Wall Sconces, Mirror, trays, leather ice bucket, glassware & mugs: Homesense
Dalmatian painting: local artist
Military Animal Art Prints: from Etsy (listing no longer active, but there are tons of similar ones).
Fridge: vintage, original to the house