This has got to be one of the more contested subjects in the world of house remodelling, especially if you're in a retro home and trying to keep its charm. Seeing how we bought a retro fixer-upper, we wanted to keep as much of the charm as possible. However, the kitchen cabinets aren't charming as is, so we set about painting our plywood kitchen cabinets, and I'm gonna tell you how we did it.
P.s Welcome to week 2 of the ORC! Make sure you go check out the link-up with all the other linking participants, and check out what the official ones are up to.
*BEHR sponsored this post, but all thoughts are my own. Thank you for supporting the brands that make PMQ for two possible.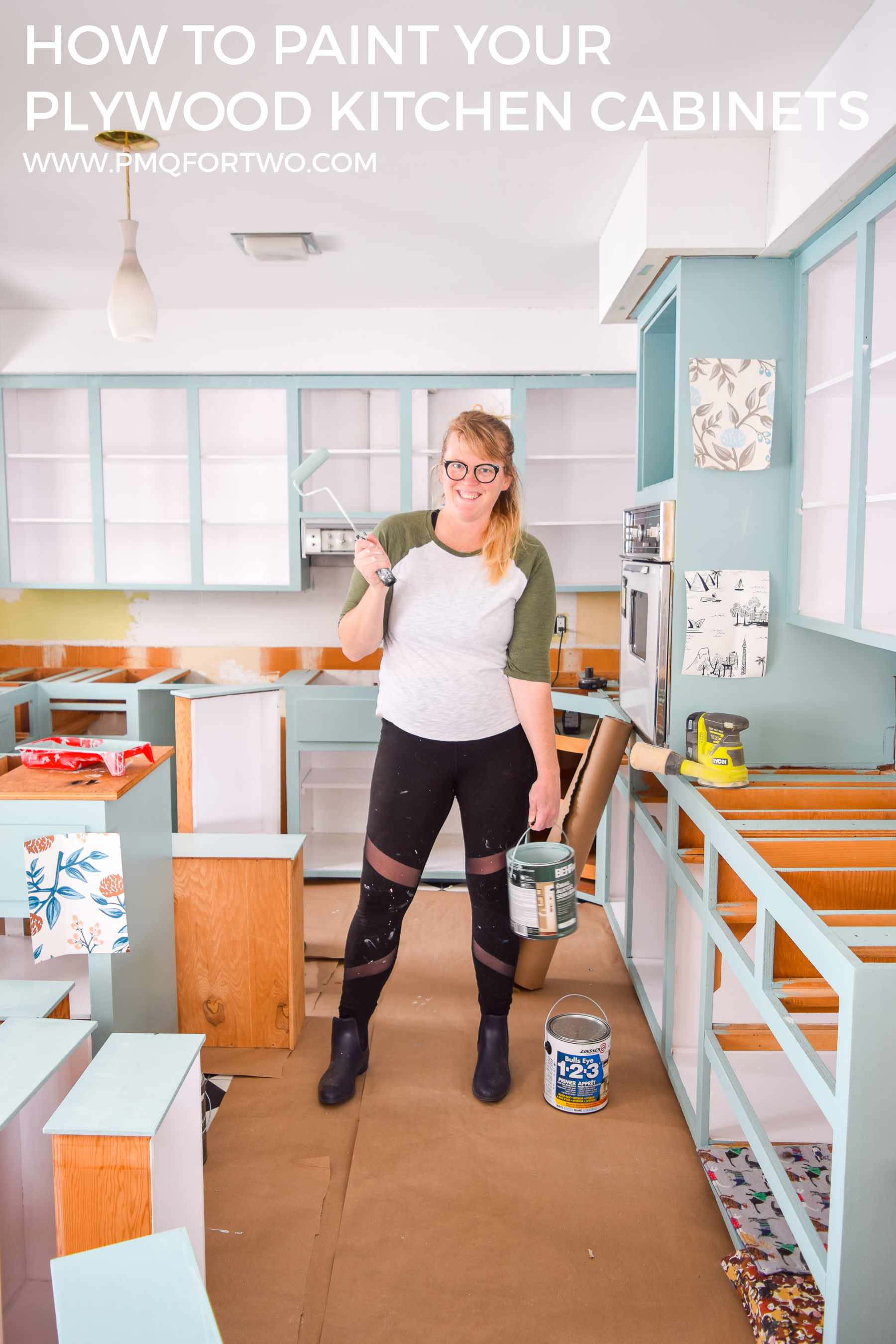 In case you're new around here, a quick recap of how the One Room Challenge (ORC) works! The featured designers (and the rest of us) get 6 weeks to makeover a space from start to finish. The budget is up to us, how we go about it is up to us, and we're encouraged to go big or go home! Each week we'll all link-up to share our progress, our success and our failures, and cheer each other on.
I outlined my plans for our Retro Glam Kitchen Renovations in last week's post, and I'll be un-rolling our progress as we go. Make sure you follow me on Instagram for updates in between.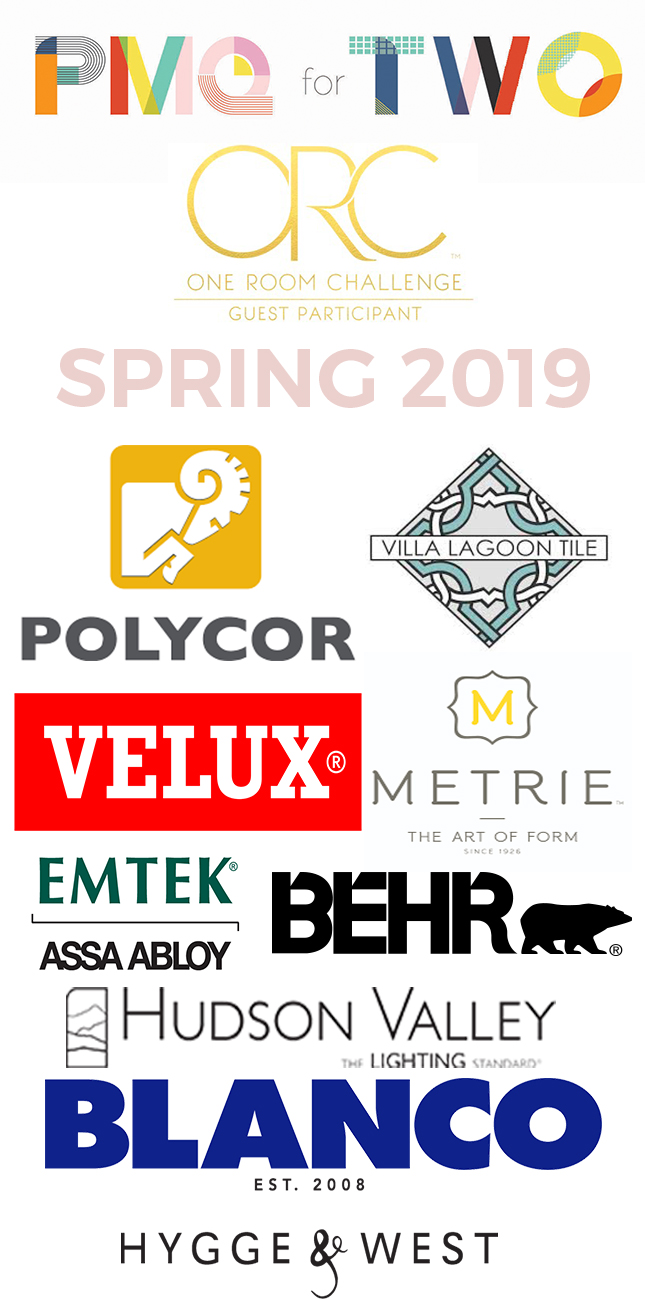 Painting Your Retro Plywood Kitchen Cabinets
Lovers of retro homes will tell you that all the original features should be saved — and when possible, they should — but sometimes you just gotta update. As we found out during our demolition phase of this renovation, they did some poorly thought out upgrades in here, and they also didn't show the cupboards much love.
We could have stripped them down and then tried to stain them in a uniform colour, but that sounded like a lot of work (more work than I feel like doing at 20 weeks pregnant), and we were ready for some fresh colour in here. Instead of turning these into a modern monstrosity, we decided to paint them to keep the retro flair. And in the process, make them better.
Prepping your Kitchen Cupboards To Paint
So as with all paint projects, prep work is half the battle. A well prepared space will paint much faster, require fewer fixes, and just be easier all around. I like the sound of that!
P.s I wrote a super comprehensive guide about all things related to painting interiors, and you should check it out.
In our case, that meant patch filling any natural wear and tea, removing cupboard doors and hinges, patching screw holes from areas where we corrected sags, and then sanding all the cupboards — outside and in. We planed on painting the inside a fresh coat of white, so everything had to be prepped, and that included removing some truly awful shelf liners that just wouldn't leave.
Pro tip: if something adhesive is having a hard time coming up, steam it off! We used our wallpaper steamer to remove a lot of the contact paper, but some has stubbornly remained, and I just painted over it.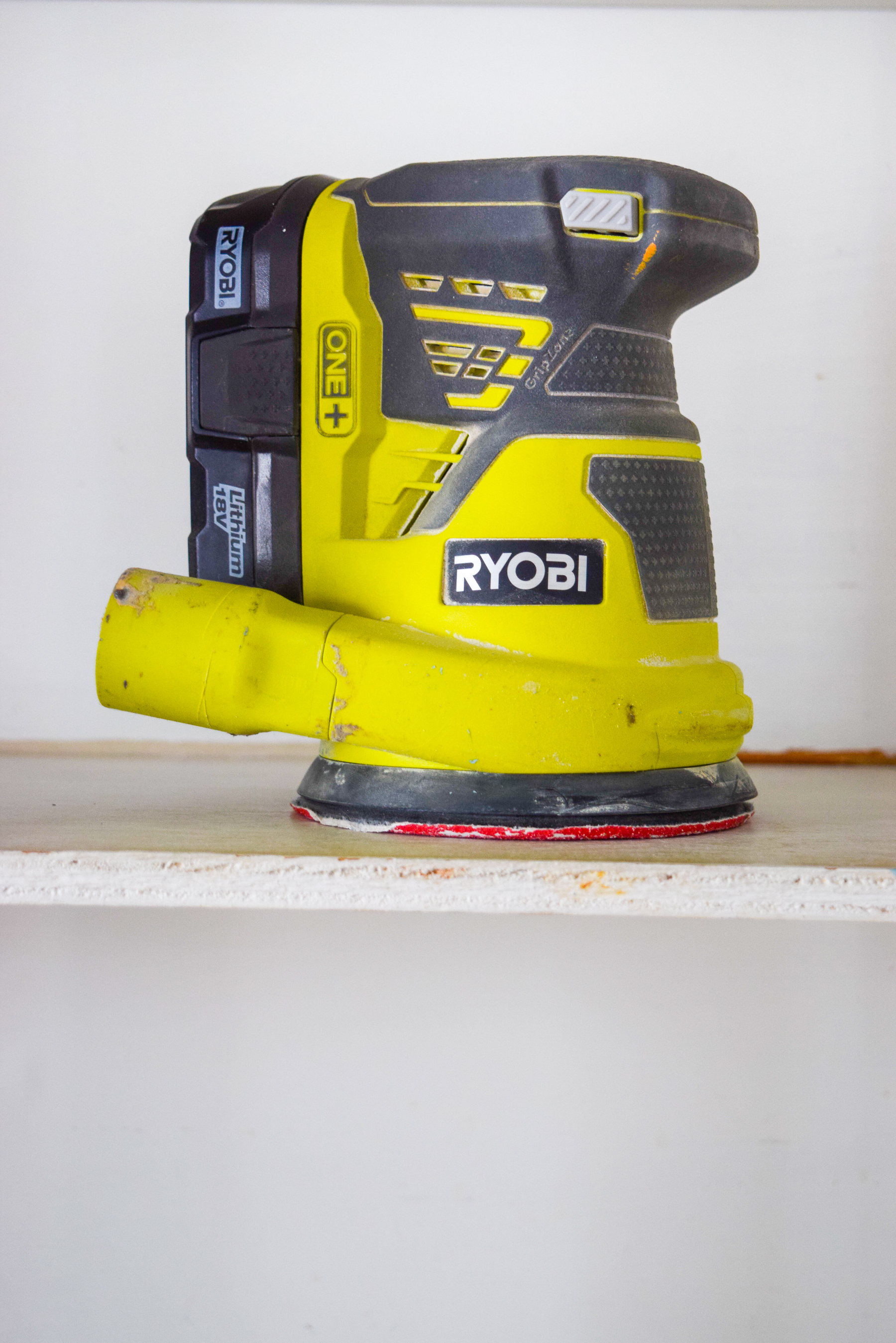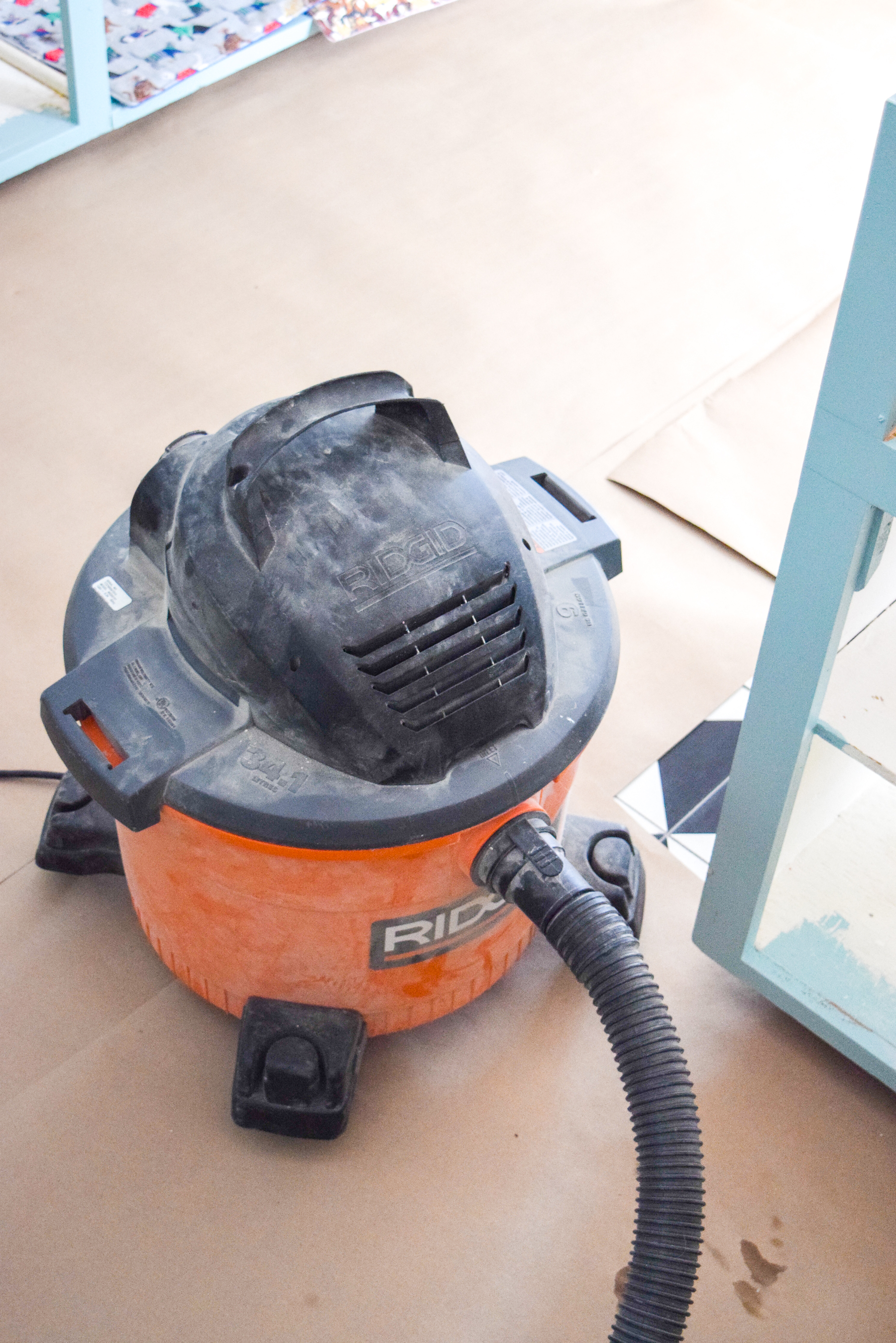 After sanding you always want to wipe things down with a wet rag to remove the dust, otherwise you're just painting on dust. I also give things a quick once over with the shop vac, because sanding dust somehow gets everywhere. I then let everything completely air dry, and fix any remaining or unseen holes (there's always a few that you miss).
Other things to do before painting your plywood kitchen cabinets: remove drawers, switch plate covers, and protect your countertops (unless you're getting new ones like we are). I also laid kraft paper over our newly installed tile floors to protect them, but I would have done the same regardless of flooring newness. It also makes it easier to track where you're spreading paint once you step in it (because you will).
Painting Your Plywood Kitchen Cupboards
Choosing the right paint formula is KEY. I consulted with the BEHR experts at the Home Depot, and we settled on the Interior/Exterior Semi-Gloss Alkyd solution, that they were able to colour match a marquee colour to for me. As you may have seen in the mood board last week, we chose Opal Silk PPU12-8m.
For the cabinet and drawer interiors, we went with the base white in the same formula. Keep it simple right?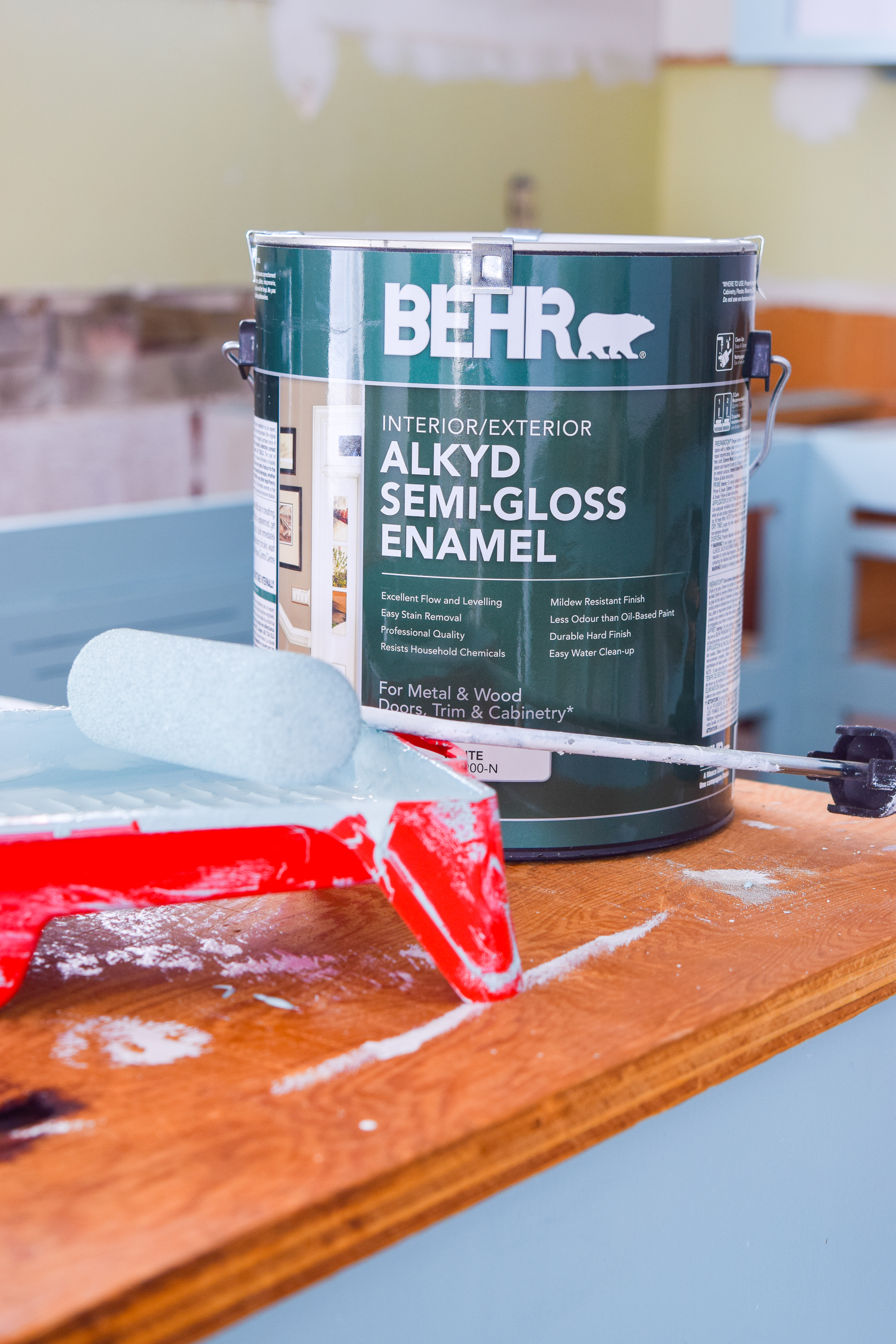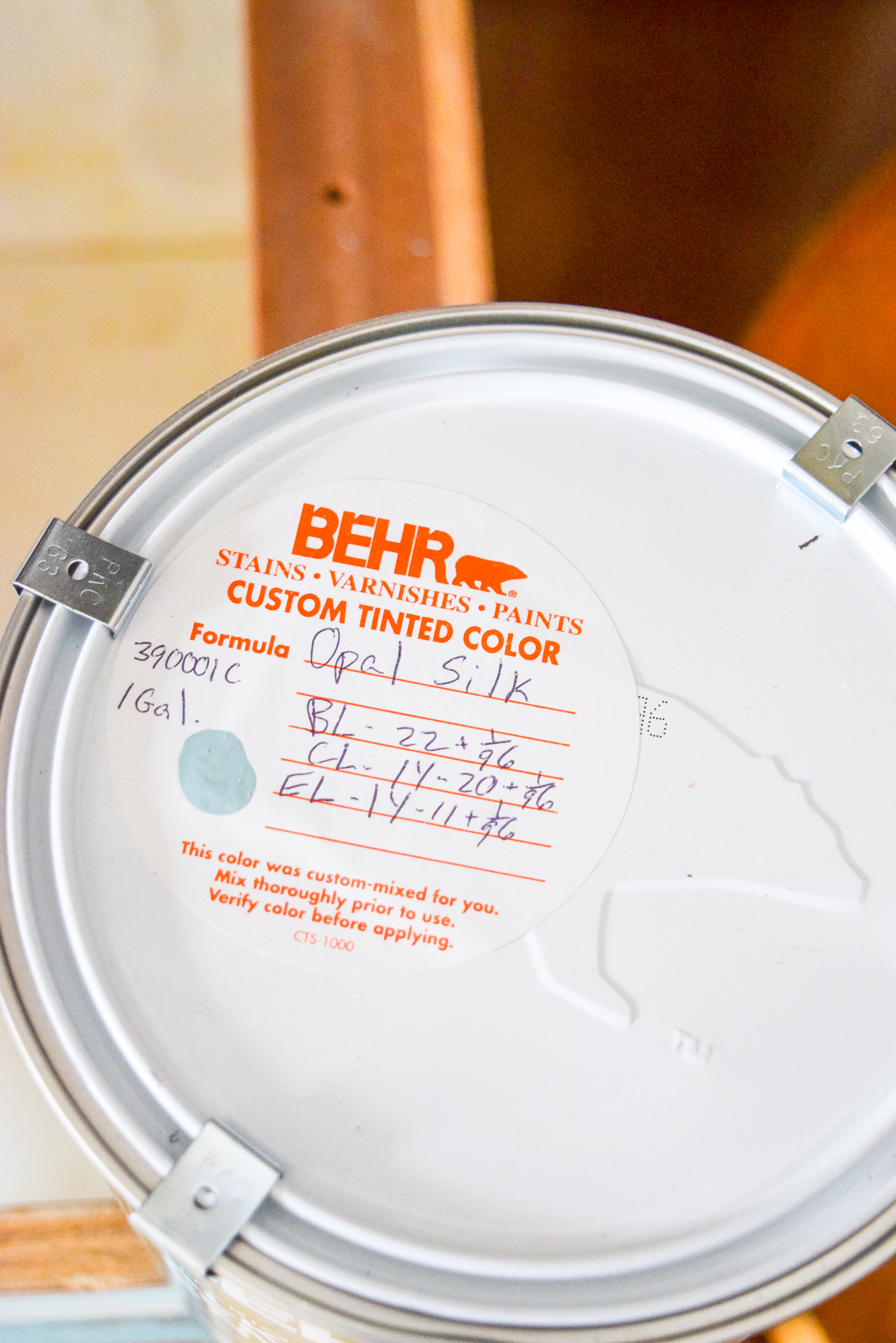 Using A Roller to Paint Your Kitchen Cabinets
I asked about using a sprayer, but ours didn't have enough flow capacity to handle the semi-gloss alkyd solution, we decided to use a foam roller to paint the plywood cabinets. We got a lovely finish with the rollers, and because they aren't too expensive I could toss them after thoroughly ruining them. Is it just me, or the plush ends are end up getting ripped off?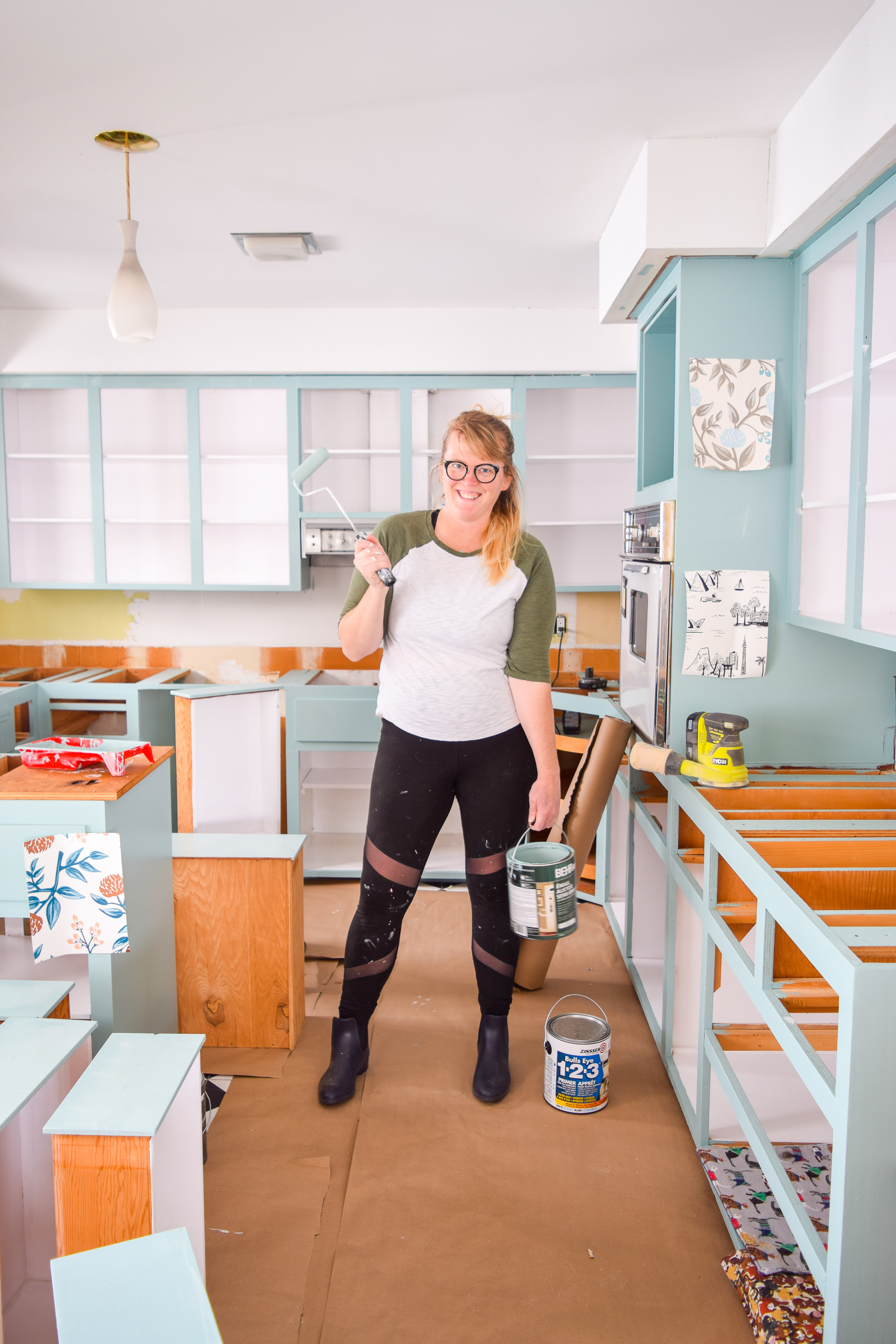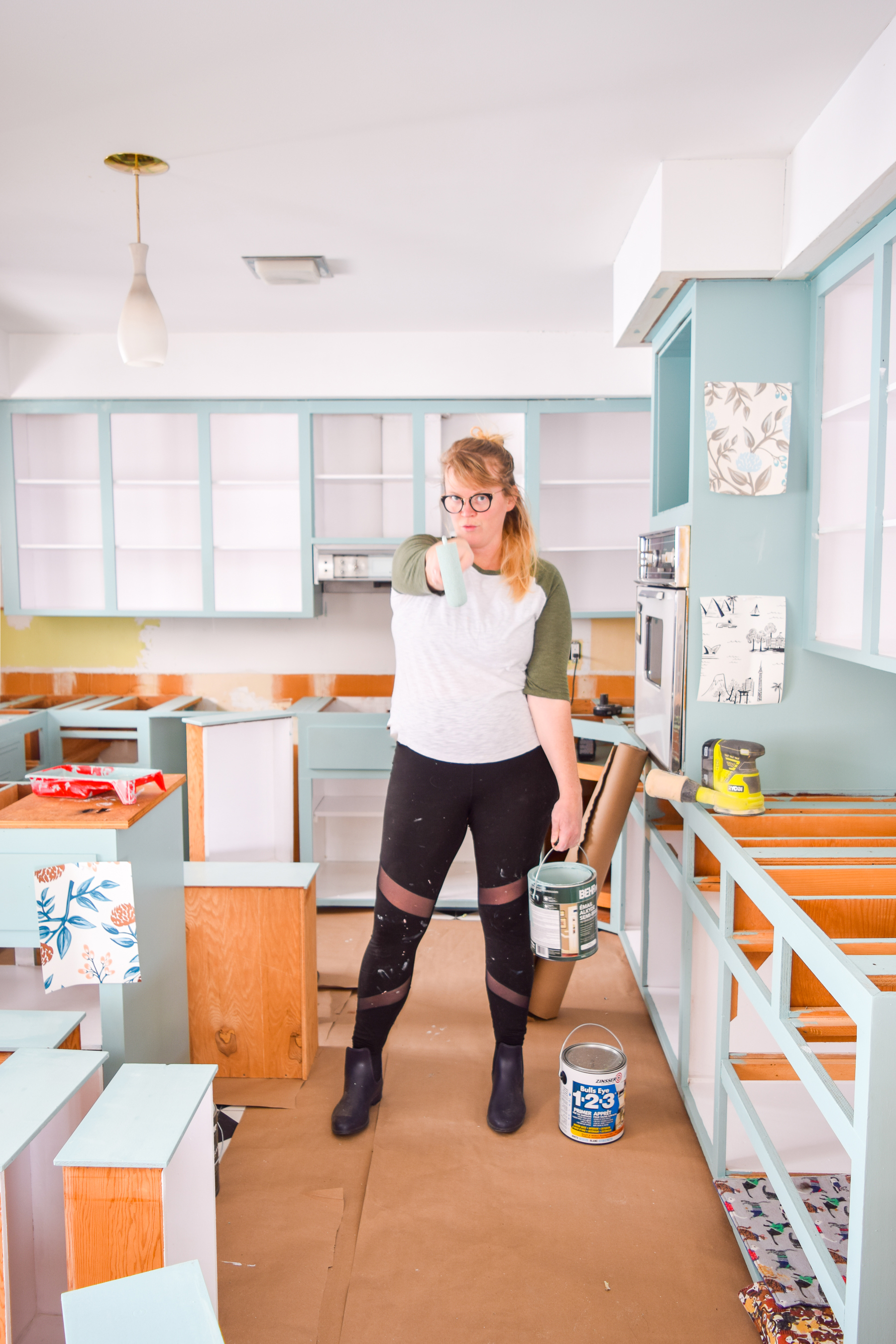 Painting Cabinet Doors & Drawer Fronts
Remember all the prep work we did on the cabinets? we also did it to the cabinet doors and drawers, so when you get to painting those, they should be easy and ready to go.
Depending on the type of cabinet doors/ drawer fronts you have you may also need a short angled brush. We have doors with a slight inlay, so I needed to do some detail work with a brush, but most cabinet doors are flat on the back, so this wouldn't be an issue.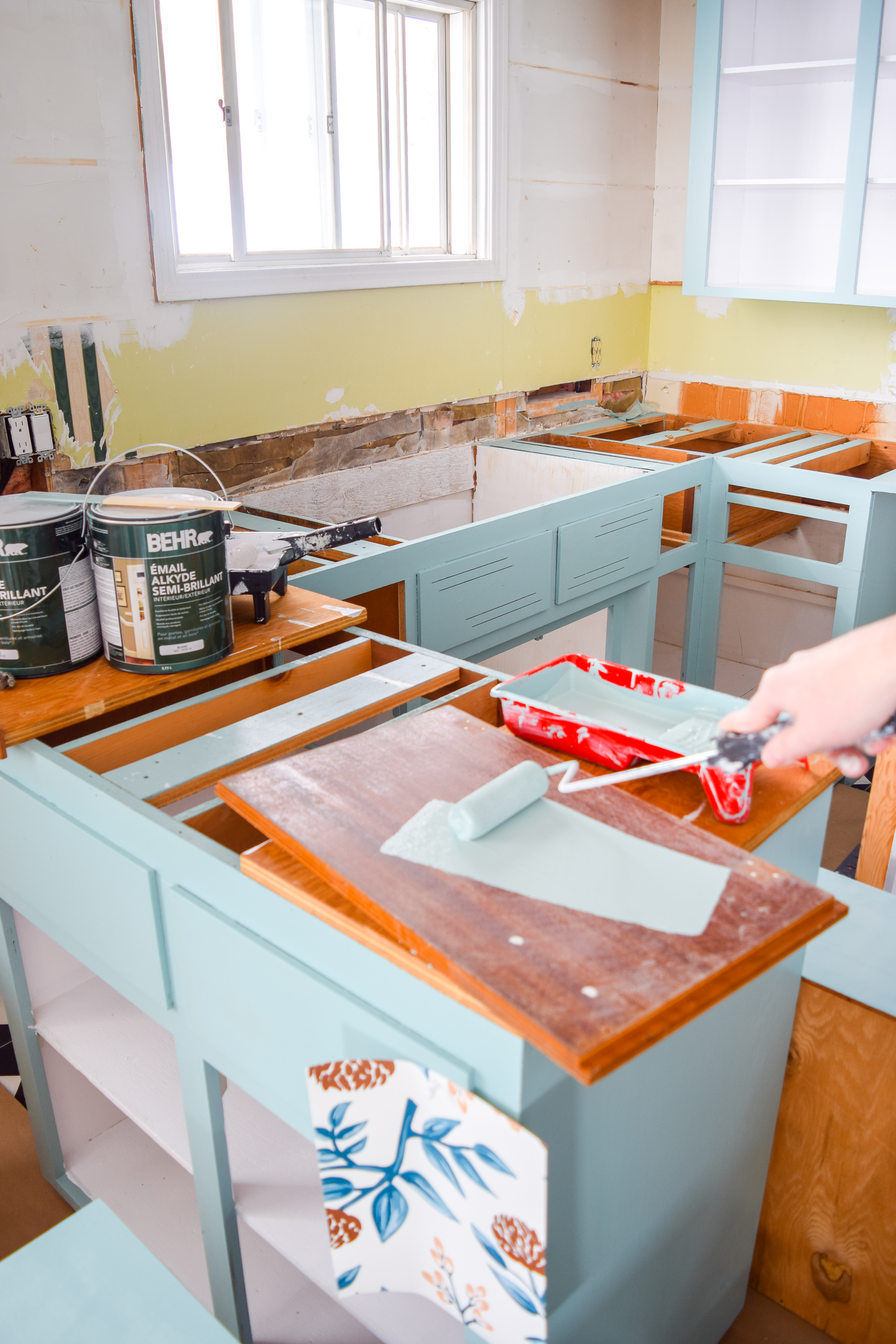 Painting Inside Cabinets & Drawers
There are no hard and fast rules about painting the fronts or interiors first, I just found it easier to alternate coats and do detailed touch-ups as I went. I don't use painter's tape for a variety of reasons.
When it comes to painting the "inside" though, I start with my angled brush and do all the seams. You know, the parts where your roller just won't reach no matter how hard you try. Because you're painting quite a few here, by the time you're done the last corners you'll be able start rolling.
I used another foam roller to get the big surfaces. Because the interiors required a few coats, I just alternated corners/seam and then rolling, until I had the coverage I wanted. Simple! Just make sure you respect dry times to prevent smudging.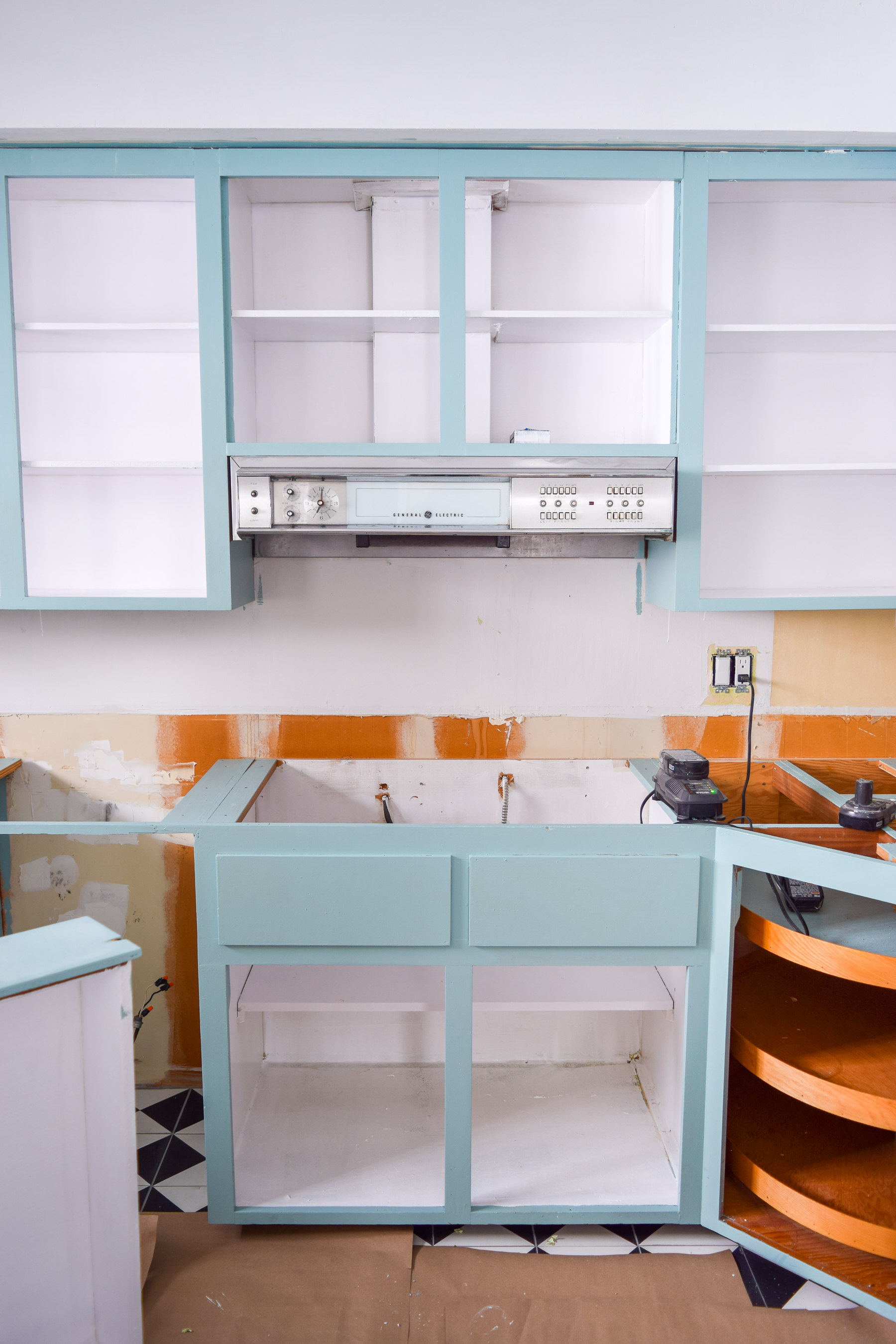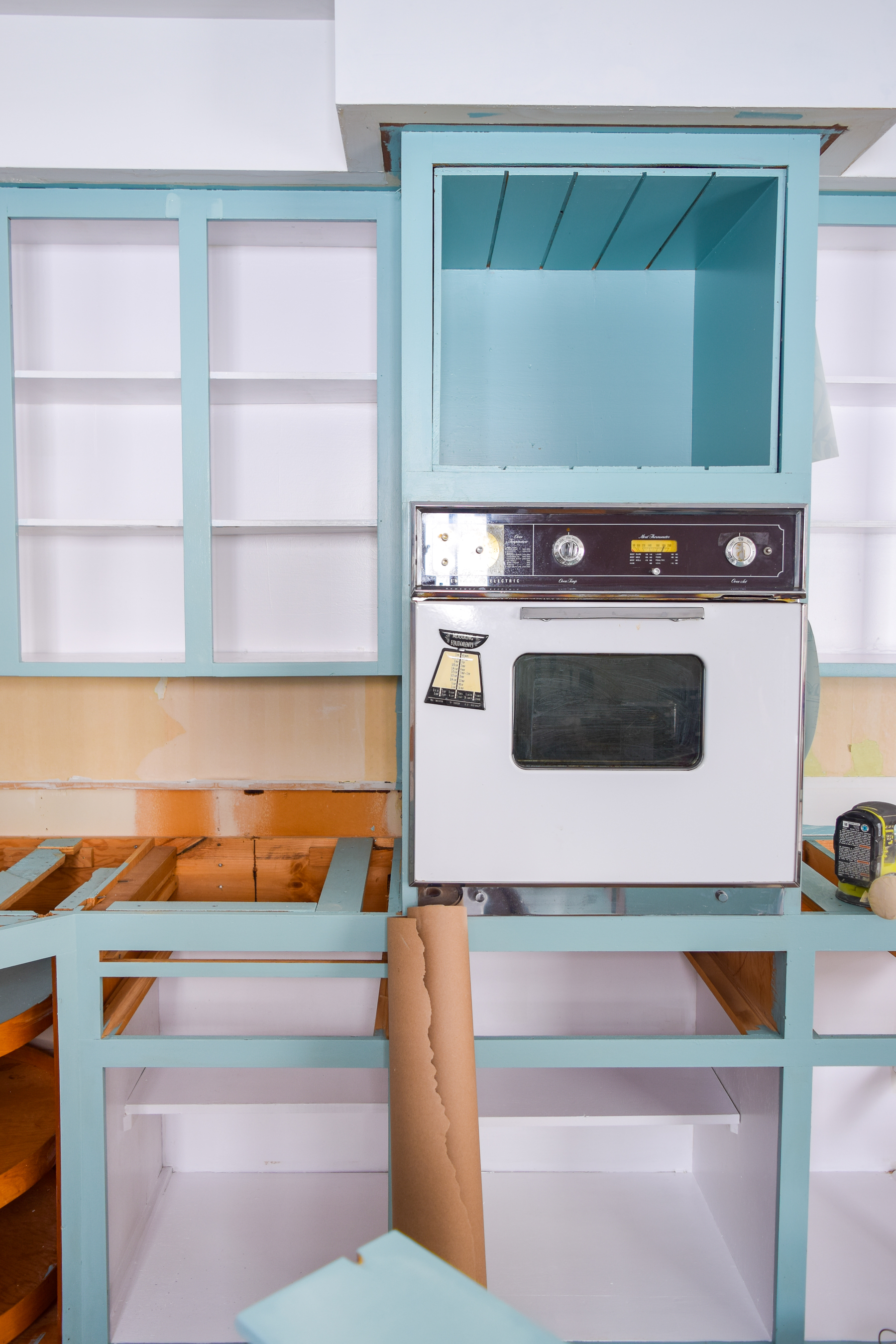 As you can see in the cupboard underneath where the stovetop goes, I still have another coat and some seems to do, but you get the picture!
As for painting Lazy Susans, I'm going to use a combination of brushing and rolling to get all the tiers done. It's a massive corner piece, and I can't just leave it as is.
The Final Result
You'll have to wait and see! I won't be showing that off until next week when we talk flooring, so in the meantime you get to imagine what this space will look like. That being said, you can also see which wallpapers we're considering for the eating nook. The nice thing about having the cupboards painted now, is that I can get a better idea of how things will look in the space, so holding up the samples and moving them around is a heck of a lot easier.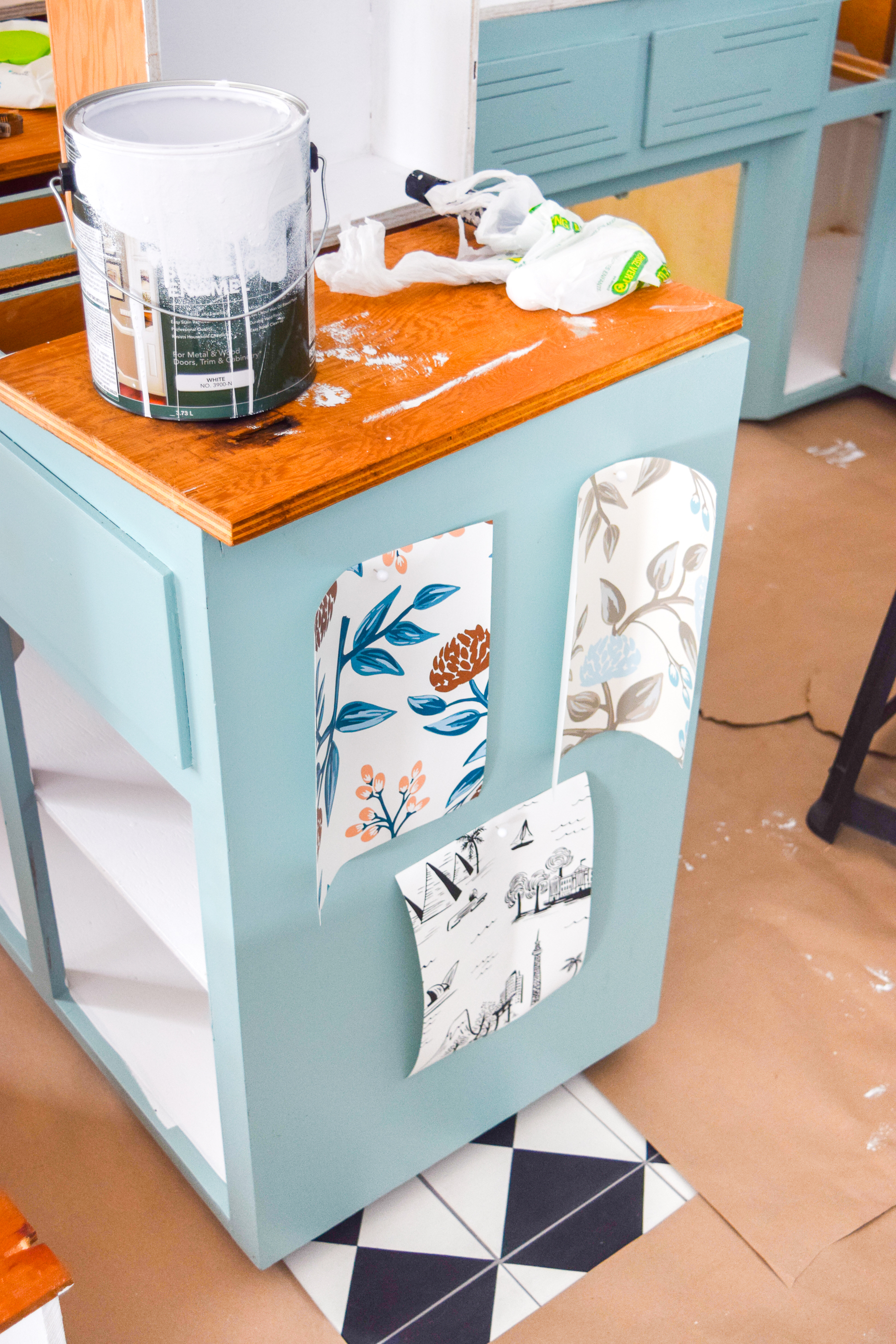 Let's all marvel at the fact that I've absolutely popped at 20 weeks, but that these black spandex make it hard to tell. I'll take a photo where I look normal, thanks.
And as with all home reno projects when you have pets, sometimes you have to catch them mid-leap before they land on wet drawer fronts.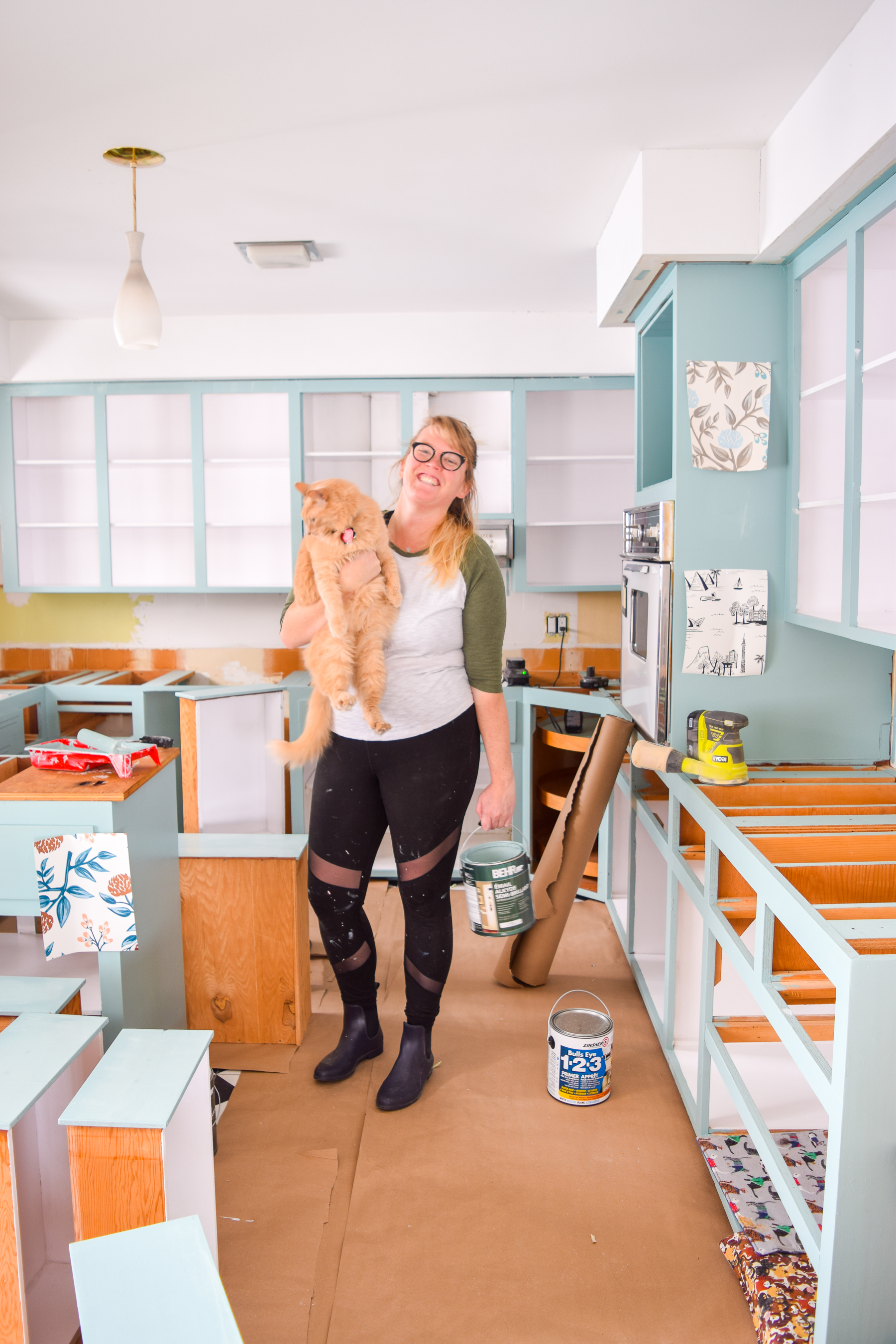 Tune in next week to see the flooring unveiled, as we're one week closer to completing our retro glam kitchen renovations!