*originally published April 23rd 2019
Ready for a quickie? I made some Retro Melamine Heart Mugs in a few minutes this past weekend – in between sanding, painting and building for our Retro Glam Kitchen Reno. They were easy to make, super cost efficient (less than 2$ each), and are going to be the perfect pop of colour for our kitchen (once we get to the styling phase).
Check out my DIY Mod Striped Daisy Planter, and my DIY Vinyl Pet Food Bowls
Retro Melamine is IN
But you didn't need me to tell you that. Retro home furnishings are making a comeback, and collectible melamine is one of the many sought-after items. While I can't necessarily swing the really good old stuff, I can definitely spring for 1.50$ cups from the dollar store, and 2.50$ for 2 sheets of vinyl.
I've got an entire post dedicated to the best retro kitchen appliances & decor for under 100$.
A quick tour through Ebay, or Etsy will show you just how much people are willing to pay for the old stuff. But beyond that, the comfort factor that good kistch provides is hard to beat. In my case, I was looking to create some pieces for our new kitchen, and bring my signature pops of colour into the space.
DIY Melamine Heart Mugs
As I mentioned above, this is a super cost effective project (under 2$ a cup). I grabbed melamine cups from the dollar store, and sheets of vinyl from the craft store, but any old vinyl scraps would work.
*The following product links are affiliate things. Thank you for supporting the brands that make PMQ for two possible.
you can grab similar mugs here
And because I'm all about expediency these days, I decided to pick a heart shape because I could easily cut them with scissors. That being said, a Cricut Cutting Machinewould make even quicker work. BUT I wanted the somewhat misshapen and quirky shape of my hand cut ones.
I cut a small square, folded it in half, and then (much like a snowflake) I cut half a heart along the folder seam. That way when I opened it up I had a heart with matching sides!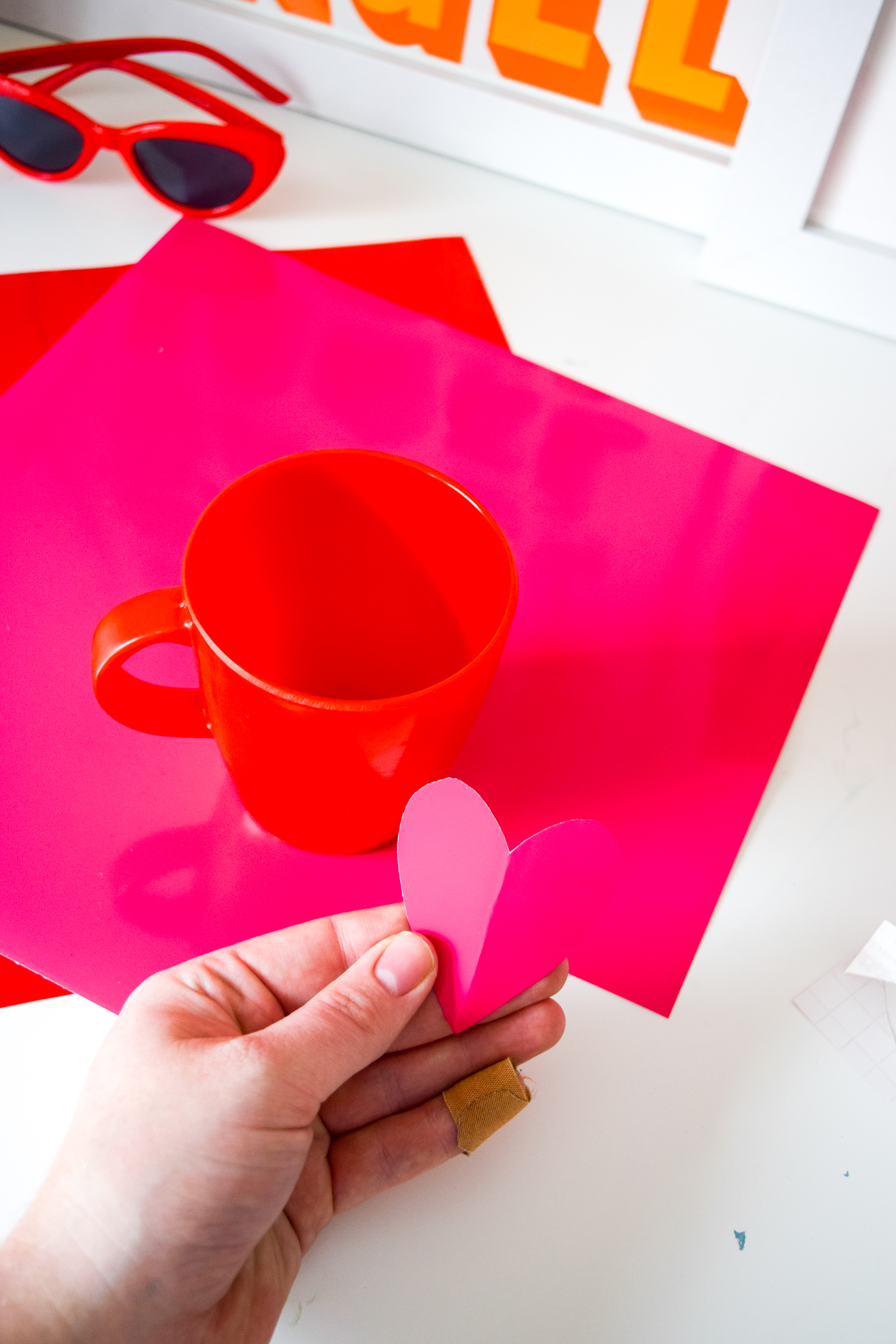 Since I wanted to put hearts on BOTH sides of the mugs, after applying the first heart I took the white paper backing and used it as the template for the next heart. It ensures a pretty close match for the hearts appearing on each mug.
Because vinyl is peel-and-stick, applying the heart shape to the melamine cups was as easy as peeling and sticking them on. The vinyl had enough give so that I could re-position them if needed.
Retro Melamine Heart Mugs
Ta-da! So easy to make. I recommend hand-washing these, but if you apply a sealing coat you can probably get away with using the dishwasher. Just make sure the product you use is a) food safe b) dishwasher safe.
I made them in two colours (white and red), and then accented with pink and red vinyl. I think they're pretty darn cute.
Make your own vinyl scrap face planters using leftover vinyl from this project!