Because it's Spring, I've got flowers and planters on my mind! I've got primroses, gerbera daisies and more, waiting to be re-potted outside or just given more room to grow. DecoArt has rolled-out a new series of matte metallic paints, and I thought I'd try my hand at painting something with them. I'm going to be brutally honest, I started making two things (as some of the initial photos will indicate) but one of them didn't turn out (or did it?) so it's not pictured here, but may find its way into another post later. In the meantime my Mod DIY Striped Daisy Planter is a bold punch of pattern in the studio kitchen.
*DecoArt sponsored this post, but all thoughts are my own.  Thank you for supporting the brands that make PMQ for two possible.
Would you believe that I initially made it as an office trashcan for near my desk? I ended-up changing my mind once I saw how cute it was. PLUS, I'm not sure if these daisy appliques could stand up to the rigors of office trash bin.
*The following product links contain affiliate links. Thank you for supporting the brands that make PMQ for two possible. For my full policies click // here //
Materials required for a Mod DIY Striped Daisy Planter
Metal (Tin press?) container – I got mine at the thrift store and thought it was a trash can originally, but it could have been a decorative planter already.
Painter's tape
Step 1: Paint your planters in a white base using the chalky finish. I am a total convert to it – it sticks to anything and everything – so when I'm painting something that's already got a finish, I start with that.
Step 2: Using painter's tape, add vertical stripes. I really like the 3M brand of tape, so far it's the only one that doesn't bleed.
Step 3: Paint the exposed parts using the black paint. Once dry, peel back the tape. You know how it goes. As you can see, there were parts I missed using a roller, so I busted-out a brush to do any touch-ups.
Step 4: Because I wanted a touch of class about it, I tipped the rolled rim, and the little round feet, in gold. The DecoArt matte metallics were perfect for this – they go on like enamel, but without the smell.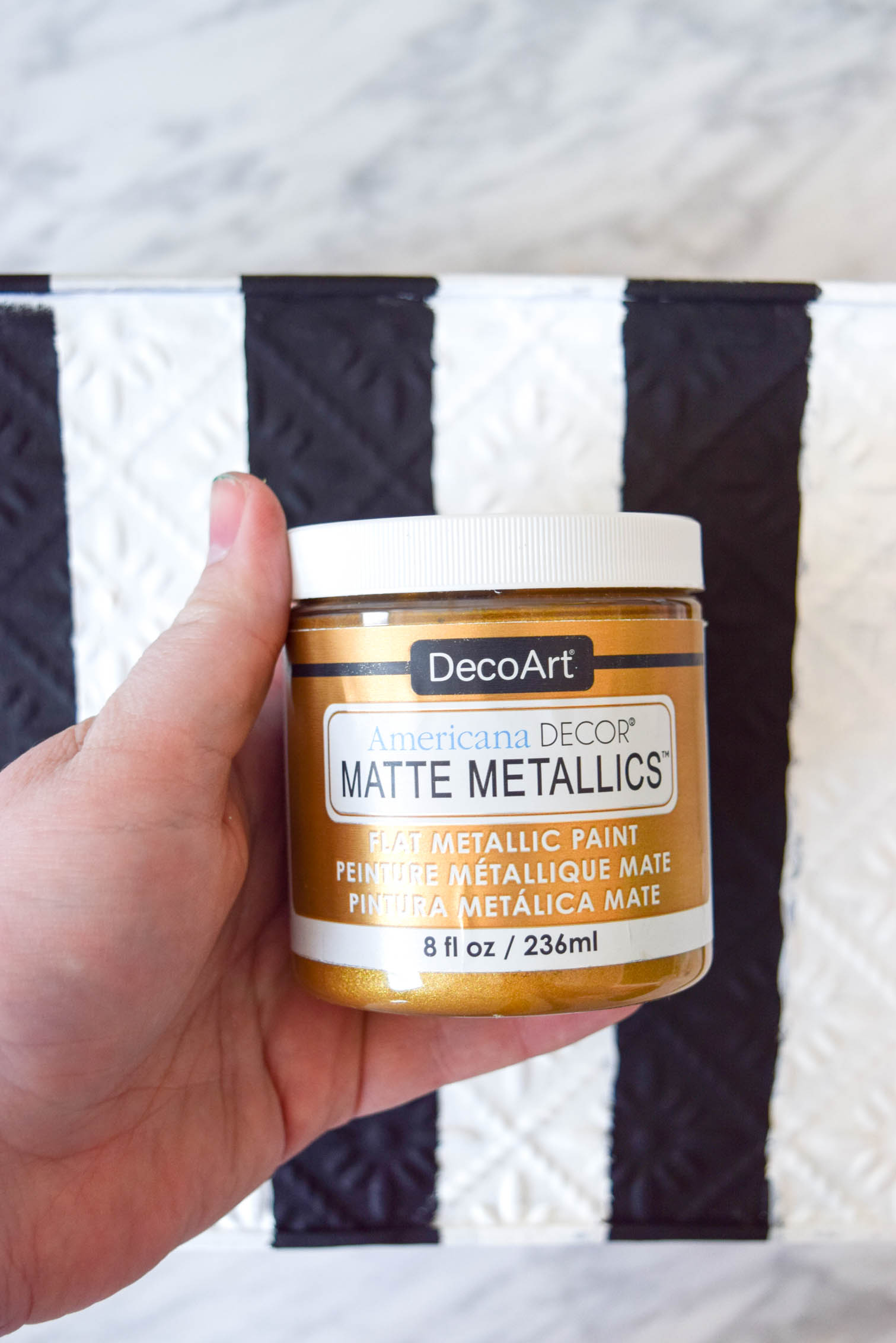 Step 5: While all of this was going on, I used DecoArt's patio paint in marigold, to add colour to the centre of the metallic daisies. Once they were dry, it was time to glue them onto the front of the planter. I mean, would it be a DIY Striped Daisy Planter without some mod daisies? I think not.
also, don't judge me for how gross my glue gun is. I never think to clean it while it's hot.

And here you have it! A mod DIY striped daisy planter, perfect for a kitchen, countertop, patio or even as a waste bin. Whatever you do, have fun with it.