Ever since completing the retro glam kitchen renovations, I've been trying to find the right magnets to add to your fridge. Because it's a stainless steel fridge, we can't put anything on the front, but we can along the side. Thankfully we've got one exposed next to our lovely blue kitchen cabinets. From there, you can clearly see my DIY Retro doll fridge magnets.
This winter I bought an old fashioned paper doll set called Magic Mary Jane. It reminded me of the set we had on the fridge at the cottage growing up, and I've been low-key looking for something like it for ages.
I used to take great care dressing her each time I came into the kitchen. She had hats, shoes, and more. This girl has only got dresses! I'm not complaining though.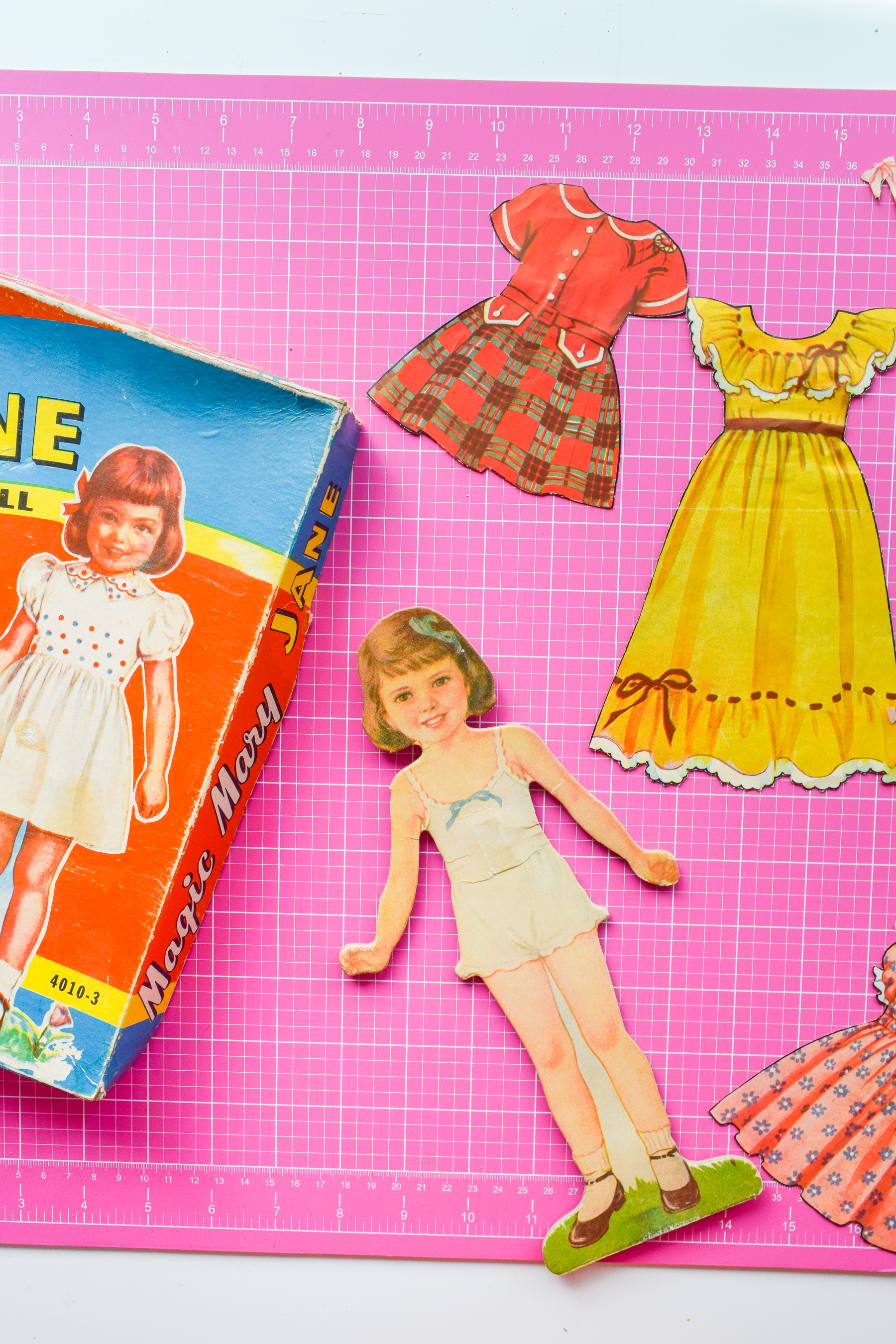 Stumbling across the set was a lovely find, but I the little magnets that came with it, were only to affix the paper to the doll (who has a stand). Since I grew up with a completely magnetized set, I've been waiting for a moment to try and do just that.
How to DIY Paper Doll Magnets
*The following product links are affiliate things. Thank you for supporting the brands that make PMQ for two possible.
I found a roll of adhesive magnetic sheeting, and thought I'd give it a try! I also had my handy powercut snips, and of course Magic Mary Jane doll set.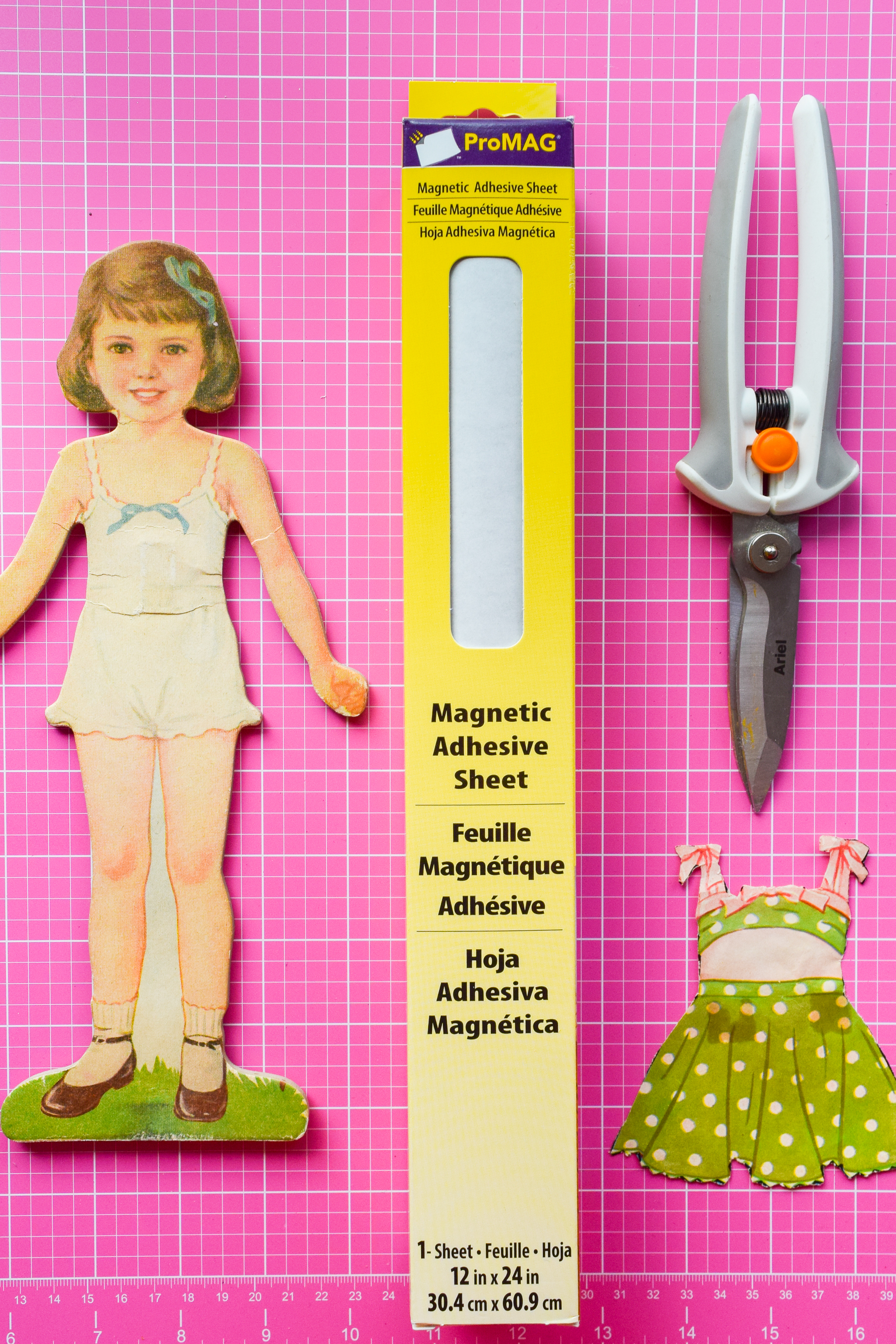 I just loved the details and colours on the dresses, they're such a fun pop of colour and pattern.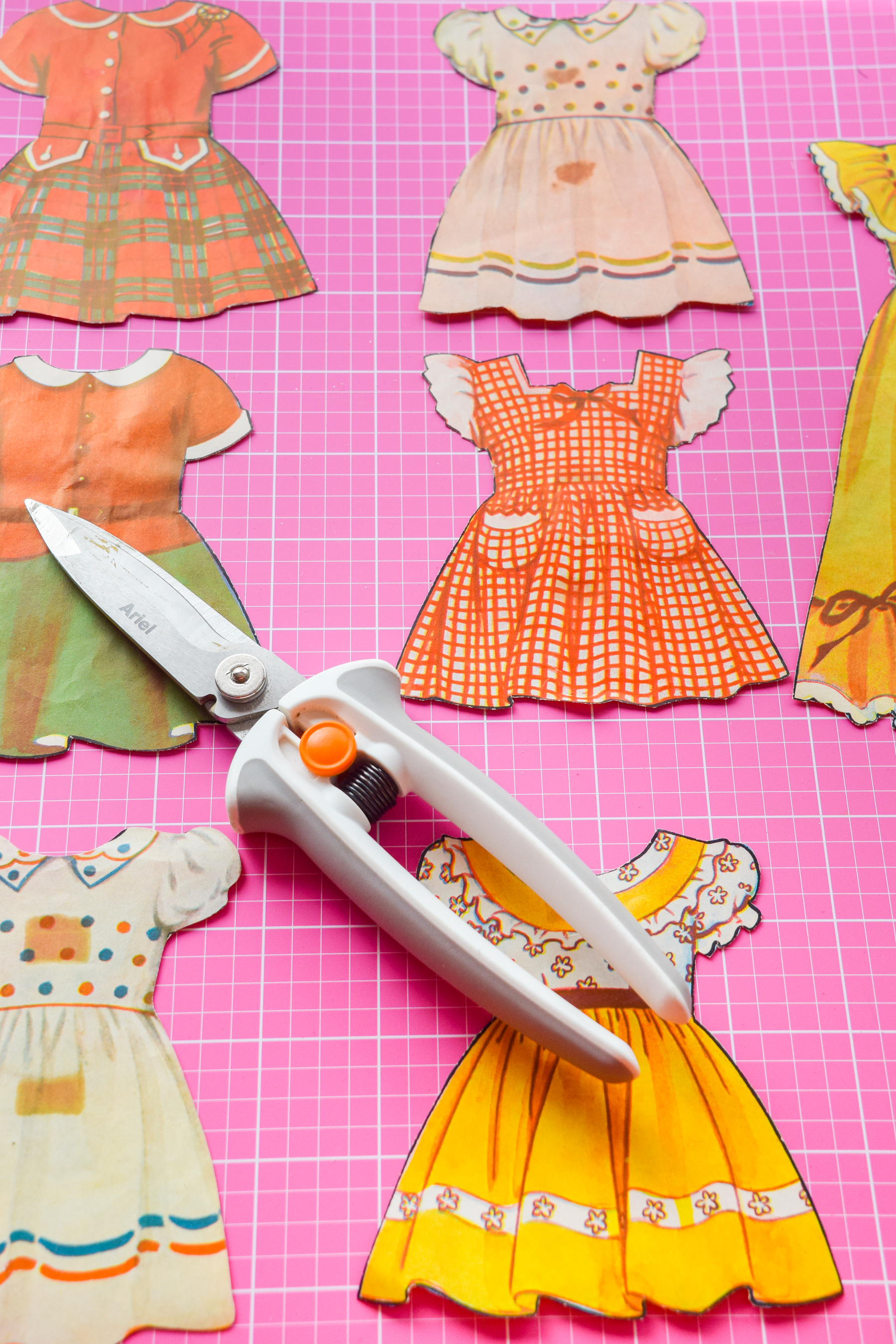 I rolled-out the sheet of adhesive vinyl, and made sure everything fit on there before peeling back the protective layer to apply them.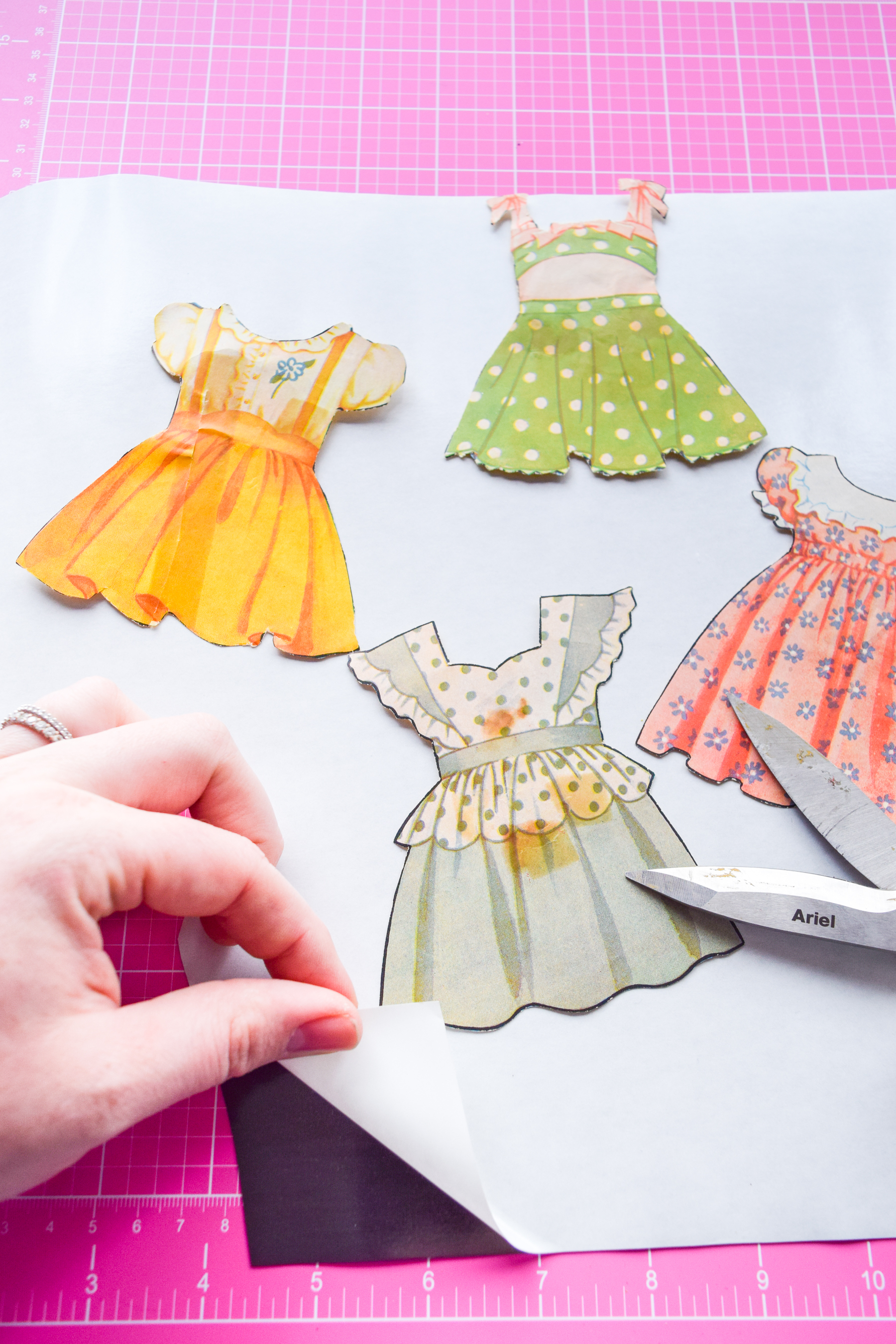 The magnet sheeting wasn't too thick, so my powercut snips made quick work of them and handily contoured all the frills and pleats of the skirts.

Retro Doll Fridge Magnets
Once I was done cutting around all the details, I put all the magnets on the fridge. The magnetic sheeting was even strong enough to hold the weight of the much more substantial doll herself.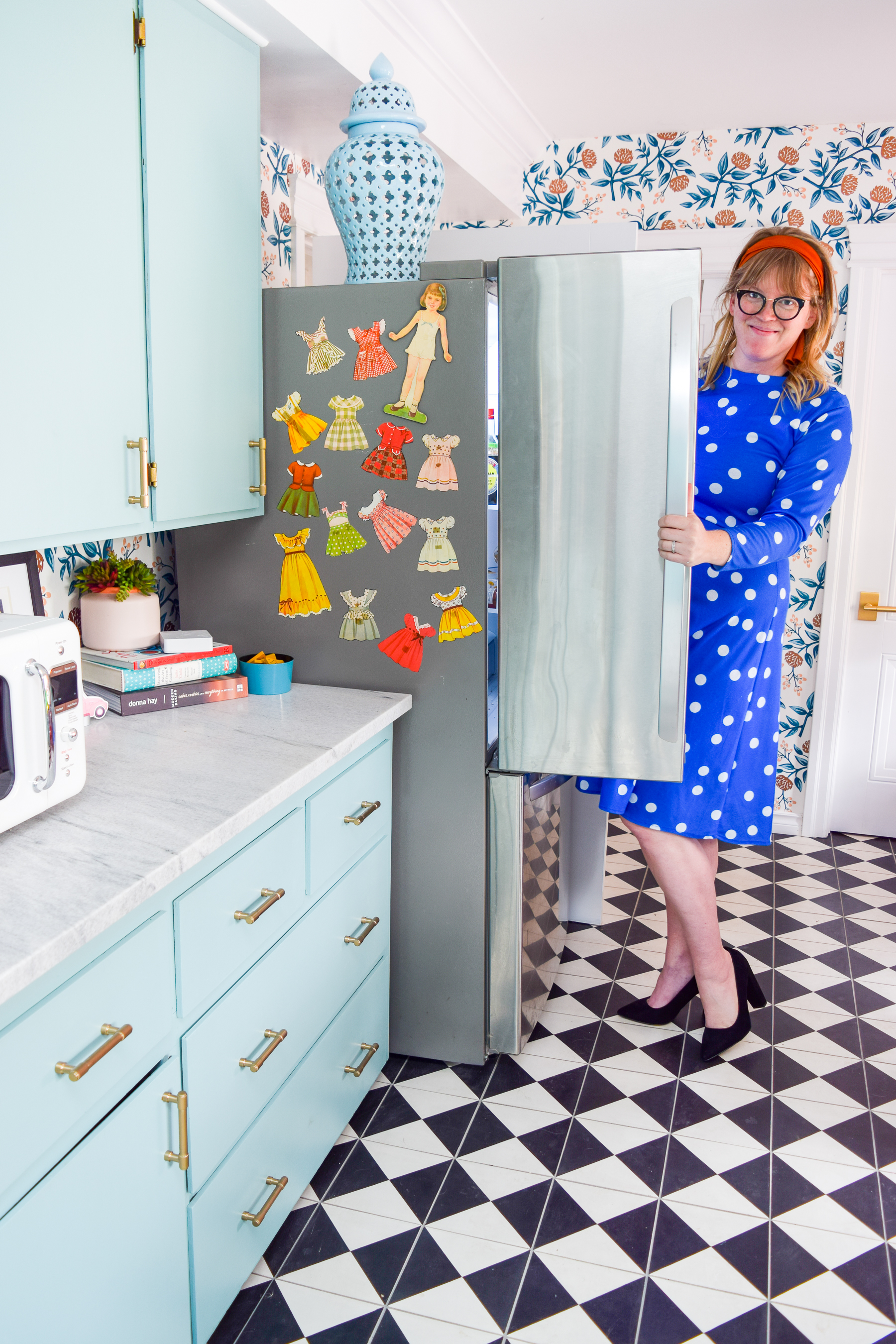 In the meantime, girlfriend and I get to match with our snazzy dresses. I'm so glad I finally found 5 mins to try this project, since I'm now terribly distracted by which outfit Mary Jane should be wearing at any given moment.