It's no surprise that with our newly completed retro glam kitchen, we're anxious to entertain! And with warmer weather eventually on the horizon, I put together some value packed game night ideas for summer, with the help of Homesense.
* Homesense sponsored this post, but all thoughts are my own. Thank you for supporting the brands that make PMQ for two possible.
Tasty Drinks
You can't very well host a summer event without a tasty drink on offer. Alcoholic as well as non-alcoholic is always a good idea (someone's gotta be DD). I'm one of those people who likes to do seasonal drinkware, so when I spotted these citrus plastic cups for 12.99$ I nearly grabbed them in the smaller size as well!
They'll hold all manner of lemonades, mixed drinks, beers and more, and if one gets dropped it won't shatter. Best part? They're dishwasher safe. The big striped pitcher is probably more decorative than functional, but it contributes to the overall feel and for 19.99$ I'm all over that.
Check out my TGIF cocktail series for some tasty recipe ideas!
I like to serve my drinks with a swizzle stick on a tray (because why not). Homesense sells these snazzy palm tree swizzle sets for 4.99$, and the trays were 19.99$ each. I like their size, because they easily fit on my countertop under the cupboards, and are big enough to hold 4 cups. Good serving trays are hard to come by sometimes, so I buy them when I can.
Good snacks
Drinks and good snacks go hand in hand, but they also go in pretty bowls and lovely dishes. Your choice of dishes is going to dictate how the snacking goes. I spotted this brass and enamel 3 bowl set for 19.99$ and had to have it. I've got all kinds of munchies in there, and not in too big a portion that someone will try to bogart it.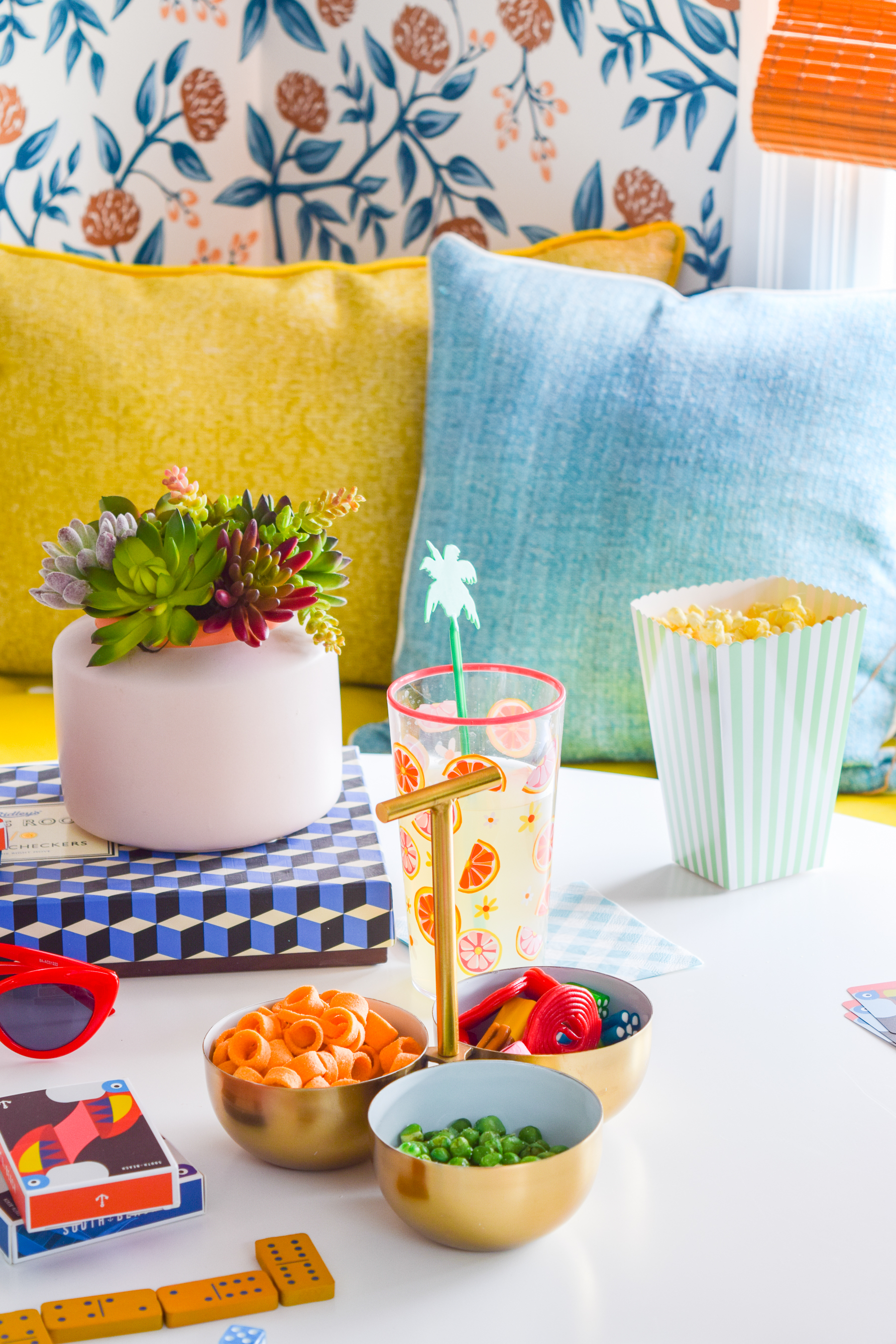 My secret snacking stash usually comes from Homesense, since their gourmet aisle is stocked full of tasty treats like popcorn with sea salt, or veggie chips! I happened to have these old school popcorn buckets lying around, so they fit nicely into that.
I also grabbed some champagne flavoured macarons for 4.99$ (SCORE!) because I won't be tasting real champagne anytime soon (short of baking some into my pregnancy cravings).
Social Games
One of the things I discreetly snatch up when I'm in Homesense, are the game sets! They occasionally cary a lovely set with beautiful boxes, but they've also got a nice variety of puzzles, dominos, and more -usually for under 24.99$.  I snag many of them on sale for a fraction of the price, so that's a great deal right there. Of course, now that I've told you, you guys will buy them before me.
We have quite the extensive collection in our nerd closet, but it's nice to play a game of Dominos or cards with friends, without having to read through a 20 page rule book first. Someone needs to tell Dan that he can't take 5 mins each turn, and that games are only social when they move easily. This is why I rely on the classics when breaking-in a new gang of friends.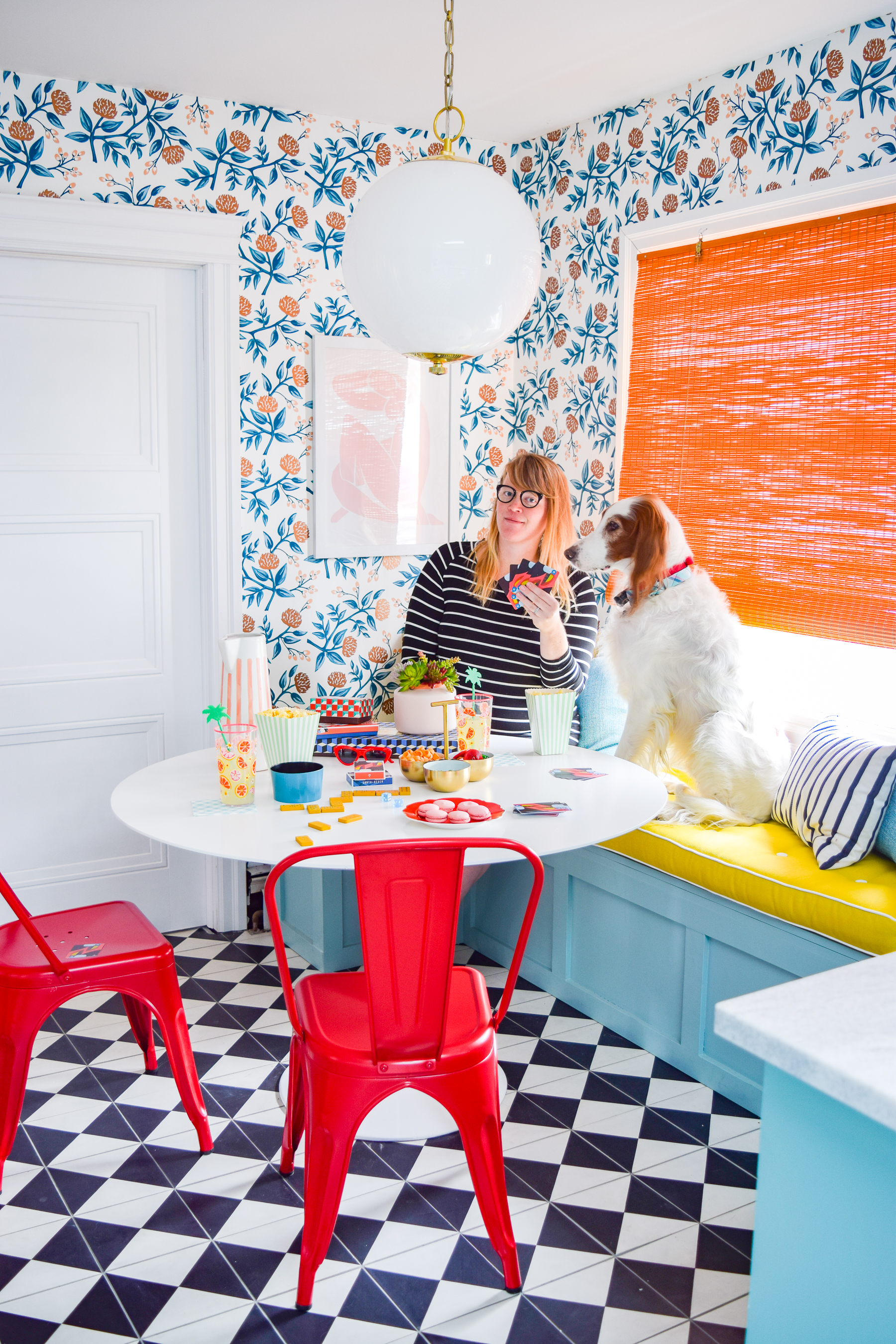 A WARNING: Never play cards with Bruce, he can't be counted on not to check out your cards when you're not looking. I had to switch seats because of it.
Comfy Digs
That comfy window bench with the seat cushion is the ultimate place to lounge. It's also a comfy place to settle in with your friends for a round of charades. I grabbed some pillows in complimentary blues and yellows from Homesense to provide a little back support.
While I love my floral wallpaper, leaning back against some plush pillows that didn't cost a fortune, is the way to be. #bestlife
And while I'm not sure that a letter board sign counts as "comfy" I do greatly enjoy the scale of this one. It was a total deal at 29.99$, and I get to switch up the message whenever, like to welcome people to game night!

Just Have Fun
I've been to some game nights where the host is a task master, and let me tell you – buzzkill. I prefer to watch the evening unfold, and provide all the necessary elements for a good time. Comfy digs, social games, good snacks and tasty drinks.
On a summer afternoon, or an early spring evening, you can't ask for much more!
What you can ask for though, is some solid finds at your local Homesense. My store is PACKED full of summer hostess goodies, including a bunch of really well priced outdoor essentials like furniture, tabletop decor and more. I'll be stocking up once we have warmer and dry weather.