I've been slowly piecing our dining room together, bit by bit, and that includes these DIY Modern Wood Candlestick Holders that I made using basswood whittling blocks from Walnut Hollow. They're a pop of geometric modern design, and I love how easy they were to make.
Check out my Colour Blocked Jewelry Boxes & my Colour Blocked Chargers
*Walnut Hollow sponsored this post, but all thoughts are my own. Thank you for supporting the brands that make PMQ for two possible.
Candlestick holders are one of those things you don't think about until you need them, and by then it's too late to find what you want. I've got one set of sculptural gold ones, but there are only two, and they've very low. With these stacked wood candlestick holders I've got height, design, and function – finally!
The best part, is that these modern wood candlestick holders look slick sitting on the sideboard when not in use. They're as much about function as form, and that's good design.
How to DIY Modern Wood Candlestick Holders
I chose a collection basswood whittling blocks (and a set of 10 pieces) from Walnut Hollow, because of the variety in their shape and size. They're also both quite affordable options if you don't have a giant pile of offcuts kicking around.
I also had some small wooden beads and small wooden blocks, left over from my MCM Baby Mobile, so I used those too. I love when I can finish off a crafting stash, to make way for fresh new supplies.
You'll also need a hot glue gun (or wood glue), a drill with a bit big enough for a candle (about 1″), and some paint – unless you want them to be natural wood.
Start by creating your designs. I tried to stack big and small pieces of basswood, and added beads for flair. I used hot glue as I went, and everything held together nicely.
There's no template here, it's really up to you to create the shapes that you find interesting. I create 4 distinct looks, but I could easily just recreated the same style with different pieces.
it's up to you! Get creative with the whittling blocks. They're so versatile, and you an do almost anything with them, even whittle them into interesting shapes before building candlestick holders.
Once you're happy with the design of your pieces, using the 1″ drill bit, add a hole where you want the candlestick to sit.
Once you're done – if you're painting them – paint them with the colour of your choice. I painted them white to provide a sharp contrast with the dining room's surroundings, but also as a way of balancing their edgier design.
DIY Modern Wood Candlestick Holders
Once everything was dry, I displayed them on the sideboard in the dining room. We're rounding the corner on completing this space – just waiting on some rugs – so in the meantime I'm only going to show you a snippet of the space!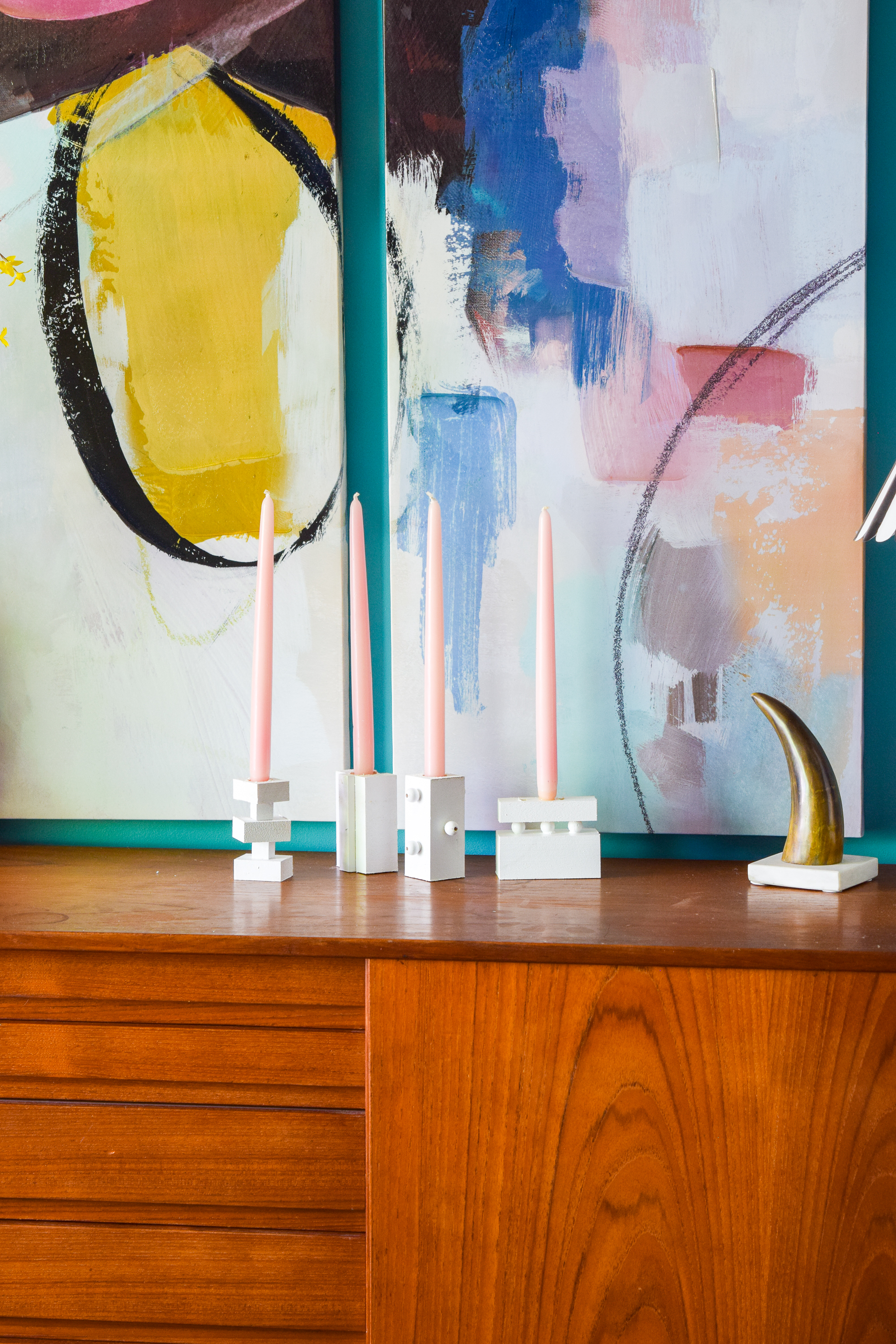 Yield: 4 Candlesticks
DIY Modern Wood Candlestick Holders
Materials
Basswood whittling blocks
Small wooden beads
Paint
Instructions
Create your designs stacking the basswood and small wooden beads.
Secure with hot glue.
Create the shapes that you like with 4 distinct looks.
Use the 1″ drill bit to add a hole where you want the candlestick.
Paint them with the colour of your choice.