It happens EVERY year – your coworkers want to come by for a drink after work, your friend stops by for coffee (and a chit chat) unexpectedly, and you get roped into a cookie exchange of some kind. With a bit of planning, you can be ready for all 3 of those holiday entertaining scenarios – all you need is a trip to your local Homesense!
*Homesense sponsored this post, but all thoughts are my own. Thank you for supporting the brands that make PMQ for two possible.
p.s let's play a fun game. I dare you to find something in these photos that ISN'T from Homesense
As you can see, I've been busy! Busy prepping for a season of last minute holiday entertaining, and busy enjoying myself. (p.s have I mentioned this is my dream job?) I've also been buys enjoying some #offline shopping
This post is a little different, because I've got complimentary videos up on my IGTV (and eventually on FB), so make sure you go check them out!
Back to business, prepping for 3 classic holiday entertaining scenarios. Instead of making a trip to the grocery store each time you get wind of a gathering, or trying to run around town getting everything, start the season with a trip to Homesense. They have everything you need for these 3 scenarios, and more! Don't believe me? Read on.
The Holiday Cookie Exchange
In the military community, we tend to make a big deal out of the holidays. Not just because we're all far from family, but because we love a good potluck or cookie exchange. Since I get invited to more than enough of them, I have a go-to recipe for a soft gingerbread.
The problem is that it takes forever to bake 2 dozen, let alone 20 of them (if you add them all up). The solution here is to be more choosy in the number of cookie exchages, but also, to hit up Homesense's food aisle for their cookie varieties!
Don't let the cuteness fool you – I bought a bunch of cookie decorating kits at Homesense, and got to work! But if you wanted to, they've got all the baking essentials like cooling trays, baking sheets, oven mit sets (like this adorable Kate Spade one for 14.99$)
While you're there, grab some adorable and colourful mugs. I like to enjoy a hot chocolate while baking, so the snowman and candy cane hot cocoa garnish sets (for 4.99$) where a steal! Look how cute they are?! It's like my mug is now the embodiment of everything Pinterest has to offer.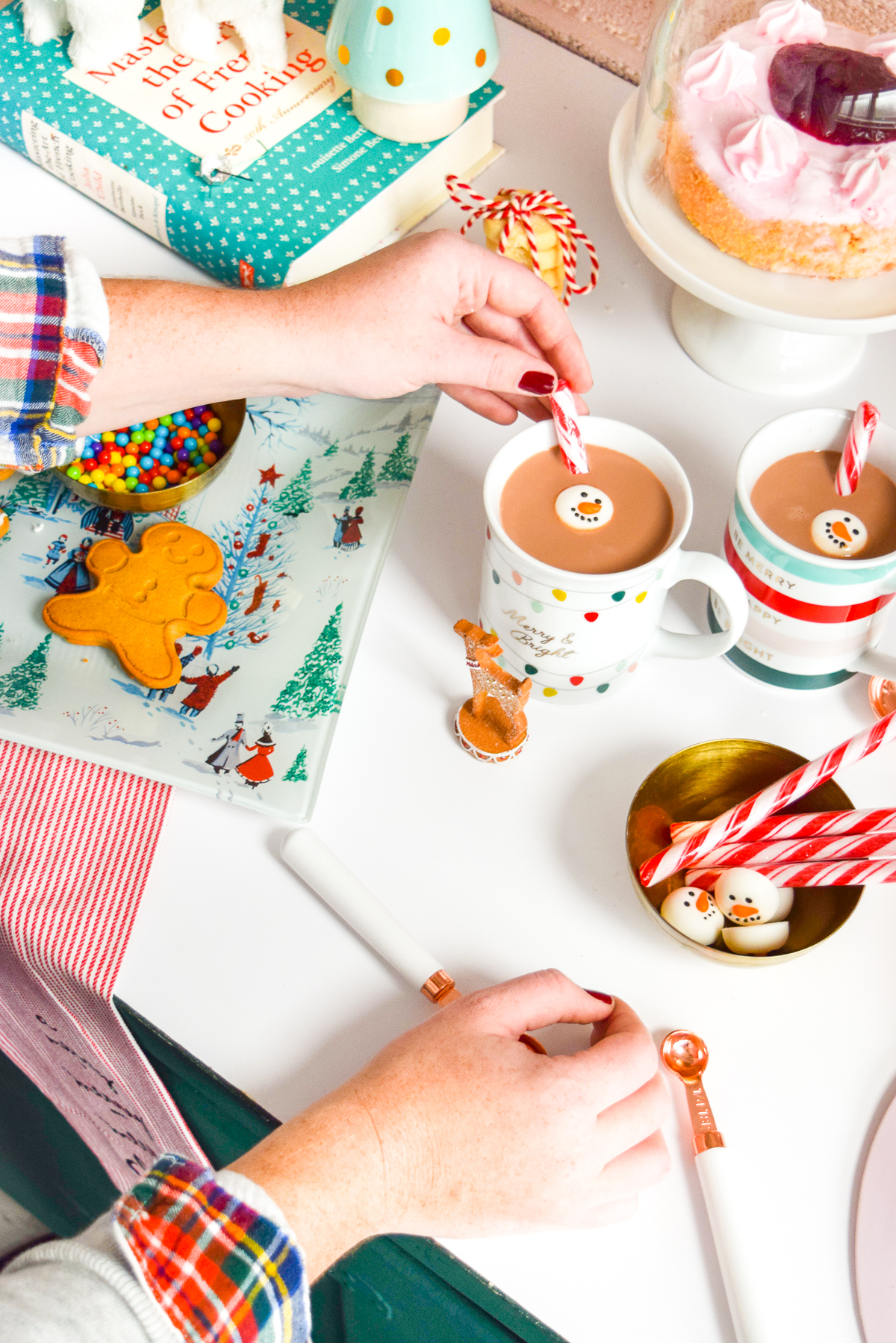 p.s Kitchen Aid spatulas for 12.99$ HOT DEAL. And those little measuring spoons?! How cute at 12.99$
The After Work Holiday Cocktail with Coworkers
Is it just me, or does this one always turn into something more raucous than you were expecting? "Ya sure! Come on by for a drink, I've got some snacks" and then all of a sudden it's 11pm, christmas music is blasting, and you are quite literally rocking around the Christmas tree.
Fear not, if you've been to Homesense and stocked up on the basics like chips, popcorns, party cups and Gin Pong, you're ready to rock! While you're there, don't forget about the little chocolates filled with champagne (a steal 9.99$), or the fun paper party napkins! (for 4.99$), or a green serving tray (14.99$).
Because I shop at Homesense pretty regularly, I've been discreetly hoarding supplies for the season for a while now. Like when I saw these disco ball tumblers for 9.99$ and bought 6! Perfect for some mixed bevies.
The Crosley turn table is another Homesense find! I got it in the gifts and technology section for 39.99$, and with DJ Rudolph spinning on the 1s and 2s, this party is bumping.
The Last Minute Holiday Coffee Date
Because my schedule is so full, when I get a random break (or my friends do) we try to do coffee! The closer we get to Christmas, the more these little interludes mean to me, and the more I look forward to them.
It means I also keep a gift or two handy, just so that I've got something for the friend I won't see again until after the new year. Keeping the house ready with cute coffee cups with matching saucers (7.99$ each in buffalo plaid), fresh coffee (9.99$ for depending on the brand), and little treats like cookies, panetone, or macarons (4.99$ +) means that I'm always ready.
If I'm going to do anything right, it's coffee. I live on the stuff, especially this time of year. That being said, taking the time to make a french press in a gold bodum (19.99$) with fresh cinnamon rolls absolutely tops my list of fave Holiday entertaining scenarios. I'm sure you'll agree.
You'll notice a lovely bunch of wrapped gifts (the Jingle x 3 bag was 2.99$), and a sassy garland to adorn the table (29.99$). It's the small touches that really flesh out a scene, and the big snow globe stole my heart early in the season.
If that's not more than to get you ready for the holiday season, giiiiirl you have got one heck of a holiday agenda! Tell me how you do it Tell me what your life is about! If I know anything though (and I know a few things) it's that Homesense has got you covered when it comes to holiday entertaining essentials. You just need to get your booty there in time!