Normally I'm in no less than 3 Christmas house tours, but this year is our first with JB, so we're keeping things kind of simple. I'm sharing my colourful Christmas decor ideas with y'all, and I hope you enjoy them!
If you're joining me from Our Fifth House, welcome! Don't forget to head over to Efforless Style once you're done here! All the other participants are linked at the bottom, so maybe sure you check them all out.
Colourful Christmas Decor Ideas
Our Christmas decor touches a variety of elements this year: wood, florals, metallics, and yarn. Each of the scenes I present has one of those elements, or a combination thereof.
Nutcracker display
Do you remember the MCM Console table we built this summer? For the holiday season, it's home to my collection of nutcrackers. One for each year we've been together! I've acquired them from stores, markets, and family members – they're truly a collected gang of memories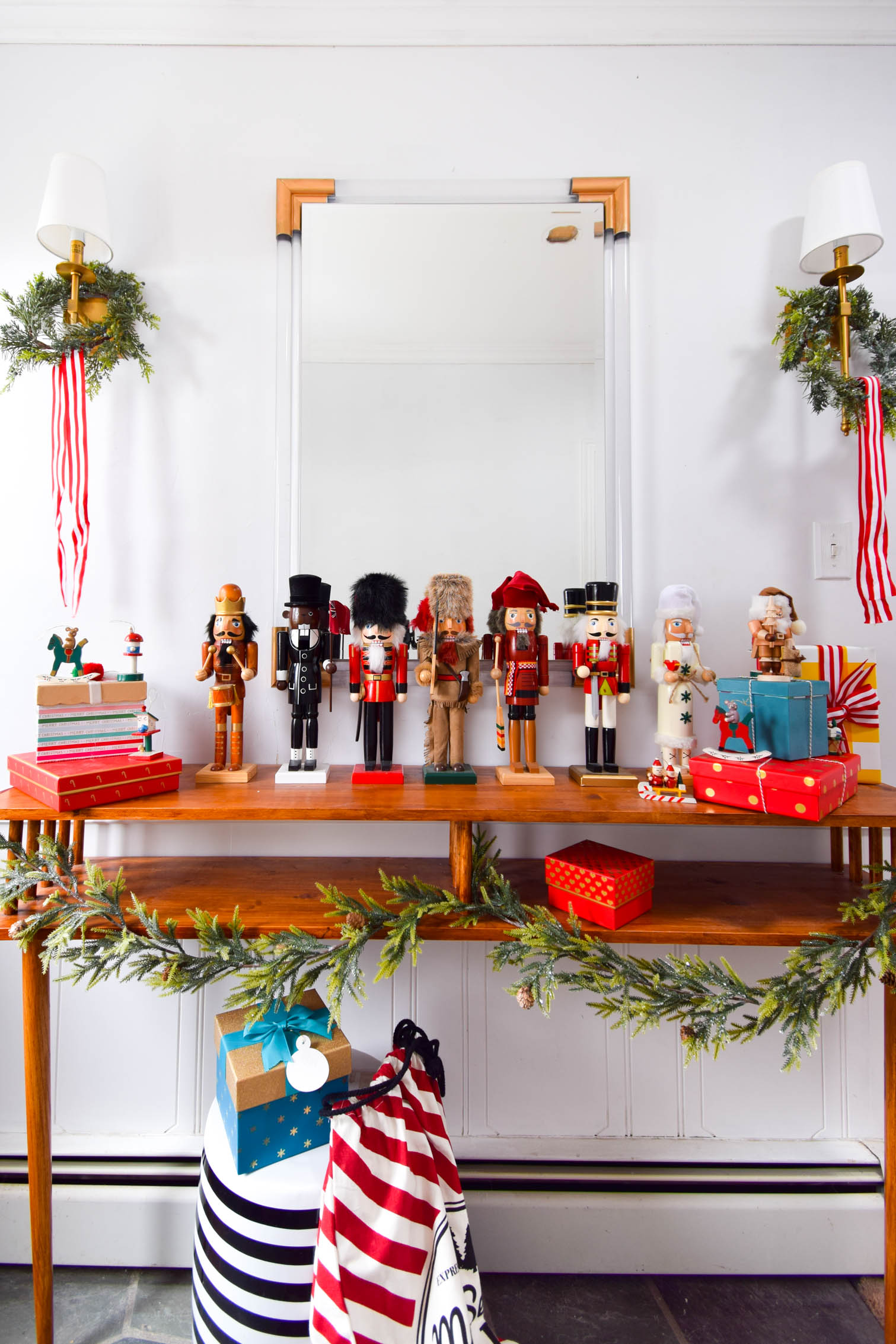 I added a simple green garland, and some small wood ornaments as extra flair, in keeping with the idea of wood.
Poinsettia Kitchen Decor
I love the bold blue cabinets in our retro glam kitchen, so I was looking for a contrasting colour to set things off: red! Poinsettias are in season, lush, and in this case, red!
Set in my collection of large ginger jars, they really create quite the scene in the kitchen.
I've been a busy bee this season, making all kinds of food including a carrot and ginger soup, as well as hot chocolate (recipe to come)
All of this as prep for my ladies Christmas Brunch, which was a hoot.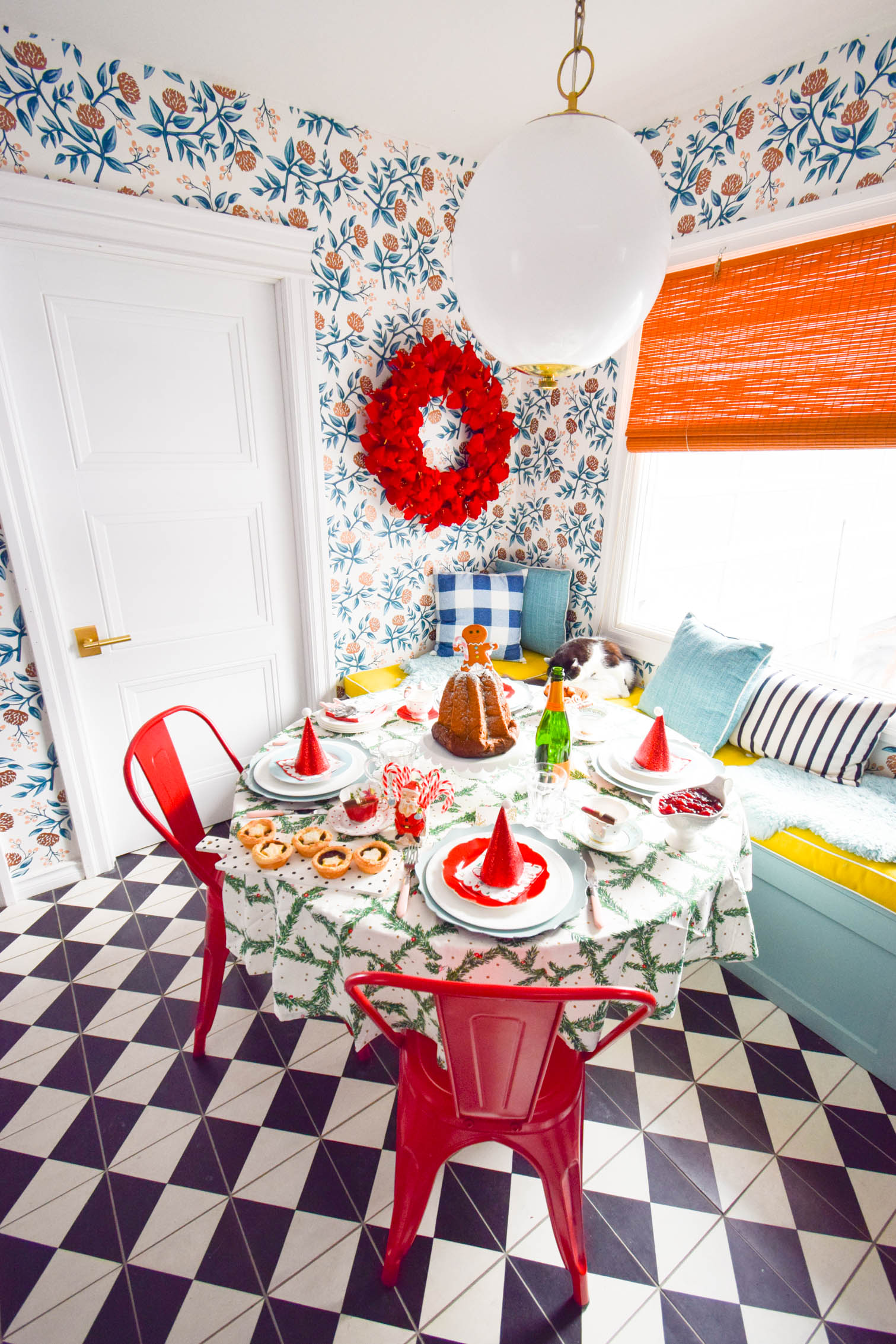 Simple Christmas Ornament Bathroom
In our pink glam powder room, I kept it really simple and added two large ornaments under the sink, and a red deer on the top of the sink.
Because the space is so small, and already has a lot going on, I kept things clean and on palette to avoid distraction.
Mid Century Dining Room
I always gone big and bold in the dining room, with grand tablescapes and elaborate sideboard displays, but this year I've got a few items on display.
White Christmas Tree
I'll hav more of this space later this week and next, but I'm sharing my sneak peek from my National Lampoon cake topper post.
Atomic Glam Nursery
Did you catch the My Home Style tree hop two weeks ago? I shared my Tinsel and pastel tree that's set-up in the nursery.
I kept her nursery decor whimsical, with a cascade of toys wrapped in big bows. You don't need much more in a kids room.
Pom Pom Bedroom Decor
I brought Christmas into the bedroom for the first time – don't ask Dan what he thinks.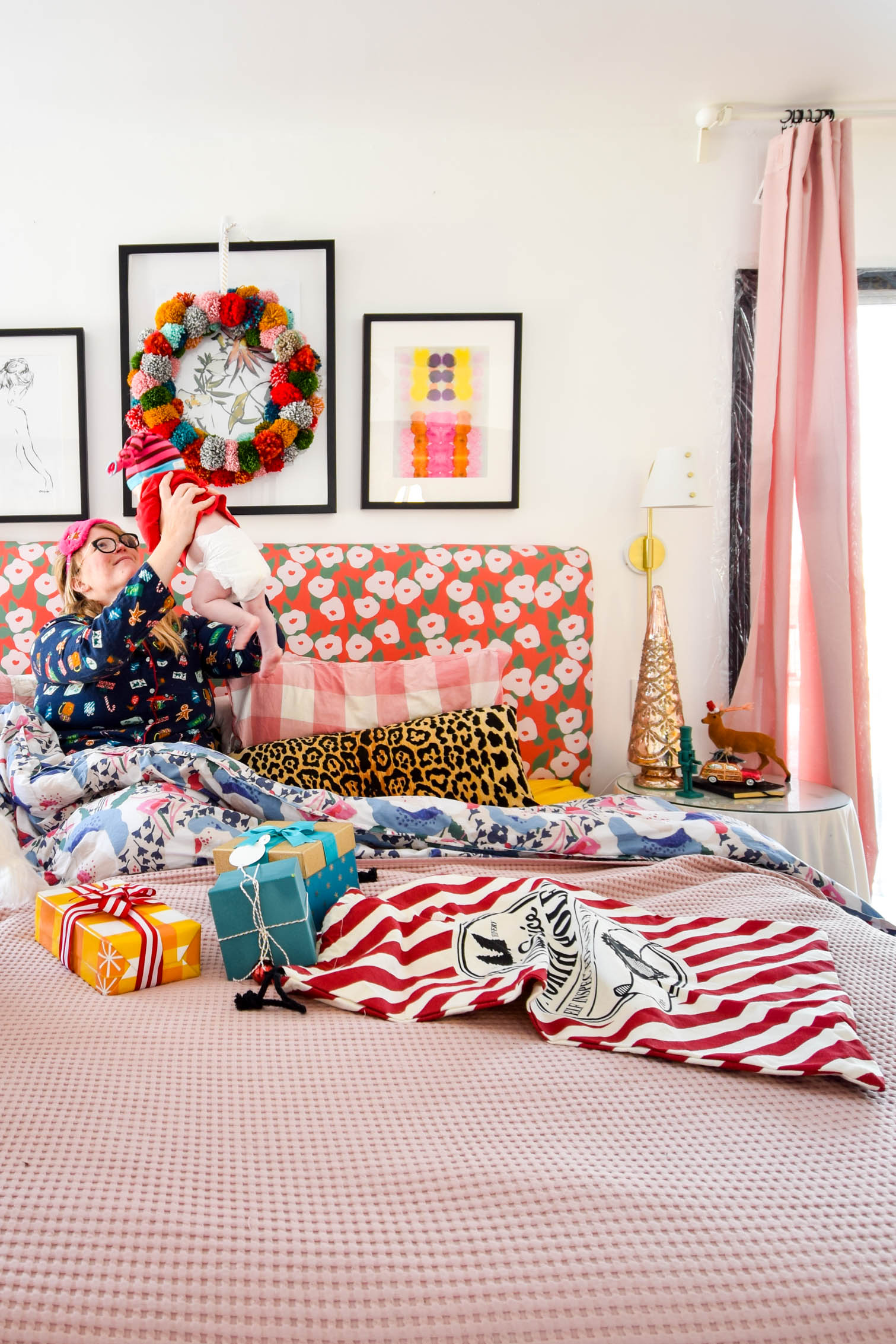 I've kept things tactile with ornaments and pom poms, and only a few things on the sideboard. If this goes well, maybe I can sneak in a tree next year.
Bruce is perpetually confounded by JB. You can tell he doesn't quite know where/how to position himself around her.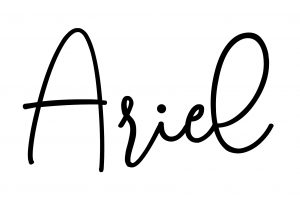 MONDAY
Dimples and Tangles | Jeweled Interiors | Kaleidoscope Living | Haneen's Haven | Southern State of Mind
TUESDAY
Rain on a Tin Roof | Our Fifth House | PMQ for Two | Efforless Style |
WEDNESDAY
Kate Decorates | Southern Hospitality | Heathered Nest | The Pink Clutch