Even the fat man needs a key to get into his house, turn on the sleigh, or access the room with all the presents. Heck – what do any of us use keys for?! Just assume Santa needs those as well. These DIY Santa Keys are easy to make, and a fun addition to any decor scheme.
I thought I'd make it easy for him to find them by placing them on this plaque. It can be displayed by the door – or the chimney – and is a fun one for kids to play with if you chose not to flue them to the plaque.
What you need to make santa keys
You'll need decorative vintage keys. You can find these in antique stores (usually in a giant bucket), or you can use scrapbook ones like I did. You'll also need paint, painter's tape (if you want to do stripes), lettering (I used vinyl and my Cricut), a plaque and some ribbon for fun.
How to make Santa Keys
I started by taping off vinyl stripes using painters tape. I then did a first coat of red to create red stripes.
Once it was dry, I removed the tape, switched sides and did a pink stripe. Once it was dry, I removed the tape and did the edge in a vibrant green.
While all the paint dried I used my Cricut to cut two sets of "SANTA'S KEYS" – one in white and one in black – to create a drop shadow and depth to the lettering. If you want to use the same lettering, I've made my cut files public and so that you can access the Santa's Keys Cricut files.
I added the white text first, and then slightly offset the black text to create the drop shadow.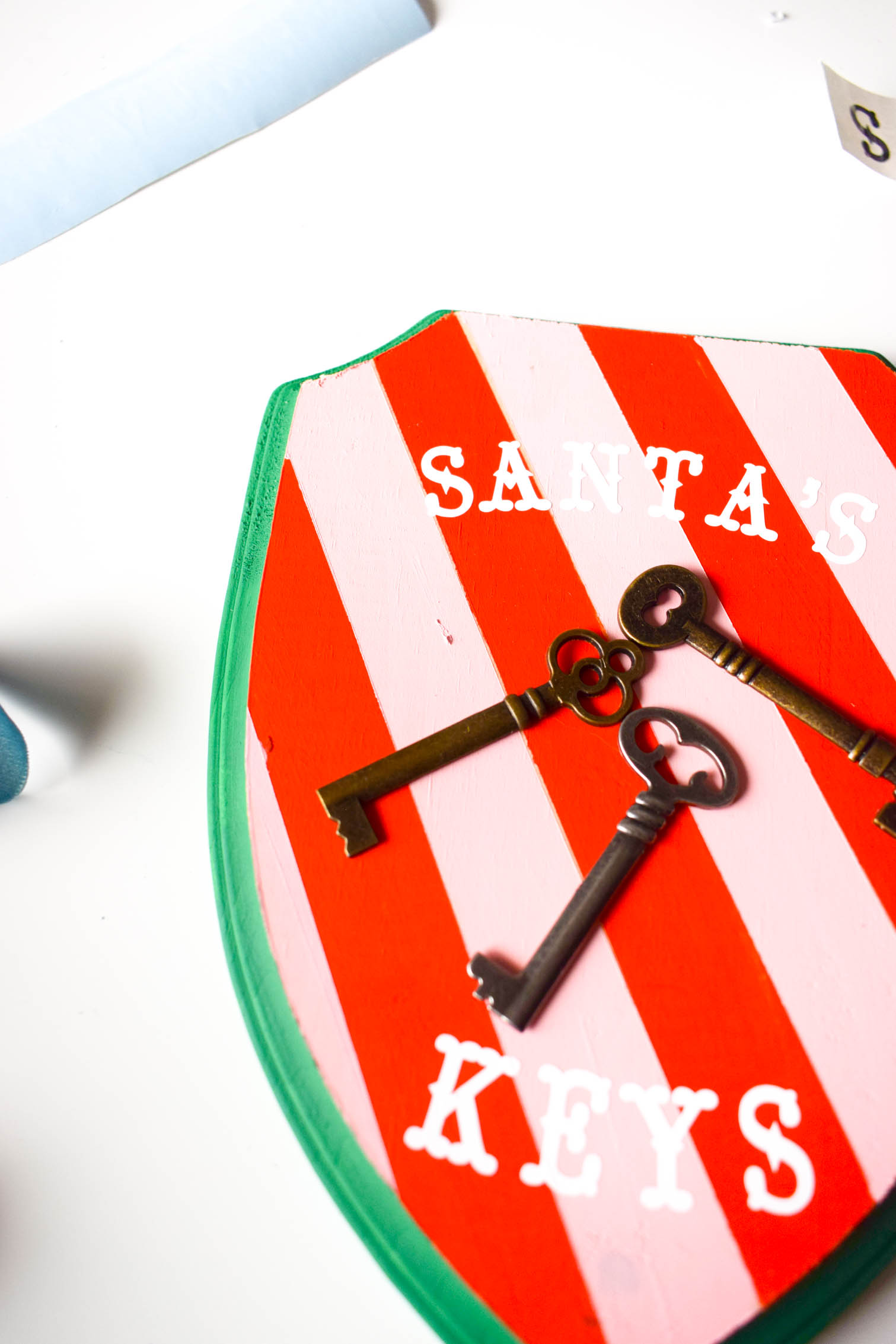 With the text on the plaque, I hot glued the keys and the bow. You could add the keys to a ring and place them on a hook if you wanted to make them interactive, but this is what worked for me.
Santa Keys