I've grown to love National Lampoon's Christmas Vacation. It's not a movie I grew up watching, but since my marriage to Dan, we've watched it every year. This year, I took things a step further and made a National Lampoon's Christmas Vacation Cake Topper, because who doesn't want cake to go with their eggnog.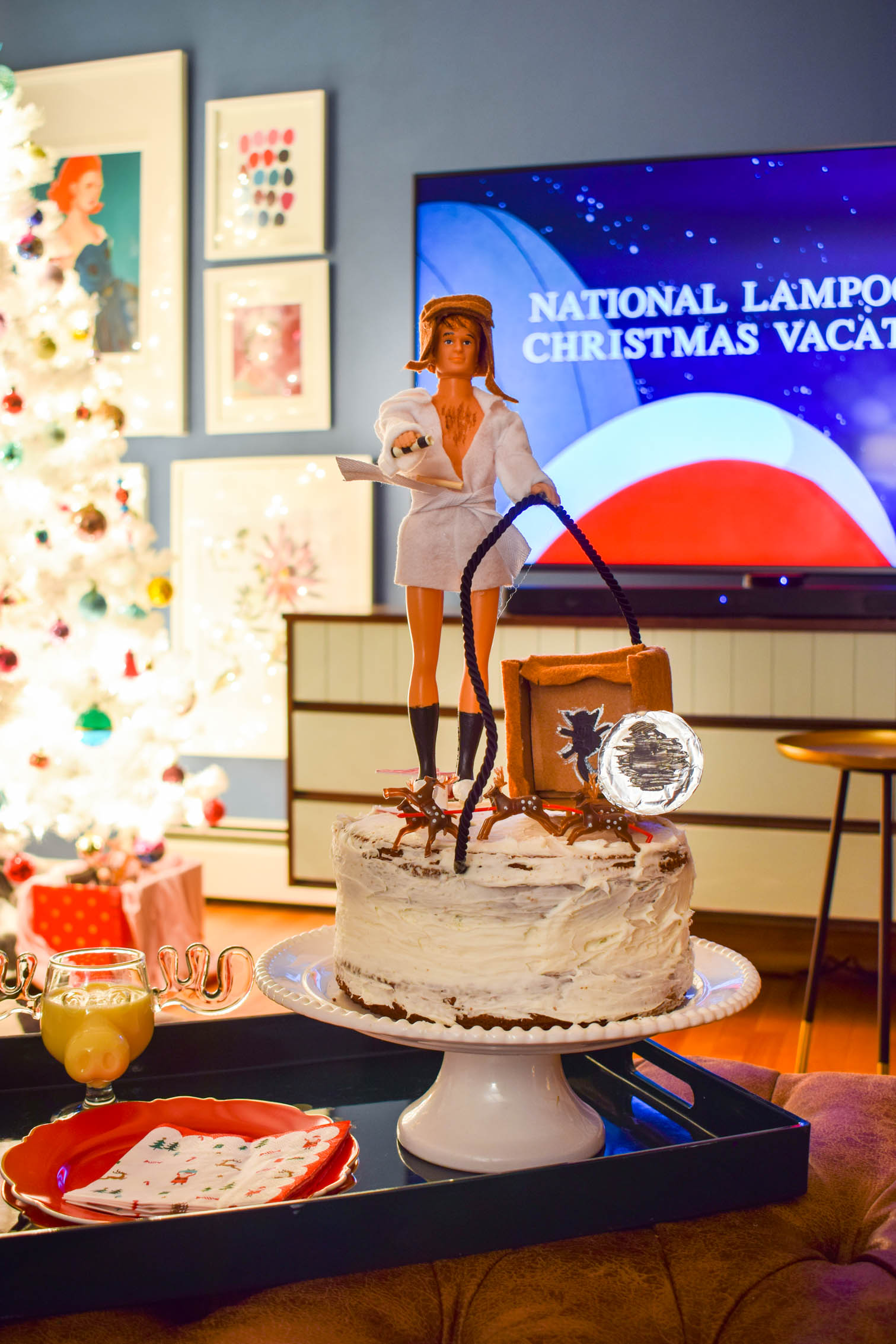 Sh*tter's full!
Unlike Uncle Eddy, I'll spare you the details on how I made this exactly. I will say it's definitely something you can pull off if you've got an hour and the right pieces.
What do you need to make a National Lampoon's Christmas Vacation Cake Topper?
You need a male doll, a doll chair (I made mine), a soup can lid, aluminum foil, paint, felt, cardboard, black cord and hot glue.
The three main components are Uncle Eddy, the recliner with the cat stain, and the sledding dish.
How to make a National Lampoon's Christmas Vacation Cake Topper
Uncle Eddy
I bought a male doll, and then painted and made his outfit. I painted black socks onto him, and using felt I create a "too short" bath robe. I also made a hat out of felt for him, and then added some faux chest hair with paint.
You'll use a piece of black ribbon to act as the sewage drain off Eddy's RV.
The Recliner
I made this bad boy out of cardboard and felt using my Fiskars tool set, but if you happen to find a doll chair at the thrift store that works, go with that! it'll save you time and effort.
Since the recliner is featured on the curb in the trash pile, you'll be painting a cat onto the bottom of the chair.
If you recal, that cat in the movie got fried and left quite the stain along the bottom. I achieve this look with paint.
The sledding dish
If you'll recall, this is a sledding that they lube with Clark's food lubricant and it goes so fast that he wears a hole in the bottom of it. To achieve the look, I used a soup can lid, covered in tin foil, that I then painted.
Making the Cake Topper
I used bamboo skewers to support each component on the cake. I hot glued them to the bottom of each piece, and then cut the dowels so that everything sat 1/3″ off the cake's surface. Voila!
I installed each piece in my freshly made funfetti cake (I'm #basic), and added the reindeer & Santa combo to the curb-side scene for added authenticity.
National Lampoon's Christmas Vacation Cake Topper
I think with each passing year I appreciate the antics a little bit more. Sure, there are problematic elements, but I'm in it for the gems. Like the pillow talk between Clark and Ellen "your mother will accuse my mother of buying cheap hotdogs," or the deep longing Clark has for Christmases past, and his desire to have the best lights display.
I also totally get the family dynamics at play, and will say that I appreciate interpersonal dynamics even more than I did 8 years ago.