Remember when I said I was working on a quick dining room transformation in May? Me too. Needless to say, life got in the way. I got the entire space painted, found the art, did 95% of the styling, and then everything came to a screeching halt with the rug. I am happy to announce that my Mid Century Modern Dining Room is finally complete though, and not a second too early!
*BEHR, Stray Dog Designs & Society 6 sponsored this post, but all thoughts are my own. Thank you for supporting the brands that make PMQ for two possible.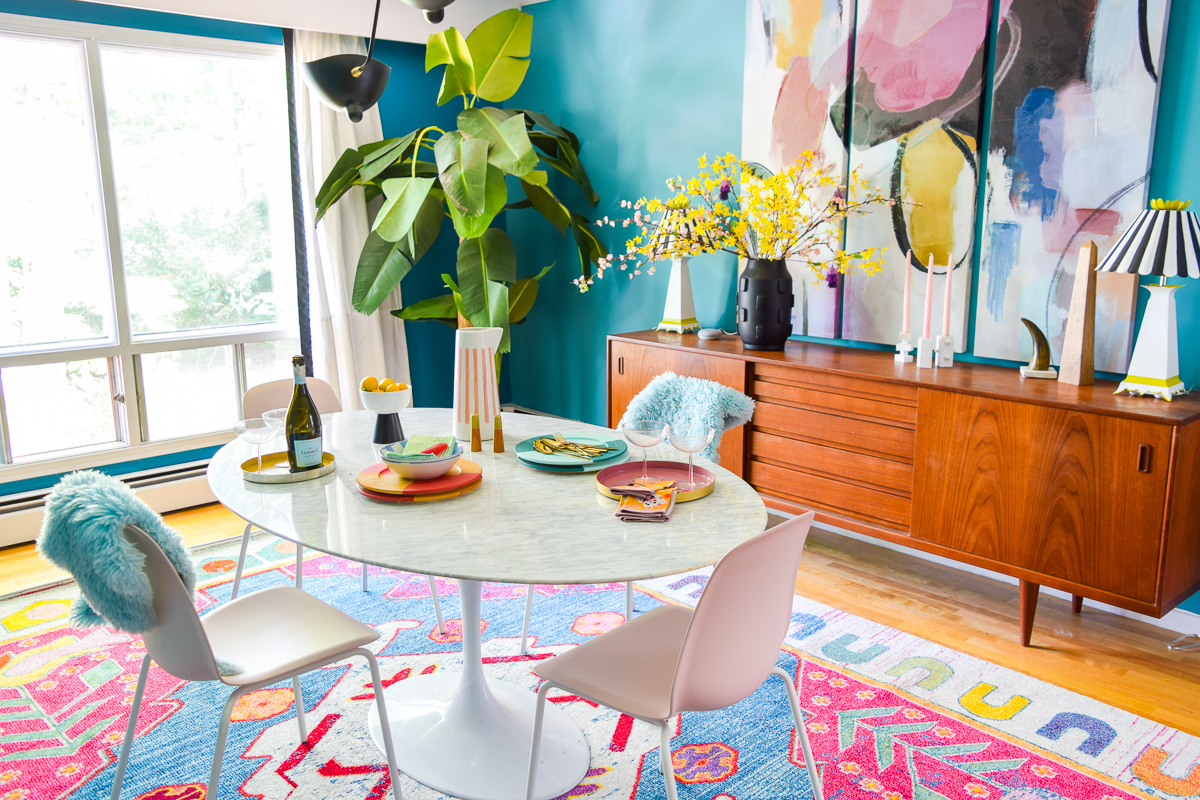 Picking Paint Colors for a Mid Century Modern Dining Room
I wrote a post shortly after buying our house last summer, in which I laid out a very 1960s colour palette for the house. I predicted that I would go with blue, and I wasn't far off. I just wasn't sure of the shades!
Around Christmas I painted parts of the dining room in a lovely shade from BEHR called Rice Curry, but with all the teak it made the entire space really warm tonally. I loved it done up for the holidays, but not as a forever look.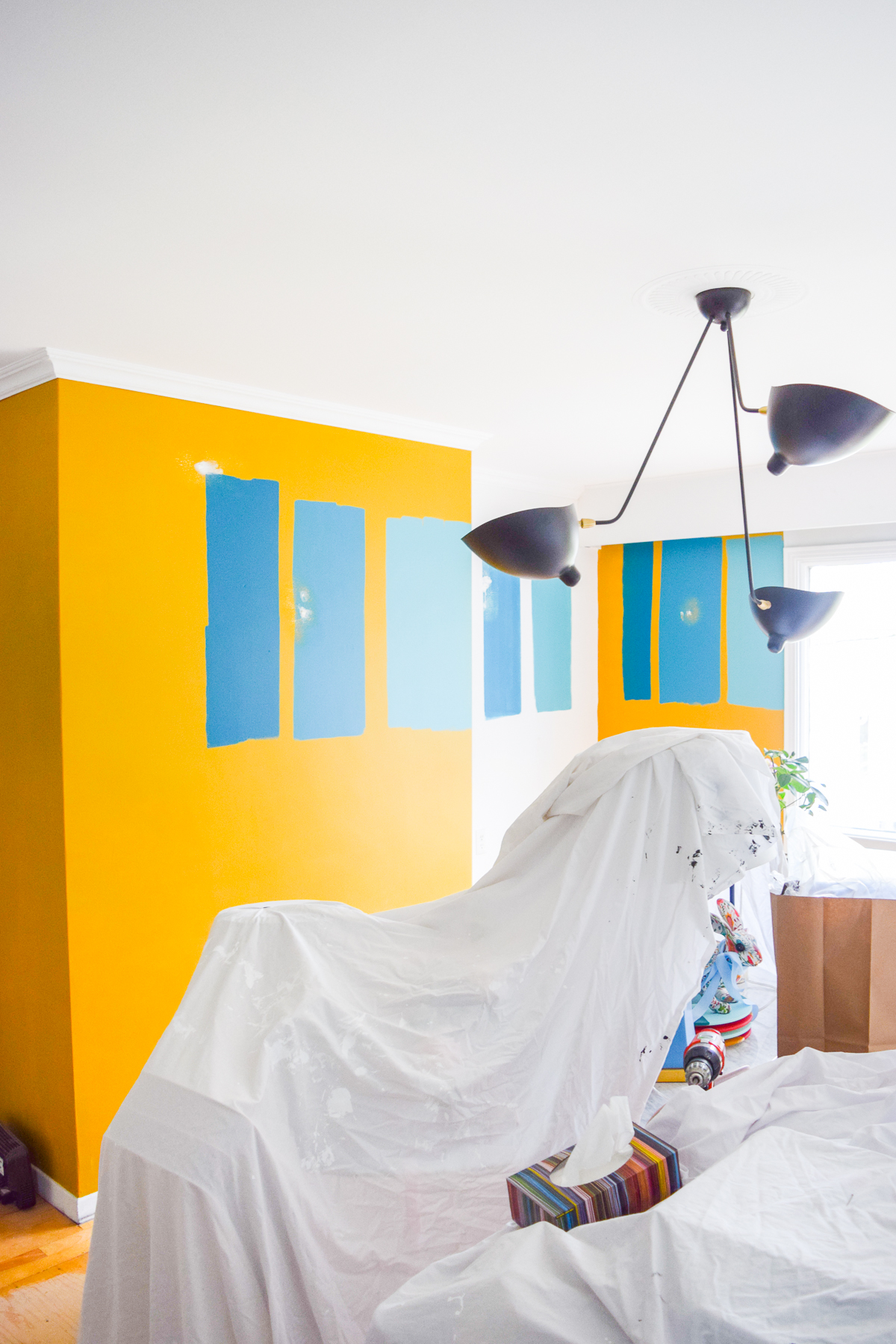 After redoing our kitchen for the Spring ORC, we had blue flanking the dining room from the kitchen and the living room. I could have gone for a green, or a pink, but shades of blue honestly felt the best for the space. I went and bought swatches and got to work!
Picking Paint Colors Based On Natural Light
How many of you pick paint colours on a whim? in the store, before trying them at home? how many of you actually buy the swatches from Home Depot and test drive them on your walls? Probably not enough of you, and you should. To avoid costly paint color mistakes, I now buy swatches and test them on every single wall in a room before committing.
If you do so, and then wait a full day, you'll be able to see how the light changes the colours throughout the day. What looks good at 9am might not look so hot come 9pm.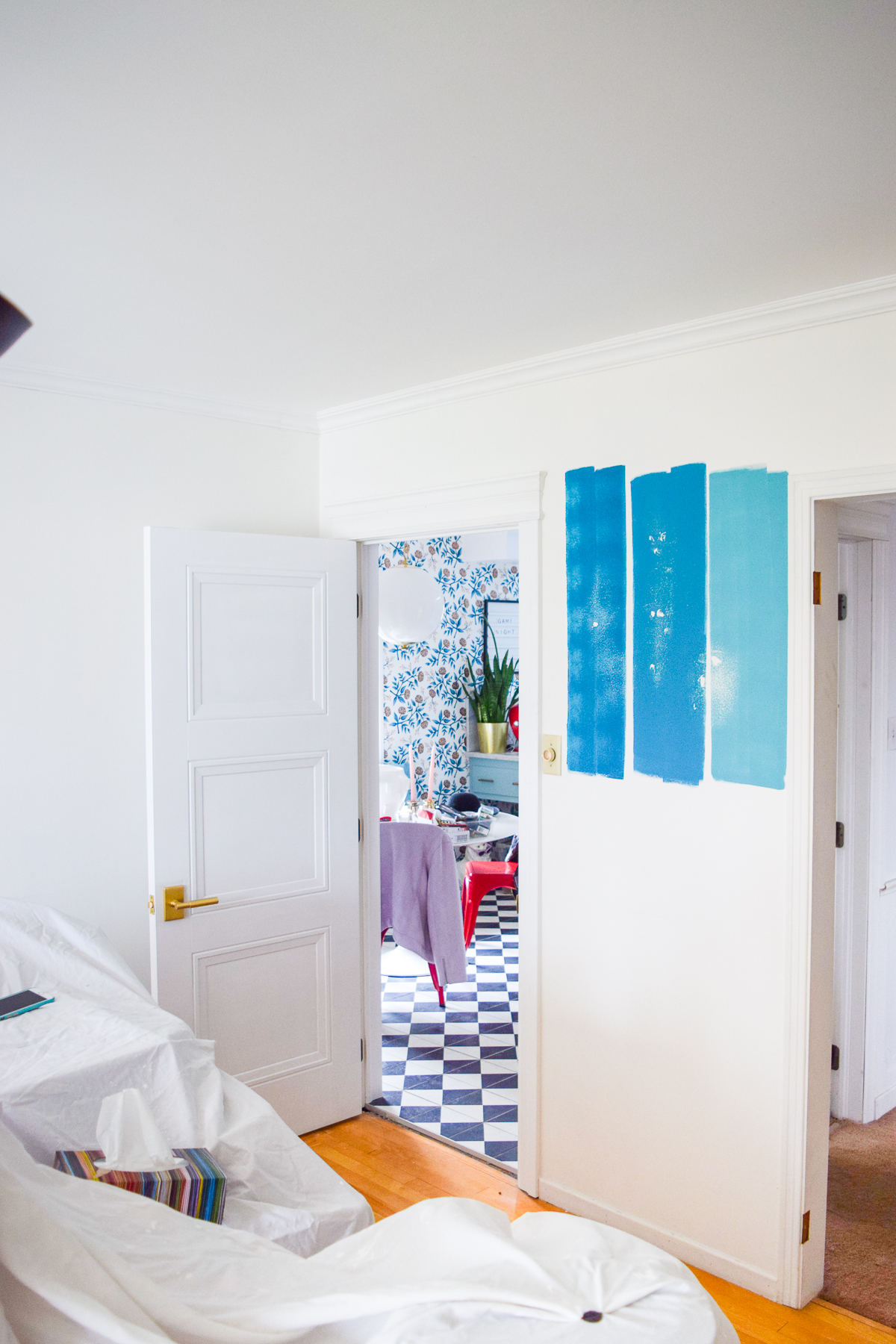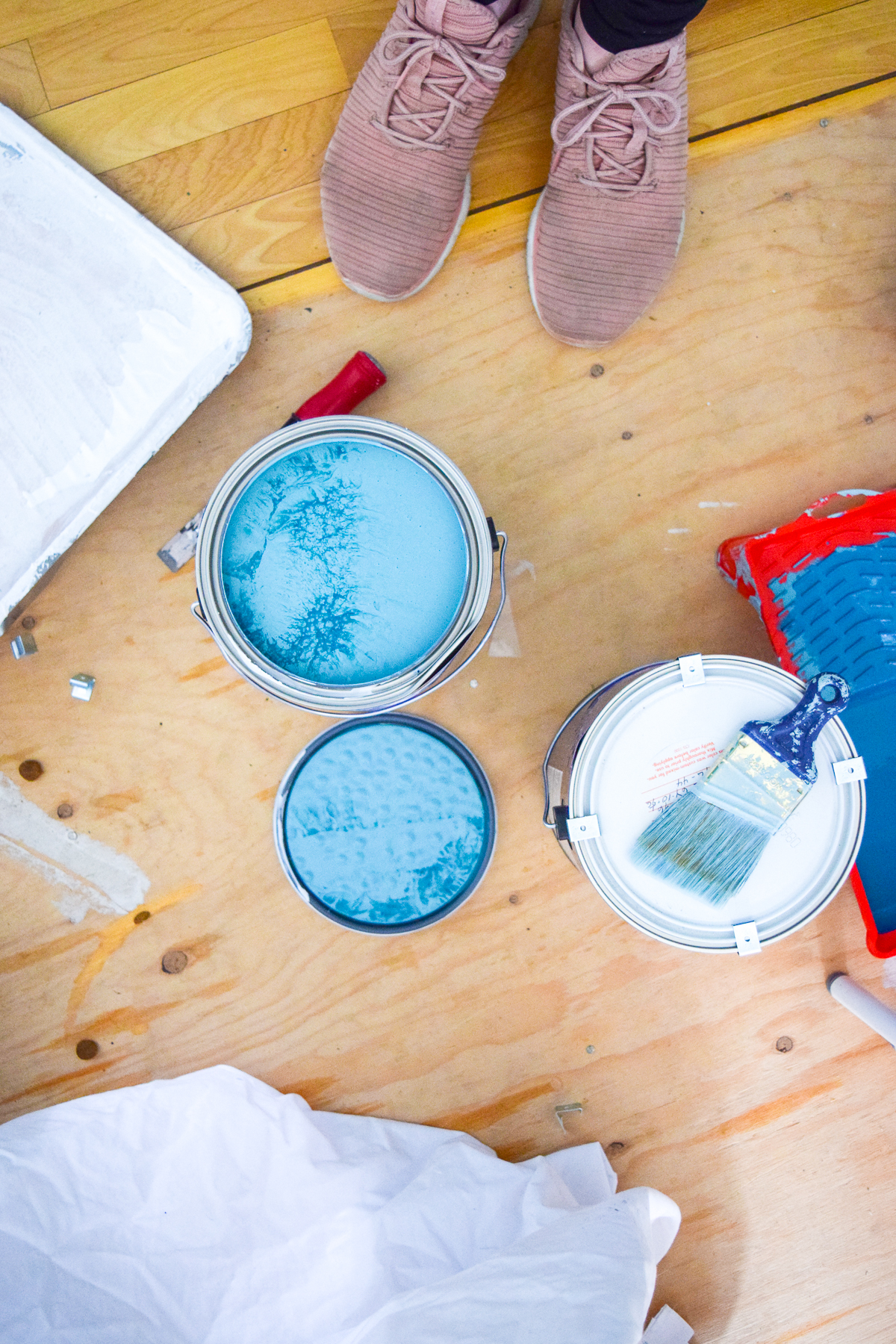 By swatching the entire room, I got to see that some parts of the room would be too dark for Caribe PPU13-1, and too bright for Bali Bliss PPU13-5.
Color blocking is a great painting trick for this exact situation, so I got both shades and got to work. I put the darker of the two (Caribe) on the walls that got the most light, and then the lighter of the two (Bali Bliss) in the alcoves on either side of the fireplace bump-out.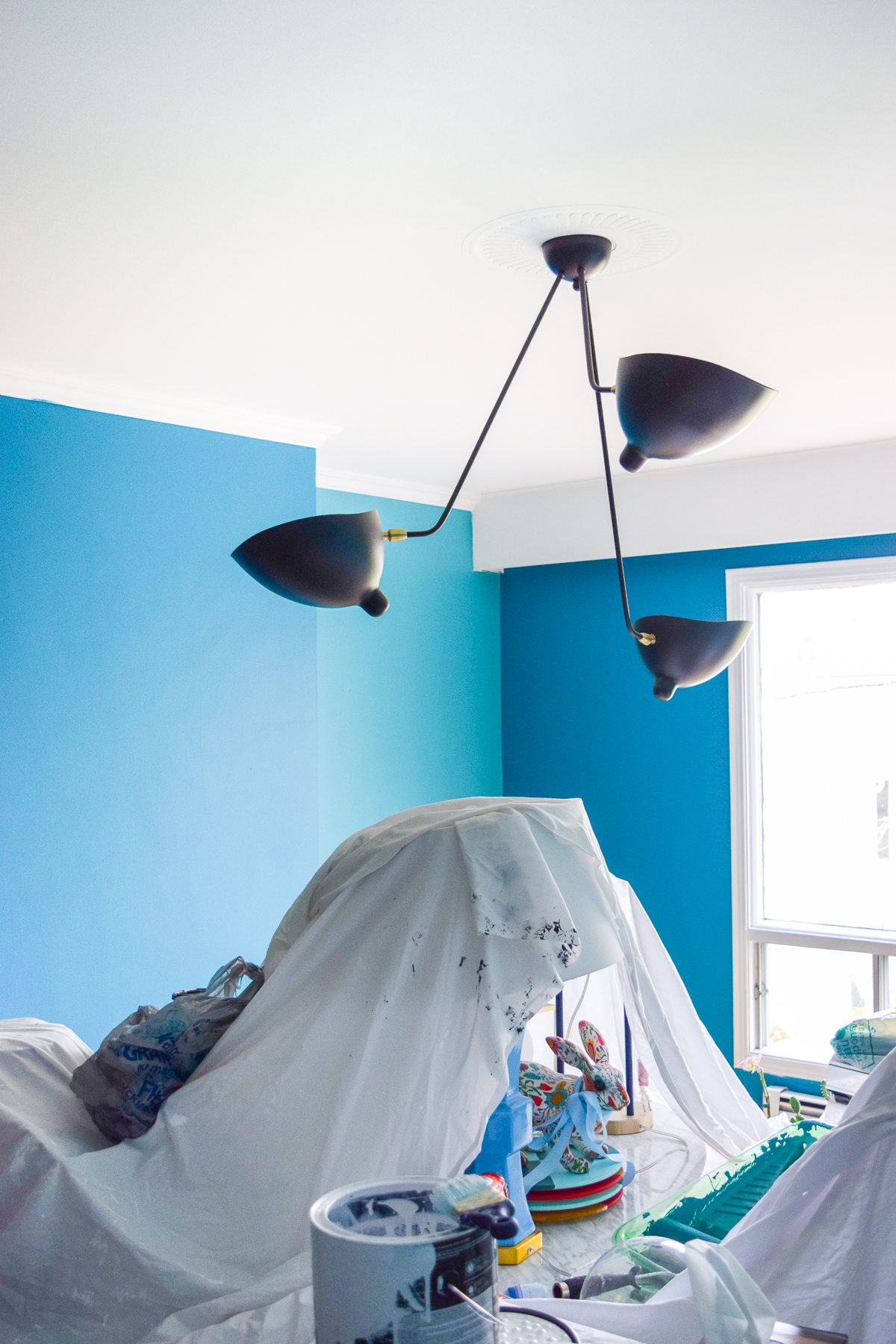 While I was at it, I touched-up the baseboards and trim, and window casing with some classic Pure White. As always, I went with Marquee for my paint.
If you're curious why, you should check out my guide full of tips for painting your home.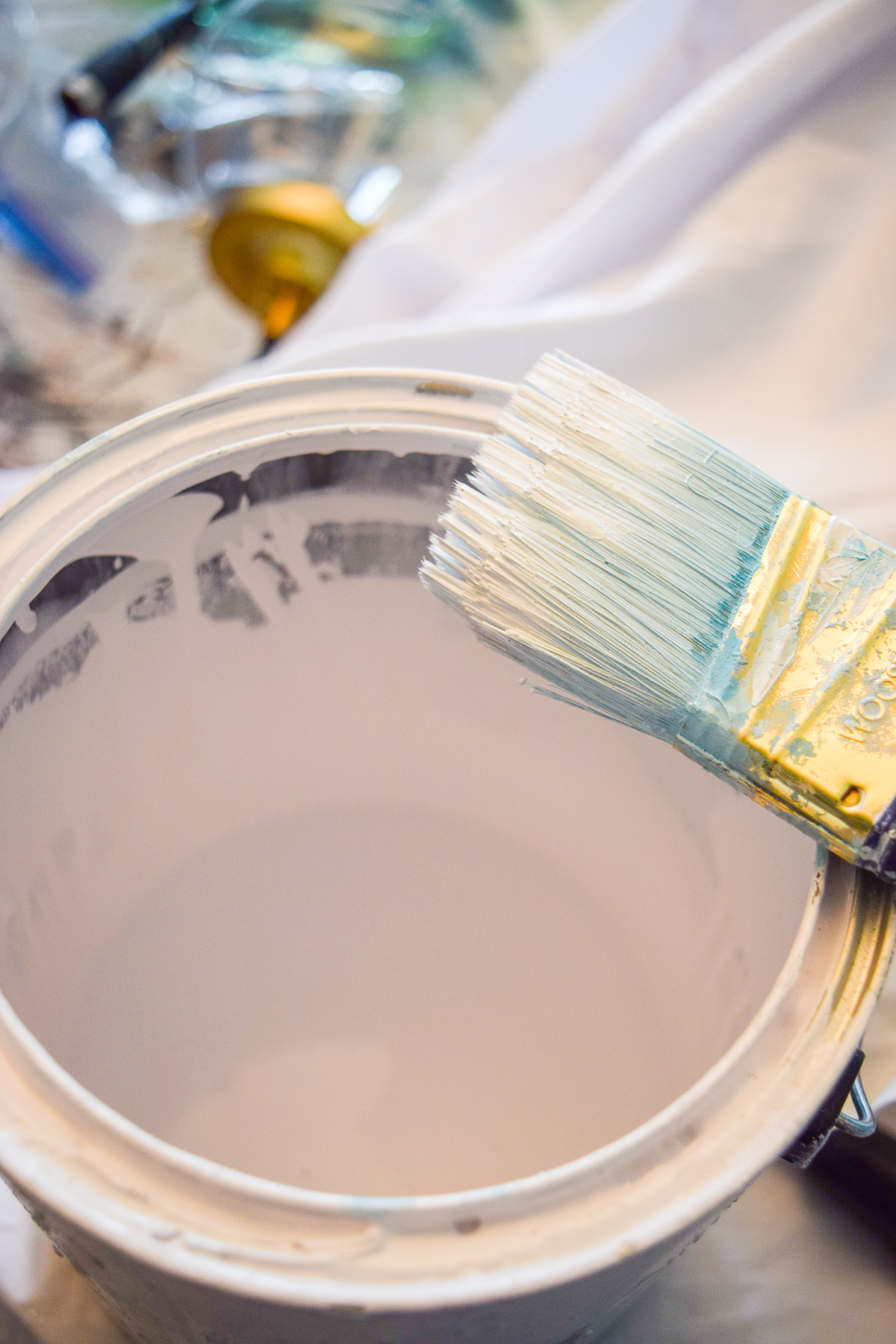 Decorating a Mid Century Modern Dining Room
We are so fortunate to already own many of the elements that went into this mid century modern dining room. This look came together with a mix of already owned, pre-loved, and new items. I love when I can pull from what I've already got, and still indulge in a few new finds.
Mid Century Modern Dining Room Table
This mid century modern tulip table, and the IKEA chairs actually used to live in the studio. At Christmas we brought them home, and they lived in the garage for a while.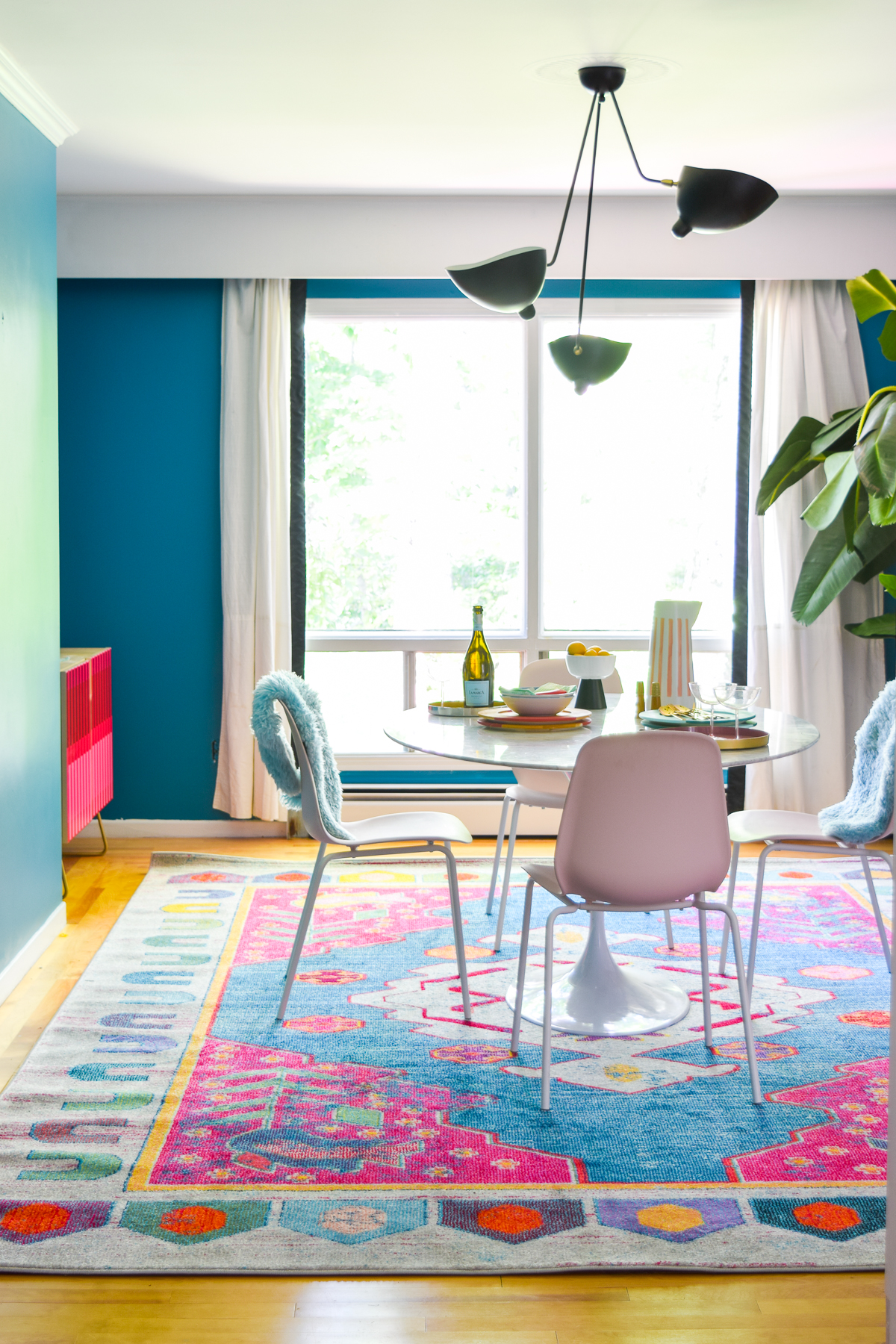 In the process of painting everything blue, I decided I wanted to move the teak table into storage.
Although lovely, it no longer worked for my tablescape needs and was really hard to color correct from a photography standpoint.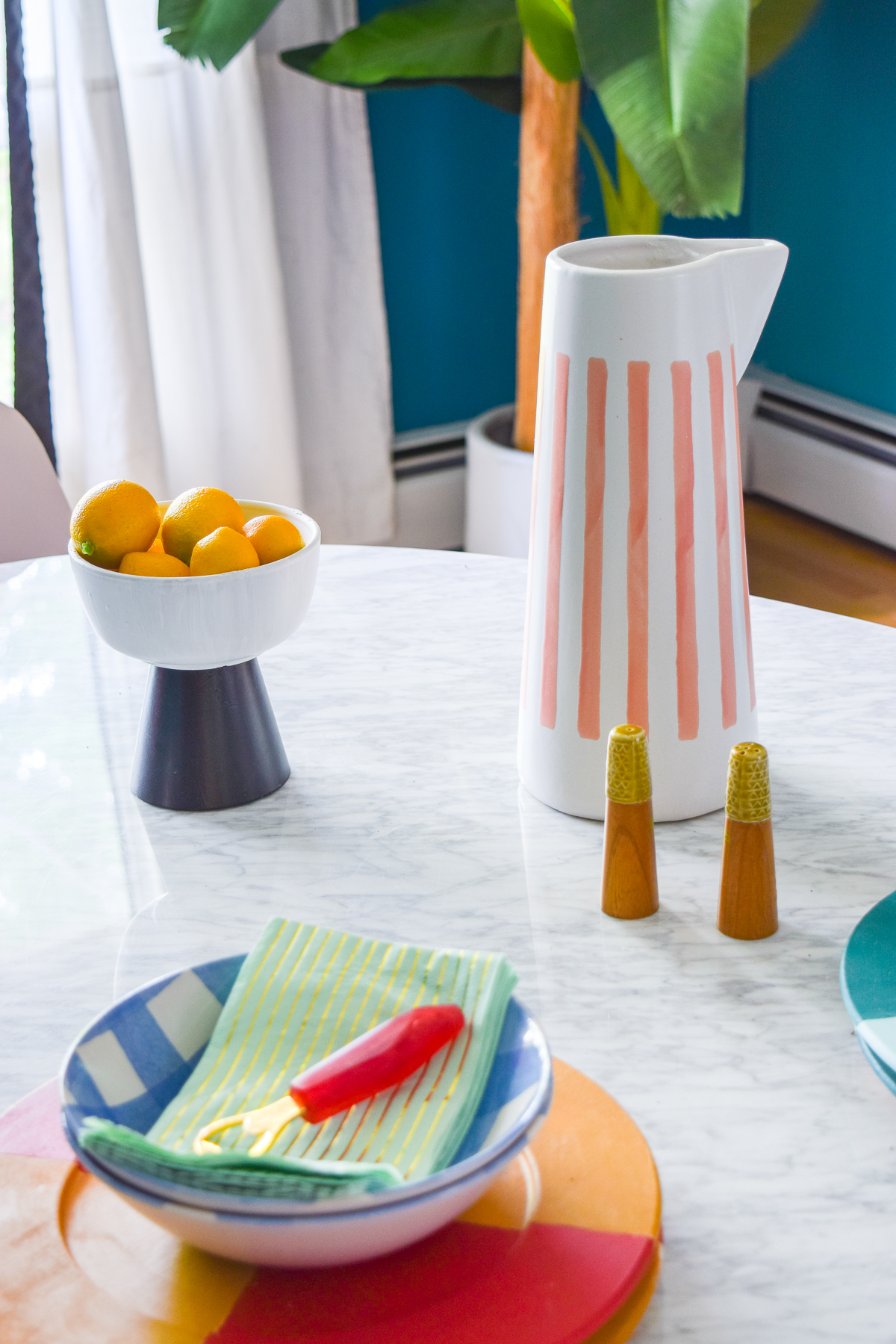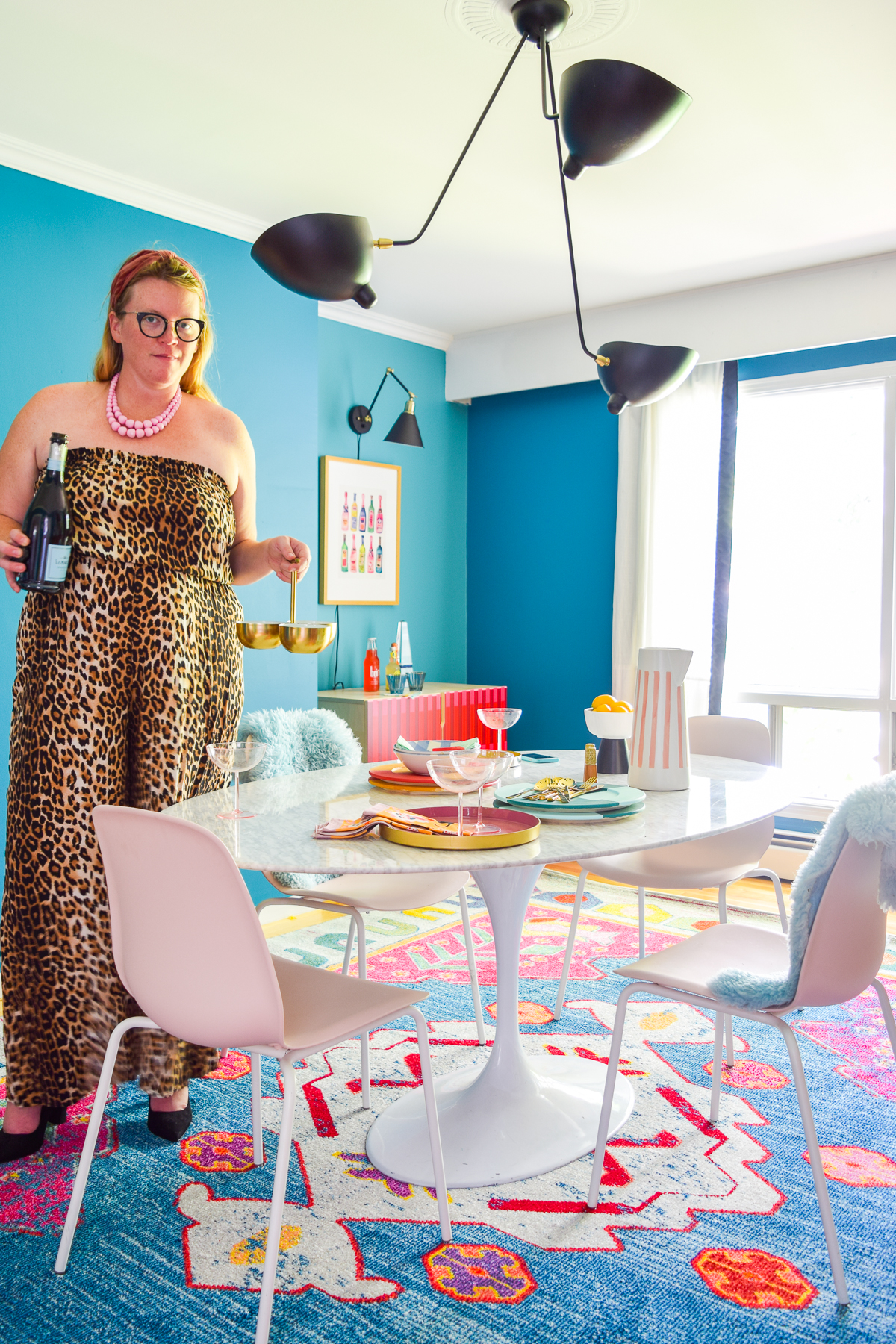 Mid Century Modern Teak Sideboard
The teak sideboard is one of my favourite finds ever. I drove 10hrs with a friend to go get it, and have loved it ever since. It first entered the household for a fall dining room makeover a few years ago, back when I acquired the teak table.
When trying to find the right art to display above it, I knew I wanted something abstract and large. I'm perpetually arranging and re-arranging art, and I wanted something with more staying power. I was a lucky girl the day I found this triptych in stores. Flanked by my Norma Table Lamps from Stray Dog designs, I'd say the look is complete.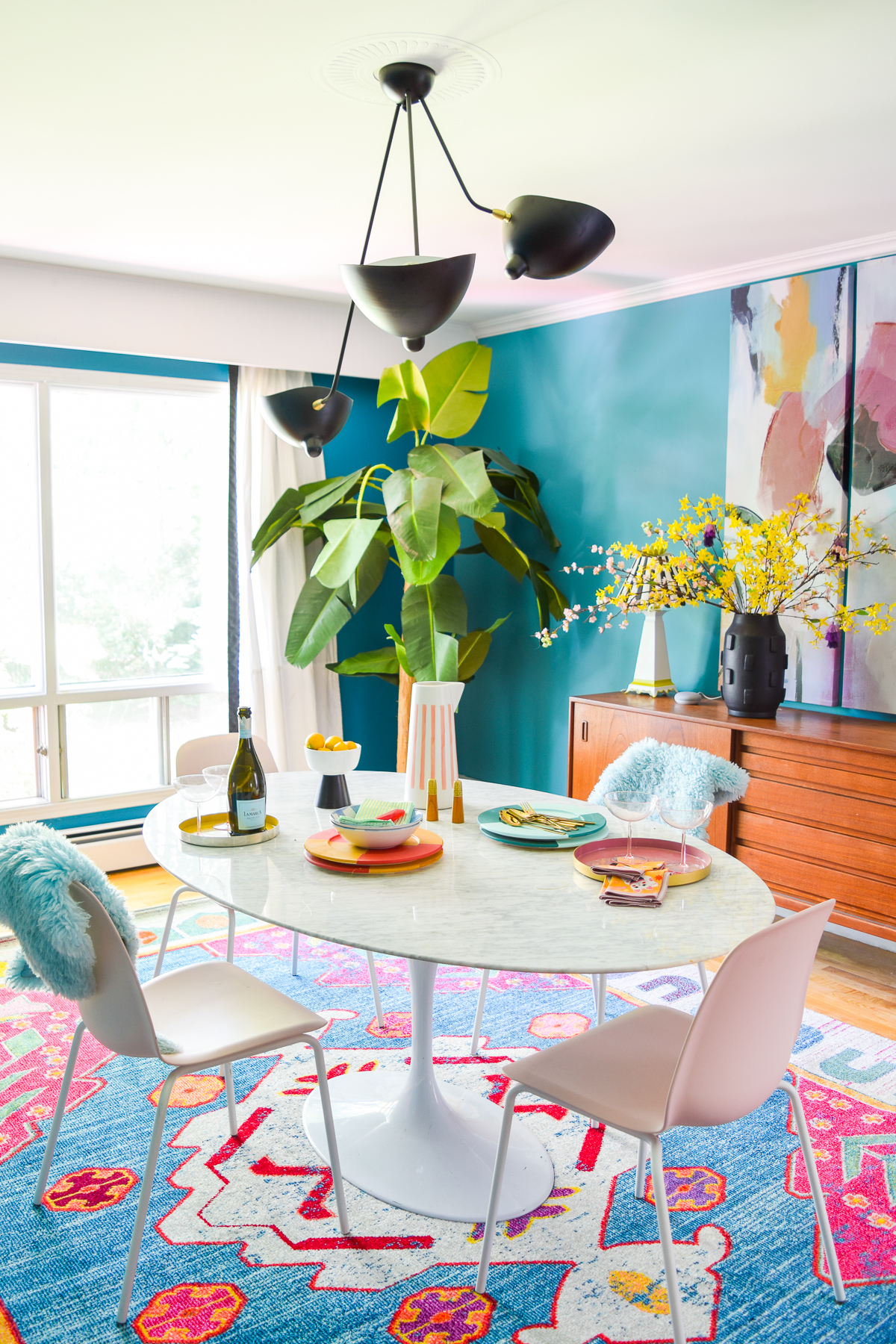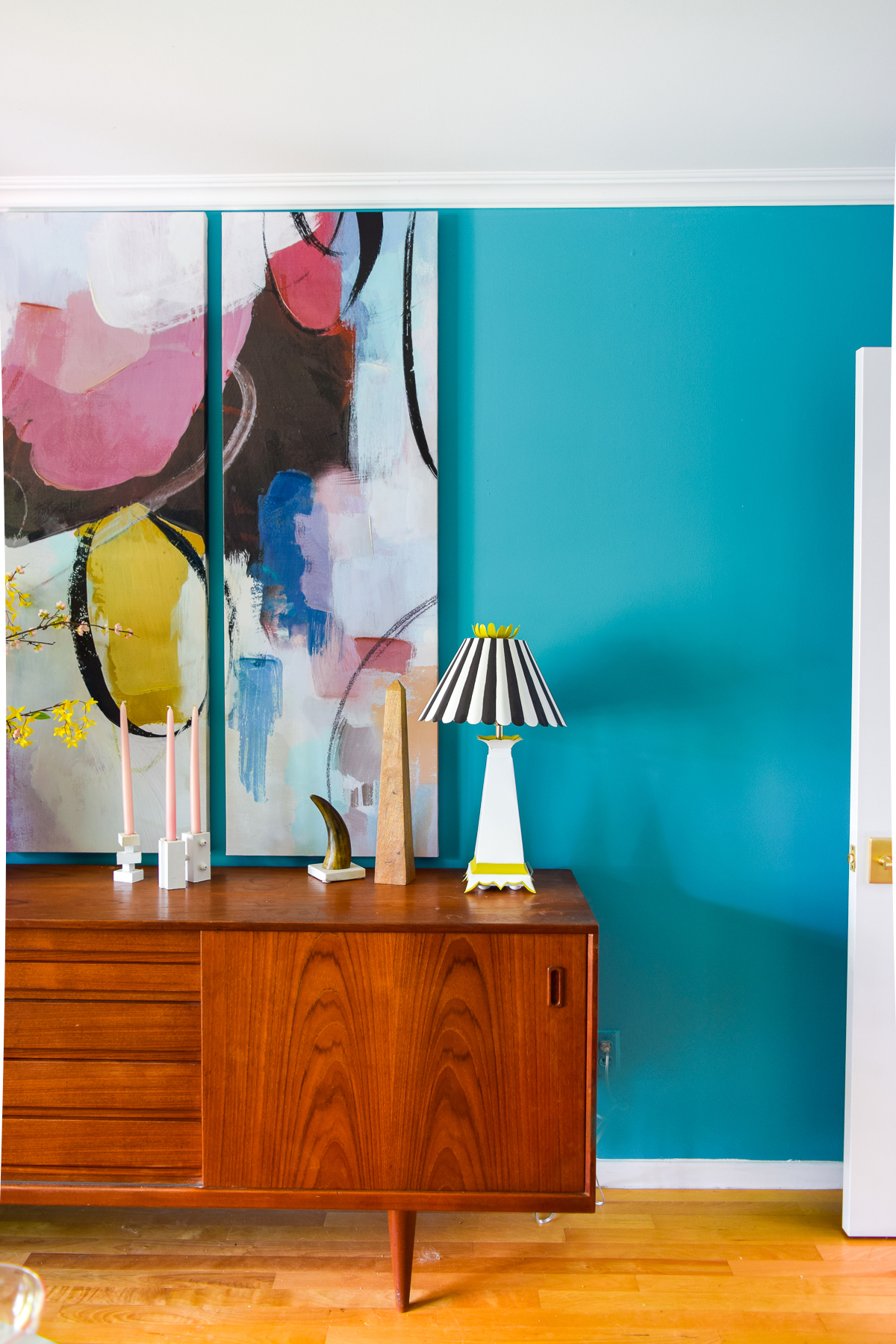 I actually first acquired the Norma Table Lamps for my pink glam home office, but once I got them in there it didn't fit. I think we can all agree though, that is a perfect place for them.
You'll also spy my DIY Modern Wood Candlestick Holders. I made those for this space on purpose, and still love them.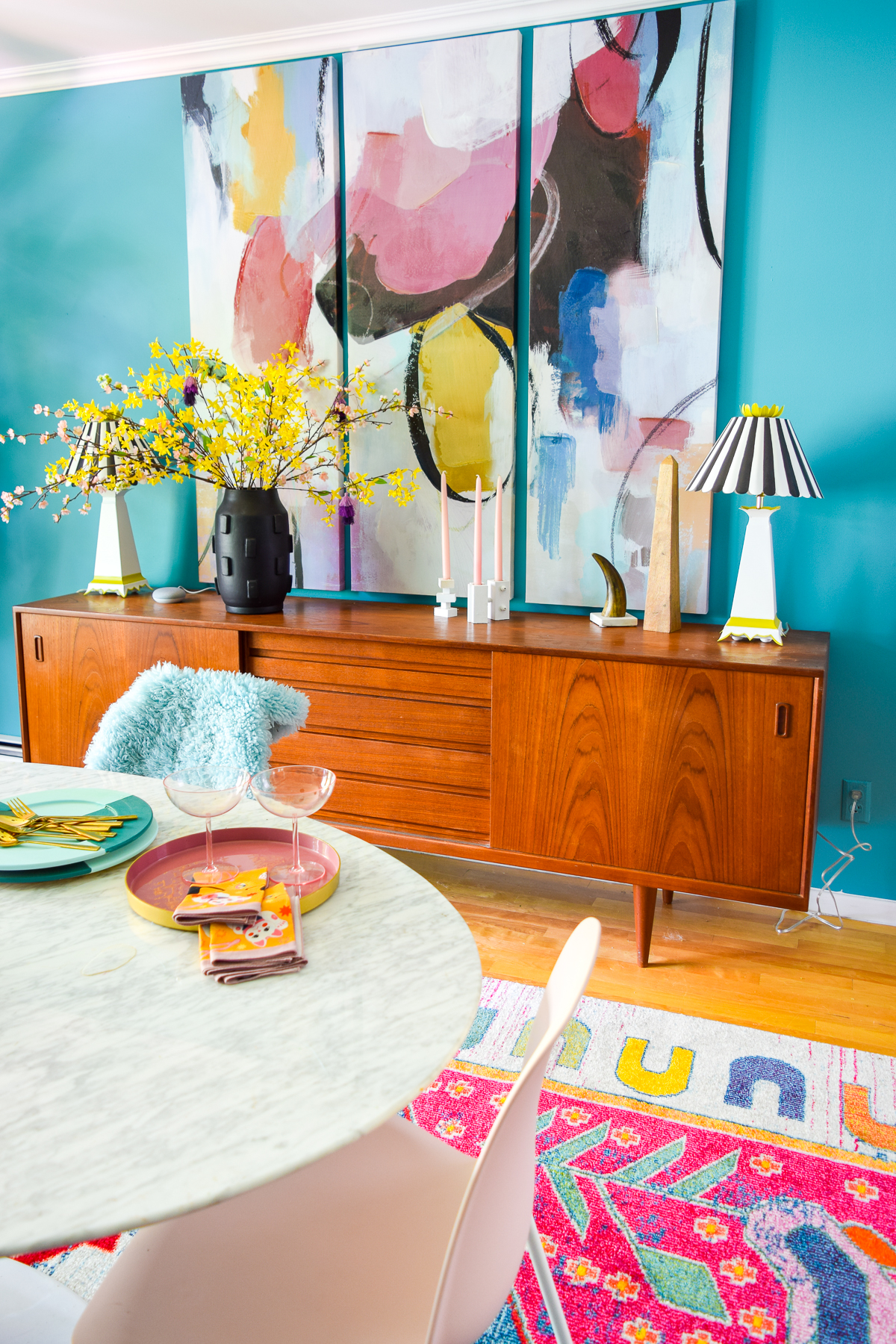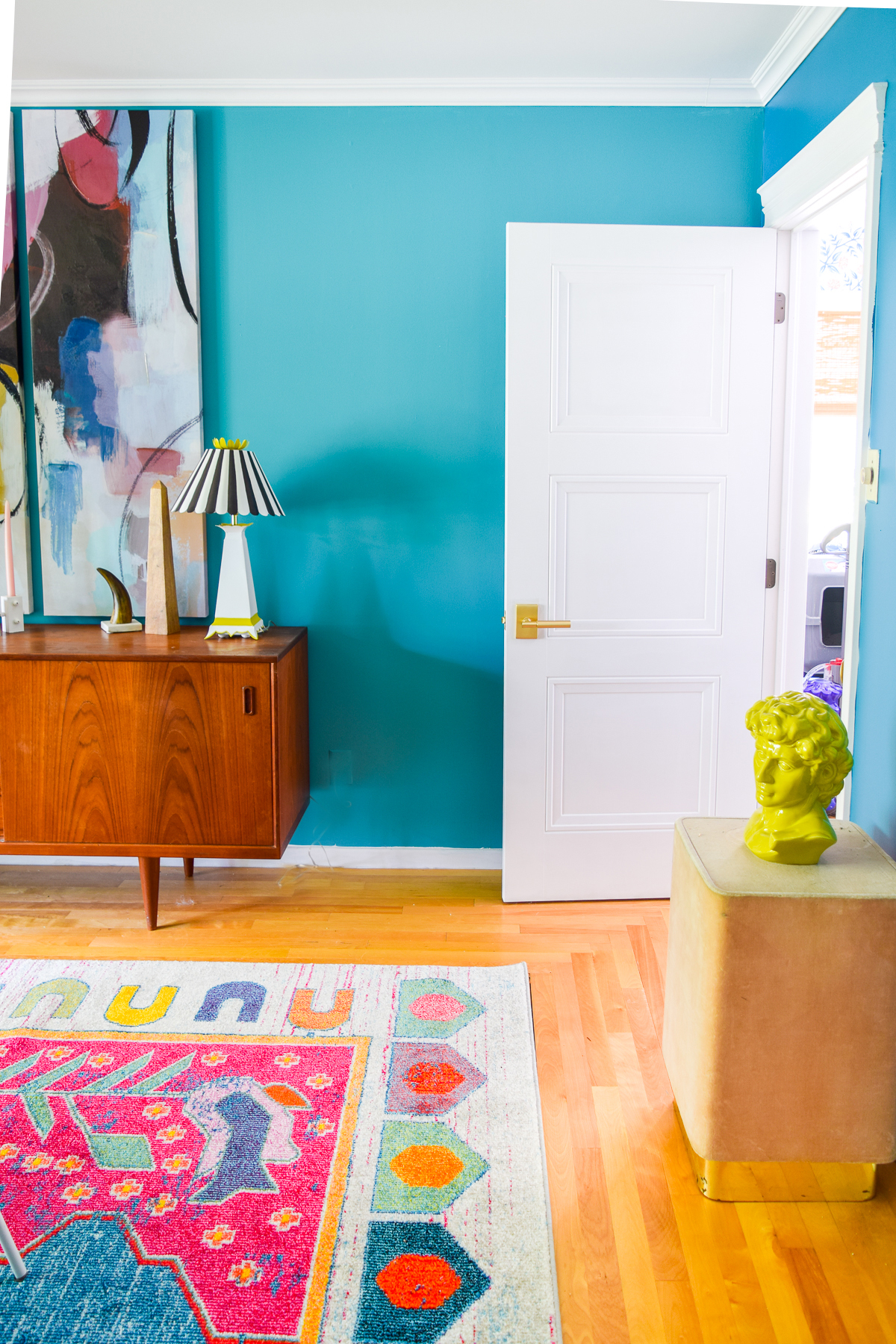 Mid Century Modern Dining Room Details
Now that the mid century modern dining room is complete, I have no compunction about keeping the door to the kitchen open! It's one of the Livingston doors from Metrie, and door handles from Emtek
Looks good eh? We framed the doors with Crown moulding from Metrie's new line Option M to cap it all off.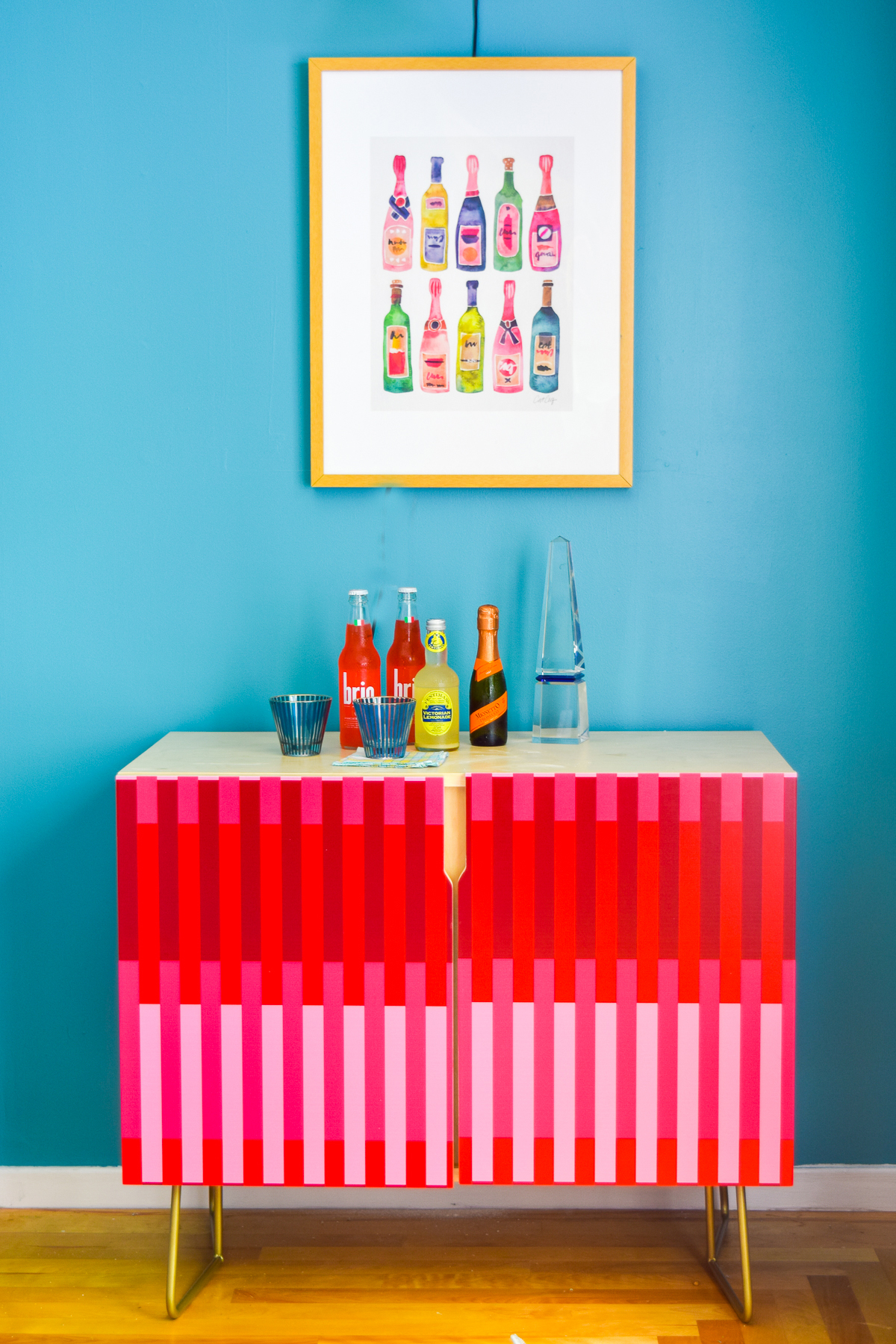 Buying Mid Century Modern Credenzas
So fun story, Society 6 actually makes furniture! Did ya know? Back in May when this space was coming together, I spent hours pouring over their credenza selection. I knew I wanted one for each alcove, but I wasn't sure if they should match or be complimentary. I went for complimentary.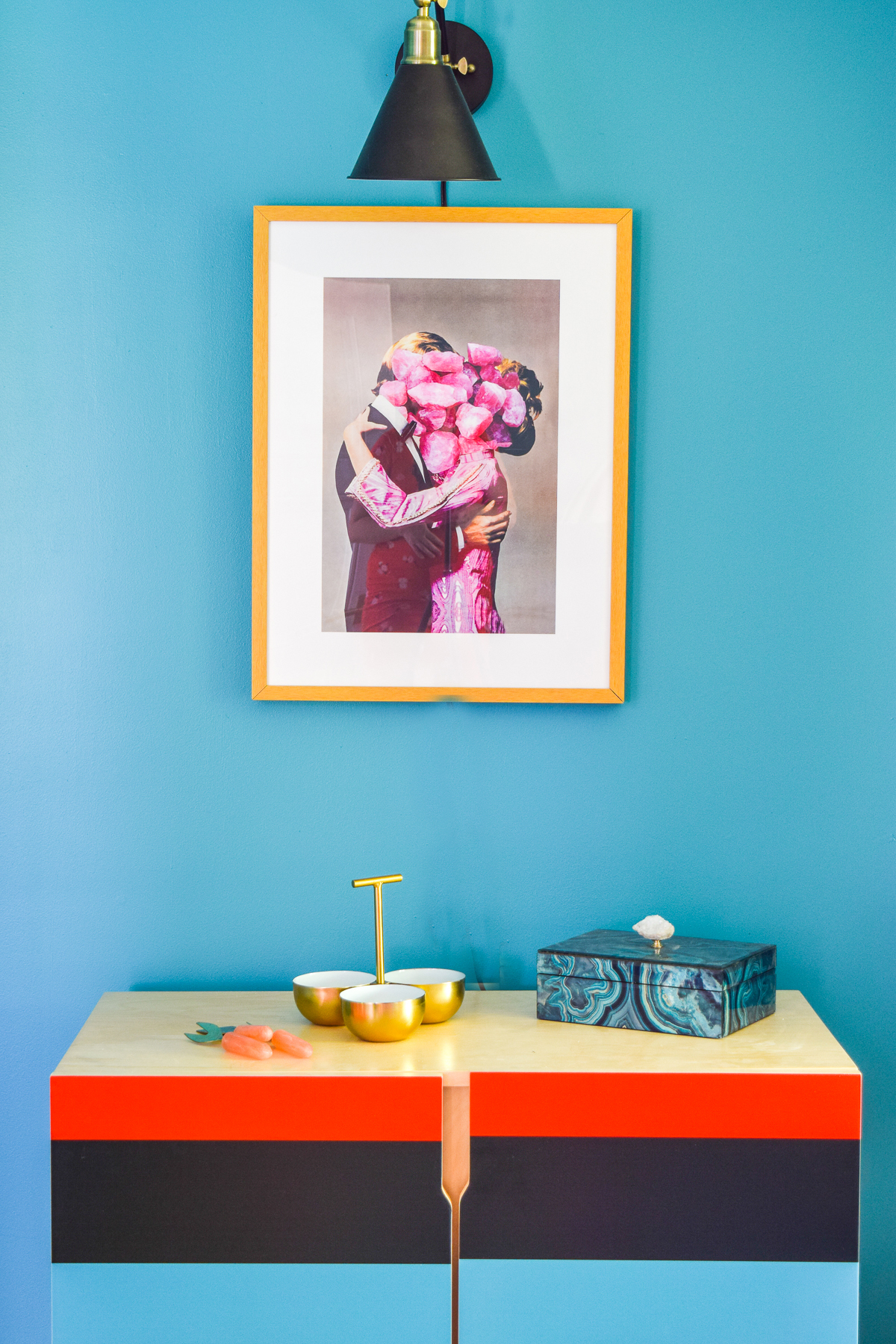 Dan had a good point – when we move they need to be able to operate independently. So I got two different ones! I went for the Color Stripe_007 Credenza & Abstract_LINE_ART_01 Credenza. I got both in birch with gold legs. How fun are they?!
Would it be a PMQ for two photo is some part wasn't slightly undone? notice the rug curl.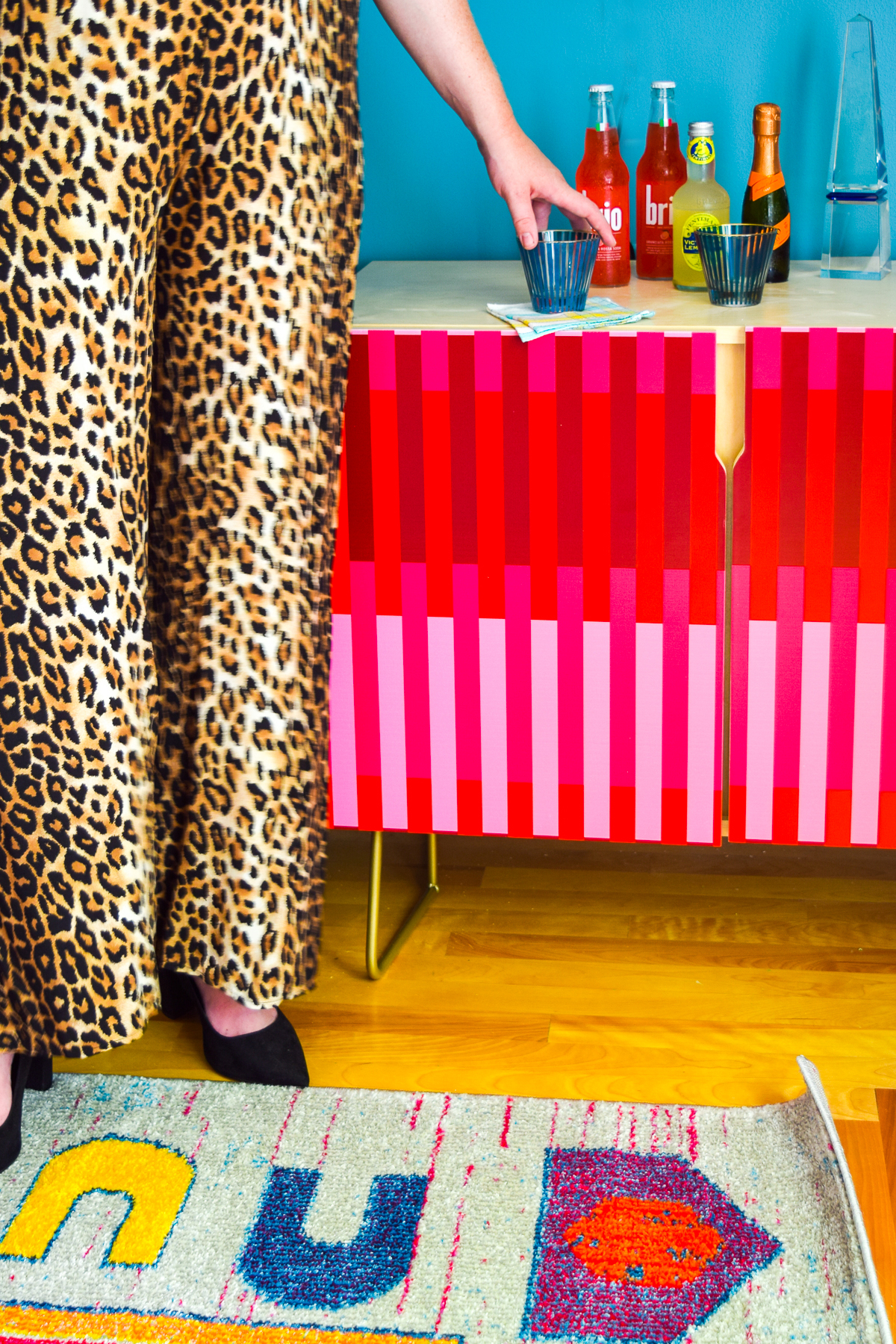 When Dan was assembling them, he was taken with their quality. He usually hates flat pack, but he found their materials to be well worth the price. They're sturdy and will easily stand-up to our frequent military moves #win. He kept knocking on them going "babe, this is really nice."
When it came to choosing art that would go above them, I chose two pieces I've been eyeing for a while. The Champagne Collection Framed Art Print by Cat Coquillette  is everything Kate Spade inspired that I love. And the Rocky Start Framed Art Print by Eugenia Loli  is a piece of perfection.
Check out my Kate Spade Inspired Bathroom and my Kate Spade Inspired Master Bedroom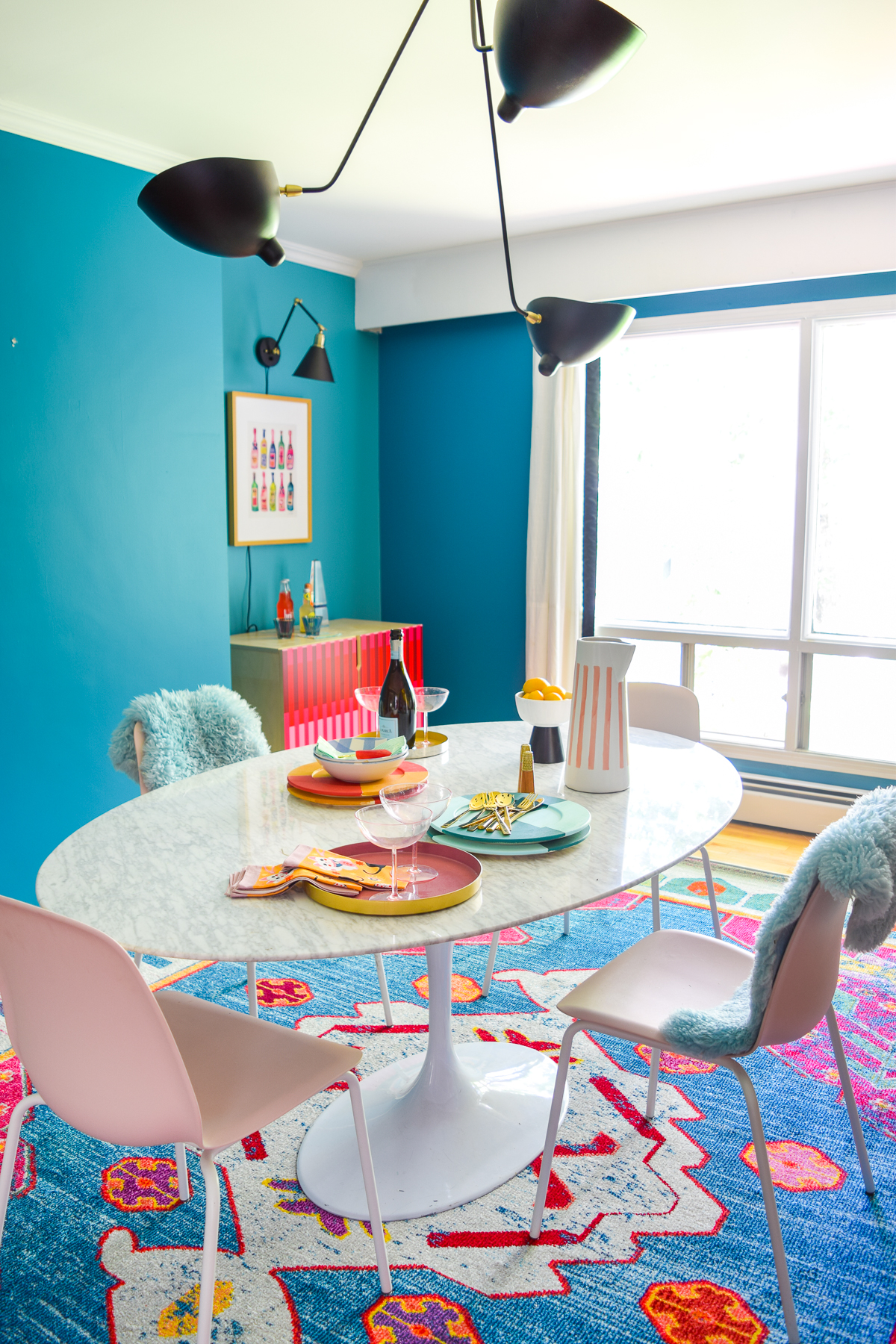 Choosing a Mid Century Modern Rug
Ok so I kinda left you with a cliff hanger at the beginning. The darn rug situation has been the bane of my existence since May. First we considered redoing the flooring – because there is a 9 x 12′ big of plywood in the middle of the room. Then we bought two smaller rugs, but only one arrived (the zebra!), and then we tried some modern yellow abstract rugs, but I ordered the wrong size so it looked awkward.
I finally bit the bullet and ordered this beauty. The Multi Coral Vibrance Cabbarae Area Rug arrived Monday, and I shot this space Tuesday. It was literally the missing piece.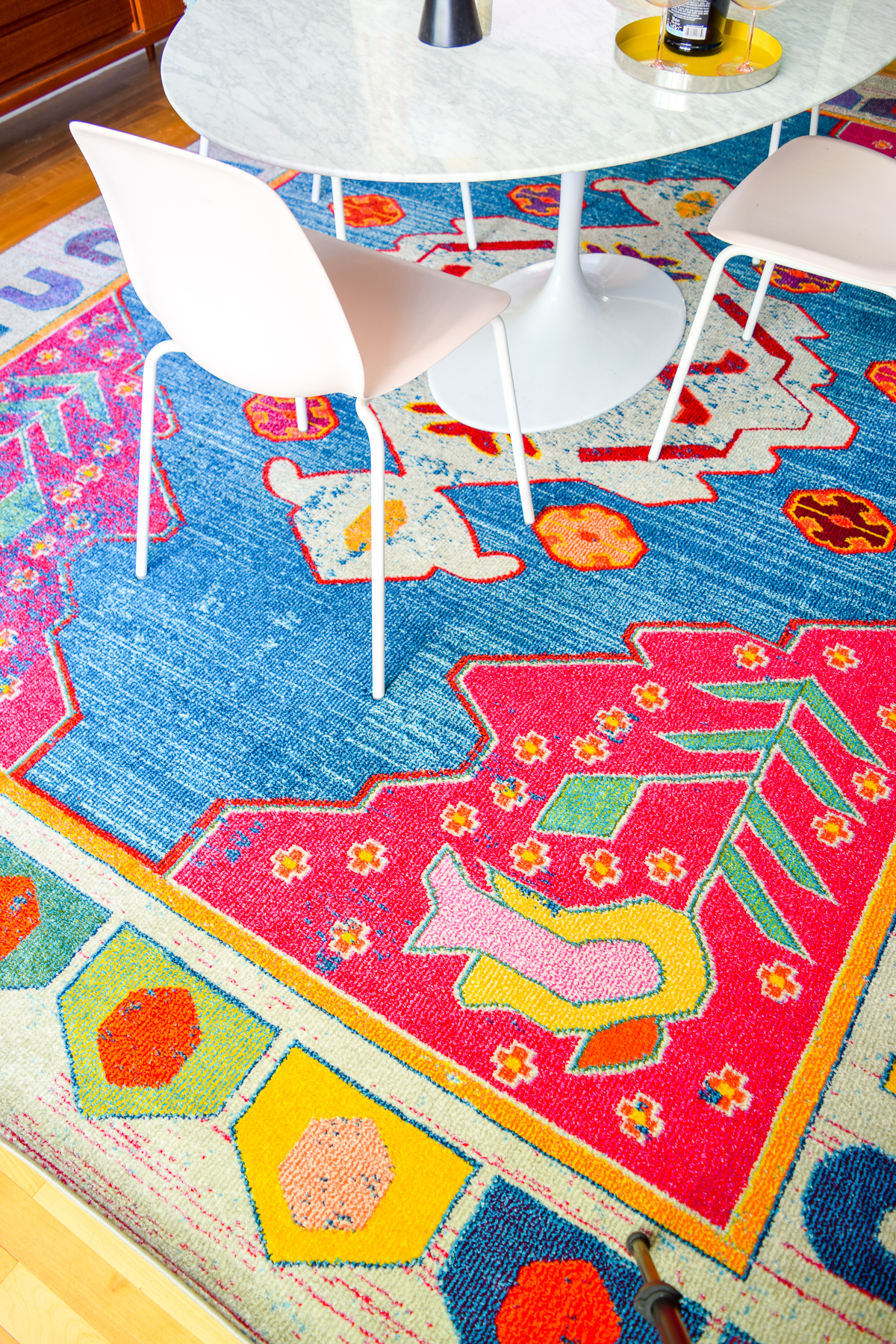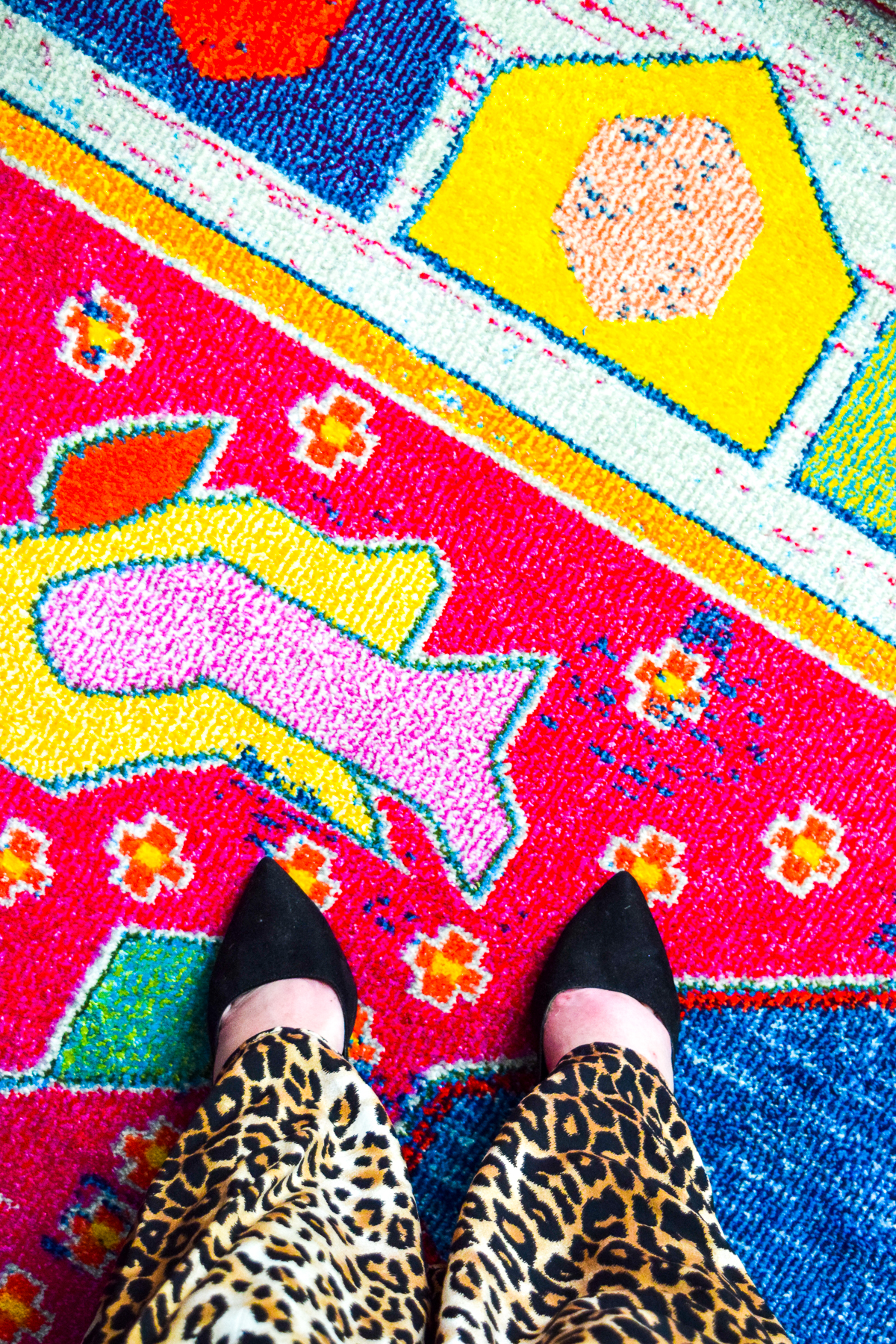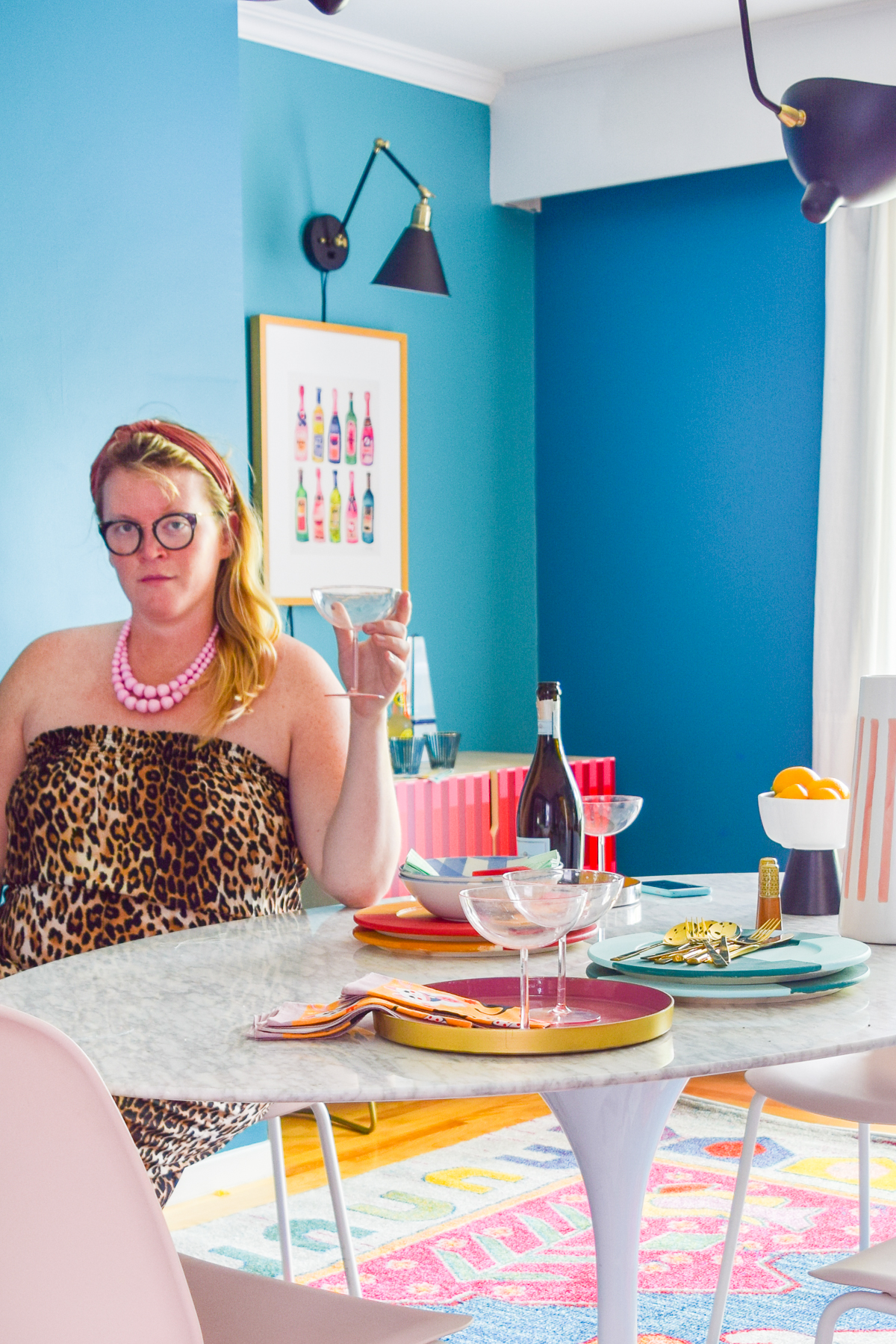 Cheers y'all. One more space complete, and with 4 weeks left before baby girl is due to make her debut.