It's not secret that since moving into this house I've been on a mission to bring crazy colour and pattern to every part of the house. Wallpaper has been a huge part of that, and my love of florals has made it easier. I wanted to share Spaces that rock Rifle Paper Co. Wallpaper as a way of showing you how you might try it in your own!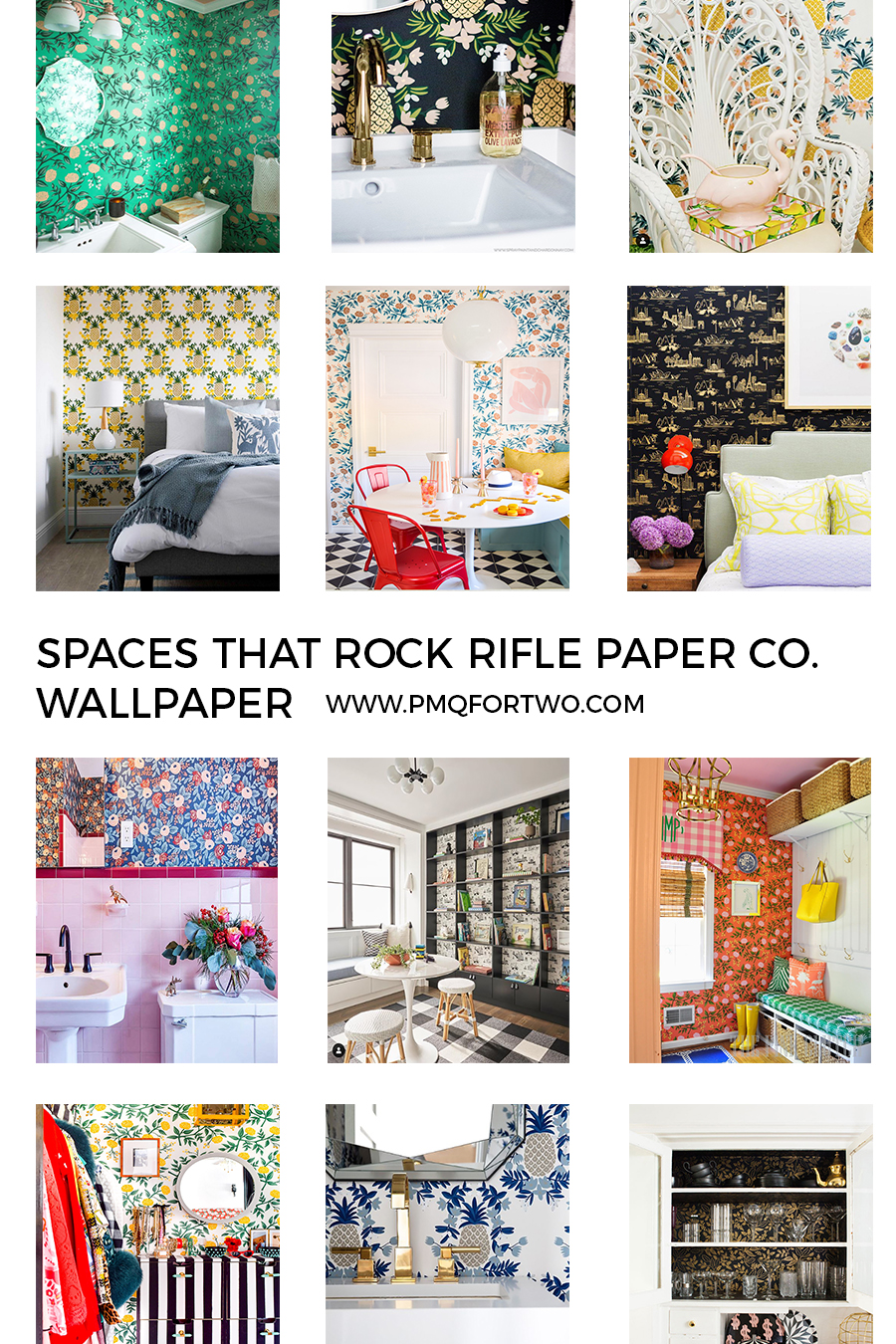 Rifle Paper Co. Peony Wallpaper
Give me all the peonies, forever and always. I legitimately bought the latest colouring of the print in fabric form for our nursery, and just used scraps from our closet as drawer liner in the master bathroom.  Can't stop – won't stop when it comes to this pattern.
I think my fave space with any wallpaper, ever, is our retro glam kitchen that we completed this spring. I used the Peony Wallpaper in Copper.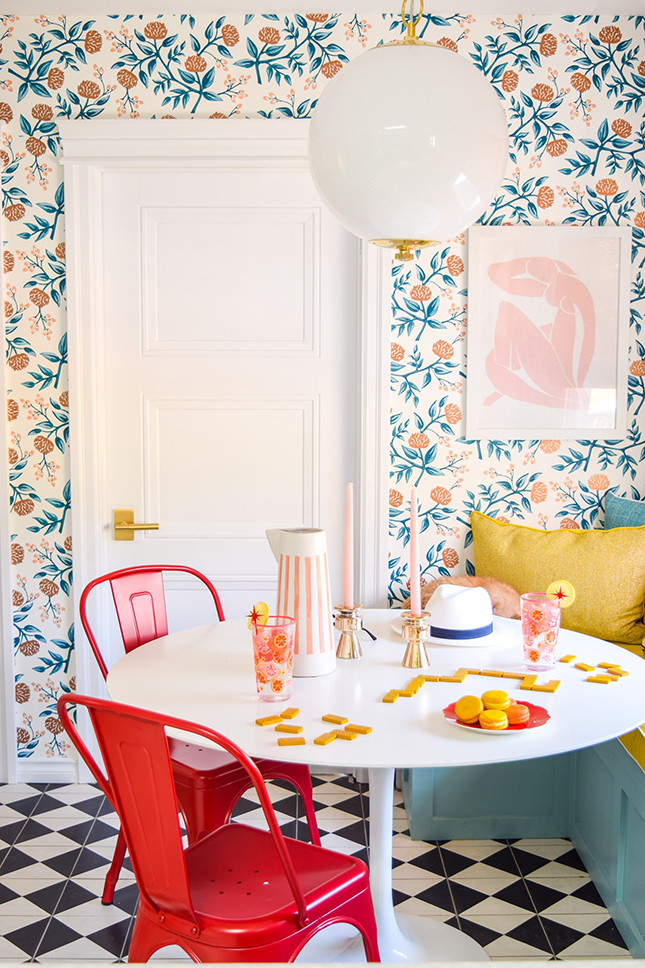 I must admit, my second fave (and probably my fave outside my own home) is Paige's laundry room. She used the Peony Wallpaper in Red, and it's the perfect addition to her colour saturated home.
This winter we added the Peony print in yellow in our floral glam closet, and still love it more than anything. The black and white accents, with a pop of blue, were the right call for the space, and still bring joy.
Wit and Delight's Green Peony bathroom is the kind of saturation and colour that is bold and unforgettable. I would totally have used it in our house if they still had this print in production.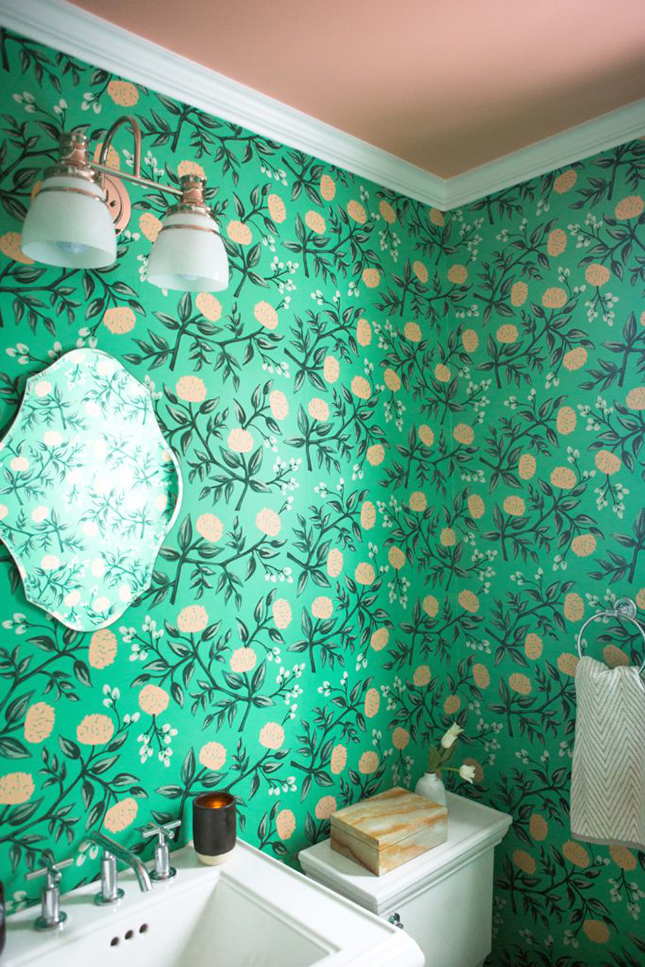 Rifle Paper Co.s Queen Anne Wallpaper
Back when I tackled our eclectic mod living room this past fall, I seriously considered the Queen Anne print in Robbin's Egg. It was a really close match to the vibe of the space at the time, and would have brought some lovely gold into the space.
Christiana's home is an eclectic marvel. When I spied the Queen Anne print in Ebony, in the back of her cupboards it gave chills. I now need to find some open cupboards to add this print to.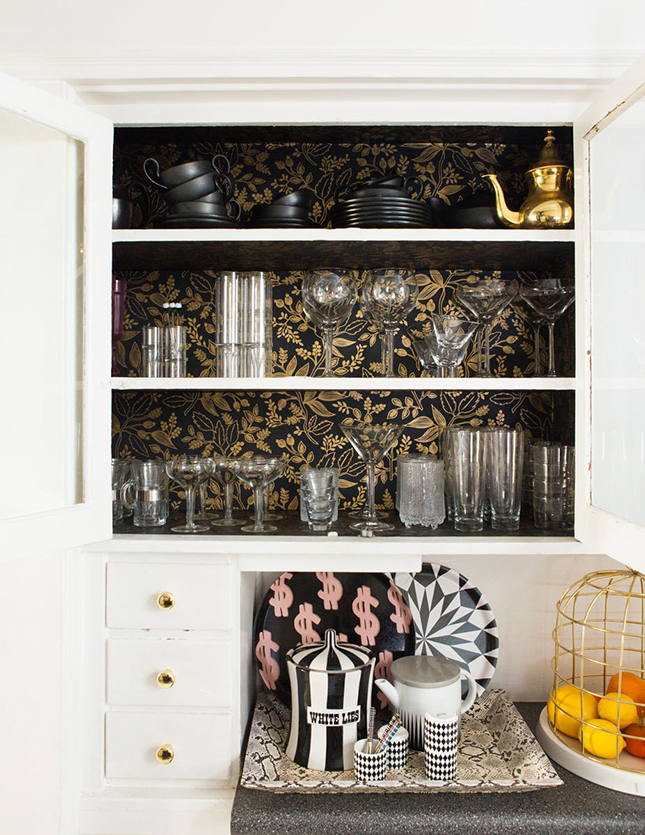 Studio McGee creates such lovely spaces, and she used the Queen Anne print in Taupe in a bathroom they completed.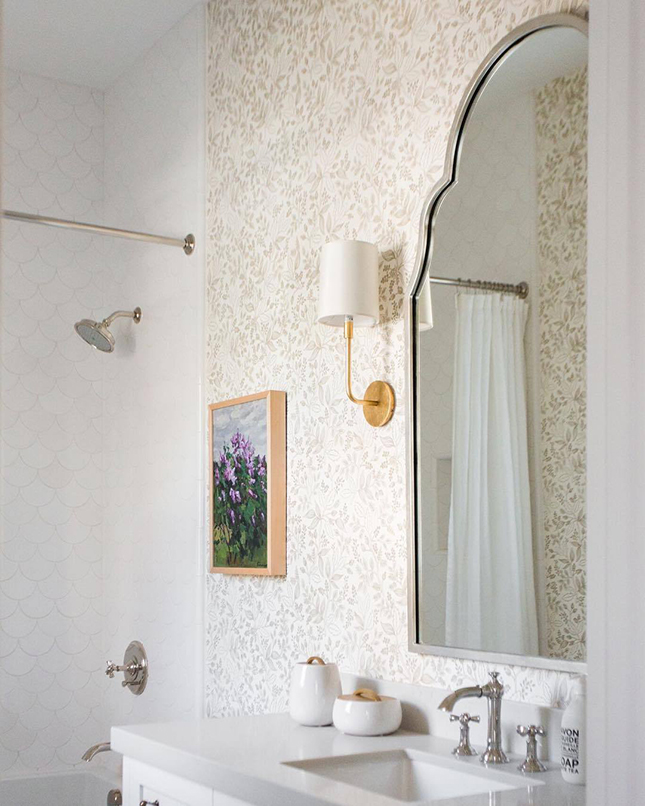 Rifle Paper Co. Rosa Wallpaper
This is quite possibly one of the more iconic prints that Anna Bond has ever created, but when it comes to wallpaper it's almost too busy for me. BUT I would absolutely use it in my house in the opportunity arose.
Design in Rate Form's retro pink bathroom with the Rosa print in Indigo, is perfection. I'm thinking of doing something similar in our basement bathroom, but with the Rosa in Yellow (because we have light blue tile).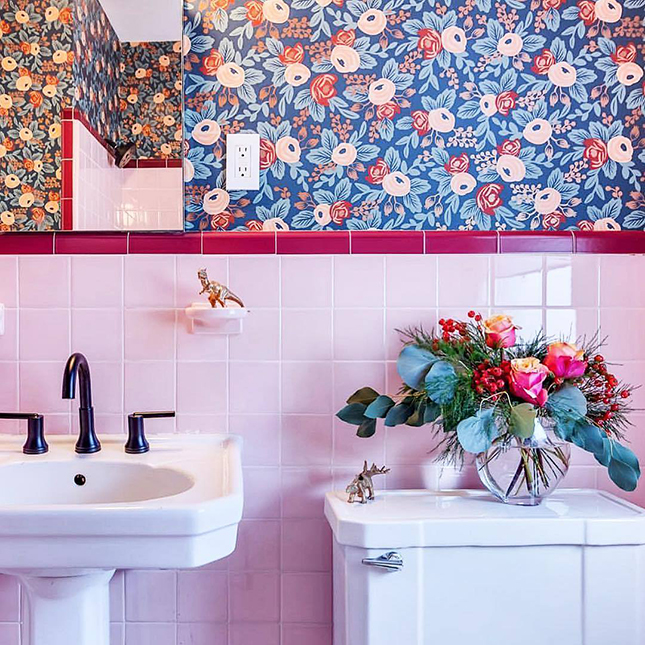 Cassie Loree Photography has got the most perfect holiday set-up in this pic, but surely her eating nook is Rosa yellow perfection.
Rifle Paper Co. Cities Toile Wallpaper
I have been super intrigued by this print since I first saw it, but I just haven't found the right place to use it. I considered it in white for the retro glam kitchen (you can see it pinned on the painted cupboards).
This shot from Kendall Simmon's house tour on My Domaine, gives me all kinds of chills. The colour and pattern matching around it is ????. Her choice of the Cities Toile in Ebony is an instant classic.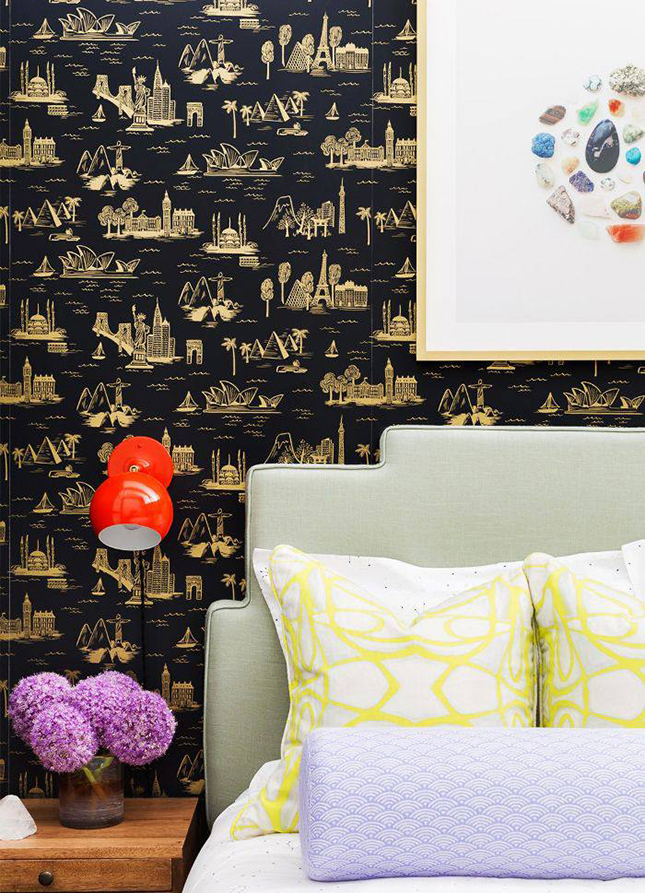 And then I saw it as a backing in Studio Gild's playroom, and fell in love all over again. Picking the Cities Toile in White was an inspired choice which leaves tons of room for colour to come play.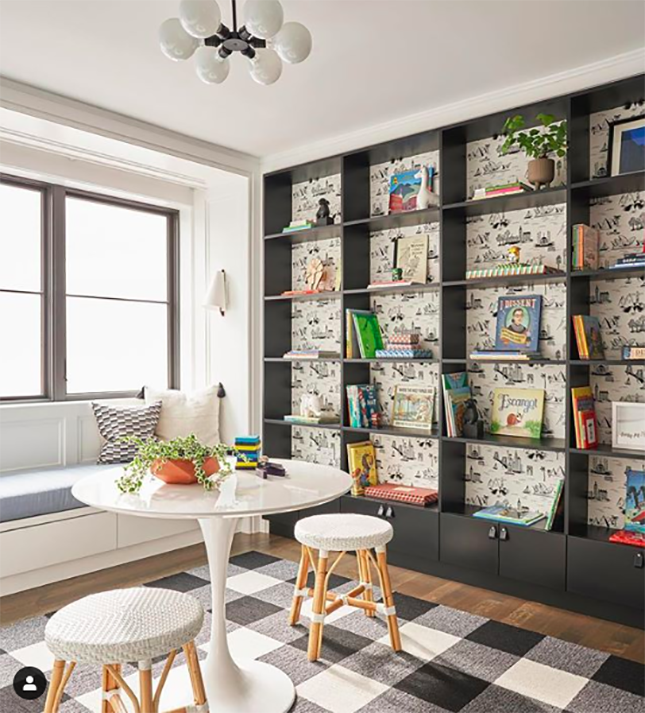 Rifle Paper Co. Pineapple Wallpaper
Back when all I could afford was wallpaper samples, I bought so many of the Pineapple print in sorbet. In fact, I framed them for out kitchen in our 2nd PMQ.
Alanna Dunn used the Pineapple print in blue in a bathroom, and I think it works beautifully. The blue contrasted against the white is nice and crisp.
I spotted the Pineapple print in sorbet behind a peacock chair, in a pick on Cannon Borough Collective's feed and squeeled with joy.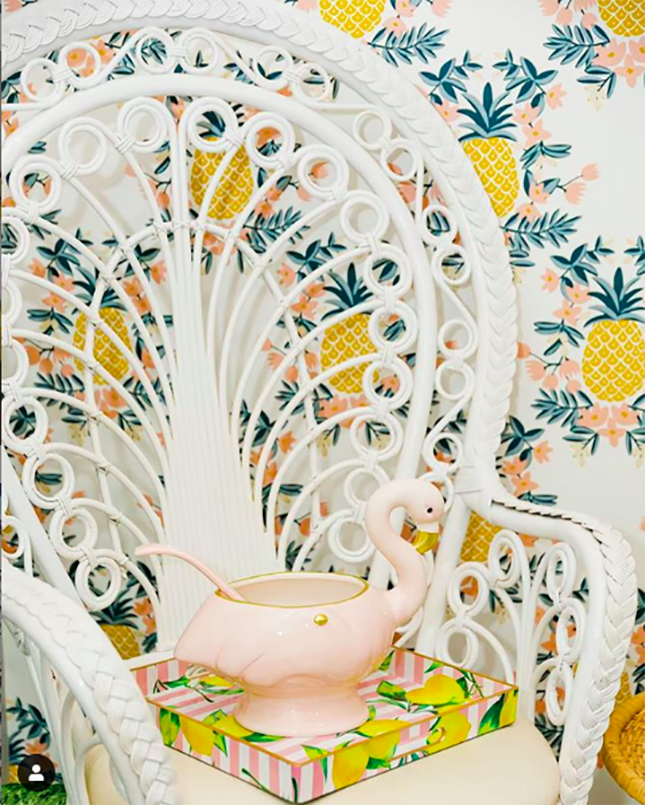 Spray Paint and Chardonnay did a lovely little powder room with the Pineapple print in ebony. Love.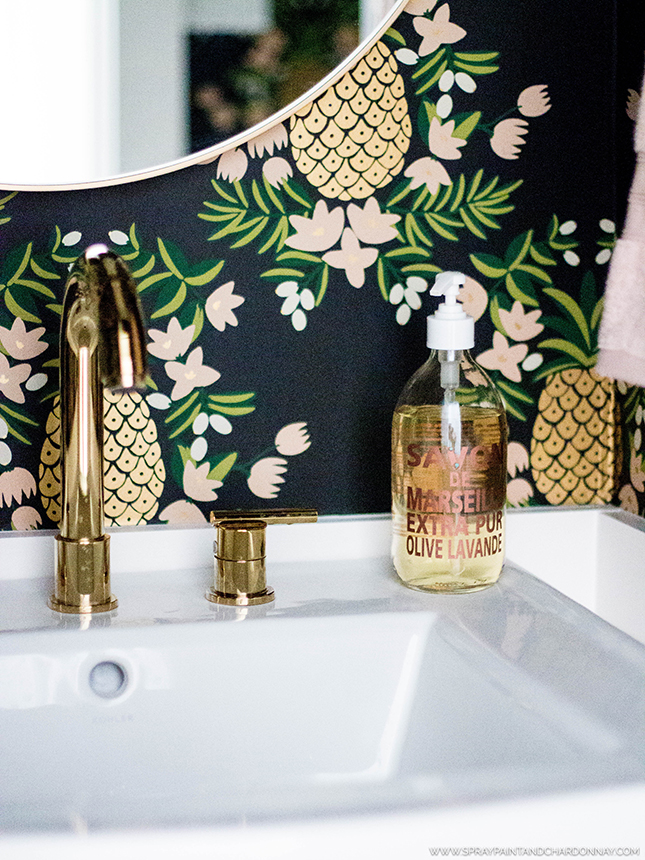 Last but not least, Sonder Stays went bold with an entire wall of the Pineapple print in yellow, in a bedroom. I wouldn't mind resting my head on a pillow here for a minute.