And just like that, my Mid Mod Eclectic Living Room has come to life. With the help of many amazing brand sponsors, my design friends and fellow bloggers, and of course the One Room challenge, I have created a warm, comfortable and eclectic living room in our 1960s Fixer Upper.
Come see what we started with, the plans for our mid mod eclectic living room, our paint & wallpaper decisions, and the colourful touches we made to the space, all before arriving here.
All sources listed at the bottom
*Behr & HomePop & Sazerac Stitches sponsored this post, but all thoughts are my own. Thank you for supporting the brands that make PMQ for two possible.
Grab the tutorial for the upcycled MCM bar cabinet and the source for those Hairpin Legs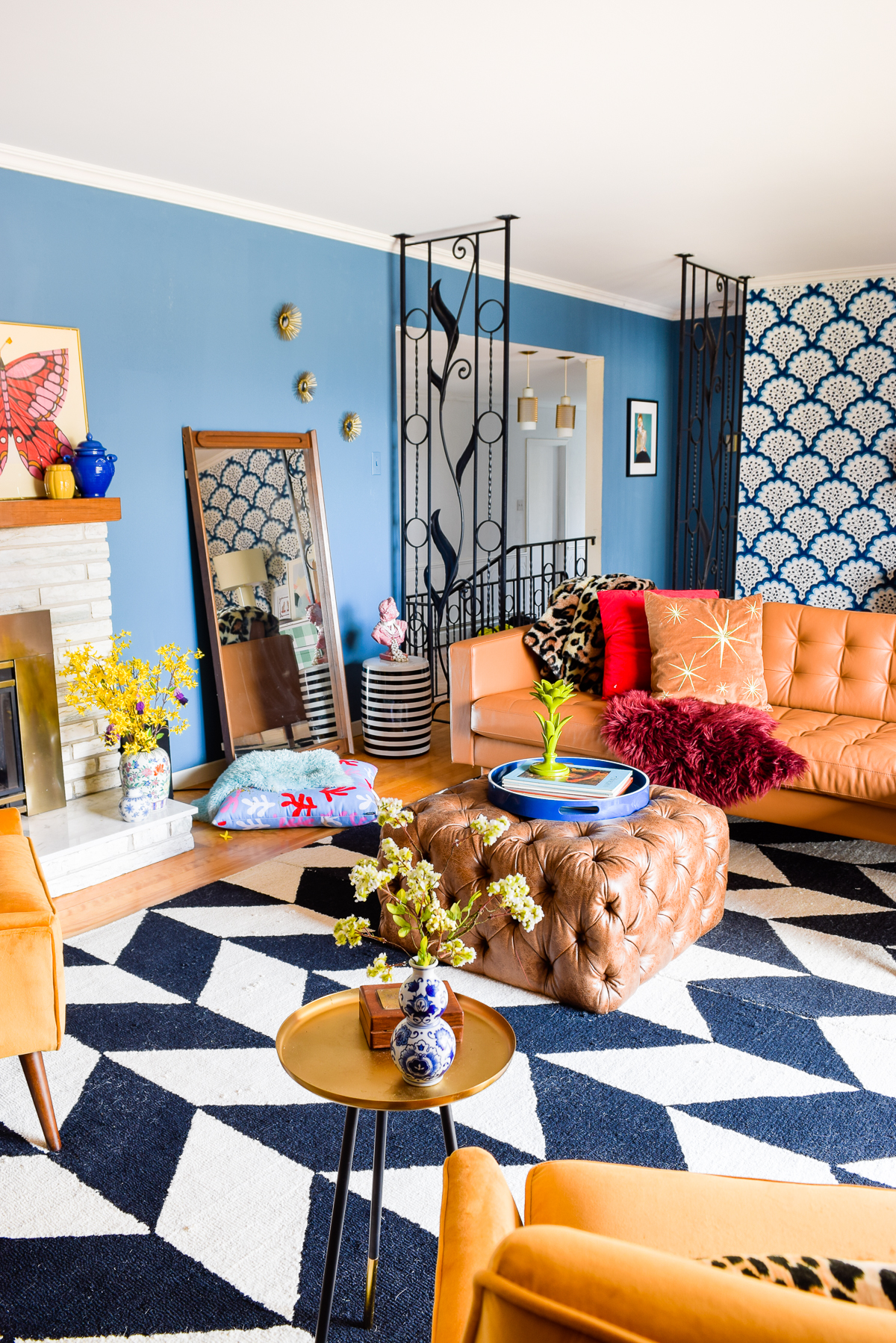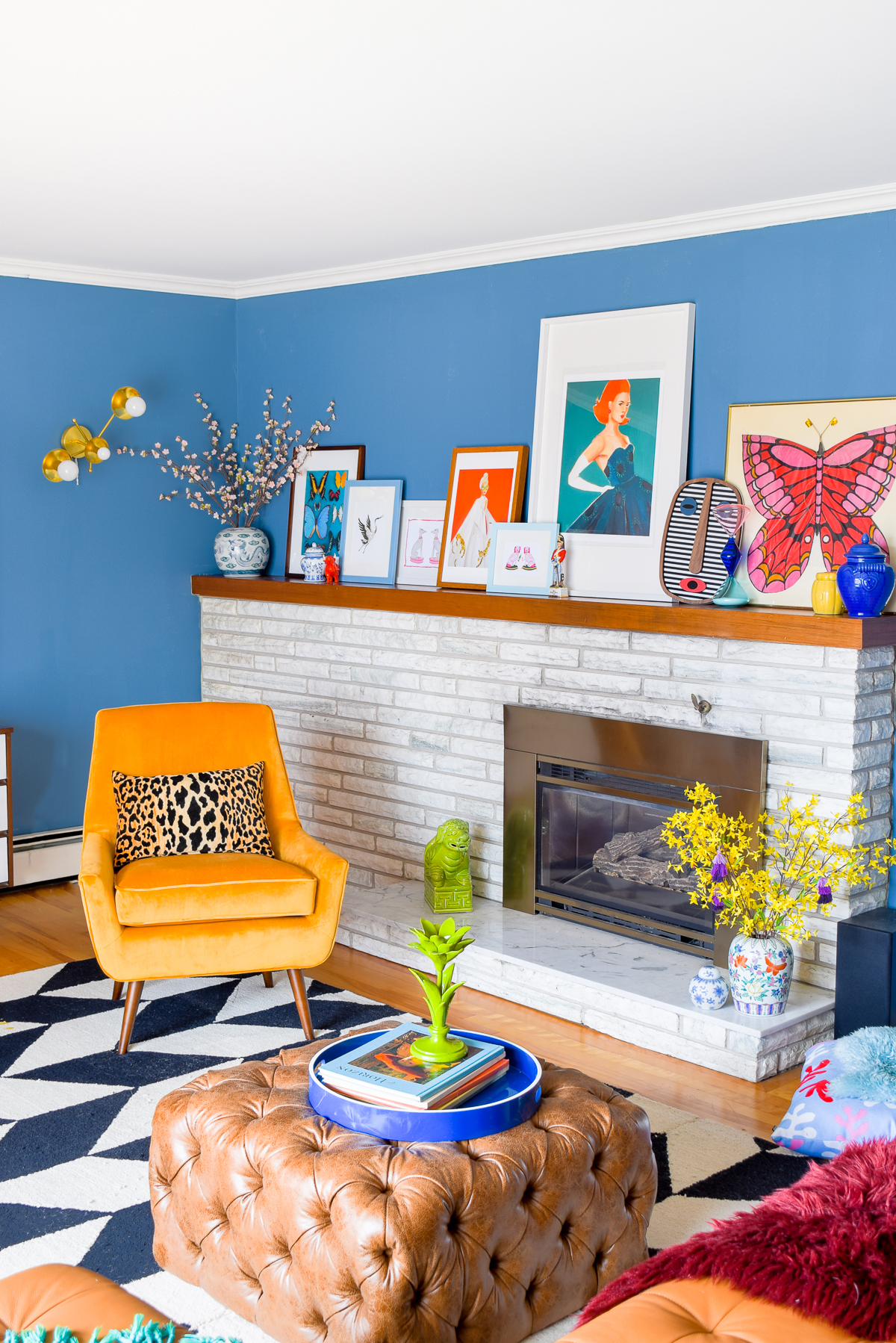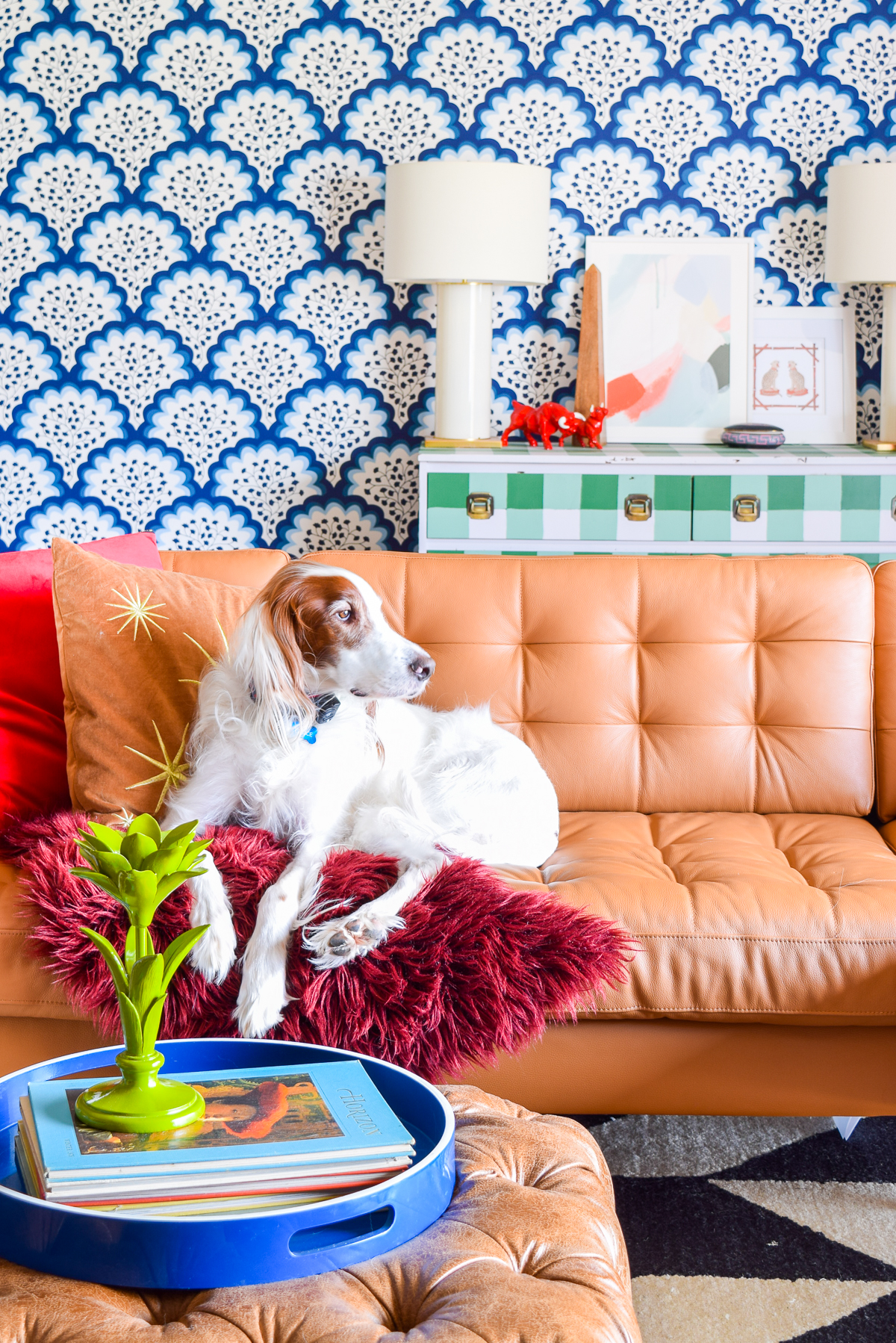 Ok now that we got THAT out of the way, let's talk about each corner of this amazing and colour living room. I'm going to cover each area on it's own, so that you can take in all the goodness one nook at a time. Make sure you check out the other linking participants' space as well!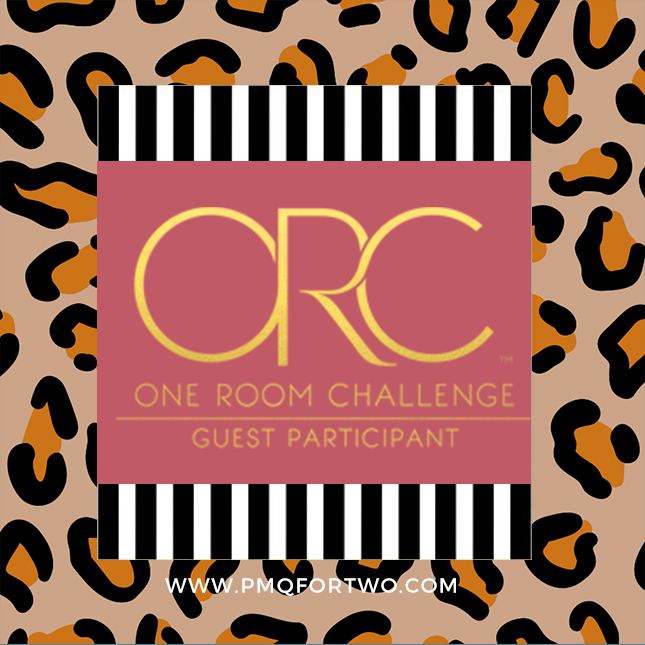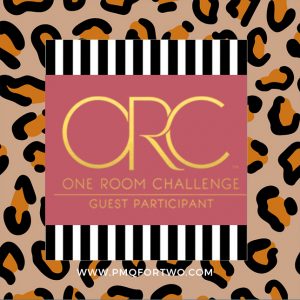 The Eclectic Living Room Portrait Gallery
For the first time ever, we have a fireplace and mantel in our living room. Not only that, but's marble and teak, and OMG I cannot get over how nice it is to have it as a space. That being said, it stands out on its own, so I wanted to do as little as possible to it.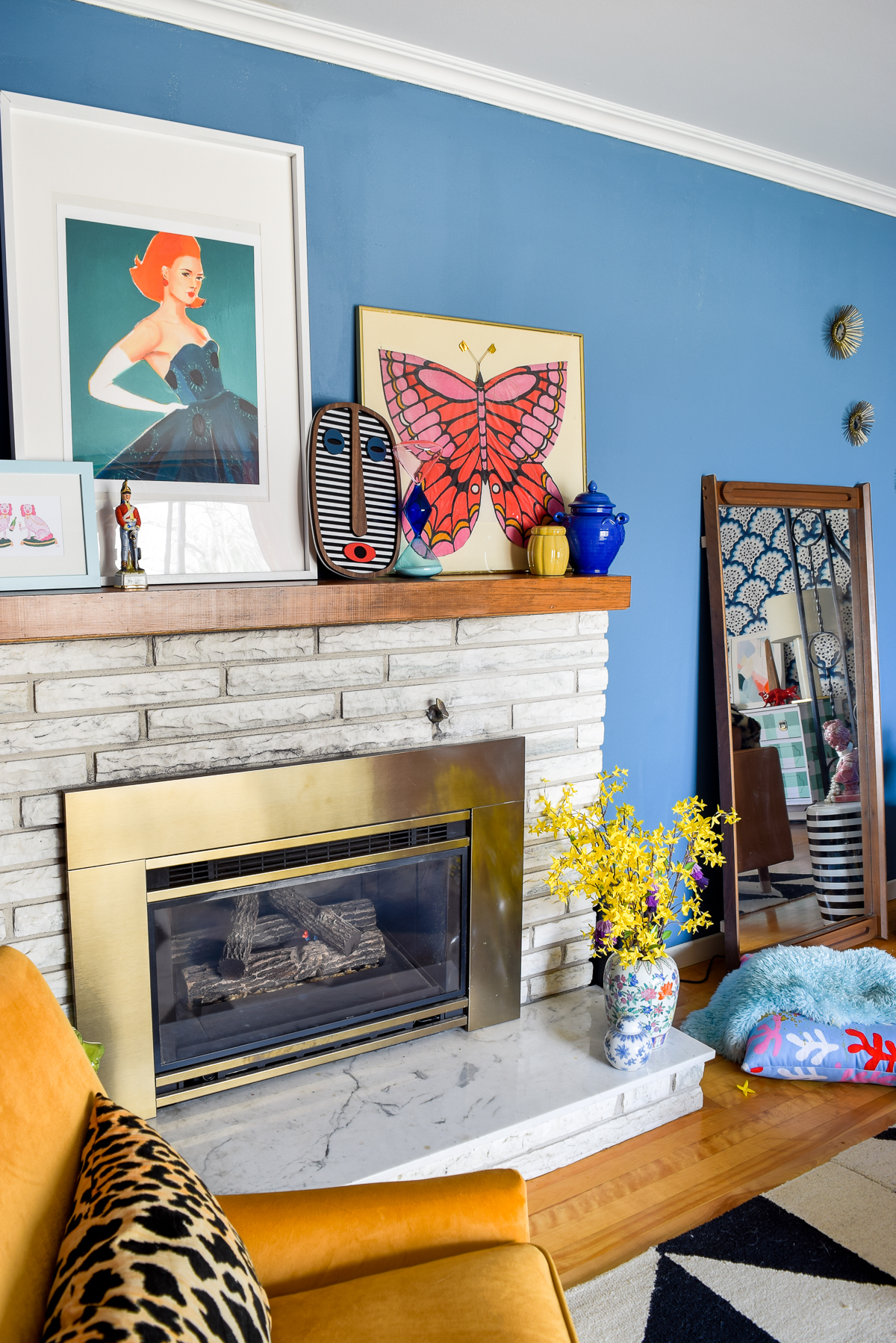 To utilize the feature, without overpowering it, or modifying it, I used the mantel to display a curated collection of portraits and pieces. It's no secret that I love Janet Hill Studio's pieces, so you can see many of hers here. To the collection I've added Willa Heart – her little foo dogs and chinoiserie inspired pieces are the perfect companion to the portraits.
On top of that, you've got my curated finds like the butterfly kite, my ceramic soldier, and a few well chosen hourglasses. The whole is accentuated by some ginger jars and tall colourful branches.
The African Tribal Mask is something I found on Instagram. I've been admiring the store for a while, and was overjoyed that they agreed to send me one for the living room. I think the face is in striking contrast to the more traditional pieces, and really ties it together.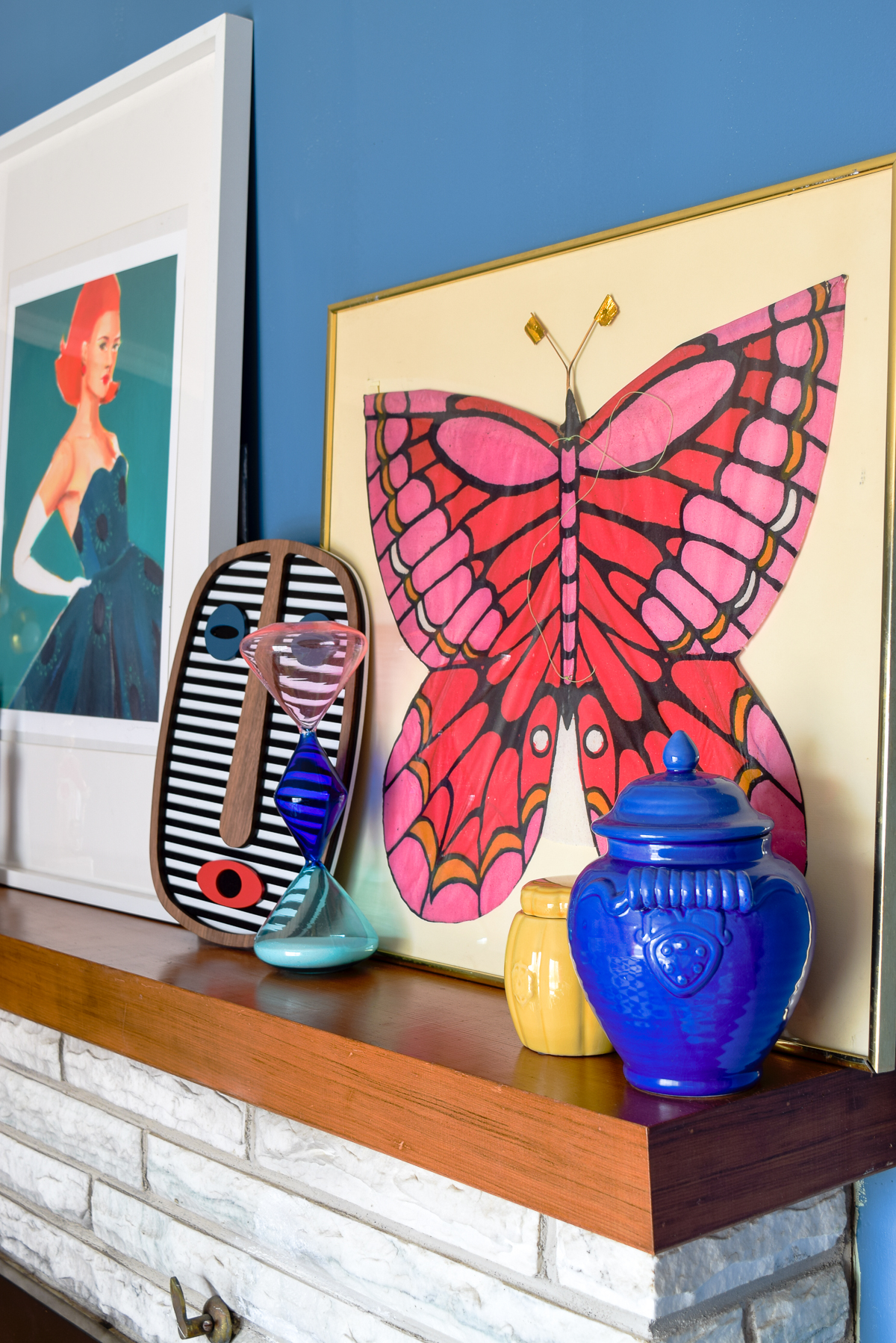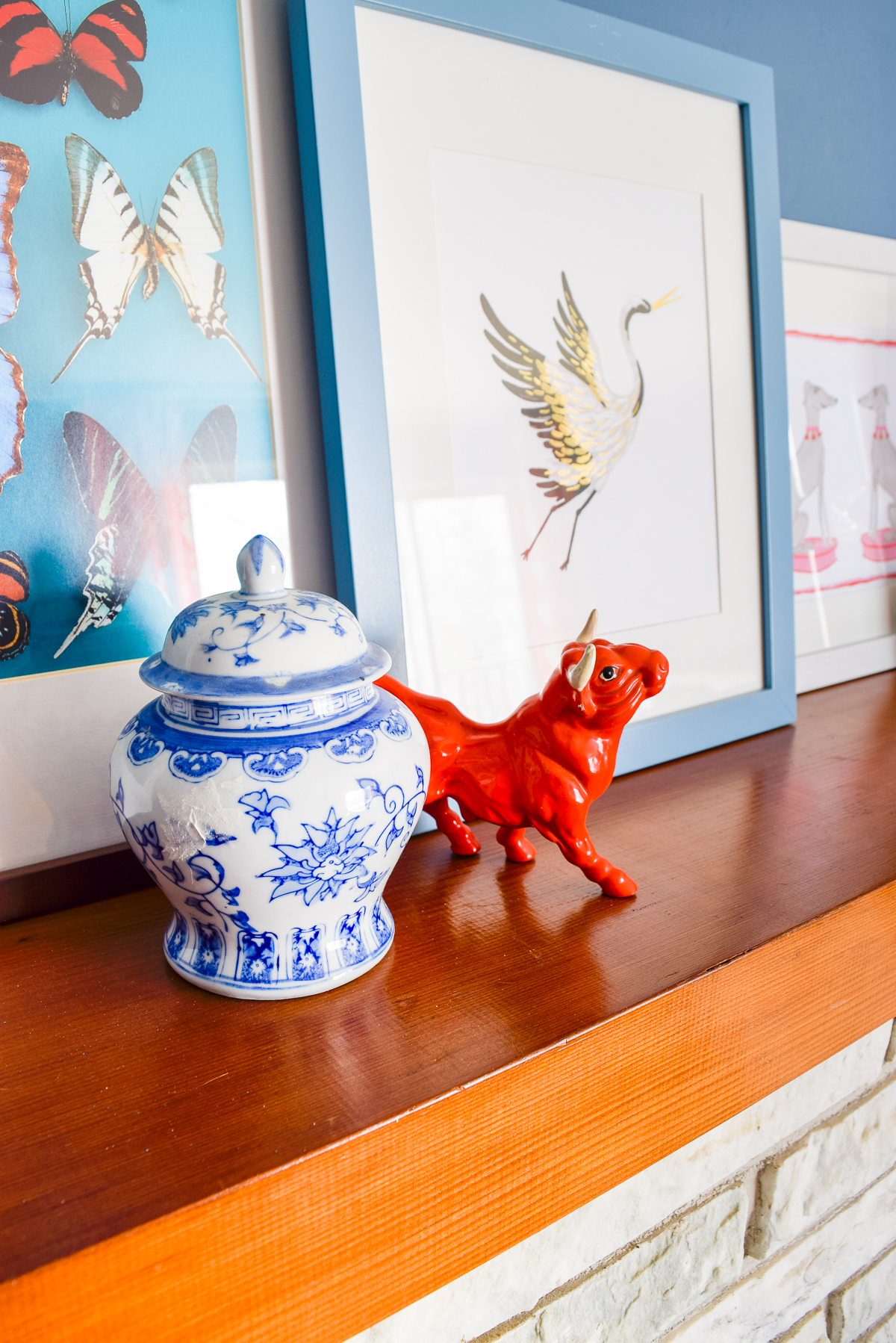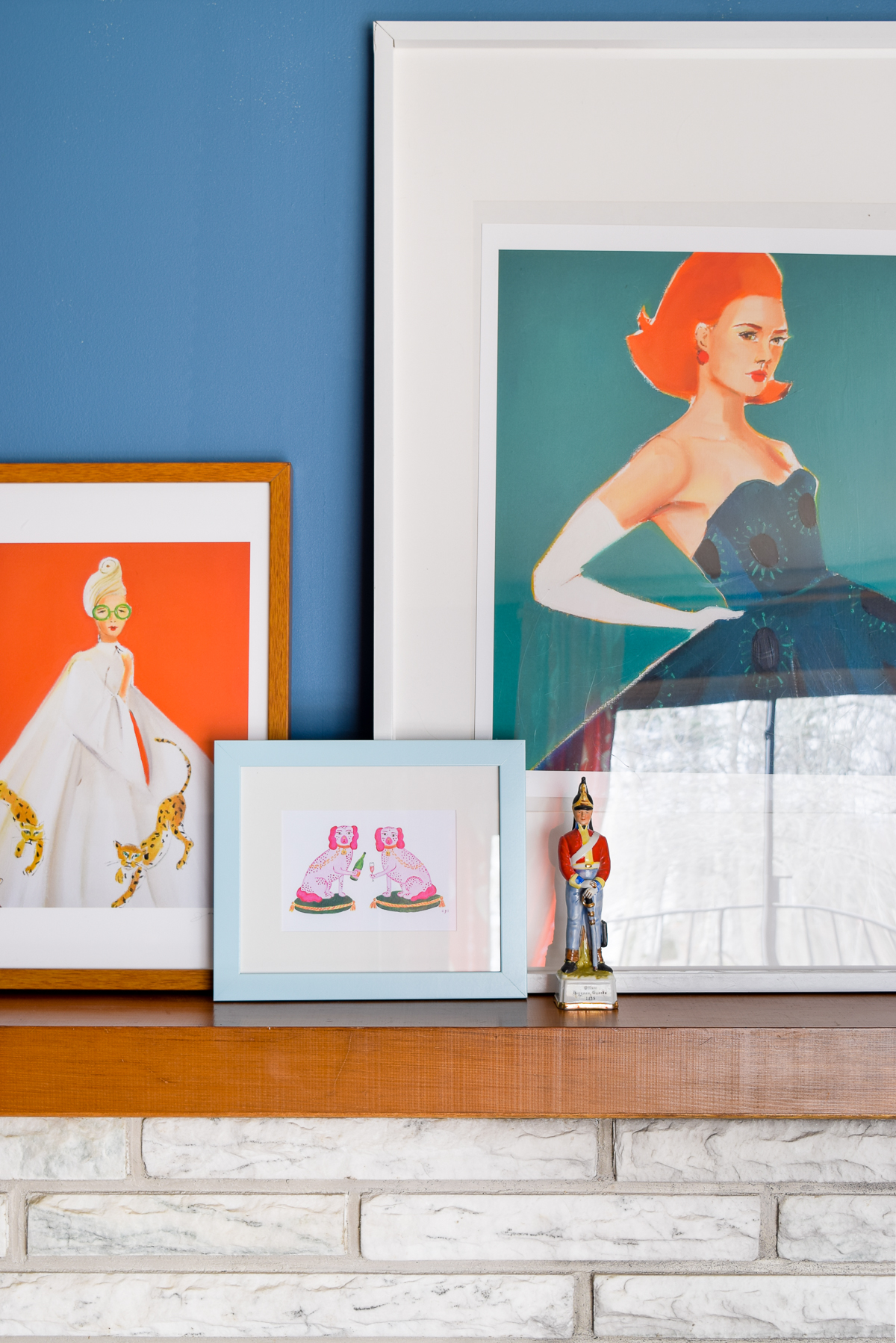 The Mid Century Bar Cabinet
This is a DIY that will be up on the blog next week, but I am beyond thrilled that I got it finished and in place. I've managed to repurpose a white storage cabinet from Home Depot (originally in my home office, and then as part of the Wes Anderson Inspired Credenza).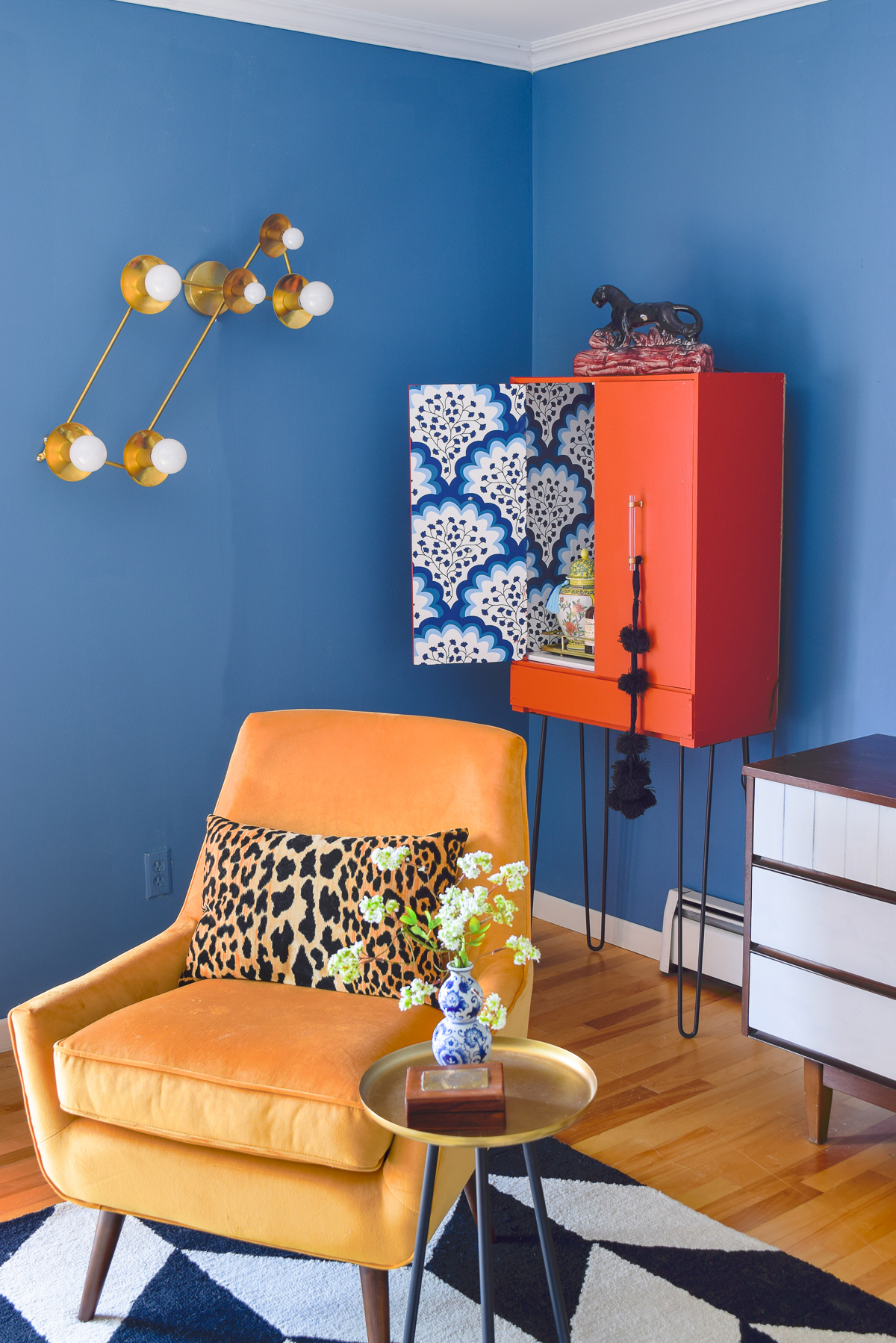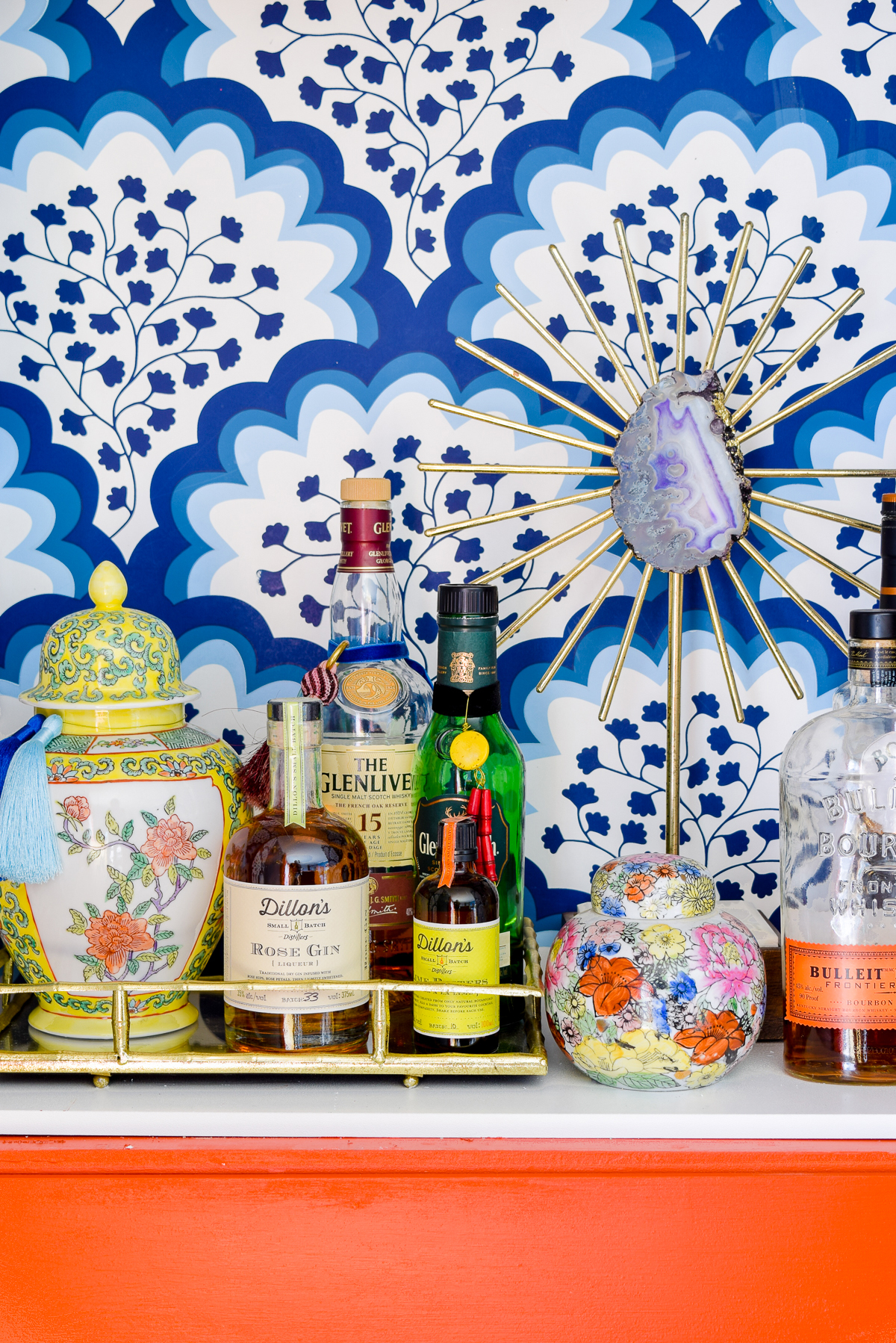 This house does not lack in bar options. Between the bar in the basement, the sideboard in the dining room, and now this bright red piece in the living room. It makes for the perfect little storage area, and a great place to keep seasonal liqueurs.
The retro jaguar TV Lamp was an auction find this summer. We went to bid on a few different items, but quickly got outbid. In the end, we were determined to come home with something, and this lamp is what we got. It hasn't had a home until now, and it's lie it's always been here.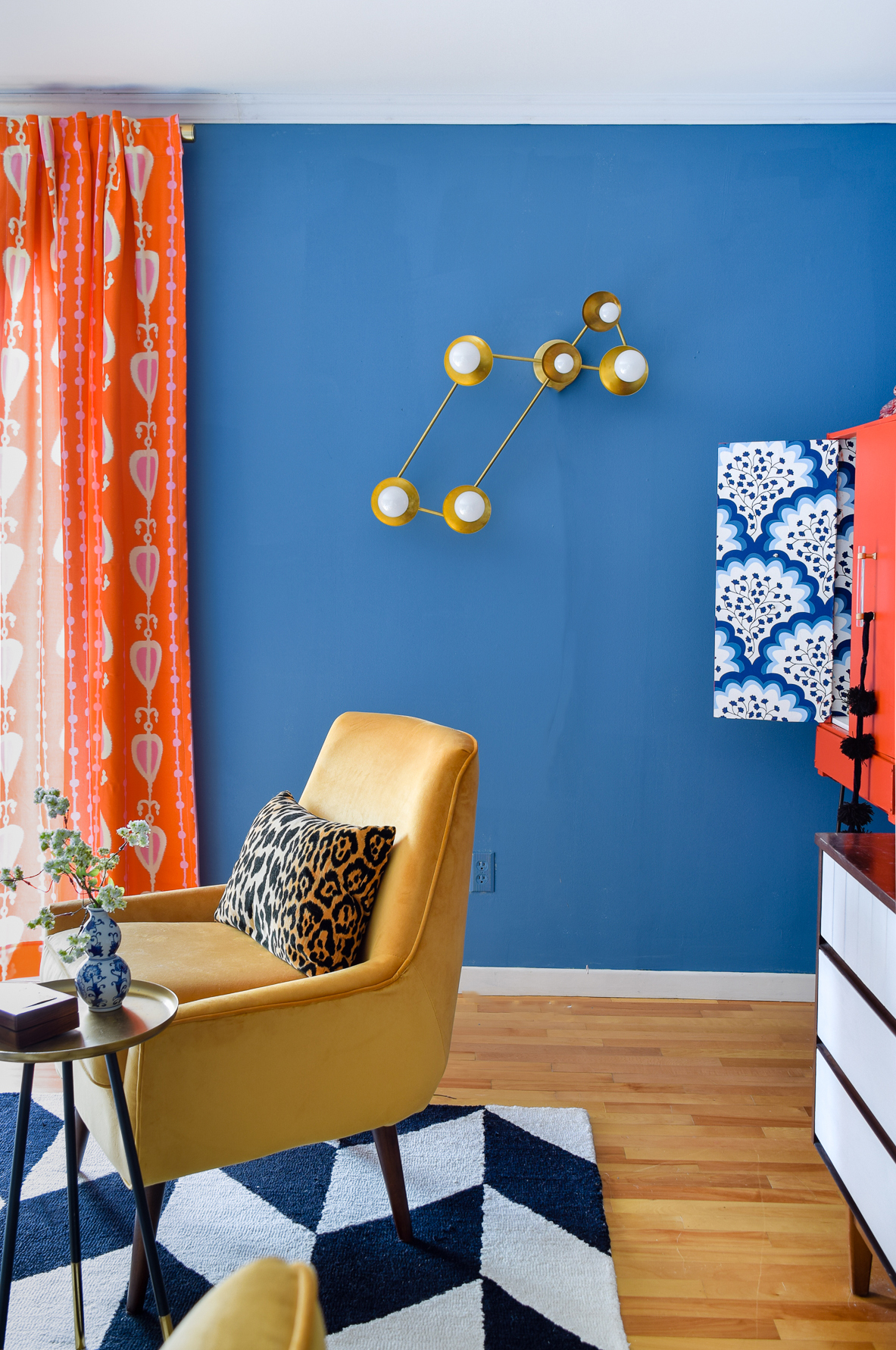 Let's talk about this light we're here. Kristen from Sazerac Stitches approached me about a month ago and we were able to get this amazing fixture (the Lyra) out the door and to me in time for the reveal. It's got a twin elsewhere in the space, but we'll get to that.
The sculptural aspect of the Lyra is stunning, and very mid mod. It's so impactful, it doesn't need anything else on that wall. Boots agrees.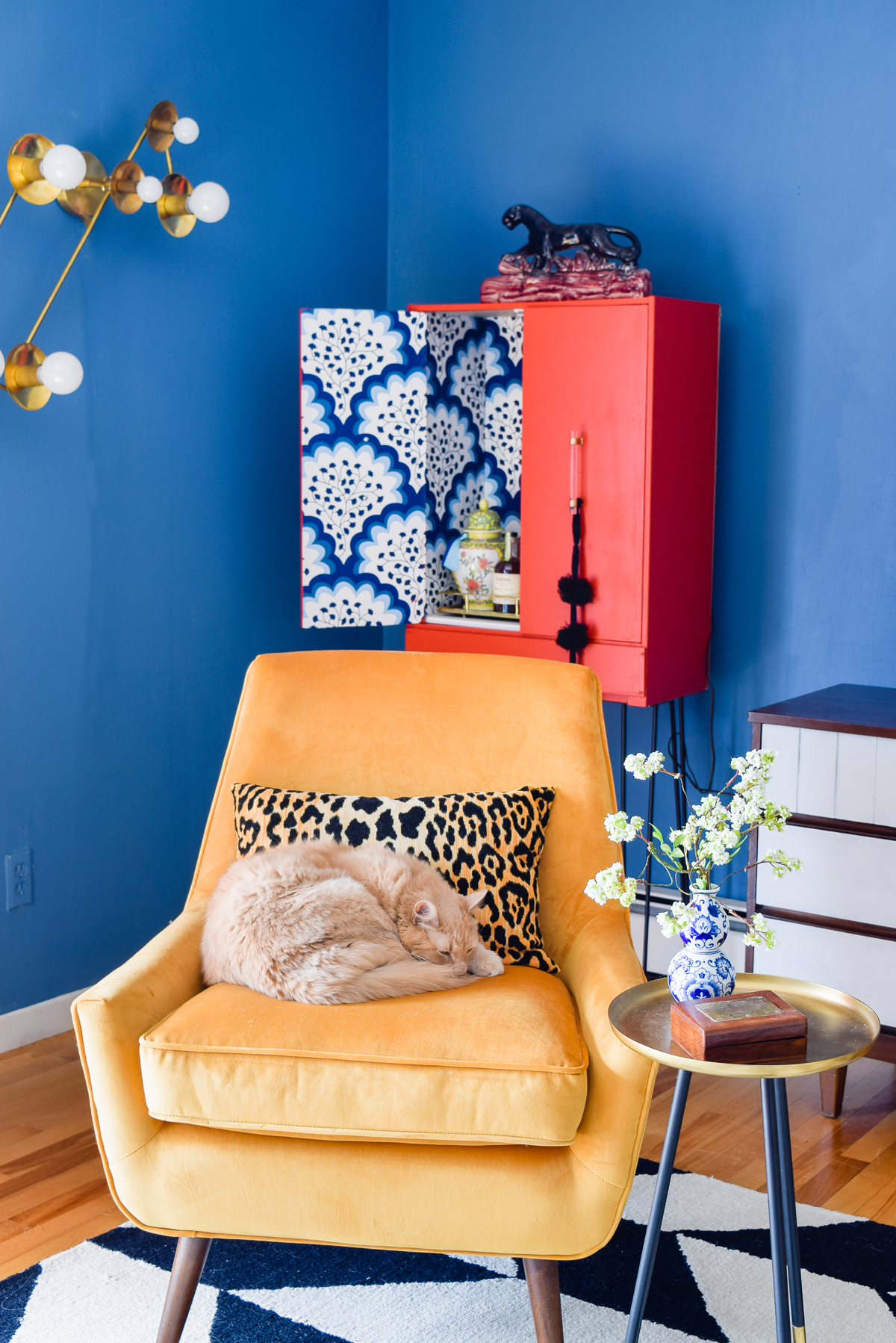 Don't the gold mid century styled chairs look great in the space? I know I've talked about them before, but showing them off in the context of the living room is truly great.
The Mid Century Leather Sectional Couch
This part isn't new, but like the chairs, it's nice to be able to show it off in context of the completed space. We got it earlier this fall and have been enjoying it's warm buttery colour, and sturdy build ever since. We accented it with a tufted leather ottoman from HomePop, and some well chosen soft furnishing.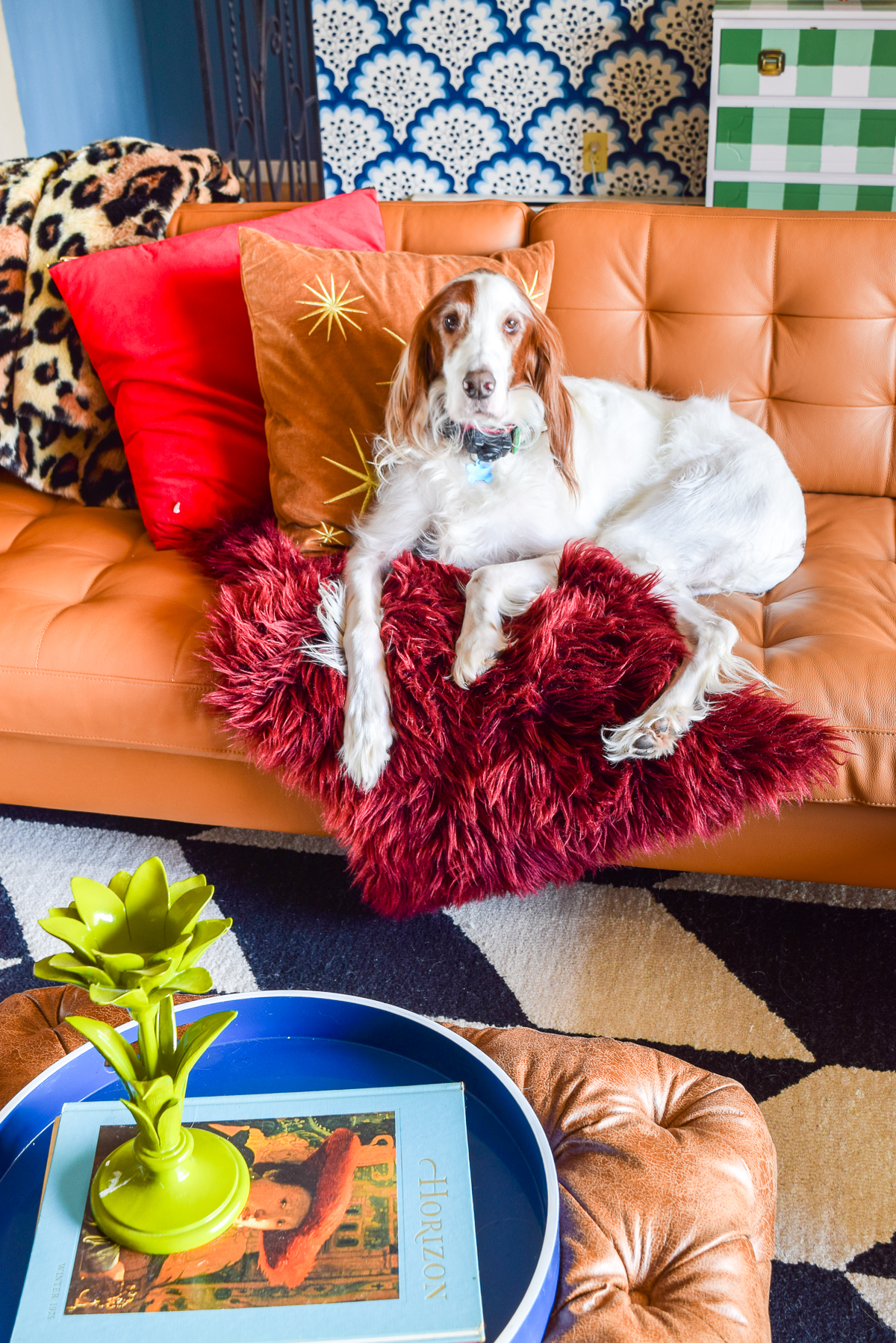 If you've been following me on Instagram, you know that I've had an ongoing saga with Anthropologie over the arrival of a blanket, that — much like Lebowski's rug — will tie the room together. Would you believe that it arrived a few hours after I finished shooting the completed space?!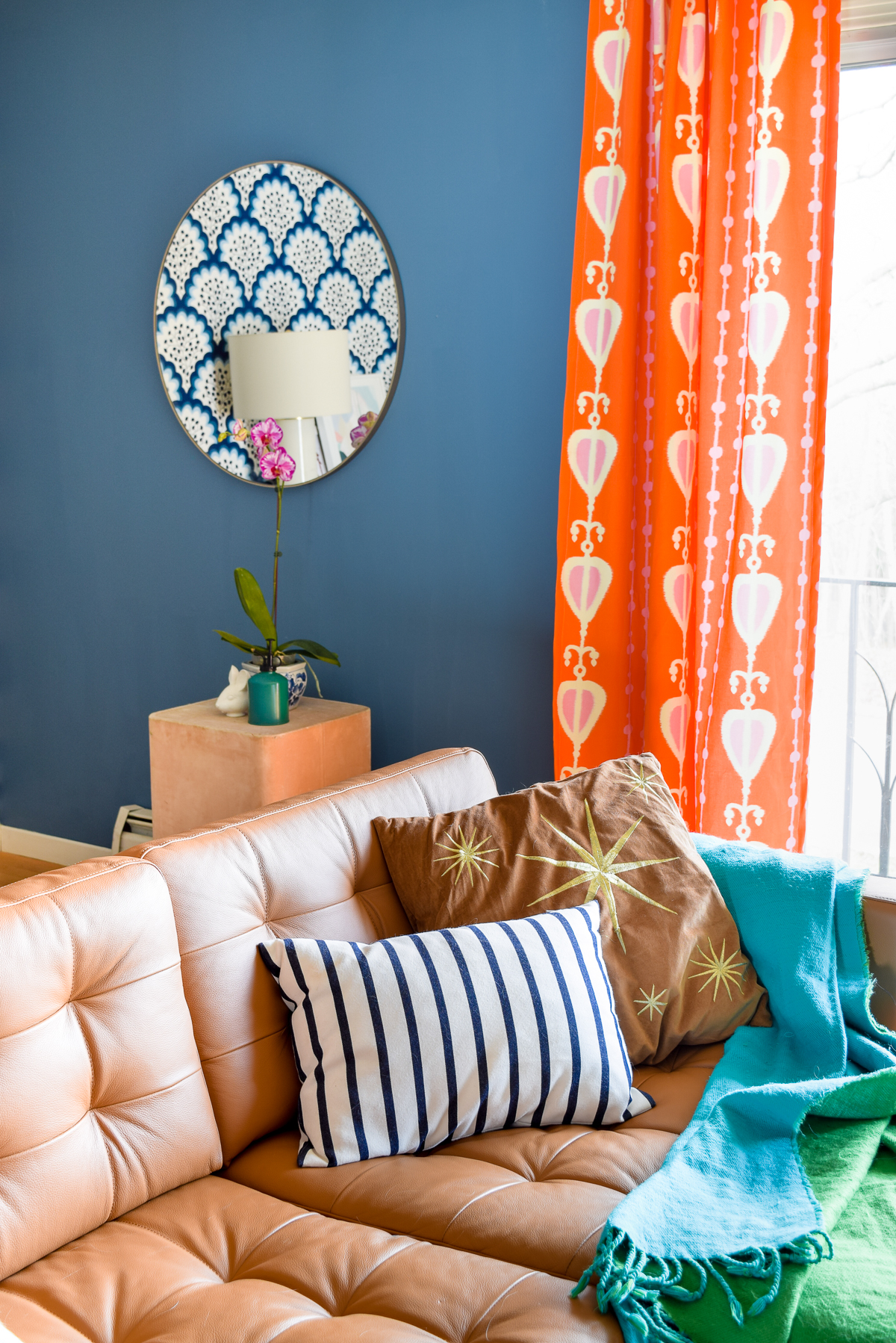 The sectional is a first for us, but because it's IKEA, if we ever need to make it smaller to fit a different home, we just take the chaise off. Super easy!
You can spy our new curtains from Roostery here. They really brighten the room, and make it feel like me. The punchy ikat pattern in orange and pink, would likely not be people's first choice for curtains, but they're mine – and they're perfect.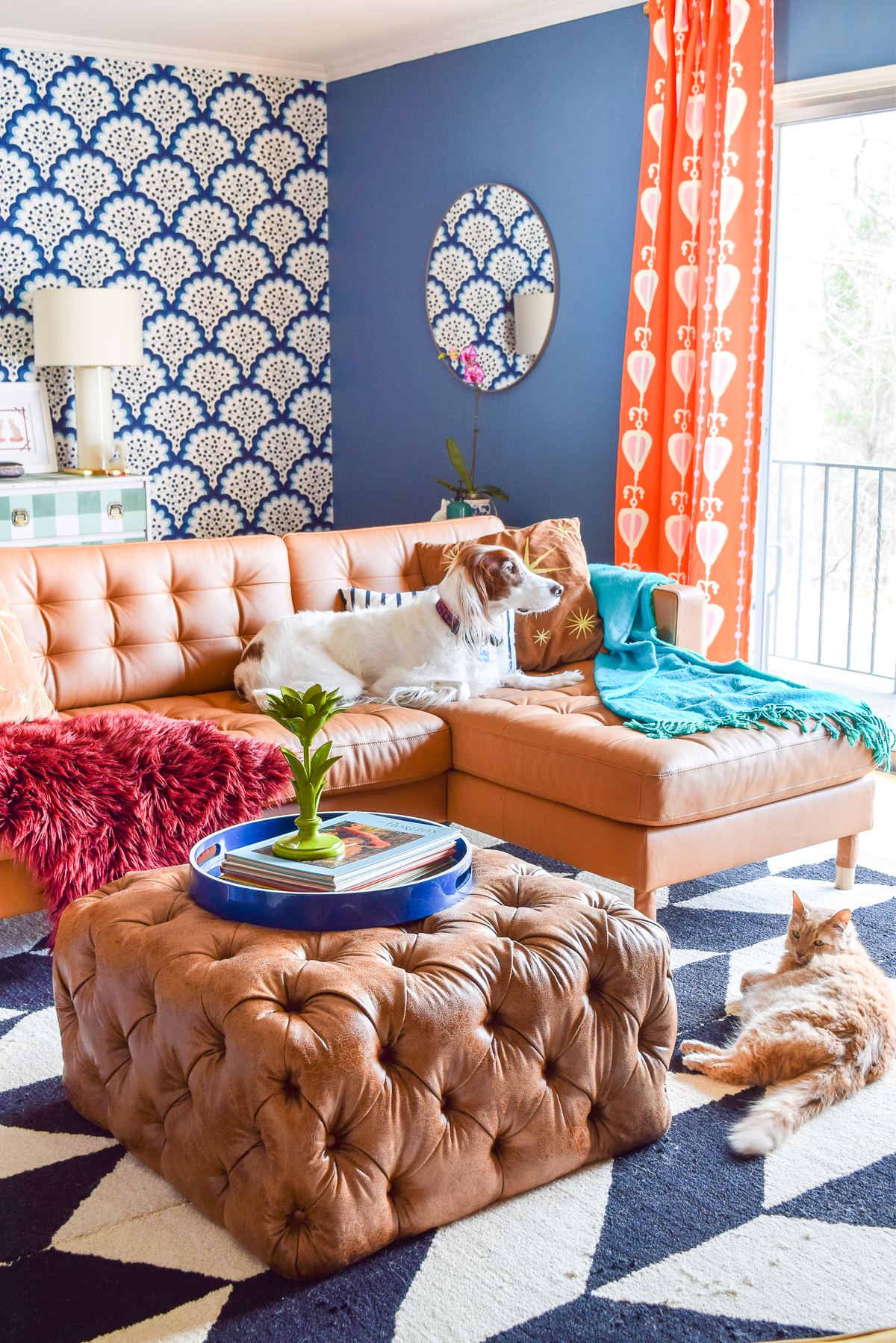 Because no photo shoot is complete without the pets making themselves known – here are Bruce and Boots enjoying the sunshine while I slave away. They both quite like the ottoman: Bruce, because he can put toys on it. Boots, because he can sit on it like a throne.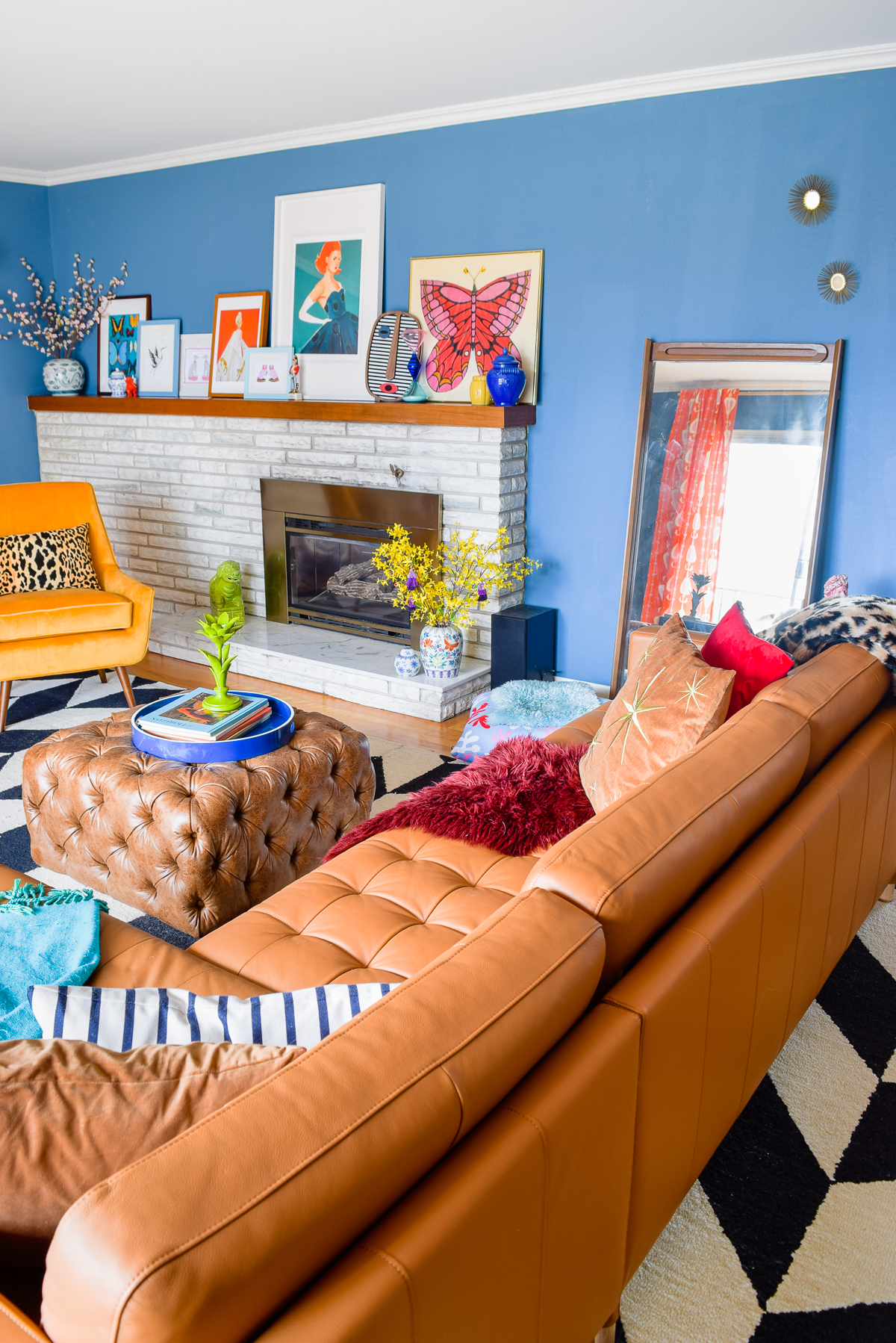 The Eclectic Wallpaper Accent Wall
Y'all got a whiff of what was to come in week 4 when I announced that I was going to add in wallpaper, but if you had seen my plans from week 2, you would have known it was an option. Week 5 I showed it off in place, and now you get to see it all!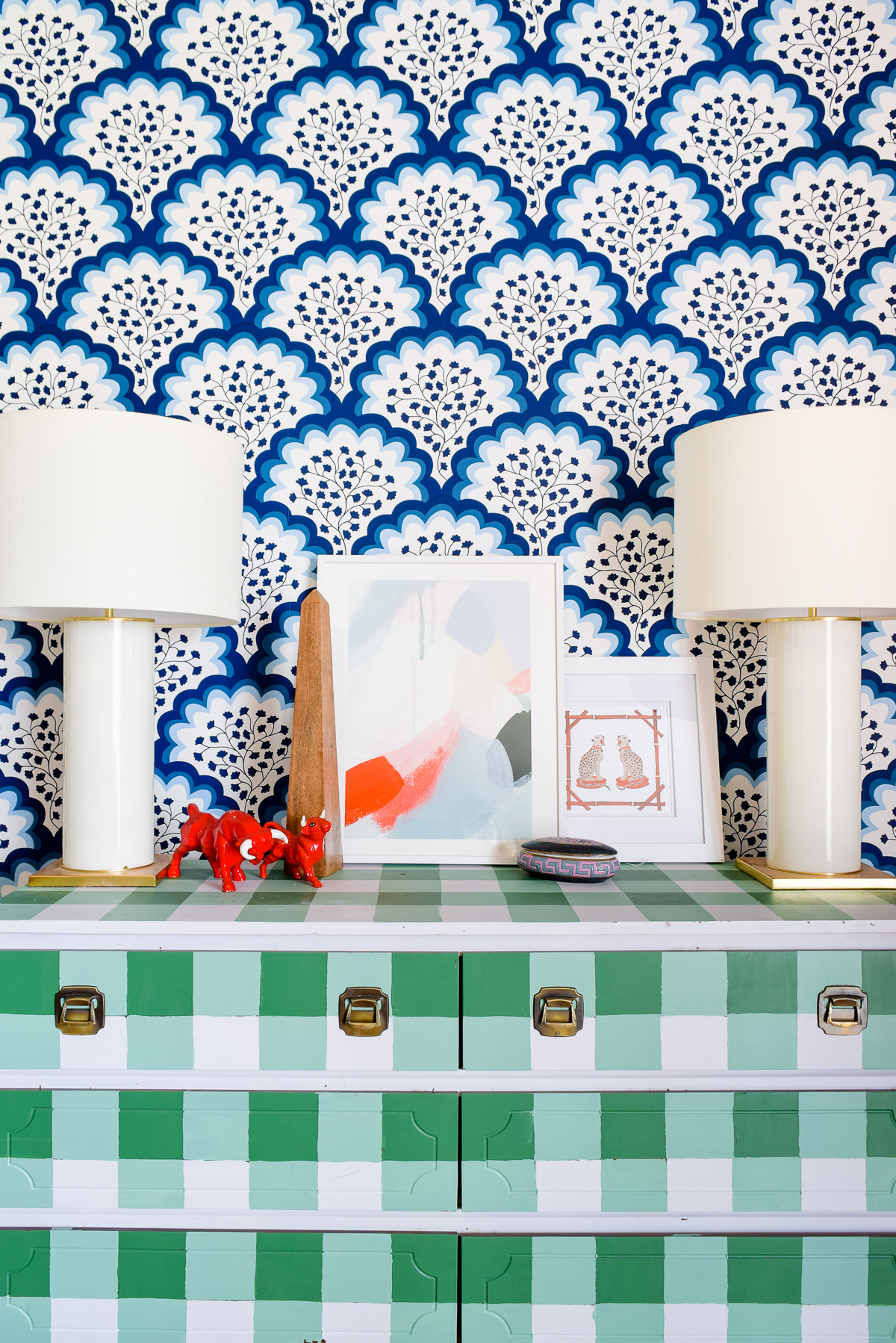 It makes SUCH a statement, and will serve us well for years to come. Once we got it on the walls, I wanted to use it on literally very surface, but that's a no-no, so I was happy to use the leftovers in the bar cabinet.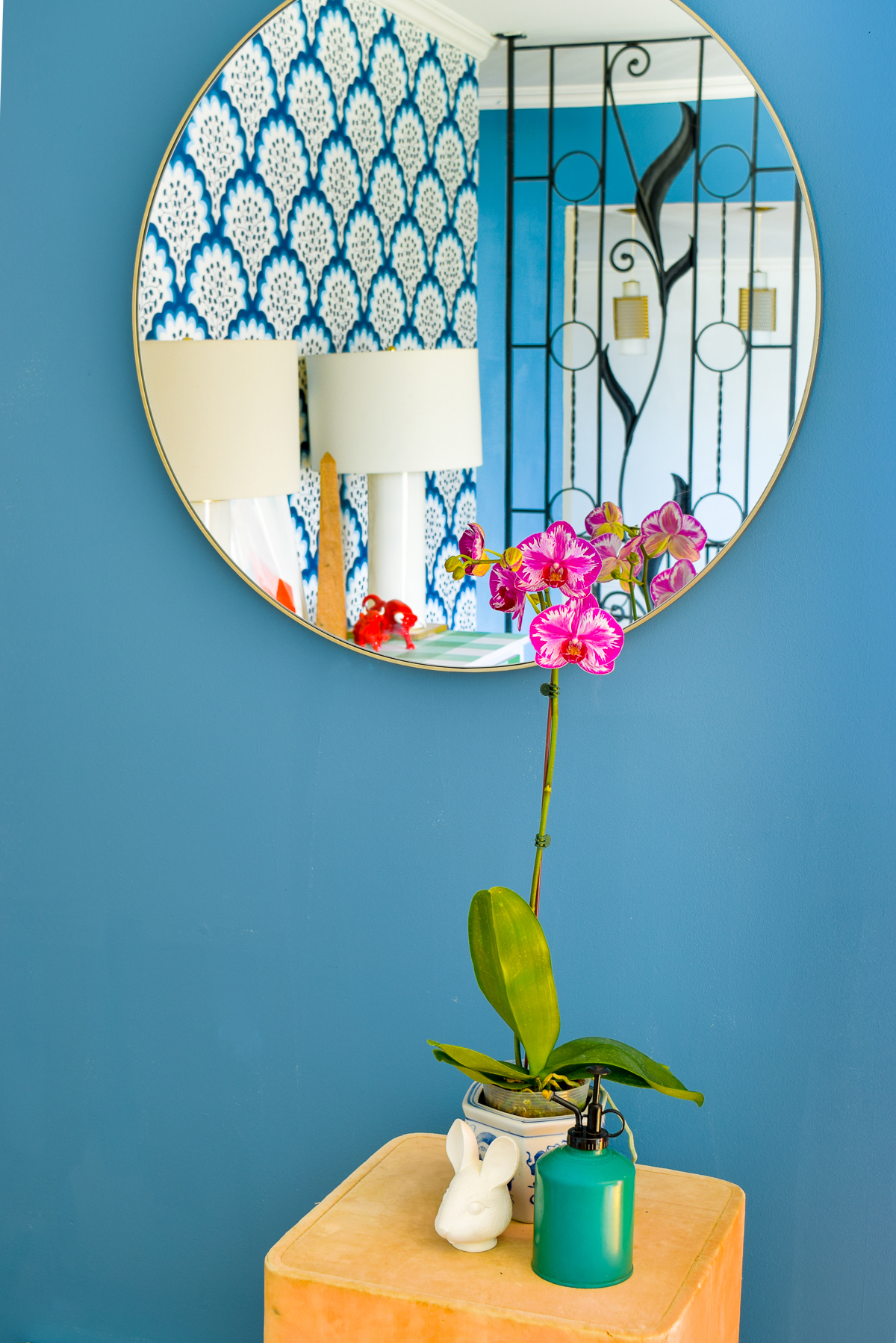 One of the reasons I love the wallpaper, is that it plays off the blue on the walls oh so well. We use Behr's colour of the year Blueprint in our mid mod eclectic living room, and are thrilled with it. At first I was worried it was too dark, but once I got the wallpaper on the wall, the paint took on a new life in contract, and it now reflected in all the finishing choices we made.
I'm still learning how to photograph this house (and therefore how to edit the photos), so bear with me if the blue hues aren't exactly the same. The way the light travels through the space is truly mesmerizing, so it's only natural that it would change the way the walls look throughout.
The Mid Century Fretwork Panels
These are a feature that came with the house, and one of the reasons that we initially came to look at it too. I mean, how many homes these days come with two giant mid century iron panels, that match the railings inside and out? Not many.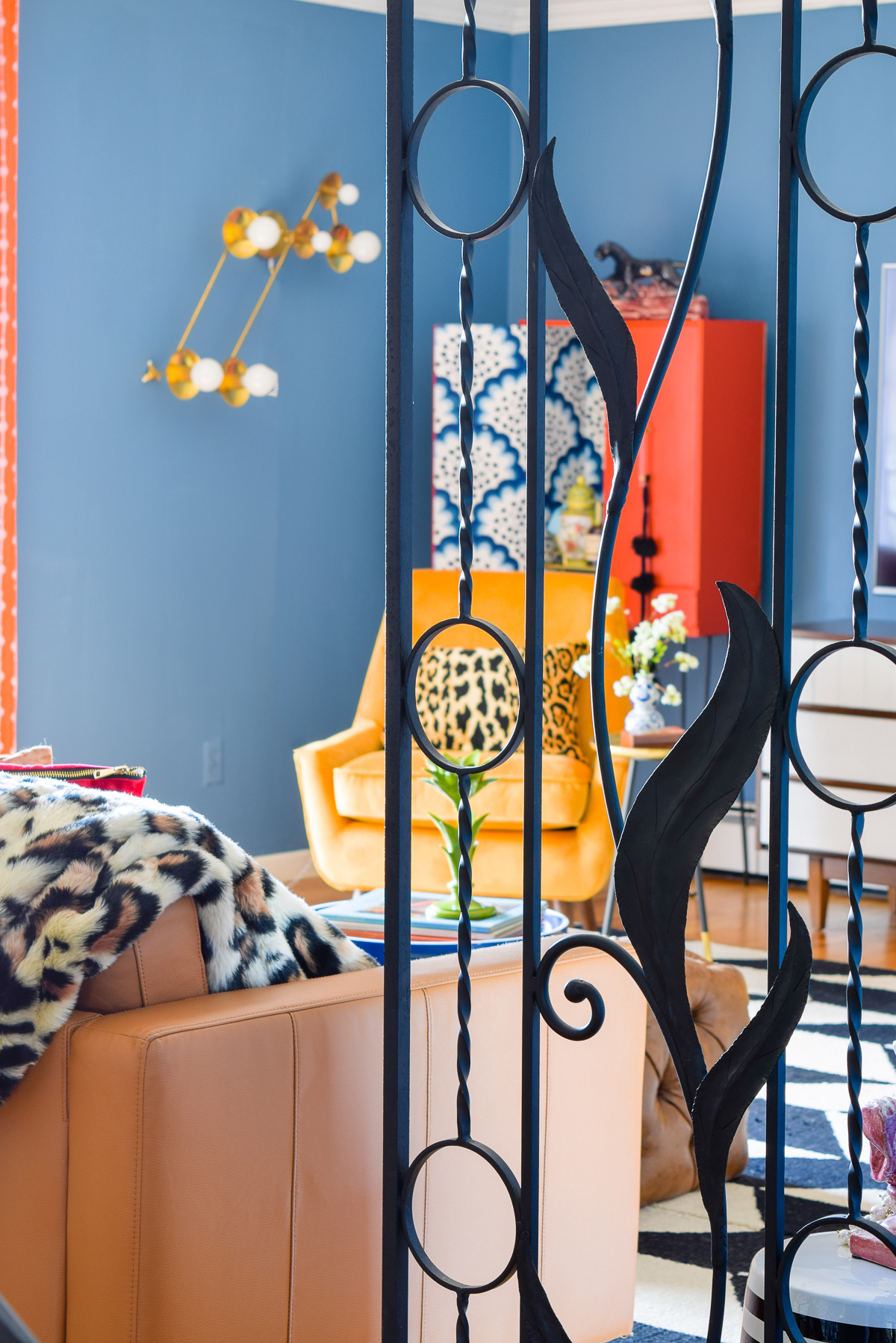 So with each step I take towards the living room when I come home, I am greeted by a wave of texture, depth, and history. It's perfect. These panels are one of the first things people remark on.
Furniture And Decor Sources For Our Mid Mod Eclectic Living Room
Wall Colour: Behr's Blueprint S470-5
Wallpaper: Hygge & West Angelina (in Navy) 
Carpets: two 7 x 9'6″ Theria Retro Checker Tiles
Accent Chairs: HomePop's The Dean
Sectional Couch: IKEA's Landskrona
Leather Ottoman: HomePop's Large Square All Over
Light Fixture no1: Sazerac Stitches's Lyra
Light Fixture no2: Sazerac Stitches's Zodiac 1
Curtains: Roostery The Sweetheart Stripe 
Bar Cabinet: DIY tutorial for an Upcycled MCM Bar Cabinet
Buffalo Check Dresser: DIY on Fusion Mineral Paint Blog
Dresser under TV: Thrifted and painted
Art on the mantel: Janet Hill Studio's White Glove, Janet Hill Studio's Catty Cathy, UMASQU's Modern African Mask #1, Willa Heart's Bitsy & Tipsy, Willa Heart's Bernice & Clarice,  Jenny's Print Shop Butterflies.
Art on the Buffalo Plaid Dresser: Willa Heart's Cheetah Girls, Minted's Enliven Art Print
Pillows on Gold Chairs: from Tonic Living – no longer sold
everything was thrifted or purchased as one-of-a-kind.
Shop the mid mod eclectic living room look