It's getting to be that time of year! I, for one, couldn't be happier. There's something in the air, an extra spring in my step (and espresso shot in my coffee), and I get to do all the fun things like wrap gifts that look like they were done in a fancy store. I've partnered with Spoonflower to show you guys how to throw a gift wrap party (with a gift exchange).
You know what goes with a Christmas Party? A DIY Gingerbread Vodka Moscow Mule, a DIY Hot Cocoa Bar, a recipe for Spicy Hot Chocolate and homemade marshmallows. 
*Spoonflower sponsored this post, but all thoughts are my own. Thank you for supporting the brands that make PMQ for two possible.
One thing's for sure, you need a whack ton of gift wrap! Did you know that Spoonflower makes wrapping paper? That's right! Any pattern that you fall in love with, can be printed for all your gifting needs — it's kind of perfect.
Hosting a gift wrap party makes a lot of sense, if you and your friends have all done a lot of seasonal prep and already have your presents on hand. Send out an invite, and tell them to bring their fave pair of scissors, and gifts in a bag big enough to hold extra bows and what not.
With the madness of the holiday season, this may be the only way you get to see them and be productive, so hop to!
Picking The Right Gift Wrap
When it comes to choosing which paper to use, you may be a fan of recycling what you've got left over from years before (and that's a great idea!) but you should add at least one fresh pattern or print each year. It helps keep things fresh and festive.
I try to match my gift wrap to my colour palette for the season. Things will look better sitting under the tree if they match the rest of the decor, and they'll stand out under another's tree.
I used: Popcorn Strings, Vintage Reindeer Bust on Light Blue, No Peeking!, Atomic Holly, Stitched Gingham.
I've rounded up my faves (including many from this shoot) in a handy dandy collection for you to shop them easily. Just like mixing colours and patterns in decor, the same principles apply to gift wrap: mix a big pattern with a finer one, in contrasting but complimentary colours. Avoid doing everything in the same colour, and try to bring something non-traditional into the mix, just to keep things fresh.
What You Need to Host A Gift Wrap Party
So now that you've made your gift wrap selections, ordered them online through Spoonflower, and sent out the invite, you need to make sure all the trimmings are on hand!
I keep a wide variety of ribbons, tassels, poms, beads, tiny ornaments (that I don't mind parting with) and lots of tape! Because I can only really justify having one good pair of scissors, I ask that guests bring their faves.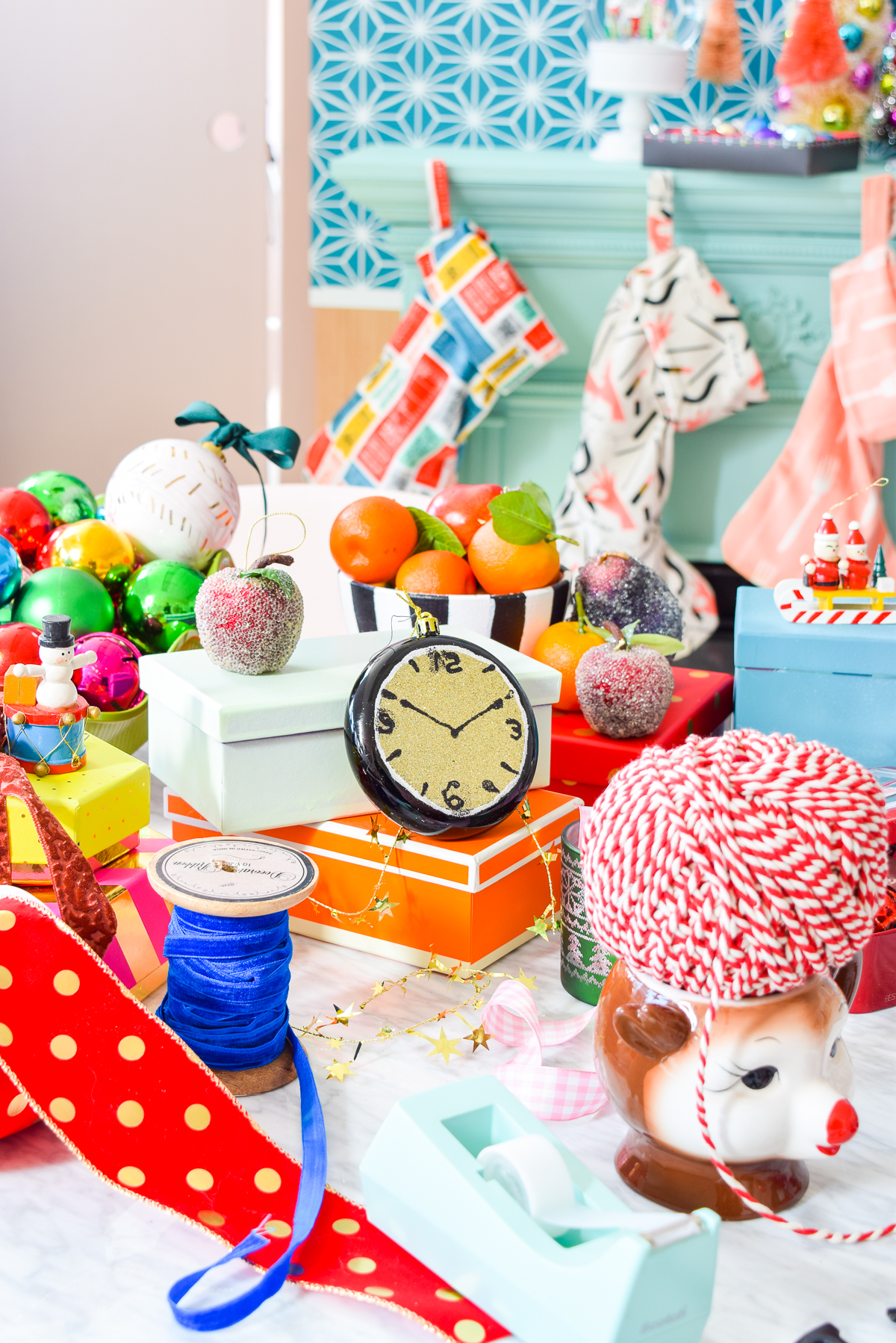 I've written posts in the past, about how to wrap a gift, but this year I've gone a step further and created videos! So make sure you check out my IGTV to catch those. And if you have any good tips, send them my way!
Hosting A Gift Wrap Party
You've laid all the groundwork, and now it's time to actually host! Other than putting on a seasonal spread of cookies, eggnog (and Rhum), it's a good idea to have a killer soundtrack.
I've got a recipe for a killer DIY Gingerbread Vodka Moscow Mule from last year, as a DIY Hot Cocoa Bar, a recipe for Spicy Hot Chocolate and homemade marshmallows. If all else fails, check out my post with 6 tips for hosting the perfect Christmas Party.
I asked my gal pals to dress up a bit, so that after the party we could exchange gifts with each other, before taking everything home for the tree.
Would you host a gift wrap party? What are some of your top gift wrapping tips? Let me know in the comments below!