Remember how when I unveiled my Floral Glam master bedroom I said I'd be giving you all a detailed look inside the closet? Well today is the day! I'm showing you how we took the very sad little space from drab to fab with the help of wallpaper, gold shelf brackets, and all the magic that is my wardrobe (Dan's is less than interesting compared to mine).
Check out my other master closet makeover in our rental
*Crates & Pallet sponsored this post, but all thoughts are my own.  Thank you for supporting the brands that make PMQ for two possible.
As I detailed in my room series about the makeover, starting with the before/plans, the progress, and then the reveal — we had a lot of space to work with, and this for the first time ever. It was quite a change AND a challenge. Chief among them, we have a walk-in closet. It's dark in there, and not only did we hate the light, but we hated the shelving situation.
The BEFORE closet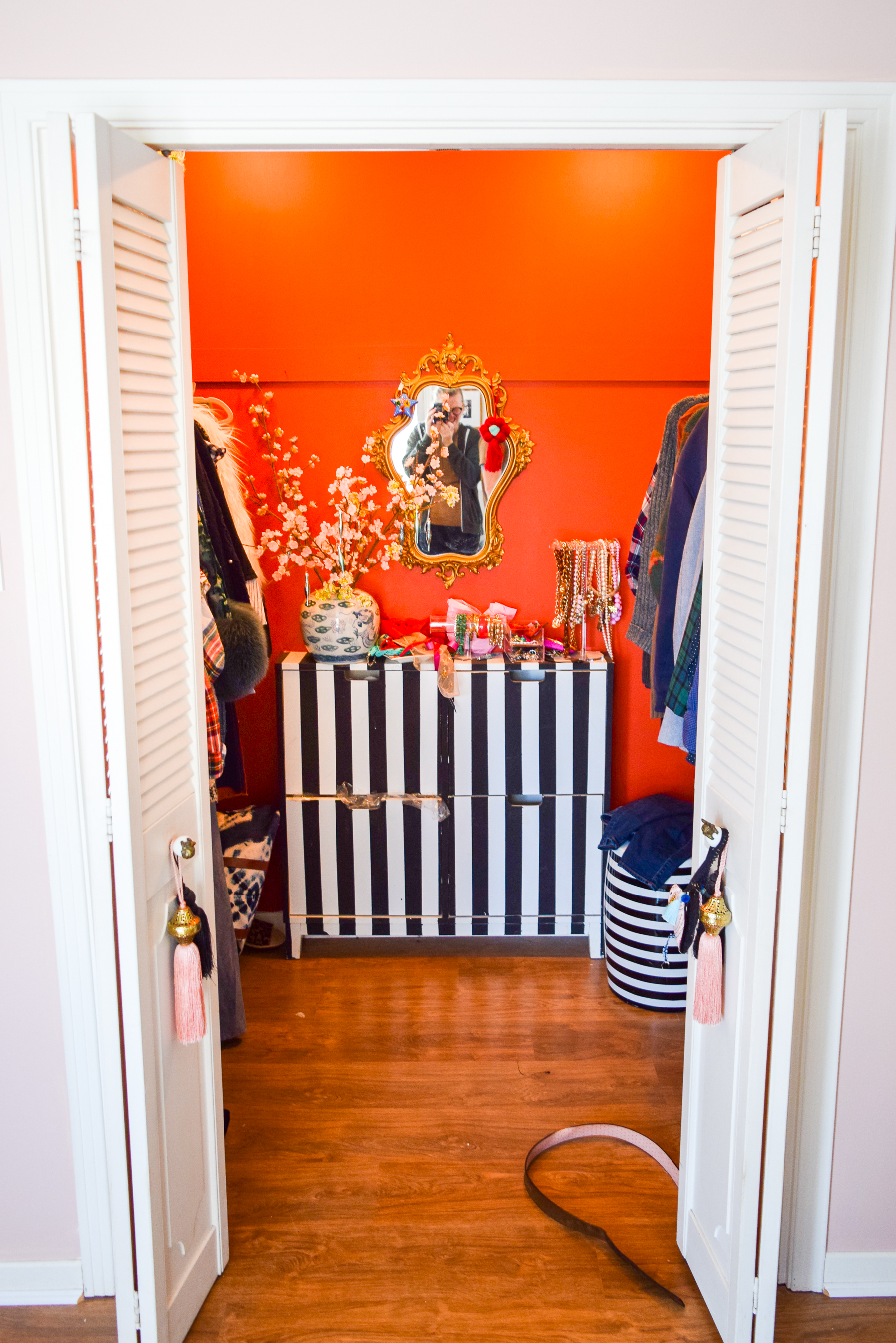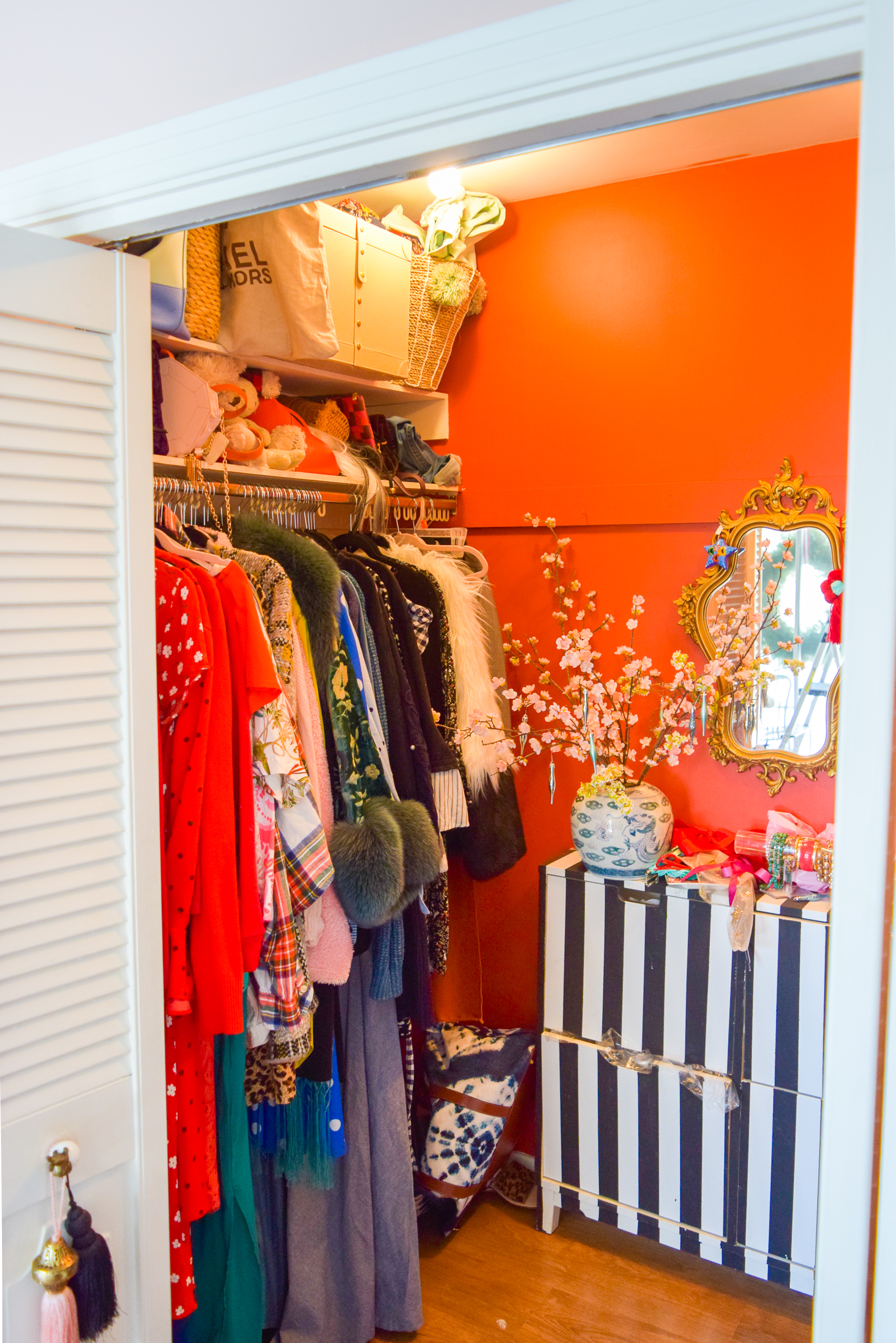 As you can see, our shelving was original to the house. It was installed on these large wood braces that ran around the perimeter of the entire closet. It wasn't sexy, wasn't the most stable, and was not going to look hot with wallpaper overtop.
So what did we do? We gutted the whole space, took down those awful wood braces, and then patched and sanded all the damage it made to the walls.
It took the better part of a weekend to get the walls ready to wallpaper, but we were glad we put in the effort because it made the process of wallpapering that much easier.
You can read more about all that in the progress update post.
Rebuilding The Floral Glam Closet
Once the space was wallpapered, we had to go back about the business of turning it into a closet! As it stood, there were shoe risers but nothing else. Having removed the wood braces we also took down the closet rod since it was part of a system that we didn't have all the pieces for. (who needs that?!)
Check out my Pink & Gold Office Revamp – where I first used the brackets
When we tore down the studio at Christmas, one of the things I was most excited to repurpose were the gold shelf brackets from Crates & Pallet. Since we knew they were strong and sturdy, we felt comfortable re-using them and the shelves in this space. The gold would add the beginning of the glam elements, and the white shelving would balance out the bold pattern of the wallpaper.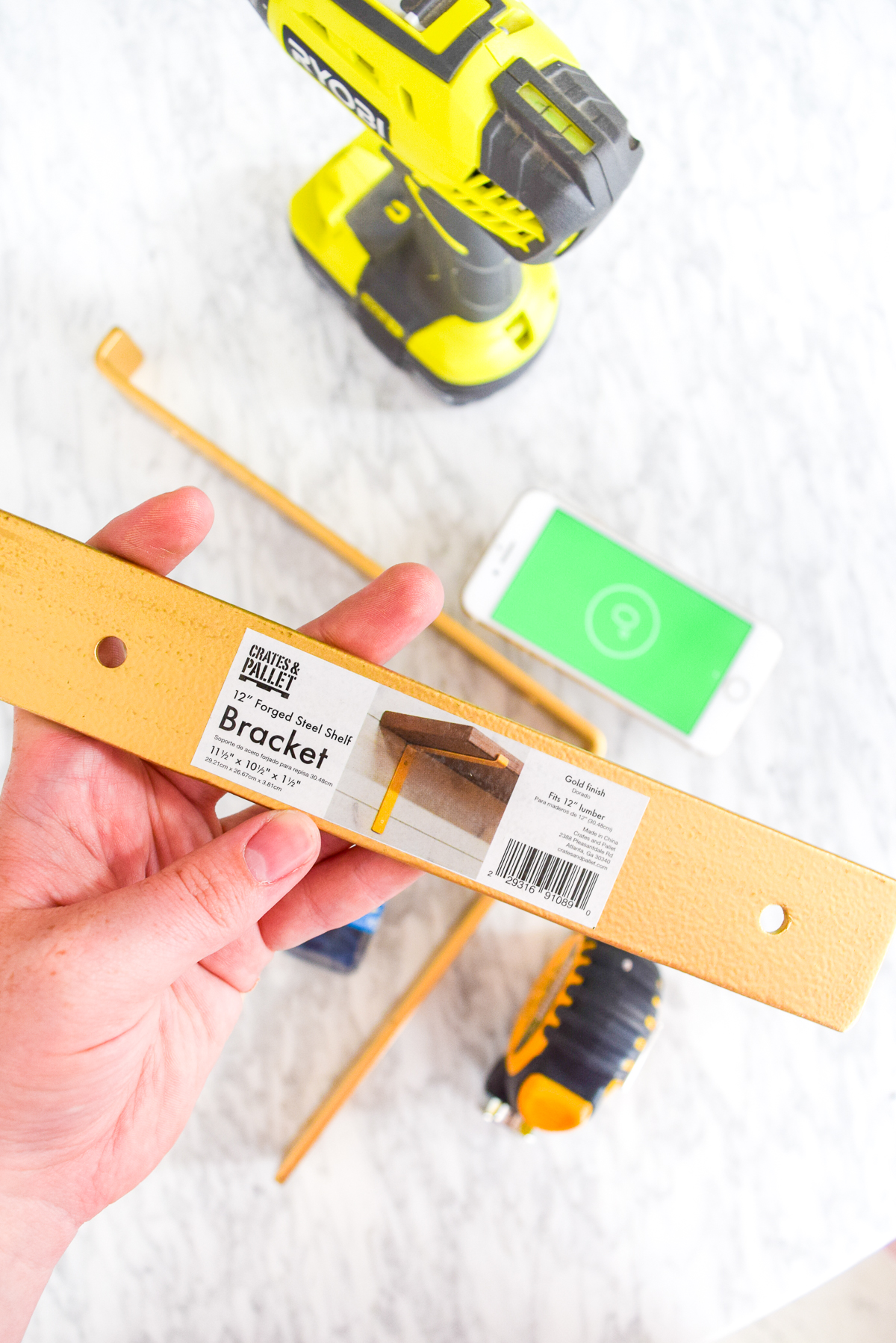 I mean, how perfect are they? We used the right screws and anchors for our situation, and hung them in the studs since they needed to bear a significant amount of weight – apparently purses and t-shirts weigh a lot?
Hanging the closet rod was just as easy once we figured-out the right rod/joint system. Let's just say we had one too many trips to Home Depot trying to sort it out, but at least these aren't going anywhere.
The gold shelf brackets from Crate & Pallet add the perfect little complement of gold to the gold tipped buds in the Peonies wallpaper pattern. I am so happy with how the whole space turned out honestly. I can't believe this is my closet! It's where I get dressed, where I organize my lovely collection of clothing, and where I store my purses and all my fancy shoes. I've wanted a walk-in forever, and how I get now!
The AFTER of the Floral Glam Closet
I'm not gonna lie, this is still a tricky space to photograph because of the lighting, but we've got one more trick up our sleeves to fix that, and hopefully it comes to light this spring. That being said, enjoy my floral glam master closet – goodness knows I do!
Just in case you were wondering, I am that weirdo that organizes all their hanging clothing by colour. It works for me! I can find what I want based on the colour palette I'm feeling, and there's absolutely nothing wrong with that. If you're also a colour coder, I'd love to know.
Do you spot thegold shelf brackets from Crate & Pallet hard at work there? Because of the stud situation in the closet, we couldn't place on in the middle, so there's a hint of some bowing, but nothing we're concerned about now. We'll swap the shelves for some white painted pine at a later point.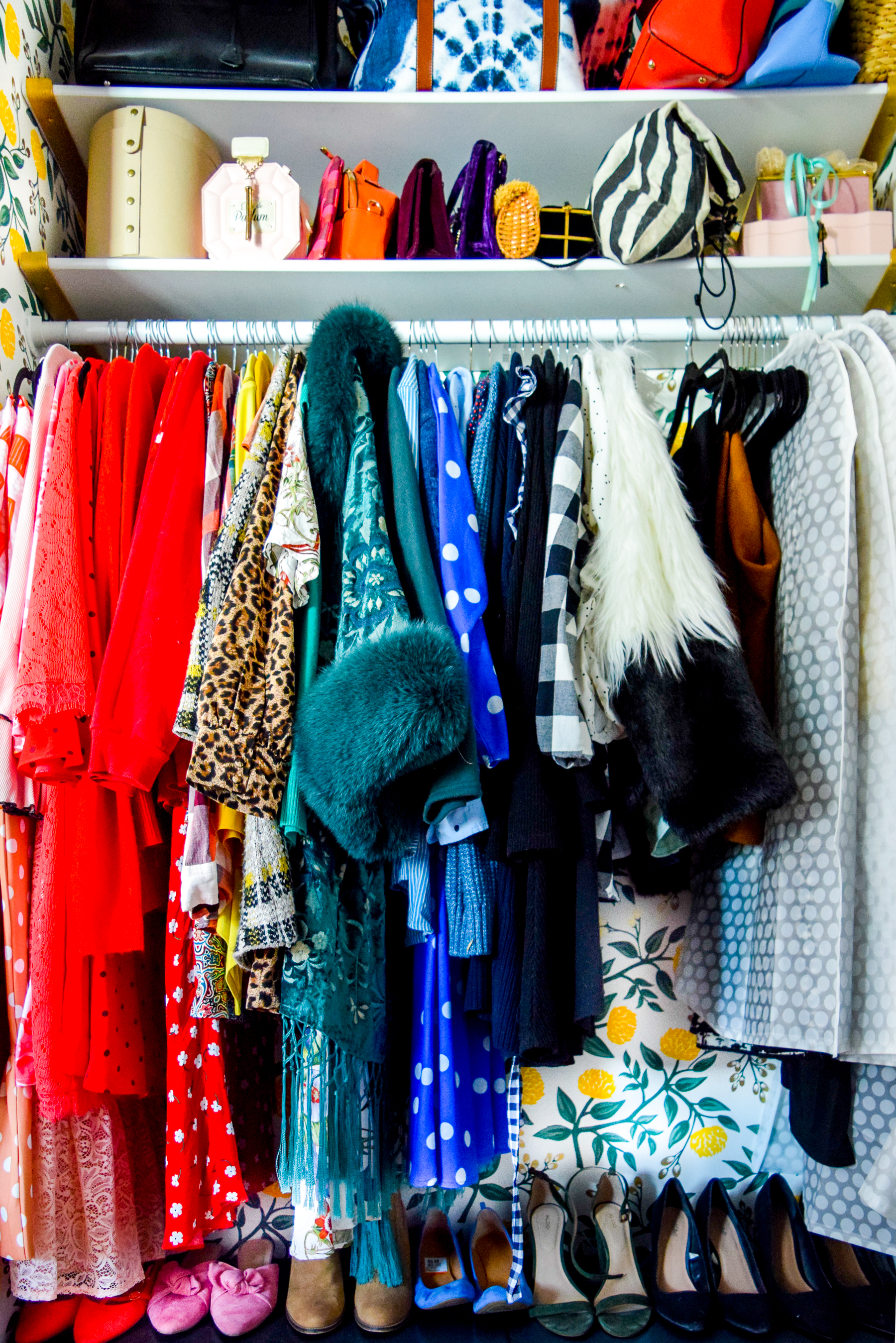 Over the shoe cabinet, I've got two of our wedding photos framed. I've got Dan's on my side of the closet, and mine on his. That way we get to catch a glimpse of our loving selves while getting ready. It's a personal space, and these make it all the more personal.
Our black and white striped IKEA shoe cabinet is a painting DIY I did a few summers ago, and one that has lasted surprisingly well. For the closet, I felt it needed a little something extra though. Because we've got mint pulls on the dresser in the main part of the room, I wanted the mint to carry through. So using Addison Week's Dylan pull in mint, we added an extra handle to each compartment. It looks a bit slicker than the hand holes currently there.
Dan's side of the closet is decidedly less glamorous: he has no purses, keeps his mess kit and army gear elsewhere, so it's just his civies. Still though, the man has style. I promise!
Also, if you spot my DIY beaded turquoise jewelry dishes you wouldn't be wrong! Make your own by following this tutorial.
Hopefully you're inspired to update your closet situation, even if it's just gold shelf brackets from Crate & Pallet.