I thought for March I'd do a St.Patrick's day themed cocktail. Because the Jackson Morgan is a whiskey cream, it lends itself best to situations where you'd use a cream naturally, so it pairs exceptionally well with desert-y type drinks, and of course coffee. That being said, I can't wait to start getting into the spring/summer flavors because then I can do things like make ice cream! That being said, let's look at a Whiskey Cream Cold Brew Coffee Cocktail in time for March 17th! (when we're all Irish for a day)
*Jackson Morgan sponsored this post, but all thoughts are my own. Thank you for supporting the brands that make PMQ for two possible.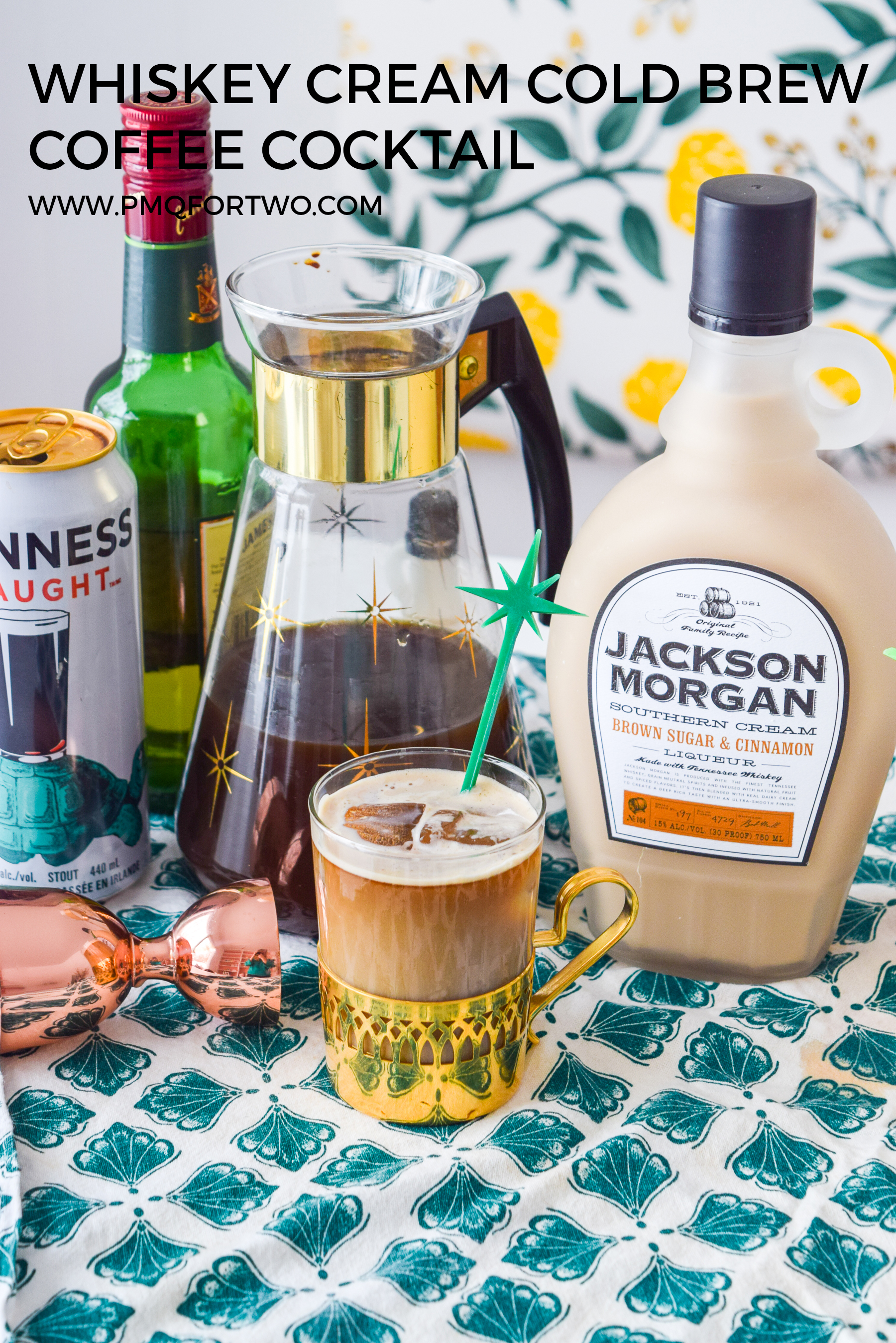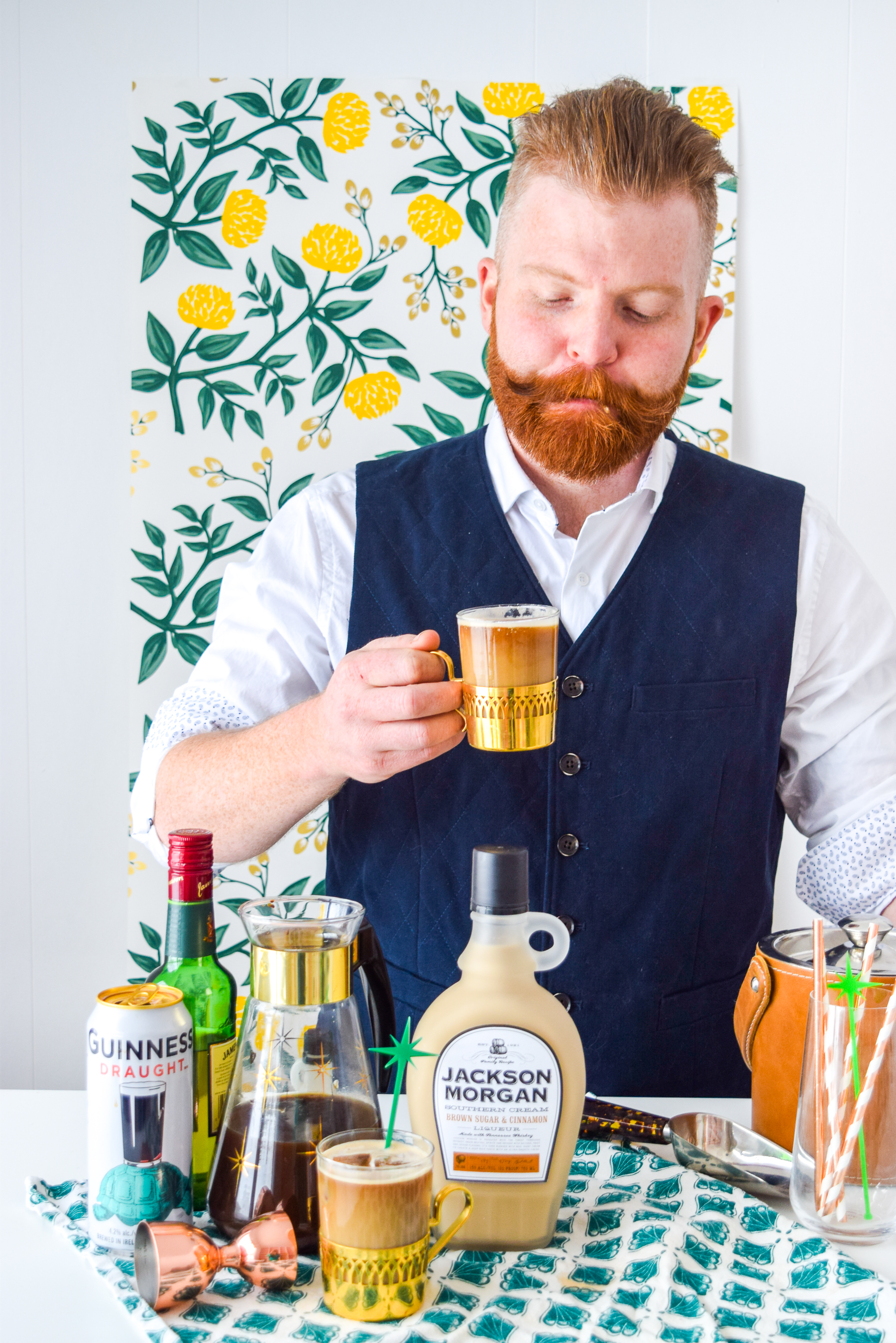 Dan the bartender
OK so the cat is outta the bag, and the bun in THIS oven means that a drop of alcohol has not touched my lips since before Christmas. That means that in all my previous Jackson Morgan cocktails from 2019 I was fake sipping! Bruce and Kelly got to enjoy them instead. I absolutely ate all the whipped cream though.
With that being said, Dan is stepping in as the bartender from now until the end of the pregnancy/nursing! As such, he would like to present a Whiskey Cream Cold Brew Coffee Cocktail, in all his moustachioed gloriousness. So please, show him some love!
A Whiskey Coffee Cocktail for St.Patrick's Day
As I said before, I've done a few coffee based cocktails using Jackson Morgan's Whiskey Creams, but when I saw The Wooden Skillet's version, where she makes her own cold brew, I thought – THIS I can do, and better yet – using Jackson Morgan's Brown Suggar & Cinnamon Whiskey Cream.
For this recipe you'll need a can of stout (like Guinness), cold brew coffee (because hot coffee gone told tastes bitter), Irish Whiskey, and Jackson Morgan's Brown Sugar & Cinnamon Whiskey Cream. I also recommend ice cubes, and a jigger, as well as long spoon or drink stirrer.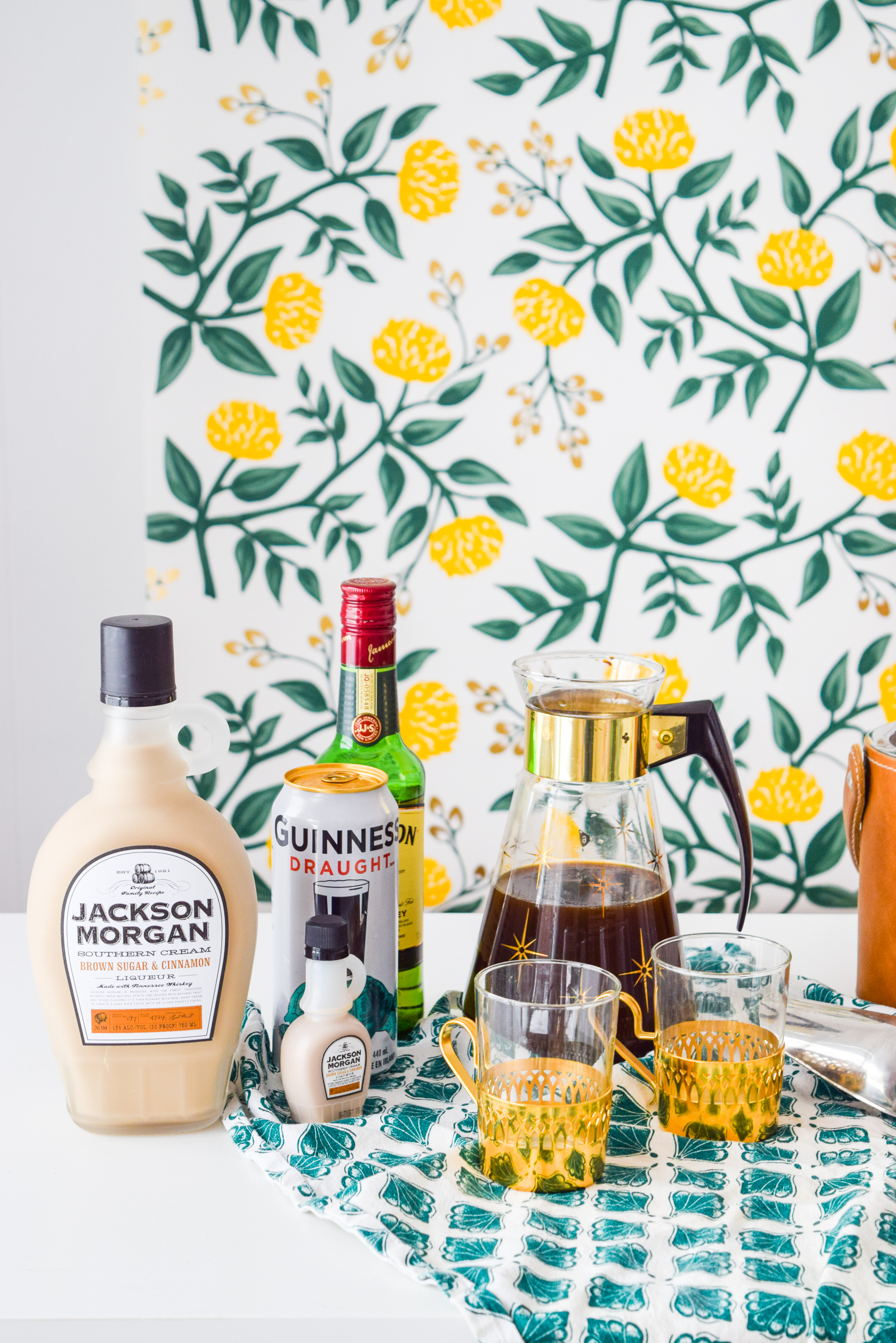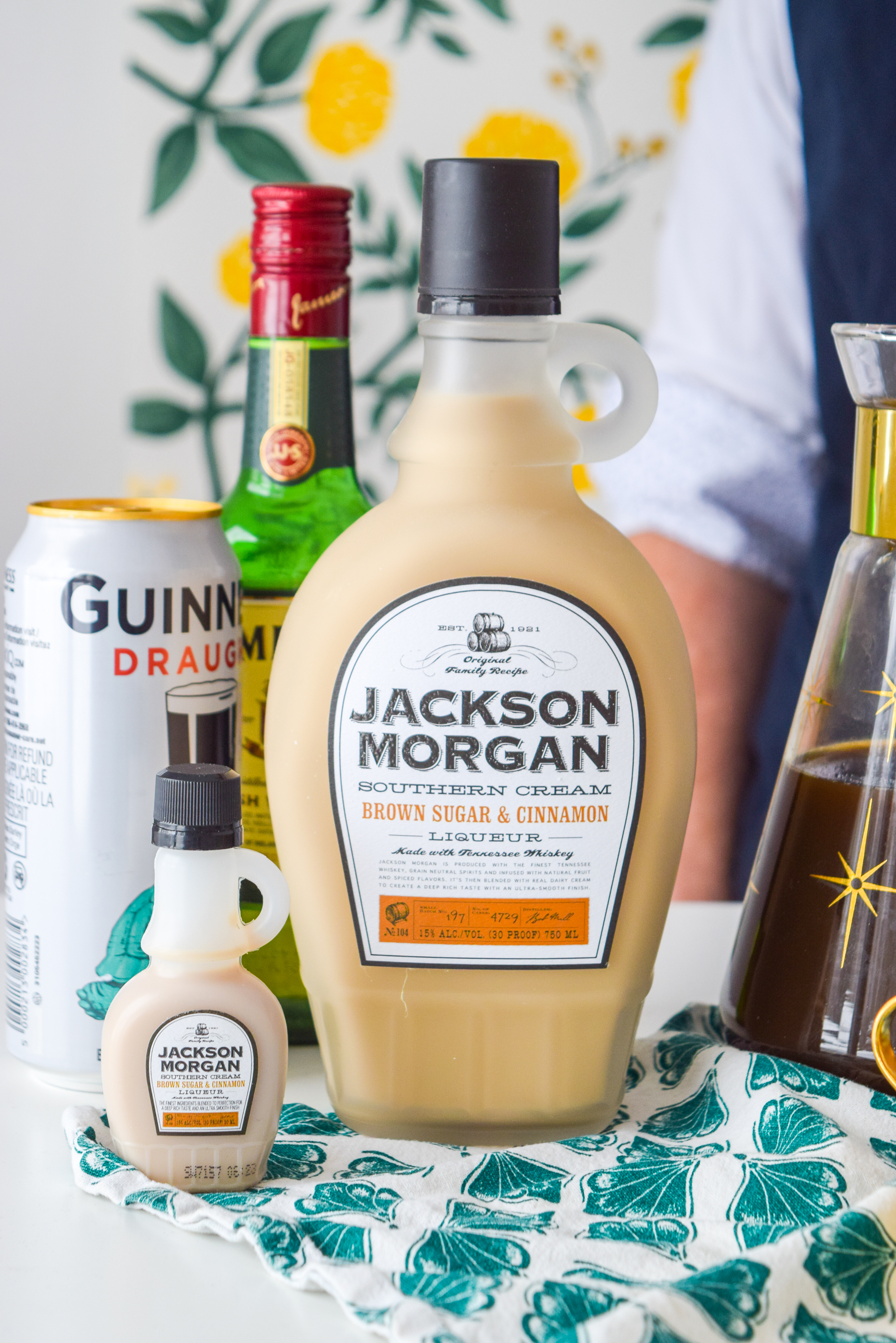 We made this cocktail in some sort glasses, so the measurements reflect that. To go for a larger glass that a high-ball or water glass, you'd want to tweak accordingly.
Start by adding ice cubes to your cup. We went with 2 so that the liquid gold would stay cold. Did you know that the more ice you put in a cup, the less likely it is to melt and water down your drink?
Next, we're adding the Irish whiskey! We used Jameson, and even now it's a scent I still can't stand, but Dan does enjoy it for mixed beverages. Since he's the bar tender he got top choice. You're add 0.5 oz here – in a larger cup go for the full oz.
Next, add 2oz of Guinness (or whatever stout you're using). When using a can with a widget (the little ball inside) you have to roll the can on its side to activate it, and get the carbonation going #truestory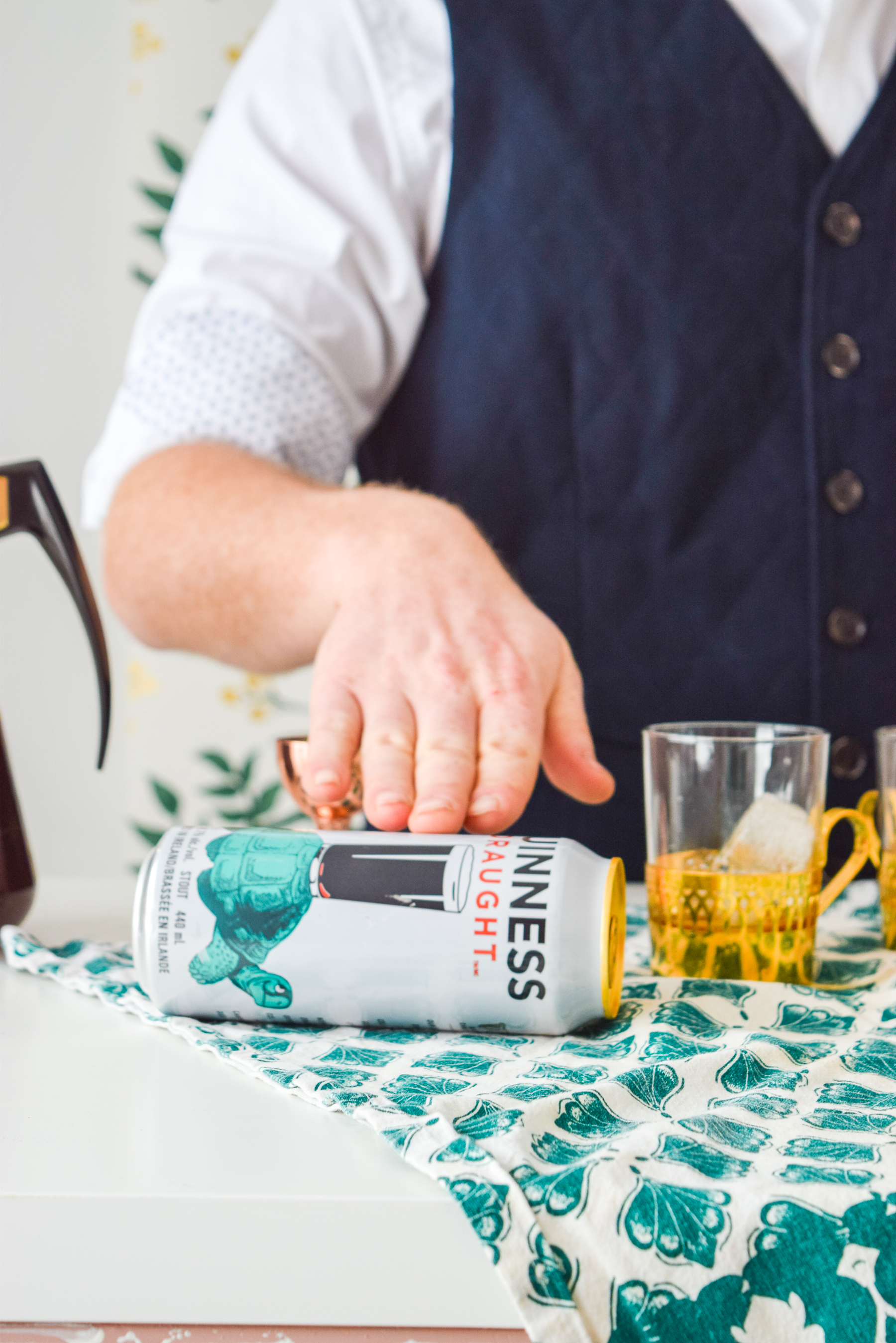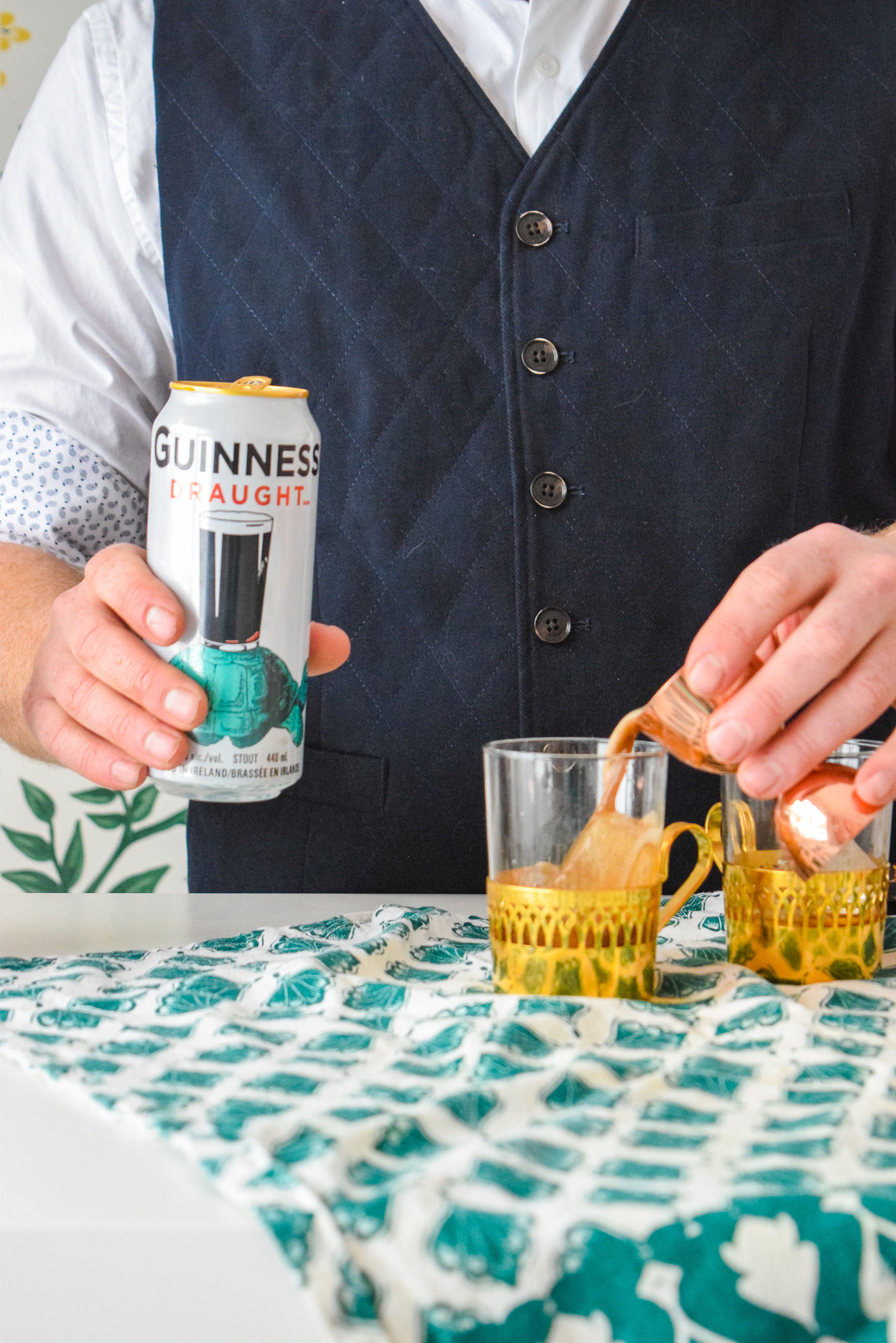 Next, time to top up with your cold brew! You'll want to leave a finger if possible for the Jackson Morgan Brown Sugar & Cinnamon after, otherwise it'll be brimming and you might spill some! No bueno. No need to measure here, just free pour until you're happy.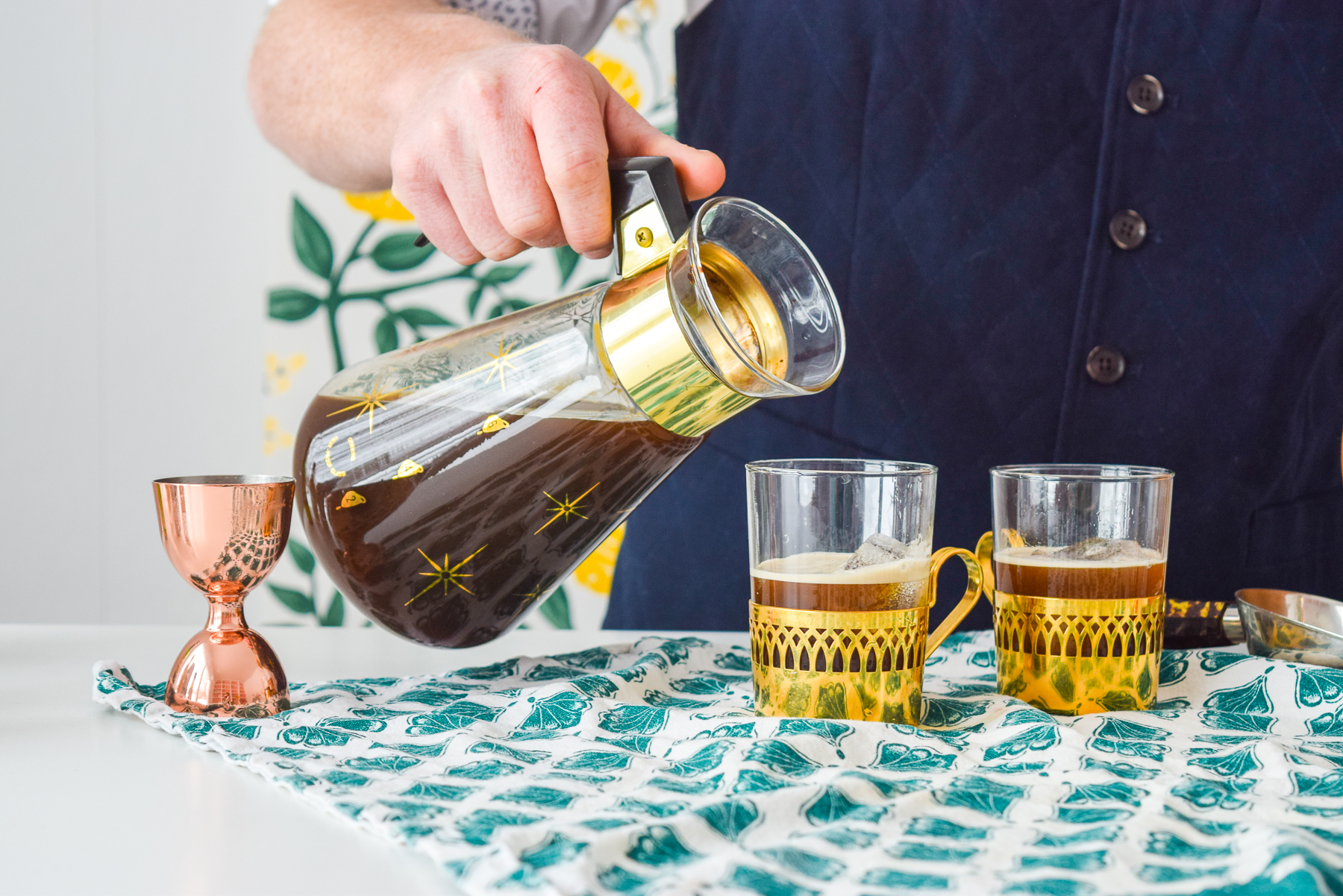 Now that the base of your drink is complete, it's time for the finishing touches! We went with an ounce of Jackson Morgan's Brown Sugar & Cinnamon whiskey cream. I made him do a slowwww drizle so that I could capture it as he poured it in. Quite the sexy effect if you're into that kinda thing. Watching the cream swirl around in the carbonation of the stout is mesmerizing.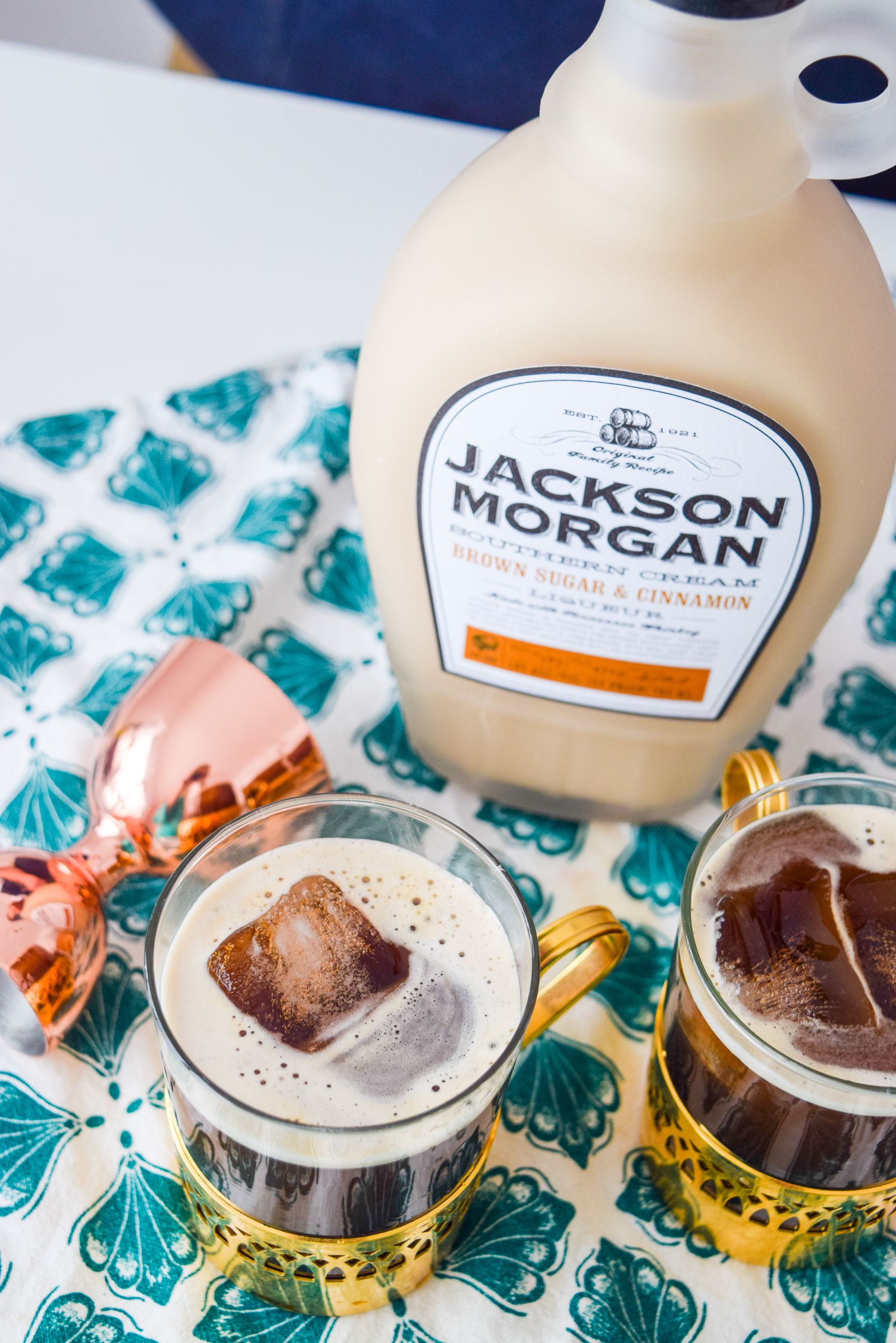 St. Patrick's Day Whiskey Cream Cold Brew Coffee Cocktail
Can we all gush about the dreamboat of a man I married? That beard! that flow! goodness.
All daydreaming aside, let's talk about the Whiskey Cream Cold Brew Coffee Cocktail. It's a strong drink as far as they go, but in moderation it's the best way to celebrate. I wouldn't do 5 of these in a row, but you should totally start you afternoon with one if the mood strikes you. It's the perfect sipping cocktail, so enjoy! And as always, feel free to tweak and substitute to fit your needs!
You know that he got some of the head stuck in his moustache, but I somehow failed to adequately capture it in between fits of giggles. Still, he loved it. He may also have been 2 cocktails deep at this point ( we made quite a few on that day).