It finally happened! After what feels like ages I've got another room makeover for you guys. I think this is honestly the longest I've ever taken to complete a room, and it still only feels partially done, but I'm afraid the finishing touches will happen months from now when the last bit clicks into place. In the meantime, I'm calling finito on this Kate Spade Inspired Master Bedroom. I unveiled part of the room when I showed you guys what was going in on the closet with Wilfredo // here //  and I told you guys about my initial plans for the space // here //. Since then I've gone through gallons of paint, way to many lighting options, lots of decor, and more table skirts than I care to. With that being said, I'd love to finally show you guys what I've been low-key working on all summer.
*Behr & Framebridge sponsored this post, but all thoughts are my own. Thank you for supporting the brands that make PMQ for two possible.
All sources are listed at the bottom of the post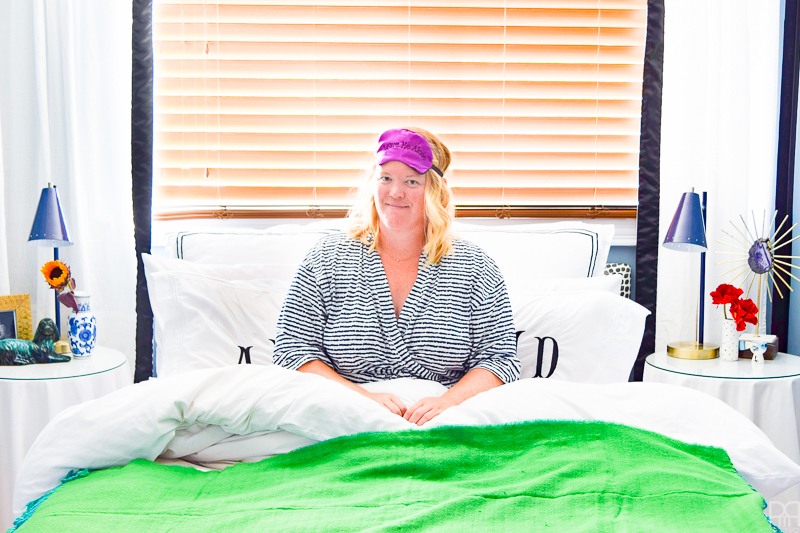 I would like to point out that this master bedroom is neither large, or well designed, but hey – what are ya gonna do when dealing with base housing? In my case, attempt to master the asymmetrical nature of the space and bring height where there is none. I think I've done a decent job at both, but I'll leave that up to you guys to decide.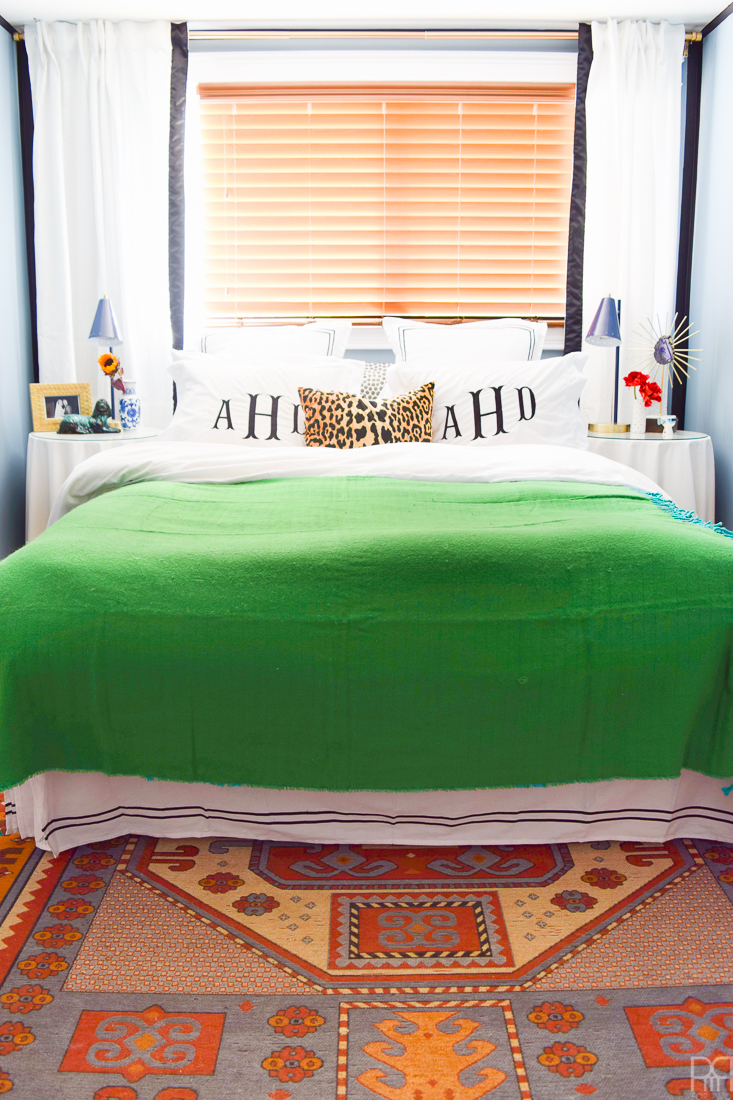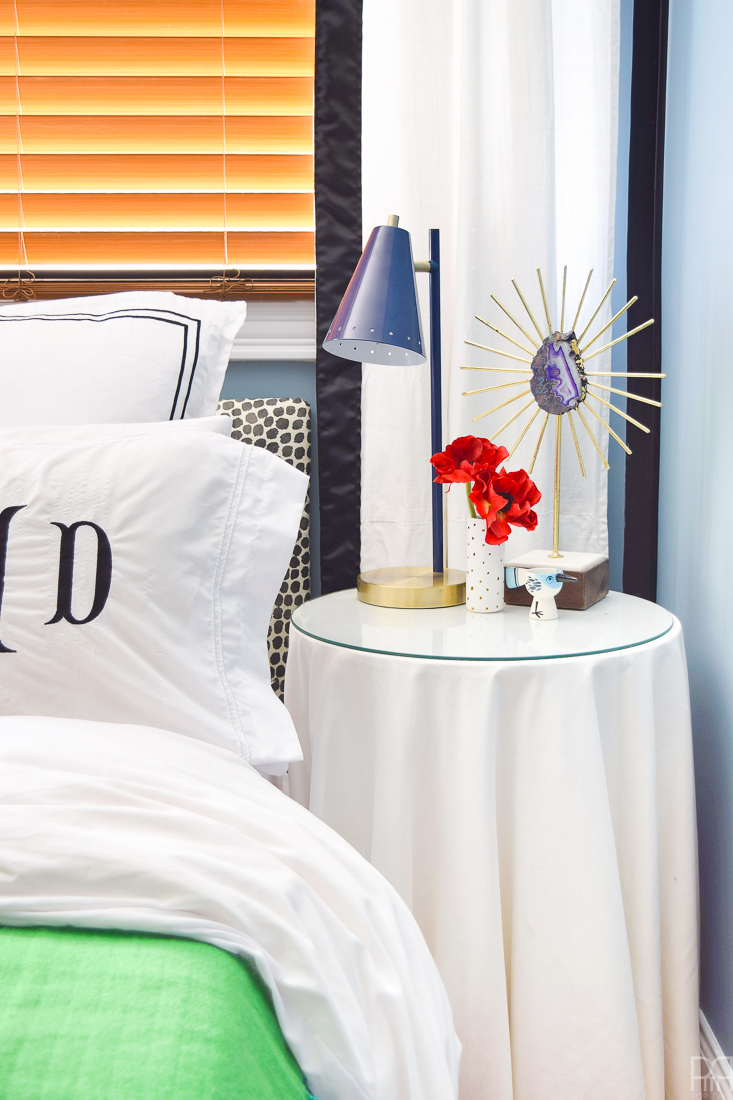 The bedding got a refresh. I don't know about you guys, but even though we don't let Bruce sleep with us in the bed, he somehow finds his way there during the day. So between him and the cats, our bed linens take a beating, and our pink gingham with merlot sheets had done their duty. You may think I'm insane for then opting for white, but there is a method to my madness,
Instead of choosing a bold and bright pattern for the bedding, I went for crisp white that would allow the rest of the room to shine without over cluttering the space visually like I kinda did with the space on the first go 'round. You can view that // here //.
I added the colourful green and blue Kate Spade throw from HomeSense over the foot of the bed to help manage the influx of pet hair and dirty paws. After all, what would a kate spade inspired master bedroom be without at least one thing from Kate Spade?!
It's easy to swap a throw than an entire bedding scheme, and with this reversible throw, I can easily change the mood. I originally had a funky white blanket with blue trim, but it was too much white and the space needed colour.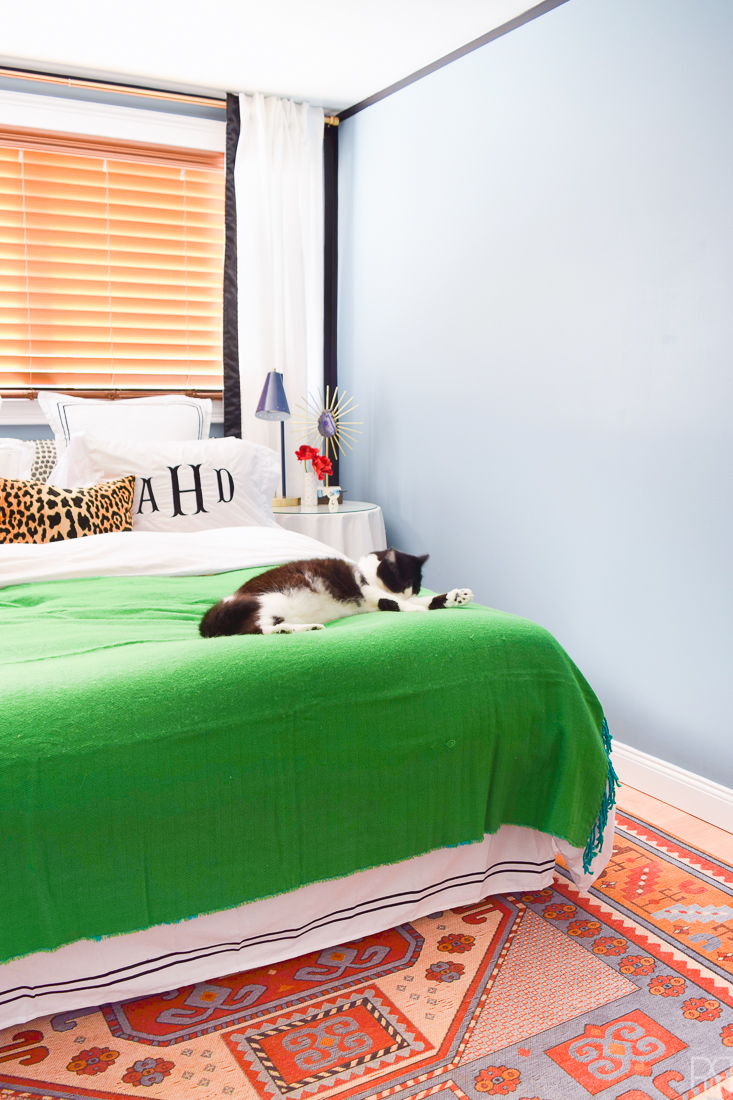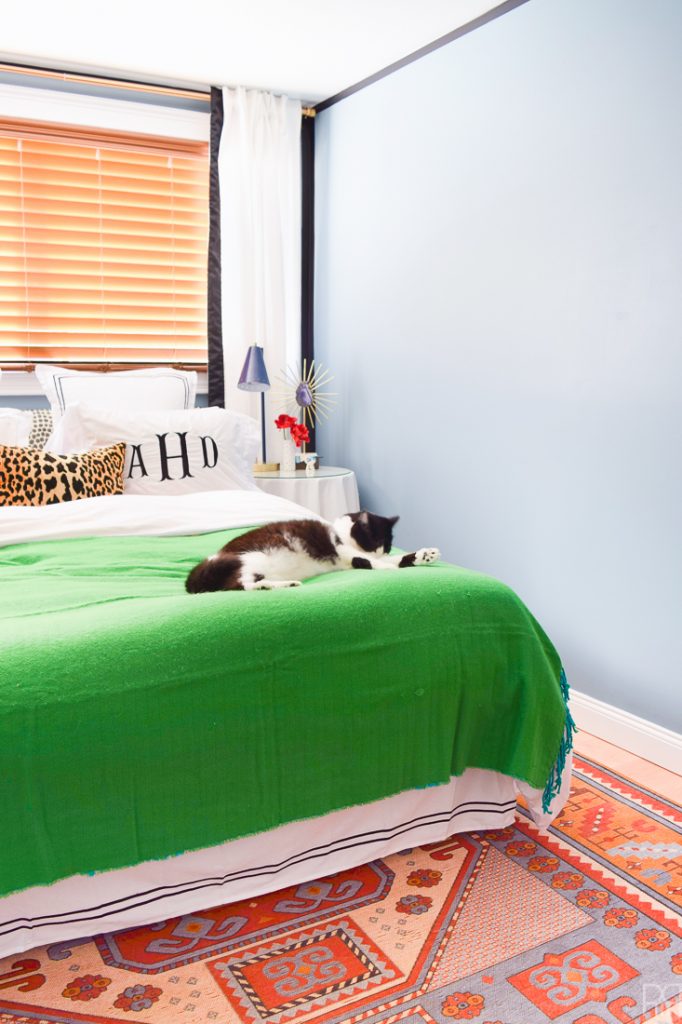 Excuse me with this dainty cat leg and fluffy tail.
Dr. Tobias is making quite the splash in this bedroom shoot. No, it's not Whisquire (ha ha – get it?), but  Toby sure does look good with all the colour. Those who follow along on Instagram stories know that he is a second floor fixture and is usually found on the bed or in my office.
You can also see the green Kate Spade throw in action, saving my bedding from dirty kitty paws.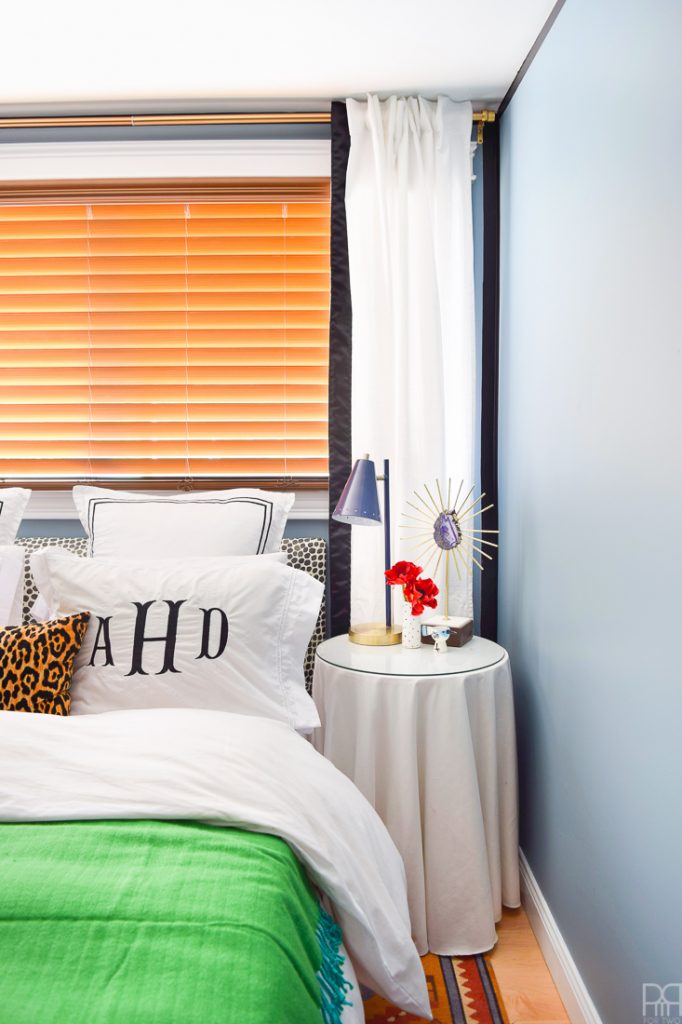 I kept the side table skirts white, but made fresh ones using Fabric I got from Fabric.com. In fact, the headboard also got a refresh using a pattern from the Genevieve Gorder Collection on Fabric.com as well. I like the palmation style print and think it will lend itself well to many more bedding combos.
The more structural lamps are also from HomeSense. They reinforce the visual vertical lines while expanding on the shades of blue in the space.  Not one for minimalism, I've got a fun egg cup as a jewelry dish on my side table, and some bright red anemones because colour.
These beautiful burl wood frames a custom frame job with Framebridge. I sent them our favourite wedding photos and they did the rest. The quality is outstanding, and I am convinced that your treasured photos are now going to outlast any move the military throws at us.
They're not yet in Canada, but if you're in the US or near a CAN-US border and a professional fracking job that doesn't cost you an arm and a leg, then I can't recommend Framebridge highly enough.
I looked pretty darn good on my wedding day, and Dan was equally handsome. Looking back at how much just our faces have changed I can safely say we were babies when we got married, but I guess that's the plus side to marrying young – you can grow together.
In these shots you can really see how the painting techniques I utilized using Behr's Marquee paint accentuated the vertical and drew the eye upwards giving the illusion of height. The ceiling on the second floor are barely 8ft tall, so it doesn't take much to make the rooms feel small and claustrophobic, which is why I've kept clutter to a minimum (in my mind at least) and done my best to create as many vertical lines as I possibly can.
I was inspired by a room tour featured on Architectural Digest // here // and was super keen to recreate the illusion in our space. It even looks kind of cool in the corners where the ceiling and walls are slanted. It's visual interest in an otherwise paired-down room.
To get the look you'll utilize similar paint techniques from our painted moulding // here // – you frame the space you'd like to accentuate with a black painted trim that cases the wall. I recommend a good painters tape and lots of patience!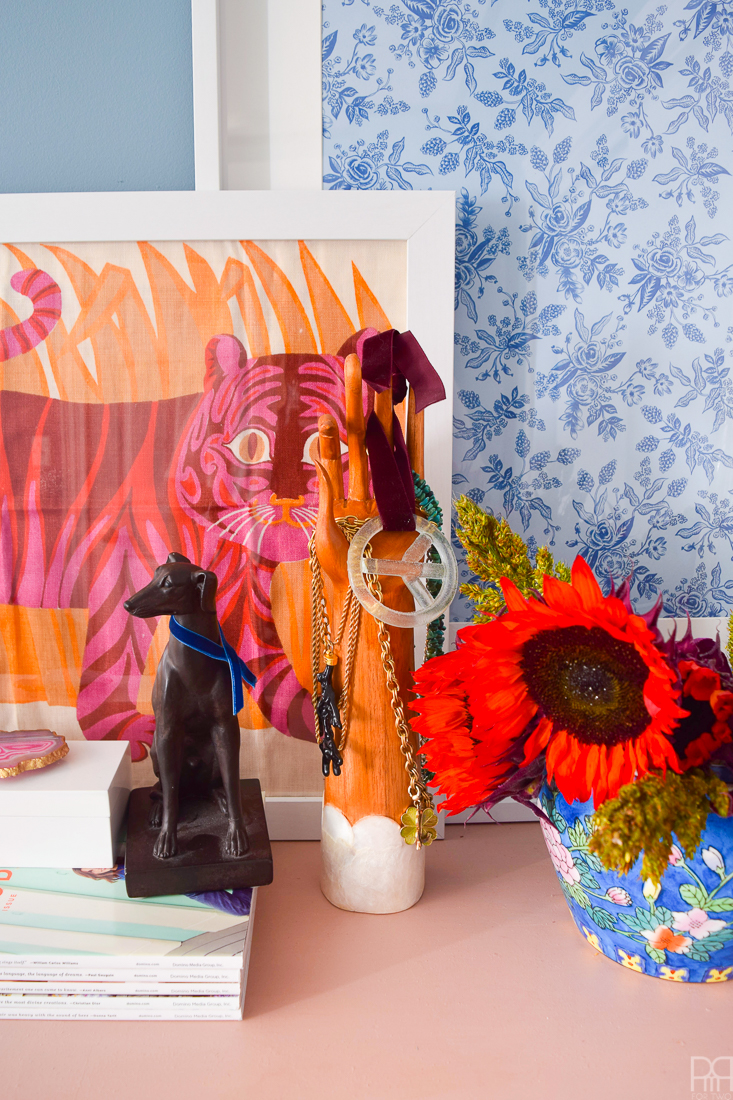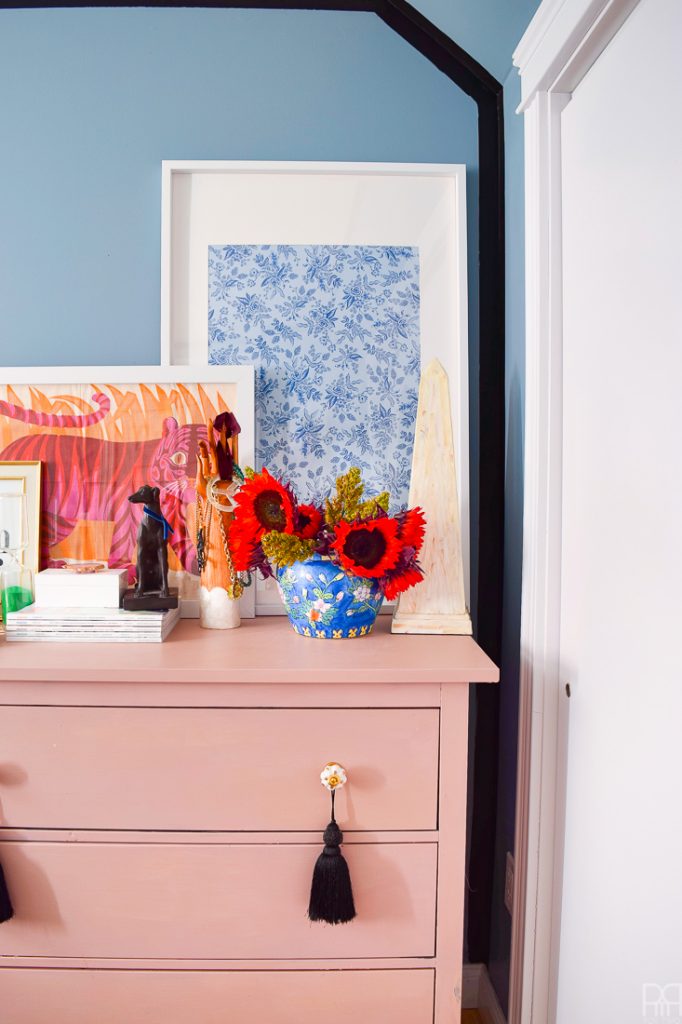 In our bedroom, the only maximalist space is on our dresser. Between the sunflowers, chinoiserie vase filled with sunflowers, the capiz shell embelishments, and my magazine collection, we've got some old fashioned PMQ for two going on.
I'm not giving up on my maximalist taste, but I am going to try and reign it in a bit. When I was busy trying the whole "minimalism thing" this summer, I did learn a thing or two. Namely, that I like stuff.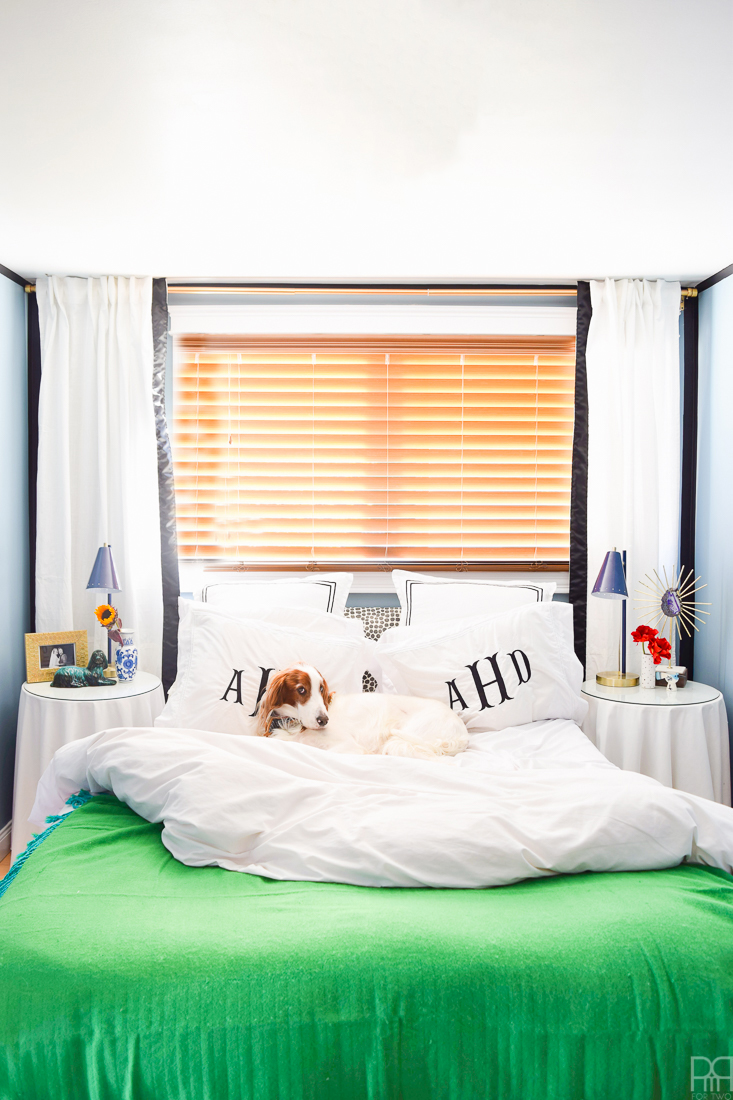 *The following product links contain affiliate links. Thank you for supporting the brands that make PMQ for two possible. For my full policies click // here //
Sources
Paint by Behr Marquee in Rainy Season MQ5-27m & Limousine LeatherMQ5-5o
Blinds from Home Depot
Side Table lights and decor from HomeSense
Items on Dresser: thrifted & Rifle Paper Co. Wrapping Paper
Curtains from IKEA with Black Grosgrain Ribbon.