I am oh so pleased to finally reveal my fall One Room Challenge space – our Colourful & Eclectic Dining Room. If you're not familiar with the One Room Challenge you can catch all the details // here //. Don't forget that you can view all the official room reveals // here // and the linking participants on Thursday. Our dining room has been a tricky space (what space in this PMQ hasn't been tricky?!) but I'm glad that it finally matches the rest of the main floor. It no longer looks like it's on a different colour palette, and the style matches the rest of the house.
Catch-up on // week 1 // week 2 // week 3 // week 4 // week 5 // week 6
*Behr Paint, Rugs USA, Wayfair & Parima Studios  sponsored this post, but all thoughts are my own. Thank you for supporting the brands that make PMQ for two possible.
Before I go any further I'd like to take a minute to thank all my sponsors without whom this challenge wouldn't have been possible.
Behr Paint // Rugs USA // Wayfair // Parima Studios // Tonic Living
I know you're not in it for what I've got to say, so let's get to the photos! And remember, the room is hella small, so if you're thinking "why can't she pull back and show us more?" it's because I literally can't pull back any further.
In this space I've got all my beautiful MCM furniture on display and love every bit of it. I've thrifted and hunted down these pieces with care, and with a gold coat of oil they're kinda perfect.
I know they'd look better in a big space where they can breath, but fow now I'll take their proximity and hope I don't break anything.
I definitely completed my tassels and pom poms decanter tags a day or two ago JUST so that they would be in the reveal post. You can catch all the details for that // here //
You can catch the full tutorial for how I painted the chairs in my week 5 post // here //. It's not that complicated, and the results are great so far.
The best part about the setup in the dining room is that I've decided to hang only about half of the art. See, I like to change things up. So, I could love the arrangement now, but in like 7 months I'll want to move it around. To avoid having lots of holes in the wall, I've decided to lean a good chunk of my prints.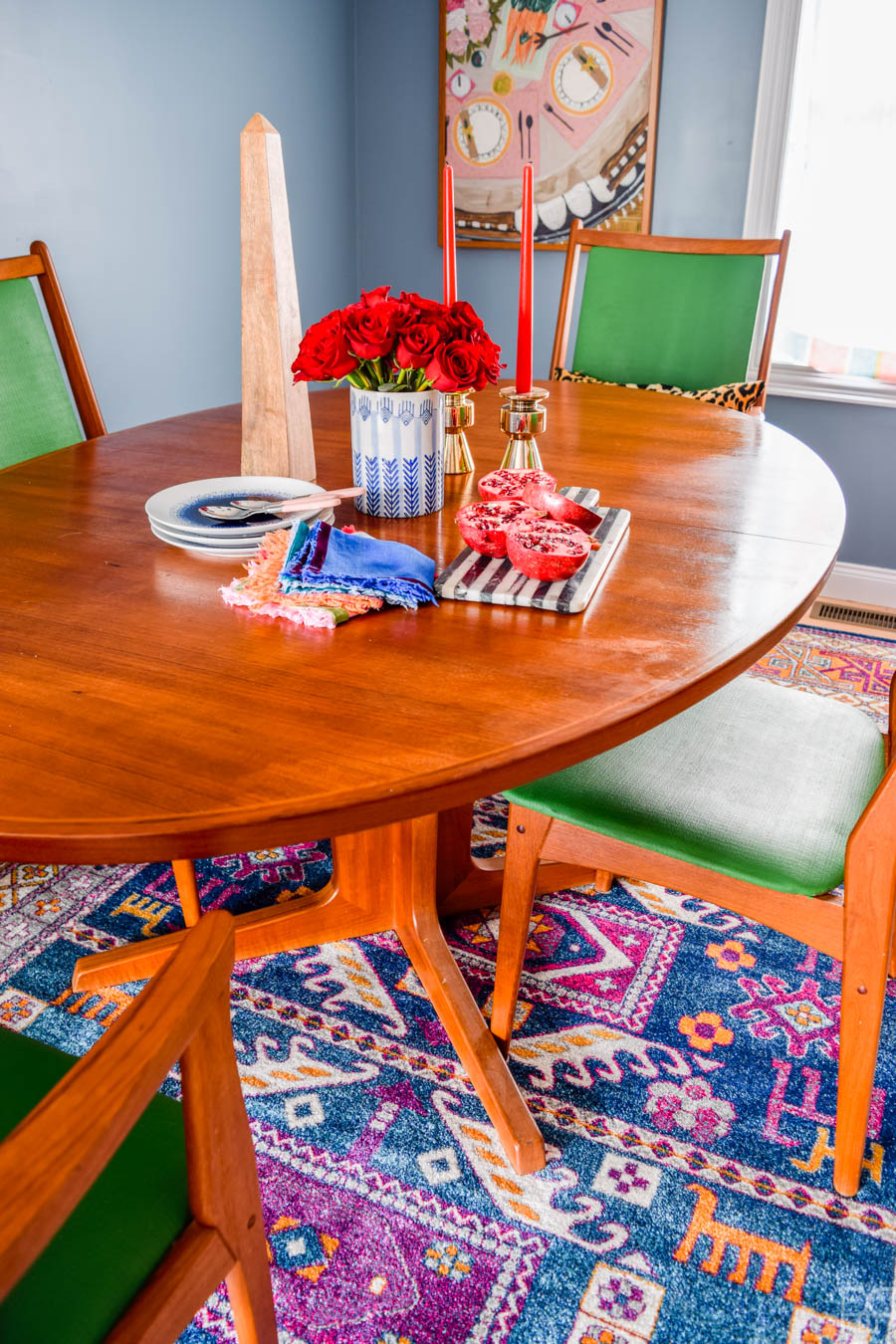 I still can't get over the rug in this space. It's the perfect counterweight to all the blue and green (even though it has tons of blue). The colours are warmer and cut the cool tones of the wall. I dig it! If you want to read all about rugs, including how I make sure they are coordinate throughout the house – check out my week 6 post // here //
Shop my Colourful & Eclectic Dining Room Reveal below: