I officially started listening to Christmas music while I craft for the holidays, and that's pretty much the starting gun on seasonal festivities. Bring on the cookies, ugly Christmas sweaters, and all the cheer. As part of my Wreaths Galore series I promised you, this week I'm sharing His & Hers Christmas Wreaths. Each wreath contains a few of our favourite things, and all kinds of ribbons and baubles. I'm not quite sure where I'll hang them, but for now they look pretty damn good in my home office.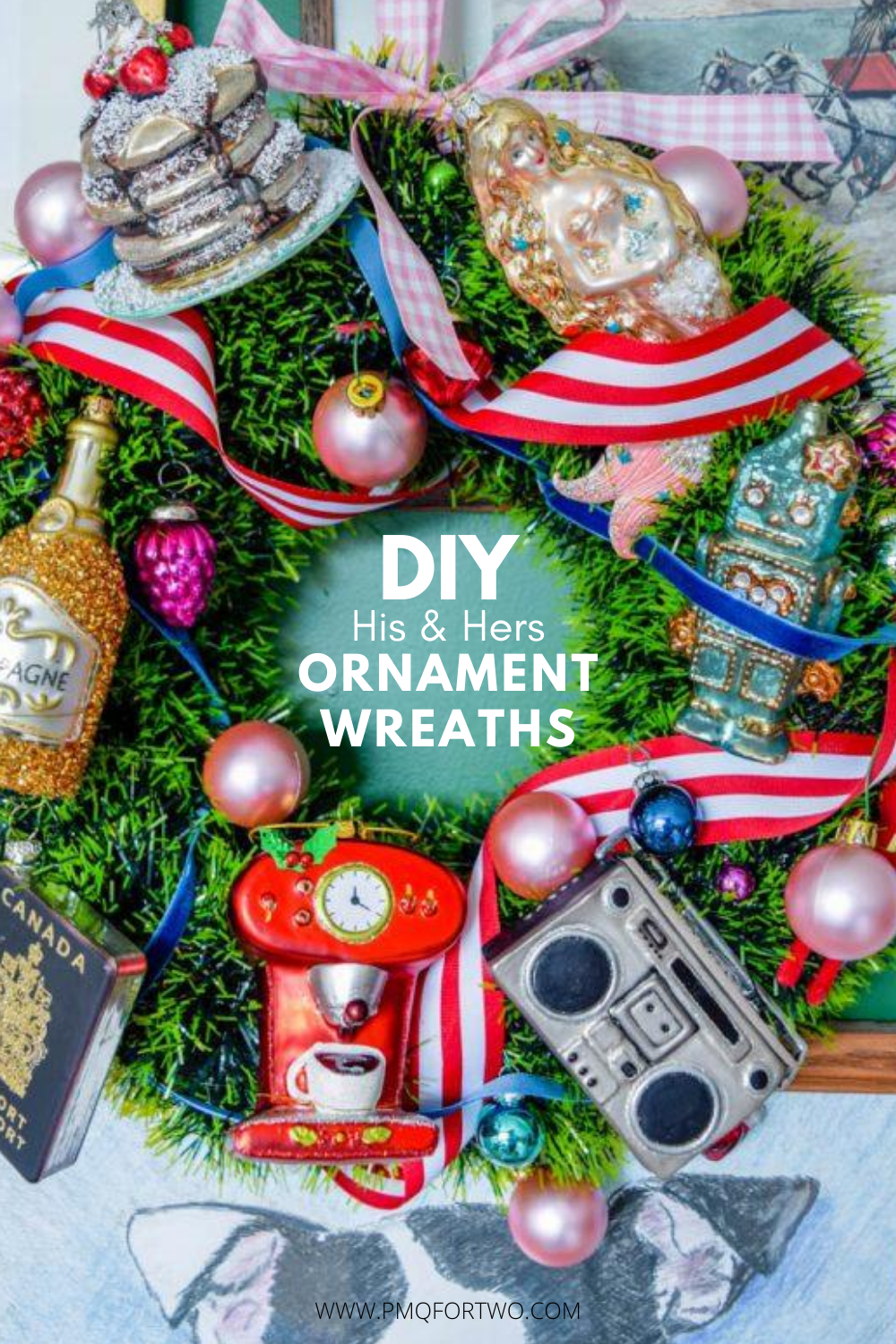 Check-out my other Christmas Wreaths: Gold Magnolia Laurel Wreath // Atomic Starburst // Winter Wonderland // Pinecone Wreath
I made these using ornaments we've collected over the years, but I'll include links to ones currently being sold when I can. I chose to use big glass ornaments because they're more detailed and have a vintage look and feel that I love.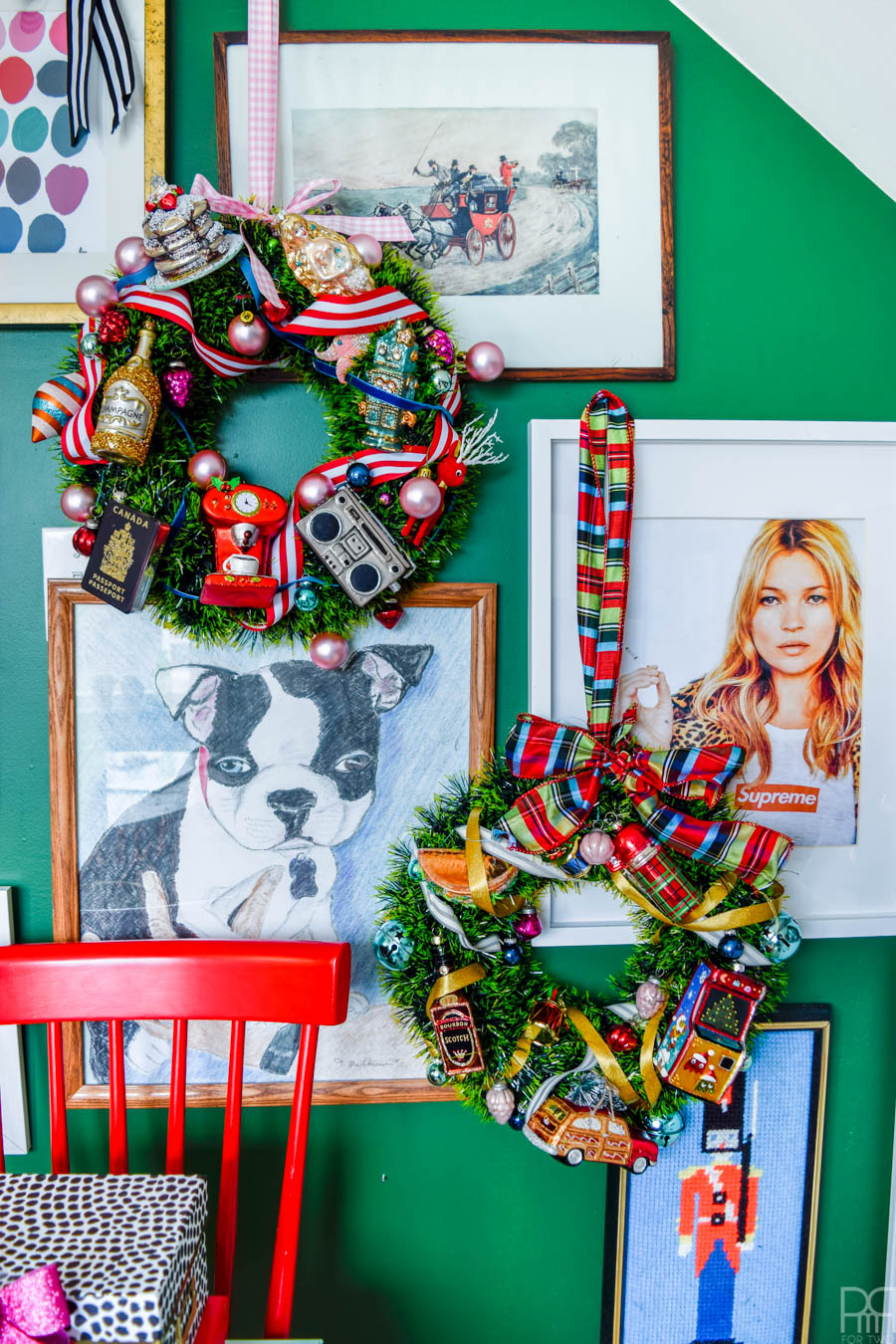 *The following product links are affiliate things. Thank you for supporting the brands that make PMQ for two possible.
Materials
Step 1: I bought pre-made wreaths from the dollar store because I liked the cage system that supported the garland. It makes it ideal to fasten things to, as opposed to a foam or metal wreath where there isn't much to wrap individual ornaments around.
Step 2: I find a little bit of preparation goes a long way with these kinds of projects. I encourage you to plan where the ornaments will go beforehand so that you don't start affixing them and realize it doesn't work.
Step 3: You can attach the ornaments a variety of ways, but I found that floral wire worked best. I use 2 lengths of wire for each ornament. I threaded the first through the ribbon loop, and the second around the other end of the ornament to prevent it from swinging around.
Because of the type of wreath I chose there's an entire infrastructure beneath the greenery, so it was as simple as thread the wire around a branch and twisting to fasten.
Step 4: Once the big ornaments are in place, start filling in the green space with ornament picks, smaller baubles and anything else you'd like.
Step 5: The last step is the ribbon! You want to loop the ribbon in a zig zag motion around the wreath, while twirling it to provide a little bit of oomph. Make sure to tuck it around the ornaments as you go, but you can have it go across them if you wan to as well.
Step 6: You can add a big bow somewhere to clock any imperfections in the wreath, or just for fun too. I added one because I like bows- I'm simple like that.
I then repeated the entire process with the second wreath to create Dan's wreath.


Okay so the part I loved the most about making these His & Hers Christmas Wreaths was picking the ornaments. Like I mentioned above, we already had a few of these, but I picked-up a lot of them in stores this season at Canadian Tire, Michaels and Homesense.
Here's a brief explainer of mine:
The Canadian passport is because I love travelling and try to zip away whenever I can.
The espresso machine is in honour of my love of good coffee, and caffeine in general.
The boom box is because I looove me some music. There's always music playing somewhere in my house, and it's usually something you can dance to.
The robot was chosen because I can be almost robotic in the pursuit of an answer when I don't understand something.
The mermaid is a play on the fact that I share a name with a famous mermaid.
Crepes are an ode to my love of the breakfast staple. If I've got enough time I'll make my own, each and every time.
The champagne bottle is because DUH – I love champagne.
The joy of the His & Hers Christmas Wreaths is that you get to see both people represented. I thought I'd take a minute to break down what's on Dan's wreath:
The car with tree is because Dan loves going to get the tree with me. It's usually in the middle of a snowstorm and always after work. We love it.
The Pacman arcade game is because Dan loves video games. Granted, he's a PC gamer, not a console gamer, but the sentiment is there.
The coffee thermos is because when I first met him he had like 10 different thermoses in the back seat of his car buried under things.
The taco is because he sure loves a good taco.
Lastly, the bourbon is because he loves the full range of scotch's.