So I told you guys I'm on a charitable spree this year, and today's post is another example. Every holiday season, the local Military Family Resource Center has some pathetic Christmas decor, and every year I say to myself "I should find a brand to work with on this." This year I got my act together and have the pleasure of partnering with Canadian Tire to bring a bit of a Christmas overhaul to the Gagetown center's reception area.
Check out my Oromocto SPCA front door makeover // here //
*Canadian Tire sponsored this post, but all thoughts are my own. Thank you for supporting the brands that make PMQ for two possible.
So this isn't my usual post full of crisp colours, prisitne furnishings and lots of fun touches, but it's as close as I could get in a space that had to serve hundreds of people a day and remain functional.
Why the GMFRC though? Why not chose another charitable organization in the community? I wanted to do something nice for an organization that works so so hard to support military families. As military families, we endure quite a number of things that civilian families don't (long separations, deployment, lots of moves, changing friends and support networks, kids with parents who have PTSD etc.) the MFRC is there to help families deal with the day-to-day stress of this life, while making it easier for all of us to get through life.
To read more about what MFRCs do click // here //
By placing fresh decor in the entryway, not only will the volunteers get to appreciate it, but so will all the kids who go to daycare there, the parents who pick-up kids after a long day at work, and the families coming in for counselling and deployment prep. I'd say it's a win-win for everyone.
This is what we started with, and before the evening was out it was transformed with pops of colour, seasonal accents and its fair share of glitter. Not everything I purchased is pictured, but a grabbed a lot of duplicates to create symmetry within the space, so you get the point.


Boxwood wreath // Shatter Proof Ball Ornament Set // Bright Ball Ornament Set // Mixed Size Ornament Set // Mixed Ornament Set // Noel Marquee Light // 10″ Wood Base Cloche // 14″ Wood Base Cloche // Noel Pillow // Bright Pom Pom Tree Skirt // 14″ Nutcracker // Bottle Brush Trees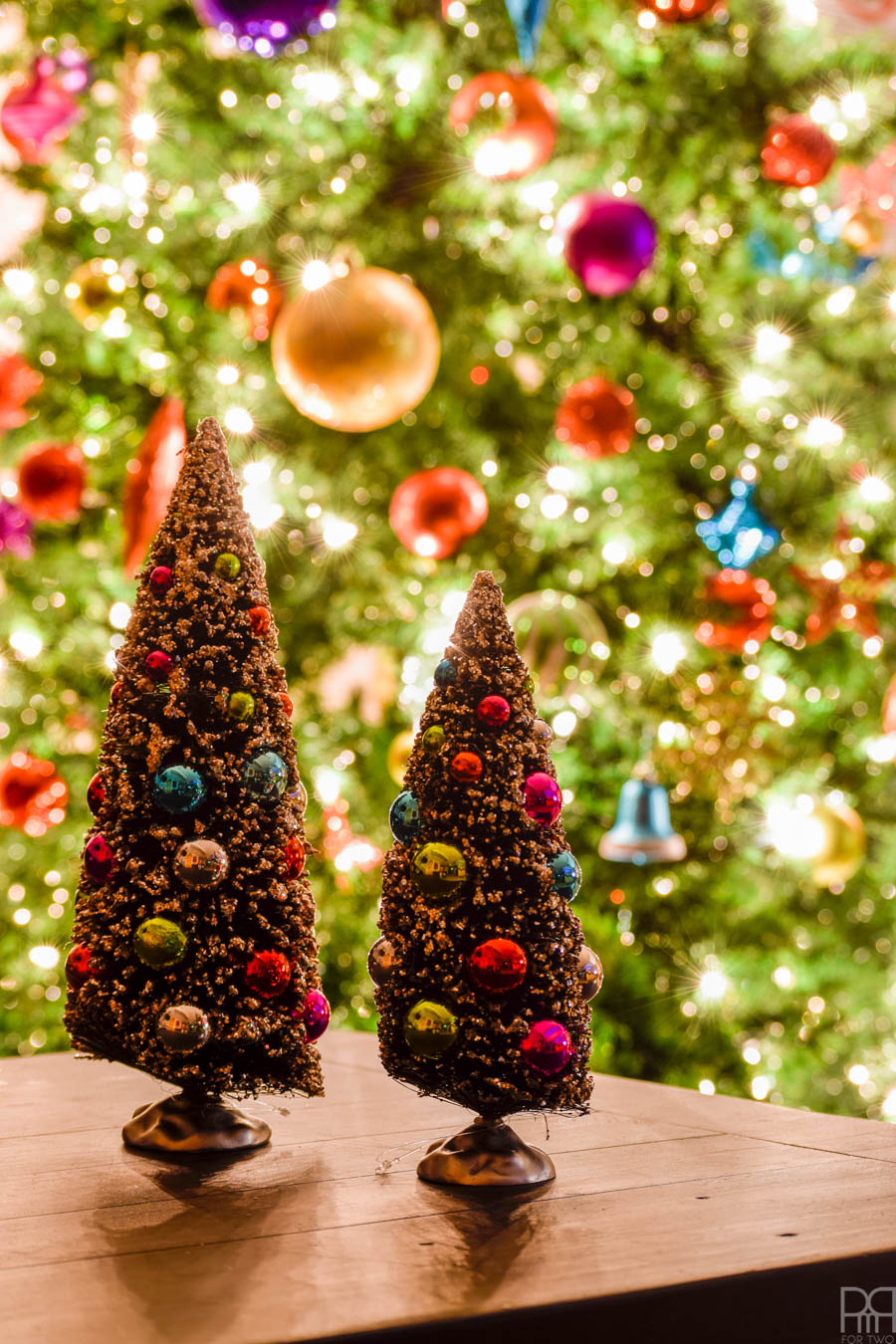 Even though the couches see a lot of traffic, adding small accents like the noel pillows goes quite a ways to brightening-up the dark.
In choosing accents with words I had to pick things that read bilingually. All my Canadian readers know, but for the Americans reading, Canada has two official languages so wording displayed in government spaces like the MFRC have to be read in French and English. "Noel" works perfectly for these purposes, so the pillows were a no brainer!
The tree skirt was another great addition; it's colourful, has got pom poms, and fun wording that reads in French or English. It also happened to match the colours of the ornaments I placed around the reception.
Over the console table, I thought some festive cheer was in dire need. A wreath, a cloche filled with ornaments, and some nutcrackers did the trick. I recreated this setup in another corner of the reception, and now we have symmetry. The ornament colours keep it fun, child friendly, and complement the traditional feel they already had going on.
Remember how I told you that everything had to stay functional? this is what I mean: no fancy trim or extra garlands and baubles. This table is right next to the door to the daycare, so like a million kids go past it every day, and that means all the fun doodads have to be snatch proof.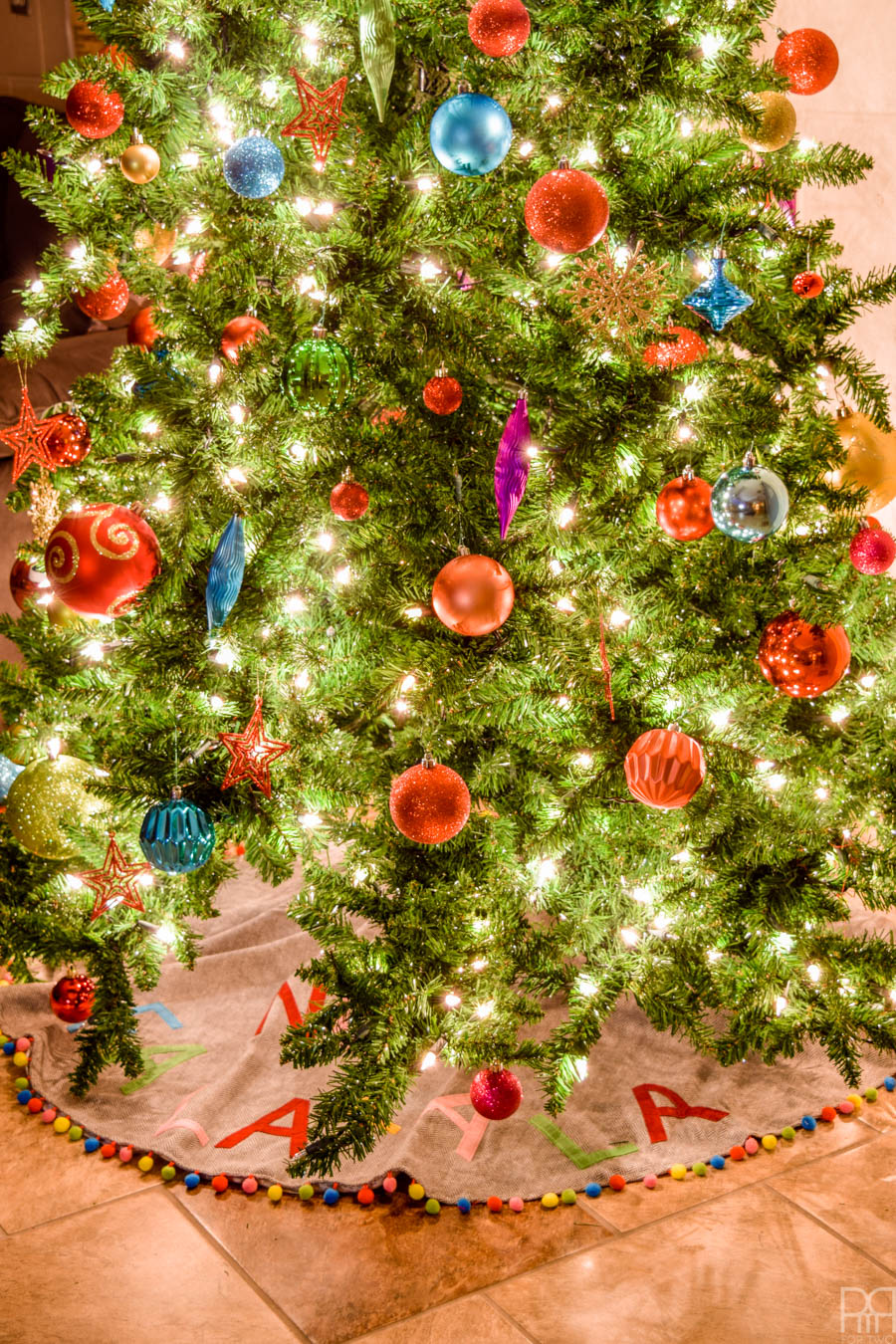 All in all, I am so thankful that Canadian Tire was willing to work with me on this refresh. I hope this morning the staff and kids were a little surprised and in awe of the new additions to the decor.