Phew! We're keeping pace with our plans to do one room a month in our first year. We just completed my home office renovations with the help of BEHR Paint ! We painted, added new flooring, and brought new life to some wood panelling. So without further ado, I present to you my Pink Home Office – just in time for Spring!
Today also kicks off the It's A Colourful Life Spring Home Tour (hosted by Dimples & Tangles and Jewelled Interiors). If you're joining me from Effortless Style, Welcome! Check out my project gallery, and poke around a bit! Make sure you hop on to visit Southern Hospitality.
*BEHR Paint sponsored this post, but all thoughts are my own. Thank you for supporting the brands that make PMQ for two possible.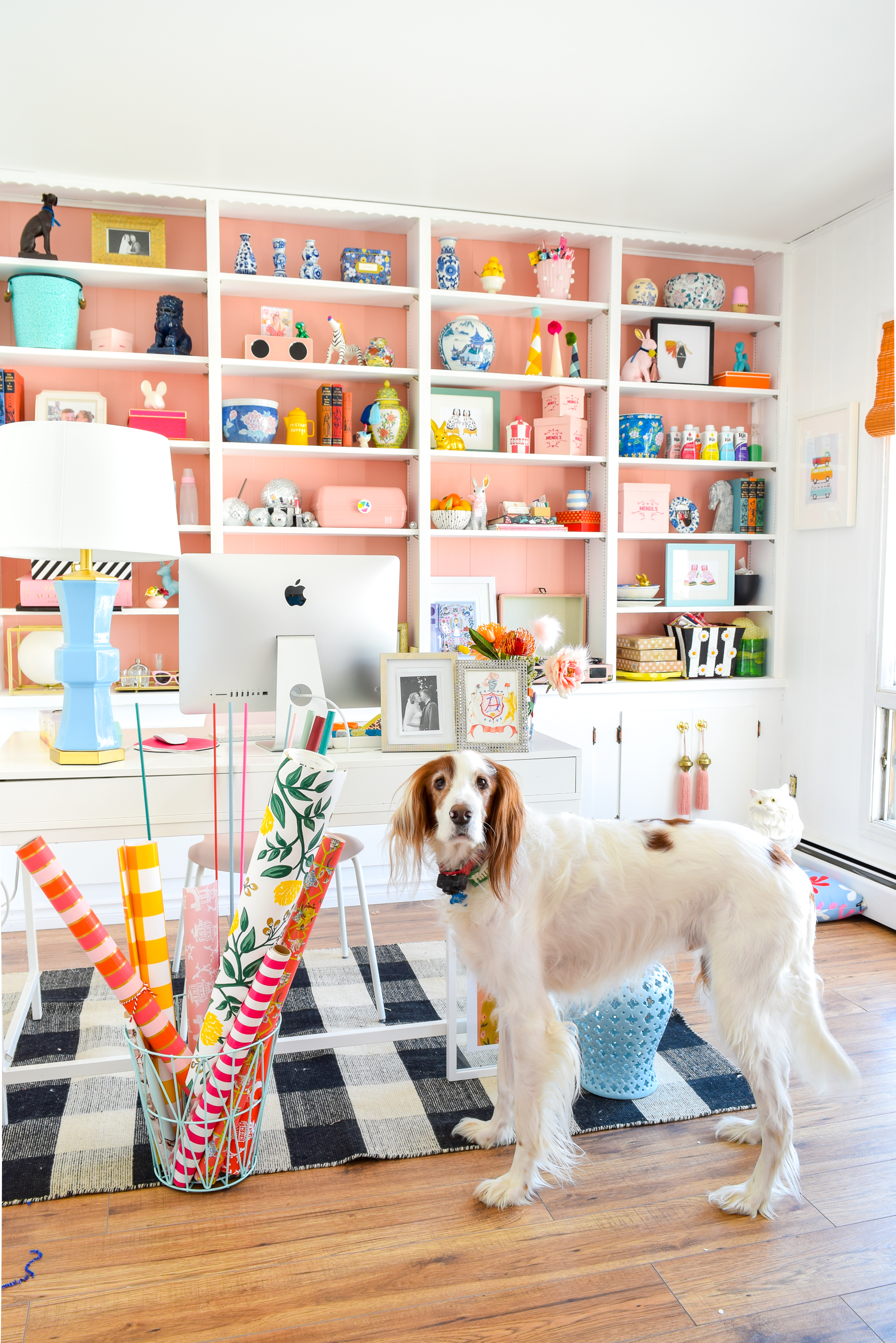 But before we get to all the lovely photos of the after, I want to talk about WHY we painted the wood panelling in the home office. Two words: bad shape. It wasn't in the best condition: there were sun stains, holes, stains, and more.
Since this space will eventually become our nursery, we opted to put in the leg work NOW, instead of once the baby is here. That being said, the wood panelling just wasn't going to work with my intended plans, so we opted to pain the space white, and do the back of our bookshelves in pink.
BEFORE Painting Wood Panelling
*all the before & process shots were taken on Dan's cellphone – sorry for the different quality!*
Don't judge me too hard, but this is what the home office looked like before we painted. I knew we were going to paint, so I kind of let it all go while we got our ducks in a row for the space.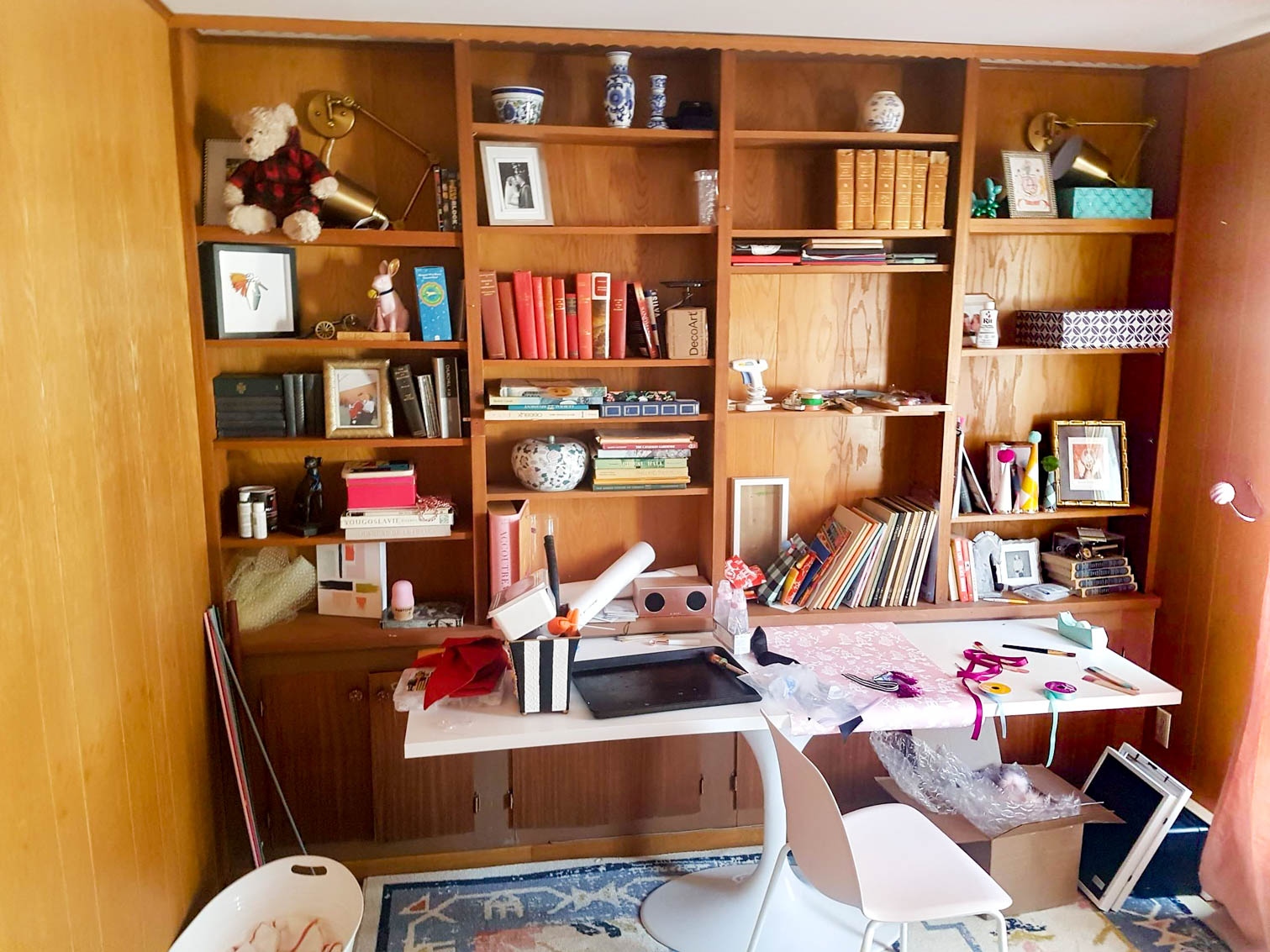 Before we could do anything, we had to take down the shelves, remove all the hardware, and plaster the holes left-over from wall art and light fixtures.
We decided not to sand the walls because of the primer we used – Kilz Medium High Hide Stain Blocker –  because as you can see, there are great discolourations from one panel to another, and even on the same panel. 
Priming & Painting the Wood Panelling
Here comes the fun part! Priming the walls was a must because of the material. The Kilz Medium High Hide Stain Blocker required two coats to get complete coverage, but only because the wood panelling ended-up being more porous than we thought.
You can see the difference here between the first and second coat of primer.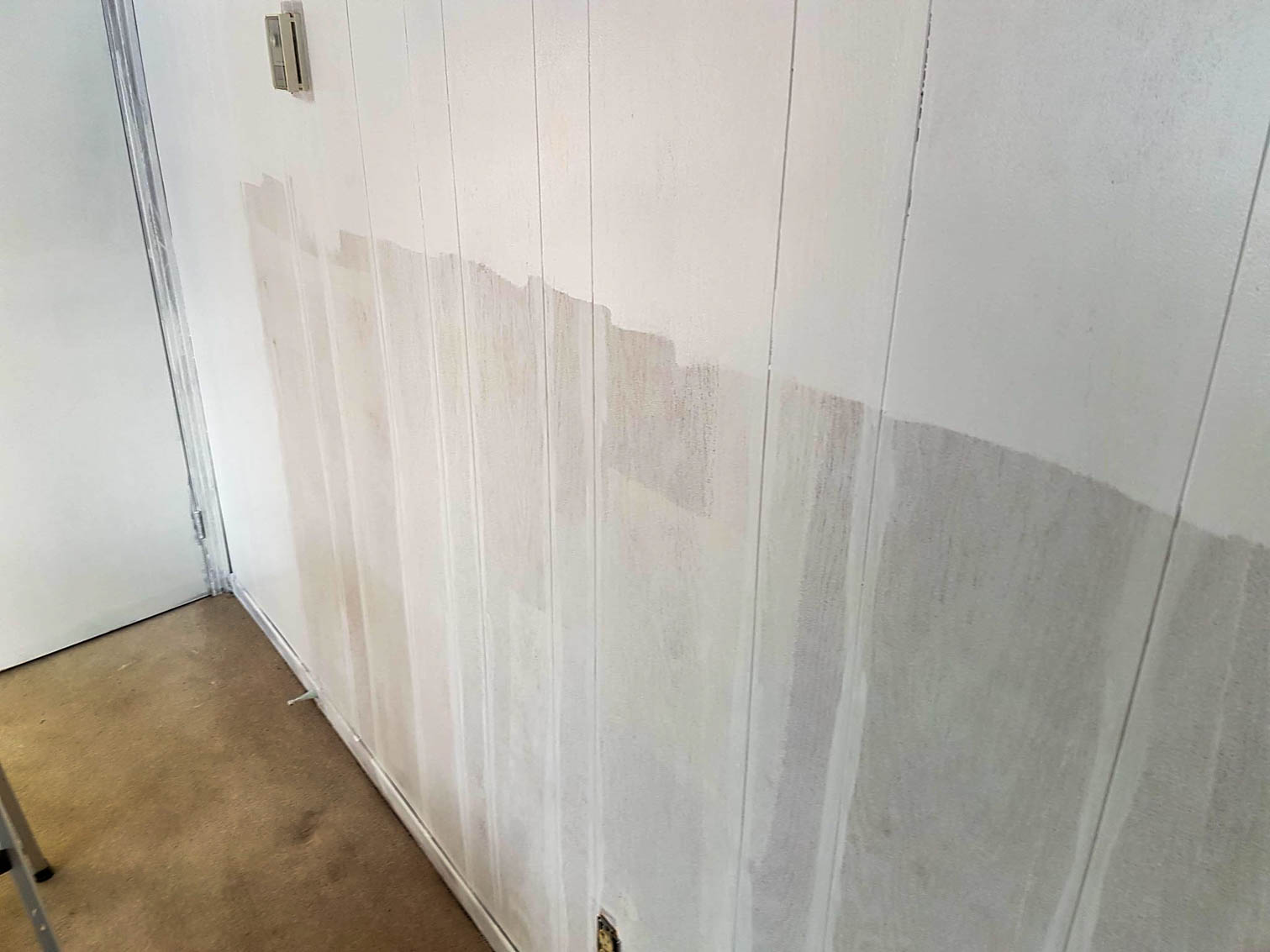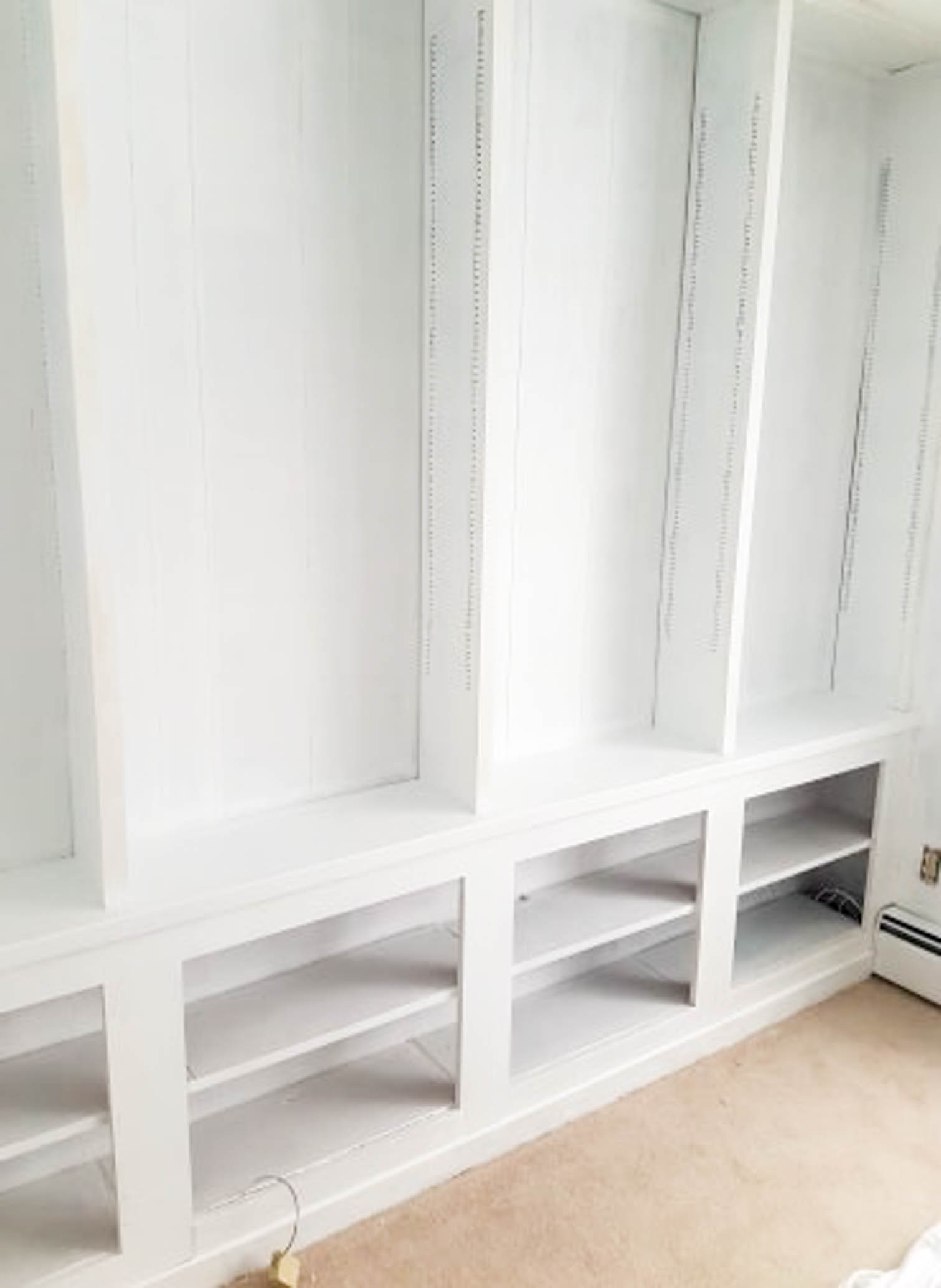 And then the first coat of paint – Behr's Marquee in Ultra Pure White – if we were just painting over drywall, we wouldn't have needed to prime because of the one coat guarantee, but alas, thisis wood panelling. A whole other ball game.
Once we were happy with the white coverage, we added the accent to the back of the shelving in Behr's Noble Blush MQ4-4u. It's a very similar shade to Flamingo Feather M180-3 which we used in our renter friendly bathroom a few years ago, and a bit warmer than Belle Mia MQ3-05 which was my shade of choice in the studio's pink & gold office revamp.
After all this was done, we re-attached the doors, and added the shelves back. While we were at it, we ripped up the old smelly carpet, and tried our hand at laying laminate flooring.
This rug was a different colour than the rest of the house, so we figured it would be a great space to test-out our skills in. Happy to report it was a success!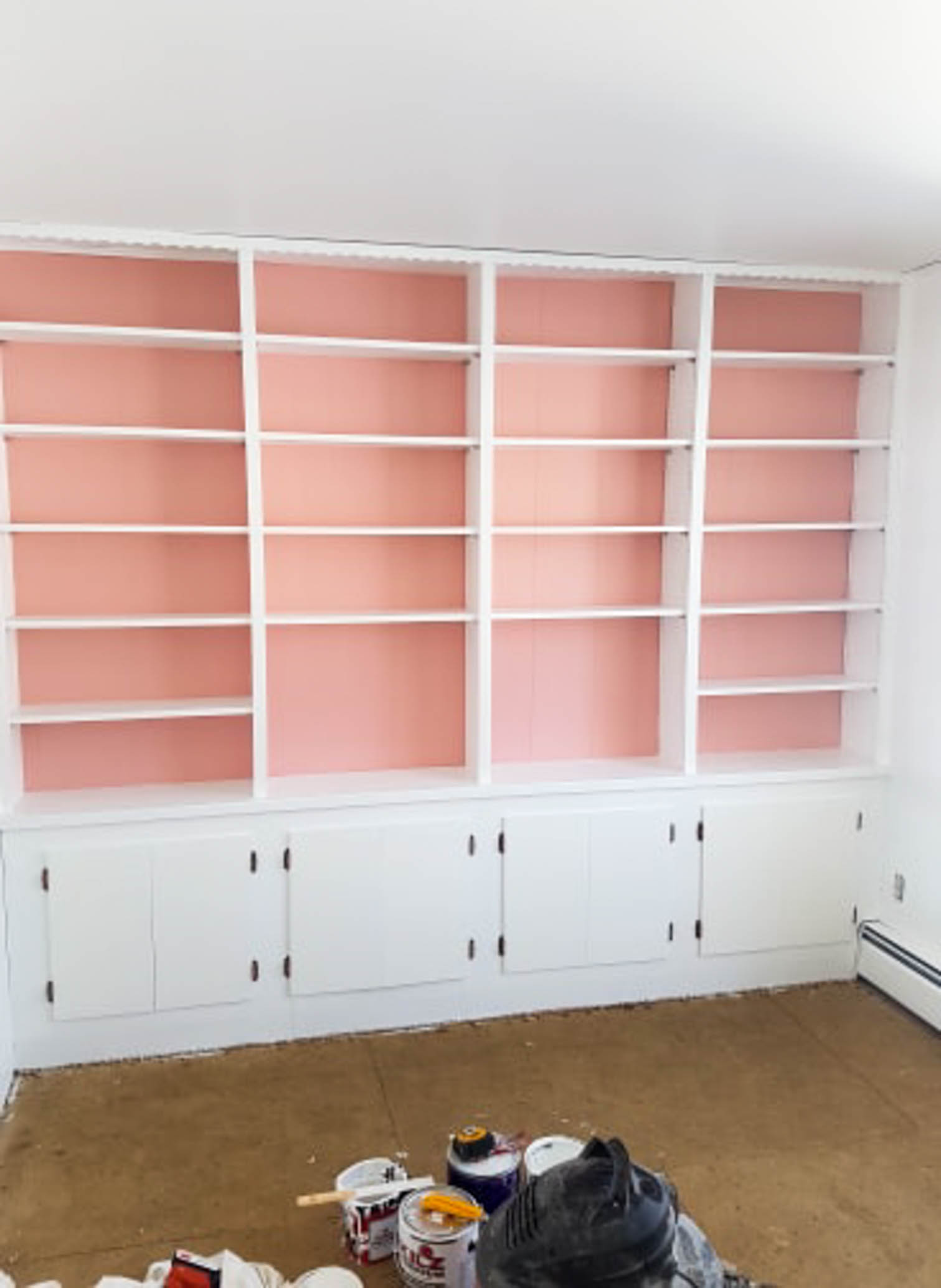 Our Pink Home Office Reveal
I'm sure you followed along on social media (particularly instagram) as I chronicled the installation of the flooring, so I'll spare you here.
Once it was all said and done, we moved my desk back in, and I took a few weeks to decorate the shelves at my leisure.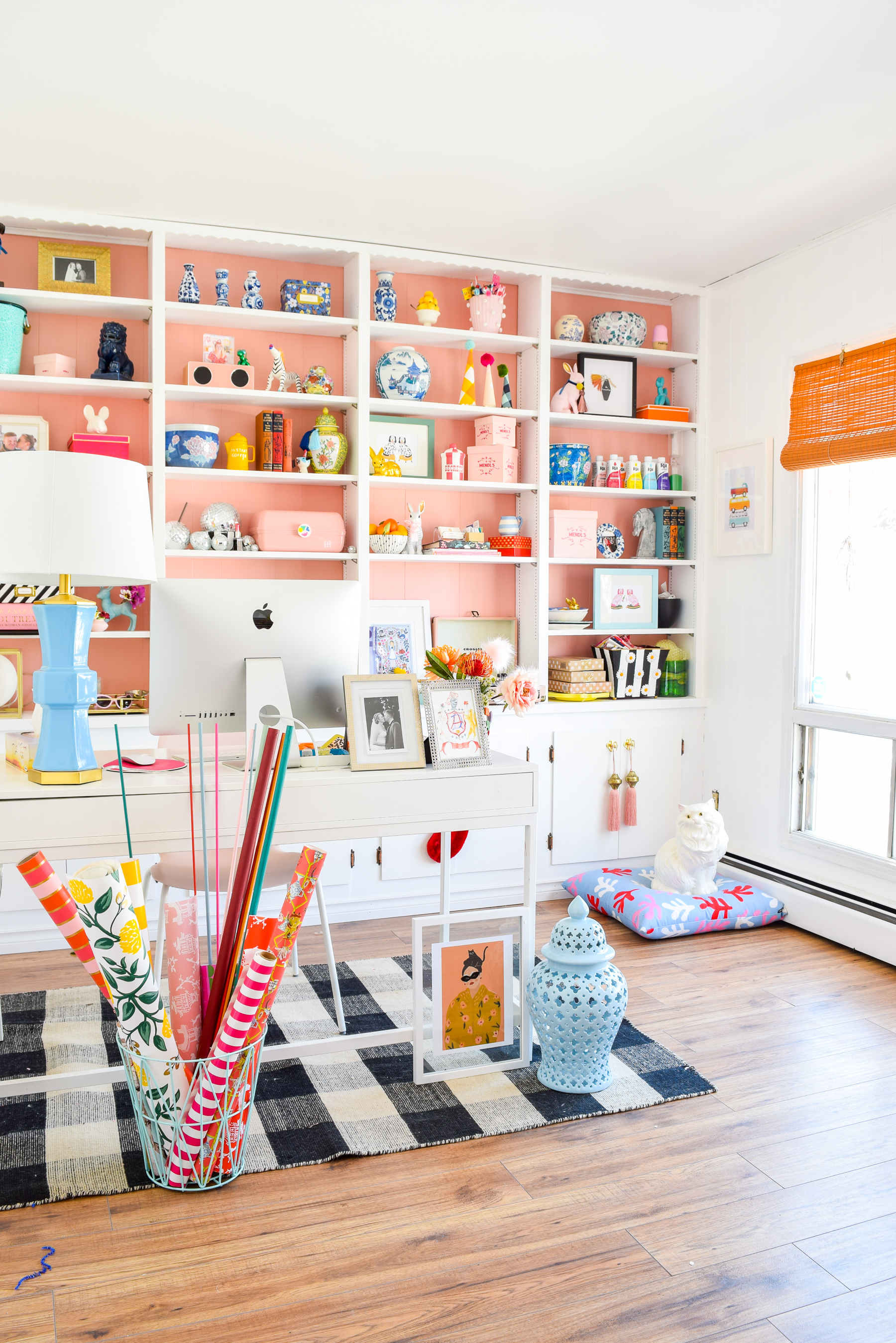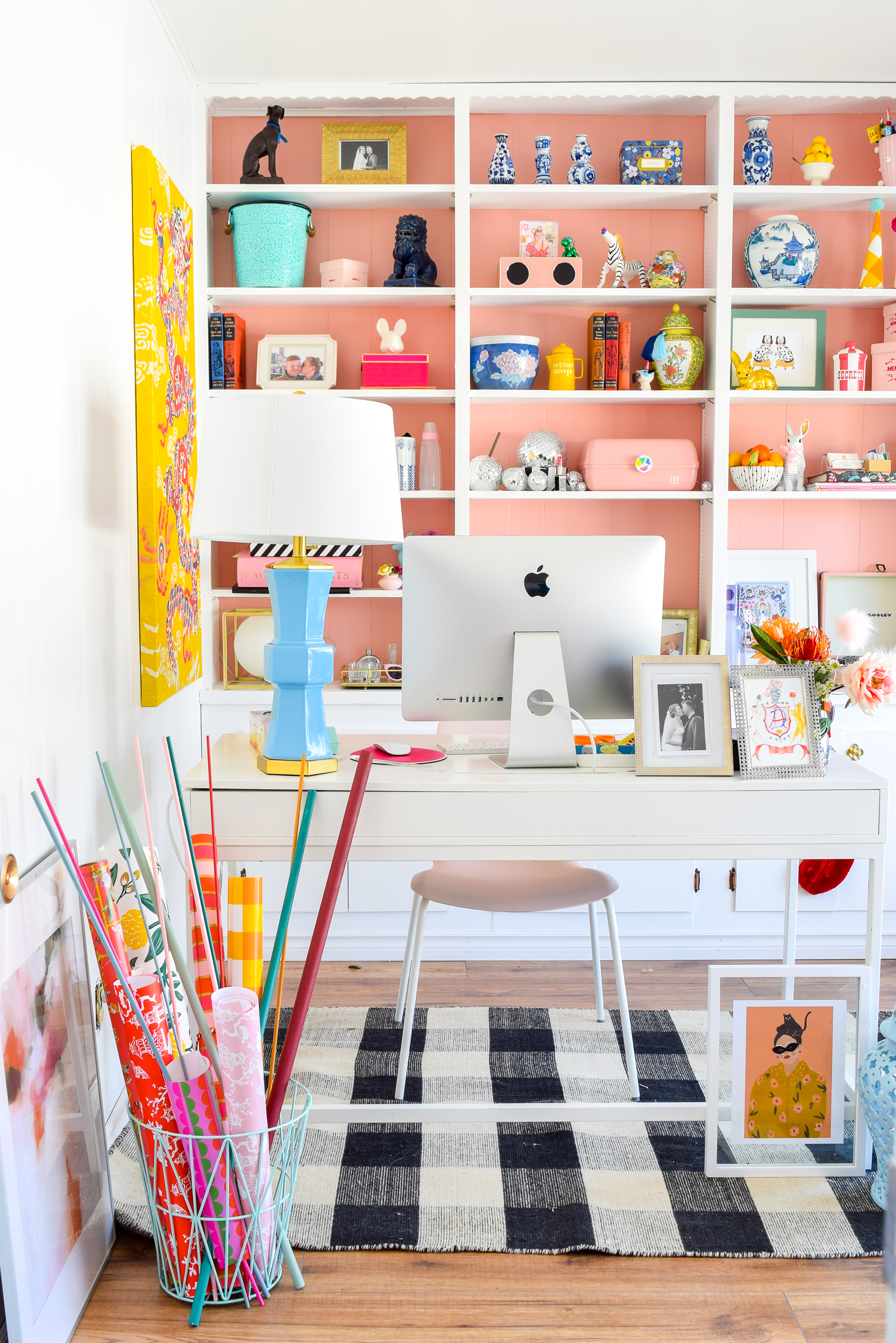 As you can see, my usual mix of every single colour – backed by
Noble Blush MQ4-4u
and Ultra Pure White –  really shines.
I do a lot of my tutorials in here, and am once again changing the scale on which I create to fit into this space.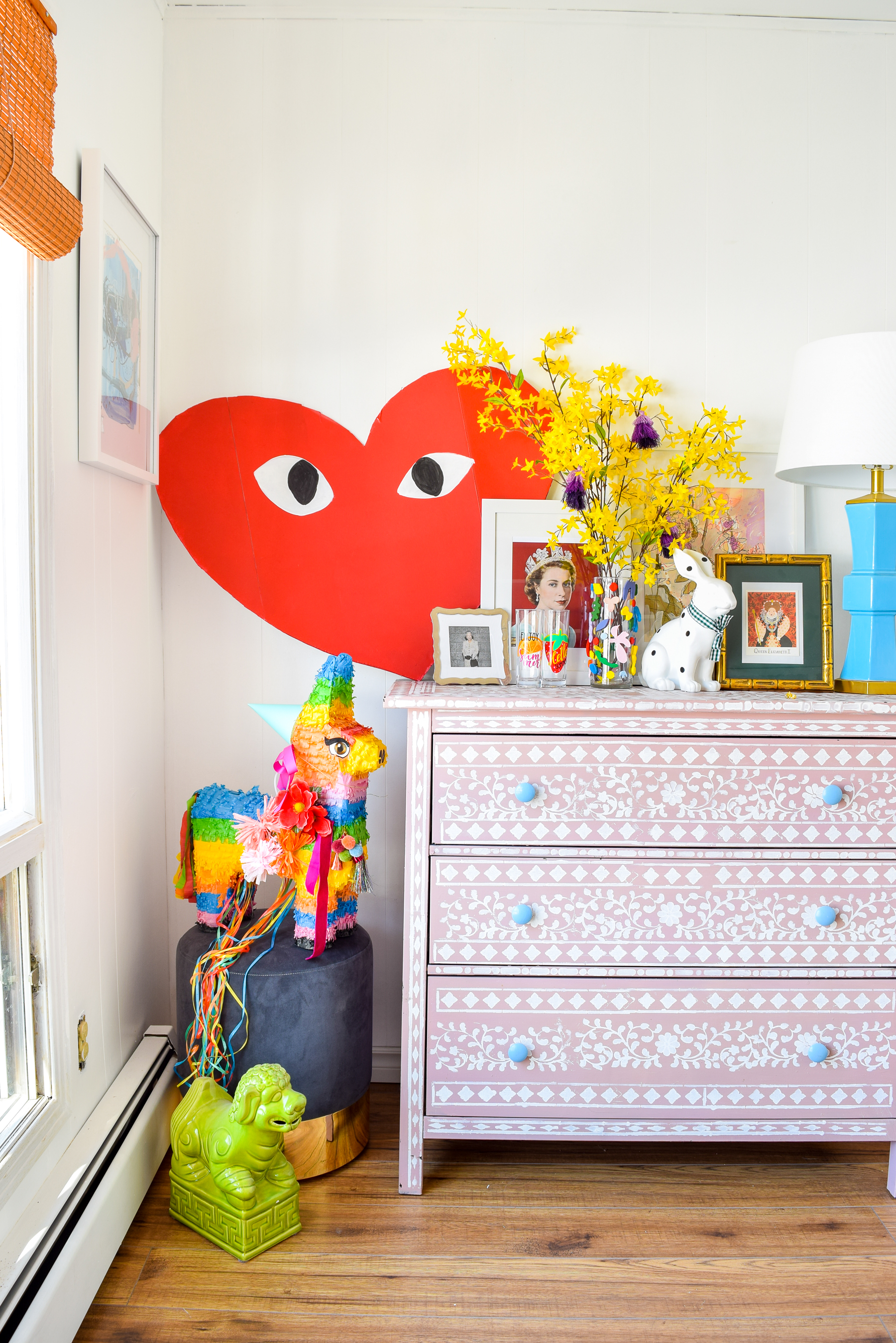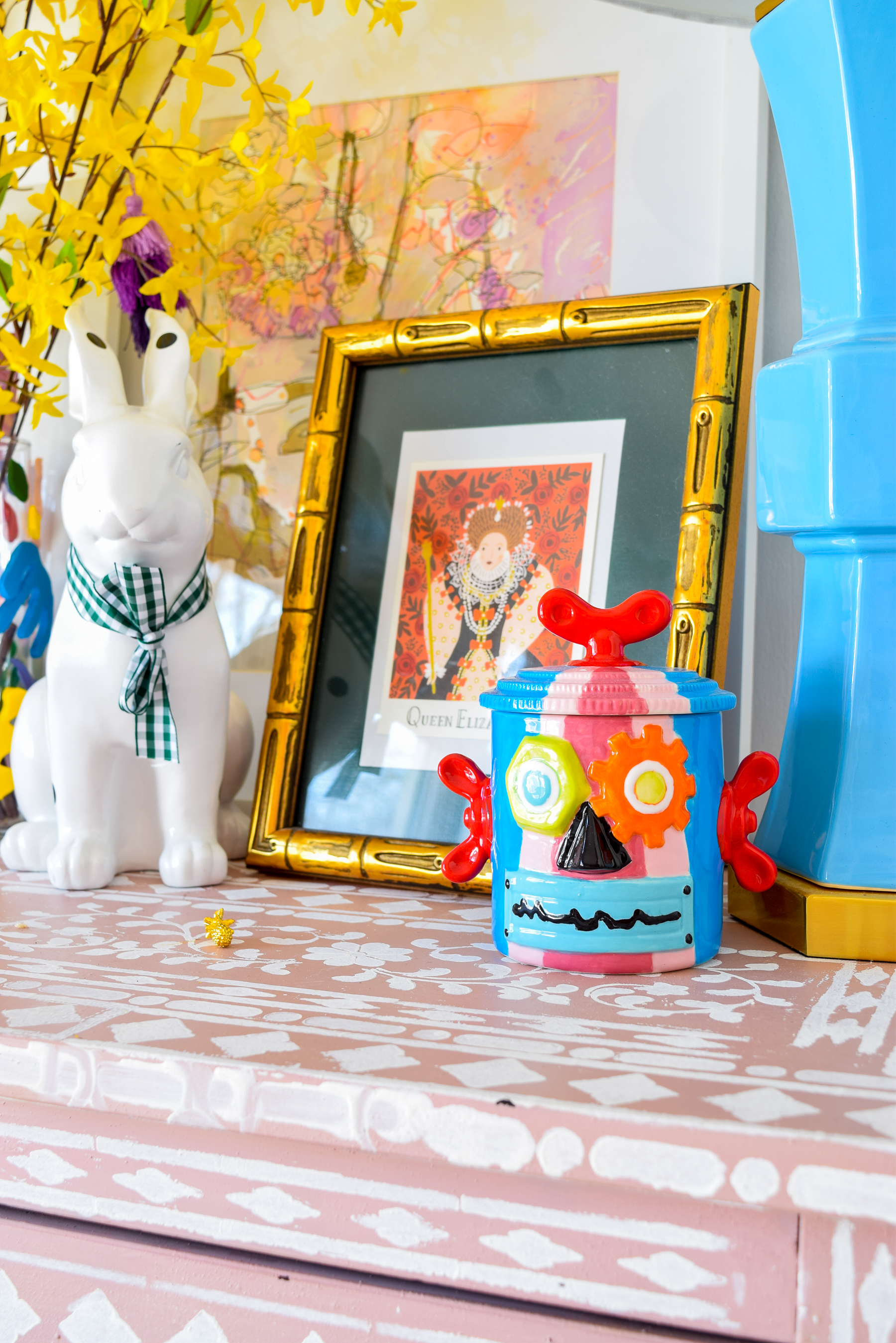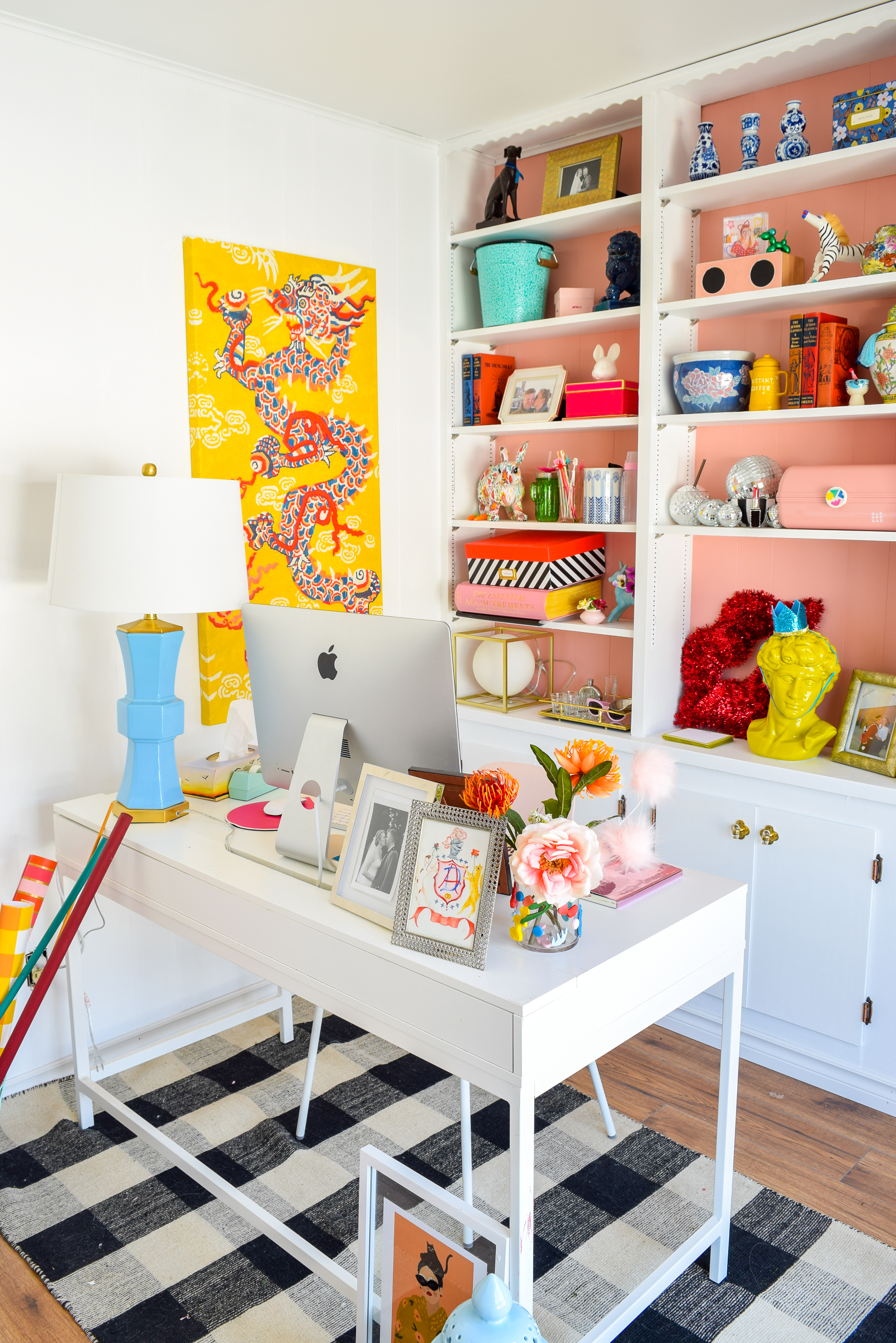 What's not to love about the gentle rosette with the clear glass pill shape? They looks classic, trendy, and will transition nicely once the space becomes a nursery.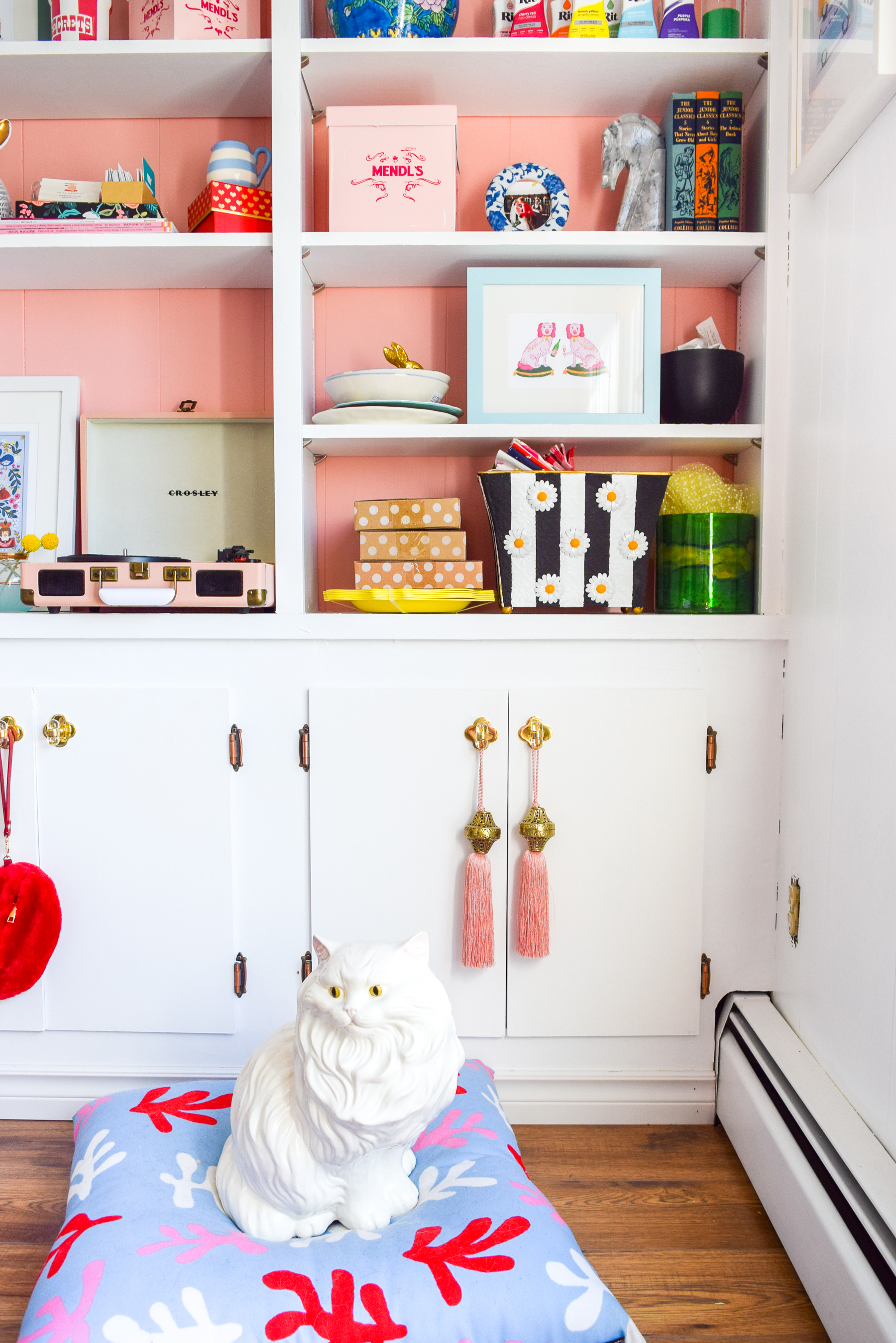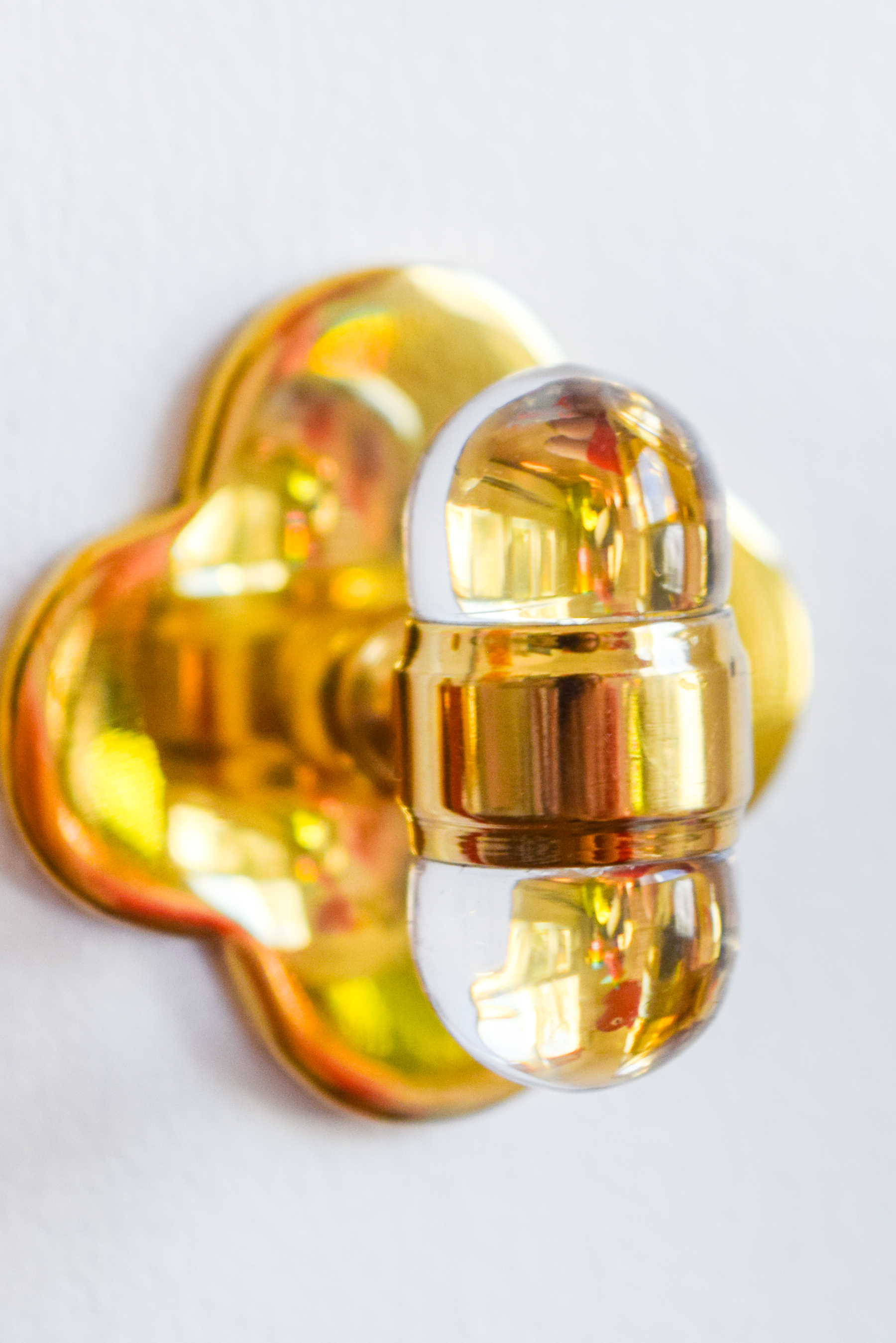 Can't get enough! Especially with that lovely shade of pink above.
The shelves aren't so much styled for photo purposes, as they are meant to hold a lot of the props I need and use frequently.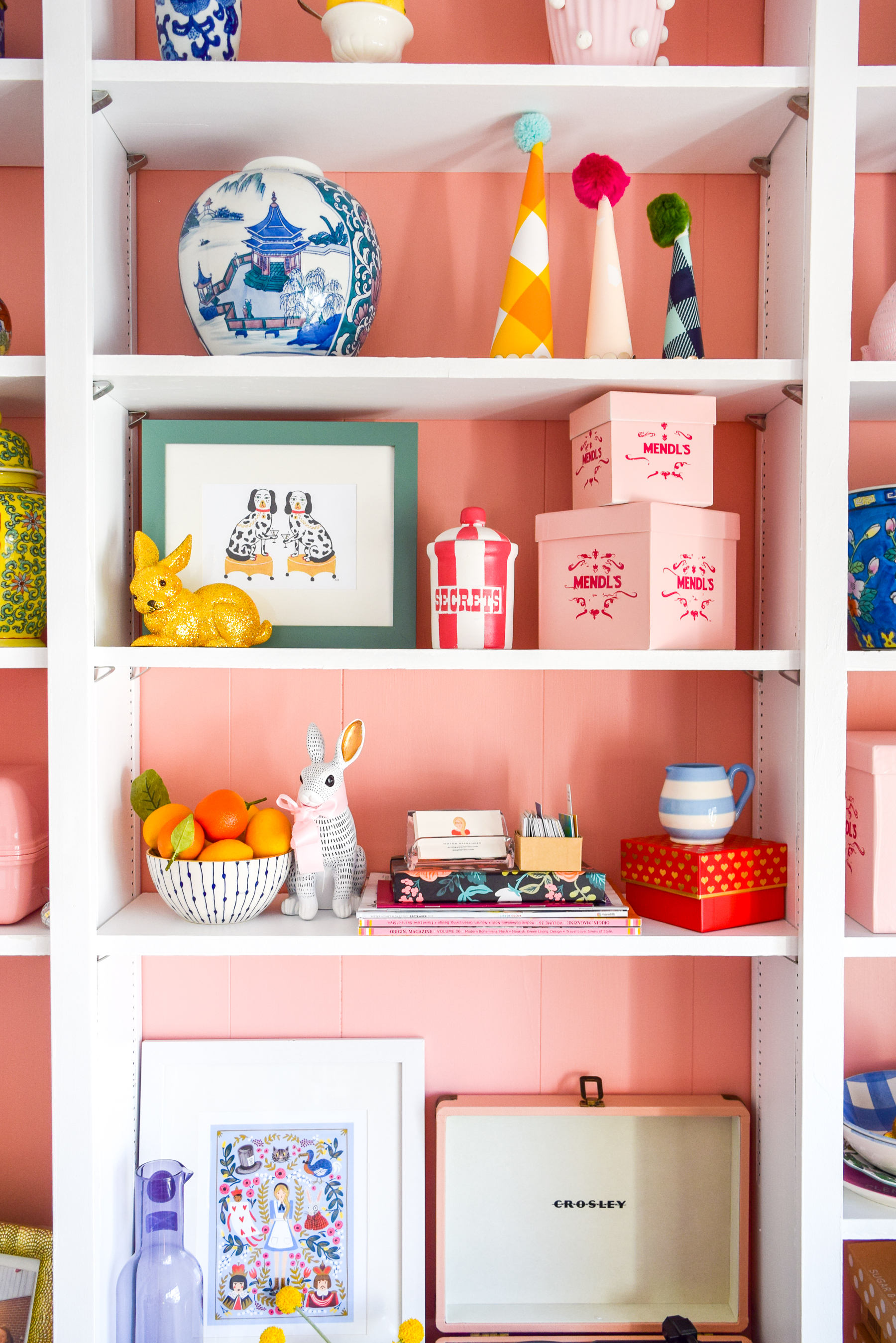 Full of all kinds of goodies, and not usually this clean, but hey! If I have photos proving it was clean at one point, no one needs to know that there are napkins and cups all over the place.
Did you know we had a crest? Dan and I had this done by our friend before the wedding, and it went on all the wedding invites and correspondence. This is of course before the addition of Toby.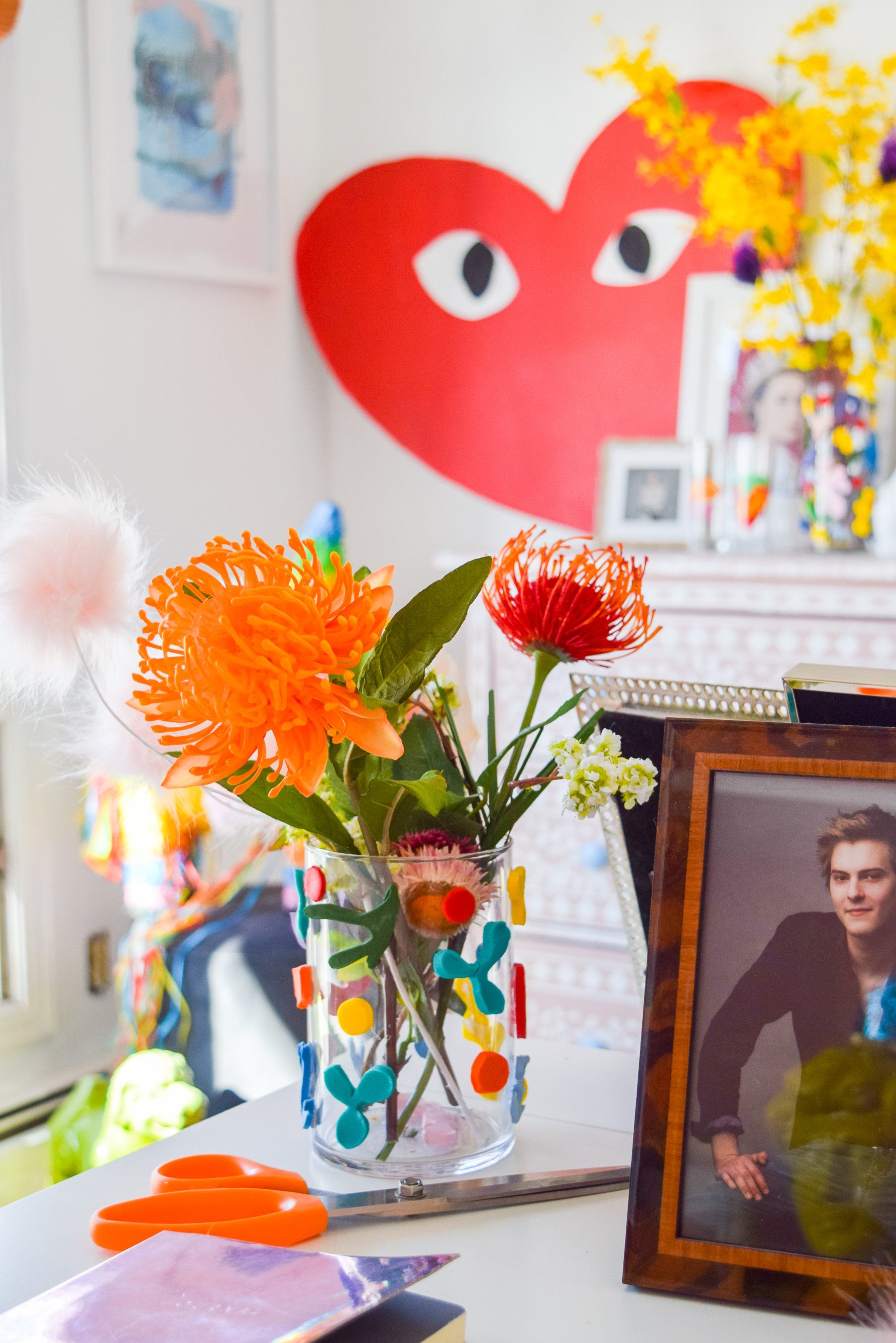 In this desk re-shuffle I was glad to get the photo of my brother back up. It's nice to be able to look at him every now and then. We miss you soon to be uncle Eman!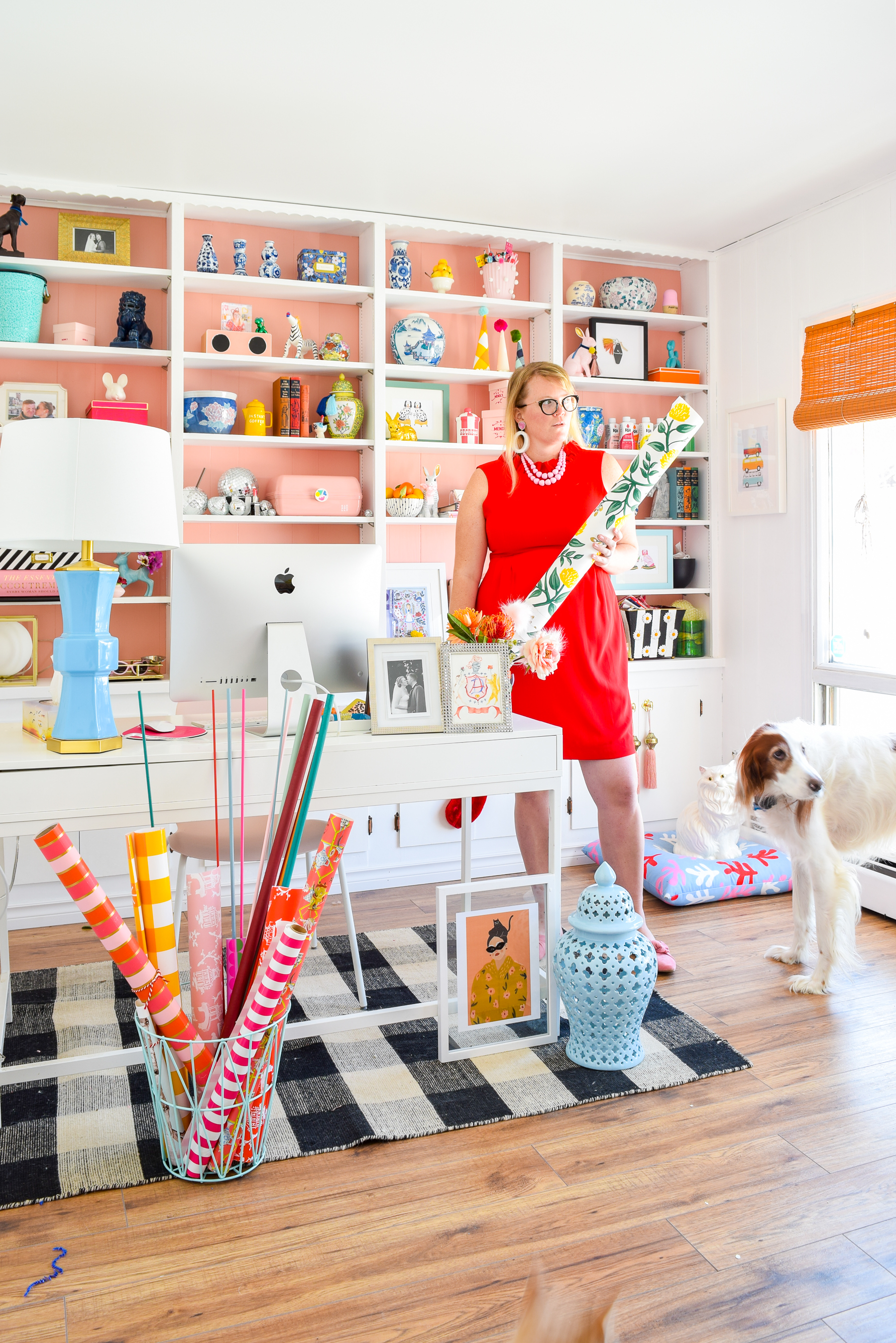 This photo was taken at the exact time the UPS guy rolled-up, hence why we're all looking out the window, and why Boots (in the bottom) is making a mad dash for the window as well. Bunch of weirdos.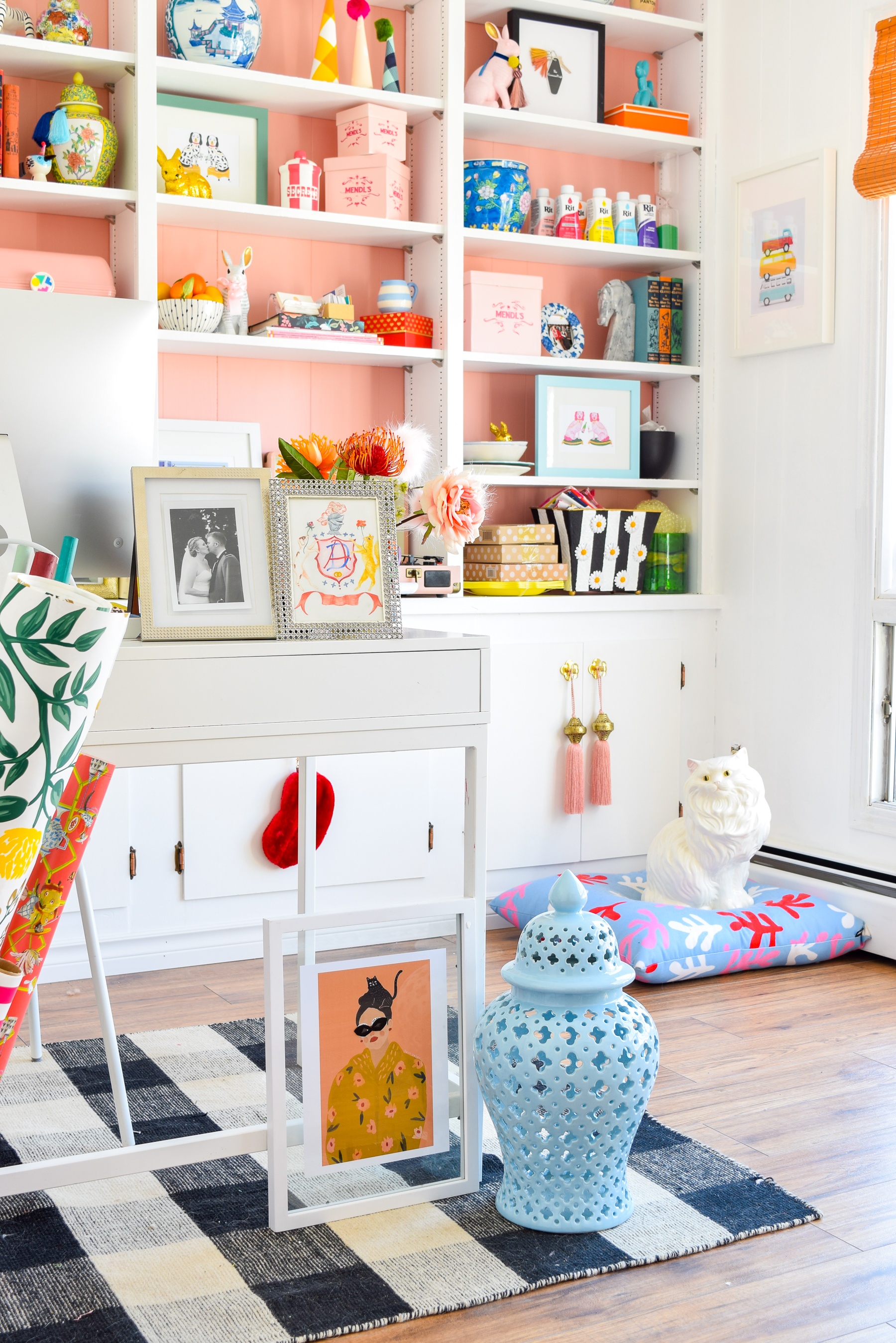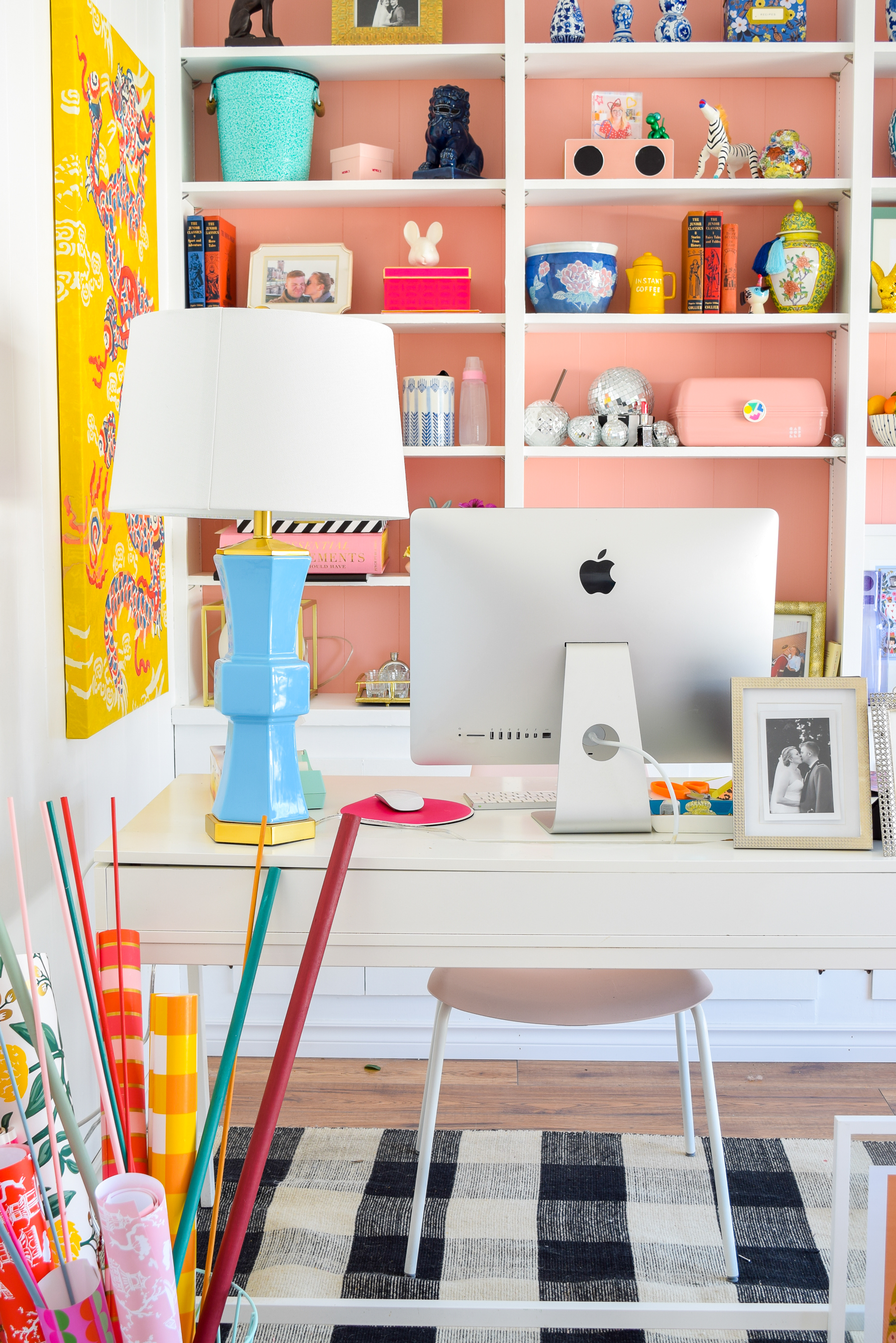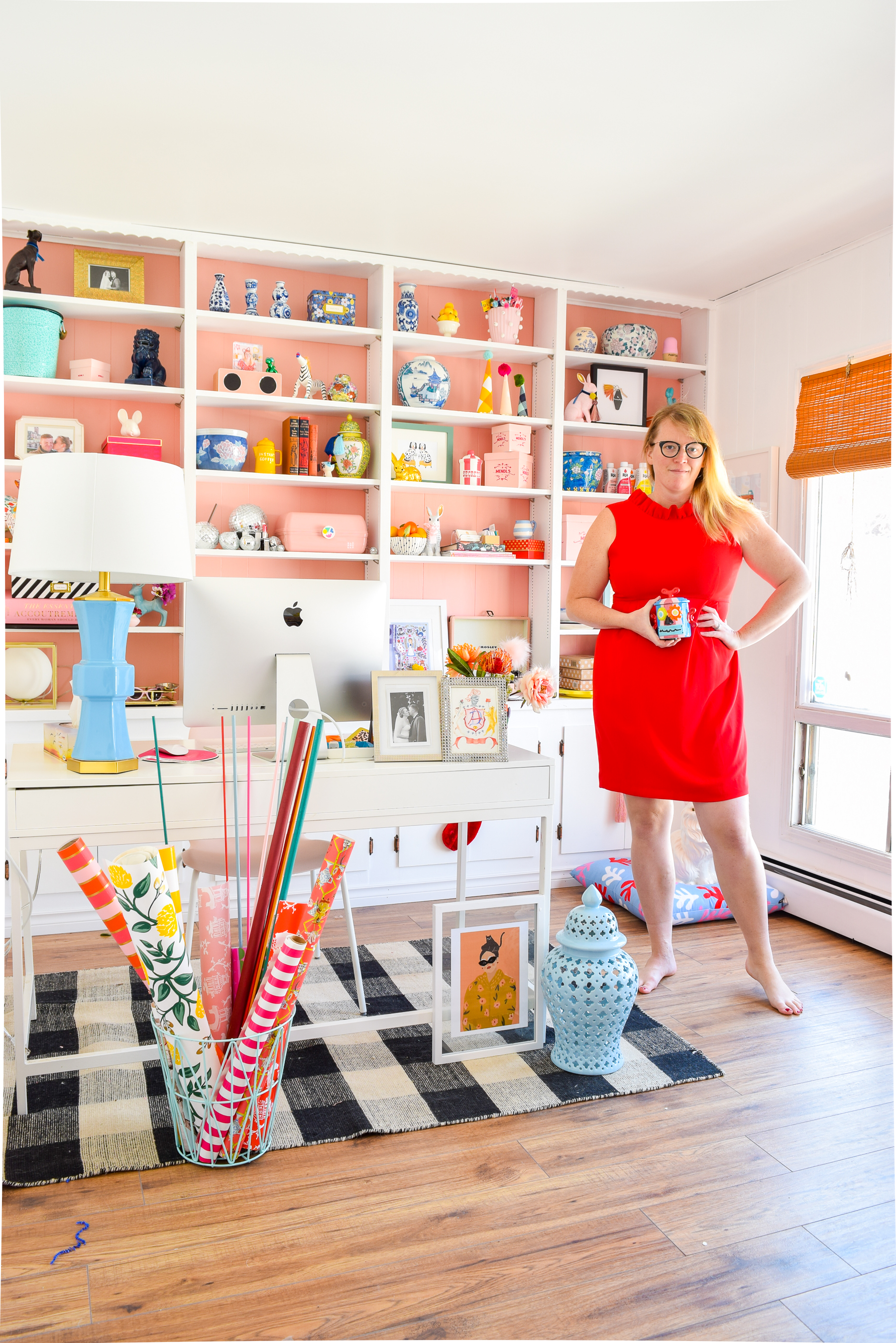 And there you have it! Make sure you check out the others up today in the tour! And circle back through Thursday to see the others, there are a few of us going live each day.
TUESDAY
WEDNESDAY
THURSDAY
Shop my Pink Glam Home Office