I am slowly winding my way through the 10 days of DIY, and I swear I'm gonna get there! So, Day 6 here we go! I made DIY Colour blocked Kitchen Canisters using the gold alphabet stickers I had bought way back in January. I used some spray paint to give them a distinct Kate Spade feel, which is perfect for spring!
Check out my DIY Colour Blocked Decor round-up
Colour Blocking Decor
I love a good colour block! Why? Well, I love colour, so anytime I get to add another one into the mix I'm happy. It's a fun way to bring balance to a palette, juxtapose two shades you love. So it's only natural that I would use this as a way of bringing some fun into our pre-reno kitchen.
I went with colours that are pulled straight from classic Kate Spade, because I am all about her colours for spring.
Colour Blocked Kitchen Canisters
To make these kitchen essentials, we're starting with some dollarama glass storage canisters. I then rounded-up my fave shades of spray paint, and my gold sticker alphabet.
You ready for how easy this is? Wrap the glass canisters in painter's tape so that you bisect the glass where you want. I then wrapped the part that wasn't being spray painted in a plastic bag, and added another layer of tape. But that ain't cute, so no pic for you.
*NOTE: You could then paint the other half of the canister in another colour, but I chose to paint the lid instead.
Keep in mind that glass will take to spray paint differently depending on how clean it is, so make sure there's no dust or oil on there. In fact, run them through the dishwasher, especially if they're going to hold food before you spray paint them.
As with all spray painting, hold the can about 25cm away and spray in long sweeping motions. It'll take several coats to get your coverage, and hopefully avoid any dripage.
Once they're dry, it's time to apply your gold alphabet stickers! I bought mine at Michael's for about 10$, and had more than enough to spell out for a few words.
I didn't want to put things like "sugar" or "flour," but "sweet" and "salty" as well as "coffee" felt right to me.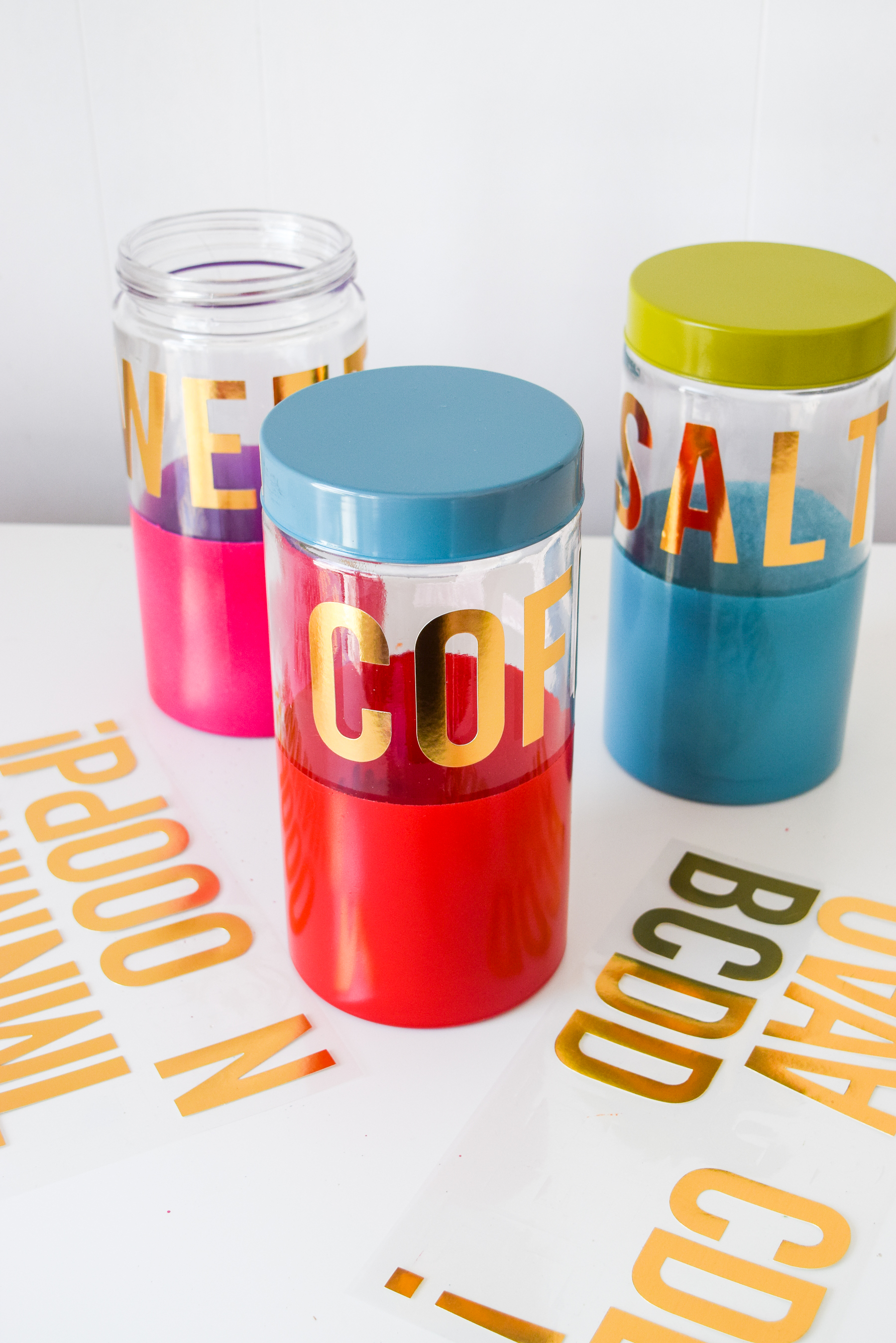 Using your Kate Spade Inspired Kitchen Canisters
Even though we're getting ready to demo our Kitchen this weekend – because HOORAY! – so I wanted to sneak in one last shoot with this kitchen as is.
Plus now we have canisters for when we're setting it up again!
Yield: 3 Kitchen Canisters
DIY Colour blocked Kitchen Canisters
Make your own DIY Colour blocked Kitchen Canisters using gold alphabet stickers and paint in your choice of colors.
Materials
Spray Paint
Gold Alphabet Stickers
Painters Tape
Instructions
Wrap the glass canisters in painter's tape where you want the paint to be.
Spray paint with 2-3 coats allowing the paint to dry in between coats.
Paint the lids in another color.
Allow to dry.