If you're like me, you sometimes turn to Pinterest for tips and tricks. Just the other day I had to look into Nursery Bookshelf Styling Tips, because I wasn't hitting the right chord with June's nursery shelves. So after scrolling for an hour, and trying things out, I've put everything I learned into this post!
Check out the plans for the rainbow nursery, her DIY bean bag floor pillows, and the DIY rainbow door.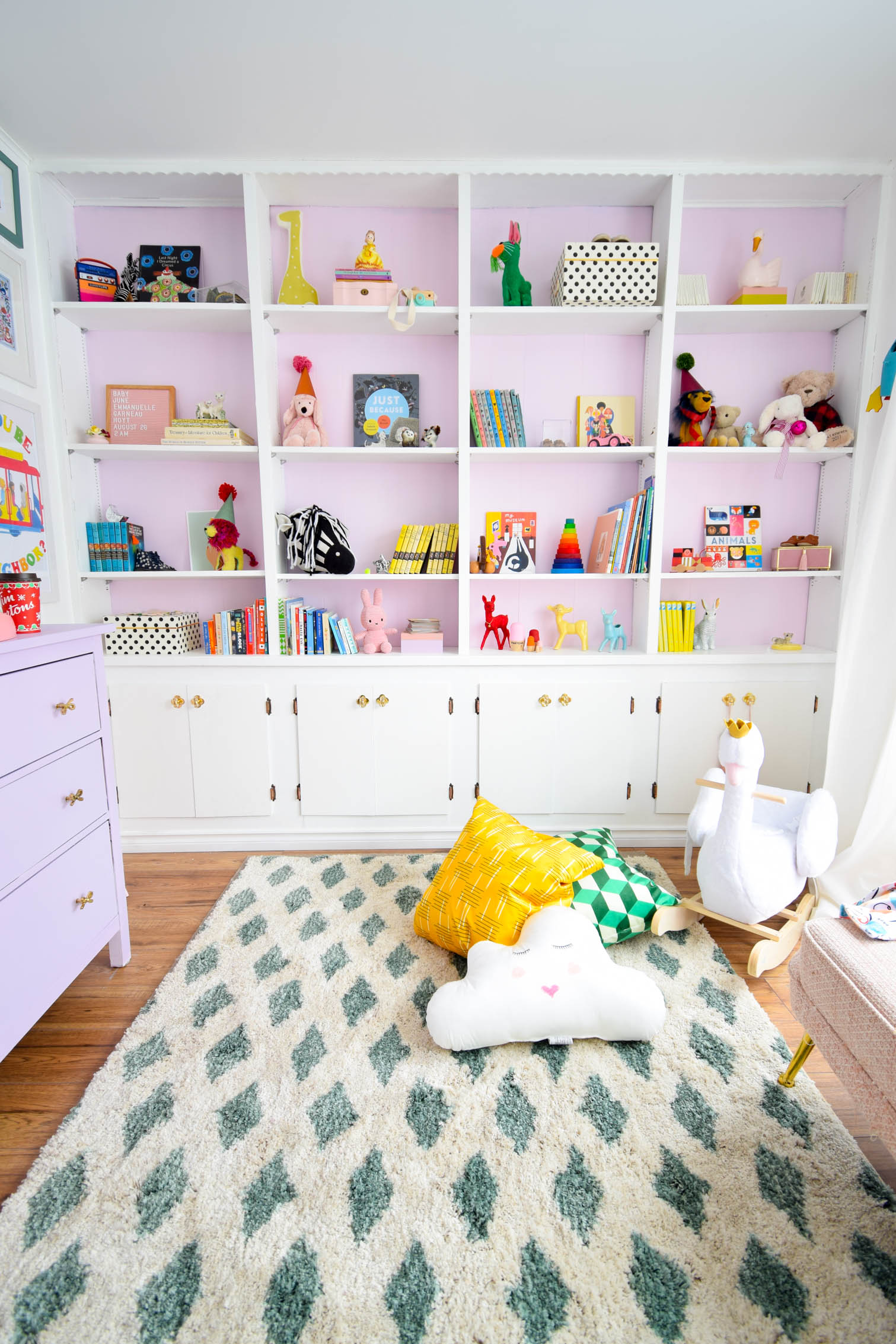 Use unexpected items, obvious choices, and a bit of flair to style your kid's bookshelves with confidence.
The New Year New Room challenge is almost over! We're in the home stretch, and had initially planned to reveal our completed spaces tomorrow, but we all agreed to push it a week to give ourselves some breathing room. In the meantime, make sure you check out where the others are at with their spaces!
Casa Watkins Living // The Boho Abode // Delineate Your Dwelling // Haneen's Haven // The Happy Housie // Homemade by Carmona // House by Hoff // Jeweled Interiors // Kaleidoscope Living // Our Fifth House // PMQ for 2 // Rain on a Tin Roof // Southern State of Mind // Taryn Whiteaker // This is Our Bliss // Thou Swell // Up To Date Interiors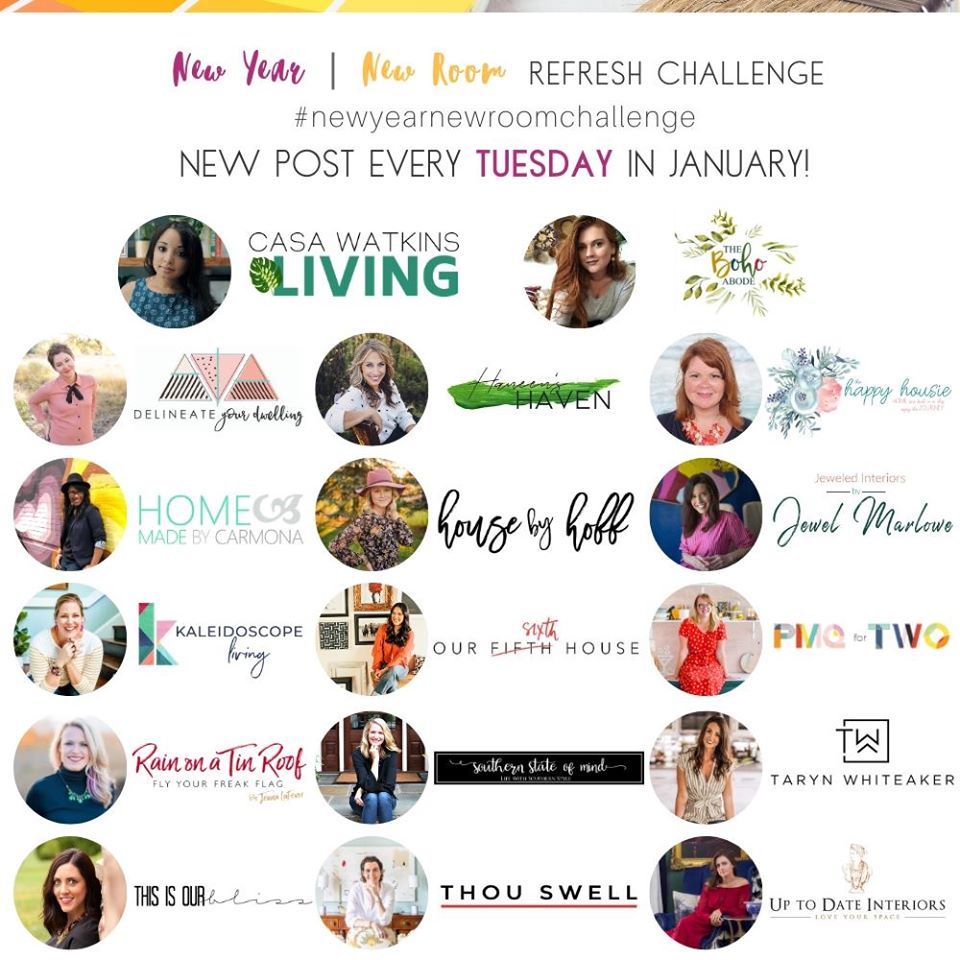 Nursery and Kids Room Styling
Kids rooms, and nurseries in particular, can be tricky to style and decorate. How do you toe the line between a space that's beautifully designed to suit your needs, their taste, and all the mess that goes along with kids? Short answer: pick and chose. While we've only done a nursery (not a toddler or kid's room), I've chose the bookshelves as my battleground. She won't be able to reach them for a while, so in the meantime I can style them as I wish!
Everything here, goes into one set of her shelves, and I'm gonna show you how!
Nursery Bookshelf Styling Tips
Nursery bookshelf styling is similar to regular bookshelf styling, except you want to play up the color and whimsy. These aren't for you, rather for a growing mind that needs contrast, shapes, pattern and colour.
Paint the bookshelves a soft colour
I repainted the bookshelves in our nursery. They were a lovely shade of green before, and before that – a peachy pink! I thought the green would be a nice gender neutral shade, but turns out all I wanted to do was paint them pink. I chose Pink Proposal M120-1 by BEHR paint, because it has soft purple and a hint of pink.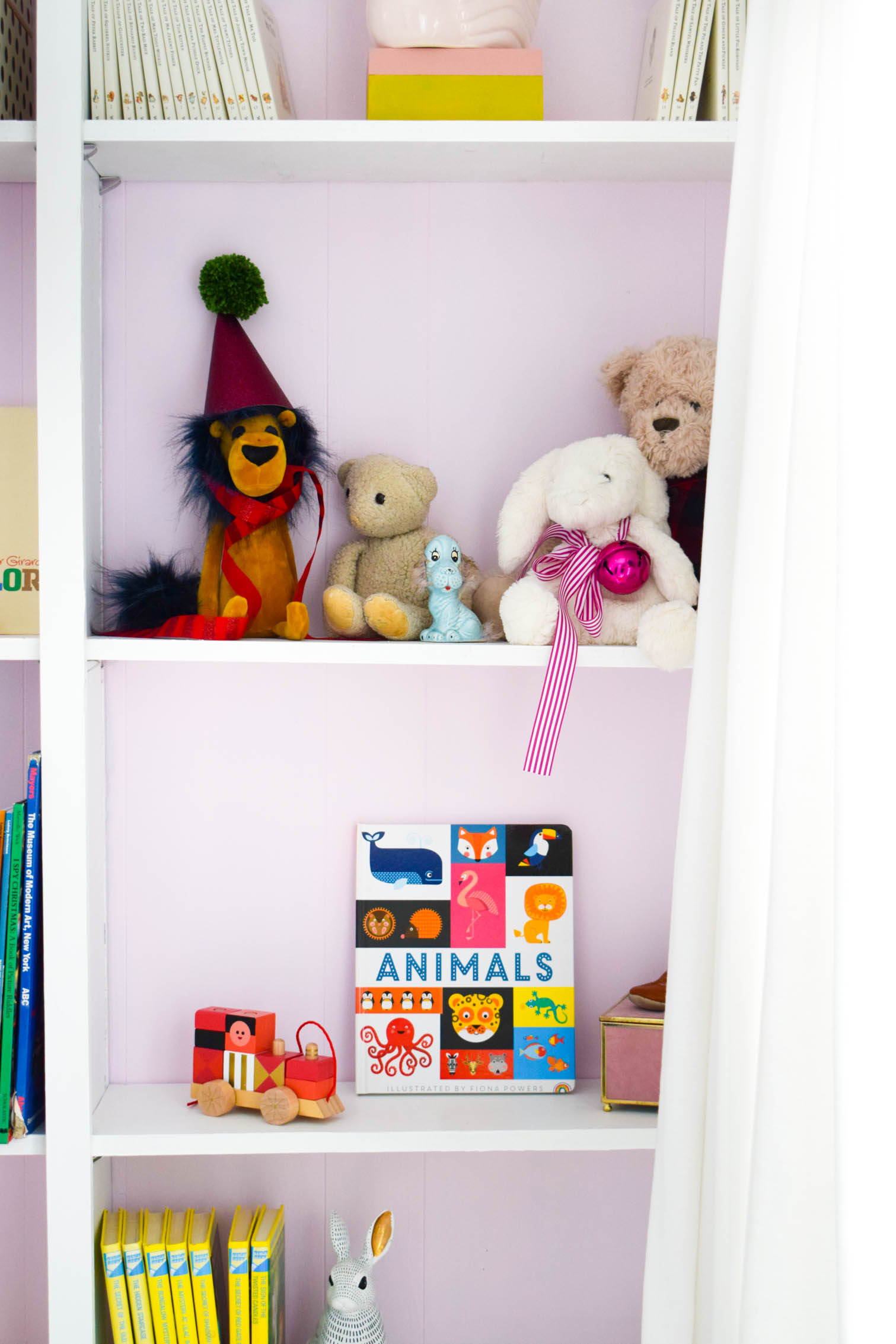 Display Books Facing Forward
I struggled to fill the shelf backs with colourful patterns, without cluttering each shelf. I didn't want to add more shelves, so I tried flipping books with pretty covers forward, and leaned them against the back of the shelves.
Use Playful Collections
I tend to collect items. NO SURPRISE here! I've grouped the similar items on the same shelves. Instead of trying to sprinkle them throughout the shelves, I find they make more of an impact when grouped together. Here I've got my deer on display, but the same applies to books, and teddy bears.The spines of Nancy Drews and The Hard Boys look great when placed side by side.
Use Baby Accessories as Decor
JB's got more shoes than she can reasonably wear through, so while we cycle them to match her outfits, I'm putting the cute ones on display.
I even put her first pair of mocs inside a little display case. Preserved for posterity!
Add Toys for Extra Colour
There are some toys I've purchased ahead of time, and others that were given as lovely gifts. Her range of play things is kind of limited right now, so I'm keeping all the pretty ones on display until she's got an interest.
Use Animals for Fun
I don't care how monochromatic your decor is, you've gotta add some animals to your kid's decor. Between the deer and the stuffed animals, we're good. But I also added a stuffed Zebra head instead of hanging it on the wall. If you're so inclined, use some fun party hats (or baby hats, bonnets etc.) to give an extra pop of color to your animals.
Grab my paper party hat tutorial.
Style Books by Height
This is a GREAT way to make something essential, look deliberate. Books that aren't part of a series, can look chaotic. Even organizing them by colour can leave ya wanting, when the heights and thickness are off. You can organize them by height to create a bit of order. I used the different cubies to create a bit of symmetry.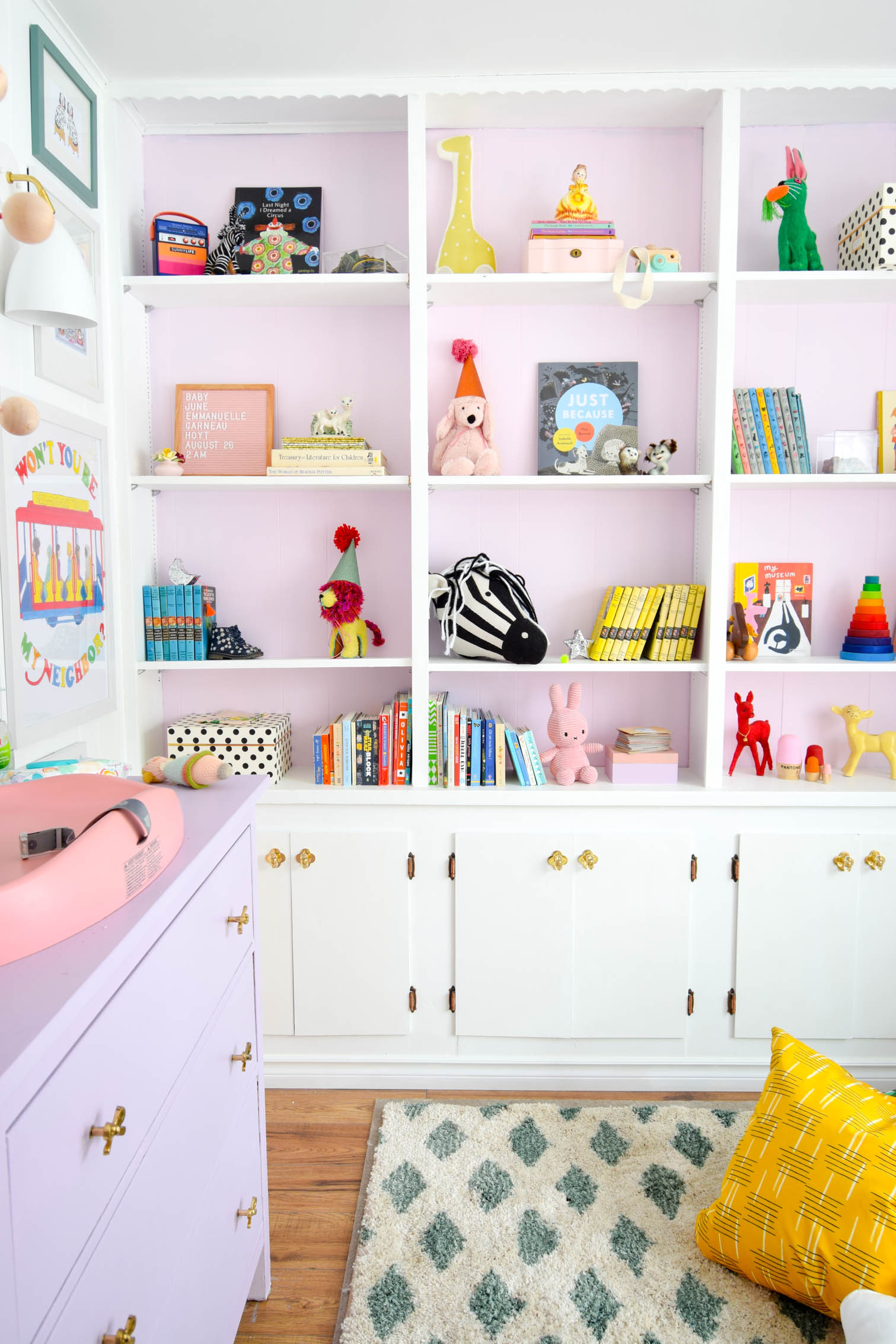 More Bookshelf Styling Tips
So there you have it! I'd also recommend the following:
Add some plants! Despite how bright these photos are, this space doesn't get enough light for plants otherwise I'd have them.
Add pictures! I wrote a post about using personal pictures as decor in a nursery this summer. In this iteration, I've moved those photos to our master bedroom.
Baskets are your friend. Use them to coral easy-access items that are kept within reach. Blocks, books, and lego etc are perfect for baskets.
Let there be light! We have ample wall and task lighting in this space, otherwise I'd be trying to sneak in a lamp or a night lite on one of the lower shelves.
Looking forward to the reveal next week? So am I! Make sure you circle back for the complete scene. In the meantime, bug thanks to our sponsors.