Summer is a time for fancy cocktails, fresh garnishes, and all the patio time you can get! Here in Canada at least, the sun and warmth are fleeting, so we take full advantage while we can, and that involves a cocktail or two. I've rounded up 17 refreshing summer cocktail recipes for you try, including a few of my own tried and tested faves!
*First published July 5th 2019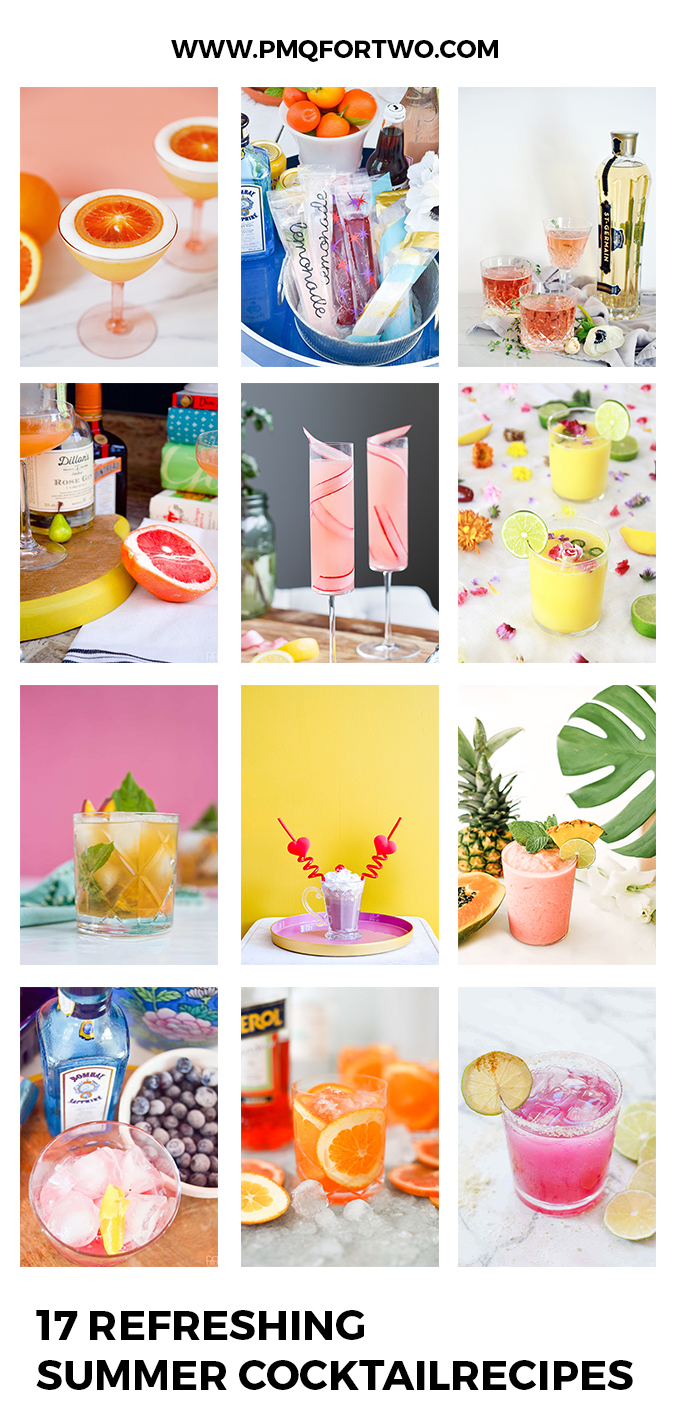 So there's a million ways to fix a drink, but I've got them broken down a few ways below for easy perusing. If you find any more that you love, I'd love for you to send them my way.
Citrus Summer Cocktail Recipes
Citrus is kind of eponymous with summer, so it would make sense that we include some citrus garnished or based bevies.
I highly recommend the Cara Cara Mezcal Sour from the uber talented Arsenic Lace.
My Grapefruit, Gin & Cointreau Cocktail is another classic, and surprisingly fresh on a hot summer's eve. I recommend fresh pressed juice if you can swing it, otherwise the boxed stuff is fine.
Domesticate Me's Aperol Margarita looks as tasty as it is colourful. Have you tried it? While Simply Scratch's Simply Sour Sunrise looks like a sneaky way to add an orange garnish to a strong drink.
Blended Summer Drinks
After Cinco de Mayo, all we want to do is pour everything in a blender and drink a blended summer drink through a straw. What about you? Sugar & Cloth's Watermelon Rum Papaya Smoothie looks like it could be a tasty smoothie bowl, but is in fact a delectable adult cocktail. Sign me up!
A Bubbly Life's got the right idea with this mango jalapeno margarita, and the end product is oh so colourful! Can you imagine trotting out with a tray of those? If spicy isn't your vibe, try my Whiskey peppermint Mocha Milkshake with whipped cream! I've also got a super sneaky Maple Whiskey Milkshake if mocha isn't your speed.
Berry Summer Cocktail Recipes
Between the Blueberries and the Blackberries, you've got some fun options out there. I've got a Blackberry & Rosemary Pimms Cup that is the perfect way to wind down your week. My Blueberry Gin Sour comes out in such a vibrant colour that you'd be hard pressed to miss it!
My Blackberry Mint Julep is great when you want to finish that bottle of whiskey you've got sitting around (and open a new one!), while Life As A Strawberry's Blueberry Whiskey Spritzers look like a great batch drink to make and have cooling before guests arrive.
Spicy Summer Cocktail Ideas
Spice doesn't have to mean tabasco and chili, but a jalapeno or prickly pear drink are never a bad idea! My Spicy Pomegranate Margaritas may require some antacid nearby, but they're totally worth it.
My Millennial Kitchen has got an equally colourful recipe for a Prickly Pear Sparkling Margarita, and you absolutely need to try it. Don't forget about ginger! My Peach & Honey Moscow Mules are a tasty option to serve at your next BBQ, and people will wonder why they haven't been using ginger beer in everything.
Other Refreshing Summer Cocktail Recipes
Have you tried Rhubarb in a drink? You should. The Good Drink's Rhubarb 75 Cocktail looks like the only appropriate option for a weekend brunch with the girls.
Jacquelyn Clark's Elderflower Rose just sounds tasty, no ands ifs or buts. If you haven't tried elderflower yet, you should! It's a taste that lends itself well to summer, and you don't want to get to September without having tried it.
Who doesn't love a popsicle? My Cocktail Popsicles are easy to prepare, the ultimate make-ahead cocktail, and don't take up space in your fridge. What more do you want?
Liquid Culture's Peach Basil Rye Smash is the kind of cocktail you can make at the end of a long day, or just because. Who needs a reason to enjoy fresh peaches.