You ready for another edition of TGIF? I'm really digging this series and I can't believe I didn't do it sooner. I'm always pinning tons of cocktails and bar carts, so it's a mystery as to why I haven't done more of them. Today's cocktail, the blackberry mint julep, is a twist on a classic with a tangy berry flavour. If you have pour, shake and stir, then you can make this cocktail.
Others in the series
Maple Whisky Milkshake  // Chocolate & Coffee Icecubes // Spicy Pomegranate Margarita // Cocktail Freezies // Pink Pearl // Peach & Honey Moscow Mule // London Lemonade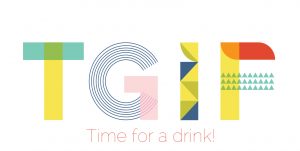 I had actually been planning on doing a Kentucky Derby party of sorts this past May, but the day came and went and all my half plans fell to the wayside. I had been planning and scheming just so that I could have an excuse to make juleps and buy the glasses. I think I found a way around it with this drink though 😉
Did you know Blackberries grow wild around here? it's a nice little surprise if you have a big property or go for a trek along the Fundy Trail.
p.s Shout-out to Dan for helping me with some of the photos!
Ingredients
2 oz. Bourbon
Scant 1 oz. of simple syrup (which you can make on your own! // here //)
Blackberries (for muddling and garnishing)
Mint (for muddling and garnishing)
Crushed ice – not just plain old ice-cubes
Silver or Pewter julep cup or lowball glass
Muddler
If you want to make a pitcher's worth: shaker and strainer
*The following product links contain affiliate links. Thank you for supporting the brands that make PMQ for two possible. For my full policies click // here //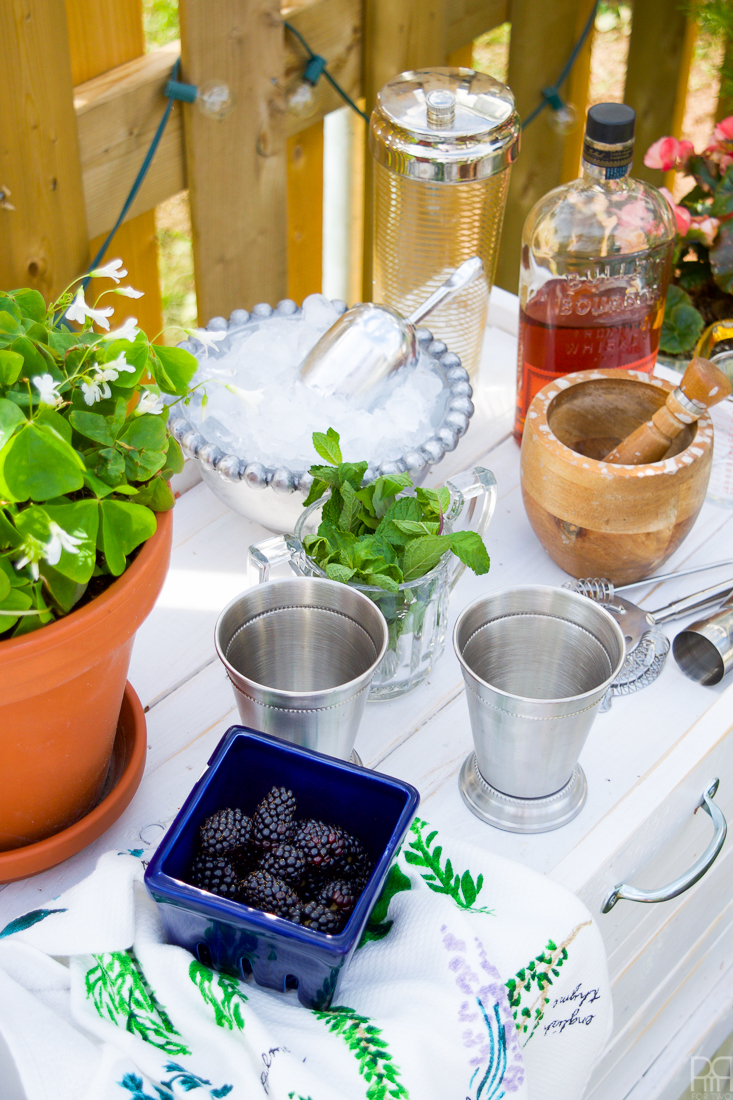 Step 1: Break off about 6 mint leaves and drop 'em in the cup. Make sure you enjoy how amazing the smell is – there's nothing like it!
Step 2: Add in 2-3 blackberries, and scant an ounce of simple syrup. I made just enough syrup for the drinks so I don't have a fancy bottle to pour it from. My little beaker will have to do!
Step 3: Muddle away! We have a great wood mortar and pestle, but it's taken some water damage over the years. The pestel we have is sturdy without running the risk of scratching a glass or denting something.
Step 4: Once it's nice and muddled, add a heaping scoop of crushed ice. You want to pack the glass, trust!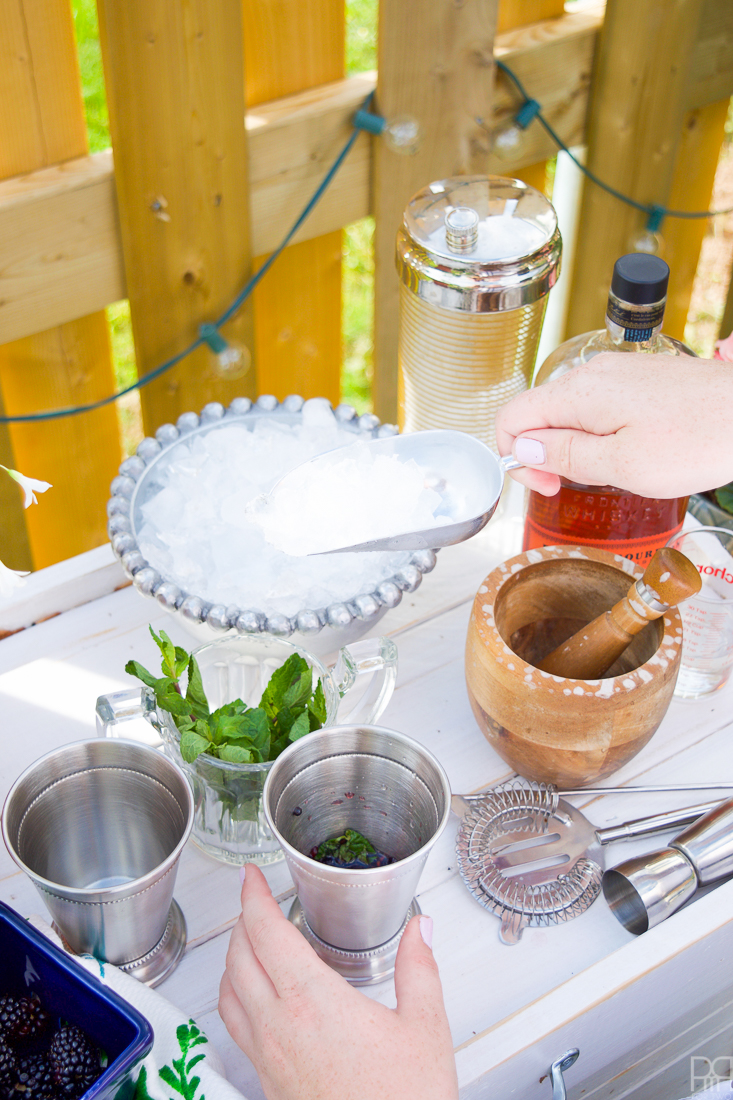 Step 5: Now we add 2 oz of bourbon. You want the ice in the cup so that it has to run through the ice on its way to mix with the blackberry and mint in the simple syrup.
Step 6: Add more crushed ice, give it a good stir with a long spoon (so that the mixture beneath the ice surfaces) and then garnish with mint and a few extra blackberries.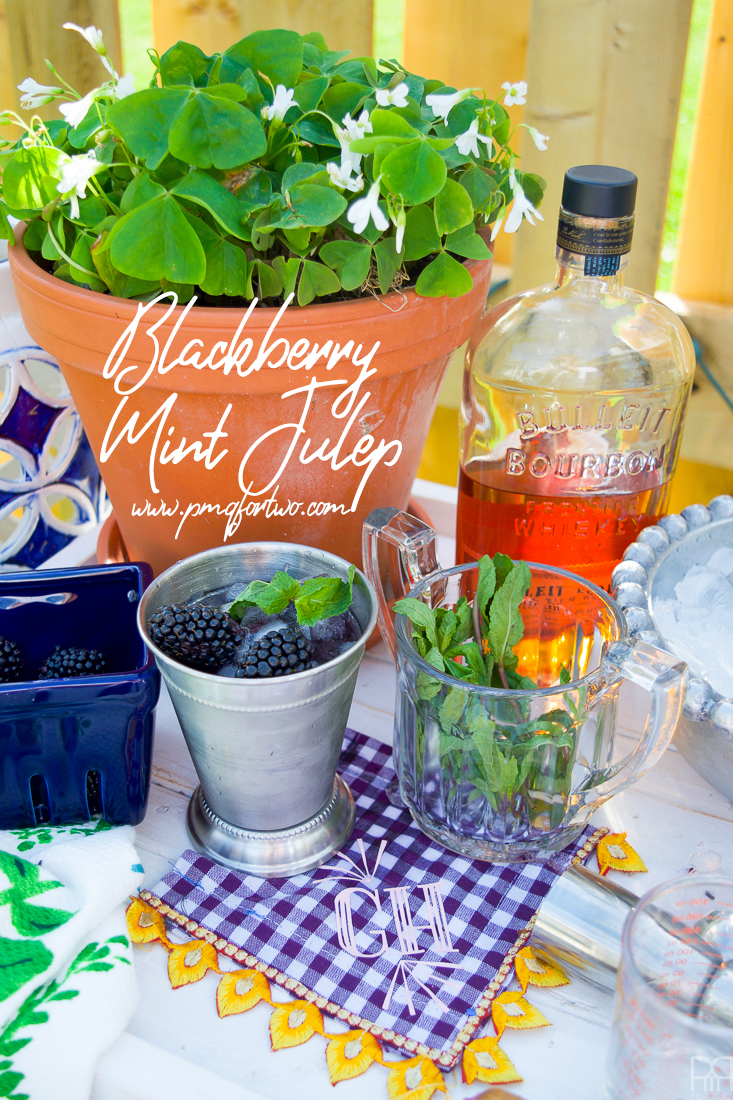 p.s if you love the little cocktail napkins you can catch my DIY // here //