You know the master bathroom where I did a renter-friendly peel and stick tile wall? // here // Well, I'm slowly working my way through the house doing a yearly update of things, and this space seemed like a great place to tackle "next" (because the master bedroom is currently under way). It also coincided nicely with this month's "Inspired By" series, and this month we're drawing inspiration from Sarah Jessica Parker. While I don't know if she herself inspires me, Carrie Bradshaw sure has, so I drew inspiration from her iconic apartment's style and a great line from the show to create a one of a kind DIY for the space.
???????? Military Spouse Life Explained in Sex and The City GIFS // here // ????????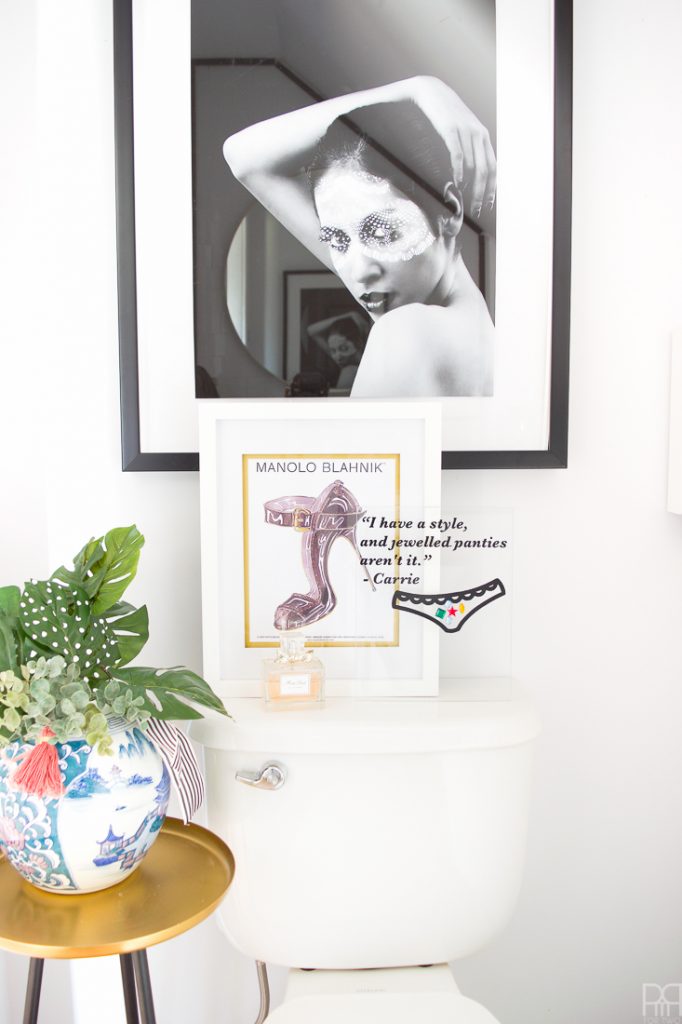 This post was really just mean to be a quick styling update in the bathroom, but while wandering down memory lane and reading some quotes from the series I just about died laughing at that one line and thought it would be a funny addition to the bathroom. So I whipped-out my Cricut Explore Air 2 and got to work.
*The following product links contain affiliate links. Thank you for supporting the brands that make PMQ for two possible. For my full policies click // here //
Materials
*While I made my own little graphic – which I've included below if you want to use – if you want to make your own you'll need to do so in Design Space or create an image to the upload.
Step 1: Upload your image as a cut file to the design space. If you need a refresher on how to do that you can read my tutorial // here //
Feel free to take the one I created.
Step 2: Remove the glass from the cheap frame. Confirm the dimensions before sizing the file to cut.
Step 3: Cut the file and weed it by clearing away all the negative space i.e the stuff that you don't see in the image above.
Step 4: Using transfer tape, transfer the quote and image to the glass. This is always the tricky part since no matter how well you think you've transferred everything, parts of letters will come up as you peel back the transfer tape. I find extra pressure and taking it slow helps prevent catastrophe.
Step 5: Using your hot glue gun on "low" add some plastic gemstones or glitter! whatever you feel like completes the piece for you.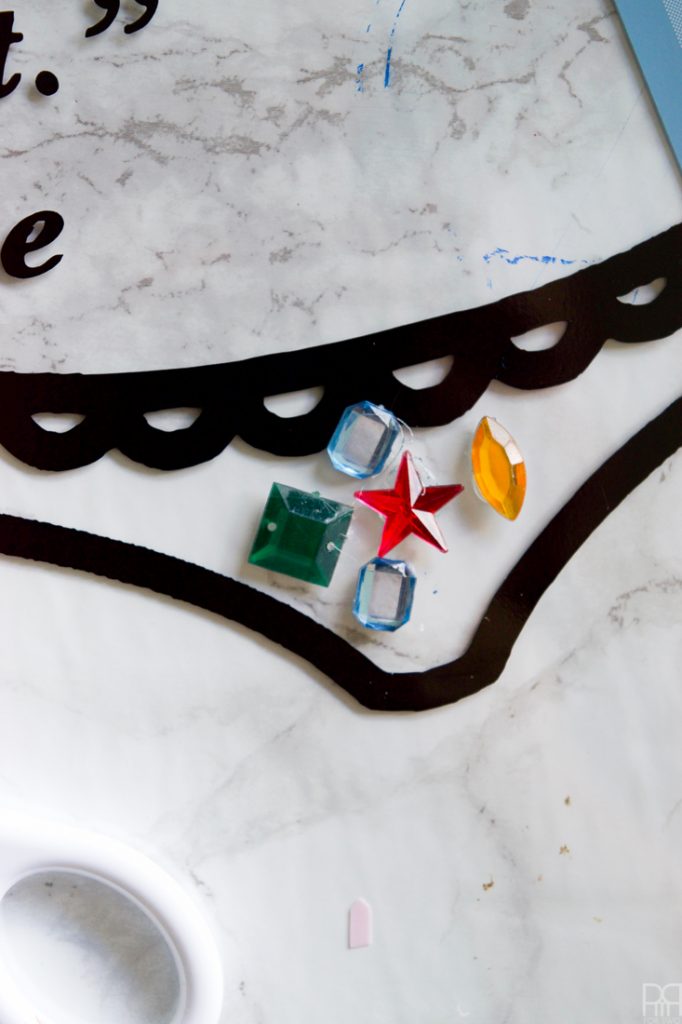 Step 6: You're ready to place this baby wherever you want! I added mine the back of the throne in our master bathroom, alongside a few new prints.


I found the Manolo Blahnik print online and had it printed at my local print shop. I used one of my existing frames and am quite happy with how that turned-out. I chose a bunch of other sketches to use as well, but this one felt best in the space. Let us not forget the sketch of a clutch on Carrie's entryway table in her apartment, or that the gals wore many many pairs of Blahniks while shooting, and that Carrie's iconic looks involve gems like these.
The masked lady was a clearance find at HomeSense earlier this weekend.  About once a month I go in just for the clearance and am never disappointed. I haven't named her yet, but Bianca feels right for some reason. We'll see.
I do love how in this shot she's mirrored in the mirror's reflection on the glass. Meta?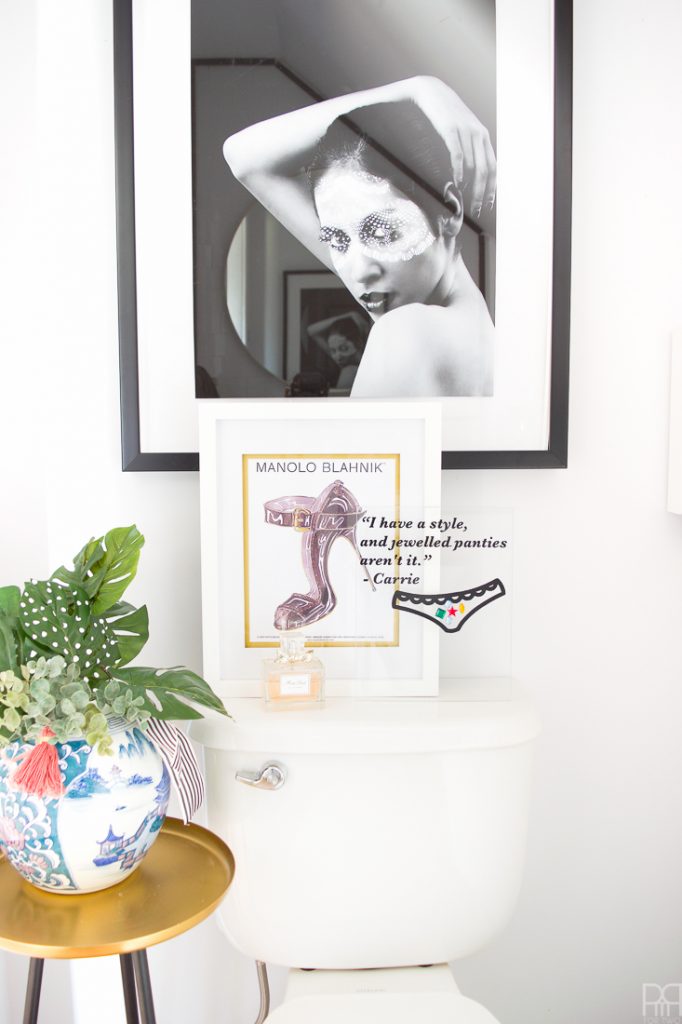 I found another beautiful ginger jar while thrifting, and have used it to update the floral situation in here. Polka dot Monstera leafs for all!
And don't forget to check-out my fellow co-hosts!