I admit, I've been on a bit of a gin kick these past few months (can you blame me though?) so for July I thought I'd try a different spirit – Silver Tequila. It's different (for me), seasonal and much like gin, the good stuff tastes divine, making it one of the perfect summer mixers. Wayfair Canada has asked us to share our summer solstice sips and a recipe for everyone to enjoy.
Inspired by Freutcake's recipe // here // I made my own version using San Pellegrino's pomegranate soda water instead of sweetened pomegranate juice. And while my beverage is 19+ i.e only for those of age, I'm sure you could make a virgin version with simple syrup.
*Wayfair.ca sponsored this post, but all thoughts are my own. Thank you for supporting the brands that make PMQ for two possible.
As a quick aside, if you haven't already got a set of killer glasses for outside, you should check-out the drink ware selection on Wayfair.ca // here //. I really like this hobnail set // here //, there tiki ones (given my theme) // here // and these lovely highball glasses // here //.
Also, big shout-out to some local talent – if you're not familiar with her, you should check out Jolie Dionne of Vintage Meets Glam.com who helped me out with the shoot. She's a DIY and Home Decor blogger located in Fredericton, NB, Canada. She shares her eclectic filled home with her husband and their 4 rescue cats.<– which means we have a lot in common.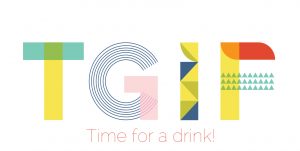 Other cocktails in the TGIF series:
Maple Whisky Milkshake  // Chocolate & Coffee Icecubes //  Cocktail Freezies // Pink Pearl // Peach & Honey Moscow Mule // London Lemonade // Blackberry Mint Julep // Bacon & Green Bean Ceasar
Ingredients
2 slices of jalapeno plus more for garnish
4 oz. silver tequila – I went with Patron, might as well get the good stuff.
8 oz. San Pellegrino Pomegranate Soda Water
Lime juice
kosher salt for rim
crushed ice
You can make this cocktail in the glass or in a shaker. I made mine in a glass because I wanted everyone to be able to control how strong they wanted their drink, but if you're making a big batch of the cocktail, go for the shaker.
Step 1: Rim your glass using a lime wedge.
Step 2: Up-end your glass on a plate of kosher salt to cover the rim.
Step 3: Add crushed ice or ice cubes. If you have cool ice spheres those are also super fun and you can buy a mold on Wayfair // here //
Step 4: Add about 3/4 of an ounce of lime juice to the glass.
Step 5: Follow with 4 oz of tequila.
Step 6: Top up the glass with the San Pellegrino Pomegranate Soda Water.
Step 7: Garnish with slices jalapeños and fun "let's party" cocktail skewer // here //
I'm pretty much in love with this drink, although the heartburn after was wicked, so maybe pop an antacid first.
If you're digging all the paper finishes // here //and love the tiki linens // here //, make sure check-out how I made them! Because you too can have your very own set of kitschy glam tiki accoutrements.