Our adventure in Urban hen keeping has begun! Along with the arrival of our egg hens, we celebrated the completion of our chicken coop last week. In a few short weeks the ladies will be moving in, and in the meantime here are our Urban Chicken Coop Plans
Check out my other backyard projects
*Kreg sponsored this post, but all thoughts are my own. Thank you for supporting the brands that make PMQ for two possible.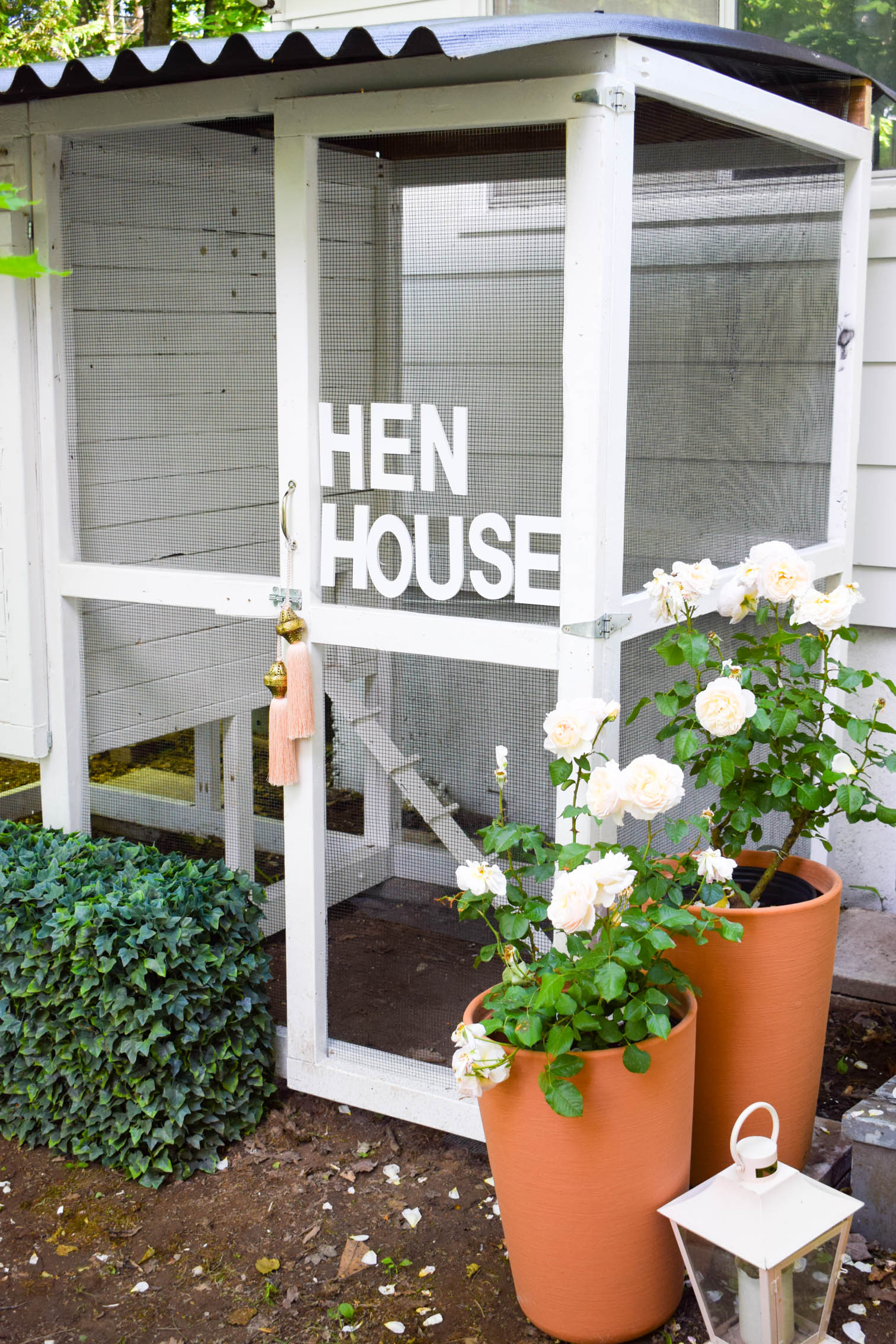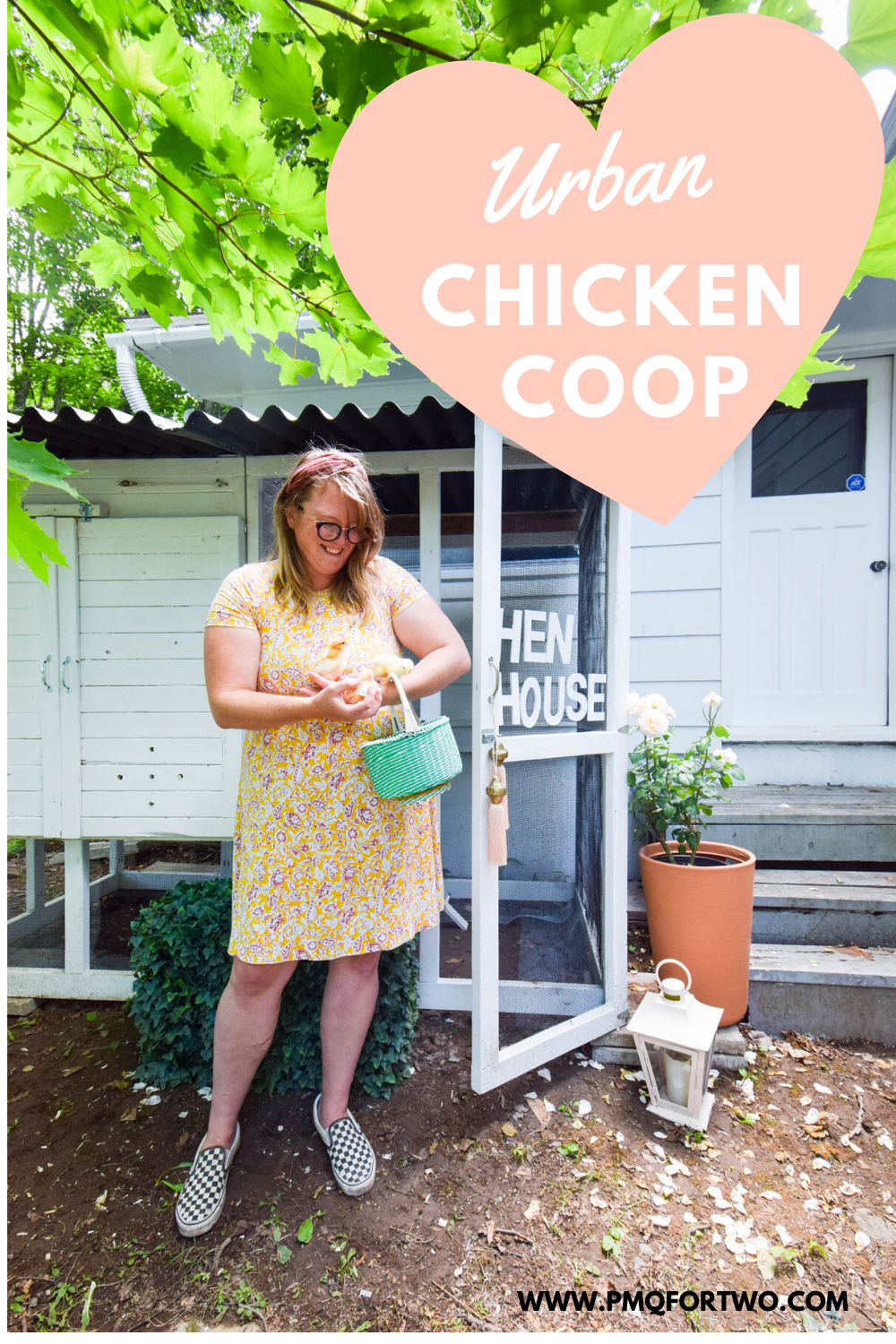 We got day-old chicks, so they'll have to hang out in the brooder until they're big enough and have appropriate plumage. I introduced them on Instagram last week, but this is their formal introduction – meet the girls!
Tina, Louis and Linda. They're your standard Rhode Island Reds, and they've joined our travelling circus of a family.
Urban Hen Keeping
We have always been drawn to the idea of urban hens, but it wasn't an option when we lived in PMQs. We could have done it last summer, but we had JB on the way, so we figured that was enough for one summer. Next summer! Spring 2020 rolled around, and we did some more research to see what it would take to get our coop off the ground.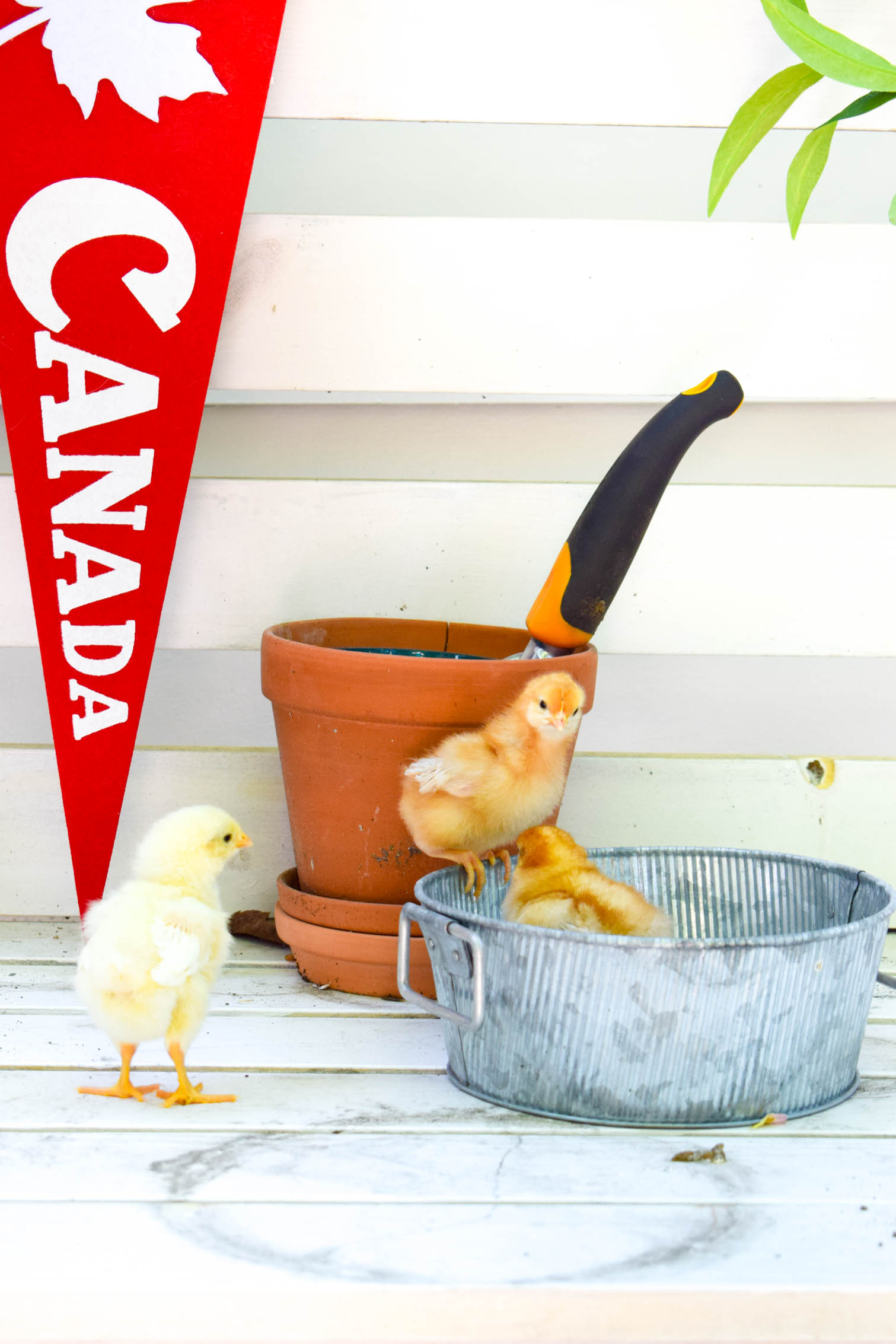 We went through the expensive permitting process in Fredericton, to keep egg hens within city limits. Urban hens are still a fairly controlled endeavour in most cities, but the process is doable if you're committed and informed.
Grab the plans for our potting bench
Hens don't actually need that much space (2-3 sq ft of space in the coop per bird/ 8-10 sq ft of run space per bird), so you could easily keep two or three depending on the size of your yard. Obviously, more space is better, but a postcard yard could easily hold one or two.
So with that we in mind, we designed our urban chicken coop with space constraints, and a modular setup in mind. That way, when we're next posted we can bring the whole coop with us.
Building a Chicken Coop
There are a bunch of things to take into consideration when building a chicken coop (aside from local bylaws and zoning regulations), including:
coop and run square footage requirements per bid
ventilation,
roosting bars,
nesting boxes,
and clean-up options
Our urban chicken coop plans factor-in all of the minimum spacing requirements, and are designed for 3 birds, with easy access to the run.
The easiest way to account for those requirements and make the coop look semi decent, without breaking the bank, is to use the Kreg Jig K4 to fame frame the entirety of the coop. I've put together some info on the Kreg Jig K4 system in this handy video.
Chicken Coop Cut List
We use a miter saw, table saw, drills, the Kreg Jig K4, 3″ project clamp, 6″ project clamp, wood glue, no-nails, 1/4″ welded cloth, expanding foam, and sheet insulation.
Run + door Cut List
two 2x4x48″ (pressure treated)
two 2x4x45″ (pressure treated)
two 2x3x48″
three 2x3x45″
five 2x3x66″
one 2x3x21.5″
one 2x3x43″
two 2x3x24″
six 2x3x64.5″
one 2x3x19″
one 2x3x6″
Coop + Inner & Outer Door Cut ist
two 2x4x48″ (pressure treated)
two 2x4x45″ (pressure treated)
two 2x3x48″
six 2x3x45″
four 2x3x66″
three 2x3x43″
four 2x3x18″
two 2x3x20.25″
sixteen 1x4x45″ –> plank walls
twenty five 1x4x43 1/8″ –> plank walls
two 1x4x9.5″ (ripped at 0.5″) –> pop door guide
one 1x4x11.5″ (ripped at 0.5″) –> pop door guide
four 2x3x44″ –> inner doors
four 2x3x14.25″ –> inner doors
four 2x3x24″ –> outer doors
four 2x3x36.5″ –> outer doors
twenty two 1x4x19″ –> outer doors
two 1x3x41.5″ –> outer door guides
four 1x4x24.5″ –> roof vents
four 1x4x11.5″ –> roof vents
Urban Chicken Coop Plans
The run and the coop are built as two separate pieces which are then fastened together in situ. We did this so that if you wanted to position the run differently, or make it bigger, you could without scrapping the coop.

Urban Chicken Ru
Make the frame, then the door, attach the two, and move onto the coop! We used pocket holes – drilled with the handy
Kreg Jig K4
– to attach all the pieces, and added bars half-way up so that the welded cloth would have an extra spot to attach to.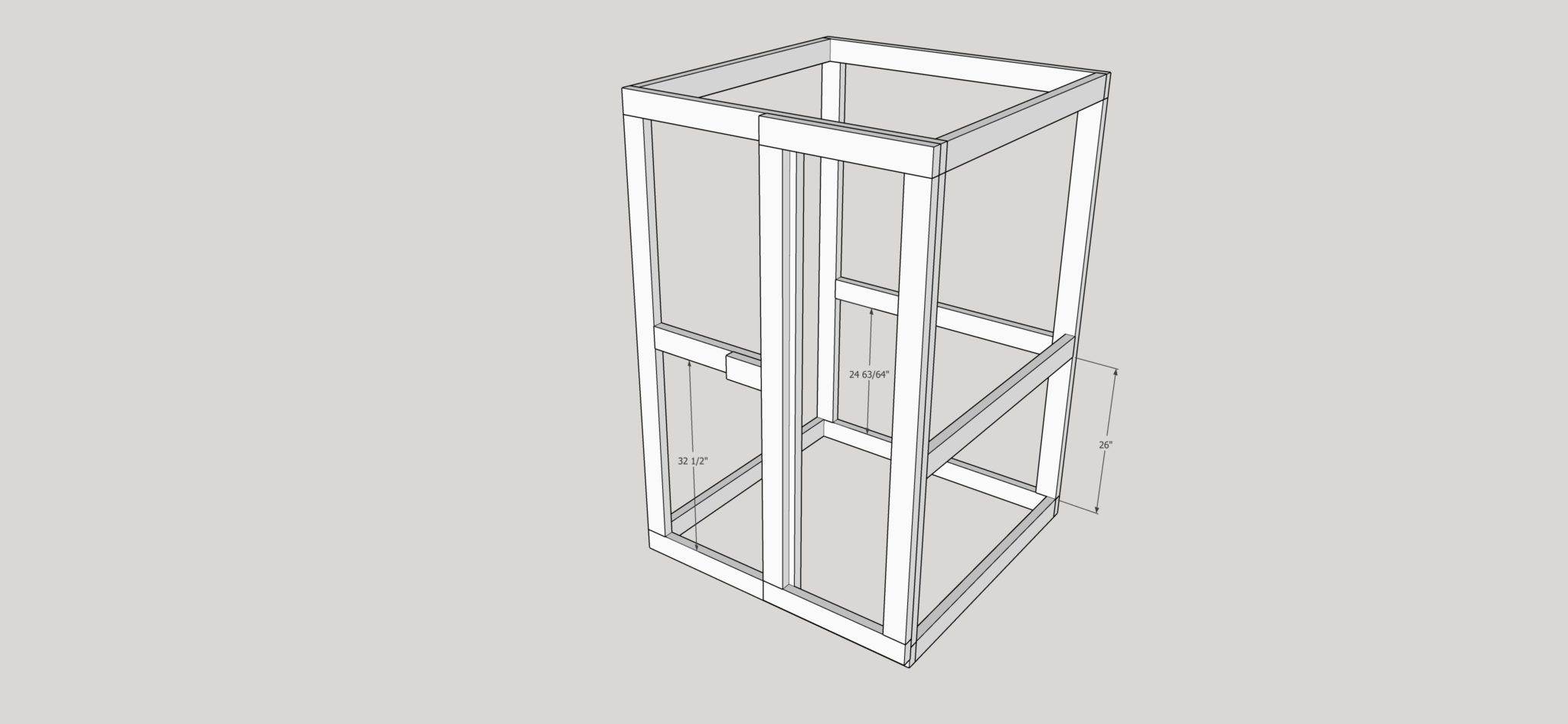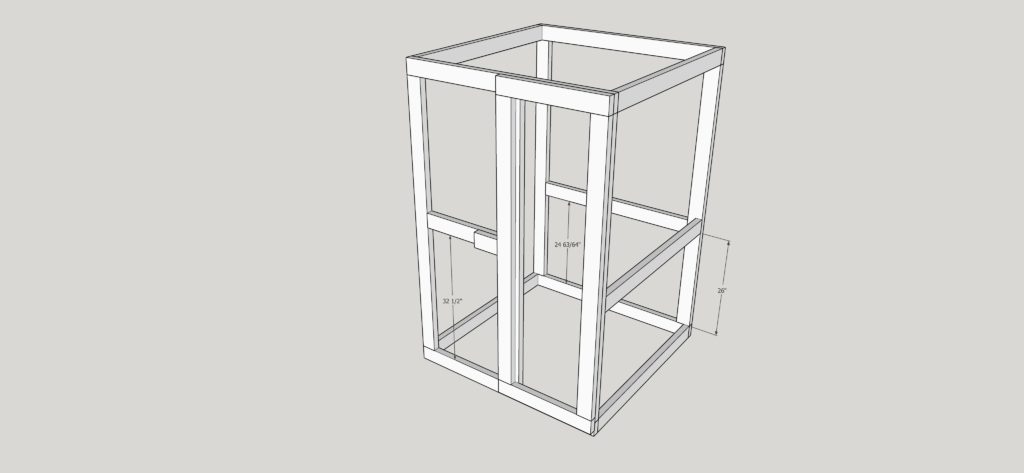 The Urban Coop
Start the coop by making the frame using pocket holes for extra secure joinery.
Keep in mind that the actual coop sits 3′ off the ground to allow extra run space – which makes it perfect for a tiny city yard since you gain square footage in the same footprint.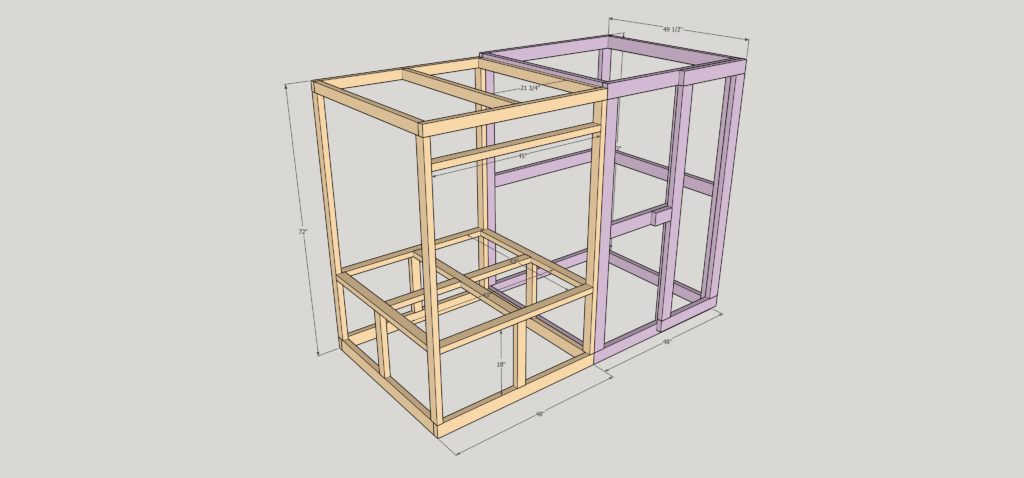 Once the frame is assembled, frame the sides (and eventually the doors) using the 1×4″s with pocket holes on both ends. Because you can mount the
K4
to your workbench, it makes doing all these pocket holes super easy (and speedy). I've got more on this in he video I made.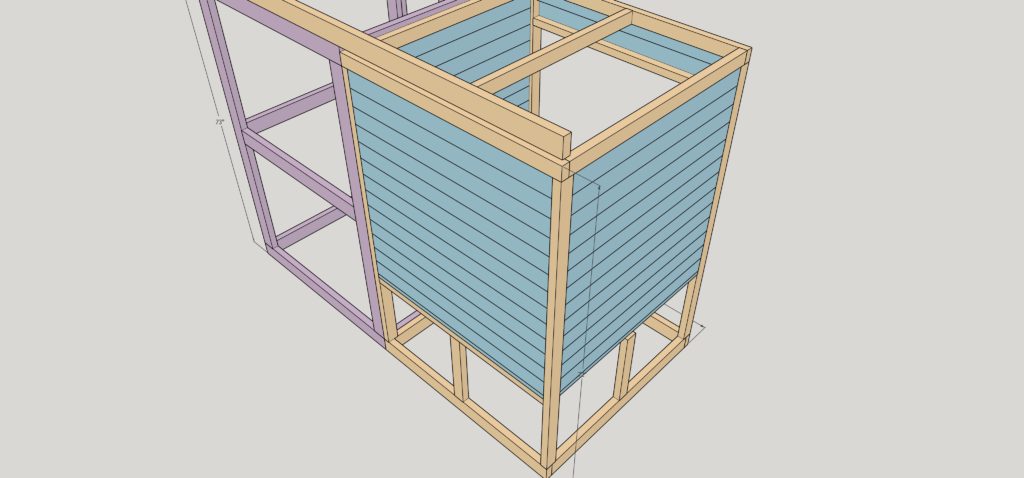 In addition to being prettier this way – and sturdier – it means no exposed screws for the chickens to injure themselves on.
The doors were built separately and then attached after, once the coop was in place. We built the whole thing in the driveway and had to walk it around the whole property to get it to the back of the garage. We placed the door fasteners the way we did, so that raccoons couldn't easily open them (if they somehow managed to get to them).
Chicken Coop Ventilation
The ceiling and floor of the coop are just two pieces of plywood with expanding foam in between, for proper insulation. We cut two 12 x 18″ soffit vents on the ceiling to allow for adequate ventilation in summer and winter.
The soffits have 3 layers of chicken wire and welded cloth (alternating) to make sure nothing can get in. We live in an area with potential predators, we wanted to be safe.
We added some decorative circular vent holes on all sides of the coop (and doors) using a 1″ drill bit in a diamond pattern. We could have done more or made them bigger, but we had predator control (weasels! chipmunks!) on the mind, so they stayed small.
With proper ventilation, it should keep our ladies plenty warm and safe. The Danger Zone happens when they get wet and cold, and since their poop is full of water, without adequate ventilation you risk frostbite.
Chicken Coop Insulation
We built our coop fully insulated. We don't want to add an external electrical heat source in the winter (and risk fire!), so we added a layer of insulation between the framing and the inner OSB wall (secured with no-nails).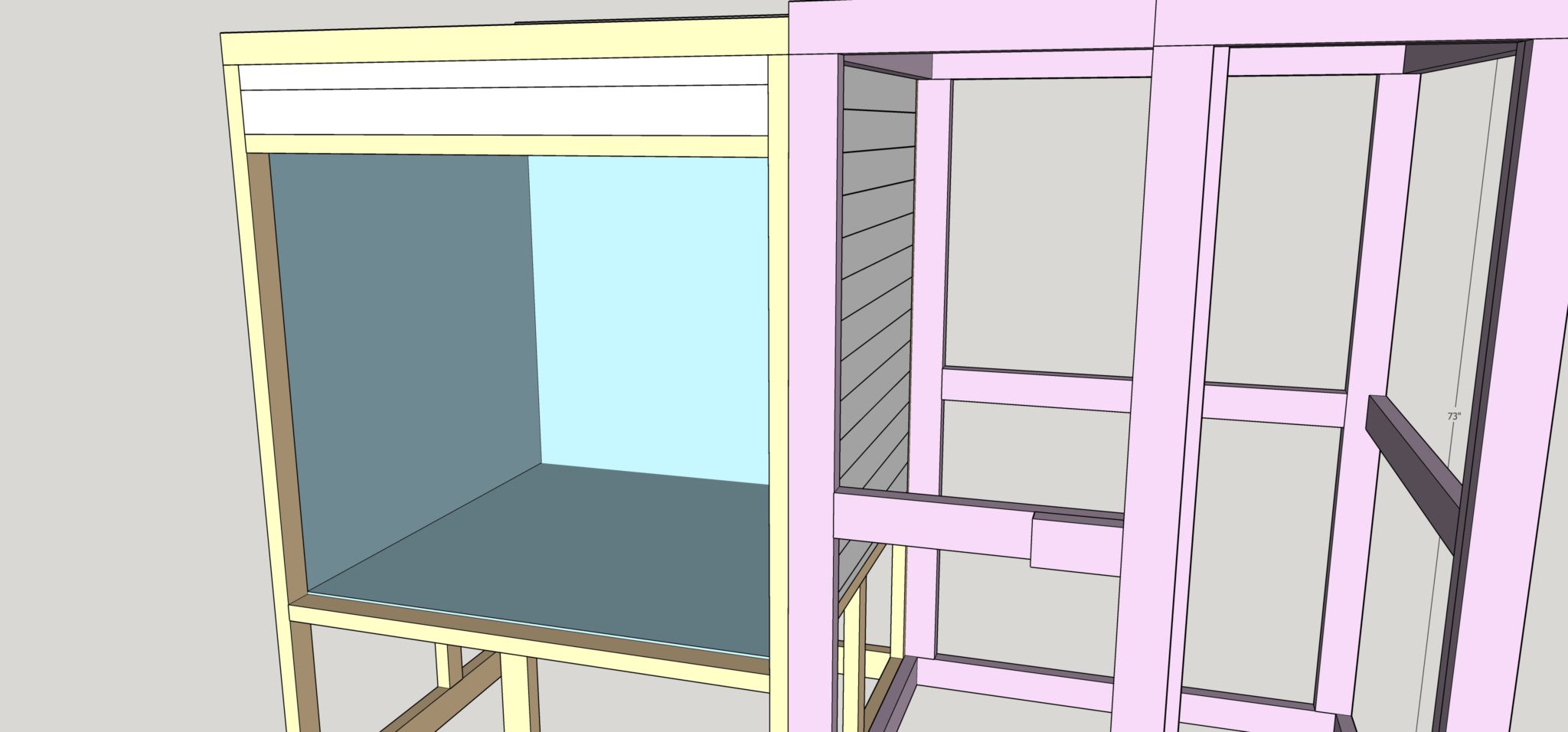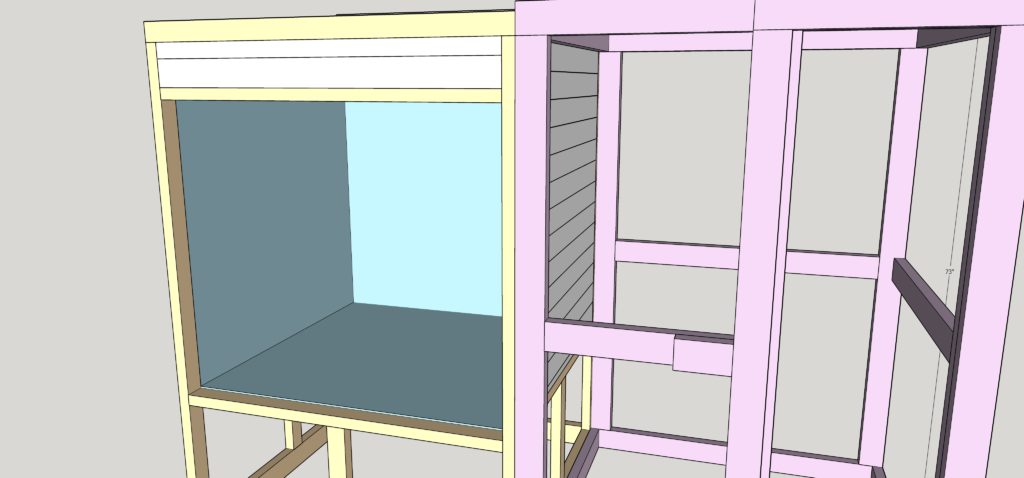 We have the option of adding a ceramic heat plate later, but we want to avoid a fire risk. An insulated coop should keep these three birds plenty warm in the middle of January.
Inside the Coop
Inside the coop you've got the nesting boxes, the pop door, the roosting bars, and easy access to make cleaning a breeze.
The Coop Pop Door
The pop door is weighted on the inside so that nimble predator fingers can't pry it open if they somehow get inside the run. We considered an automatic door – and we may swap it for one later – but for now the simple pulley is good enough for us. We ran the rope through a series of eye rings up and out the front of the coop. It latches open with a lobster claw clip.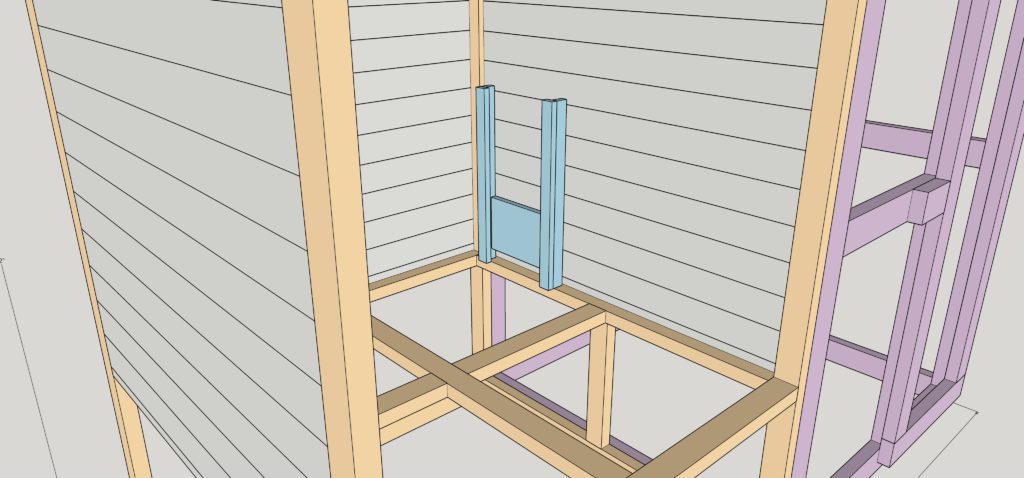 The Nesting Boxes
Much like every aspect of a chicken coop, they've been done a certain way for ages, for a reason. We respected spacing and formatting suggestions, and even added a little ladder for easy access to the boxes. We can open the top inner door to gather eggs each day, without disturbing the ladies.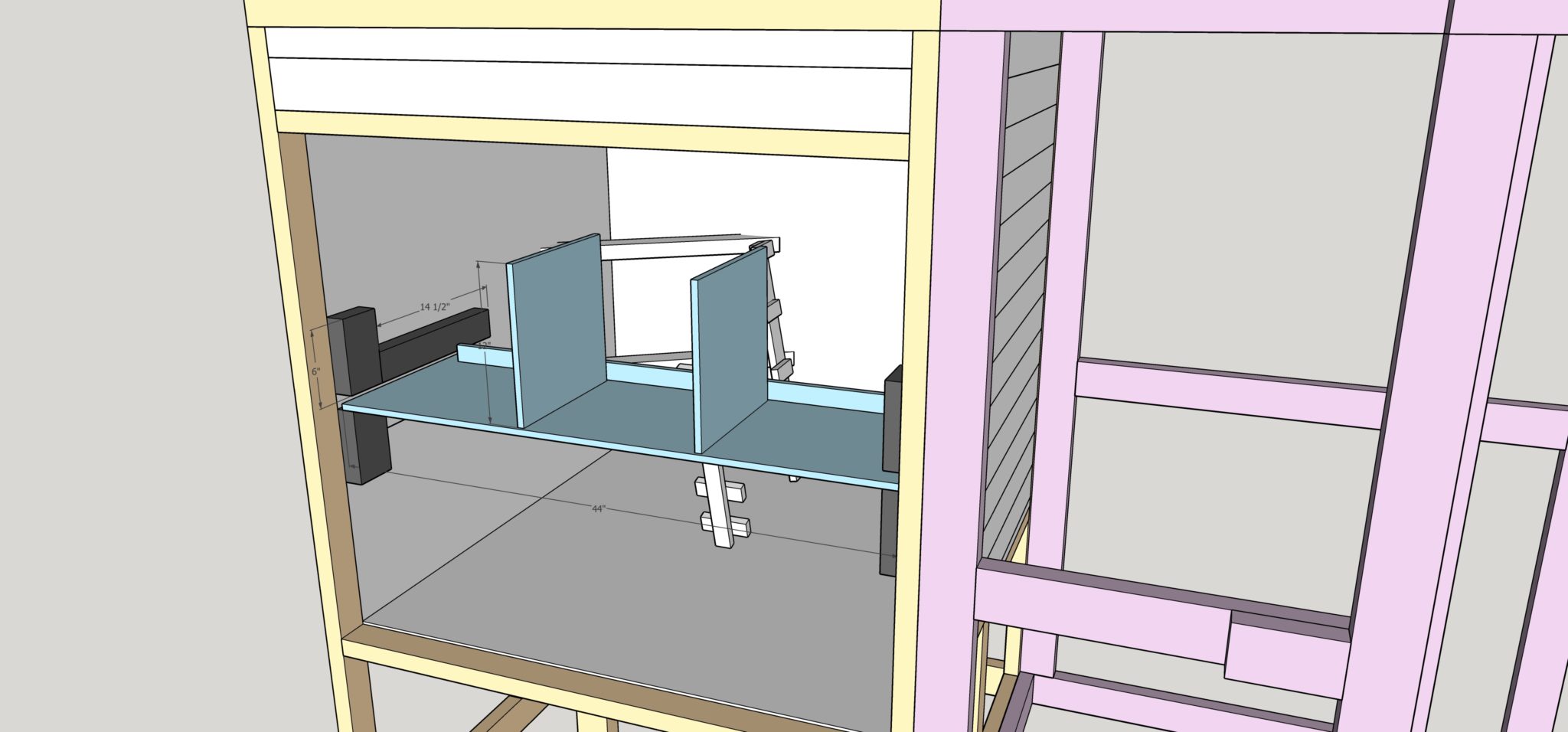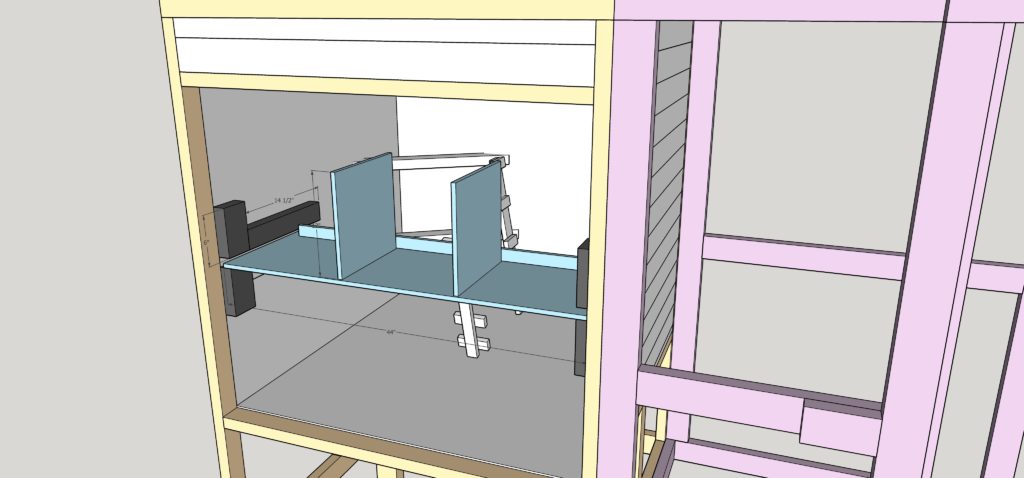 The Roosting bars
Did you know that chickens roost in the same order as their hierarchy? The top bird will roost furthest at the top, and so one and so forth. We've only got three hens, and given the height requirements between bars (suggested 12″ minimum if stacked) we could only fit two, so two will have to share a bar.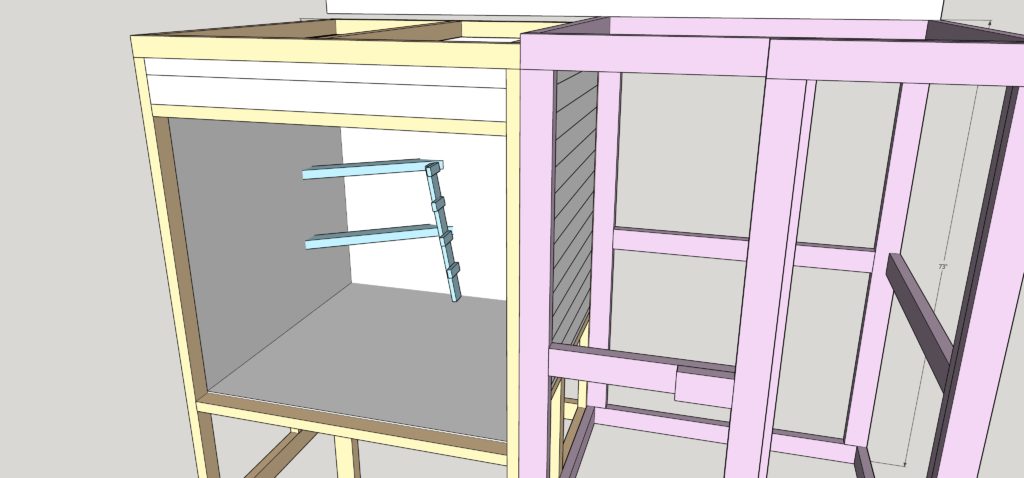 The Inner Doors
These doors open top/down to make cleaning the inside of the coop easy. Birds can be messy, and we wanted the option to get inside for a deep clean. The nesting boxes can be removed completely (they slide out), so you could easily climb inside to hang if you wanted to.
The Roof
We had a really hard time finding corrugated metal roofing, so we used a composite plastic version in black. We used it to cover the coop and the run, and we gave it a significant overhang to make it even harder for a climbing critter to access the coop doors.
Because of the coop ceiling vents, we used an angled roof. We added a 2×4″ along the back edge of the structure, and screwed-in the roof that way at an angle.
Welded Cloth vs. Chicken Wire
Once the coop was done, we used 1/4″ welded cloth in 4′ rolls, attached with a staple gun.
You'd think chicken wire is the standard, but it's actually super flimsy, easy to stretch, and not all that effective at deterring predators.
We opted against chicken wire for a number of reasons, but mainly because welded cloth is just that much sturdier. You can buy it at any farm store – our big 30′ roll was about 150$.
I ran it all around the run and the underside of the coop, in and around the roof line, inside the coop where there was any ventilation, and then we dug down a 10″ skirting around the entire coop.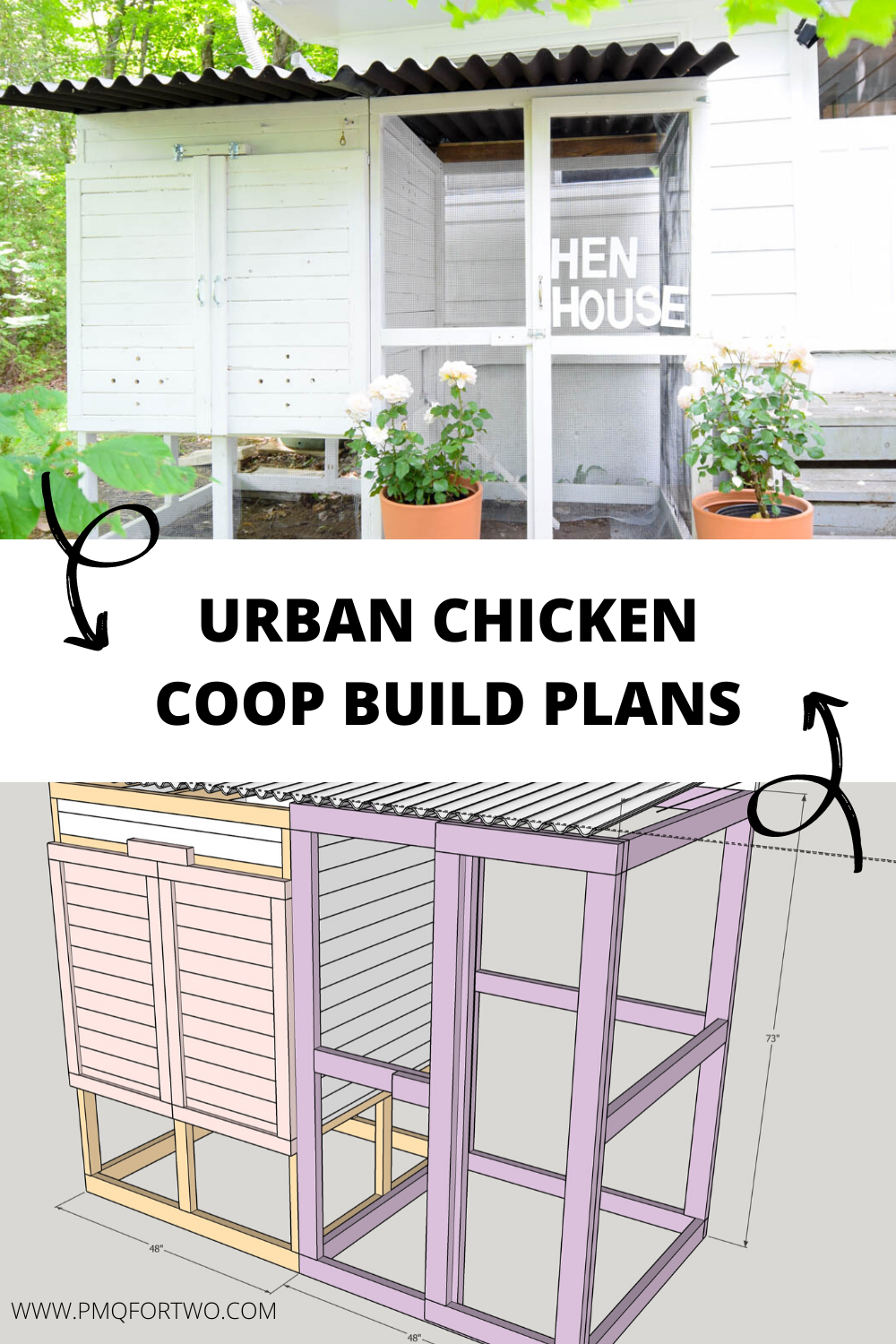 The Hen House
So here it is! The Urban Hen House was painted to match the house, and blends right in. It's the perfect design for us, and could be for you!
*I haven't dug down the metal cloth skirting just yet, but I will before we move the chicks in closer to fall.
As you can see, it fits discreetly behind our garage and back-step, so it doesn't take up a lot of space. Perfect for urban hens!
The exterior doors reveal the inside of the coop, and can be opened in warmer weather to give the girls a draught and some fresh air.
While our girls are still too small to be laying eggs, I wanted to see what they'd look like next to full sized eggs… just for fun.
So far Linda is the most photogenic, and she doesn't mind one bit.
You can faintly see the roosting bars in the back there. Can't wait to see who's on top!