Summer entertaining can be a bit tricky when you're pregnant (or don't drink) – what do you do when everyone wants to tie one on with a cocktail? You make a mocktail! I made a Watermelon Margarita with Pomegranate Rimer that be done with or without alcohol. Perfect eh?
*Stirrings sponsored this post, but all thoughts are my own. Thank you for supporting the brands that make PMQ for two possible.
After my Blackberry Mint lemonade recipe, I heard you guys loud and clear! More mocktail options please! So here is a simple variation on one.
Watermelon Margarita Recipe
You ready for this? I used a mix! Stirrings has a line of easy to use mixers, and I chose the Watermelon Martini Mix, because it feels like the perfect flavour going into a long weekend.
To make these watermelon margaritas you'll need the Stirrings Watermelon Martini Mix, about 2 cups of ice, Stirring's Authentic Grenadine, and the Pomegranate Rimmer. I added a sprig of fresh mint – because mint & watermelon go so well together. Don't forget the blender!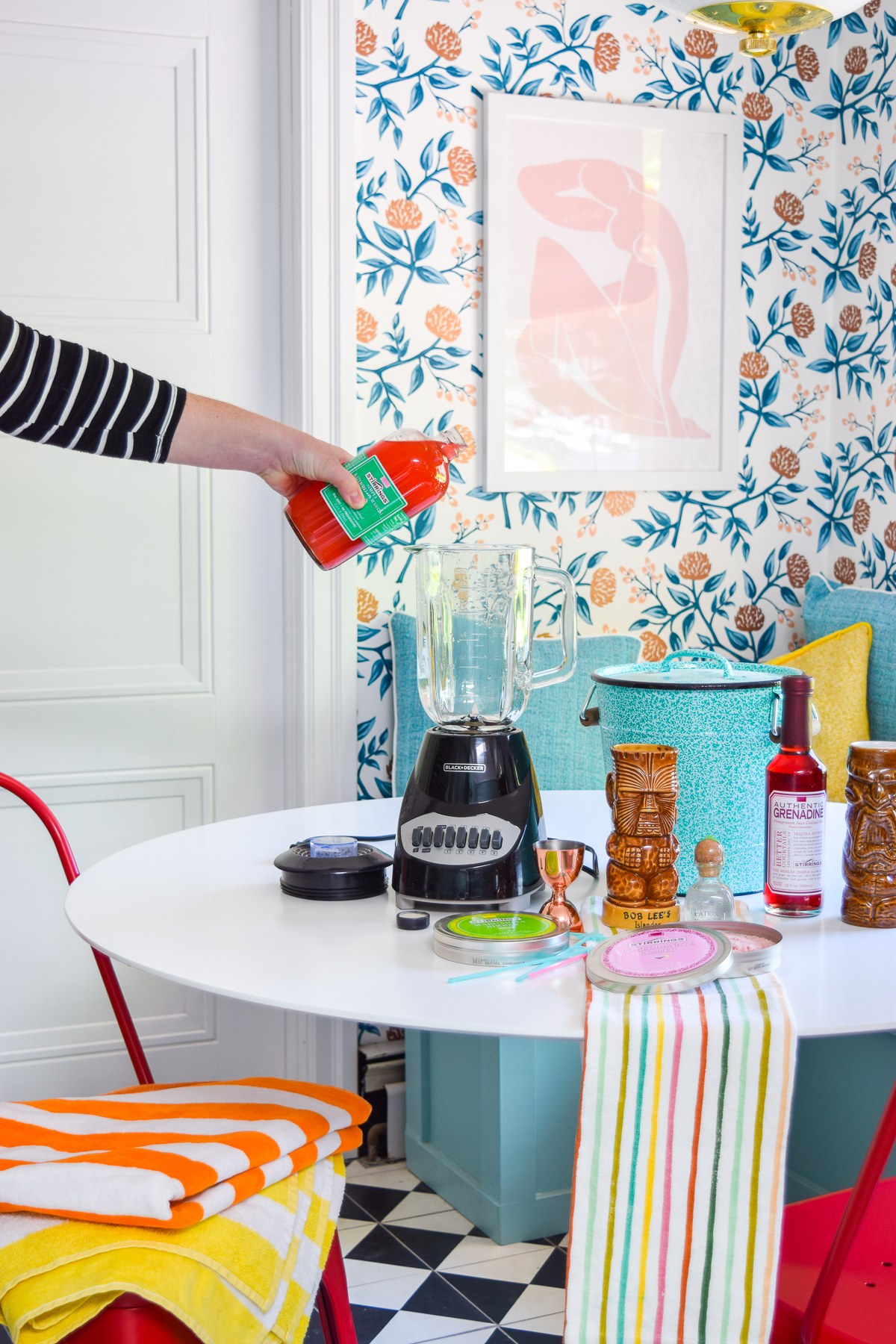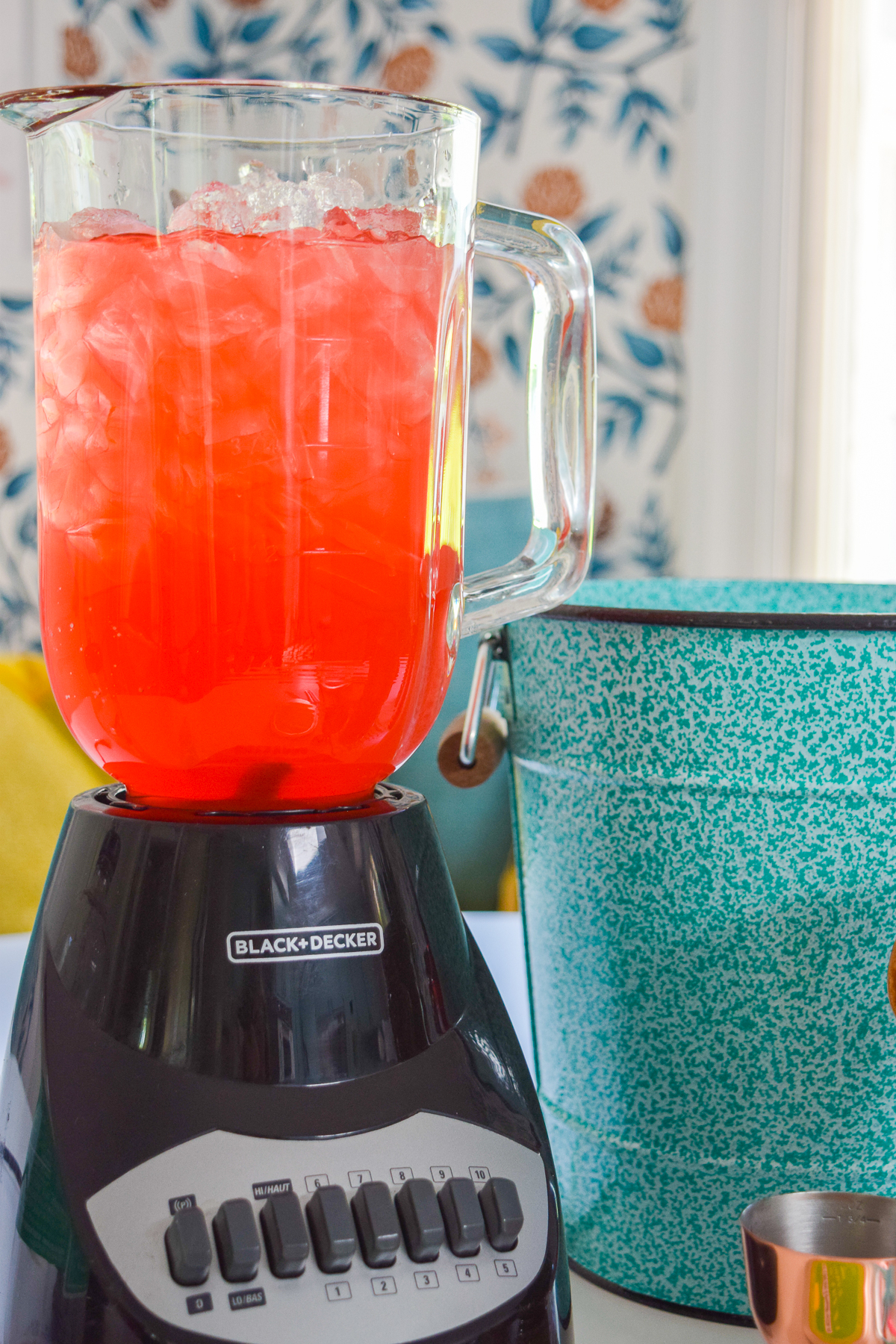 After emptying the Watermelon Martini Mixer into the blender, add as much ice as you want: more ice = more of a slushi. Pulse or blend on high until the ice is sufficiently crushed.
Next, you've got to rim your glasses! I thought this was the perfect occasion to use my two retro tiki cups. I found them at our local thrift store, and fell in love (story of my life!). I'm always on the hunt for more, so if I stumble across more you can bet you'll get more tropical drinks.
For an extra flavour shot, we're adding 1oz of Stirring's Authentic Grenadine. If I was pouring into smaller vessels, I would maybe use 1/2 oz.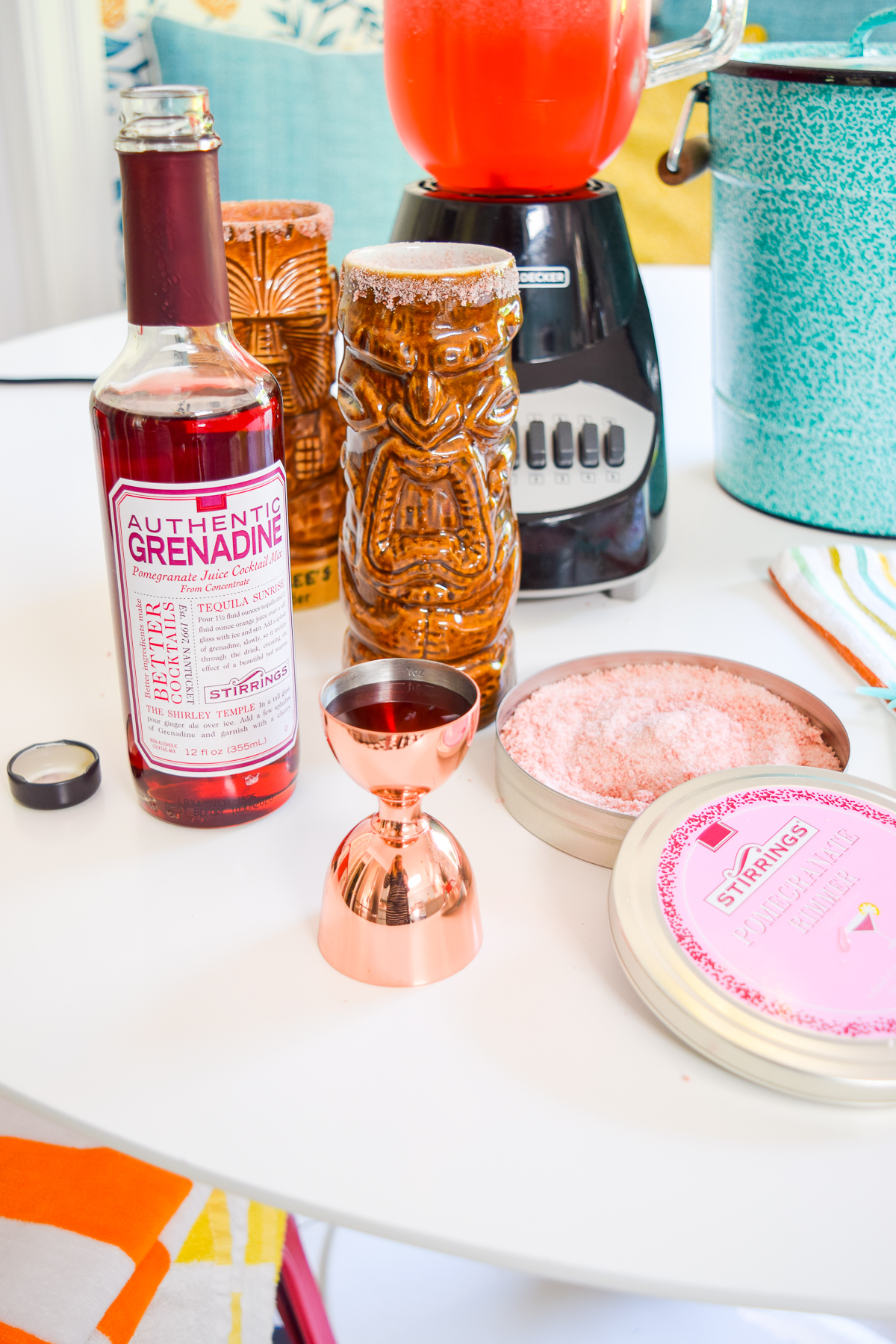 For a real margarita, you'll need to add some tequila! I recommend 2oz of Silver tequila.
Virgin Watermelon Margaritas
Keep it simple and just don't add the tequila. The great thing about the Stirrings Cocktail mixers is that there's no alcohol in them, so you can switch things up (like I did, and make a margarita instead of a martini), OR  leave out the booze.
All the flavours and colours are packed into the cocktail mixers, so they're the real heroes here – the alcohol is just in a supporting role.
Mint Watermelon Margaritas
Time to move this operation to the patio! You can pour in your kitchen (or wherever you made the drinks) or you take the pitcher and the prepared tiki cups outside.
Do you love the fact that I'm wearing matching outdoor tropical leisure suit? I do. I thought a turban and some heart shaped sunglasses are just what I needed to complete the look.
Adding fresh mint to your watermelon margarita is an easy way to amp up the flavours – kind of like adding salt to chocolate or caramel – it amplifies by opposing.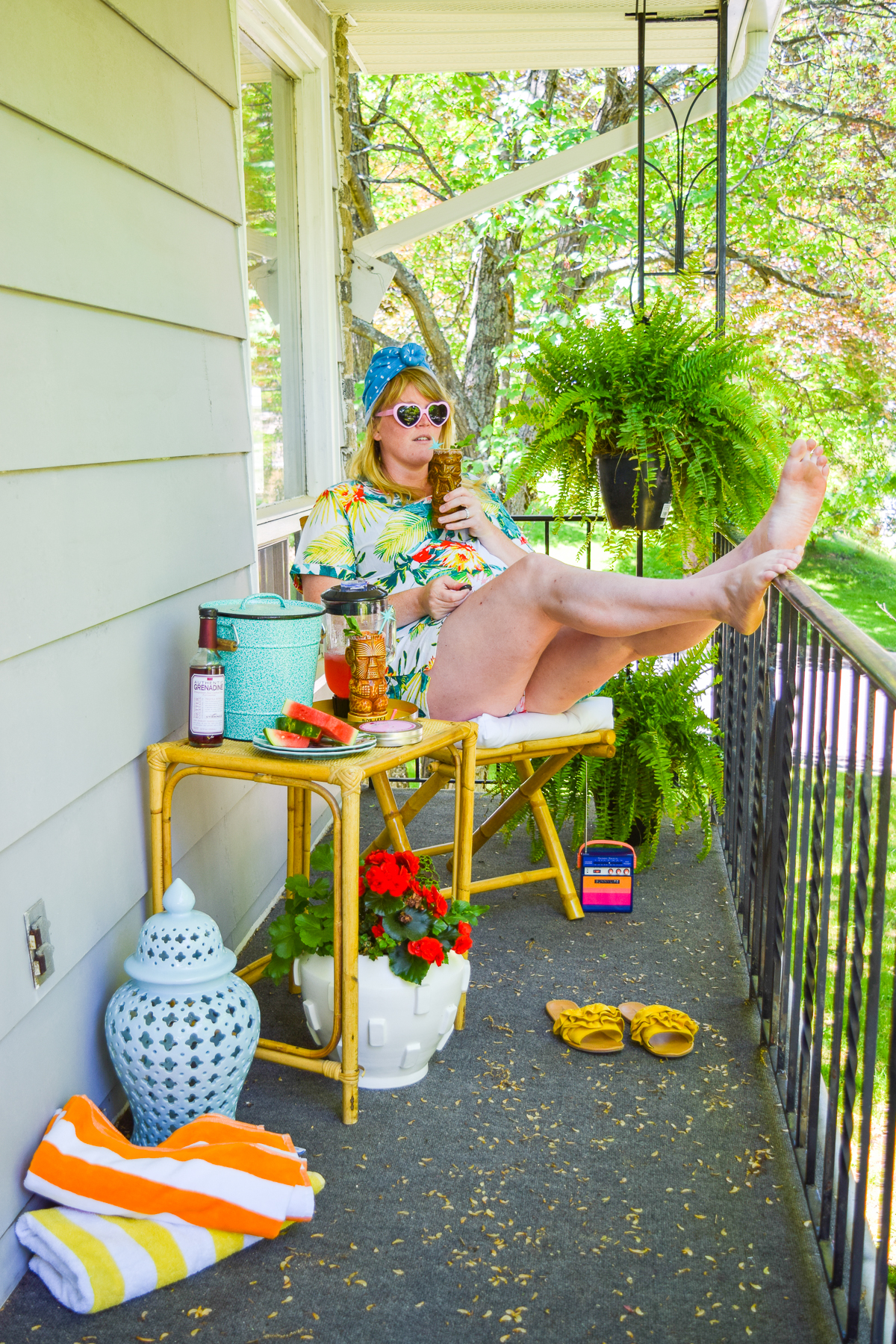 Don't worry, I'm drinking a virgin watermelon margarita! i.e just watermelon mixer with grenadine and mint.
I'm also relaxing on our balcony. It's a nice space up in the trees, and it feels kinda like a treehouse hang-out sometimes, so when I want to feel like a bird it's where I go hang out.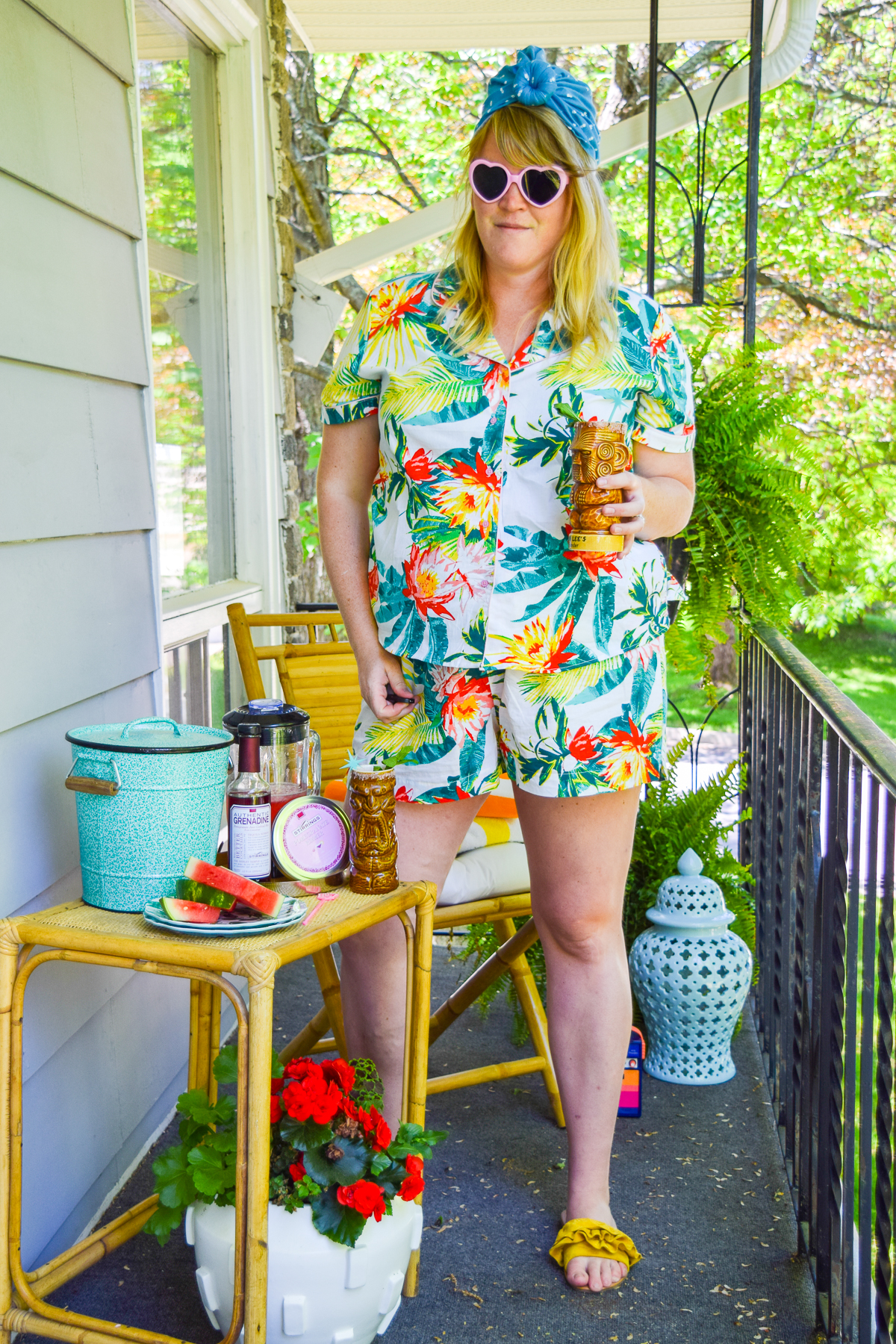 Am I fooling anyone here? or can you tell I'm growing a human who is kicking my bladder? Let's hope I keep my ankles all the way through to the end. Every now and then I get some swelling and they threaten to disappear. No bueno.
Heading into a long weekend here in Canada, I'm feeling ready! I've got my Watermelon Margaritas down pat, and can easily spend the entire weekend relaxing in the sun.