It's time! we're rolling out our first season tour, and this one is full of colorful fall decorating ideas. Not gonna lie, it's mainly pumpkins scattered strategically through a few rooms, but hey, with a newborn you do what you gotta do.
Check out my previous fall home tours: colorful fall home tour and an even bolder bright and colorful fall tour.
Entryway Fall Decorating Ideas
We recently completed a DIY Wood Entryway Console for our narrow entryway. Now that it's complete we've finally got a place to add a bit of seasonal decor.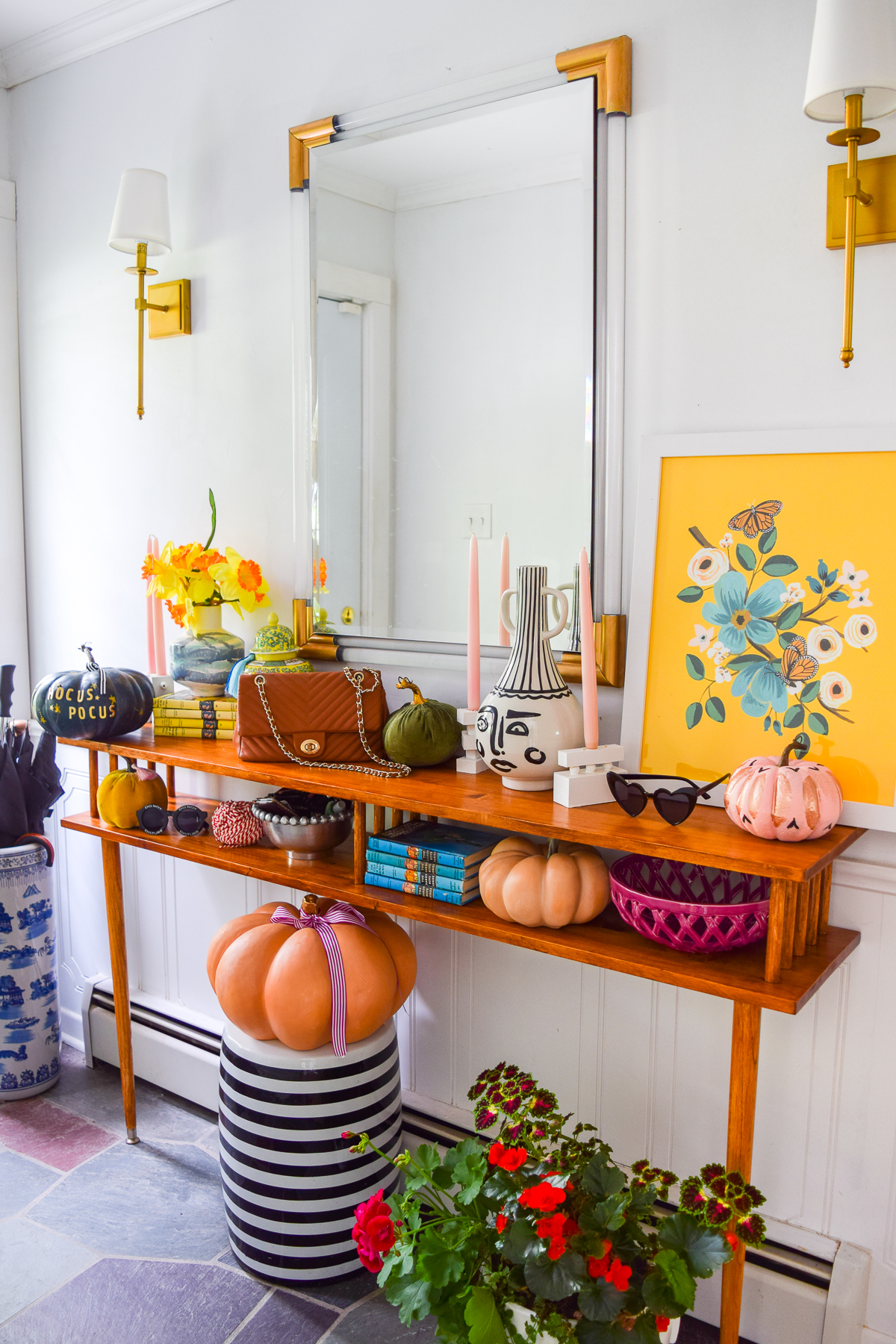 Entryways are usually a pretty functional space, so I can't do any grand pumpkin displays or load up on signs – we need the space to remain functional, so I've only added a few pumpkins to the mix.
The shelf we built into the table gives us the perfect spot to stash a pumpkin and some fun books for a pop of colour.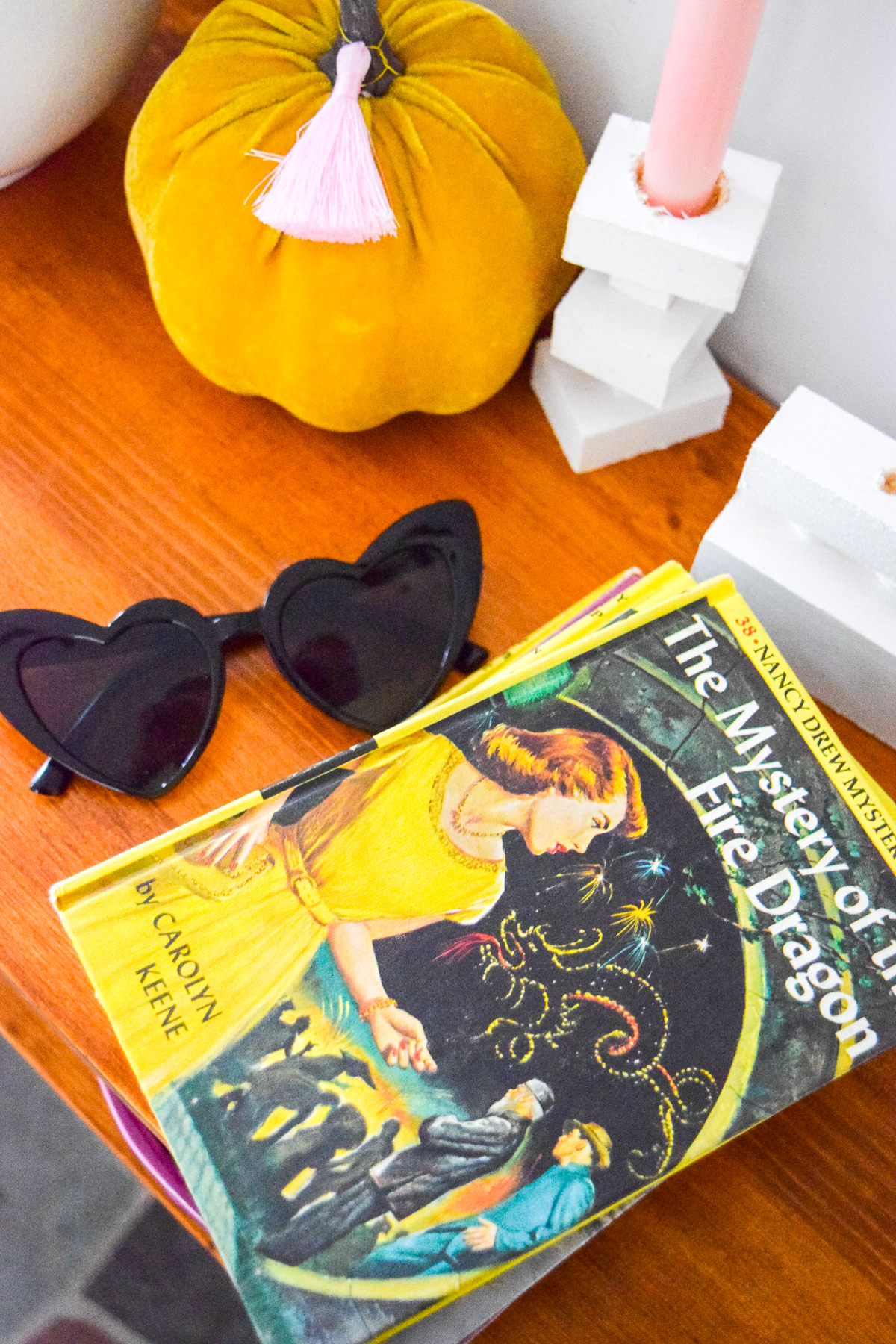 Dining Room Fall Decorating Ideas
The mid century modern Dining room is a space we completed this summer and we've only been able to entertain in there a few times one of which was the night I went into labour!
I've kept the table blank – because I'm putting together a friendsgiving tablescape for yall soon – but also because the space is choc full of color as it is, so adding painted pumpkins around the space on the sideboards adds all the seasonal decor we need.
The Society 6 credenzas (Color Stripe_007 Credenza & Abstract_LINE_ART_01 Credenza.) are still some of my fave features in this space. They're so bold, so colourful, and they stand on their own even with a pile of hocus pocus going on. Win!
When it comes to the art, I'm not swapping any of it out this year. We got such statement pieces when we redid the dining room, so I'm just gonna leave them as is. The Champagne Collection Framed Art Print by Cat Coquillette  is everything Kate Spade inspired that I love. And the Rocky Start Framed Art Print by Eugenia Loli is bold sexy perfection.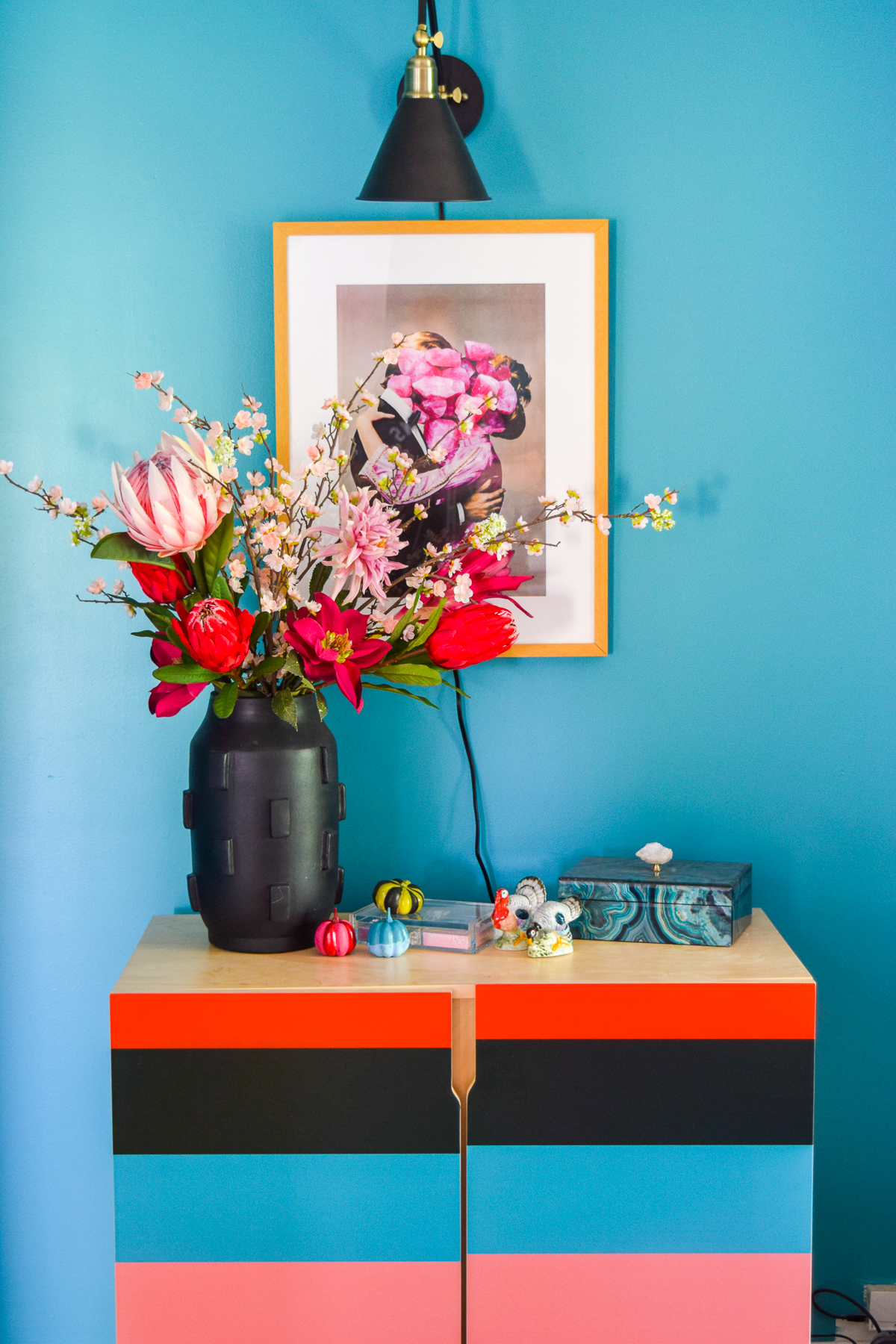 Kitchen Fall Decorating Ideas
I've kept it exceptionally simple here. Just a few pumpkins on the table. Nothing more! The kitchen is currently full of baby gear, so while we sort that out and find a more functional set-up for the pump and bottles etc. I'm only showing off the table and banquette!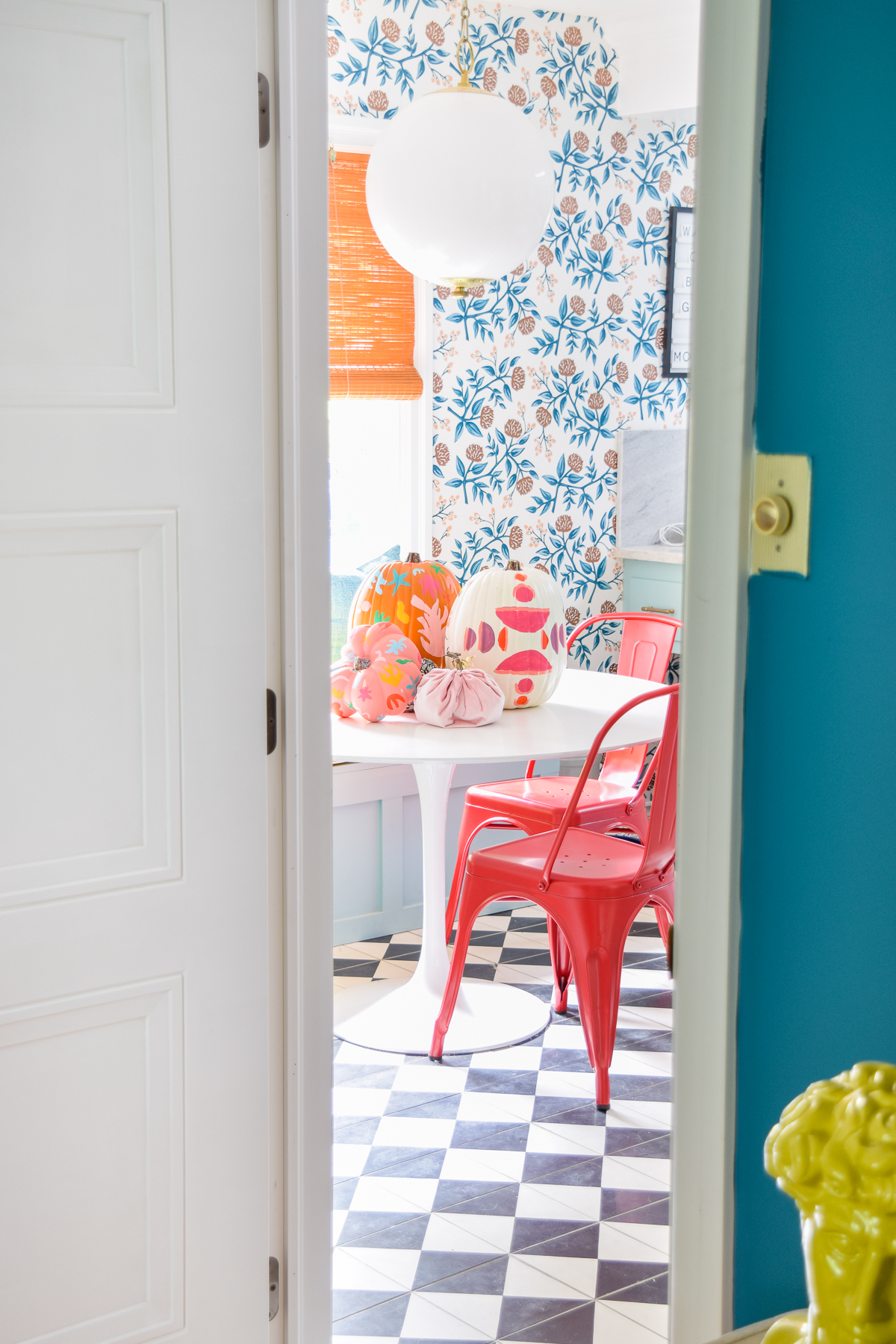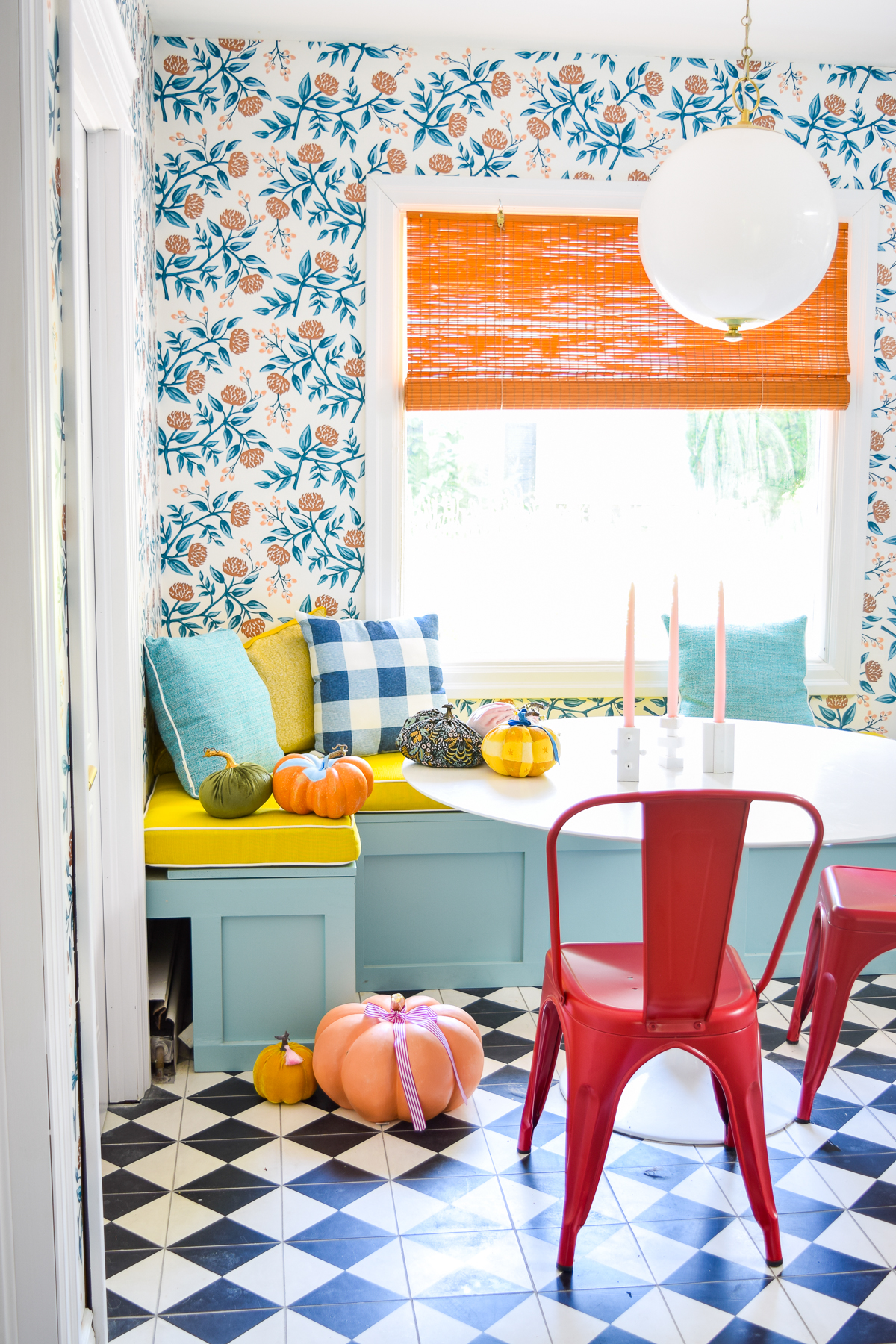 As part of my fall vibes, I've been test driving some fall recipes. My Pumpkin Spice Bread Pudding with toasted marshmallows made with Jackson Morgan is the perfect addition to any fall vibes.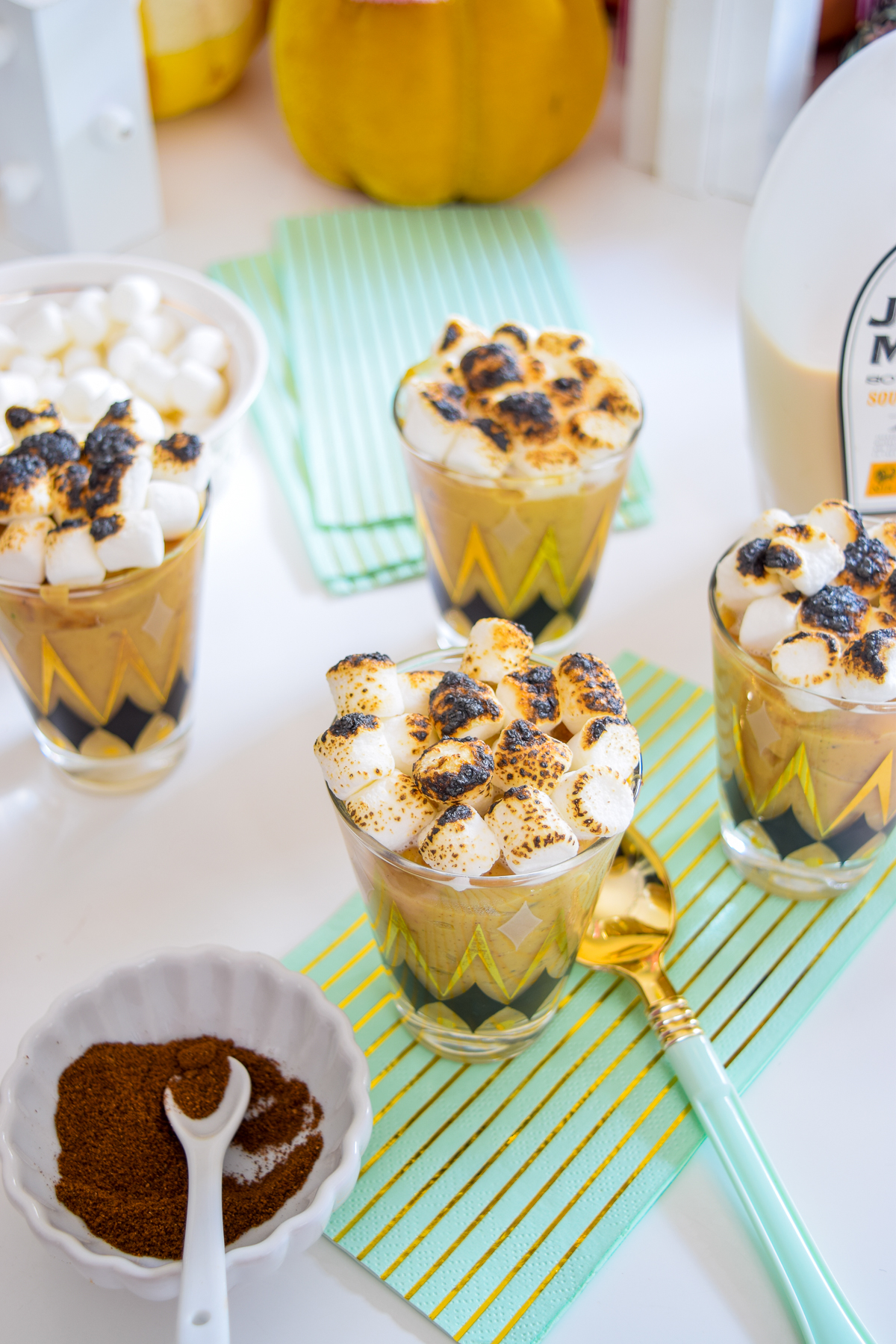 Just wait for halloween – I'm going to have this place decked-out for Halloween.
DIY Fall Decorating Ideas
In previous years I've DIYed quite a few pieces of decor. I'm quite good at painted pumpkins, and this year's batch are some of my fave!
Rifle Paper Co. Inspired Pumpkins Floral Painted Pumpkins or this year's 5 Painted Pumpkin Ideas. I even made fabric pumpkins, and decoupage pumpkins.
You can check out my fall hoop wreaths big and small, preppy and moody. Or my fall floral arrangement. Or fall vinyl decals that can go on just about anything like vintage thermos or serving trays.
Don't forget to check out the other lovely ladies participating in the tour!
Joanna Anastasia PMQ for two Amidst The Chaos Northern Style Exposure Meredith Deanne Lifestyle Chic Mom In the City and Karin U Living