Pumpkins are slowly taking over my storage room, and I'm kind of OK with it. Not sure how Dan feels, but that's for him to sort out. All I know is that all the painted pumpkins I've done over the years wind up there, and this year I'm adding 3 colorful pumpkin painting ideas to the mix with a retro pattern, a matisse inspired print, some polka dots, a boho demi-lune pattern, and a cute rainbow to complete the look.
Check out last year's painted pumpkin ideas and my famous Rifle Paper Co. Inspired fall floral pumpkins.
While you're at it, take a gander at all my fall projects and recipes, you might just be inspired! 
*DecoArt sponsored this post, but all thoughts are my own. Thank you for supporting the brands that make PMQ for two possible.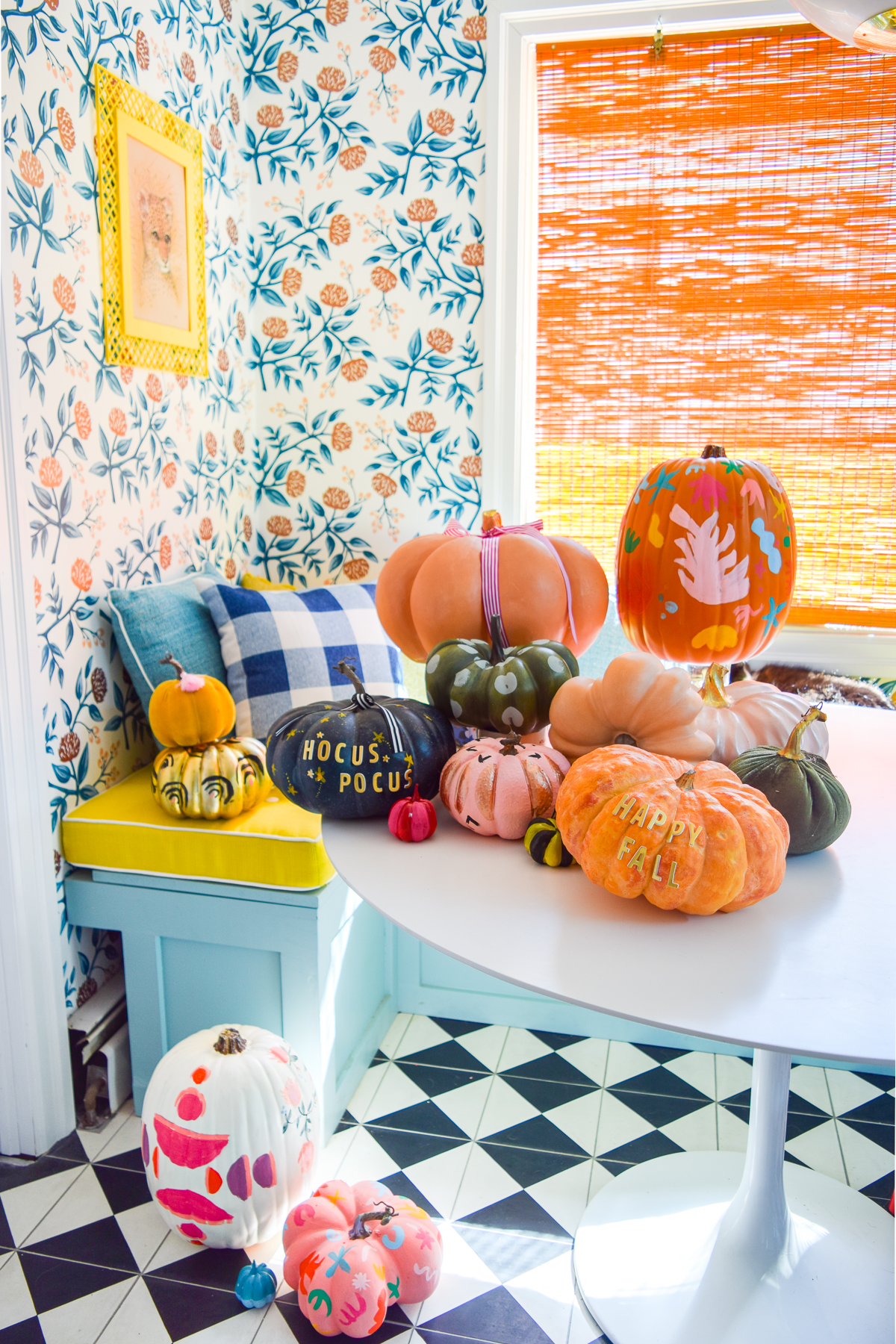 As with all good projects, this one starts with some shopping the house, and actual shopping. I have quite the pumpkin patch (as I mentioned) so this was as much about deciding which pumpkins to paint over, as it was about finding cute new ones to incorporate.
At the prices the brand new plastic ones are going for in stores, I went for some more ornamental ones to complete my shapes, and looked to some less successful ones for fresh paint.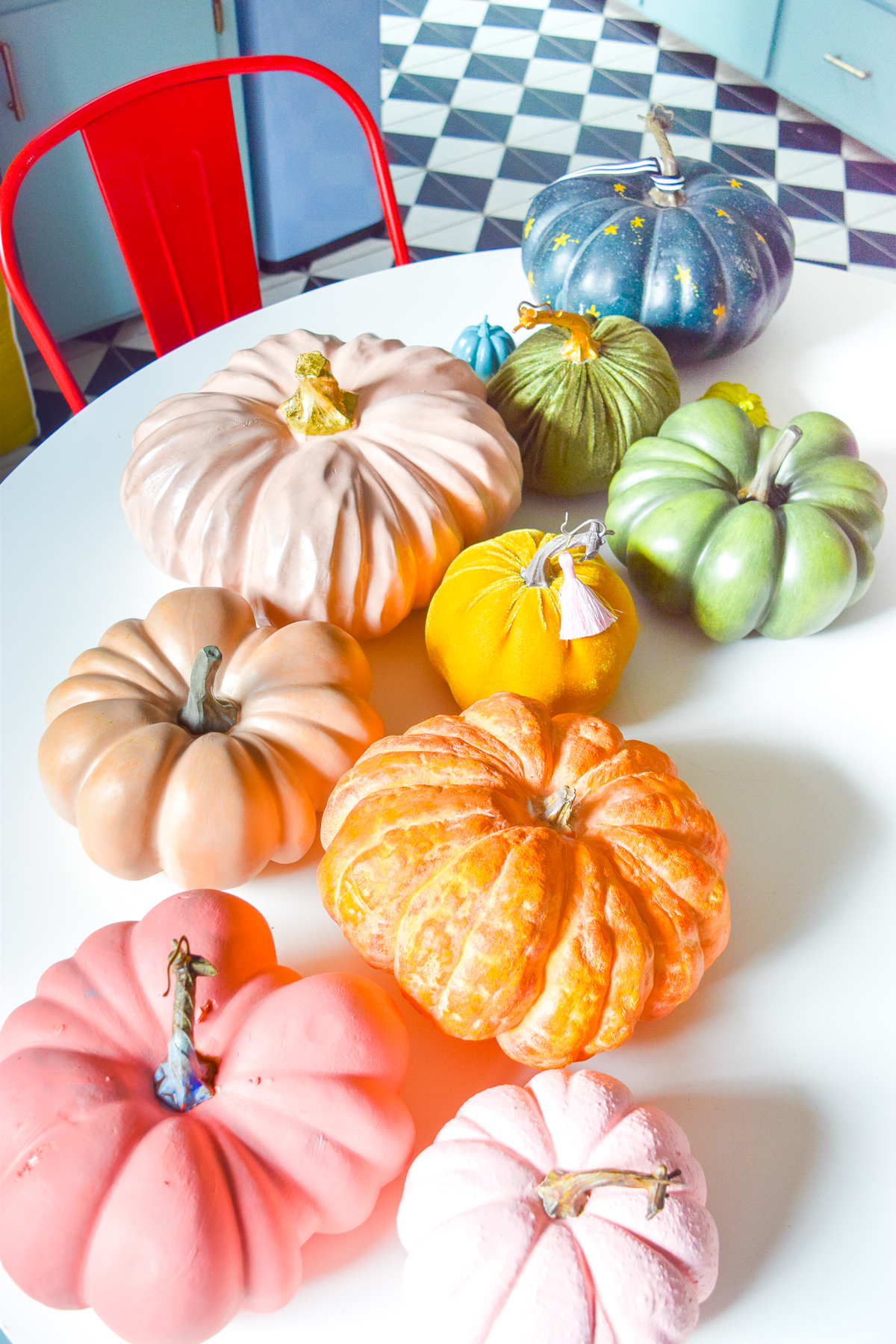 Pumpkin Painting Supplies
When it comes to painting faux pumpkins, I really enjoy using DecoArt's line of Americana Acrylics. I've been using them for years, and have used them in each previous version of my painted pumpkins.
For this series I used a variety of colors, notably: Scarlet, Melon, Boysenberry Pink, Cotton Candy, Mustard Seed, Silver Sage Green, Kelly Green, Laguna, Shoreline, Baby Blue, and Periwinkle. I've also got some black, and Rose Gold from their Dazzling Metallics collection.
You'll also need some standard acrylic paint brushes in a variety of sizes. I like them finer, but I also have some stamp sponges that I've used to create more intricate patterns on a large scale.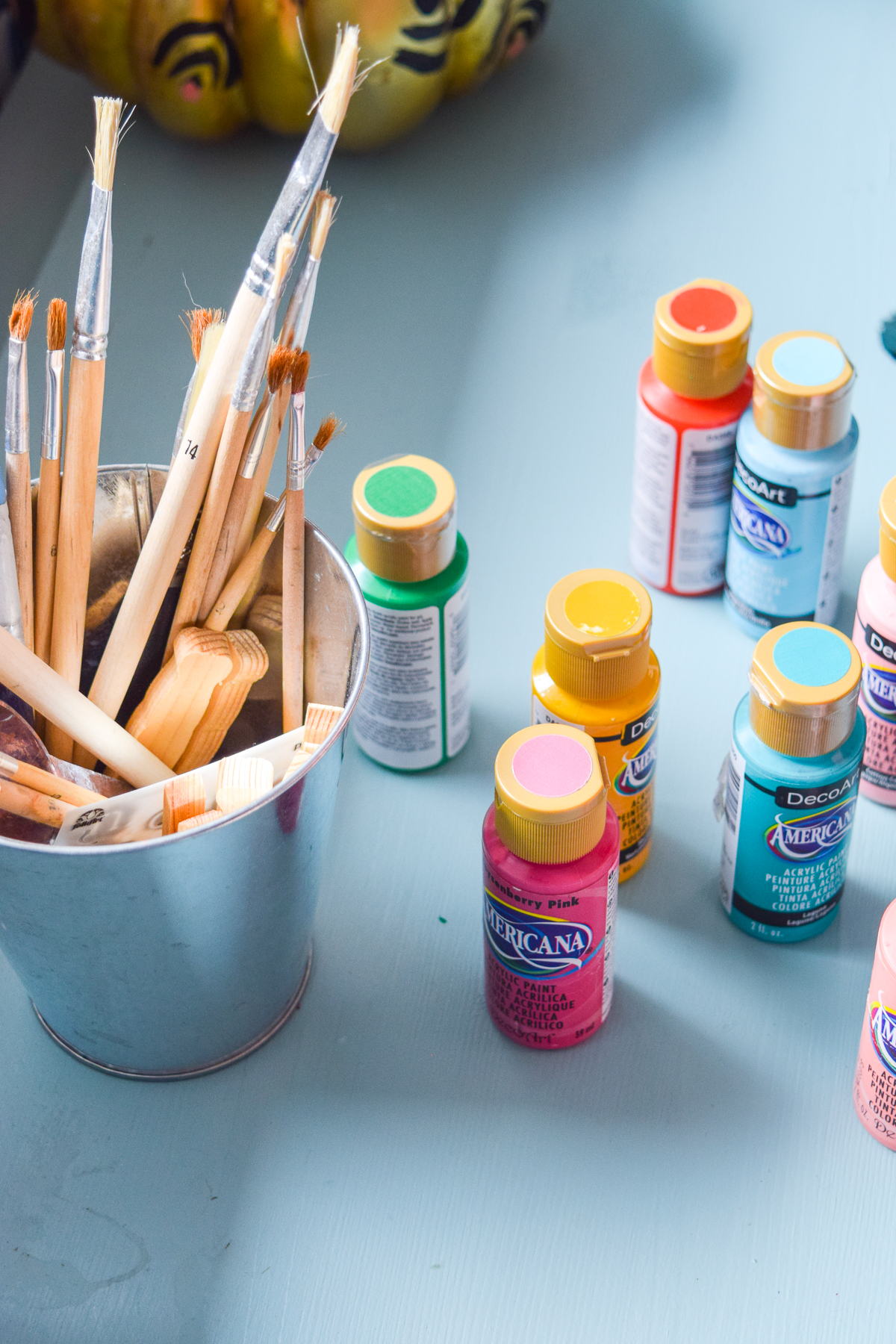 Re-using Pumpkins
As I mentioned above, I've re-used some pumpkins this year, but I've also painted the other side of others! You'll notice that you may have only painted one side of each pumpkin, but if you turn it around there's an entire other side! Don't be afraid to use that one for a different design.
Matisse Inspired Painted Pumpkins
These were the most fun to paint! Much like my Matisse Inspired Clay Vases, it's all about the abstract shapes and the bold use of colours to create vibrant nature inspired patterns.
I used the other side of a tall orange plastic pumpkin, and a smaller pumpkin that I completed painted in a base coat of DecoArt's Melon before starting.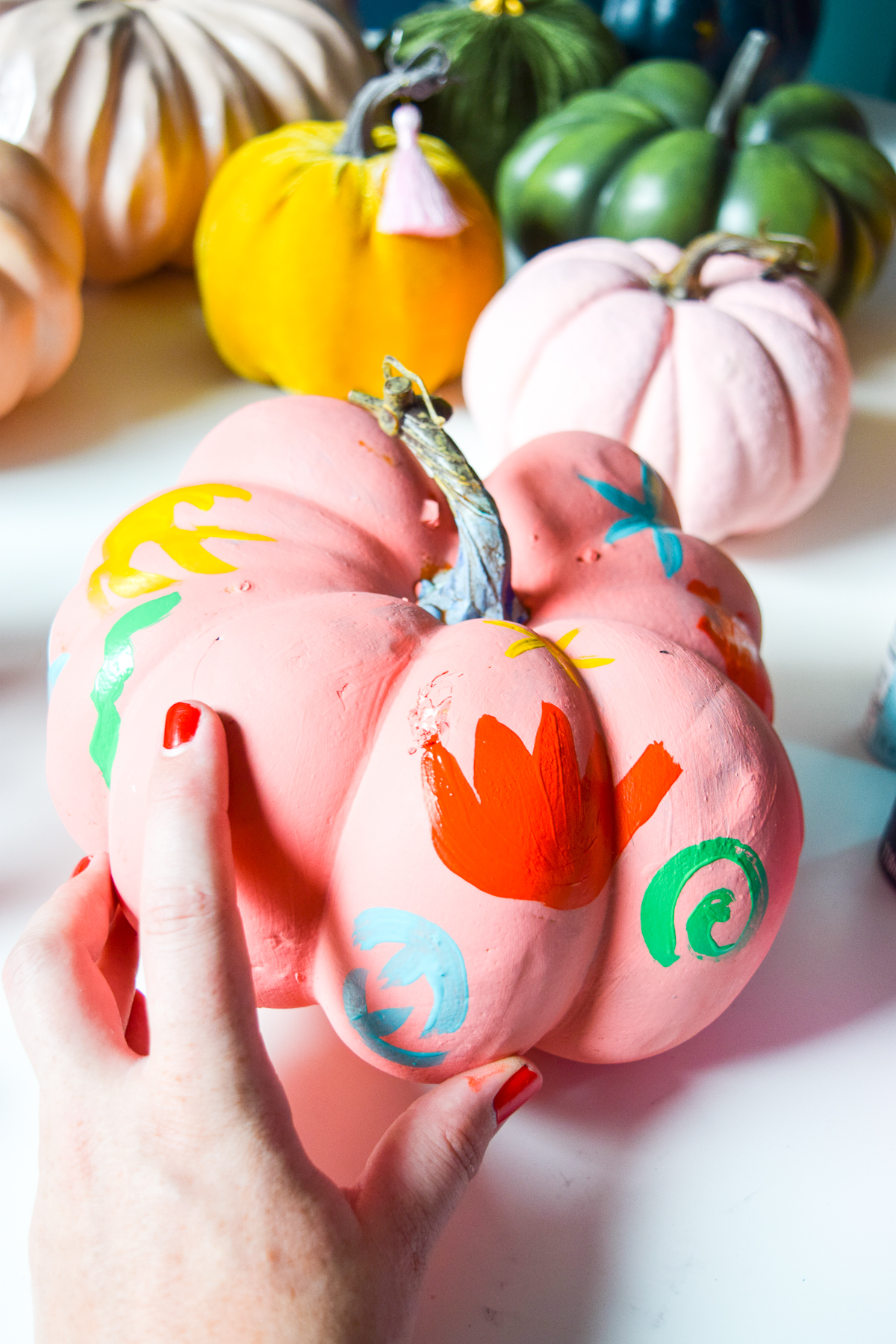 There are a few key shapes for this one, including the leaf, the tulip, and what I'm calling "the squiggle." Everything else should feel like a free flowing form or idea to compliment your colors and design.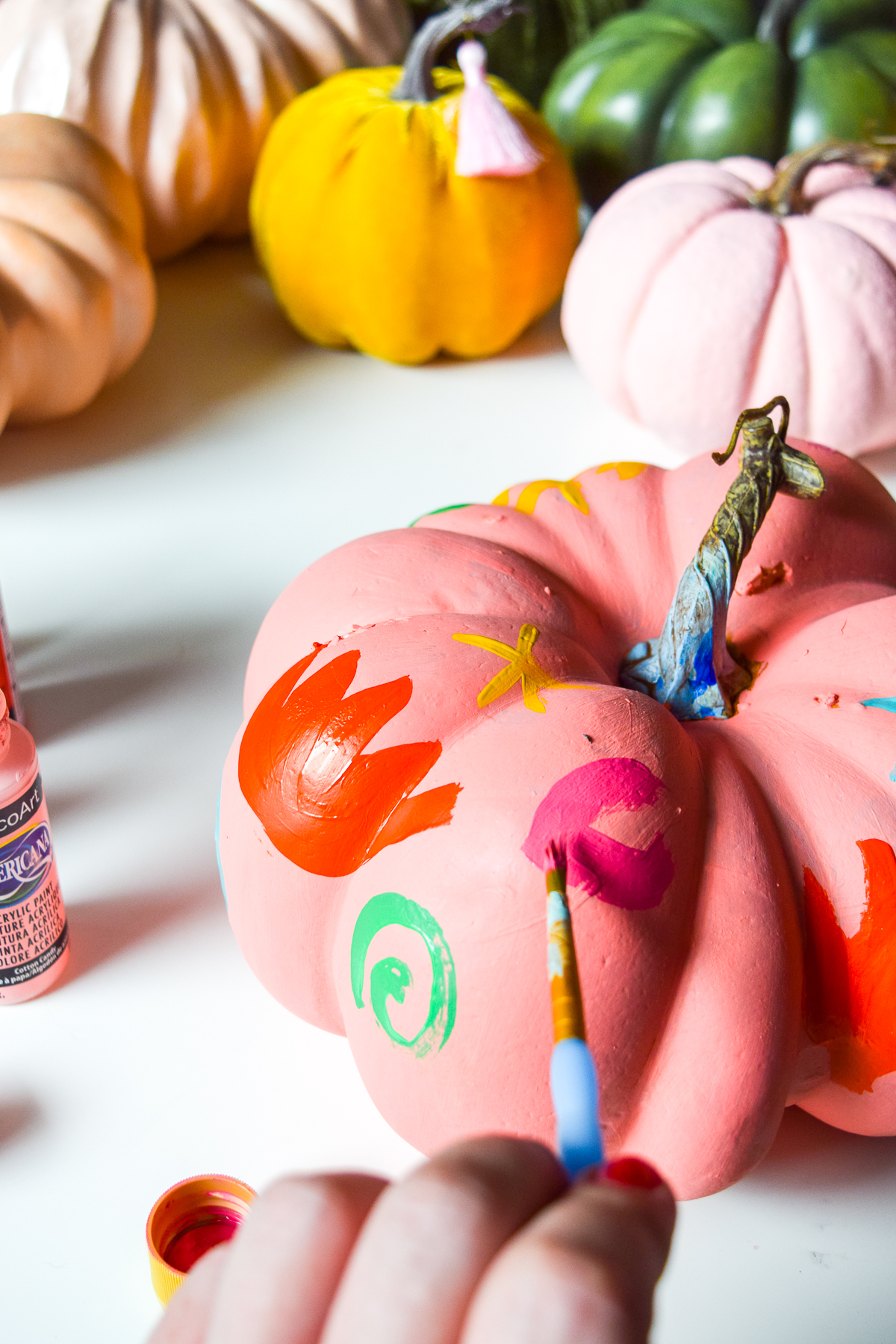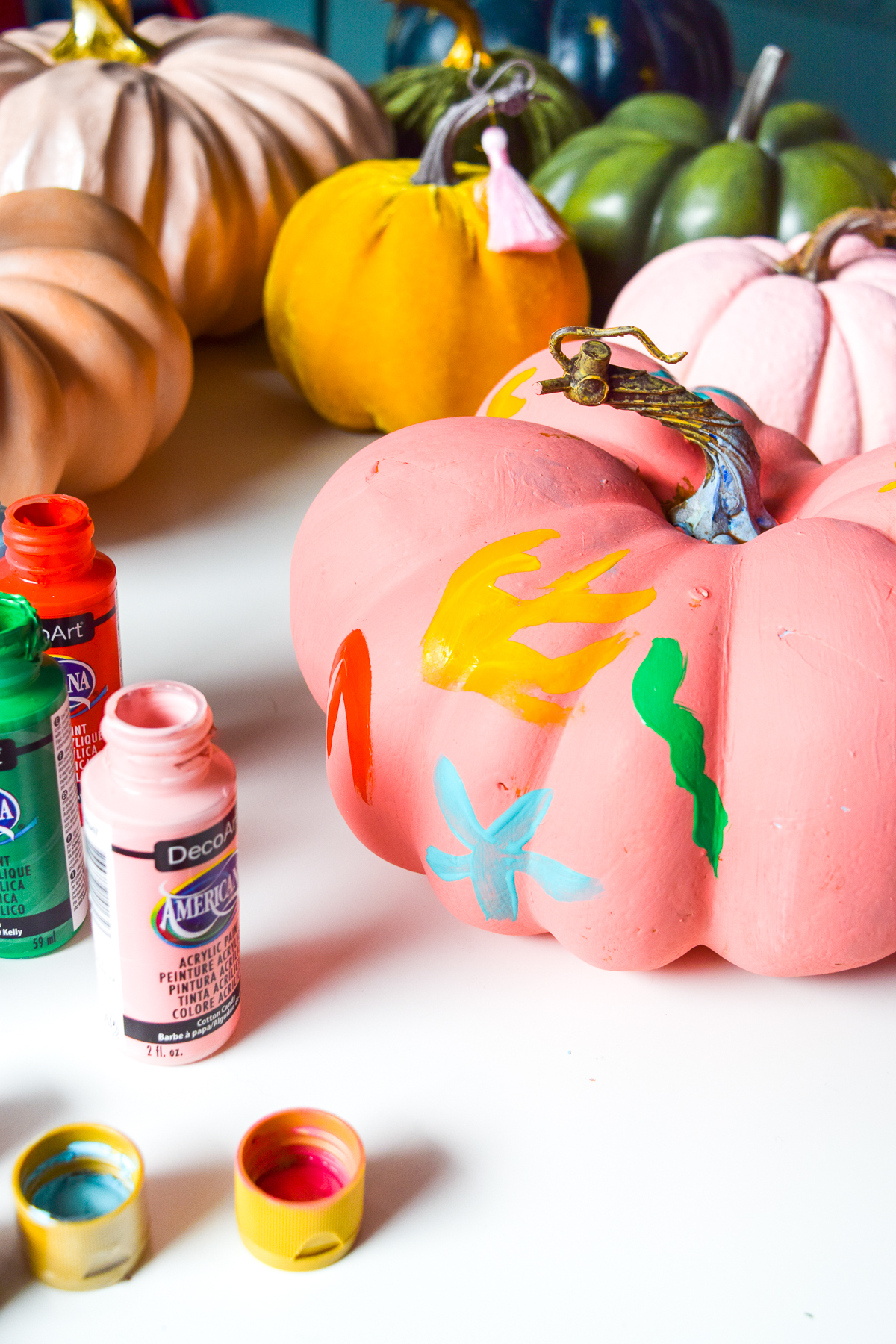 Retro Painted Pumpkin Pattern
This one is super easy to do, and can be done in any color combo but I felt that pink, rose gold, and black were all that were needed here.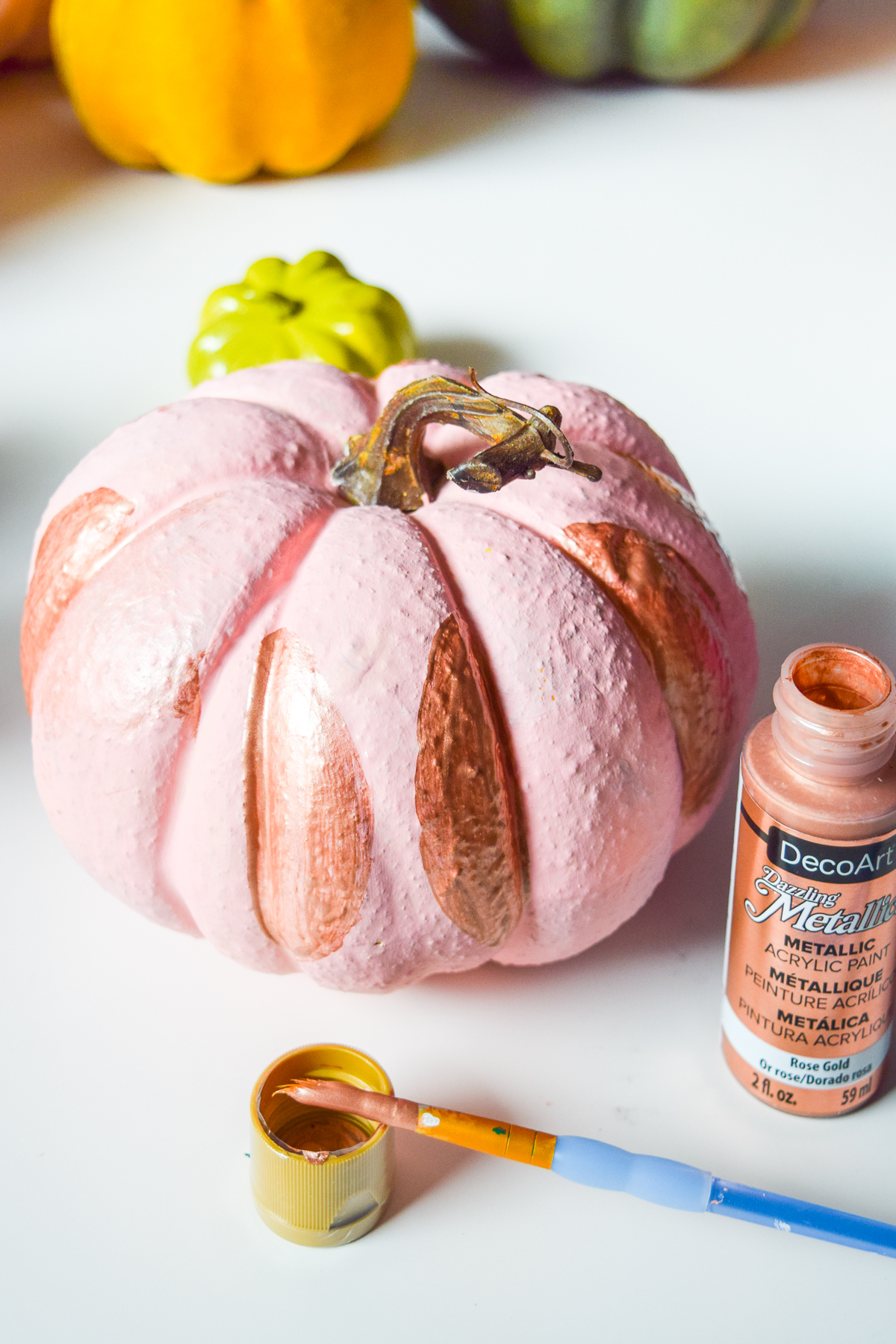 I created a simple repeating pattern of two half circles facing each other, with black Vs at the top and bottom. I did the whole thing on a pumpkin that had been painted in Cotton Candy.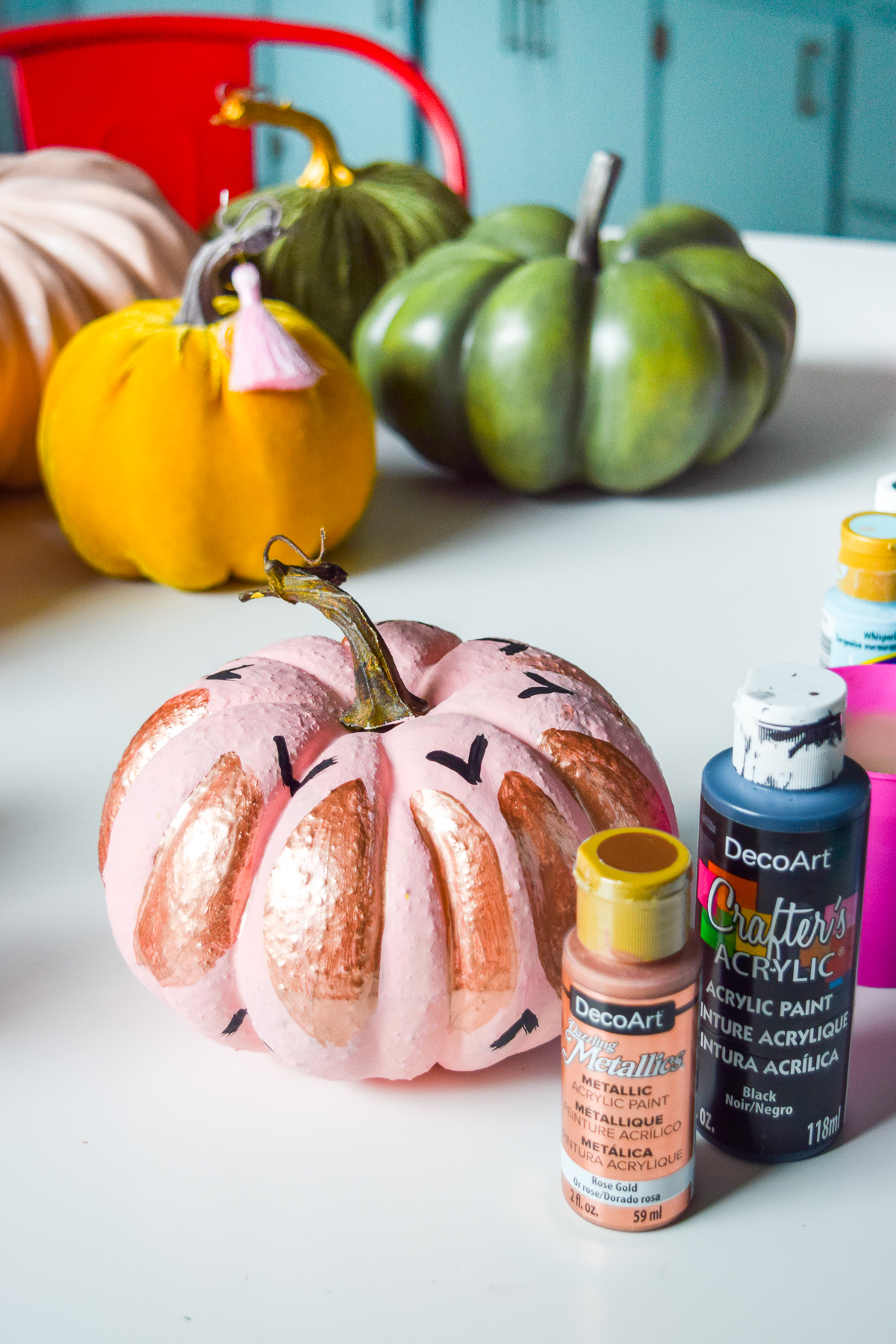 Polka Dot Pumpkin
I'm always one to find the easy way to do something, and there's no exception when it comes to painted pumpkins. I used a stamp sponge with some Silver Sage Green, to add large fluffy polka dots to a rich and luxurious green pumpkin (new to my collection this year).
You can go abstract with the pattern, or just focus on putting 3 in a row down each side of the pumpkin (like I did). Using a stamp sponge makes it easy to do, and would allow me to complete several of them quickly.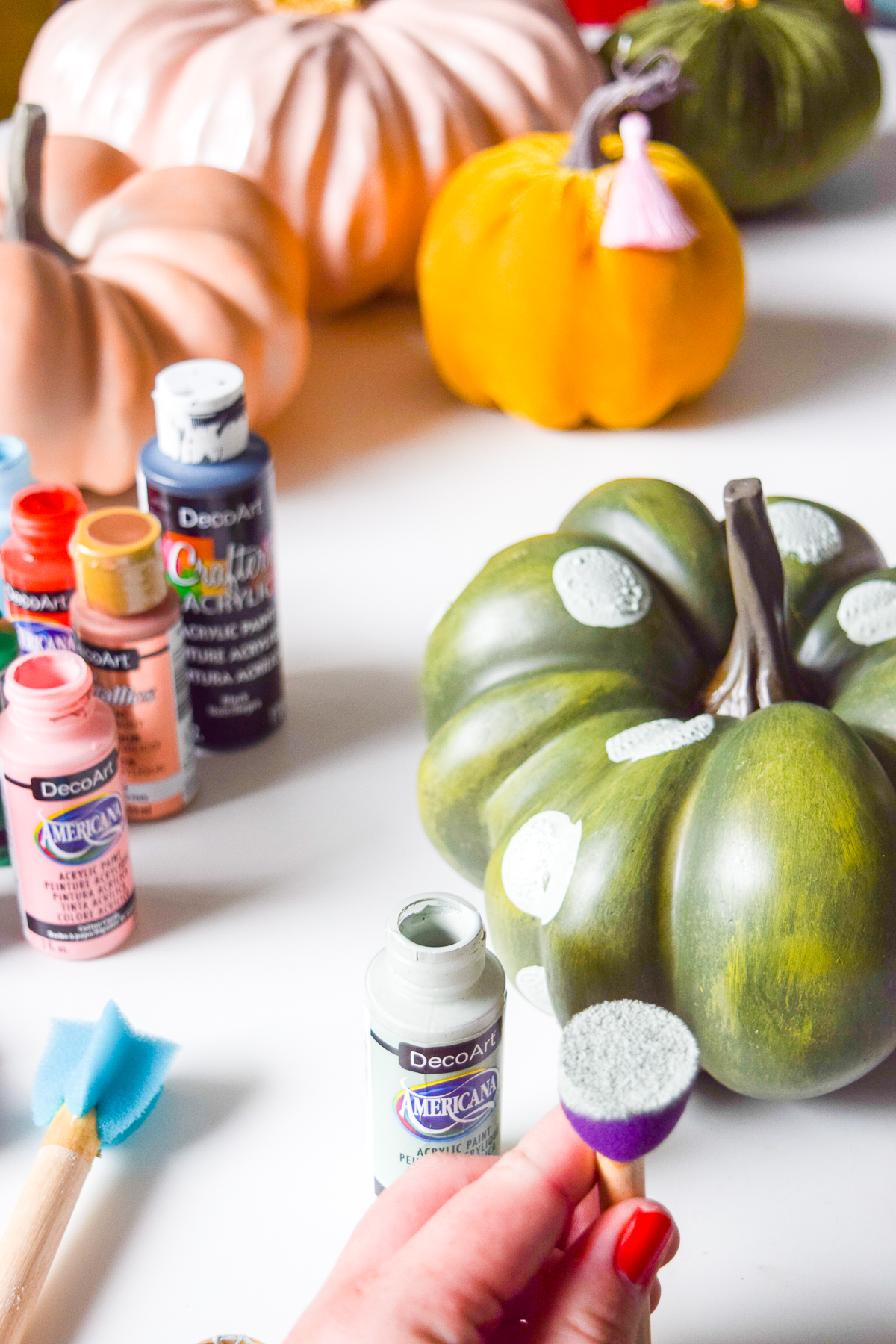 Boho Demi Lune Painted Pumpkin
You'll have to check out my video tutorial for this one, but suffice it to say, it's pretty simple once you pick a color palette.
Because I was using the other side of a tall white pumpkin, I went for contrast with pinks, purples and reds.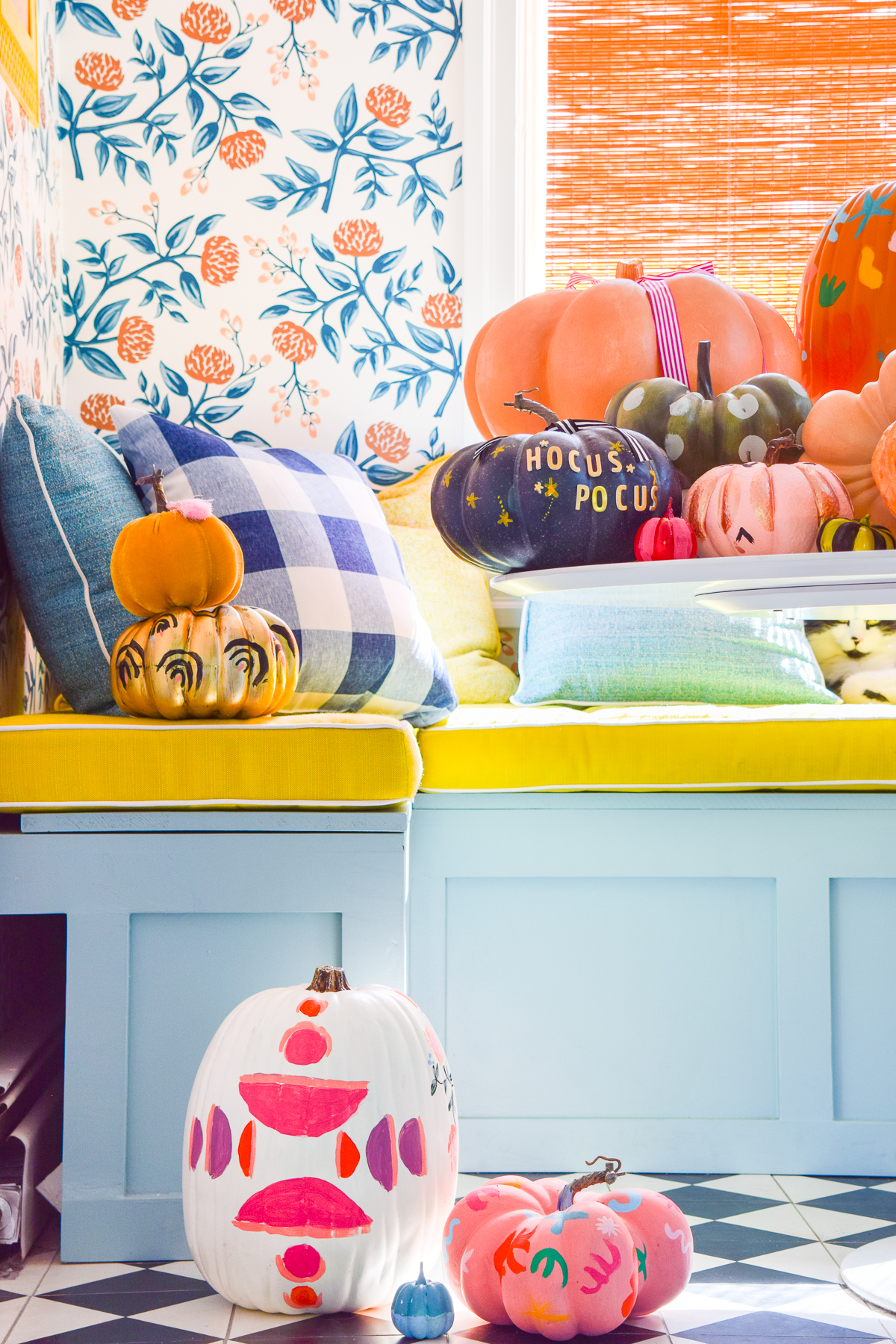 Rainbow Painted Pumpkin
Same goes for the black and pink rainbow pumpkin. Check out the video you need specifics!  That being said, you can probably replicate the pattern with easy without too much hassle.
5 Colorful Pumpkin Painting Ideas
Now that my pumpkin patch has been refreshed once again, I wanted to see what they all looked like grouped together. I've also got some colourful DIY fabric pumpkins, so I sprinkled a few into the mix here. I even added some alphabet stickers to others to jazz them up.
Basically, when it comes to creating colorful fall decor that resonates with you, the sky is the limit!
Check out the full tour of our Retro Glam Kitchen.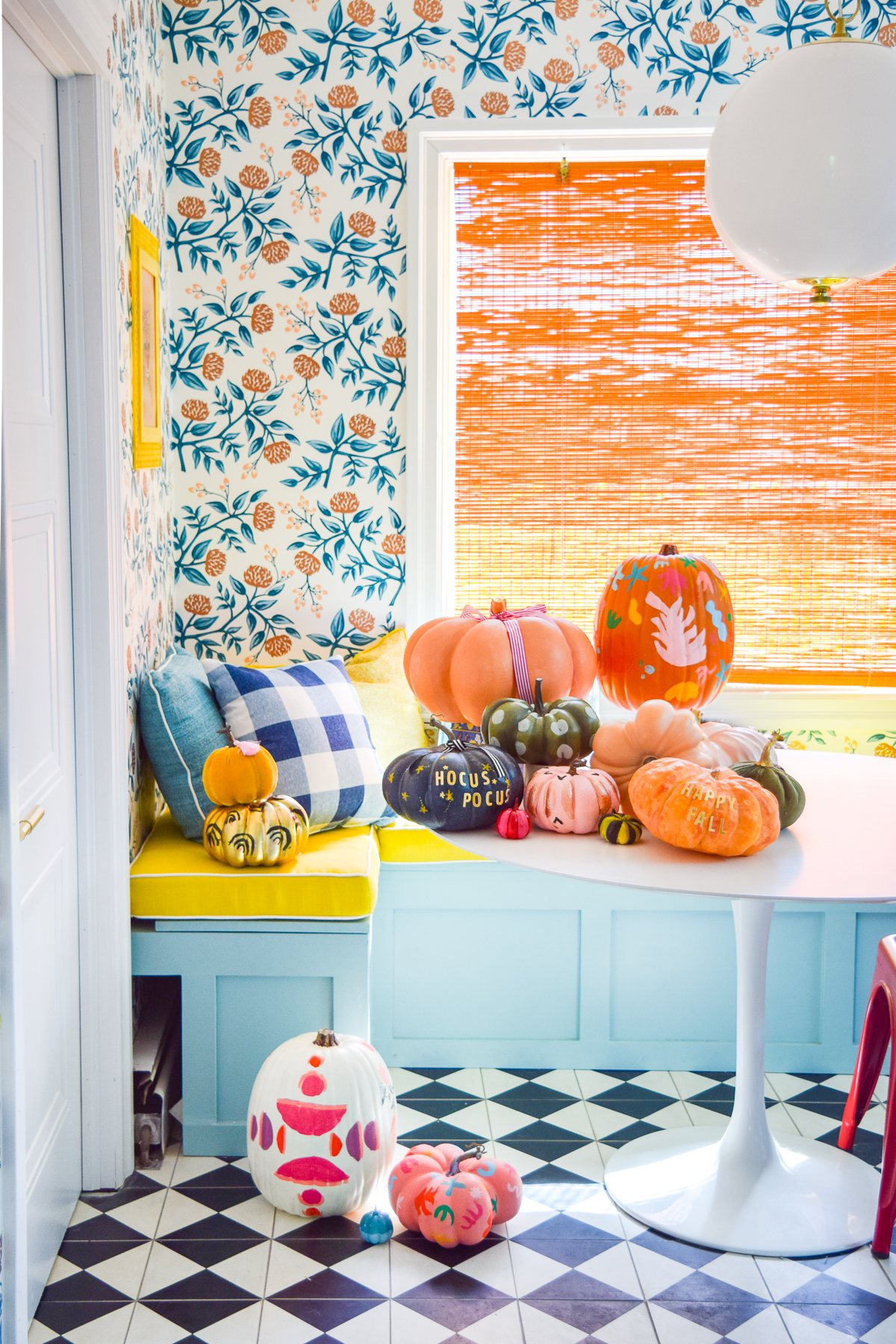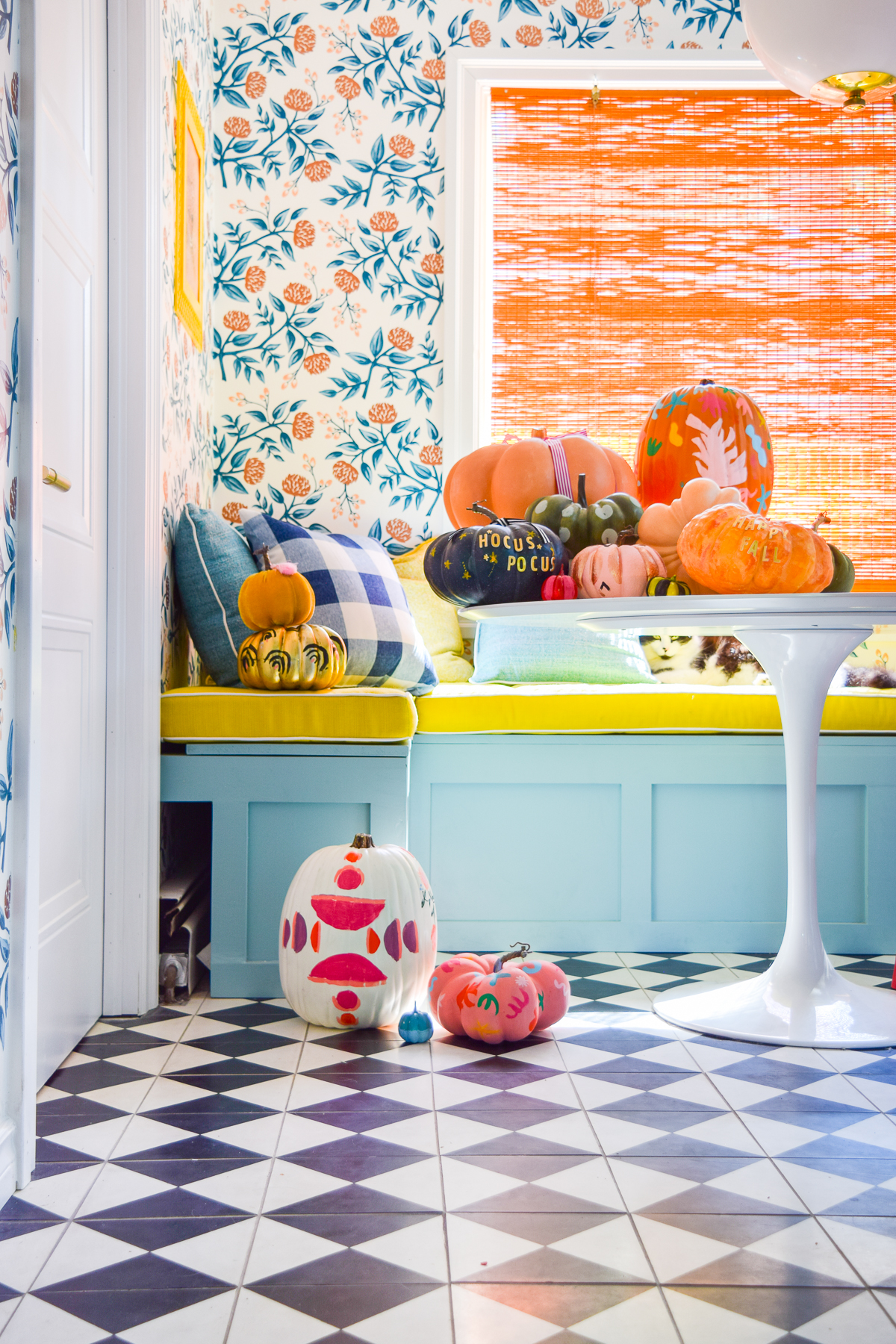 Can you spy Toby the cat in this picture? He's carefully concealed, basking in the sun!