We're rounding the home stretch in our small powder room renovation as part of the Primp and Pamber Bathroom Challenge. At this point, all I've got to do is style and shoot the space for the reveal! With a newborn, that will be easy, right? Today I'm sharing our small powder room ideas for finishes, so that you can get a sense of what the space will look like once it's complete. I'm covering our lighting choices, mirror selection, and the brass finishes we chose for accent all the pinks and reds.
Check out last year's Primp & Pamper Bathroom reveal – my Kate Spade Inspired Powder Room – and how to remodel a bathroom on a budget (incase you've already got a powder room and it just needs some updating). 
*Hudson Valley Lighting, Emtek, Build.com & Signature Hardware sponsored this post, but all thoughts are my own. Thank you for supporting the brands that make PMQ for two possible.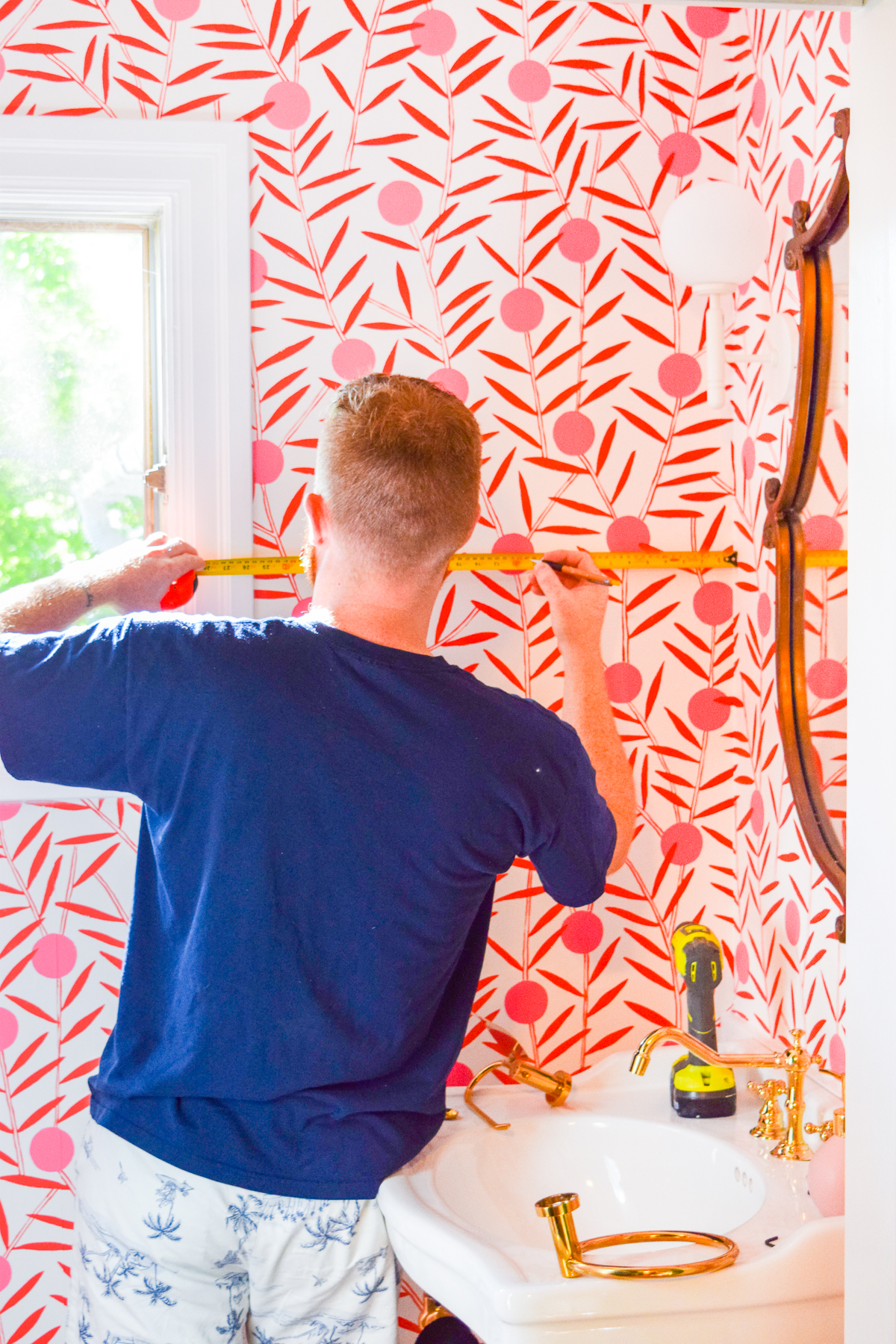 Powder Room Lighting Ideas
This was an easy selection to make! Because we settled on the wallpaper so early in the process – the Bloom in Poppy by Hygge & West – I went looking for a light fixture that picked-up on some of the elements in the pattern.
To my surprise – but not really – Mitzi's Mina wall sconce is a perfect match. The big white orb and simple arm make it a sleek and steamlined choice for powder room lighting, against such a busy pattern.
The double bands at the bottom are like the empty branches on the Bloom design, while the orb mimics the big pink circles in the pattern. It's a match made in heaven! and because it's all white, it doesn't distract from the rest of the finishes when not lit up.
Powder Room Mirror
I spent quite a bit of time trolling through Build.com for the perfect mirror to hang in this space. I wanted something bold, large, and with enough whimsy that it wouldn't feel too "obvious" for the space. Notice how nothing I do is obvious, eh?
I chose the Ablenay Mirror from Build.com for this space because it met all my needs for a powder room mirror. It's got an imposing size, beautiful curves, and the tonal difference between it and the rest of my brass finishes doesn't feel forced. I like it!
Powder Room Brass Finishes
As I discussed last week in the post about our console vanity and faucet choice, I went with a polished brass finishes from Signature Hardware. In this context it feels fresh and modern, not dated and 80s.
We got the Ceeley 7-1/2″ Wall Mounted Towel Ring from Build.com, and matched it to the Ceeley Single Post Tissue Holder also from Build.com. The two are a lovely addition to the space.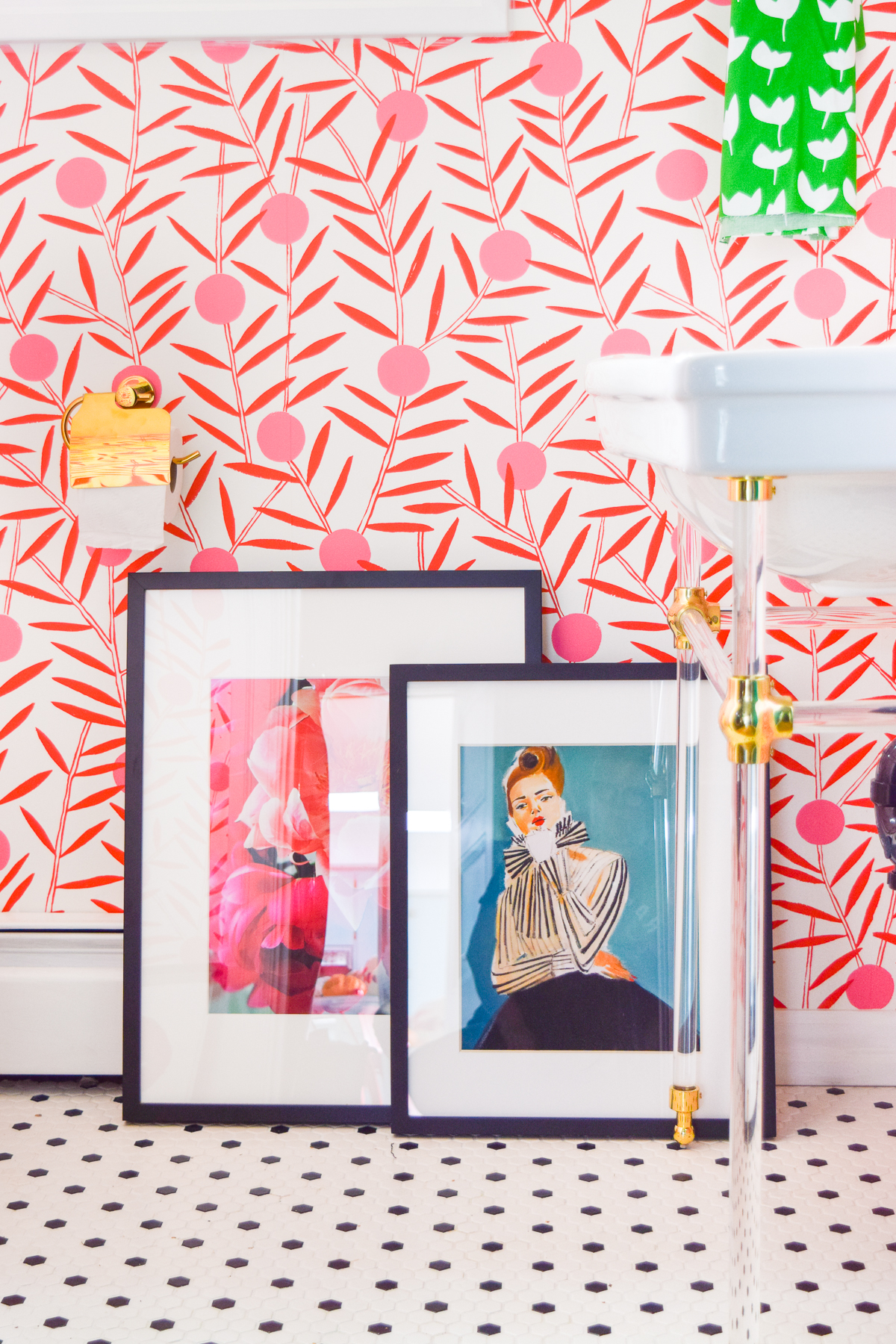 Last but not least, our pocket door finally got it's mortise set! Dan painstakingly installed it on our sliding door. We should have done it before we hung it, but we didn't think that far ahead. Oops!
We're using the Pocket Door Mortise – Modern Rectangular in Satin Brass from Emtek (available on Build.com). We now have a way for someone to close the door and latch it, while using the powder room.
As you can see, everything is coming together nicely! I've just got to make my final art selections, get the decor situation figured-out, and shoot the reveal before next week! I can do this!
Make sure you go check out what the others are up to as well.
Jeweled Interiors | PMQ for Two | House Homemade | Rain on a Tin Roof | Effortless Style Blog | Haneen's Haven | Kaleidoscope Living