Did you catch our plans for the small powder room last week? I walked y'all through our process, including why it seemingly took so long to get anywhere – we had to move walls after all! Well, given that the space is so small, it's time to start showing off some of the major fixtures – our small powder room vanity is where we started. I've been teasing y'all with peaks of these sexy lucite and brass vanity legs, and here they are!
Check out last year's Primp & Pamper Bathroom reveal – my Kate Spade Inspired Powder Room – and how to remodel a bathroom on a budget (incase you've already got a powder room and it just needs some updating).
*Build.com & Signature Hardware sponsored this post, but all thoughts are my own. Thank you for supporting the brands that make PMQ for two possible.

Choosing A Console Sink
The space was so small, and our door placement dictated that we use a console sink instead of a bathroom vanity in here.
What is a console sink?
A console sink is basically a sink basin / countertop combo- often supported by legs – that doesn't have the trappings of a traditional vanity with a frame and drawers etc. The countertop element is also usually built into the sink itself.
This works perfectly for us here on a few levels: design and function are chief amongst them. As you can see, the door opens onto the sink, so having something to move around would be inconvenient. This way, the legs don't obscure (visually or otherwise) the entrance.
Console Sink Pros & Cons
We looked to Signature Hardware's beautiful collection of console sinks for ours. We looked at quite a few different shapes, leg types, and faucet situations, ultimately choosing the 30″ CIERRA CONSOLE SINK WITH ACRYLIC STAND with brass caps and plumbing joints.
The pros of the Cierra console sink are:
• The extra width allows for some space on each side of the basin for toiletries like soap, creams etc.
• With this design, the legs can serve as towel bars if need be.
• the clear acrylic doesn't block the visual pattern of the wallpaper
• the brass plumbing and joints look really slick with the rest of our bathroom finishes from Build.com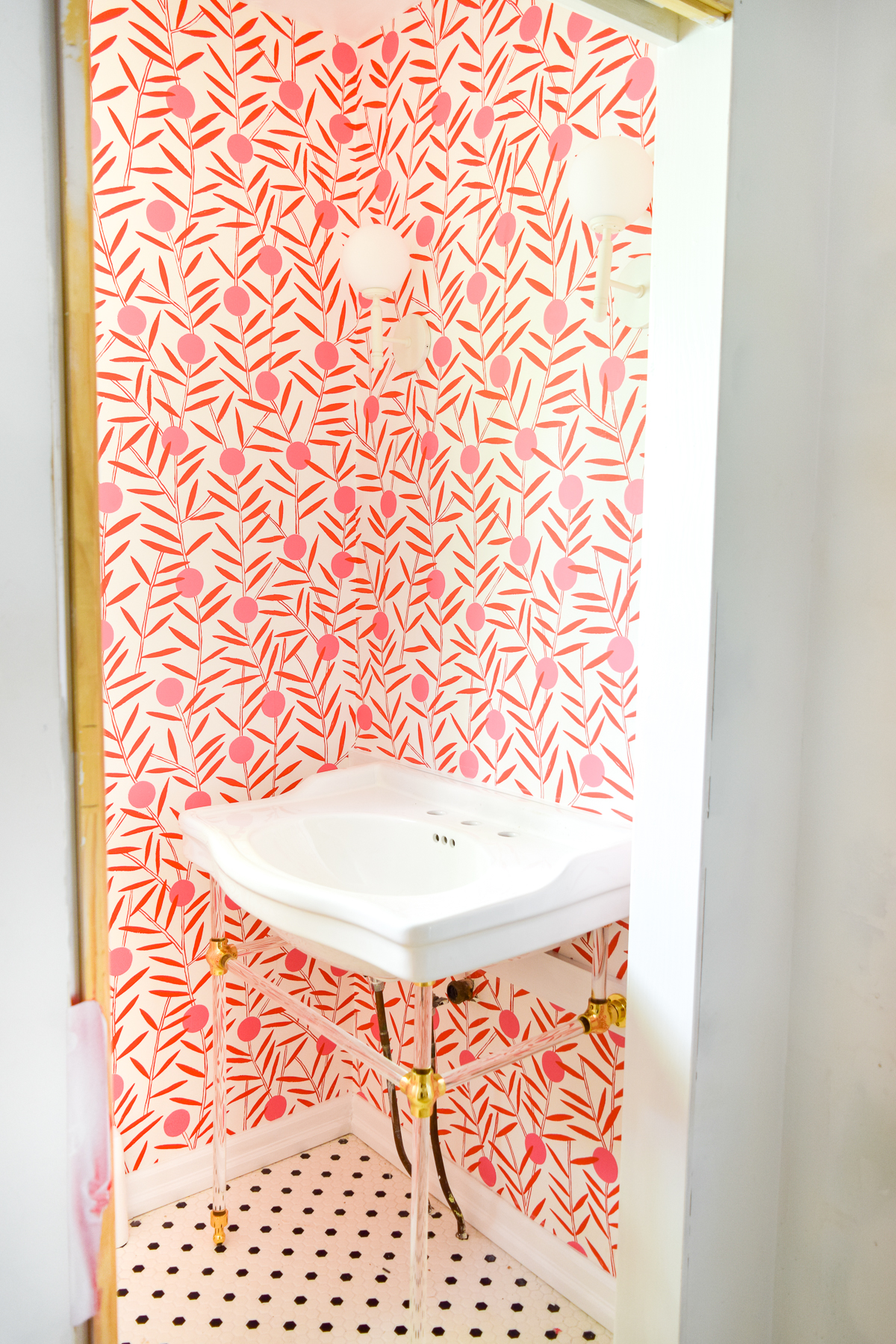 The cons of the Cierra console sink are:
• It's wall mounted, so we had to add braces along the wall behind it. *we didn't account for this when we originally walled the room, otherwise we would have added studs before wallpapering.
• It was too complicated to move our pipes over to be centred in the new width of the space, so some of the joints they went couldn't be used. Because the plumbing is exposed, we'll have to paint the PVC of find some way of covering.
• The basin is a lovely size, but I would not place it in a space with a footprint that was any smaller than this.
Choosing a Faucet
Did you know most sinks don't come with faucets? and most vanities don't come with sinks for that matter. Whoda thought?! In choosing our console sink, we also chose the BARBOUR WIDESPREAD BATHROOM FAUCET based on a few factors:
• basin depth vs. spout length
• finish – in this case, all brass
• openings – the Cierra has 3 holes, one for the faucet and each temperature's knob. Some only have one hole, so make sure you check that out.
As you can see, the two fit together perfectly here! You can also catch a peek at some of our other finishes, which I'll have more on next week.
Signature Hardware & Build.com Helpline
It's understood that choosing home decor fixtures online can be tricky, especially if you need to see things in person like I do. What I really liked about working with Signature Hardware was that they have a hotline you can call and ask questions! So if you're unsure if your plumbing set-up will work with a given item, you can ask an expert before ordering.
They've also got a live chat feature, but I like to speak to a person.
Even better, Build.com has one too! Which meant that while I was coordinating finishes and fixtures, I could easily get realtime info and make informed decisions. The process was much easier because of it.
OK! Time to check out what the others are up to! aI know there are some murals and wallpaper in the works.
Jeweled Interiors | PMQ for Two | House Homemade | Rain on a Tin Roof | Effortless Style Blog | Haneen's Haven | Kaleidoscope Living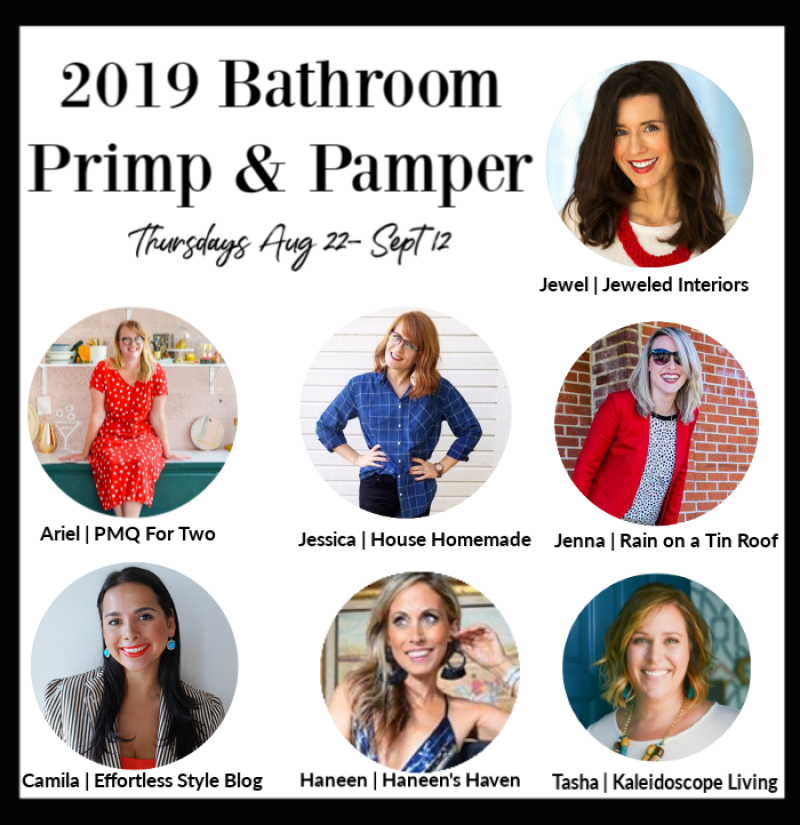 Catch up on last week's post as well! How to plan a powder room renovation