I don't know how many times I've started posts this fall telling you guys how much I love fall, but I'm gonna do it again because it's true. I love fall! I love the smells, the colours, the weather, the fact that it means Christmas is on its way. I'll take a year of falls over a year of Springs or Winters any day. It's only natural that my home should look its best for fall, because I feel like deep down I've been styling it for fall all along.  With that being said, my Bold, Bright & Colourful Fall Home Tour is something I've been building on for a few weeks now. You can click through to each individual post to catch a certain space or craft in all its glory, or just enjoy it as a whole here, much like I intended.
Catch last year's Fall Home Tour // here //
While I remember, I want to thank Christina from The DIY Mommy and Shannon from AKA Design for hosting the tour and wrangling everyone for their link and photo. They've both got such distinct styles and have such a lovely touch when it comes to fall decor. If you're joining me from Kim Power Style, The Creek Line House,
Sustain My Craft Habit or northern style exposure – Welcome! You can read a little bit more about me // here //.
Don't forget, if you love any of the pieces you see you can shop my look // here //.
Starting at the front door, I used fall classics and some pieces from the Spring ORC // here // to complete the look. Mums are so perfectly cheery and bright – perfect for fall – and they're hardy enough for the changing weather.  I think they look right at home in my thrifted chinoiserie planters on my stoop. So far no squirrels have made off with anything, so I'll count that as a victory.
Catch the full fall front porch decor // here //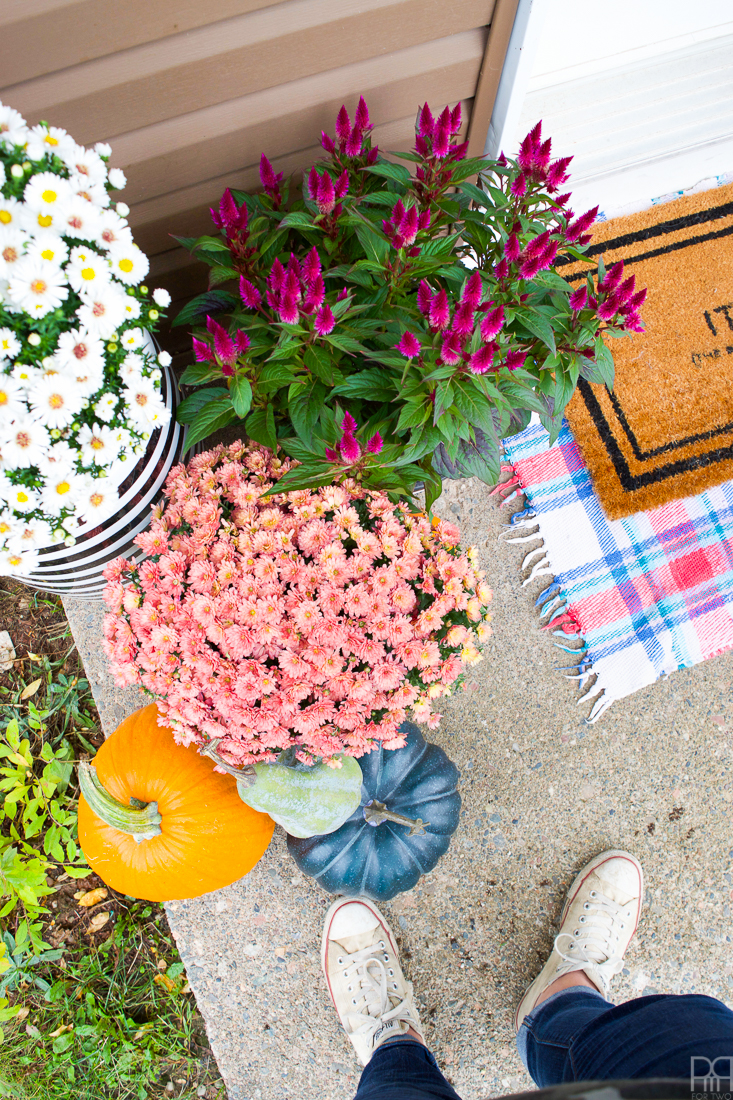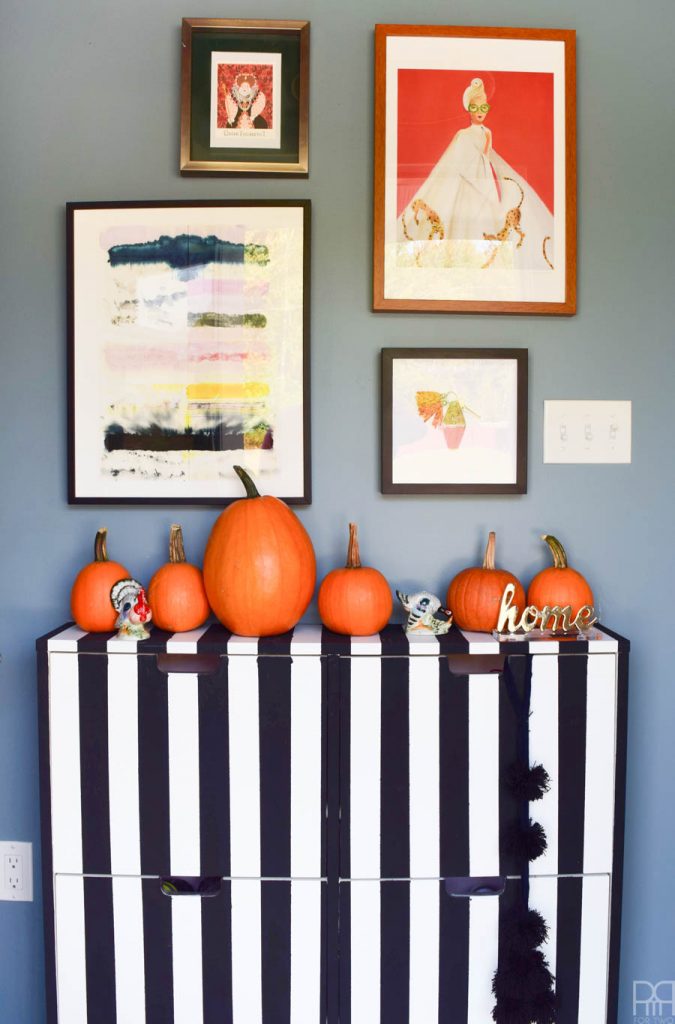 The entryway is simple; pumpkins and some turkeys. They don't leave a whole lotta room for a purse, but they're highly impactful and very a propos. The best part is that I can move them around so that they can double elsewhere. There's nothing worse than when you buy decor that can only serve in one spot – I like my pieces to be multipurpose.
Catch the full fall entryway decor // here //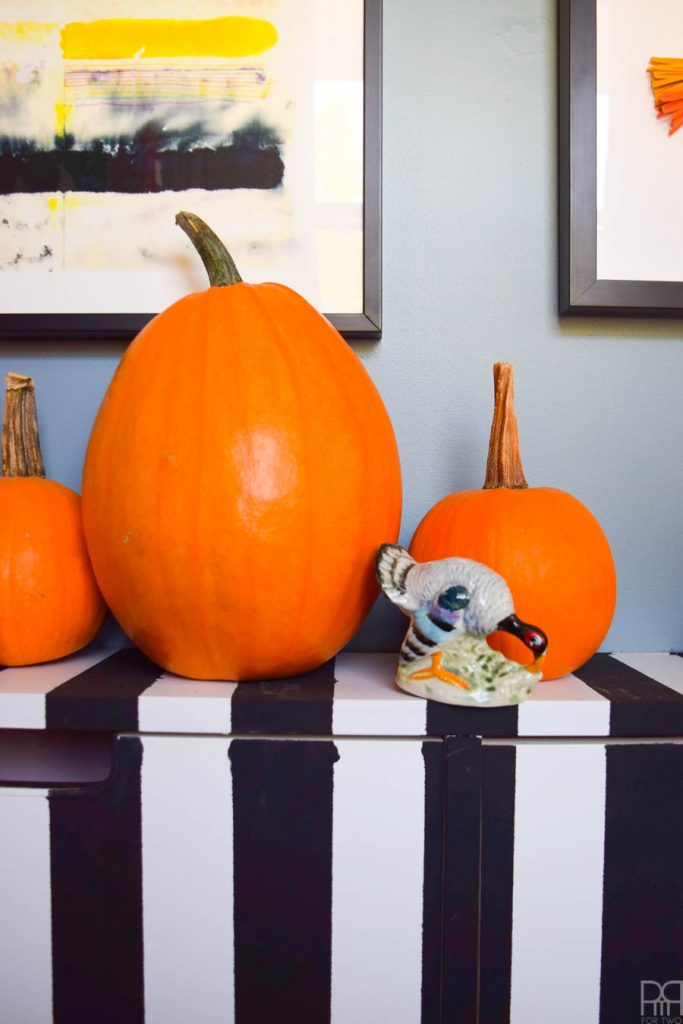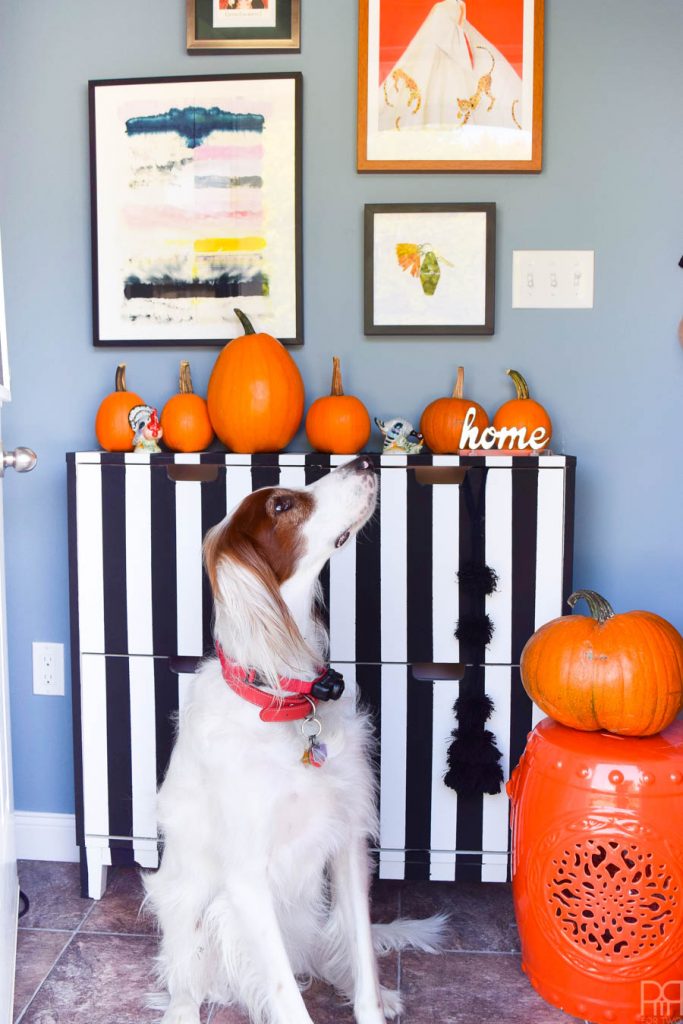 The living room has subtle changes this fall. I've got a few embroidery hoop wreaths that I made // here // and placed around the bookcases.  Because this space is already so colourful it would be easy to overhwelm the space with more warm colours and pumpkins. Even last year // here // I didn't do too much to the living room and it was all in the small details.
Catch the living room wreaths decor // here //
The Kitchen is too busy to really dress-up for the season. We have such little counter space that I can't really give too much of it away to pumpkins – try as I may. I've got my DIY Fabric pumpkins // here // as well as large pumpkin tureen to help spice things up. Are there mallamar pumpkin candies in there? or aren't there? You tell me.
I nabbed the pink Le Creuset salt pig at Homesense a few weeks ago. They've started carrying more of their pieces and I had been looking for one forever, so I was glad to snatch it up when I did! I'll have more about the kitchen soon as I show you guys how I jazz-up a store bought pie for thanksgiving.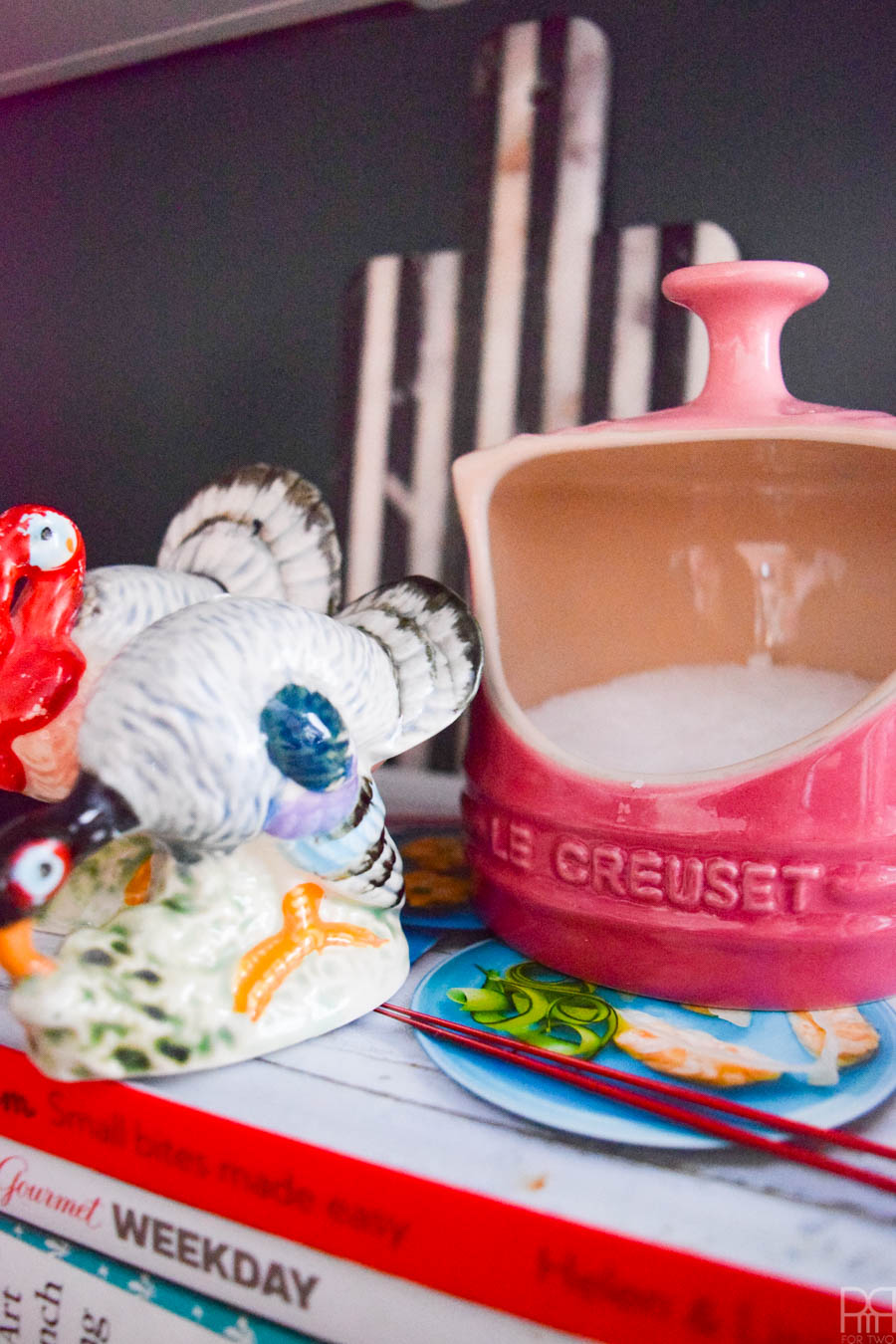 These delightful fabric pumpkins are hanging-out in our dining room. I won't be sharing too much of this space because it's the one I'm making over for the upcoming fall One Room Challenge. The pumpkins are all made using fabrics from Fabric.com.
You can catch the DIY Fabric Pumpkin Tutorial // here //
Make sure visit the others bloggers in the hop and see what they're up to style-wise. I know I've got a few favourites already, and can't wait to hear what you all think!
Monday
AKA Design
Amidst the Chaos
Lemon Thistle
Love Create Celebrate
So Much Better With Age
Tuesday
The Learner Observer
Woman in Real Life
Life is a Party
Clean and Scentsible
Wednesday
Satori Design for Living
The Happy Housie
Rambling Renovators
Craftberry Bush
The Sweetest Digs
Thursday
The DIY Mommy
Home To Heather
White Wood
A Pretty Life
Vin'yet Etc
Friday
Kim Power Style
PMQ for two
The Creek Line House
Sustain My Craft Habit
northern style exposure