Our MCM Home Wet Bar renovation was something we tackled with glee, gusto and hazmat. Read on! It all started with a sink really. Elkay's Quartz Luxe® sinks are *chef's kiss* and because this is a wet bar, in an arguably funky home, we went for a new colour – Mint Creme.
*Elkay®, Golden Select & Hudson Valley Lighting sponsored this post, but all thoughts are my own. Thank you for supporting the brands that make PMQ for Two possible.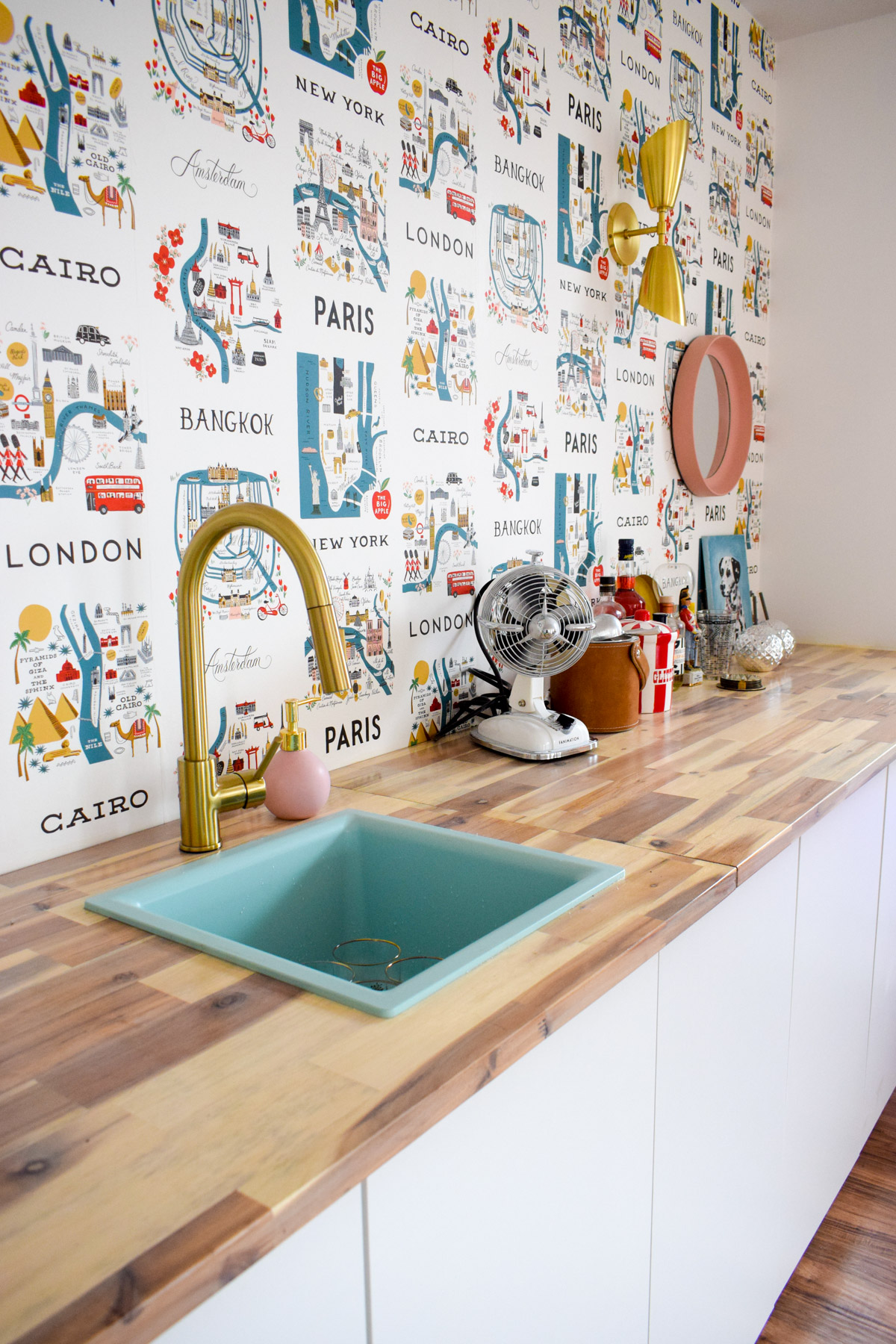 Before Renovations
One of the many reasons we fell in love with this house was the wet bar. It's in a great big entertaining space, and it provides a natural environment for parties as well as cozy nights in. Last winter I gave it a quick makeover with peel & stick floor tiles + wallpaper so that we could get through the holiday season in style.
Renovating our MCM Wet Bar
However the rest of the space, just outside these photos, was wood panelling that had seen better days. Not to mention questionable ceiling tiles, and shag carpet. We'll talk about the 12 foot fireplace later.
So this summer when we started planning to renovate the basement, we knew it had to encompass the wet bar, as well as the giant entertaining space. We saved-up to have a lot done, but we did the demo ourselves (hence the hazmat – wanna guess how much mouse poop was in the ceiling?)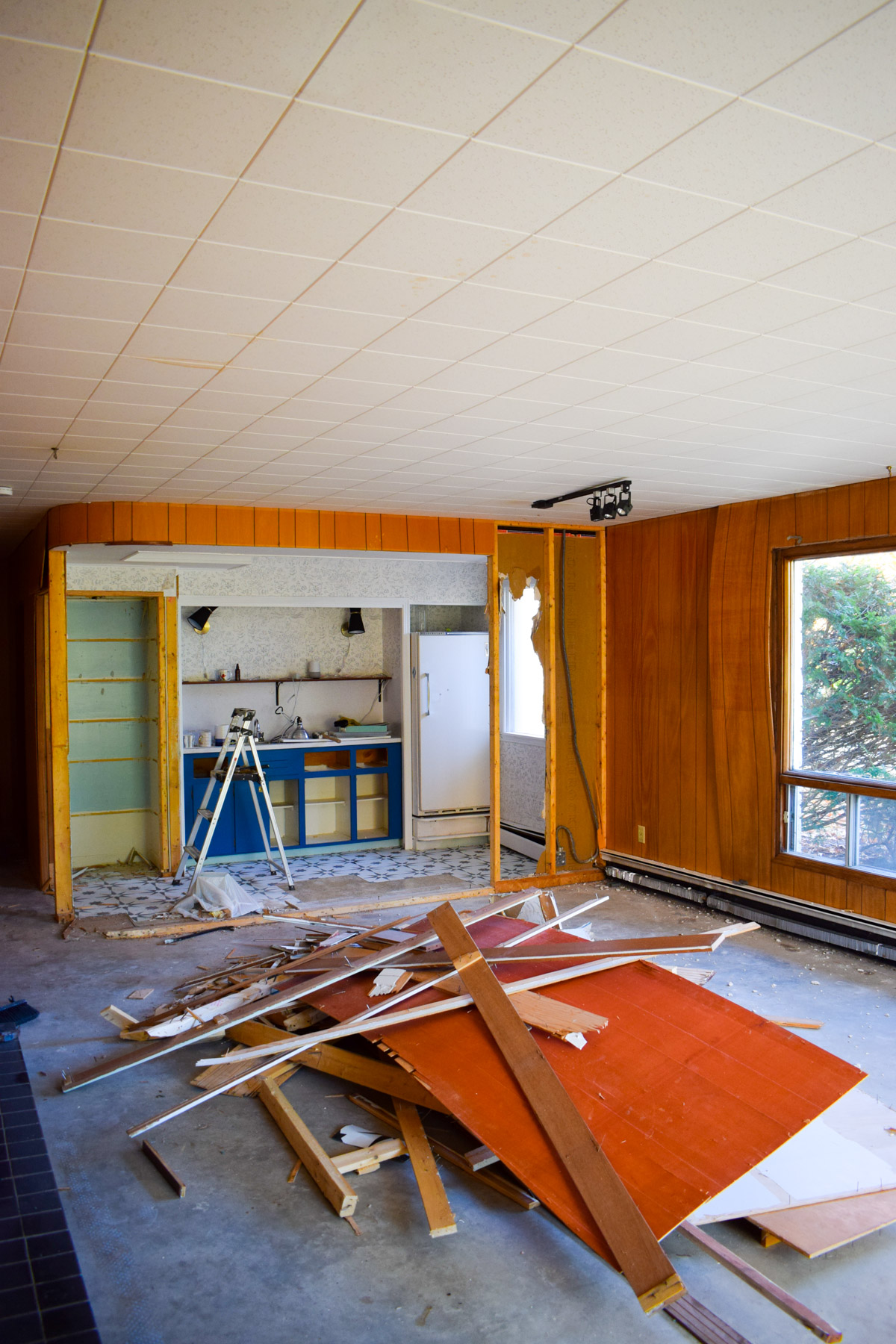 As you can see, it's a massive space, and the wet bar anchors it. Beyond it we have the guest room, a full bathroom, and Dan's office.
While I haven't unveiled the rest of the space yet, and won't for a minute, I wanted to share the mcm home wet bar because it's GORGEOUS.
MCM Home Wet Bar
I'll list all the sources at the bottom. We had planned to do a "plans for the bar" post, but a lot of the elements we were going to use ended up being out of stock, so we made changes on the fly. Although this is very similar to our original plans, there are many changes that were made to reflect the realities of renovations in today's day and age.
New Golden Select Flooring
I'll cover this more extensively when talking about the living room part of the space, but for now you can see that we continued Sandstone Golden Select Flooring, throughout the entirety of the basement.
We love that it's got a 24hr water resistant finish (perfect in area where drinks might be spilled), and it provides continuity between usptairs and downstairs.
I've written extensively about installing Golden Select Flooring already, and we have it in the living room, hallway, nursery, mud room and dining room.
The Wet Bar
A wet bar, is by definition, a bar with a sink. It means you can dump liquids without having to transport them to another space. If you do any amount of entertaining, it's an essential feature.
This wet bar is right off the backyard patio, where we entertain in the summer under normal circumstances, so having a sink for clean-up is key.
The Quartz Luxe sink in Mint Creme is adorable. It's also the perfect size to tidy up in. After our renos, I gave all our glassware a nice soak before putting it back in the cupboards.
For the faucet, we found this brass one online through Amazon, and are pleased with the results. we had originally planned to do a brass backsplash, but that idea fell to the side once availability became an issue.
Butcher Block Countertops
The countertops are butcher's block in silver ash from Home Depot. We had planned to do a faux marble, but availability was an issue. These were not only afforadble, but easy to install (gotta love the pocket jig!), easy to seal (many times over), and look fab with our flooring.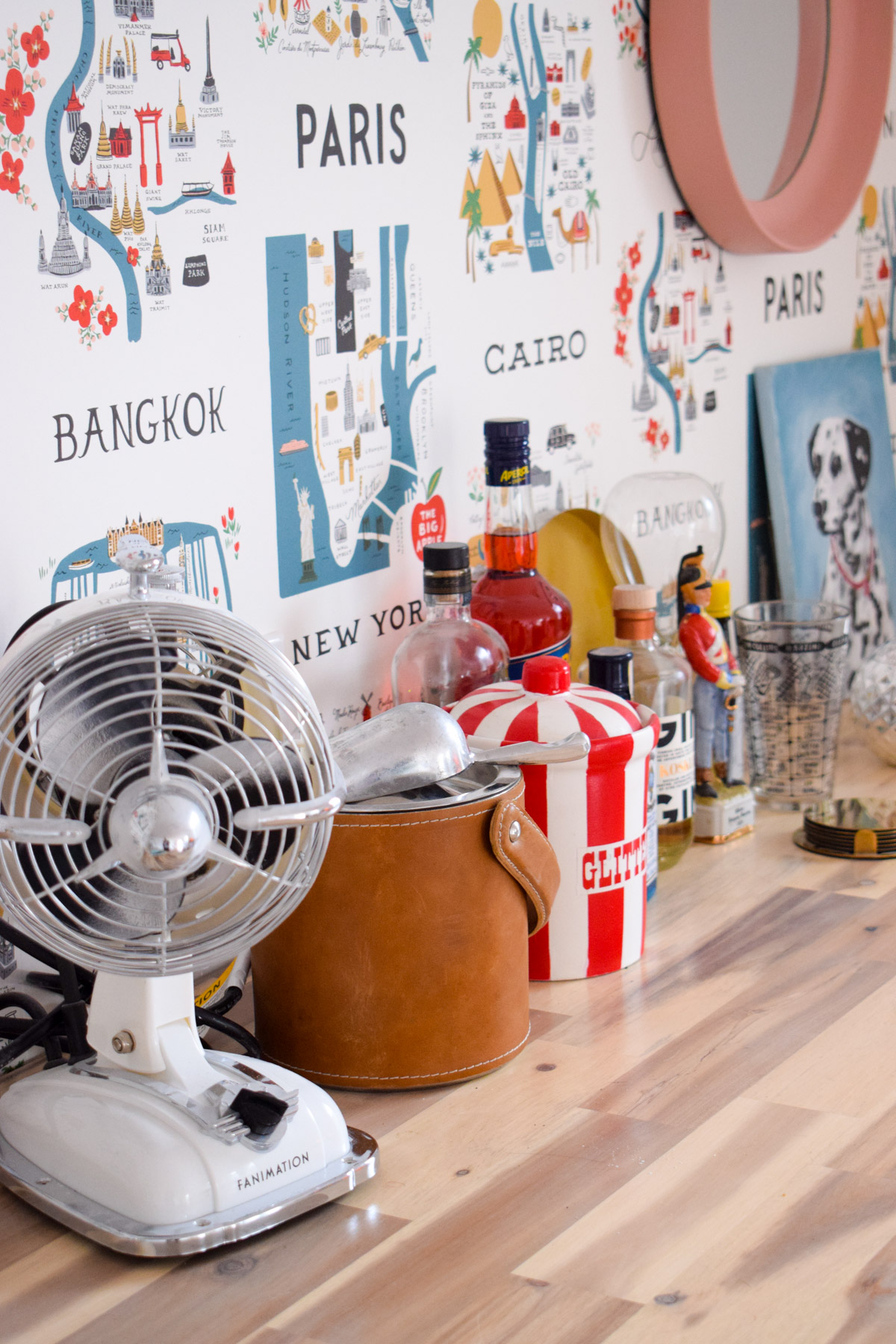 Rifle Paper Co. Wallpaper
Ya you guessed it. I used more Rifle Paper Co. wallpaper.
The wallpaper is the cities print from Rifle Paper Co. and it's been on my mood board for the house since they released it. I had originally planed to put it in the entryway closet) since the butterflies are now down, but pending bathroom renos would threaten its longevity.
I love it. It's delightfully MCM, delightfully quirky, and 1000% vibes with out other wallpaper choices. Good job me! It also strikes a nice balance between masculine and feminine, and the blue doesn't compete with the Mint Creme sink. Win!
MCM Lighting
We went with *Surprise surprise* MCM brass lighting from Hudson Valley. Nothing crazy, just period appropriate. The 2 light Kai sconces from Hudson Valley Lighting are perfect.
Bar Fridge
We loved the big kelvinator, but it was not energy efficient, and it wasn't very practical. In the previous setup they had cut part of the window sill off so that the door could open. The interior racks were flimsy, and the lightbuld was broken and not replaceable.
We got the replacement bar fridge from Wayfair and love it. It keeps our drinks cold and crisp, and has great storage. Can't ask for more!