One of the major parts of our basement renovation, was the creation of a dedicated space for June. A toddler Montessori Play Room is what we needed, and goodness! it's what we got.
Check out our DIY MCM Montessori Toy Shelf
When we took down the wall that was part of the bar, we opened the floor play area, and created a lovely middle ground where we could put a credenza full of craft supplies, toys, and space for her to move and stretch her imagination.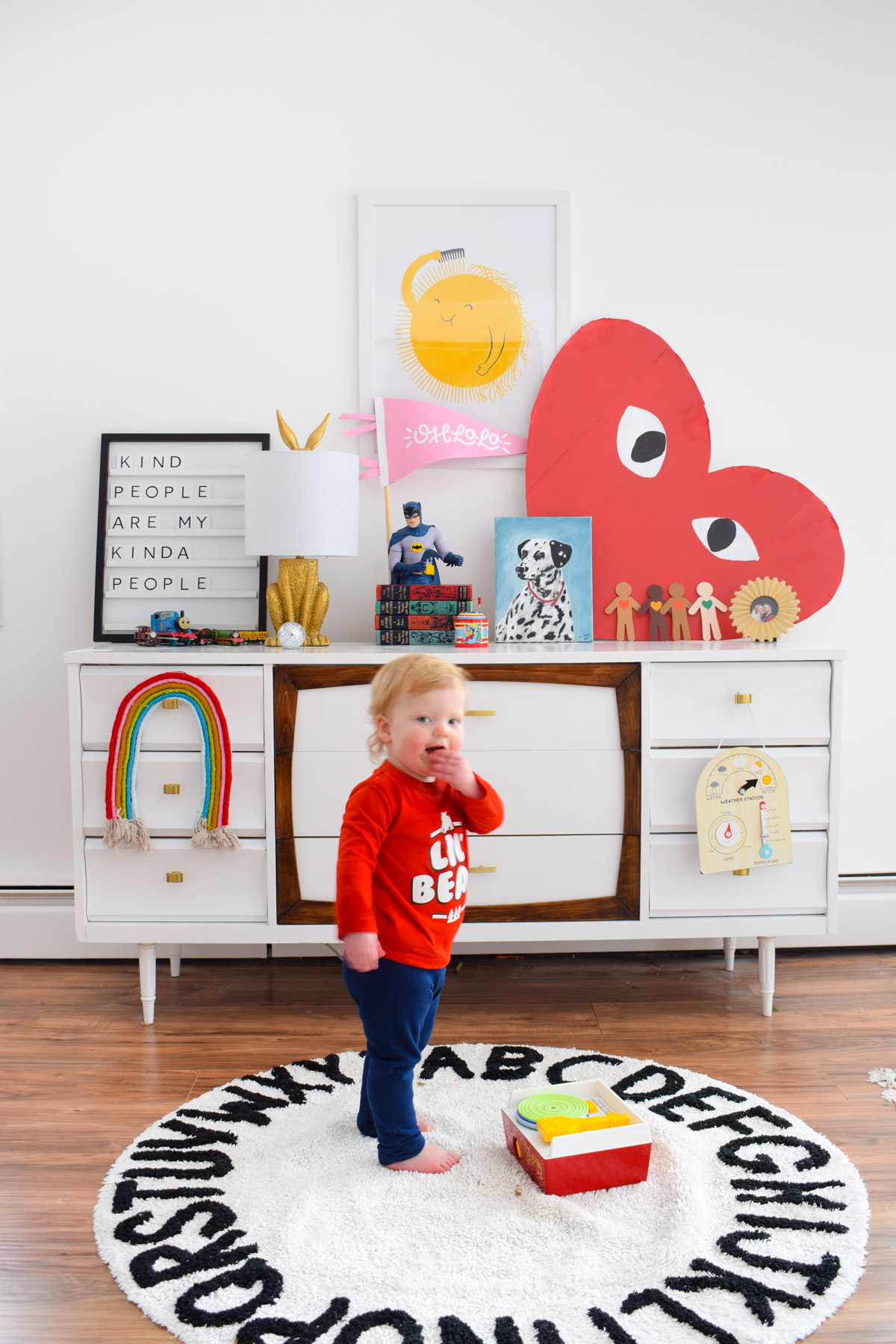 While this post doesn't show the entirety of the space – we're still waiting on furniture, which we may never buy because we're moving – you can get a feel for the space with this angle no sweat.
We started with a big mid century credenza that we bought off the classifieds. Its big drawers can hold verboten craft supplies like markers and paint, as well as reams of paper and extra blankets, or toys that we're currently cycling through.
What is a Montessori Playroom?
"A Montessori playroom is a simple, clean space with a limited number of carefully selected age-appropriate toys designed to help the child develop skills such as their fine and gross motor skills. It is a place that promotes engagement rather than just provide entertainment." – Montessorimethod.com
And that's just what this space is. We have an age appropriate table + chairs, a careful selection of materials and toys (out of frame on a low shelf), and tactile materials that favour open ended play. No batteries, as little plastic as possible, as items that will ultimately serve as the springboard for her imagination.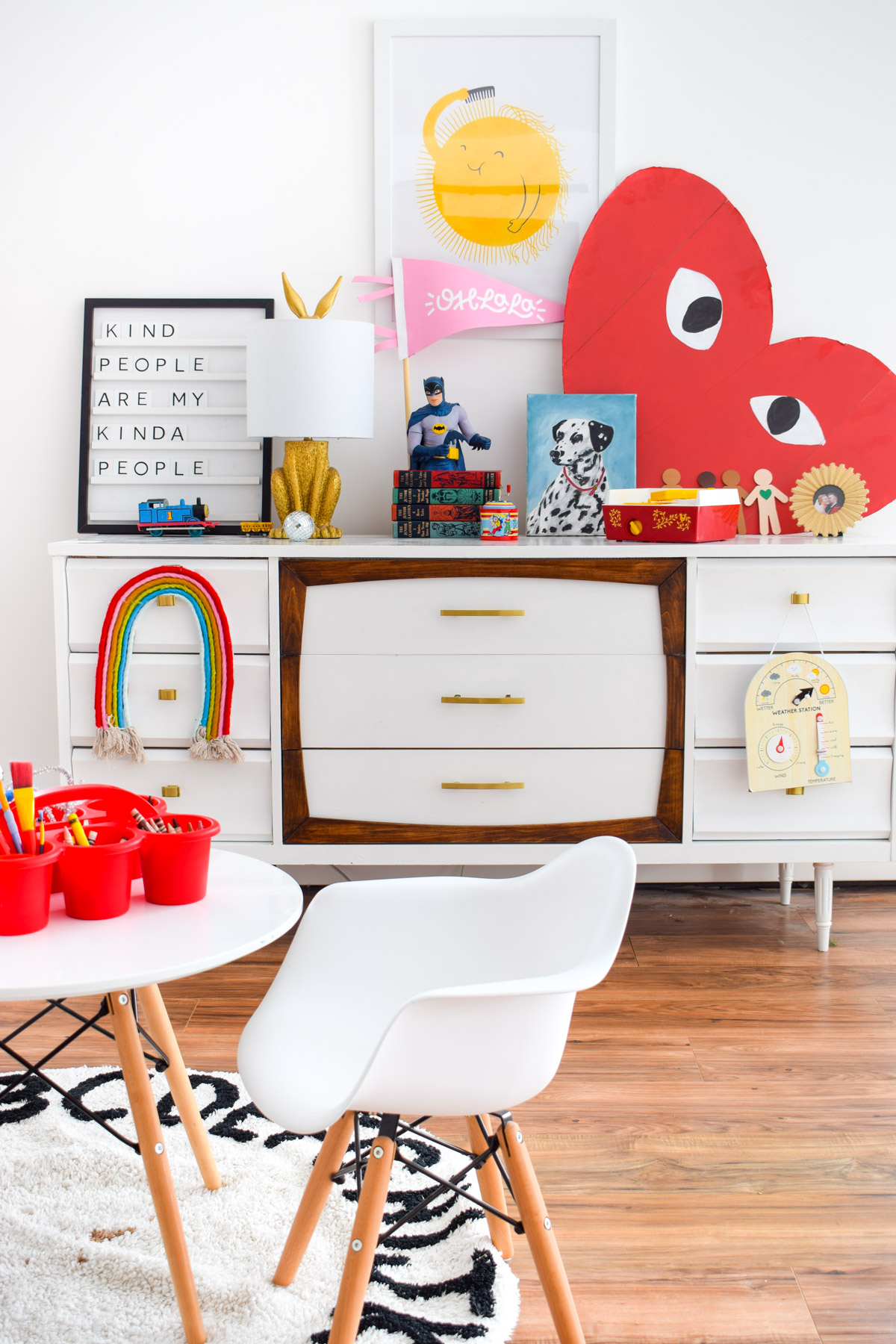 Can you spot the few crayons that have rolled under the heater? we'll have to be sure to grab those when we move!
Toddler Montessori Play
What's different than baby (bambino!) Montessori, is the skill required for play. We've got a few toys or activities that are fine (and gross) motor skill specific, such as changing the records on her music player, or turning the crank on her mini noise box, or even using grip paint brushes instead of palm.
We want June to use the materials around her, to create the world of play that she wants! Not one that is pre-determined by a toy maker.
What are some Toddler Montessori Playroom essentials?
Beyond a curated selection of items, you need a few elements, which I outline above. Toddler appropriate seating/table which they can use on their own.
"If you are creating a Montessori Playroom you should include child-sized furniture, artwork, nature (flowers or plants), open space, and activities that help the development of the child."- Montessorimethod.com
You also need a hot chocolate stain (like the one on the rug above).
We've got an art caddy with supplies that are tactile and "Montessori" like crayons, wood pencils, playdoh, and paint brushes (we paint with water a lot).
I've got our Dad doll seated at the table with her, but it's usually a bunny (or 3) and maybe Bruce. She keeps mixed company, that's for sure!
Do you like the giant CDG heart? I made it as a DIY two years ago, so here's the tutorial for my Come de Garcons Heart. (I can't believe I've kept it this long)
We've also made efforts to include multiple skin tones in her play friends. This extends to her library, and crayon selection.
We've included Dan's "vintage" toy collection as well (there's a great big bag of them on the floor for easy access) because they've got different colours, shapes, and are quite pretty.