This past fall I made June a hand puppet theatre, and I made hand puppets to go with it. However, I was also starting a new job around the same time, and never had the time to edit together this post! So here we are, we my DIY Felt hand puppets tutorial, which includes a strong call-out for including various skin tones if you're making people puppets.
*Kunin Felt provided felt for this post, but all thoughts are my own. Thank you for supporting the brands that make PMQ for Two possible.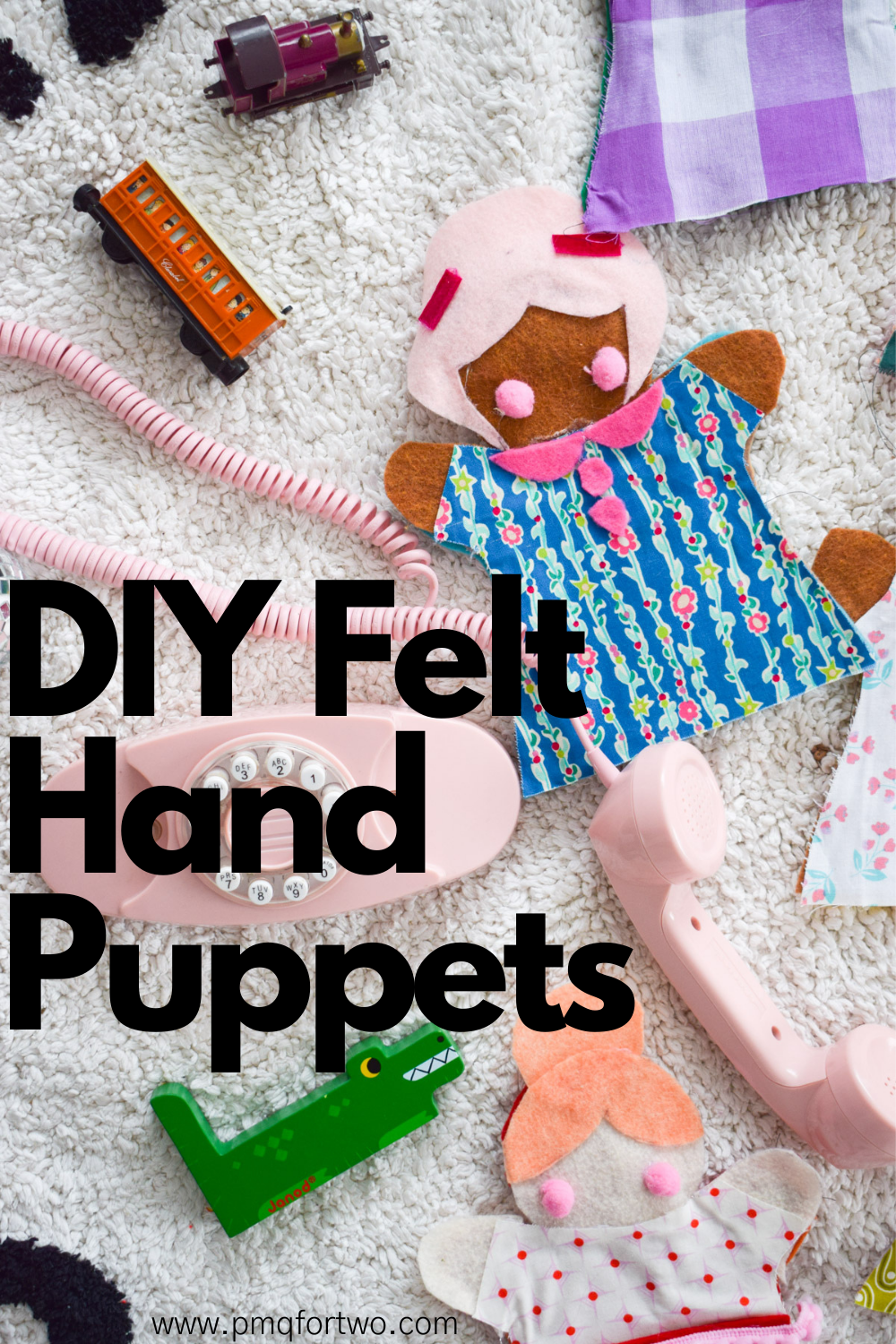 DIY Hand Puppet Pattern
Trace the outline of your puppet. There are so many free patterns that you can print, but I drew mine on a piece of cardstock, and then made sure it was mirrored.
It's a simple head with two arms and a body. Things like the hair, dress etc. are all done after with the choice of fabric.
This was the easiest part of the DIY, but also the easiest part to mess up if you do it wrong. Hands come in all shapes and sizes, so use your hand as the template and you'll know that they'll always fit! Nothing worse than not being able to use the hand puppets you made for your child.
Assembling a felt hand puppet
The most fun here was picking the felt and fabric combos for our hand puppet's outfits. I decided they were all going to be women, of various ages and skin tones. It's easy! Kunin's felt colour ranges make it easy to incorporate any shade you want. I used theirs when I made our felt stroller pennant for the BLM marches this past spring.
Making the base of the puppet
Start by cutting two pieces for each puppet. You're assembling a glove that your hand will fit inside.
I used one that was a skin tone, and made the back piece a random colour from my collection of scraps. You could make it match front and back, but it doesn't really matter.
Once the two are cut, sew them together by following the outline of the puppet.
Cut and Assemble the puppet features
While each doll was a little different (some have dresses, skirts, aprons, details etc.) I used my puppet outline to trace the shape of their garment, and then using a fabric wheel I cut out each shape.
*Note, in the photos below, it appears that I'm assembling them before sticking them to their bottom piece. I did it this way and found it unnecessary. I should have just glue pieces directly onto the glove. Do as I say, not as I do.
This is a great time to have fun with bold patterned fabric. I have a lot of great pieces sitting around, but I also went and sourced some funky fat quarters to make the look. I kept their styling fairly mod because of the fashion I could do.
Doing their hair was the most fun! I assembled things using hot glue, but fabric glue would work even better. No need to sew each piece unless you've got oodles of time.
Creating personalities with felt
Tbh those are words I would have never seen myself putting together, but here we are.
Felt is such a multipurpose material. It's got richness and weight to it, and it can hold colour complexity that some fabrics cat. Because of that, I used it to create the skin tones, hair and any other little textural details on our ladies like barrettes, trim, or fashion details.
Diverse and Inclusive hand puppets
2020 was a big year for so many reasons, but it was also the year I decided to start taking real, tangible and actionable steps towards creating a more diverse and inclusive world for my daughter. Through books, toys, music and play, we're showing how to include everyone around her. Racially diverse hand puppets seemed like another great place to start.
Are these puppets going to single handedly end racism? gosh no. Are they finished well? also no. BUT, they're a real step towards inclusion. So we've got that going for us.
DIY Felt Hand Puppets
I saved them and gave them to June at Christmas (with minimal packaging!) and she greatly enjoys them. If they look a little worse for wear in these photos it's because they've had a full month of hard toddler play. Which one is your fave?