The big reveal is here! June's rainbow nursery is complete, and I'm so glad I chose to do this big update. The space feels complete, it also finally feels like its vibing with the rest of the house. Big shout-out to Steph from Casa Watkins for hosting the New Year New Room challenge. I can't wait to see what the others got up to! Check out the plans for the rainbow nursery, her DIY bean bag floor pillows, Children's bookshelf styling tips and the DIY rainbow door.
*Spoonflower, Mohawk, BEHR, and Homesense sponsored this post, but all thoughts are my own. Thank you for supporting the brands that make PMQ for two possible.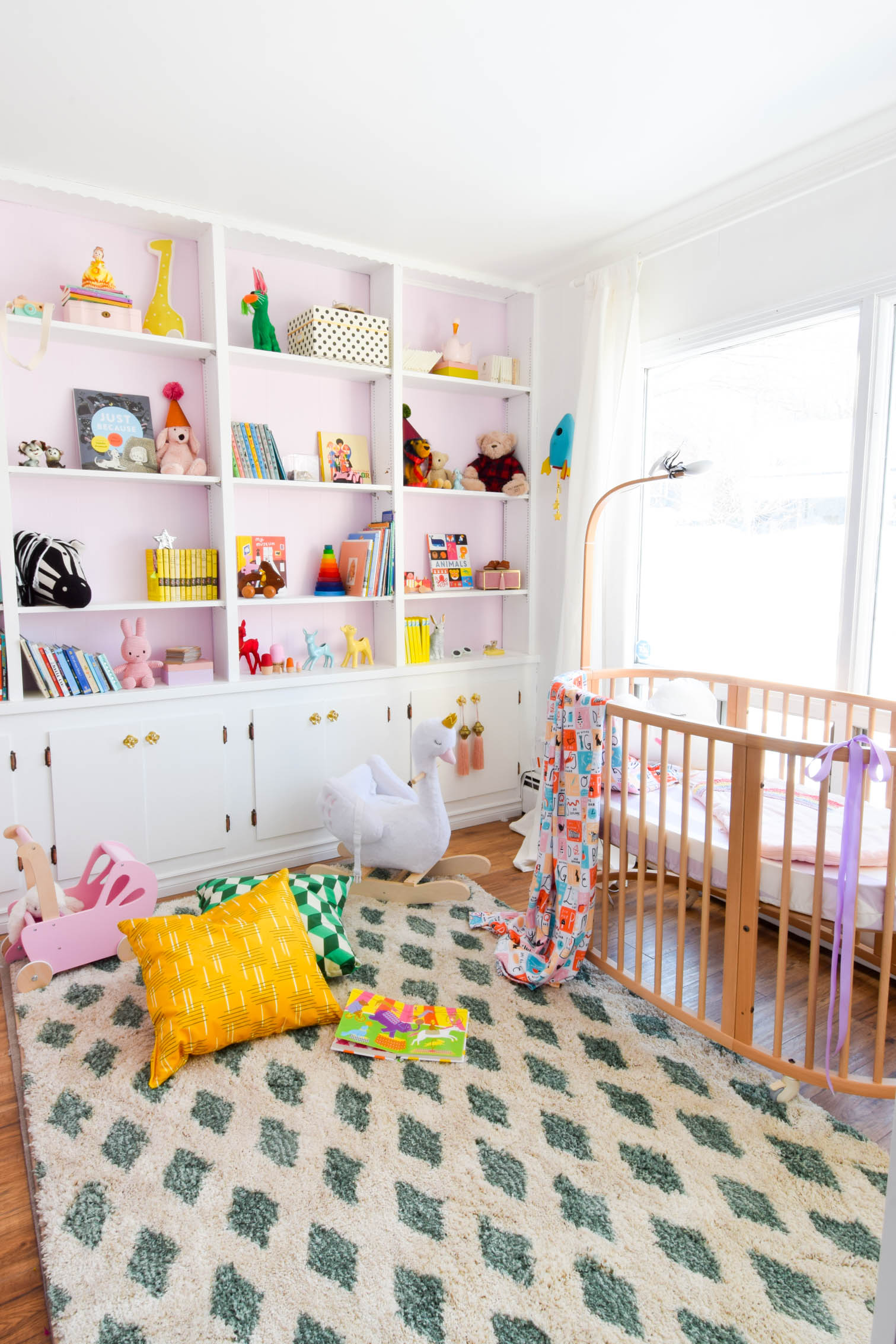 Rainbow Kids Decor
I fought it for like 7 months, but y'all, rainbows are where its at for kids and kids decor. Especially for someone like me! Rainbows allow me to bring all the colours I love into play, they add so much whimsy, and you can't really mess up accessorizing them either.
Rainbow Nursery Decor Plans
You'll recall in week 1 I laid-out the plans for the nursery revamp. I wanted to bring pattern, fresh colour, and lots of textiles and art into the space. I mainly kept to a soft purple and white palette, because those two shades will allow all my other colours to stand-out.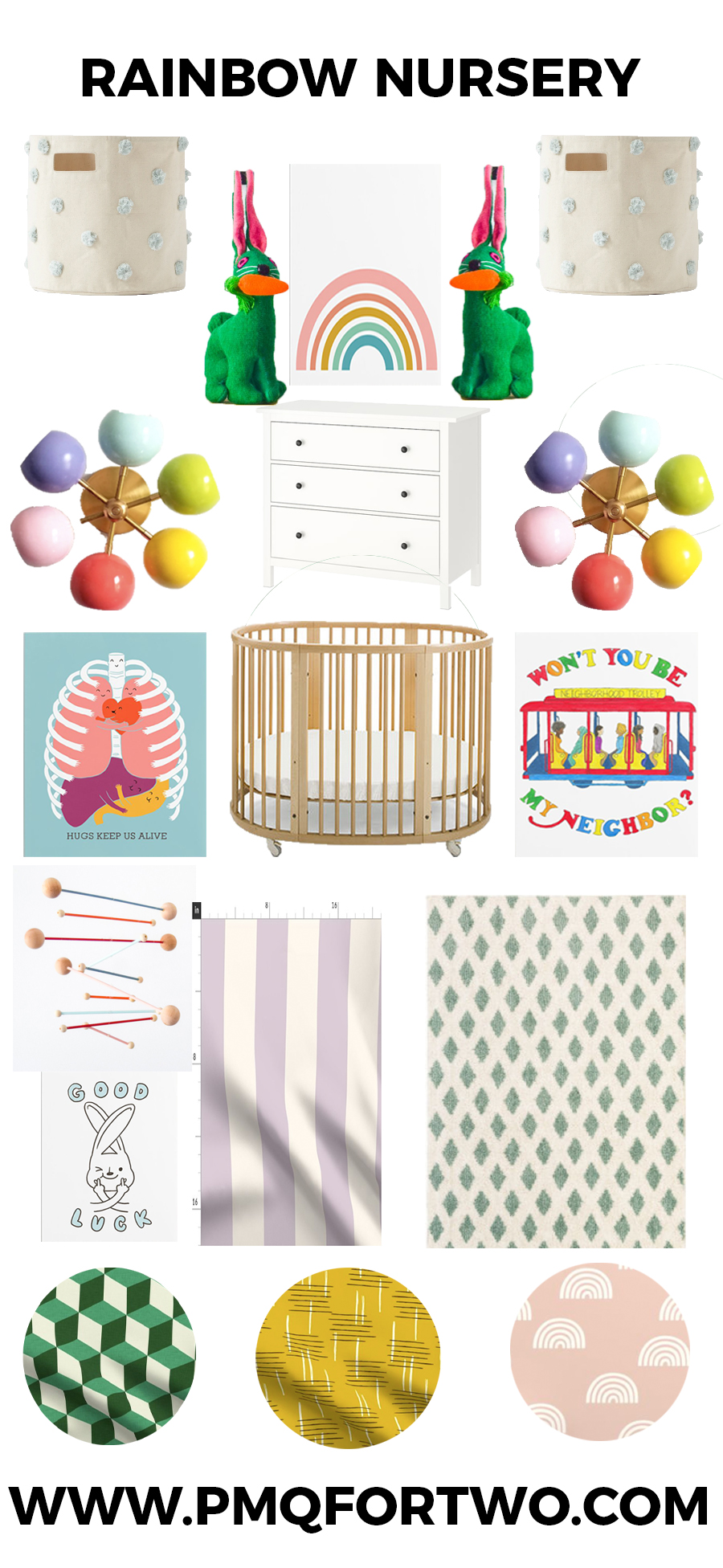 I'm ecstatic with how my plans came together, and while we're still missing one or two things in this space, I'm calling it complete.
June's Rainbow Nursery
So without further delay, here we go! JB's rainbow nursery is the stuff of her dreams my dreams, and its now her play space.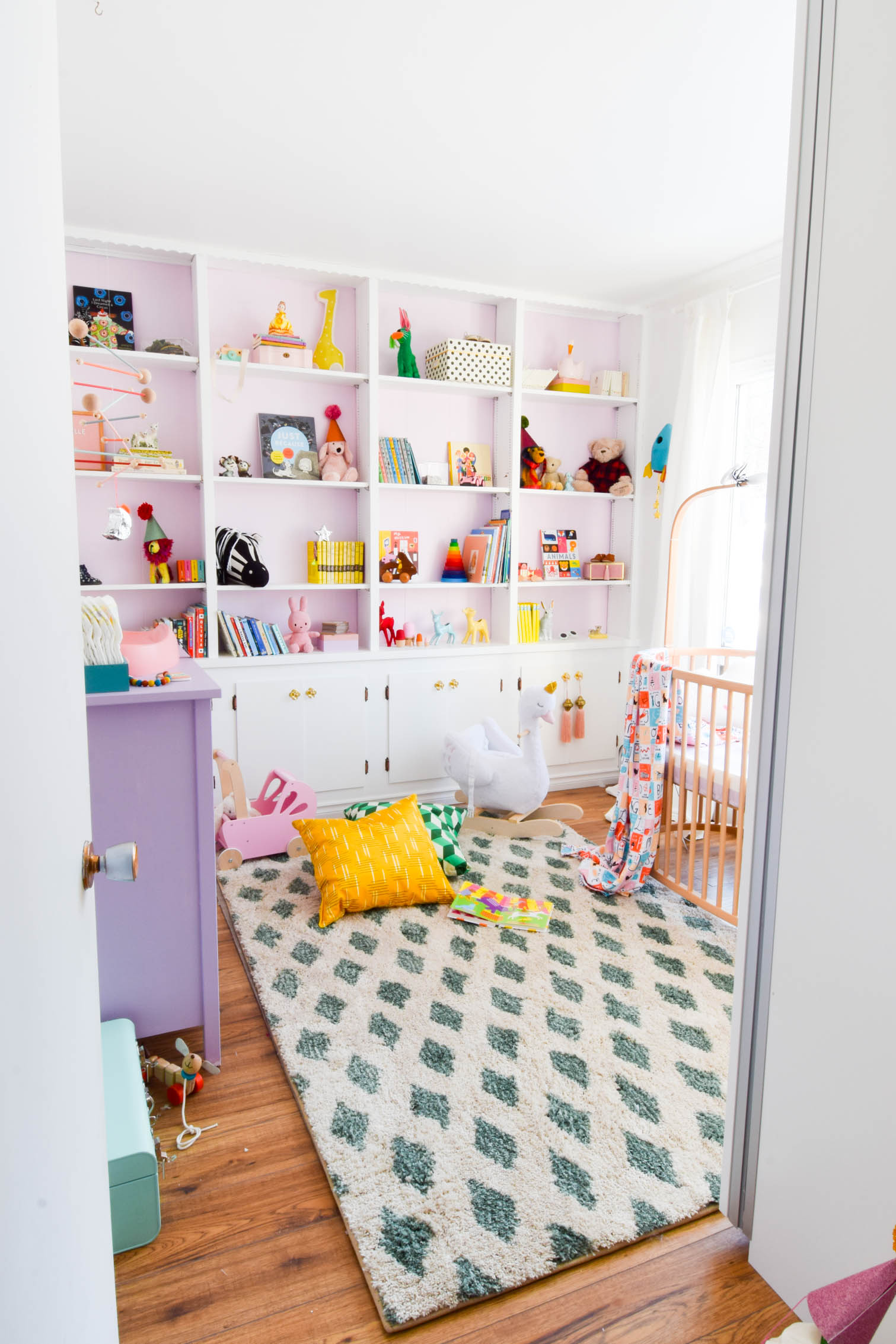 Styled Bookshelves
Last week I shared my tips and video for styling children's bookshelves. I haven't changed a thing since, I achieved perfection. Time to stop. For those of you who are curious, the shade in the back of the bookcases is called Pink Proposal by BEHR Paint.
Check out our DIY Nursery Sign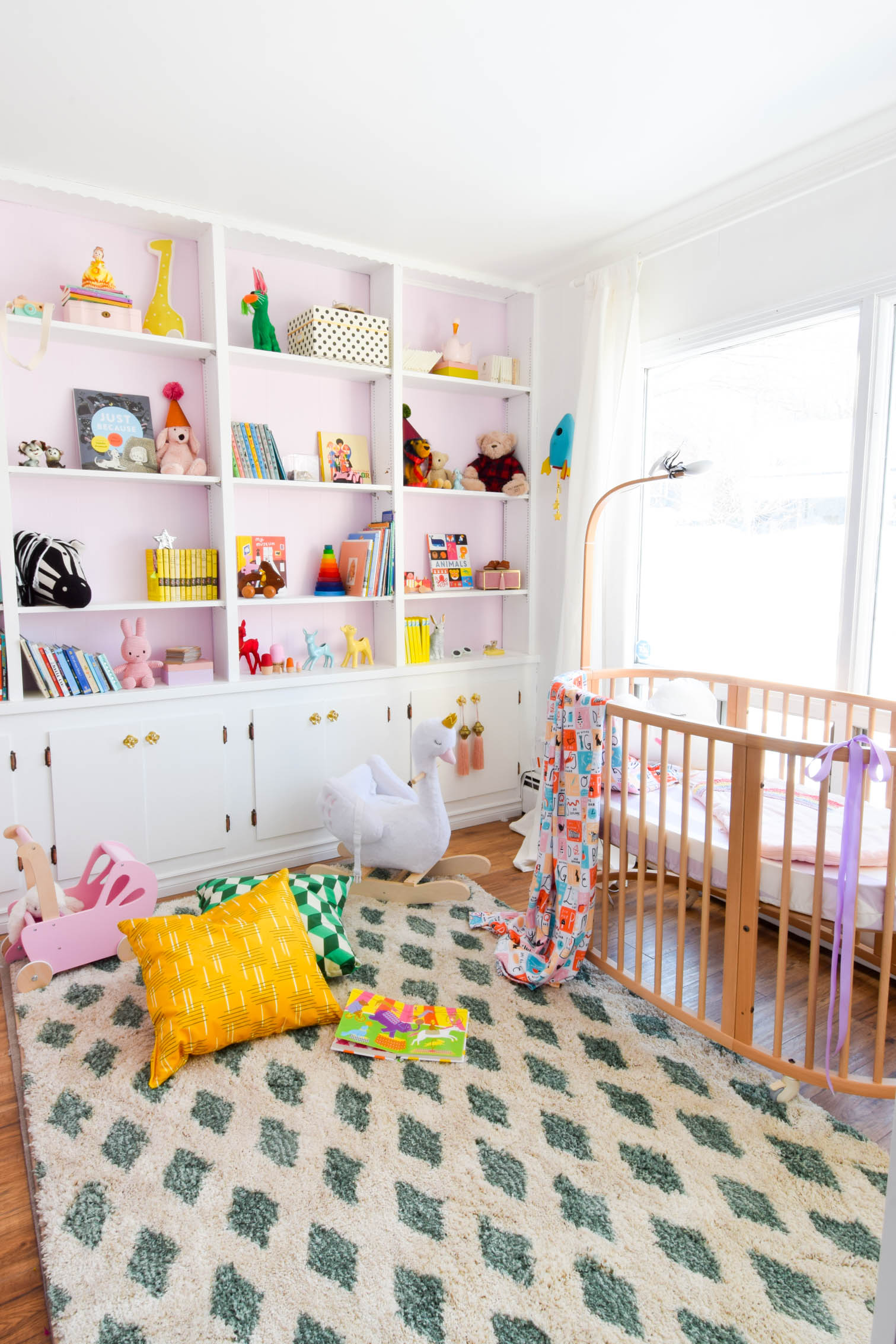 Floor and Tummy Time
June spends a good chunk of time on the ground rolling around. The rug she hangs out on is important. Funny story: one of the first rugs we had in this space was a Mohawk rug, and this one is too! We've got the Adona here, with a rug pad underneath for extra comfort.
While the rug has more brown then we would have liked, it'll do perfectly for now. It may even hide the mess she makes between her drool, and Bruce's snuggles.
The Stokke Sleepi Crib
We originally had the Stokke Sleepi mini, but after 5 months she has outgrown it and needed the extensions. We ordered those from West Coast Kids, where we originally got the Sleepi Mini. Dan put it together over the weekend. and JB seems to love the extra space. Hopefully she's got at least a year before she sizes out of this one.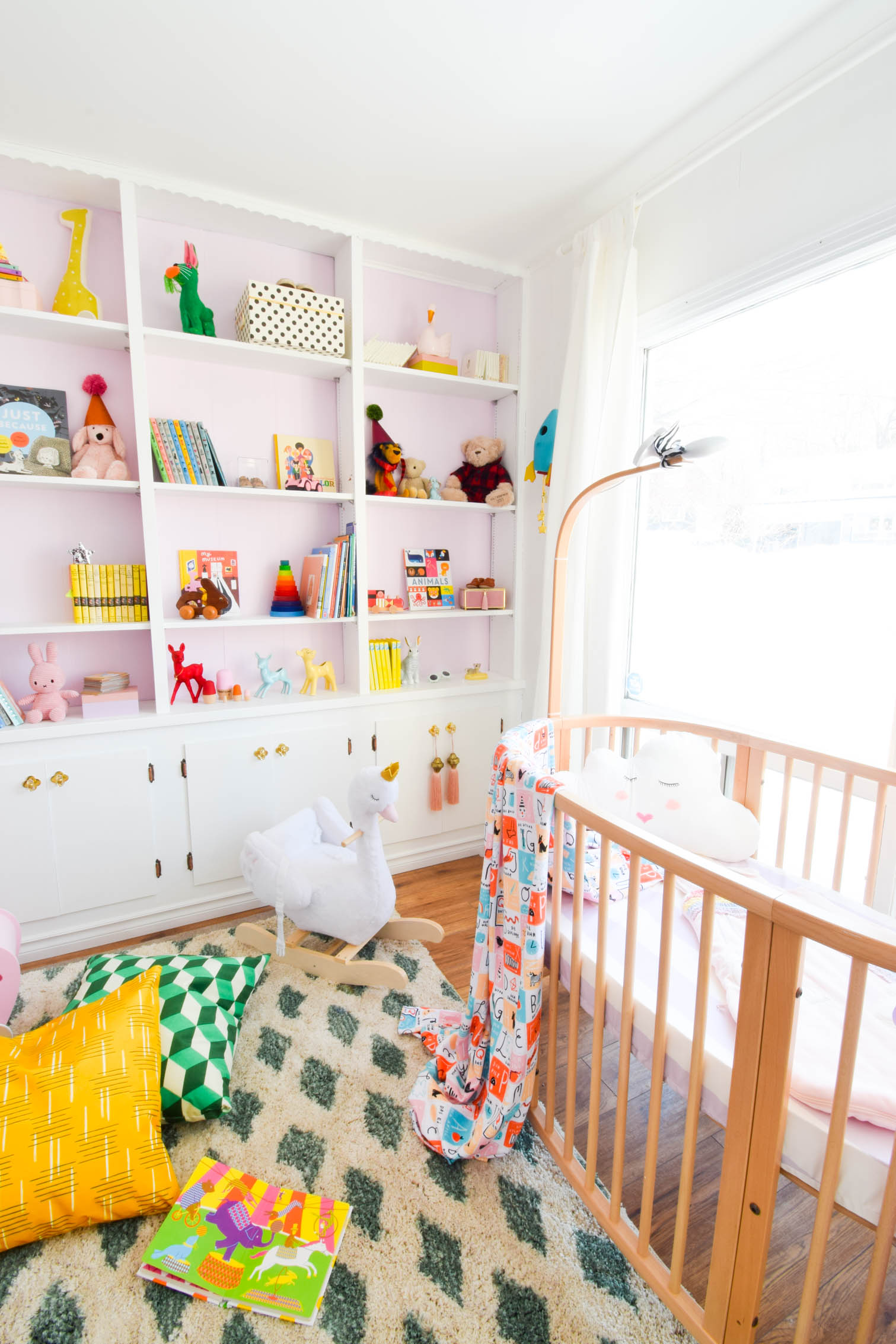 I've got a tutorial for the oval crib sheet coming next week! So stay tuned if you're dying to know how to make your own. In addition to the fabric for the floor bean bags and crib sheet, we ordered a blanket from Anda, one of Spoonflower's many amazing designers.
We got the Das Alphabet throw in the Minky fabric. JB had a nap on it the other day, and I think it was her best nap to date.
Nursery Gallery Wall
Surprise! surprise! I made a kick-ass gallery wall in June's nursery. It started with an afternoon spent perusing Society 6's posters, and then a whole month of fiddling with art, frames and command velcro strips.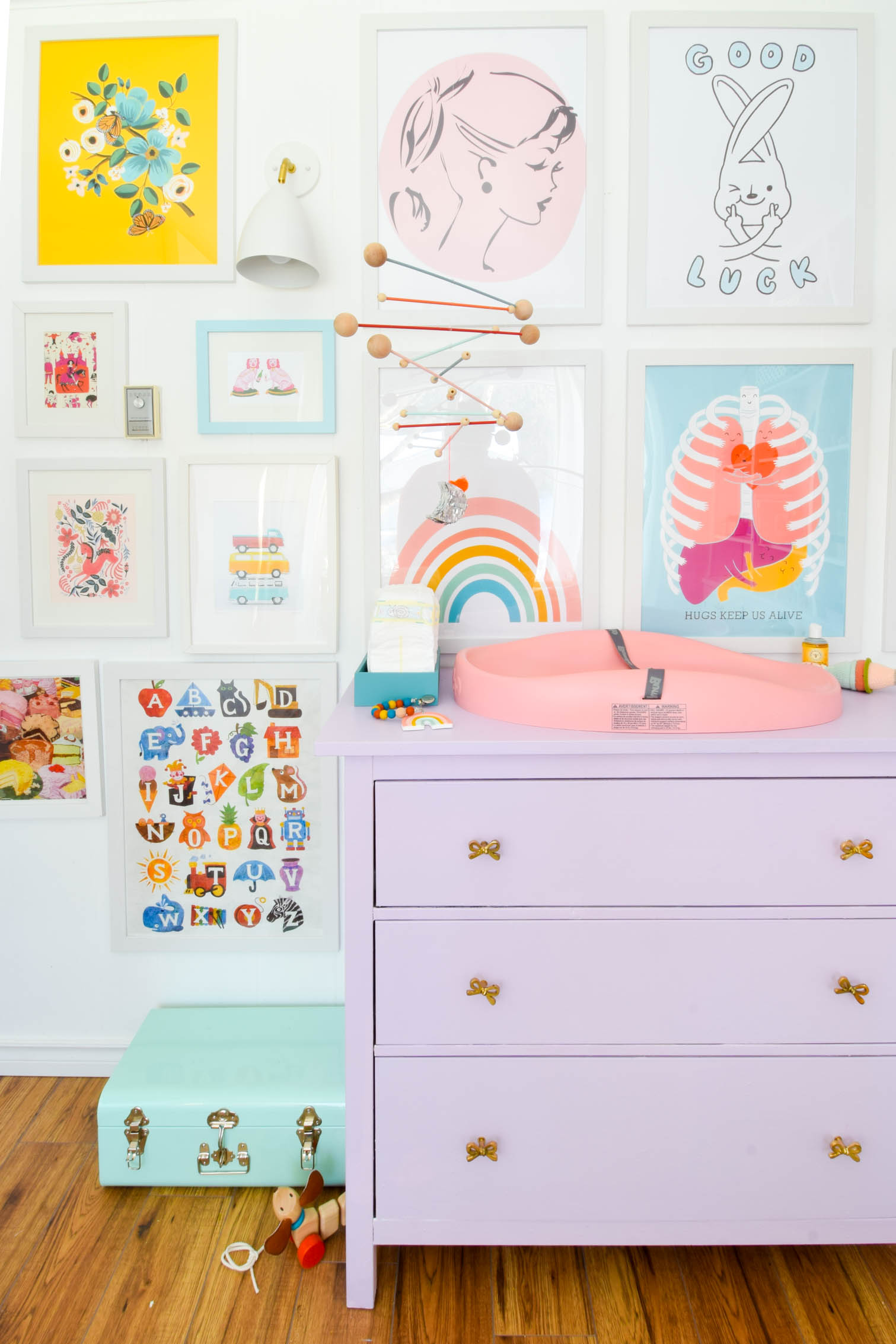 EVEN WITH MY WIDE ANGLE LENS, it's kind of hard to capture the entire thing in one shot. So I'm going to tease you with several cropped shots before dropping it all on you.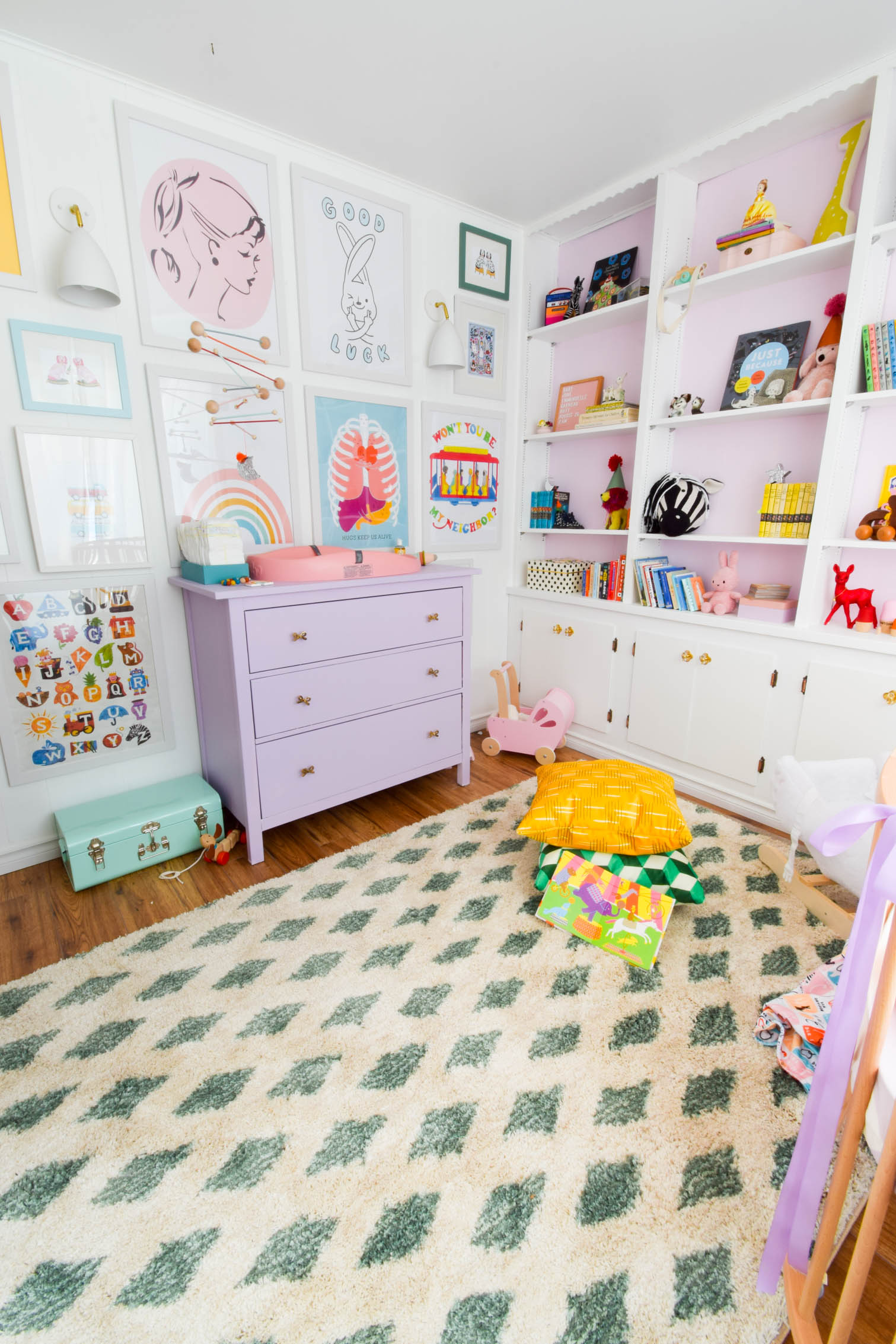 You can grab most of the prints in the wall here: Doll by Vivii, Finger Crossed, Good Luck by ilovedoodle, Alphabet Poster by WanderingBert / David Creighton-Pester , Simple Happy Rainbow Art by apricot+birch, Hugs keep us alive by ilovedoodle, Mister Rogers Neighborhood Trolley by Kaleigh Day.
Rainbow Painted Door
Don't forget my DIY Rainbow door! It's still there, and it's adorable, and it's a lovely surprise that reveals itself when she's settling down for a nap or going to sleep. It's also one of the first things she sees when she wakes up.
Baby Change Table
Don't forget my DIY MCM Baby mobile! I made it this spring, and it hangs right above her bumbo change pad. She loves it, and when I stand her up on there she tries to grab it. I painted our often painted IKEA Hemnes dresser in a shade of purple called Romantic Poetry by BEHR.
And there are some rainbows for ya! as well as a great shot of the gallery wall.
How darling are these knobs? They're from Homesense, and I fell in love with them the second I saw them.
Nursery Toys and Decor
And now, close-ups of all the little extra touches that have gone into this space. Everything from a toy stroller for her toys, to a trunk full of wood blocks in french and sign language, a rocking swan, and more.
I found the cutest sleep sack – with a rainbow no less – and a cloud pillow at Homesense, on the same trip as the one where I found her toy chest and little pink stroller.
And now, check out the others in the New Year New Room challenge
Casa Watkins Living // The Boho Abode // Delineate Your Dwelling // Haneen's Haven // The Happy Housie // Homemade by Carmona // House by Hoff // Jeweled Interiors // Kaleidoscope Living // Our Fifth House // PMQ for 2 // Rain on a Tin Roof // Southern State of Mind // Taryn Whiteaker // This is Our Bliss // Thou Swell // Up To Date Interiors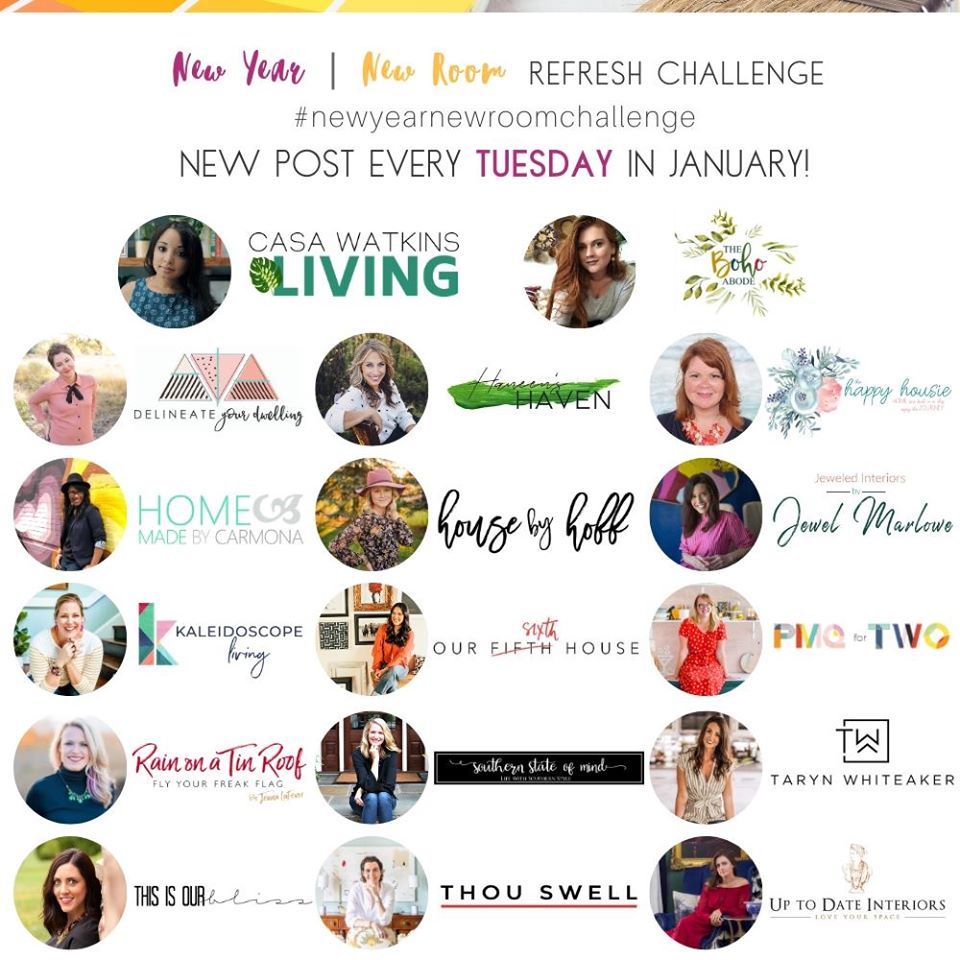 And as always, shout out to all the amazing sponsors who helped complete the space.